7 Unexpected Ways to Use Tinted Moisturizer
Get adventurous with this fan-favorite foundation formula – and elevate your beauty look in the process!
Posted on June 28, 2019
Written by: 100% PURE®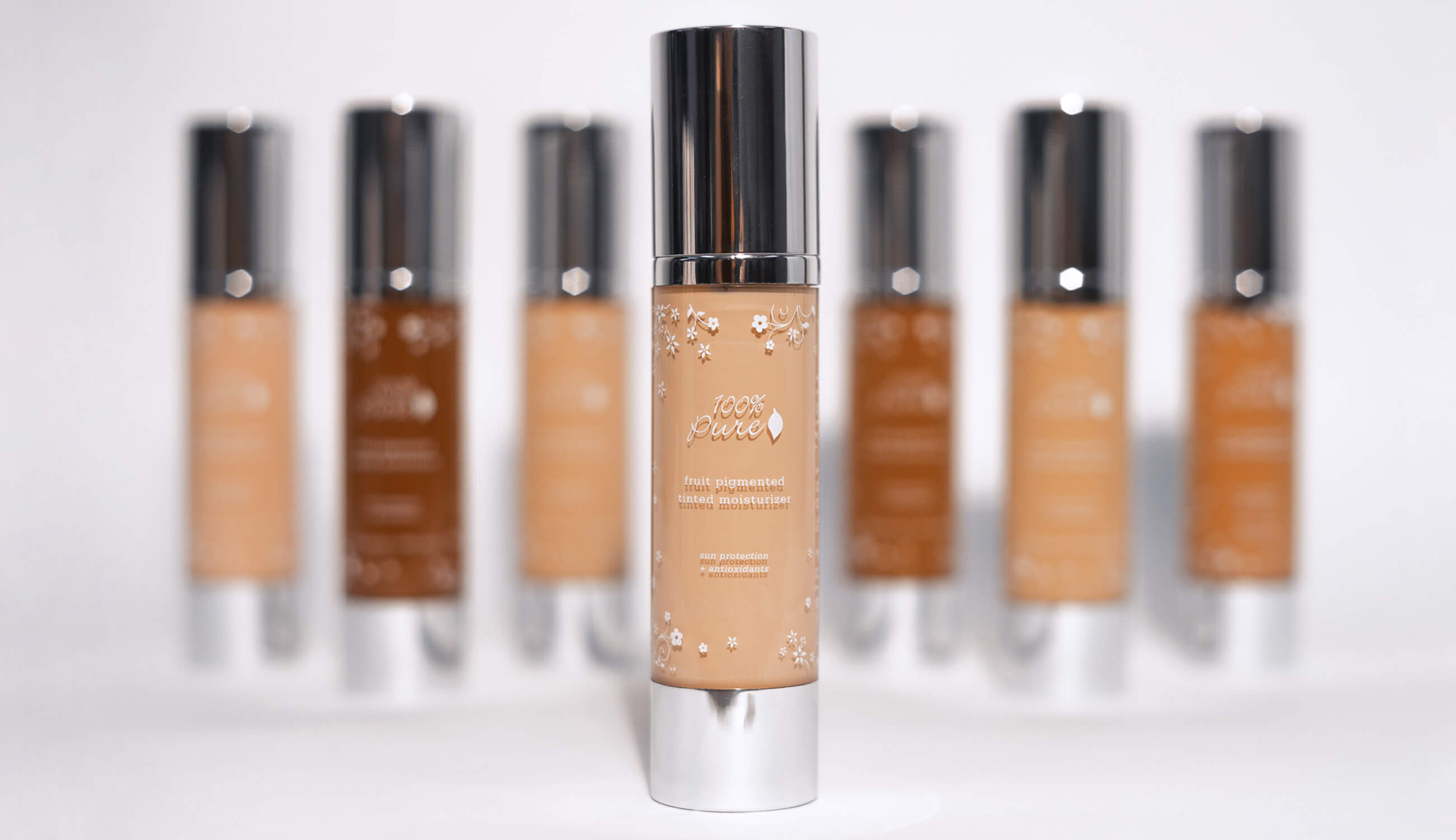 What's a tan, but simply a tint to your already stunning skin? In the summertime, many of us like to get a little gold in our skin, but hate suffering the side effects of sun exposure. Cheat the system with a sunkissed tan in a bottle via our Fruit Pigmented® Tinted Moisturizer. Available in 9 shades ranging from chocolatey cocoa to soft crème, this cruelty-free tinted moisturizer is the summer beauty find you didn't even know you were looking for.
What's to Love About Tinted Moisturizer?
First things first, this ultra light formula has everything we love about foundation, and none of the things we don't. It isn't cakey or heavy, making it the perfect coverage choice for hot days by the pool, summer campfire fun, and everything in between. Unlike a foundation, most tinted moisturizers offer semi-sheer coverage that blends with your skin tone. This allows your complexion to shine through, creating the perfect soft, barely-there to subtly elevate your beauty game.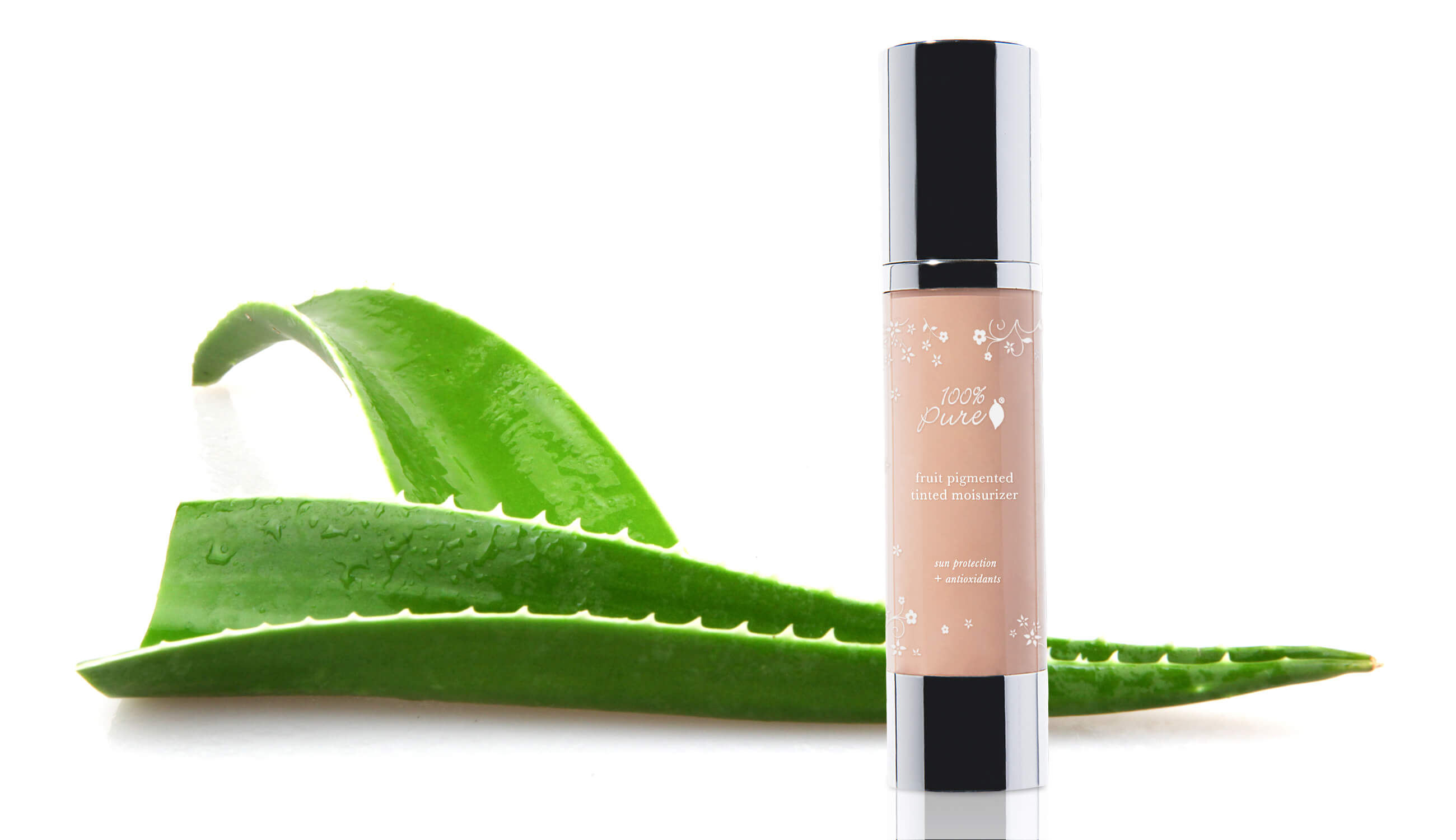 To dry, thirsty skin, our best-selling Tinted Moisturizer literally feels like a cool drink of water on a warm summer day. Refreshing and delicate, we've created this formula to feel good, not just look good. So what's in it that makes it so special?
A blend of aloe leaf juice and cucumber juice are included in our signature formula to refresh and rejuvenate dry and inflamed skin. Naturally anti-inflammatory, aloe also includes vitamins C and D – basically, it's a summer skin savior. Aloe has been used for centuries to treat burns and irritation, deeply moisturize the skin, and calm skin conditions like eczema and psoriasis. When combined with toning and hydrating cucumber, the feel of this tinted moisturizer is like a cool, creamy gel that easily sinks into the skin creating a smooth texture and supple, soft touch.
We can't skip mentioning the next two superfoods in this tinted moisturizer formula: acai and pomegranate. Some of you may already know how much we love acai, as it's a key ingredient in one of our bestselling facial scrubs. That's because this little berry warrior is an anti-aging wonder delivering vitamins A, B, C and E to nourish the skin, fight signs of aging, brighten, and smooth.
We're grateful to pomegranate for giving us a little more sun protection, too. Oil from this rich red, seedy fruit contains potent antioxidants to protect against skin stress caused by UV exposure. Pomegranate seed oil also supports collagen production, to keep on top of that ageless, firm and supple texture we're trying to maintain.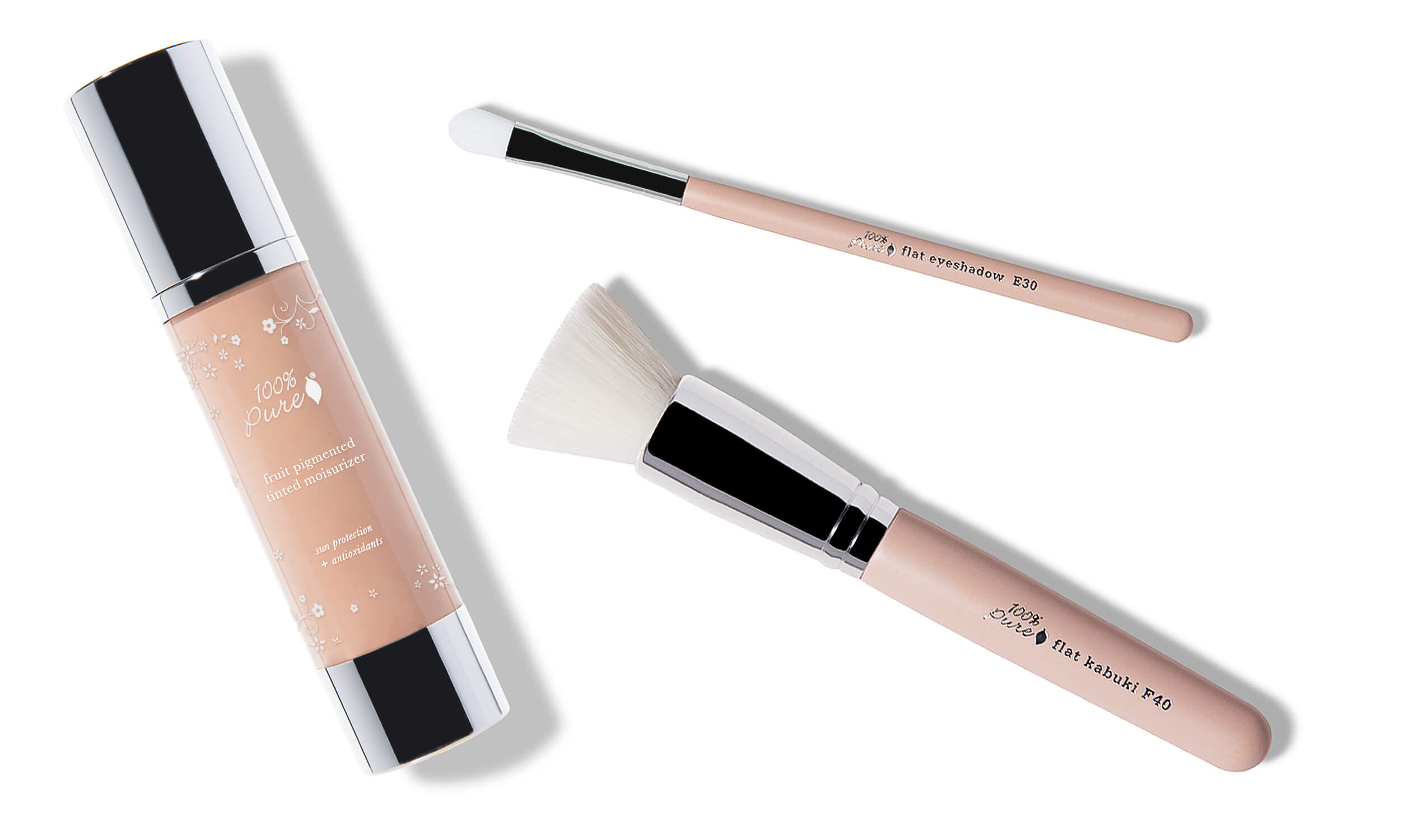 7 (Unexpected) Ways to Use Your Tinted Moisturizer
When it comes to this best-selling multitasker, don't just stick to the basics – a refreshingly creamy texture, nutritious key ingredients, and gorgeous pigments can go a long way in your beauty routine. Get inspired below!
#1: For post-sun skin benefits
Combined with the known UV protectants zinc oxide and titanium dioxide, tinted moisturizers are the perfect boosters to your daily sunscreen. While this formula isn't as strong as a dedicated UV product (and should not replace your daily SPF), both mineral UV blockers and super fruit antioxidants are working behind the scenes in this formula to counteract sun damage, and that's more than we can say about most of what we put on our faces.
#2: For a fast beauty look
Ever have those days where you can't even IMAGINE committing to a full face of makeup – but still want a little beauty boost before stepping out? Employ your trusty tinted moisturizer as a quick sheer tint for errands or a 2 minute beauty look. Using a clean, damp makeup blender, bounce this formula onto skin for those no-makeup days where you want minimal, effortless beauty.
#3: As a primer for dry skin
Need an extra layer of coverage, or a hydration boost for your daily foundation? If you don't have a face primer, never fear: your Tinted Moisturizer is here! Our tinted moisturizer is ultra-hydrating with a dewy finish, meaning any complexion products you layer on top will stay put while protecting normal to dry skin from dehydrating elements. The extra tint of pigment in your base also means that you can use less of your full coverage product, for an equally flawless finish.
#4: Mixed with cream makeup
More than just a base, we love to use our Tinted Moisturizer as a mixing medium for our other complexion products. Add a bit of product to a palette or the back of your hand. Mix in your favorite liquid or cream highlighters, cream blushes, or cream bronzers before applying to your face. The addition of the moisturizer creates the most beautiful, seamless finish for an undetectable amount of coverage and impeccable blend.
#5: Use as a light concealer
Are you an ultra-rare skin unicorn that only needs coverage in one or two spots? While we're pretty jealous, we also have a tip for you. Instead of reaching for your concealer, which can be a bit too pigmented to be subtle, try an ultra light tinted moisturizer instead. It works amazingly well on normal to dry skin especially, and provides just enough blur that the finish matches the rest of your natural nude beauty.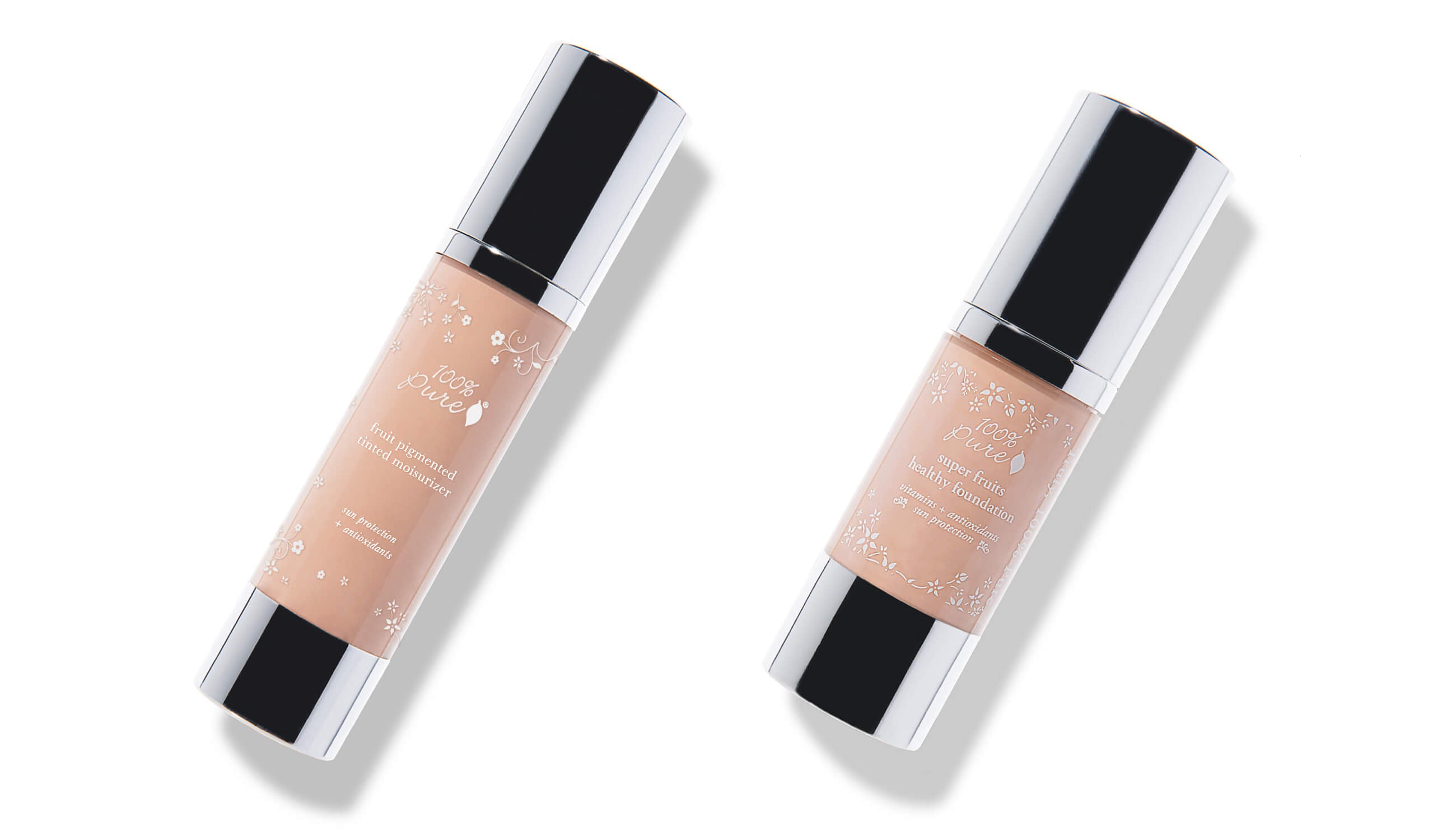 #6: Try as an eye makeup primer
We've thought of a few unconventional uses to spice things up – the first of which is for your go-to eye makeup looks. We mentioned before that this product makes a great foundation primer, and the same can be said for the wonders it works as an eye primer. Since traditionally the eye area tends to be more sensitive, dry, and prone to creasing, adding this super hydrating boost before your cream and powder shadows can really help with color payoff and wearability. We'd say skip this step if you're going for a liner only look, but we love this paired with our Satin Eye Shadow pots.
PRO TIP: Use a lighter shade of tinted moisturizer to create dimension on your lids, for a spotlight or halo eyeshadow look. Or, try blending this with liquid highlighter (again) to get an on-trend glossy lid look.
#7: Swap out your nude lip color
What's our favorite color? Some might guess pink but when it comes to beauty, there's one color we come back to time and time again: nude. Our fruit pigmented® range of tinted moisturizers offers a stunning variety of hydrating nude lip shades. Yep, you read that right: use your tinted moisturizer on bare, clean lips, or paired with liner or another lip product to create a customized nude lip shade just for you. We might recommend pairing with a nude lip liner, or with Rum Nougat or Butterchew Lip Caramel for a wash of glossy, high pigment color.
We carefully hand-select products based on strict purity standards, and only recommend products we feel meet this criteria. 100% PURE™ may earn a small commission for products purchased through affiliate links.
The information in this article is for educational use, and not intended to substitute professional medical advice, diagnosis, or treatment and should not be used as such.
Sign up to our email newsletter for more blog updates and exclusive discounts.
< Older Post | Newer Post >