https://purity-res.cloudinary.com/image/fetch/q_auto:best,f_auto,fl_lossy,w_auto,c_limit,dpr_auto/https://cdn.shopify.com/s/files/1/0648/1955/products/Dg4UNMARlyIUpMOsuZow_6fd55248-f1f1-4a49-8925-5c68ad1104f3.png?v=1525734722
https://purity-res.cloudinary.com/image/fetch/q_auto:best,f_auto,fl_lossy,w_auto,c_limit,dpr_auto/https://cdn.shopify.com/s/files/1/0648/1955/products/VdYQfj40TpCytrIeTP9g_bfa99fc8-765c-473c-874d-7007f2848558.png?v=1525734722
https://purity-res.cloudinary.com/image/fetch/q_auto:best,f_auto,fl_lossy,w_auto,c_limit,dpr_auto/https://cdn.shopify.com/s/files/1/0648/1955/products/XLibmygQUKcHagpsj5Mm.png?v=1525734722
https://purity-res.cloudinary.com/image/fetch/q_auto:best,f_auto,fl_lossy,w_auto,c_limit,dpr_auto/https://cdn.shopify.com/s/files/1/0648/1955/products/Rdj7biWTpmyvTjhQfNmY.png?v=1525734722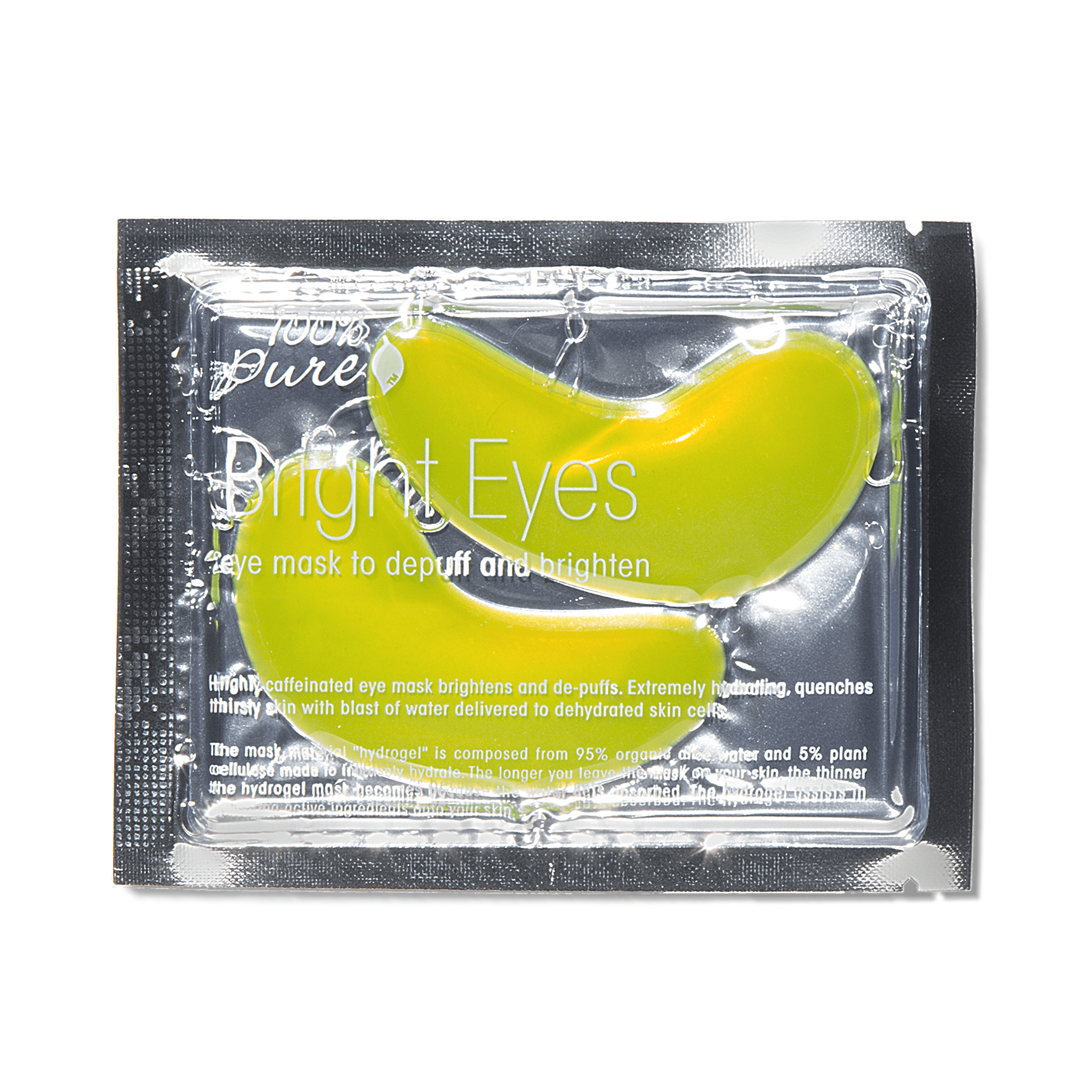 Bright Eyes Masks
Natural

Vegan

Cruelty Free

Gluten Free
Highly caffeinated eye mask brightens, de-puffs, and hydrates the delicate eye area. Hydrogel mask is composed of 95% organic aloe juice and 5% plant cellulose.
Highly caffeinated eye mask brightens and de-puffs. Extremely hydrating, quenches thirsty skin with blast of water delivered to dehydrated skin cells. The mask material "hydrogel" is composed from 95% organic aloe water and 5% plant cellulose made to intensely hydrate. The longer you leave the mask on your skin, the thinner the hydrogel mask becomes because the water gets absorbed. The hydrogel assists in delivering active ingredients onto your skin.

Directions

Open package on a level surface. Carefully slide a single, individually wrapped mask from the package. Open individual mask tray side up, taking care to retain nourishing liquid in mask tray. Lift mask out of tray and liquid. Lying back, place mask on freshly cleaned face. Leave on for 15-20 minutes. Gently remove the mask and lightly massage any remaining moisture into your skin. Do not rinse. Follow with your normal skincare regimen. Discard the mask after single use. Use at least twice a week.

Every ingredient we use is beneficial, here are a few:

Hyaluronic Acid

Hyaluronic Acid encourages collagen production and improves skin hydration.

Cucumber Hydrosol

Cucumber Hydrosol tightens skin.

Yerba Mate Tea

Yerba Mate Tea boosts skin firmness and elasticity with antioxidants.

Green Coffee

Green Coffee boosts collagen production and blood circulation.

Green Tea

Green Tea tones and protects with antioxidants.

Complete list of ingredients:

Aloe Barbadensis (Organic Aloe Juice)*, Camellia Sinensis (Organic Matcha Green Tea)*, Organic Green Coffee*, Ilex Paraguariensis ( Organic Yerba Mate) Tea*, Cucumis Sativus (Cucumber) Hydrosol, Sodium Ascorbate (Vitamin C), Caffeine, Sodium Hyaluronate (Hyaluronic) Acid, Plant Cellulose * Certified Organic
By using hashtag #100percentpure or #nodirtybeauty, I hereby grant to 100% PURE (Purity Cosmetics), it subsidiaries, agents and affiliates, the unlimited worldwide, perpetual, unending right to use, reproduce, distribute, and convey my image/photograph in any format or medium now known or subsequently developed, to modify and edit my image/photograph, to combine my image/photograph with other images, video, audio, text and other media, to create derivative works incorporating, including or based on my image/photograph. This grant shall be construed broadly.
---
Bright Eyes Masks
has a rating of
4.6
stars based on
411
reviews.
Customer Reviews
Wonderful!
These are absolutely the best! Not only do they not irritate/sting my eyes like most other eye masks, they also stay put. I leave them on for an extended period of time, and they decrease in size a lot, because the aloe juice actually goes into my skin!! Love and will repurchase.
Must Have for Special Events
I have suffered from under eye circles for many years. I purchased this product as part of the Early Morning Duo set. It was a great value and a great way to try a new product. I use these now for occasions: parties, weddings, theater and the opera - whenever I need to look my best! I have very sensitive skin and these do not burn or irritate my skin or eyes and I can relax knowing I am not getting dangerous chemicals into my eyes.
A must have
Everyone should have a supple of these. I use them twice a week to keep my eyes looking young.
Love!
I super love these..so much. I try to save them for special occasions or when I really need to have some relaxing "me-time" because they are kinda pricey (the only downside). They make me feel like I just left a spa treatment.
Nice Indulgence
I really love these as part of my relaxing self care routine. I keep them in the fridge for a cooling effect. I don't really have dark circles but my eyes can get puffy and these bad boys help for sure. Love that there isn't any scent and doesn't irritate my sensitive peepers:)
Complete the Package
Continue Shopping →