https://purity-res.cloudinary.com/image/fetch/q_auto:best,f_auto,fl_lossy,w_auto,c_limit,dpr_auto/https://cdn.shopify.com/s/files/1/0648/1955/products/Dg4UNMARlyIUpMOsuZow_6fd55248-f1f1-4a49-8925-5c68ad1104f3.png?v=1525734722
https://purity-res.cloudinary.com/image/fetch/q_auto:best,f_auto,fl_lossy,w_auto,c_limit,dpr_auto/https://cdn.shopify.com/s/files/1/0648/1955/products/VdYQfj40TpCytrIeTP9g_bfa99fc8-765c-473c-874d-7007f2848558.png?v=1525734722
https://purity-res.cloudinary.com/image/fetch/q_auto:best,f_auto,fl_lossy,w_auto,c_limit,dpr_auto/https://cdn.shopify.com/s/files/1/0648/1955/products/XLibmygQUKcHagpsj5Mm.png?v=1525734722
https://purity-res.cloudinary.com/image/fetch/q_auto:best,f_auto,fl_lossy,w_auto,c_limit,dpr_auto/https://cdn.shopify.com/s/files/1/0648/1955/products/Rdj7biWTpmyvTjhQfNmY.png?v=1525734722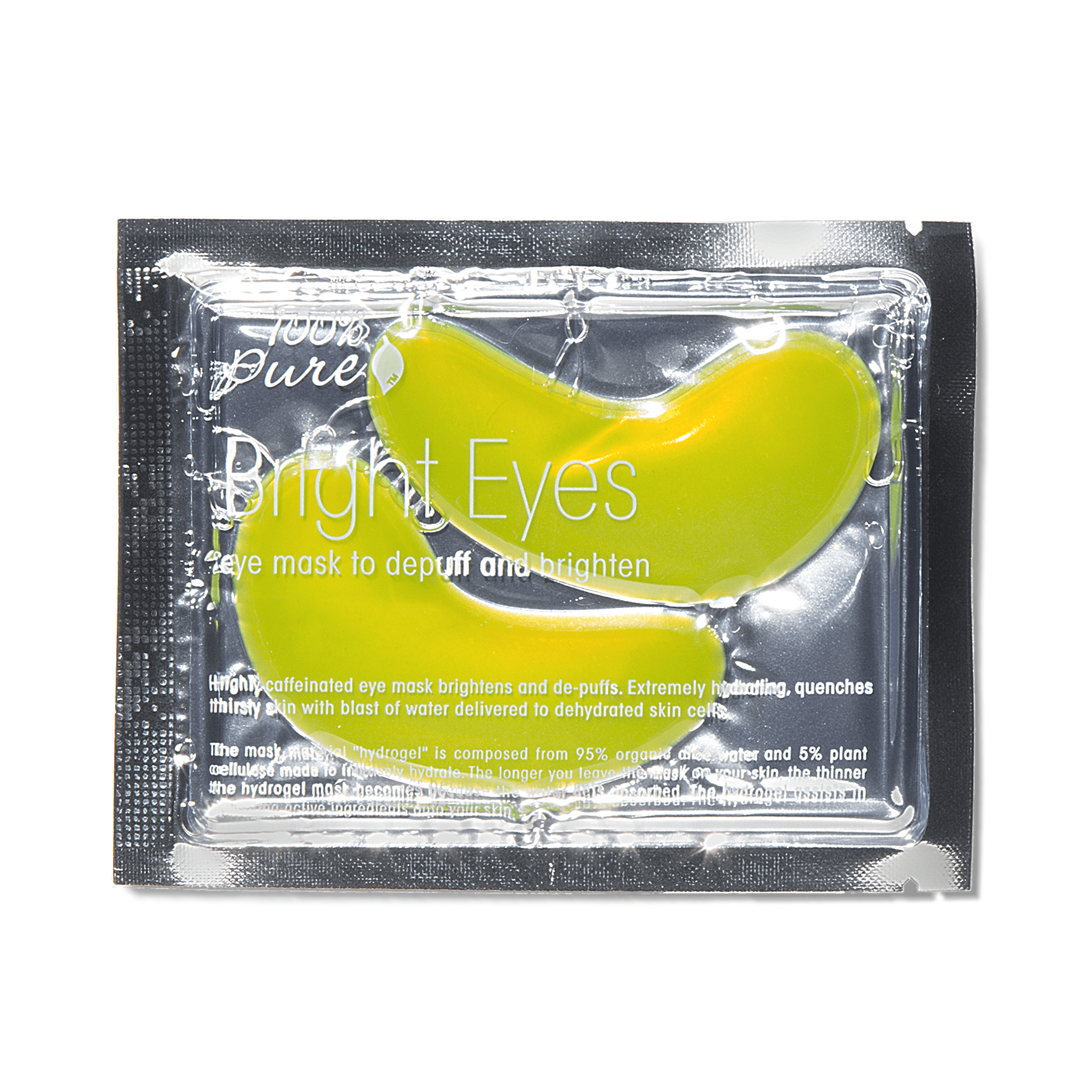 Bright Eyes Masks
Natural

Vegan

Cruelty Free

Gluten Free
Hydrating eye masks made with cooling cucumber and natural caffeine to de-puff the eye area. Masks are made of 95% organic aloe juice and 5% plant cellulose.
Highly caffeinated eye masks designed to brighten, de-puff, and refresh your eye area. These extremely hydrating masks use a thirst-quenching blend of cucumber, hyaluronic acid, and aloe juice to replenish dehydrated skin cells. The "hydrogel" mask material is composed of 95% organic aloe juice and 5% plant cellulose, to intensely quench and soothe skin. The hydrogel material will thin as you wear it, as hydration is literally transferred from the mask into your skin. This innovative hydrogel technology assists in delivering active ingredients, and aids in nutrient absorption for more targeted skin nourishment.

Directions

Open package on a level surface. Carefully slide a single, individually wrapped mask from the package. Open individual mask tray side up, taking care to retain nourishing liquid in mask tray. Lift mask out of tray and liquid. Lying back, place mask on freshly cleaned face. Leave on for 15-20 minutes. Gently remove the mask and lightly massage any remaining moisture into your skin. Do not rinse. Follow with your normal skincare regimen. Discard the mask after single use. Use at least twice a week.

Every ingredient we use is beneficial, here are a few:

Hyaluronic Acid

Hyaluronic Acid encourages collagen production and improves skin hydration.

Cucumber Hydrosol

Cucumber Hydrosol tightens skin.

Yerba Mate Tea

Yerba Mate Tea boosts skin firmness and elasticity with antioxidants.

Green Coffee

Green Coffee boosts collagen production and blood circulation.

Green Tea

Green Tea tones and protects with antioxidants.

Complete list of ingredients:

Aloe Barbadensis (Organic Aloe Juice)*, Camellia Sinensis (Organic Matcha Green Tea)*, Organic Green Coffee*, Ilex Paraguariensis ( Organic Yerba Mate) Tea*, Cucumis Sativus (Cucumber) Hydrosol, Sodium Ascorbate (Vitamin C), Caffeine, Sodium Hyaluronate (Hyaluronic) Acid, Plant Cellulose * Certified Organic
Bright Eyes Masks
has a rating of
4.6
stars based on
433
reviews.
Customer Reviews
eyes
eye masks
skin
dark circles
time
puffiness
pack
cooling effect
stuff
fridge
05/10/2019
Luciana Torous
Great for a boost of hydration
Great eye pads, perfect if you are in need of a boost of hydration.
I can
I can't get enough of these! They are magic. Needed these for a long work trip.
AMAZING EYE MASK!
Whenever I have a special event I make sure to buy this amazing under eye mask! This really seems to tighten the skin around the eyes but not harshly. It's very natural and I find that it helps with circulation and discoloration. LOVE! It's the perfect gift for those you love!
Great!
Love the hydration from these! Will be back again for them for sure. They stay put so you can continue your daily routine while wearing them unlike other masks that require you to basically stay put for 20+ minutes. Great product
Love these!
These are my weekly treat to myself. I love how tight and nourished the skin under my eyes feel when I take them off!
Complete the Package
Continue Shopping →