https://purity-res.cloudinary.com/image/fetch/q_auto:best,f_auto,fl_lossy,w_auto,c_limit,dpr_auto/https://cdn.shopify.com/s/files/1/0648/1955/products/HVVAxhCDRC66noh8CKr8_446baf7f-def3-41c1-95de-437d27bf92c6.png?v=1537565088
https://purity-res.cloudinary.com/image/fetch/q_auto:best,f_auto,fl_lossy,w_auto,c_limit,dpr_auto/https://cdn.shopify.com/s/files/1/0648/1955/products/QRSbmfl2RYfEAO74w1PQ_fe7066f6-03d7-4158-9c88-3f3f5d9ddbb1.png?v=1537565088
https://purity-res.cloudinary.com/image/fetch/q_auto:best,f_auto,fl_lossy,w_auto,c_limit,dpr_auto/https://cdn.shopify.com/s/files/1/0648/1955/products/1vHwBJrHRoeLEAx2l8kO_2af71a7a-8a76-4dba-8e7f-271574b53806.png?v=1537565088
https://purity-res.cloudinary.com/image/fetch/q_auto:best,f_auto,fl_lossy,w_auto,c_limit,dpr_auto/https://cdn.shopify.com/s/files/1/0648/1955/products/0af1l102SmyhS7pC5oGA_f072ecb8-6476-465b-8931-8946c034395c.png?v=1537565088
https://purity-res.cloudinary.com/image/fetch/q_auto:best,f_auto,fl_lossy,w_auto,c_limit,dpr_auto/https://cdn.shopify.com/s/files/1/0648/1955/products/Es12qBdcTaO4msyrAgVQ_f6ab1c9b-b642-4ce1-b04d-7aca82b7412f.png?v=1537565088
https://purity-res.cloudinary.com/image/fetch/q_auto:best,f_auto,fl_lossy,w_auto,c_limit,dpr_auto/https://cdn.shopify.com/s/files/1/0648/1955/products/lCIpTU3lRnSBwVx9bNqg_dd6620a2-b29f-4687-b0b9-fceea244141b.png?v=1537565088
https://purity-res.cloudinary.com/image/fetch/q_auto:best,f_auto,fl_lossy,w_auto,c_limit,dpr_auto/https://cdn.shopify.com/s/files/1/0648/1955/products/lF0U197WQ4CVuIvyePMQ_0b03858e-31ec-460c-a014-1d40b158c0cc.png?v=1537565088
https://purity-res.cloudinary.com/image/fetch/q_auto:best,f_auto,fl_lossy,w_auto,c_limit,dpr_auto/https://cdn.shopify.com/s/files/1/0648/1955/products/9Lc7UHX9RuMEQ8tpggVA_c2603b86-41d1-43b5-8021-4a81627b8322.png?v=1537565088
https://purity-res.cloudinary.com/image/fetch/q_auto:best,f_auto,fl_lossy,w_auto,c_limit,dpr_auto/https://cdn.shopify.com/s/files/1/0648/1955/products/ocYRkfnoQhCUa2shnnA0.png?v=1537565088
https://purity-res.cloudinary.com/image/fetch/q_auto:best,f_auto,fl_lossy,w_auto,c_limit,dpr_auto/https://cdn.shopify.com/s/files/1/0648/1955/products/1rkvZ5vtSG2ikYkJtCua_82bcf731-188e-46aa-8edf-d4c1b5fec089.png?v=1537565088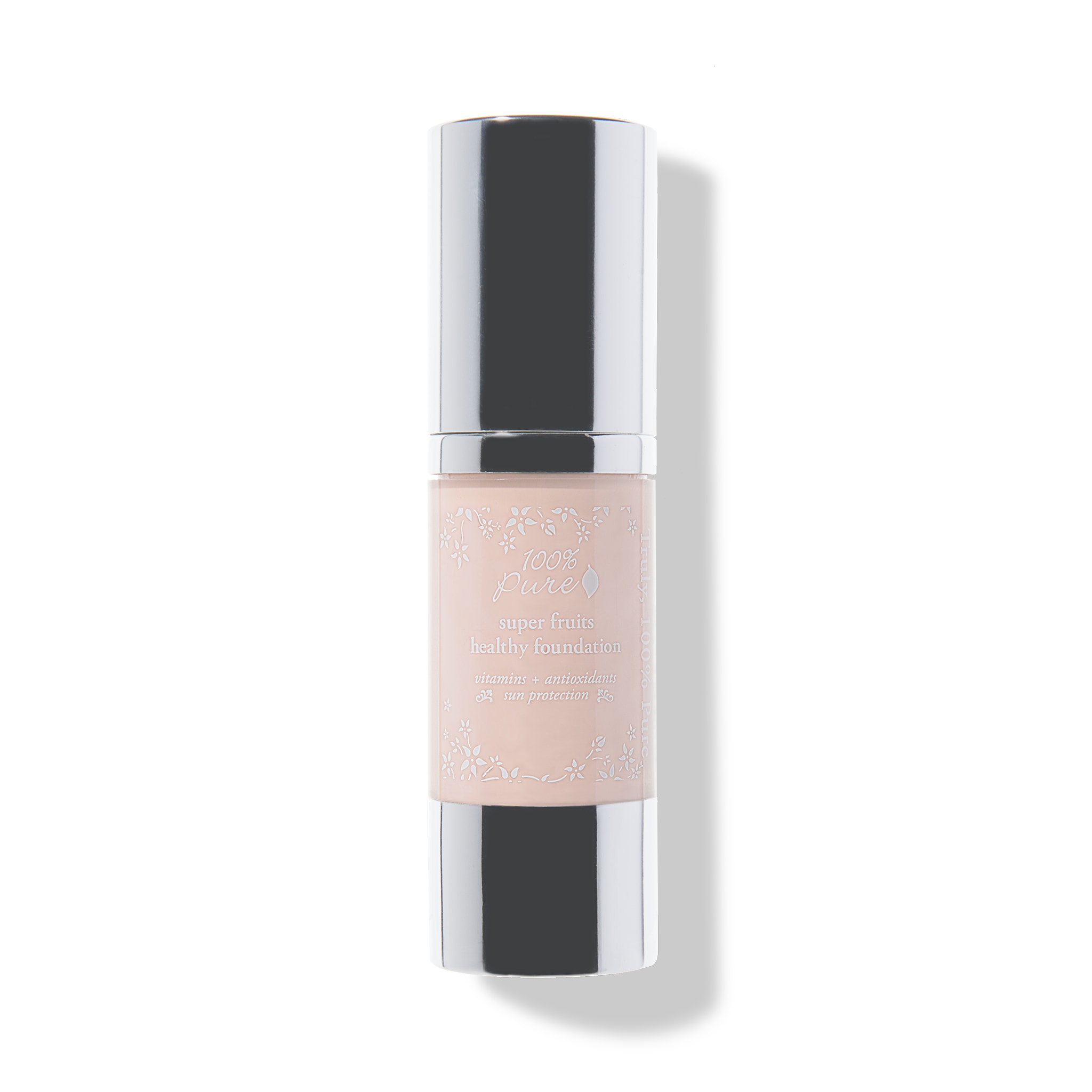 Fruit Pigmented® Healthy Foundation
Fruit Pigmented®

Natural

Vegan

Cruelty Free

Gluten Free
Full coverage fruit pigmented® foundation with soothing aloe, antioxidant rich super fruit oils, and a flawless matte finish. Great for normal-oily skin types.
For Normal, Dry, Combination Skin Types
Full Coverage
Matte Finish

Rich and creamy, full coverage Fruit Dyed Makeup that conceals all imperfections so you look like you have perfect skin without looking or feeling heavy. Creme to matted powder finish makes your skin velvet soft. Formula is enriched with antioxidant-packed super fruits, vitamins and other skin-nourishing nutrients. Colored from the pigments of fruits and vegetables rather than being colored from minerals or synthetic dyes.

Coverage

Finish

Shade Chart

Alpine Rose

Fair with cool undertone

Créme

Fair with warm undertone

White Peach

Light with warm golden undertone

Sand

Light with warm peach undertone

Peach Bisque

Tan with warm golden undertone

Golden Peach

Medium with warm peach undertone

Toffee

Tan with cool undertone

Mousse

Deep with neutral undertone

Cocoa

Deep with warm golden undertone

Directions

Dot on forehead, cheeks, nose, and chin. Blend outwards with your fingers or with a brush. Can apply second layer on areas that need more coverage.

Every ingredient we use is beneficial, here are a few:

Goji Berry

Goji Berry boosts collagen production and skin elasticity.

Acai

Acai heals and protects with antioxidants.

Coffee Cherry

Coffee Cherry fights and lessens wrinkles.

Elderberry

Elderberry clarifies skin and prevents fine lines.

Mangosteen

Mangosteen tightens skin and lessens wrinkles.

Complete list of ingredients:

Aloe Barbadensis (Organic Aloe Juice) Leaf Extract*, Oryza Sativa (Rice) Starch, Titanium Dioxide, Zinc Oxide, Extracts of Prunus Persica Fruit (Peach), Prunus Armeniaca Fruit (Apricot), Theobroma Cacao (Cocoa Bean) and Lycium Barbarum Fruit (Goji Berry), Euterpe Oleracea Pulp (Acai) Oil, Punica Granatum Fruit Extract (Pomegranate Oil), Tocopherol (Vitamin E), Sodium Ascorbate (Vitamin C), Euphorbia Cerifera (Candelilla) Wax, Extracts of Camelia Sinensis Leaf Ferment (White Tea), Coffea Arabica (Coffee Cherry), Aristotelia Chilensis (Maqui Berry), Vitis Vinifera Skin (Muscadine Grape), Garcinia Mangosteen Peel (Mangosteen), Malpighia Punicifolia Fruit (Acerola), Sambucus Canadensis (Elderberry), Citrus Grandis (Grapefruit) Seed, Lonicera Caprifolium Flower and Lonicera Japonica (Honeysuckle) Flower Extract *Certified Organic
Fruit Pigmented® Healthy Foundation
has a rating of
4.4
stars based on
1575
reviews.
Customer Reviews
foundation
skin
coverage
face
makeup
ingredients
color
foundations
moisturizer
peach
Need more shades!
I love the formula of this foundation! It dries down matte and it doesn't look or feel like you're wearing any makeup. I would say it's more medium coverage than full coverage with one pump but you could build it up to full coverage. I bought mine in golden peach and it was way too orange. I thought golden would be a mix of yellow and orange for tan skim but it was Oompa Loompa orange lol
Lovely!
I love this foundation! Since I started using 100% Pure a few months ago my skin has looked so much healthier. I do use the mattifying primer with my foundation. One thing I love about this formula is that I can use it alone or layer on the powder foundation and a setting powder for a more formal look.
Beautiful
This was one of the first products I ever purchased from 100% Pure. It gives you the most flawless, full coverage, Snow White look! This looks amazing in photoshoots as well! I have dry skin in the winter time and so I have to apply a moisturizer before. I purchased this in store and was amazed!
100% LOVE IT!
Nothing bad to say, color matches great, love the texture, my skin tends to get oily as the day progresses but this makeup keeps it in check and I don't end up with a ton of shine by the end of the day, also does not break me out.
04/13/2019
Isabella Ramirez
Lasts all day!
This foundation delivers the right coverage and wear time for my needs. It lasts all day and looks better throughout the day. My critique is that I have trouble building coverage with this. For example, if I want to add a bit more for redness around my nose, the foundation darkens around the edges of the blend and sometimes gets removed as I try to add more. It took some practice to get past that, but once I got the hang of it I was able to enjoy it fully.
Complete the Package
Continue Shopping →