https://purity-res.cloudinary.com/image/fetch/q_auto:best,f_auto,fl_lossy,w_auto,c_limit,dpr_auto/https://cdn.shopify.com/s/files/1/0648/1955/products/HVVAxhCDRC66noh8CKr8_446baf7f-def3-41c1-95de-437d27bf92c6.png?v=1537565088
https://purity-res.cloudinary.com/image/fetch/q_auto:best,f_auto,fl_lossy,w_auto,c_limit,dpr_auto/https://cdn.shopify.com/s/files/1/0648/1955/products/QRSbmfl2RYfEAO74w1PQ_fe7066f6-03d7-4158-9c88-3f3f5d9ddbb1.png?v=1537565088
https://purity-res.cloudinary.com/image/fetch/q_auto:best,f_auto,fl_lossy,w_auto,c_limit,dpr_auto/https://cdn.shopify.com/s/files/1/0648/1955/products/1vHwBJrHRoeLEAx2l8kO_2af71a7a-8a76-4dba-8e7f-271574b53806.png?v=1537565088
https://purity-res.cloudinary.com/image/fetch/q_auto:best,f_auto,fl_lossy,w_auto,c_limit,dpr_auto/https://cdn.shopify.com/s/files/1/0648/1955/products/0af1l102SmyhS7pC5oGA_f072ecb8-6476-465b-8931-8946c034395c.png?v=1537565088
https://purity-res.cloudinary.com/image/fetch/q_auto:best,f_auto,fl_lossy,w_auto,c_limit,dpr_auto/https://cdn.shopify.com/s/files/1/0648/1955/products/Es12qBdcTaO4msyrAgVQ_f6ab1c9b-b642-4ce1-b04d-7aca82b7412f.png?v=1537565088
https://purity-res.cloudinary.com/image/fetch/q_auto:best,f_auto,fl_lossy,w_auto,c_limit,dpr_auto/https://cdn.shopify.com/s/files/1/0648/1955/products/lCIpTU3lRnSBwVx9bNqg_dd6620a2-b29f-4687-b0b9-fceea244141b.png?v=1537565088
https://purity-res.cloudinary.com/image/fetch/q_auto:best,f_auto,fl_lossy,w_auto,c_limit,dpr_auto/https://cdn.shopify.com/s/files/1/0648/1955/products/lF0U197WQ4CVuIvyePMQ_0b03858e-31ec-460c-a014-1d40b158c0cc.png?v=1537565088
https://purity-res.cloudinary.com/image/fetch/q_auto:best,f_auto,fl_lossy,w_auto,c_limit,dpr_auto/https://cdn.shopify.com/s/files/1/0648/1955/products/9Lc7UHX9RuMEQ8tpggVA_c2603b86-41d1-43b5-8021-4a81627b8322.png?v=1537565088
https://purity-res.cloudinary.com/image/fetch/q_auto:best,f_auto,fl_lossy,w_auto,c_limit,dpr_auto/https://cdn.shopify.com/s/files/1/0648/1955/products/ocYRkfnoQhCUa2shnnA0.png?v=1537565088
https://purity-res.cloudinary.com/image/fetch/q_auto:best,f_auto,fl_lossy,w_auto,c_limit,dpr_auto/https://cdn.shopify.com/s/files/1/0648/1955/products/1rkvZ5vtSG2ikYkJtCua_82bcf731-188e-46aa-8edf-d4c1b5fec089.png?v=1537565088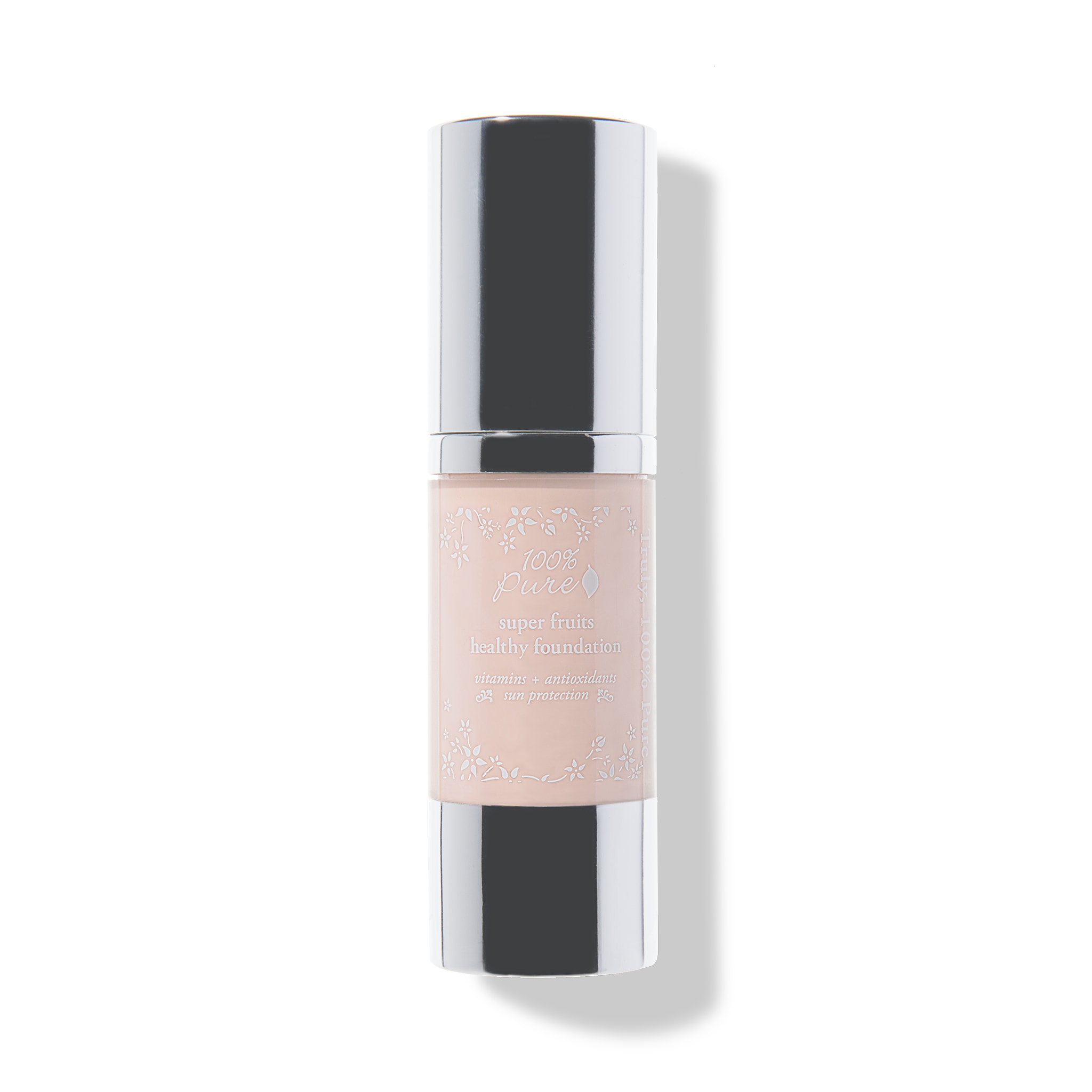 Fruit Pigmented® Healthy Foundation
Fruit Pigmented®

Natural

Vegan

Cruelty Free

Gluten Free
Full coverage fruit pigmented® liquid foundation with soothing aloe, antioxidant-rich superfruit oils, oil-absorbing rice powder, and a flawless matte finish.
For Normal, Dry, Combination Skin Types
Full Coverage
Matte Finish

Complexion-perfecting natural foundation enriched with antioxidant-packed superfruits, vitamins, and other skin-nourishing nutrients. Creamy liquid formula sets with a pristine matte finish for soft, velvety smooth skin. Gorgeous fruit pigments and rice powder deliver 100% opacity, ideal for absolute full coverage of dark circles or hyperpigmentation, controlled shine, and balanced excess oil.

Coverage

Finish

Shade Chart

Alpine Rose

Fair with cool undertone

Créme

Fair with warm undertone

White Peach

Light with warm undertone

Sand

Light medium with neutral undertone

Peach Bisque

Medium with olive undertone

Golden Peach

Medium tan with warm undertone

Toffee

Tan with neutral undertone

Mousse

Tan dark with warm undertone

Cocoa

Deep with neutral undertone

Directions

Dot on forehead, cheeks, nose, and chin. Blend outwards with your fingers or with a brush. Can apply second layer on areas that need more coverage.

Every ingredient we use is beneficial, here are a few:

Goji Berry

Goji Berry boosts collagen production and skin elasticity.

Acai

Acai heals and protects with antioxidants.

Coffee Cherry

Coffee Cherry fights and lessens wrinkles.

Elderberry

Elderberry clarifies skin and prevents fine lines.

Mangosteen

Mangosteen tightens skin and lessens wrinkles.

Complete list of ingredients:

Aloe Barbadensis (Organic Aloe Juice) Leaf Extract*, Oryza Sativa (Rice) Starch, Titanium Dioxide, Zinc Oxide, Extracts of Prunus Persica Fruit (Peach), Prunus Armeniaca Fruit (Apricot), Theobroma Cacao (Cocoa Bean) and Lycium Barbarum Fruit (Goji Berry), Euterpe Oleracea Pulp (Acai) Oil, Punica Granatum Fruit Extract (Pomegranate Oil), Tocopherol (Vitamin E), Sodium Ascorbate (Vitamin C), Euphorbia Cerifera (Candelilla) Wax, Extracts of Camelia Sinensis Leaf Ferment (White Tea), Coffea Arabica (Coffee Cherry), Aristotelia Chilensis (Maqui Berry), Vitis Vinifera Skin (Muscadine Grape), Garcinia Mangosteen Peel (Mangosteen), Malpighia Punicifolia Fruit (Acerola), Sambucus Canadensis (Elderberry), Citrus Grandis (Grapefruit) Seed, Lonicera Caprifolium Flower and Lonicera Japonica (Honeysuckle) Flower Extract *Certified Organic
Customer Reviews
one
color
skin
coverage
face
foundation
makeup
ingredients
moisturizer
foundations
Amazing Organic Foundation
One of the best organic foundations I have ever tried! Is completely full coverage and matte. Drys on the skin and doesn't make your face feel sticky...feels like you aren't wearing anything! Hasn't broken me out at all and lasts almost all day...I have combination skin. I noticed in my dry areas it gets a little patchy if you don't apply moisturizer or primer beforehand so make sure to prep your skin before hand.
Good for oily skin
I have oily acne prone skin with hyperpigmentation and I love this foundation! It goes on matte and stays matte. It covers my hyperpigmentation nicely. I would not recommend this if you have anything less than oily skin because it is very matte!
06/09/2019
Alanah McKelvey
Better than any foundation sold at Sephora
As someone with combination skin more on the oily side, finding a foundation that will last all day is a difficult task. This foundation is made of all clean ingredients AND it stays on my face all day! Love!
So light and clean...
I am pleased with this product. It is lightweight and not tacky. I can wear it all day and feel as though I have nothing on. I have several compliments on how clean and fresh my skin looks. The only reason I do not give it 5 stars is because I have dark spots that I do wish the one product would cover completely but nothing some concealer cannot cover. Love this and recommend it to all of my friends and family.
06/06/2019
Hannah Johndrow
Best makeup ever!!!!!!
This literally is the best makeup ever! Not only does it make my skin beautiful and flawless but I clears up my acne too!!
Complete the Package
Continue Shopping →