https://purity-res.cloudinary.com/image/fetch/q_auto:best,f_auto,fl_lossy,w_auto,c_limit,dpr_auto/https://cdn.shopify.com/s/files/1/0648/1955/products/443cbaf76cca0c66e57129330ba4e8d2_78b7a22d-b12e-445e-af59-d7ca704416a6.png?v=1529431232
https://purity-res.cloudinary.com/image/fetch/q_auto:best,f_auto,fl_lossy,w_auto,c_limit,dpr_auto/https://cdn.shopify.com/s/files/1/0648/1955/products/5d0e4368cf3d7184589f9f229c65218c_3bba1880-a66f-4880-bedd-4aafe1b74c8c.png?v=1529431232
https://purity-res.cloudinary.com/image/fetch/q_auto:best,f_auto,fl_lossy,w_auto,c_limit,dpr_auto/https://cdn.shopify.com/s/files/1/0648/1955/products/68593c3b2f4146461f8fc2a3e5f47bd6_a3a6cf41-2e34-4a15-9eb9-54659d9e879b.png?v=1529431232
https://purity-res.cloudinary.com/image/fetch/q_auto:best,f_auto,fl_lossy,w_auto,c_limit,dpr_auto/https://cdn.shopify.com/s/files/1/0648/1955/products/db0e14c4213e60feae2b494c2e23d9da_c09b1ed7-5b5f-41be-8105-32e75199b95e.png?v=1529431232
https://purity-res.cloudinary.com/image/fetch/q_auto:best,f_auto,fl_lossy,w_auto,c_limit,dpr_auto/https://cdn.shopify.com/s/files/1/0648/1955/products/ec81db2eebf0025e149fef588ff0e8dd_2d9ddbf2-1375-404c-a410-daf637bce620.png?v=1529431232
https://purity-res.cloudinary.com/image/fetch/q_auto:best,f_auto,fl_lossy,w_auto,c_limit,dpr_auto/https://cdn.shopify.com/s/files/1/0648/1955/products/72ad070c958676cfb1ee59712799586b_853cfc09-02a5-4d53-8496-af1de861eb6f.png?v=1529431232
https://purity-res.cloudinary.com/image/fetch/q_auto:best,f_auto,fl_lossy,w_auto,c_limit,dpr_auto/https://cdn.shopify.com/s/files/1/0648/1955/products/4dfdf7c0d907ba2c17a9f22ccc50f207.png?v=1529431232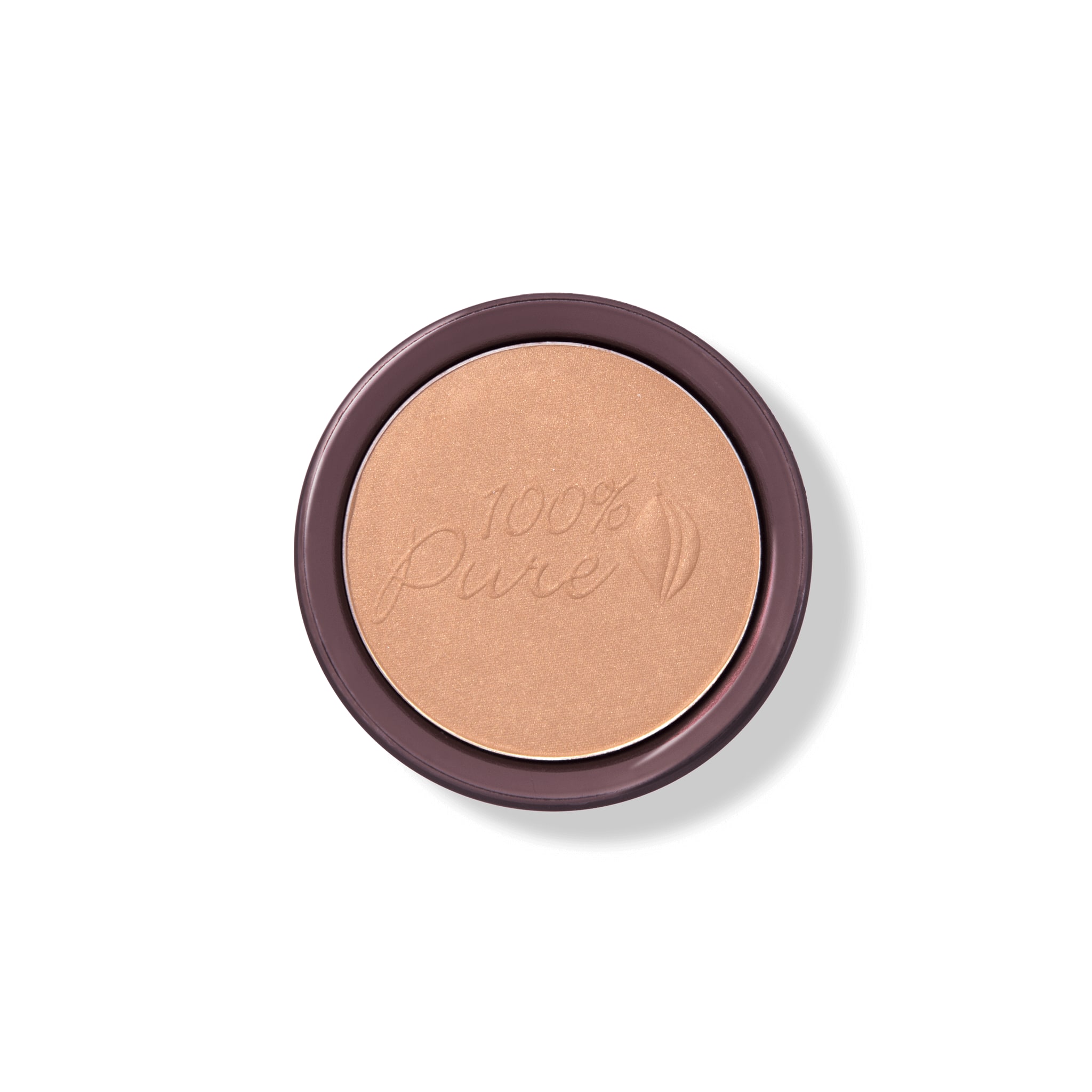 Cocoa Pigmented Bronzer
Fruit Pigmented®

Natural

Vegan

Cruelty Free

Gluten Free
Give skin a sun-kissed glow with vitamin rich, anti-aging fruit and cocoa pigmented bronzer powder. Laced with luminescent minerals for subtle shimmer.
Natural bronzer will give you a warm, beautiful, sun kissed glow instantly from pigments of cocoa, coffee, tomato and berries. Luminescent, light reflective pigments will give you a subtle shimmer. Concentrated with anti aging vitamins, antioxidants and skin nourishing ingredients. Use all over your face and body whenever you desire a sun kissed look.

Directions

Swirl

Cruelty-Free Kabuki Brush

into bronzer, then tap off excess powder. For a sun-kissed look, apply bronzer to areas where sun would naturally hit your face: upper forehead, hairline, cheekbones, and bridge of nose. You can also blend bronzer under your jawline to contour.

Every ingredient we use is beneficial, here are a few:

Sunstone

Sunstone is a natural mineral with sparkle.

Vitamin E (Tocopherol)

Vitamin E restores and protects from free radical damage.

Cocoa Pigment

Cocoa Pigment provides natural warm color.

Cocoa Butter

Cocoa Butter softens and moisturizes.

Cocoa

Cocoa repairs and softens skin with antioxidants.

Complete list of ingredients:

Theobroma Cacao (Cocoa Powder) Extract, Theobroma Cacao (Cocoa) Seed Butter, Pigments of Theobroma (Cacao), Prunus Armeniaca (Apricot) Fruit, Prunus Persica (Peach) Fruit, Punica Granatum (Pomegranate), Rubus Fruticosus (Blackberry) Fruit, Rubus Idaeus (Raspberry), Coffea Arabica (Coffee) Seed, Papain (Papaya), Solanum Lycopersicum (Tomato) Fruit/Leaf/Stem, Black Tea and Euterpe Oleracea (Acai Berry) Fruit, Vitamin E (A-Tocopherol), Lavandula Angustifolia (Lavender) Flower Powder, Rosa Canina (Rosehip Oil) Seed, Persea Gratissima (Avocado) Butter, Mica (Natural Mineral Shimmer)
By using hashtag #100percentpure or #nodirtybeauty, I hereby grant to 100% PURE (Purity Cosmetics), it subsidiaries, agents and affiliates, the unlimited worldwide, perpetual, unending right to use, reproduce, distribute, and convey my image/photograph in any format or medium now known or subsequently developed, to modify and edit my image/photograph, to combine my image/photograph with other images, video, audio, text and other media, to create derivative works incorporating, including or based on my image/photograph. This grant shall be construed broadly.
---
Cocoa Pigmented Bronzer
has a rating of
4.7
stars based on
190
reviews.
Customer Reviews
bronzer
color
shade
ingredients
quality
eyeshadow
complexion
Cocoa Glow
skin
foundation
My favorite
By far my favorite bronzer out there!
Cocoa Glow
I ordered Cocoa Glow, and initially I thought it wouldn't be dark enough, but it is perfect! I have a tan/olive complexion, and would be the shade toffee in the foundation.
Cocoa Glow
I'm pretty fair and this bronzer is pretty dark. If I just dab a brush on top it's just right for my lighter complexion. Also, I found its very pretty as an eyeshadow ;)
Finally an all natural bronzer!
Really enjoy the color and application, a little goes a long way, especially if you order a darker shade.
Complete the Package
Continue Shopping →