Full Coverage Foundation for Every Occasion
Choose between 3 versatile foundation formulas for flawless, full coverage
Posted on June 26, 2019
Written by: 100% PURE®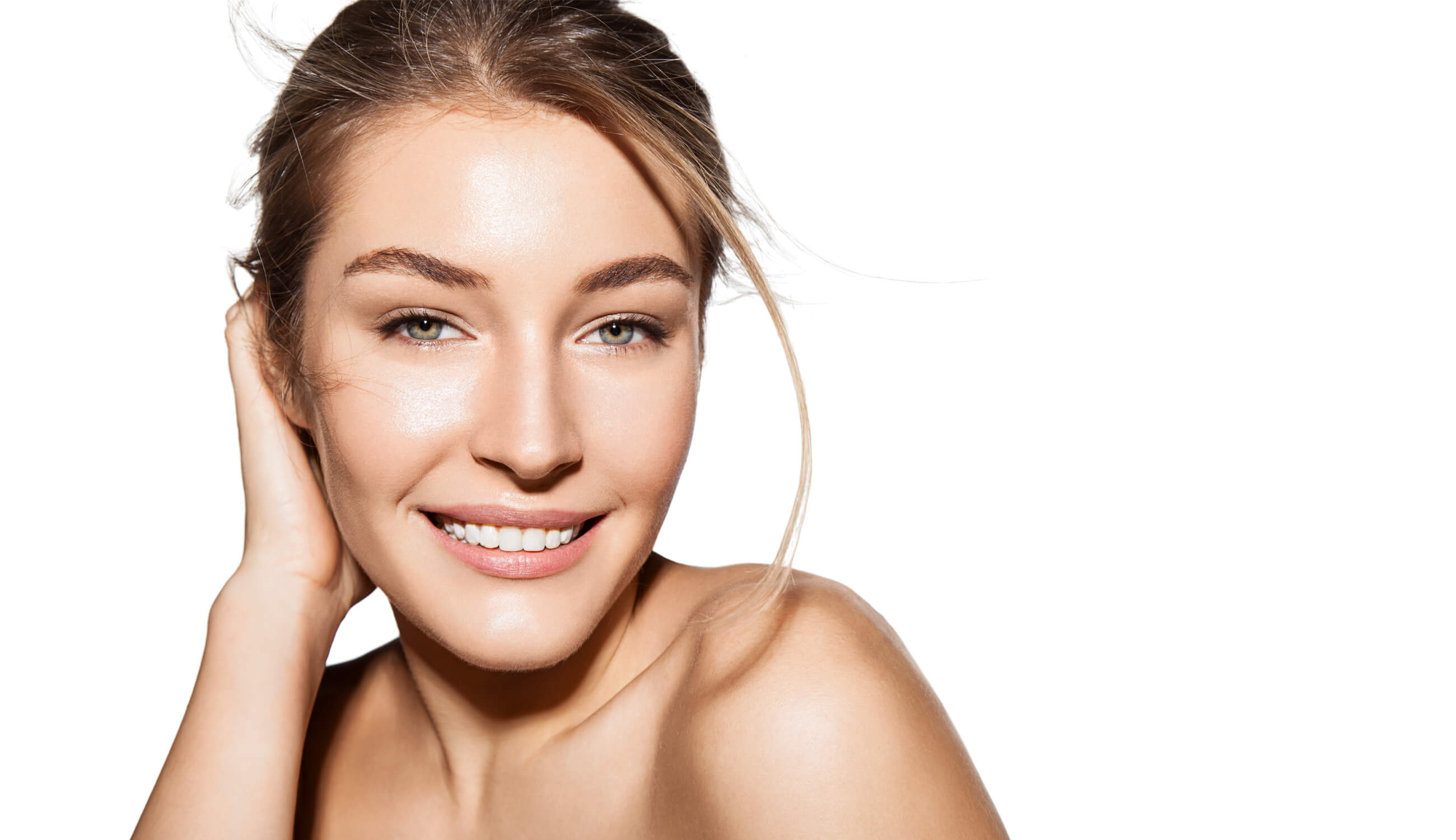 Summertime and the beauty's breezy – our favorite season of the year is finally here! Looking to revise your beauty routine for all the bonfires, summer barbecues, and jet setting you have planned? You'll definitely want to try out a full coverage foundation, to stand up to ravaging winds, dark circles, and blemishes while you enjoy your time outdoors.
We've narrowed down our three go-tos for full coverage natural foundation that you can use for any occasion – for summer and beyond. We've also included a few other beauty tips to help you complete your look, for a look that stays put when (and where) it matters!
3 Types of Full Coverage Natural Foundation
We always hear the question: "What type of foundation is best for my skin?" To be honest, there is no one right answer. What we CAN tell you is which foundations are most compatible with your skin, and when to wear them, for which occasion. Today we're focusing our efforts on the full coverage variety, to help keep your complexion even and flawless all day long. Get the deets below!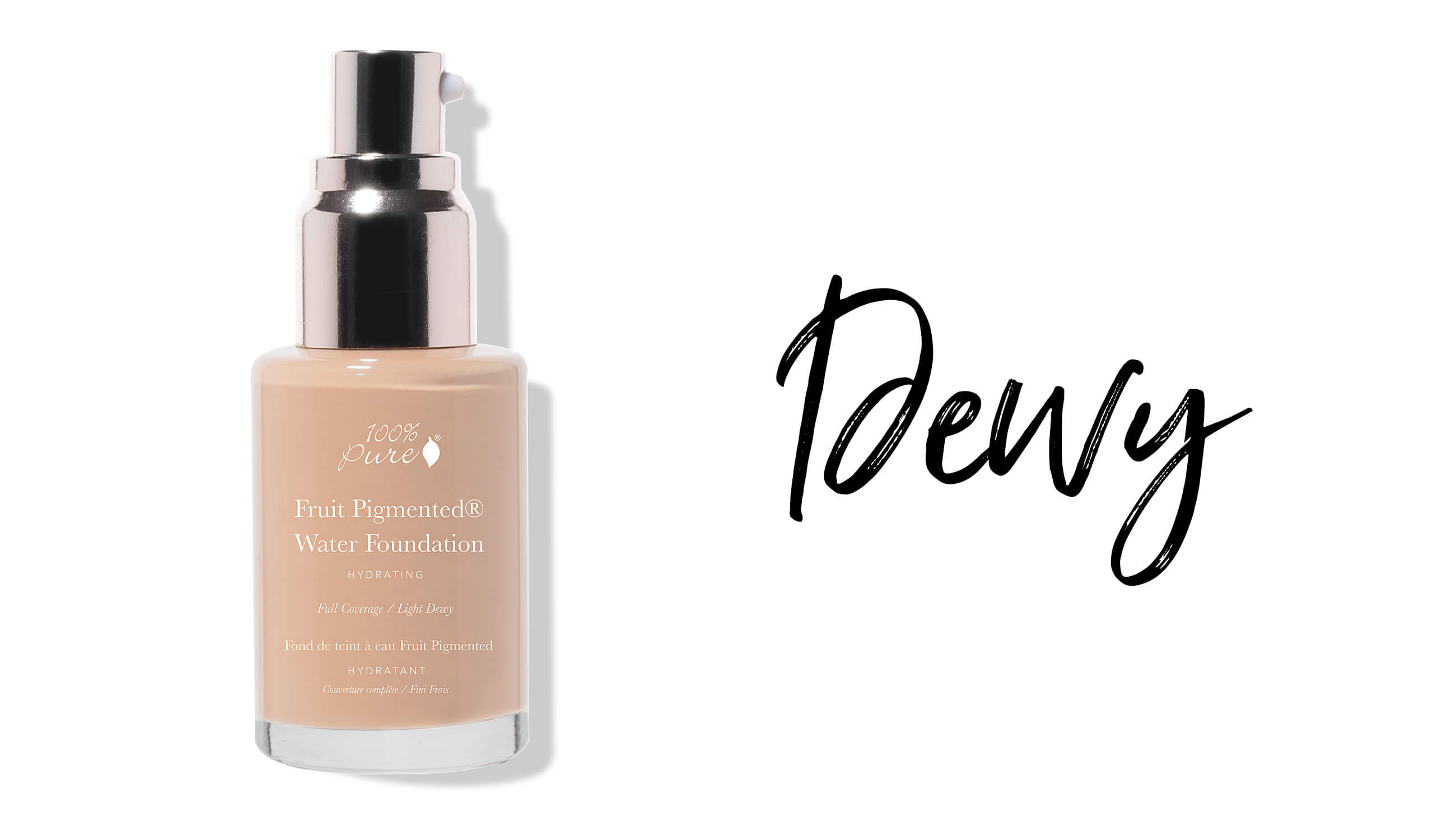 Dewy, Full Coverage Foundation
What's to like:
So, you're after moist, glowing skin? Think of that fresh-outta-Soulcycle glow. If fitness models can rock it, so can we! In this case of this natural foundation type, the dewy finish will be even more legit if you opt for formulas with real, water-based key ingredients like aloe vera juice. A dewy finish is great for work or for play, and truly shines in summer. It's especially perfect for no-makeup makeup looks, or looks flaunting skin and complexion over color and product.
What to consider:
While dewy skin is great in theory, most dewy foundations tend to offer less coverage and may not be a favorite for combination, oily, or acne-prone skin. Due to the nature of this foundation, hot and humid weather conditions may not be conducive to longest lasting wear.
Our top pick: Full Coverage Water Foundation
Having organic aloe juice as its primary ingredient means that this semi-dewy foundation is incredibly hydrating and soothing! This active ingredient will work to comfort normal, dry, and inflamed skin types for a softer texture and clearer complexion over time.

Juicy peach extract does more than just smell good; this stonefruit adds natural, realistic pigmentation to this full coverage foundation. Moreso, the wholesome vitamins from this fruit contribute to a brighter, smoother complexion as peaches are high in antioxidants and vitamin A, to help with anti-aging and gentle brightening.

The potent antioxidant red wine resveratrol supports super smooth, age-defying skin and enhances that youthful bounce we all lust after. It's also a big help for minimizing the effects of environmental toxins and UV damage.
PRO TIP: Layer this baby over tinted moisturizer, which you can substitute as a primer for dry to dry-combo skin types.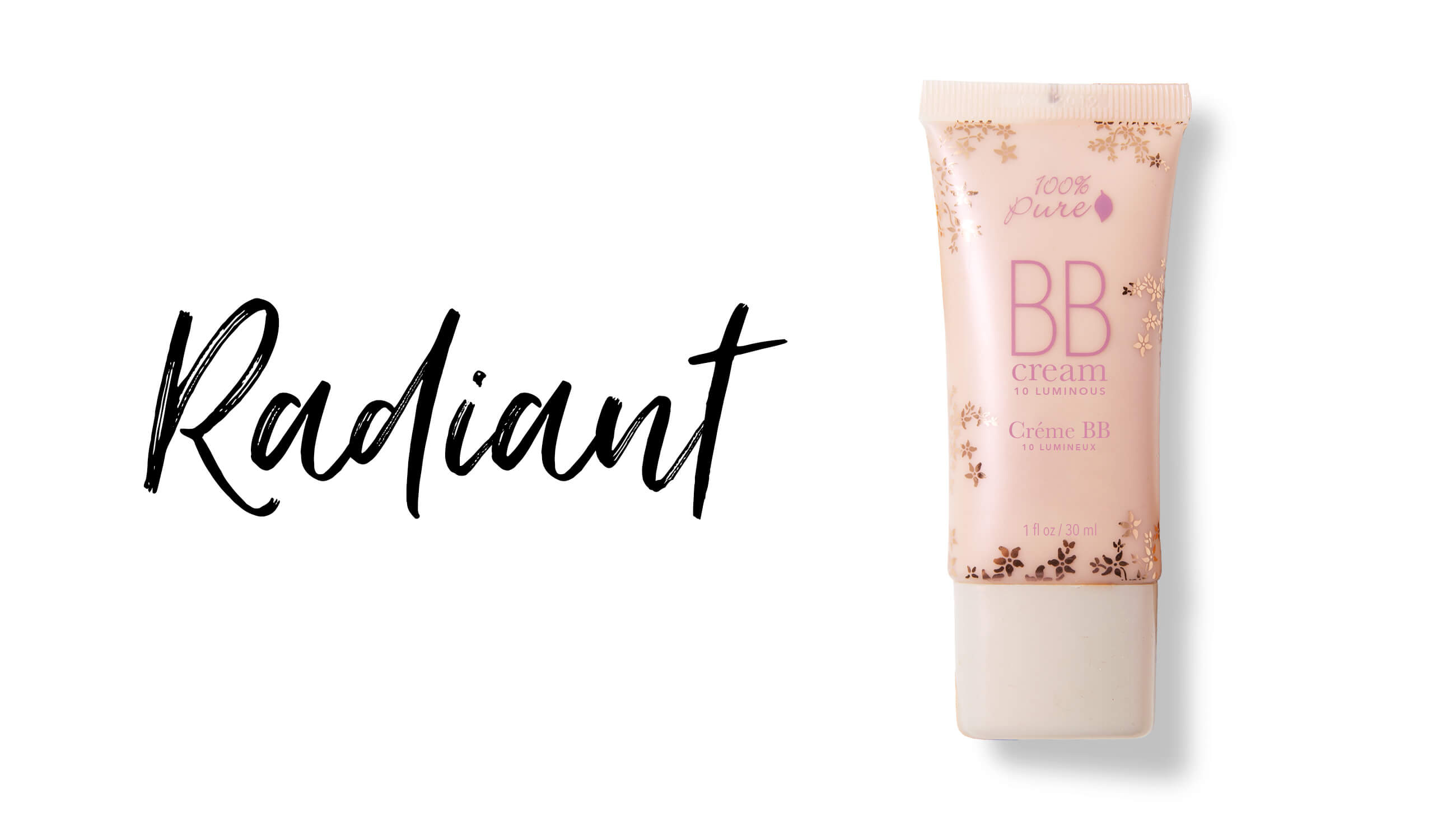 Radiant, Full Coverage Foundation
What's to like:
When it comes to beauty finishes, radiant options are the perfect happy medium between matte and dewy. While dewy foundation has a shine that's ideal for normal to dry skin types, radiant foundations reflect light most similarly to skin, while still providing a neutral, soft blur for a constantly fresh effect. These are ideal for nights out, sunny locales, weddings, or anywhere you need your skin to look completely magical.
What to consider:
While looking like a glowing goddess might seem like a no-brainer for every day, radiant natural foundations can be tricky. Tread lightly when pairing these foundations with highlighters and luminizers, to avoid the dreaded 'frosted' look a la the early 2000's. You'll also want to be careful when applying translucent powder over shiny or oily areas, since you'll end up with an uneven finish that reflects light in some areas, but completely diffuses it in others.
Our top pick: BB Cream
Completely vegan and cruelty free, this lightweight BB cream is designed to be layered for your desired level of coverage, all the way up to being as opaque as a full coverage foundation.

Give skin a full dose of calm with this BB boost of cornflower water. Super soothing on the skin, this ingredient can help ward off unsightly blemishes and uneven texture.

For this skin rejuvenating BB cream, toning and brightening raspberry give the skin a summer radiance that sets off your tan to a T. This ingredient also helps to protect the skin from harsh UVA and UVB rays with its potent antioxidant content.

To maintain moisture and suppleness, shea butter and jojoba seed oil balance out this medium-full coverage foundation formula for a healthy, radiant texture.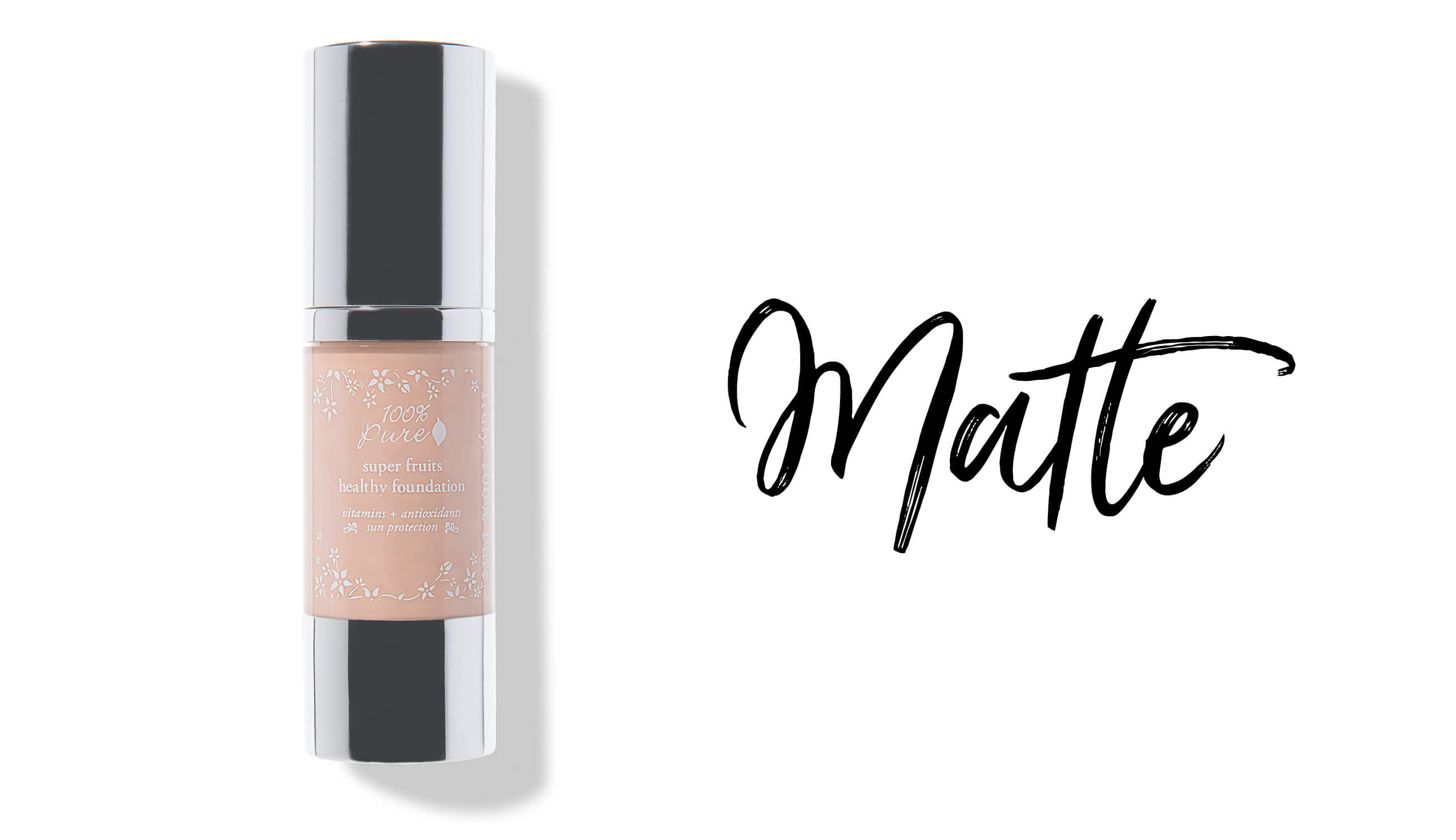 Matte, Full Coverage Foundation
What's to like:
Full coverage foundation in a matte formula? Um, all the YES. For oily or combination skin types, this shine-banishing savior keeps the skin neutral and natural for professional, outdoor, or high intensity activities. Think job interviews, roller coasters, trips to the beach, a day at the office – a matte, full coverage foundation stands up strong to anything you throw its way. Where as dewy full coverage foundations are better for summer splashing and sun, a matte alternative is unrivaled for handling those moments when you need to turn up the sophistication. This foundation is also superb for oily and combination skin types.
What to consider:
Most matte foundations will come equipped with oil-absorbing ingredients like rice powder, titanium dioxide, and zinc oxide. While these work wonders for normal to oily skin types, those with dry skin might find their skin yearning for extra moisture, instead of having it minimized. Matte, full coverage foundations can also look a little heavy in certain lights, depending on your formula. Be sure your matte foundation is lightweight enough to create a smooth finish, without clumping around areas like the nose, cheeks, and chin.
Our top pick: Fruit Pigmented® Healthy Foundation
This foundation is a fruit-full fiesta featuring goji, mangosteen, and acai. Think brave antioxidants battling harmful free radicals, which can cause premature aging and increase your risk of blemishes. Goji berries contain amino acids and vitamins to help minimize the surface effects of sun damage, so essentially these super fruits are SPF-boosters and pigmentation in one.

Rice starch plays a key role in this formula, to help mattify and balance the skin. This unassuming ingredient helps to absorb unsightly excess oil, while creating a soft, seamless finish with its superfine texture.

Real fruit and cocoa pigmentation means that as you apply, the full coverage finish appears authentic and lightweight without looking cakey or clumpy.
We get it, you're looking for more than just a full coverage foundation – you're looking for your forever foundation! Check out our guide to choosing the best natural foundation, and start your own fruit pigmented® foundation legacy!
We carefully hand-select products based on strict purity standards, and only recommend products we feel meet this criteria. 100% PURE™ may earn a small commission for products purchased through affiliate links.
The information in this article is for educational use, and not intended to substitute professional medical advice, diagnosis, or treatment and should not be used as such.
Sign up to our email newsletter for more blog updates and exclusive discounts.
< Older Post | Newer Post >