https://purity-res.cloudinary.com/image/fetch/q_auto:best,f_auto,fl_lossy,w_auto,c_limit,dpr_auto/https://cdn.shopify.com/s/files/1/0648/1955/products/ur19cLYTF6DyHRNaGdsJ_9e7c3d35-c59b-4a81-924b-a276aac3e018.jpg?v=1550883134
https://purity-res.cloudinary.com/image/fetch/q_auto:best,f_auto,fl_lossy,w_auto,c_limit,dpr_auto/https://cdn.shopify.com/s/files/1/0648/1955/products/E5zcL0cMQhCdaDstZBpz_6dc4d13a-cbdd-4822-9246-d48f3793974c.png?v=1550883134
https://purity-res.cloudinary.com/image/fetch/q_auto:best,f_auto,fl_lossy,w_auto,c_limit,dpr_auto/https://cdn.shopify.com/s/files/1/0648/1955/products/KlSPR6S9SrG2NSQ3emF7_e69a5bce-8b0b-4249-a943-7037b5c859e9.jpg?v=1550883134
https://purity-res.cloudinary.com/image/fetch/q_auto:best,f_auto,fl_lossy,w_auto,c_limit,dpr_auto/https://cdn.shopify.com/s/files/1/0648/1955/products/q3itLTvPTUO7cIdniNaK_e9f62d51-c478-4144-a783-05b0f020aeb1.png?v=1550883134
https://purity-res.cloudinary.com/image/fetch/q_auto:best,f_auto,fl_lossy,w_auto,c_limit,dpr_auto/https://cdn.shopify.com/s/files/1/0648/1955/products/Iufkh9XtRRqXFPMPY4lW.png?v=1550883134
https://purity-res.cloudinary.com/image/fetch/q_auto:best,f_auto,fl_lossy,w_auto,c_limit,dpr_auto/https://cdn.shopify.com/s/files/1/0648/1955/products/OZ7tNh05QuqzCIHZpxyJ.png?v=1550883134
https://purity-res.cloudinary.com/image/fetch/q_auto:best,f_auto,fl_lossy,w_auto,c_limit,dpr_auto/https://cdn.shopify.com/s/files/1/0648/1955/products/EVG3dIGRZKjbb7dl7sUX.png?v=1550883134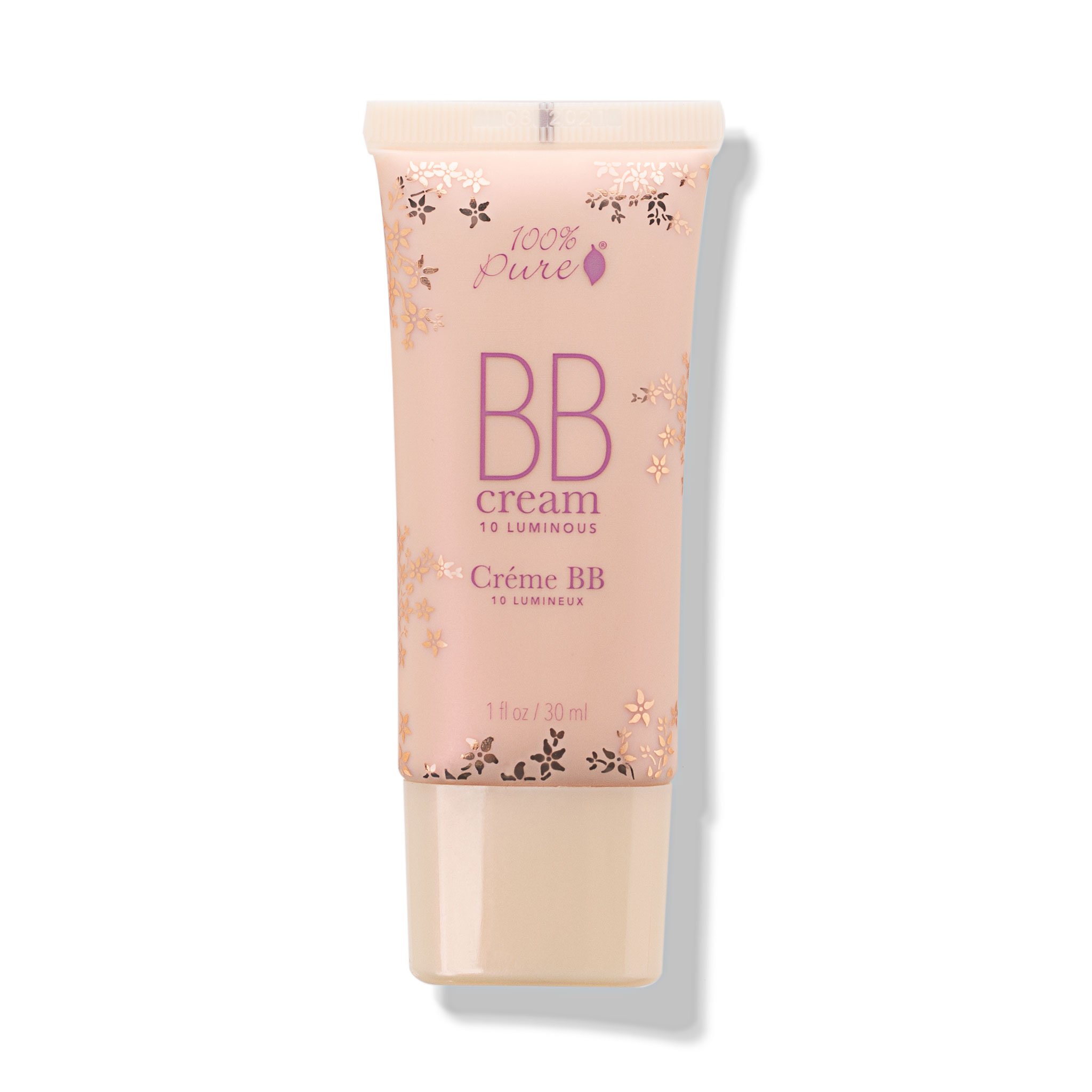 BB Cream
Fruit Pigmented®

Natural

Vegan

Cruelty Free

Gluten Free
Hydrating BB Cream foundation offers a dewy, luminescent finish and buildable light-medium coverage. Infused with skin soothing aloe, shea, and vitamin E.
For Normal, Dry Skin Types

Hydrating liquid-cream formula gives you a luminous complexion with buildable medium to full coverage and a dewy, natural finish. Thousands of light-reflective mineral pigments give skin a soft, incandescent glow.

Shade Chart

10 Luminous

Light with warm undertone

20 Aglow

Medium with warm undertone

30 Radiance

Tan with warm golden undertone

Directions

BB cream is a moisturizing skincare/makeup hybrid that is your primer, soothing treatment, concealer and foundation in one. After your normal skin care regimen, apply and blend well.

Every ingredient we use is beneficial, here are a few:

Raspberry Seed Oil

Raspberry Seed Oil protects from UVA and UVB rays.

Cherry

Cherry protects and heals skin with antioxidants.

Bilberry Seed Oil

Bilberry Seed Oil enriches with nutrients and fatty acids.

Shea Butter

Shea Butter deeply moisturizes and reinforces skin.

Cornflower Water

Cornflower tones and soothes skin.

Complete list of ingredients:

Aloe Barbadensis (Organic Aloe Juice) Leaf Extract, Centaurea Cyanus (Cornflower) Flower Water, Zinc Oxide, Caprylic/Capric Triglyceride (Derived from Coconut Oil), Sorbitan Sesquioleate (Derived from Sugar), Glycerin, Stearic Acid (Derived from Coconut), Silica, Leuconostoc/Radish Root Ferment Filtrate, Magnesium Stearate (Derived from Salt), Mica (Mineral), Sodium Phytate (Sodium Salt from Plant Seeds), Xanthan Gum (Non GMO), Simmondsia Chinensis (Jojoba) Seed Oil, Butyrospermum Parkii (Shea Butter), Vaccinium Myrtillus (Bilberry) Seed Oil, Lavandula Angustifolia (Lavender) Oil, Rosmarinus Officinalis (Rosemary) Leaf Extract, Prunus Avium (Sweet Cherry) Seed Oil, Prunus Cerasus (Bitter Cherry) Seed Oil, Punica Granatum (Pomegranate) Fruit Extract, Helianthus Annuus (Sunflower) Seed Oil, Rubus Idaeus (Raspberry) Seed Oil, Tocopherol (Derived from Rice Bran-Non GMO), Benzyl Alcohol (Plant derived), Dehydroacetic Acid, Potassium Sorbate (Salt of Sorbic Acid), Sorbic Acid (Derived from Sugar) May contain: Iron Oxides, (Non-Nano) Titanium Dioxide
BB Cream
has a rating of
4.3
stars based on
828
reviews.
Customer Reviews
skin
coverage
BB cream
face
look
glow
makeup
products
foundation
skin tone
I wasn't convinced the first
I wasn't convinced the first two times I tried it on, the color matched perfectly with my skin tone but the texture/density is too tick compared to other BB and CC creams I have tried. I am not a big fan of its density but I love knowing that I am wearing clean makeup. I am not sure I'll buy again because the price is not budget friendly, and although I love the packaging of all 100 percent pure products I can't help it but wonder if the cute packaging is actually the reason for the prices to be too high? Anyway, I am trying different products to see which are the one I'll keep reordering and which won't be reordered, this BB cream is still in the middle of both lists. Btw my skin is extremely dry and this BB cream is not dewy looking at all, it's actually more on the matte side for me....
Amazing product!!
I never bother to write reviews, but I love this BB cream so much I had to let everyone know how amazing it is. I was hesitant to buy it because in my experience BB creams don't have very good coverage, but this one is perfect. The dewy/glowy finish is so nice! Its really thick, but it blends very well (no streaking at all) and it doesn't feel sticky or tacky which I've found to be a problem with other natural BB creams. It has a really nice blurring kind of of effect. The only downside is obviously the price point - if I was using this product every day I think it would run out pretty quickly :( theres not a lot in it for how expensive it is. However I will of course keep buying because I LOVE how natural the ingredients are and how nice it makes my skin look.
Please expand the shade range
Wonderful, creamy foundation. All day wear with no break down or creasing. The problem is the shade range. The lightest shade oxides a great deal and is too deep even when I am at my most tan. More lighter shades please : )
N
05/14/2019
Nicole
Refreshing light coverage
I've never used a tinted moisturizer before, and I was pleasantly surprised when I used this one! It didn't make me break out, soothed irritations And was efficient at covering up light skin tone differences!
Use it everyday!
This goes on perfectly after washing my face in the morning to give some sun protection. It smooths out my skin and keeps my face looking even and hydrated all day! I love it!!
Complete the Package
Continue Shopping →