A Beginners Guide to BB Cream
What is BB cream and why (and how) should you use it?
Posted on March 9, 2022
Written by: 100% PURE ®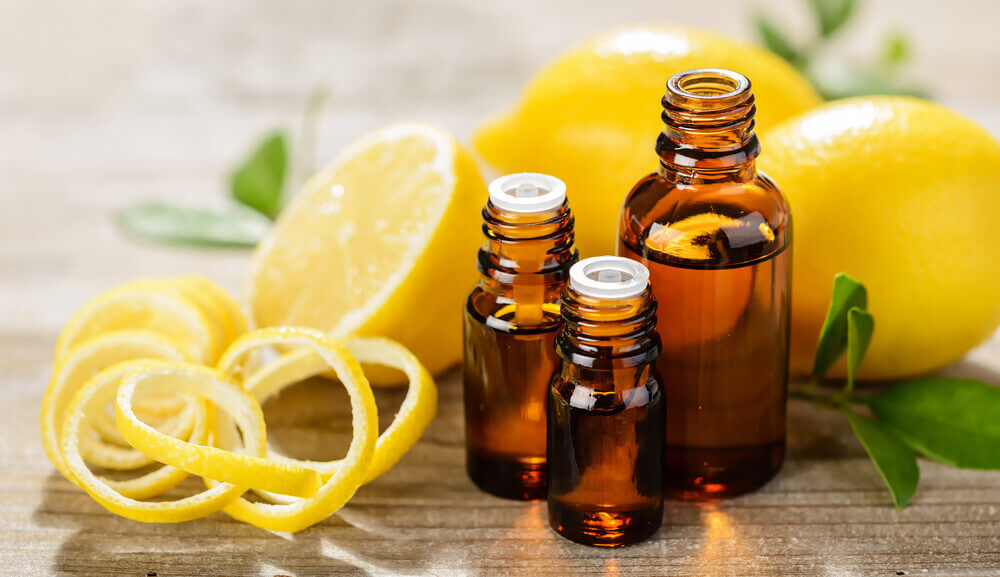 So you might be familiar with all the different types of foundation – from powder to cream, and even a revolutionary serum-like water foundation – what is BB cream, exactly? What's more, how do I properly apply it for a flawless finish? And does it really fall into the foundation category, or is it a primer – or both?!
The cryptic name "BB cream" doesn't tell us much at all, so that's why we've created this helpful BB guide. Stop searching because we (the self-proclaimed foundation experts) are here to bring you the full scoop on all things BB cream, and to shed light on this multi-tasking foundation.
Whether you've spotted it in the beauty aisle, on your favorite beauty blogger, or are still a complete BB cream newbie, we're ready to show you why you'll fall in love with (or rediscover) this multi-tasking makeup hero. Let's take a closer look at the question, "what is BB cream"!
What Is BB Cream?
It's time to demystify the name – just what is BB cream? BB stands for 'blemish balm' or 'beauty balm', but it does more than just your standard tinted face cream. BB creams are specially formulated to act as a 3-in-1 foundation. Working together, the three elements of any flawless complexion should consist of foundation, primer, and moisturizer. So, the answer to "what is BB cream" is that it's your all-in-one daily foundation, cutting down three steps into one. Hooray!
BB Creams exploded onto the Korean cosmetics scene when Korean women wanted alternatives to traditional foundations, which were too heavy and thick for their evolving beauty preferences. While a BB cream is more lightweight than the usual cream foundation, it still offers medium to full coverage as a normal foundation!
What is BB cream's benefit for us? Its smoother texture also allows BB cream to function as a primer by evening out skin tone for flawless makeup application. It often contains moisturizing ingredients which can be a dream come true for those of you looking to cut down on steps in your daily beauty and skin care routine.
BB Cream, CC Cream, or DD Cream?
Now that we've answered "what is BB cream," let's explore more. If you've heard of one beauty cream, you've probably heard of the others; CC and DD Cream. As we discussed, BB creams are meant to provide clean skin with skin healthy nutrients, as a 'balm' would do, with anywhere from light to full coverage thrown in. Our BB Cream has medium-full buildable coverage, making it able to correct imperfections. The term "CC" stands for 'color correcting' or 'complexion correcting'. A CC cream is designed to cover redness and perfect skin's tone with light-diffusing particles. Last but certainly not least, "DD" stands for 'daily defense'. DD creams contain protective ingredients but normally won't provide the same level of coverage as a BB cream.
Our natural BB creams are a truly luxe beauty experience, and provide moisturization and luminous coverage all in one. They're lightweight yet creamy, making them ideal for flake free and clump free, long-lasting wear. BB creams are formulated to help cover lines, scars, and provide a dewy, luminescent glow for your skin. Oh, and did we mention that they give you buildable medium to full coverage, for a flawless complexion? Yes, please!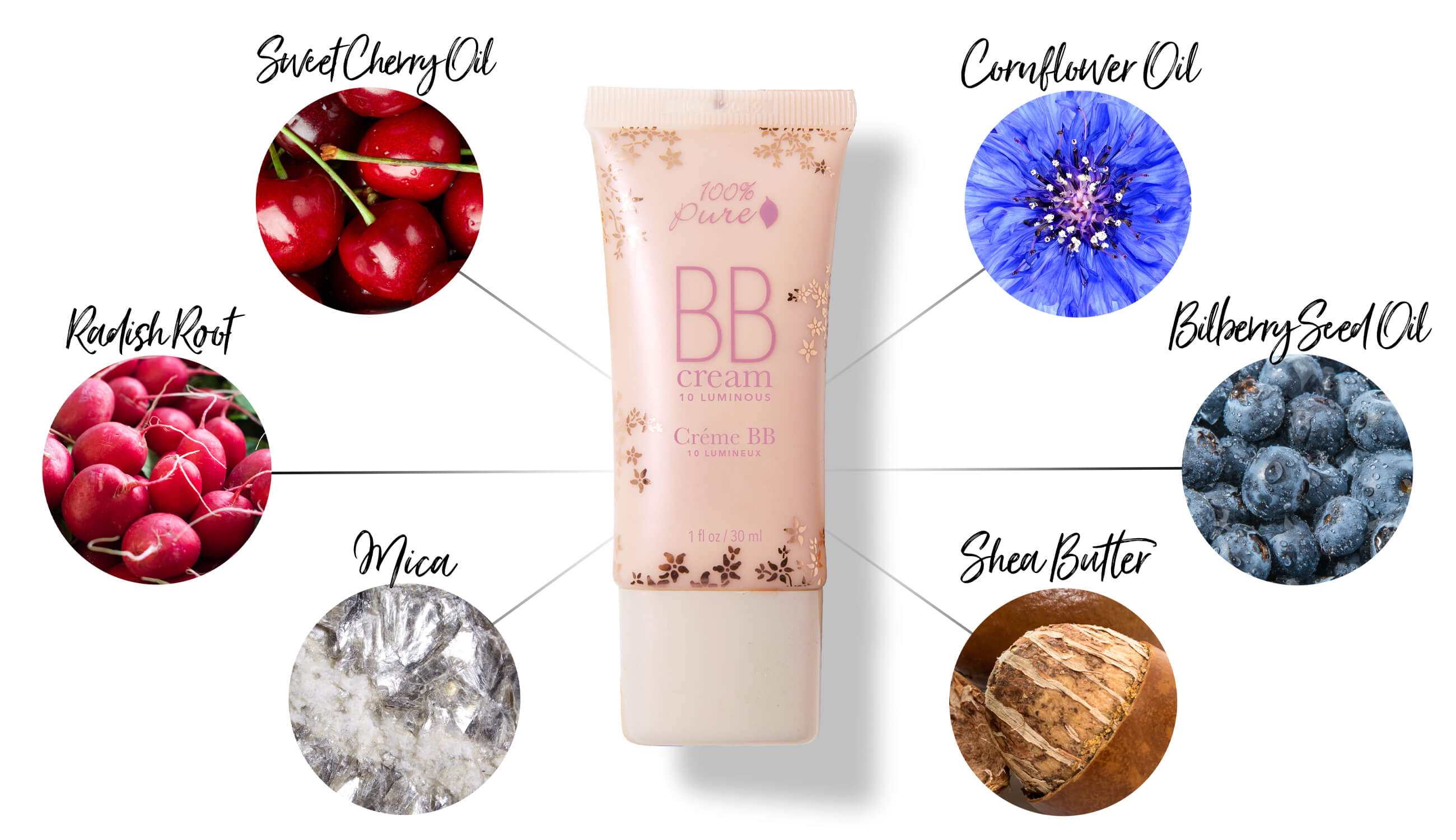 Why Use BB Cream?
We're not recommending that you can use a BB cream to replace skin care, but we are touting it's multi-tasking abilities to shorten your beauty routine. We recommend you follow a daily morning and night skin care routine (don't know where to start? Try a Korean skin care routine) to keep your complexion healthy and glowing.
What you need to know is that your skin is constantly absorbing everything it touches. That includes sunlight, pollution, and yes - even the skin care and makeup you put on your skin. The biggest perk of a natural BB cream is that you're enjoying smooth coverage without the chemicals found in conventional cosmetics. Makeup should be as healthy as skin care, and skin care should come without any harmful toxins that can irritate the skin. We think that's a pretty easy argument to make!
We're all about work smarter, not harder. A natural BB cream is meant to moisturize while providing flawless, smooth coverage on top of your daily skin care routine. In addition to offering a medium to full coverage, our natural BB Creams contain antiseptic lavender and rosemary to refresh and soothe skin. Skin loving aloe vera, vitamin E, and shea butter make this formula a nourishing choice for normal to dry skin types. Responsibly sourced mica gives the natural formula a slight shimmer for an illuminated complexion. Bilberry and raspberry seed oil lock in moisture to help promote smooth, more youthful skin.
What is BB cream's look on the skin? The lightweight texture and adjustable coverage of our natural BB cream make it perfect for a no makeup look or the base for any long-lasting makeup look. If you're short on time, blending a layer onto your face to even out your skin tone and texture will have you out the door fast with minimal time spent but still looking fresh and ready.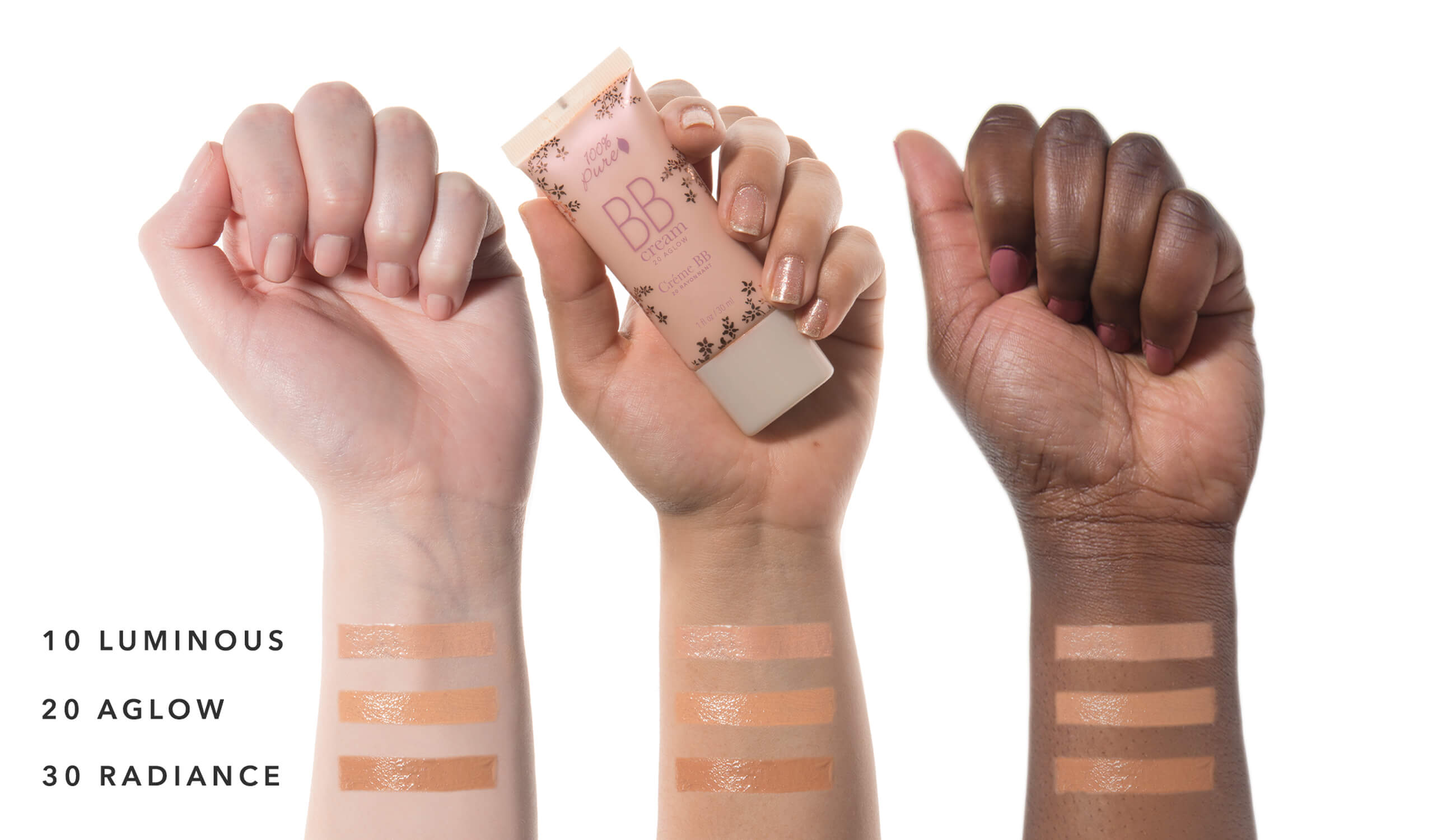 BB Cream Swatches
Skin Type: Normal to Dry
Coverage: Medium to Full
Finish: Dewy
Shade Range: 3
Shades:
BB Cream Shade 10 Luminous: Light skin with yellow undertones
BB Cream Shade 20 Aglow: Medium skin with yellow undertones
BB Cream Shade 30 Radiance: Tan with warm golden undertones
Our hydrating liquid-cream formula gives you a luminous complexion with buildable medium to full coverage and a dewy, natural finish. Thousands of light-reflective mineral pigments give skin a soft, incandescent glow. Our BB Cream is perfect for people with normal to dry skin, and can help to cover dark spots, scars, and fill in any fine lines or wrinkles with a supple and dewy finish. Our natural BB Cream will give you a glowing, flawless and illuminated complexion.
How To Apply BB Cream Like A Professional Makeup Artist
Have you tried applying BB cream, but didn't get what all the hype was about? Practice makes perfect when it comes to applying this 'beauty balm' and believe us, once you master the art form you'll feel like a true pro. Follow along below while we give you a handy step-by-step on BB cream application!
STEP ONE:
Apply a small amount of formula to the back of your hand; we recommend starting with a dime to nickel size dollop. BB Cream shouldn't go on your face as a thick paste. It's there to act as a thin veil of foundation, not feel like a thick layer of frosting.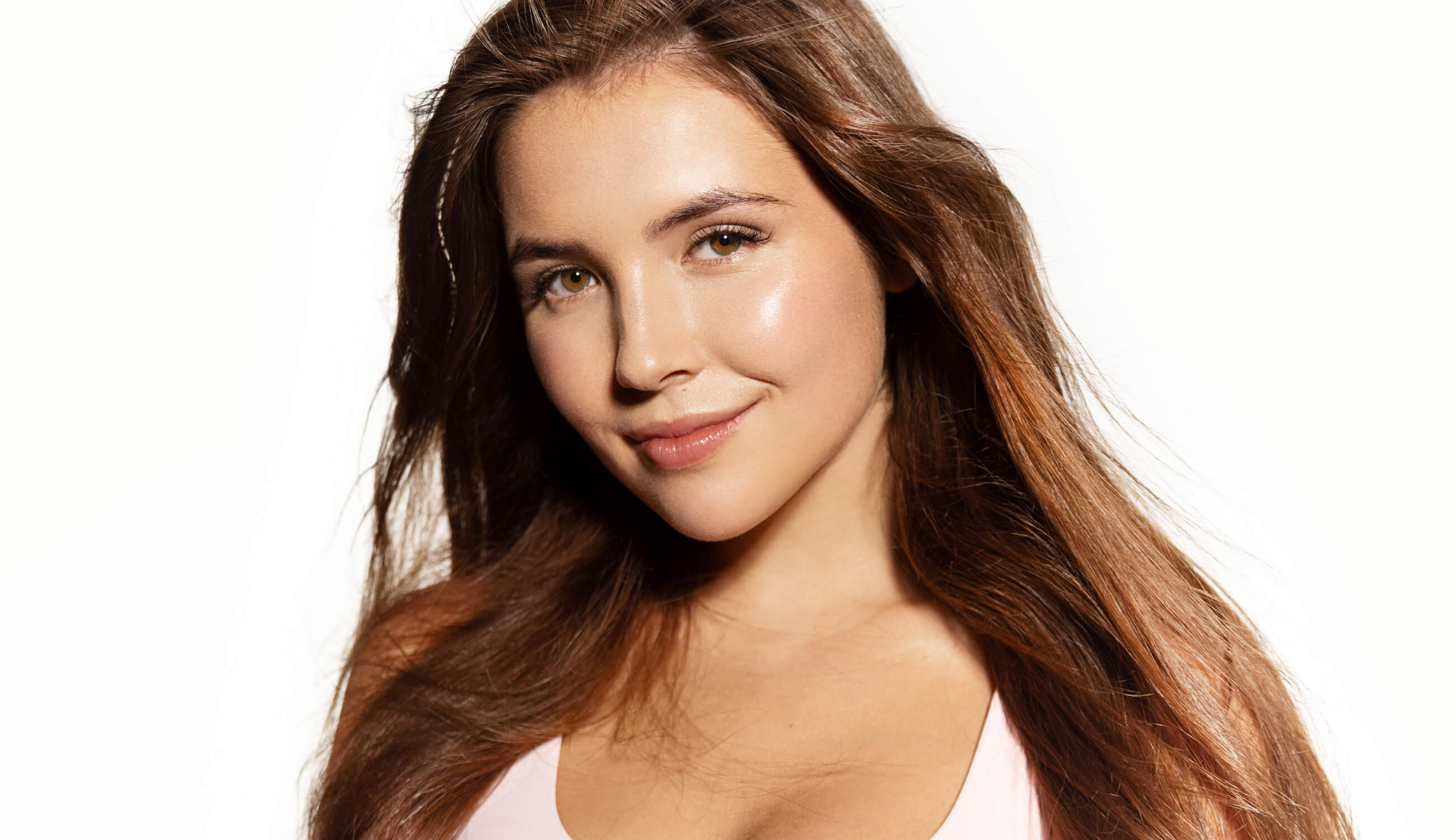 STEP TWO:
Start by dipping your Cruelty-Free Flat Kabuki Brush into the formula and lightly dot around your face. Make sure to hit all the main points like forehead, chin, cheeks and nose. This will help to evenly distribute your dots of BB Cream.
STEP THREE:
Using your kabuki brush, gently stipple and pat your BB Cream around your skin in circular motions. You're going to tap and pat, not pull and smear. Start at the center of your face working your way outward. When you get to your chin and neck area, make sure to gently buff, blend, and buff some more as to not leave a hard foundation line.
STEP FOUR:
After applying and buffing in your first layer of BB Cream, take a few seconds to assess. Are there any small areas that need a little more love to cover a scar, dark circles, or discoloration? If the answer is yes, tap on a few more small dots and gently blend. It's much easier to add layers than to take away. That's it! Welcome to flawless-ville, population: you.
PRO TIPS: Are you a fan of the ultra dewy finish? Instead of using a brush to apply your BB cream, use a damp makeup blender and bounce over the skin until completely blended. You can still build coverage as desired, but the result will look far more dewy and hydrated.
What Fans Are Saying About Our Natural BB Cream
★
★
★
★
★
Acne Prone, Dry Skin
BB Cream has changed my life. Most foundations dry out my skin, this stuff keeps it moisturized and doesn't cause breakouts.
- Kristen
★
★
★
★
★
Best BB Cream I've Found
I've been using this BB cream for a few weeks and love it. My skin seems to be happier with it, too. I like a lighter coverage with SPF and a natural look. This gives me all of that. Highly recommend.
- Sarah D.
★
★
★
★
★
Radiant Coverage
I developed an allergy to my makeup, so I decided to switch to 100% PURE and try this BB cream. It's truly wonderful. I don't have any reaction to it. It creates an even, smooth look. My friend even commented on how radiant my face was!
- Taylor
We carefully hand-select products based on strict purity standards, and only recommend products we feel meet this criteria. 100% PURE™ may earn a small commission for products purchased through affiliate links.
The information in this article is for educational use, and not intended to substitute professional medical advice, diagnosis, or treatment and should not be used as such.
Sign up to our email newsletter for more blog updates and exclusive discounts.
< Older Post | Newer Post >