10-Step Korean Skin Care Routine
A natural twist on the traditional K-beauty skin care routine
Posted on August 23, 2019
Written by: 100% PURE®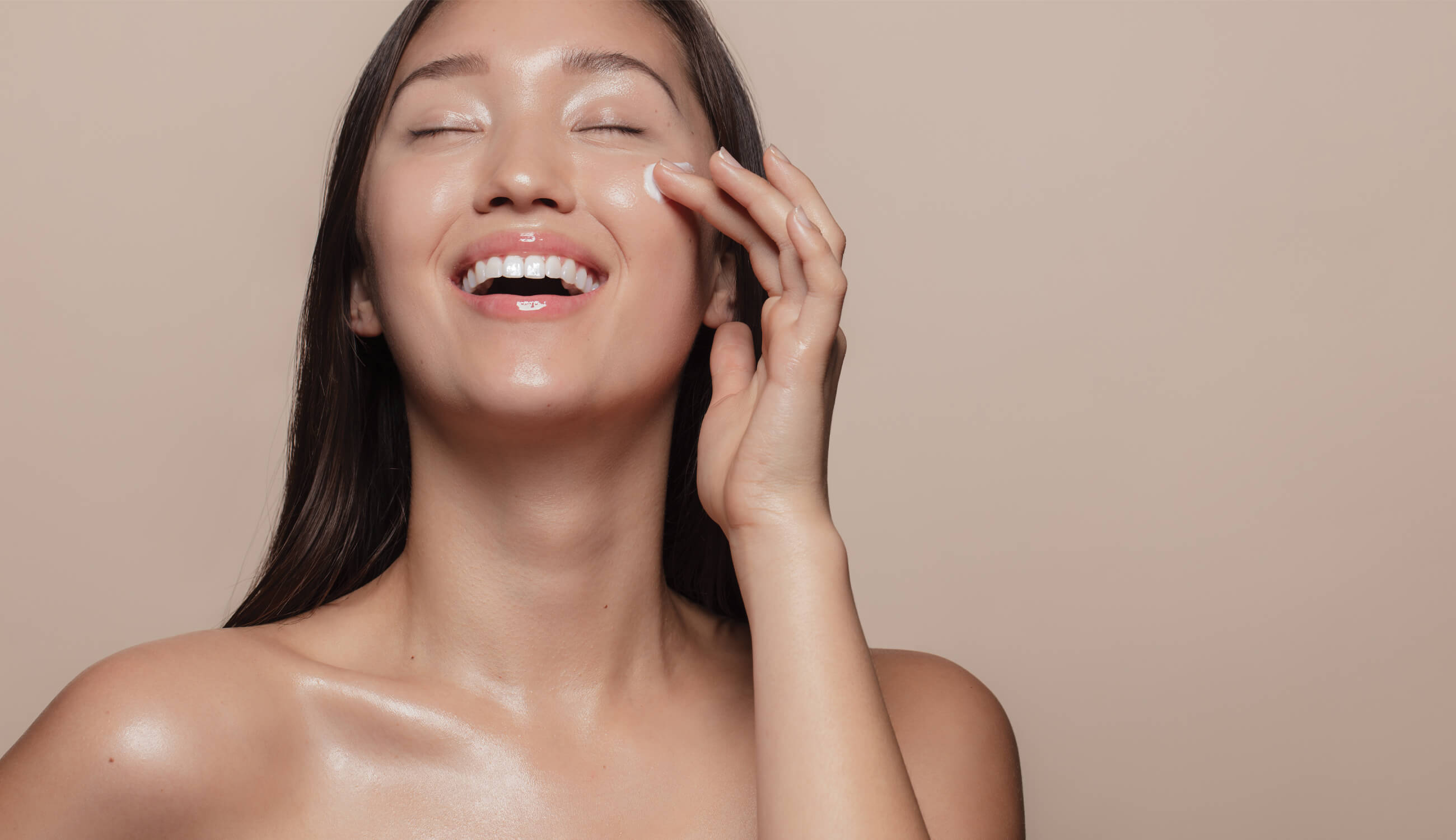 By now the mythical, magical, and somewhat daunting Korean skin care routine has been demystified. This multi-step routine was made famous by Korean women and K-pop stars, and is now a cornerstone of the booming K-beauty industry. For those who love a thorough routine, this is where you belong!
The method is based on a complex layering system, which protects and uses each product to its fullest potential. This trail-blazing layering routine has a deep philosophy of ritualizing the skin care experience, and is a staple of Korean beauty.
Skin care is personal, and there's no catch-all routine that will work for everyone. What we love about the Korean skin care routine is that it's structured with this in mind. Depending on your specific skin concerns, you can tailor this routine to focus on certain details. Common goals are clarifying, anti-aging, and brightening – with a side of glass skin, please!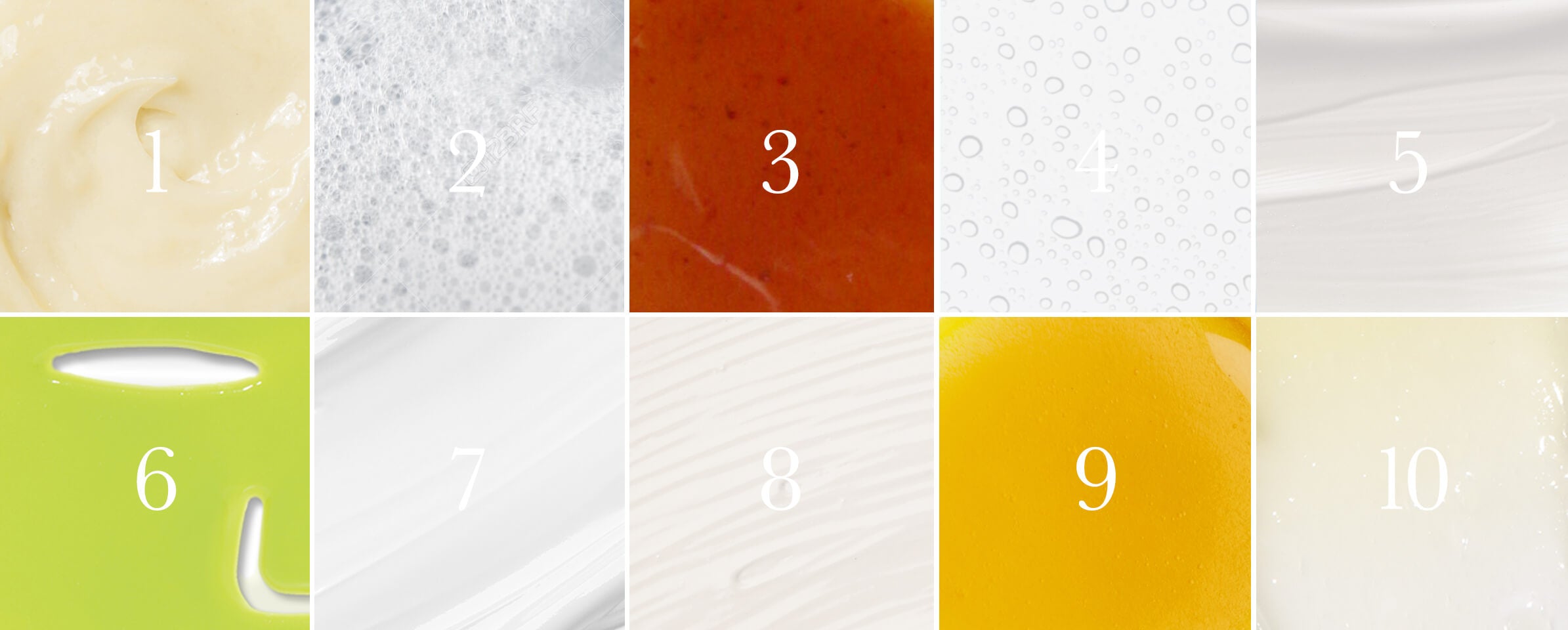 The Korean skin care layering system is both an artform and a science; it all boils down to molecular sizes and textures of formulas. This routine pre-determines which products should be first, second, and so on for it to properly penetrate your skin.
Here we've built the scaffolding of a natural 10-step Korean skin care routine. You can play and experiment with these steps, until you find your perfect and unique routine. Give yourself a few days to try it out, and see what works for you!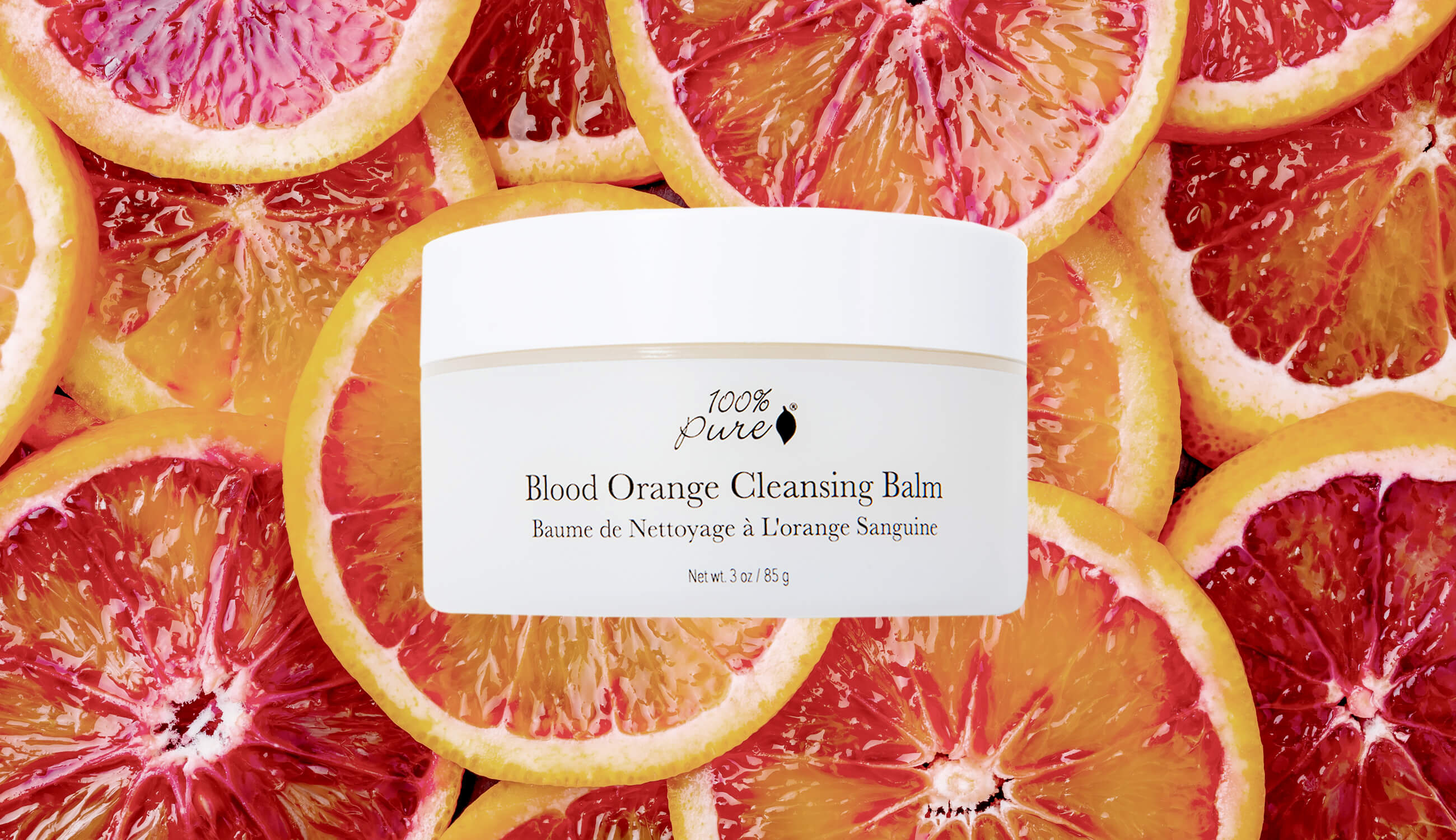 ☀️ + 🌙
When embarking on your Korean skin care routine, the first step is to gently cleanse with the help of natural oils. The idea of using oil to remove makeup and impurities might be terrifying for oily or acne-prone skin types, but stick with us!
The purpose behind starting your Korean skin care routine with an oil-based cleanser is to get as much debris off as possible in the first step. Oil is the most effective tool for dissolving sebum, stubborn makeup, and debris in your pores.
Our Blood Orange Cleansing Balm is made with oils of organic avocado, coconut, and olive to simultaneously cleanse and moisturize your delicate skin. We recommend taking an extra minute or two to give yourself a facial massage while cleansing your face – since you're already signed up for 10 steps, might as well make them count!
DIRECTIONS:
This rich and buttery cleansing balm turns into a silky smooth oil on contact. Scoop it out with dry fingers, and massage gently into skin – no tugging or harsh rubbing required. When wiping away your balm with a wet rag, make sure the water is warm; cool water won't be as effective.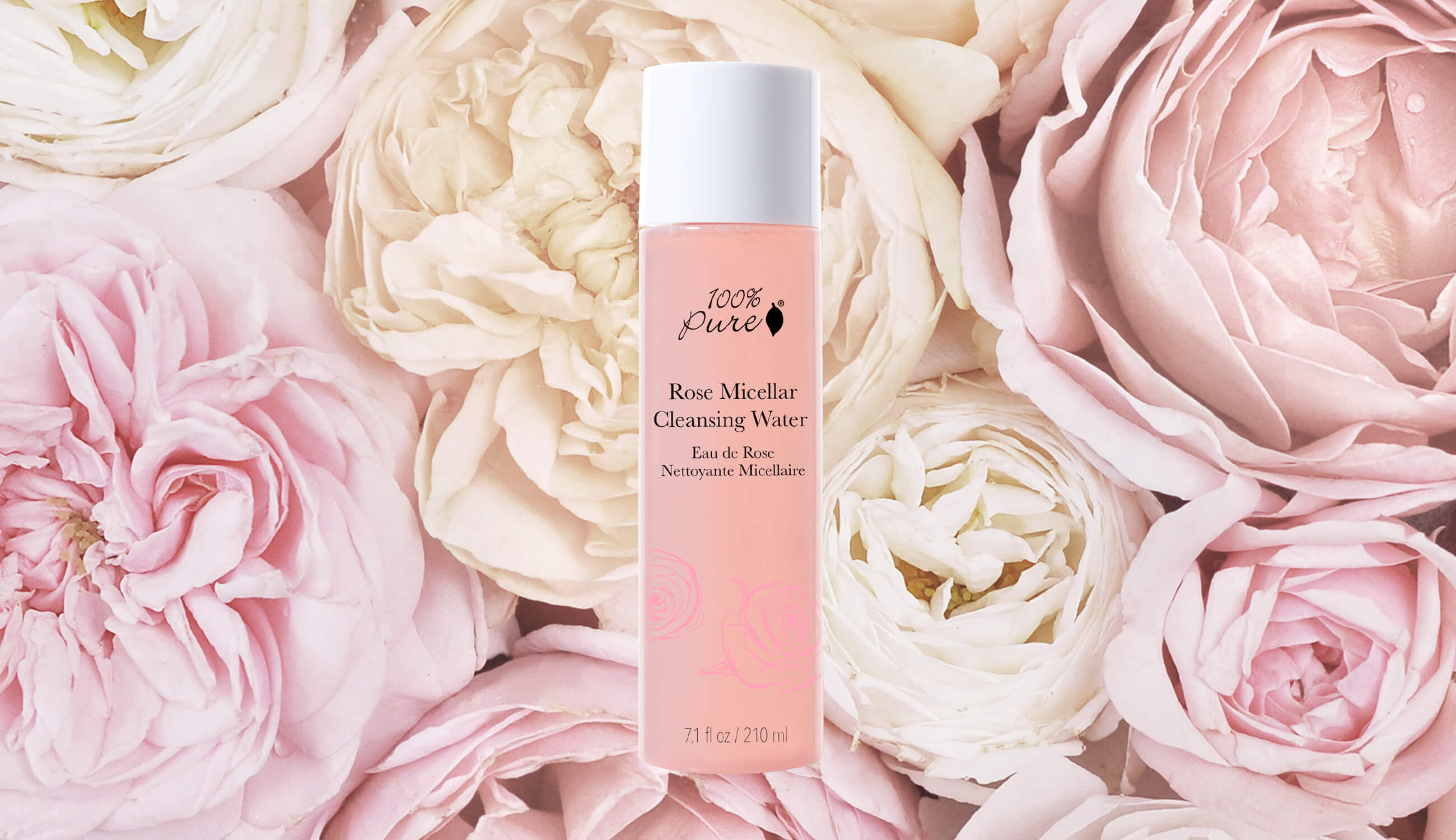 ☀️ + 🌙
Onward to the second phase of your facial cleanse! Double cleansing is a key piece of the Korean skin care routine. A water-based cleanser (the second cleanse) serves as a cleanup crew for your pores, helping to flush away excess oil while priming with first-phase hydration. This step also helps to balance the lipid barrier, for optimal nutrient absorption and moisture retention in the next steps.
DIRECTIONS:
Directly after your oil cleanse, saturate a cotton pad with micellar water. Repeatedly sweep over your skin until cotton pads are no longer picking up dirt, oil, or makeup. Rinse briefly before continuing to the next step.
PRO TIP: Some opt for a foam cleanser instead of a water based cleanser. Bear in mind that most foaming formulas contain harsh surfactants, and can overdy the skin. For more info on cleansers tailor-made to your skin type, check out our cleanser guide!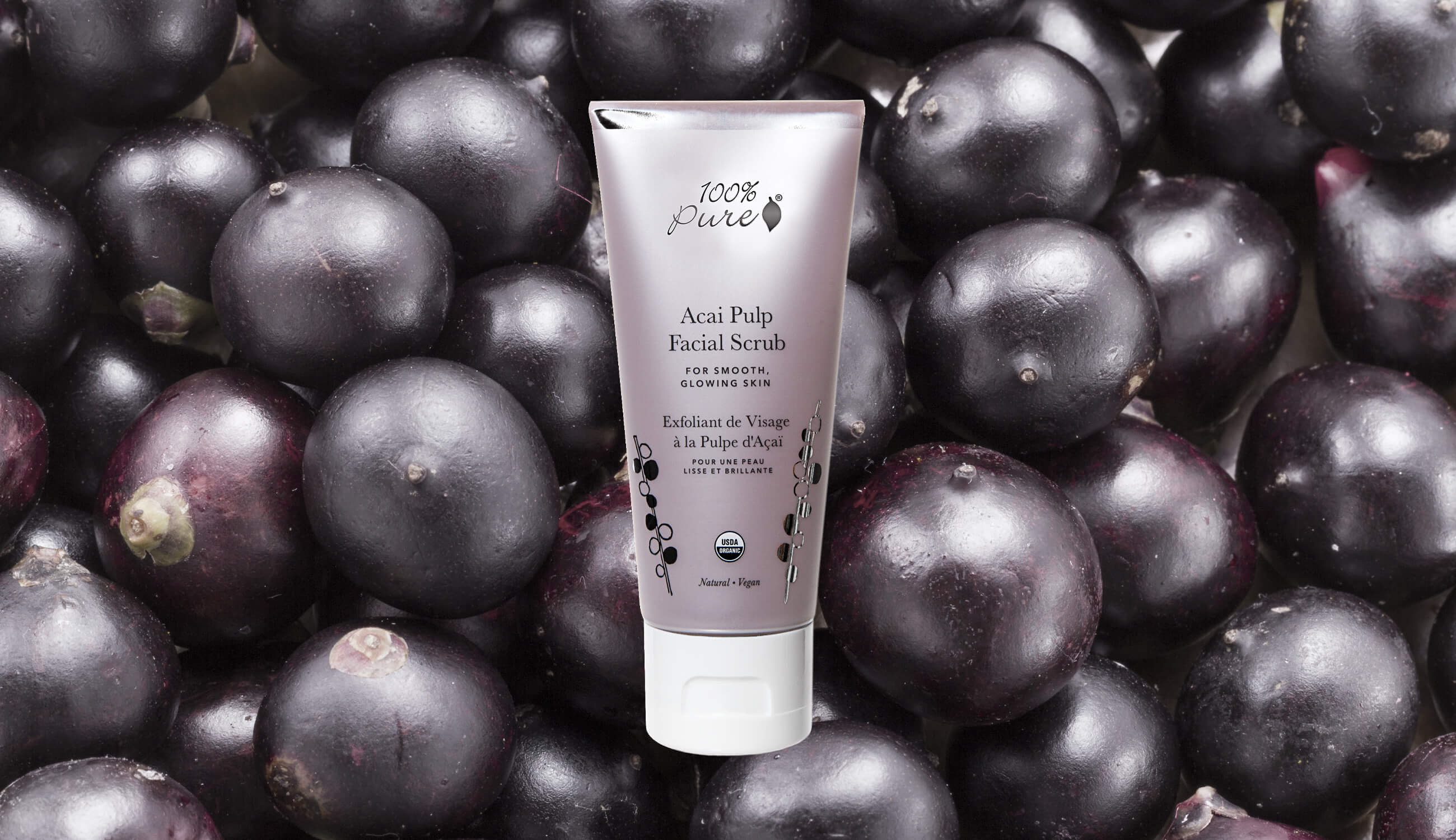 ☀️ or 🌙
Traditional exfoliating skin care products use harsh and abrasive bits of shells or nonrenewable plastic for exfoliants. Harsh scrub ingredients might feel like they really "get in there", but trust us when we say they aren't helping your skin!
Hard and oversized physical exfoliants will often cause more damage to your skin. They can potentially enlarge pores, trigger sensitization and irritation, and over time will create abrasions and micro-tears in your skin.
For your Korean skin care routine, opt for gentle, natural, and effective exfoliators. These can include jojoba beads, grape seeds, or acai pulp. Pulp from acai berries is the hidden hero in our Acai Pulp Facial Scrub, working behind the scenes to slough away dead skin cells. These fruit particles also keep our environment and wildlife safe, by not clogging rivers or animal tummies with non-biodegradable plastic beads.
You can incorporate an exfoliating step into your Korean skin care routine based on your specific skin type and needs. For most skin types, 2-3 times per week is safe for skin exfoliation. Once a week should be sufficient for dry skin, and those with extra sensitive skin might want to start with once a month and increase frequency as needed.
DIRECTIONS:
Concentrating on your T-Zone, gently buff circles onto your skin while avoid harsh or repetitive rubbing or scrubbing motions. The increased circulation will leave you with a healthy glow, and ready to move on to your next skin care layer.
PRO TIP: You can leave this scrub on for a few minutes as a potent antioxidant mask. When applying and before rinsing, gently massage the scrub onto your skin in slow, upwards motions.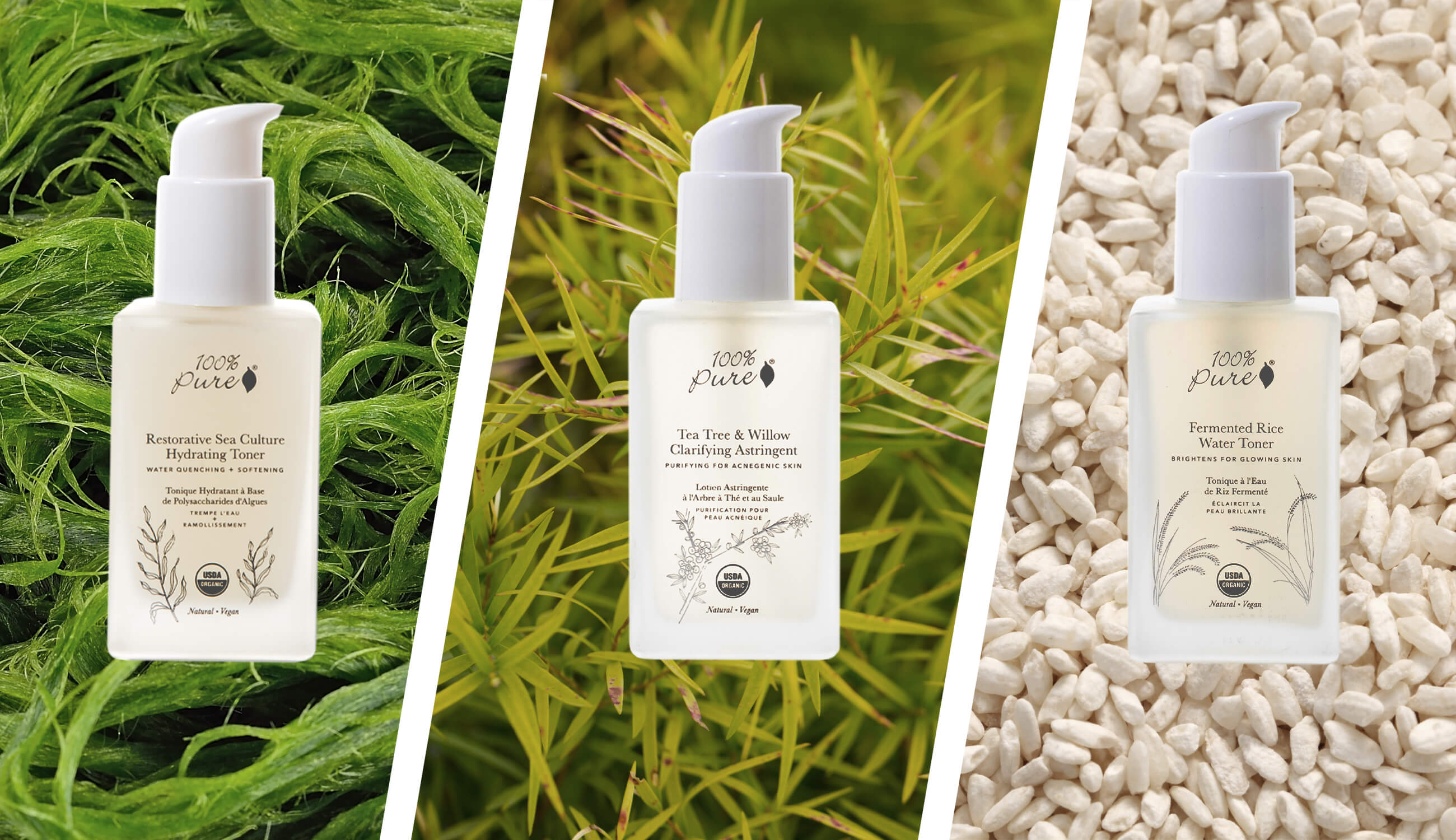 ☀️ + 🌙
This essential step is about enhancing hydration and restoring pH balance. 100% PURE™ has given harsh, alcohol-based toners a much-needed makeover. We create gentle, balanced formulas that prime skin for enhanced absorption. We even add hyaluronic acid from sweet potatoes to our toners, for a deeply hydrating mid-routine treat.
Another key purpose of the toner/essence step is to purify, soften, and pre-moisturize your skin. They swipe away any dead skin cells left on the skin after your exfoliating step, while priming and plumping with hydration. Even oily and acne-prone skin need a splash of water, and each of our toners provide just that.
Our Fermented Rice Toner uses bearberry, licorice, and malic acid from sake to brighten skin. Restorative Sea Culture Hydrating Toner, delivers intense water-drenching power from seaweed from unpolluted waters to soften, plump, and hydrate thristry skin. Working together with antibacterial and antiseptic herbs, our Tea Tree & Willow Astringent will soothe, clarify, and fend off future breakouts without stripping or irritating your delicate skin.
DIRECTIONS: Toner/essences can be pumped into clean hands and gently patted onto your face. Alternatively, you can dispense them onto a clean cotton pad and gently sweep onto your skin.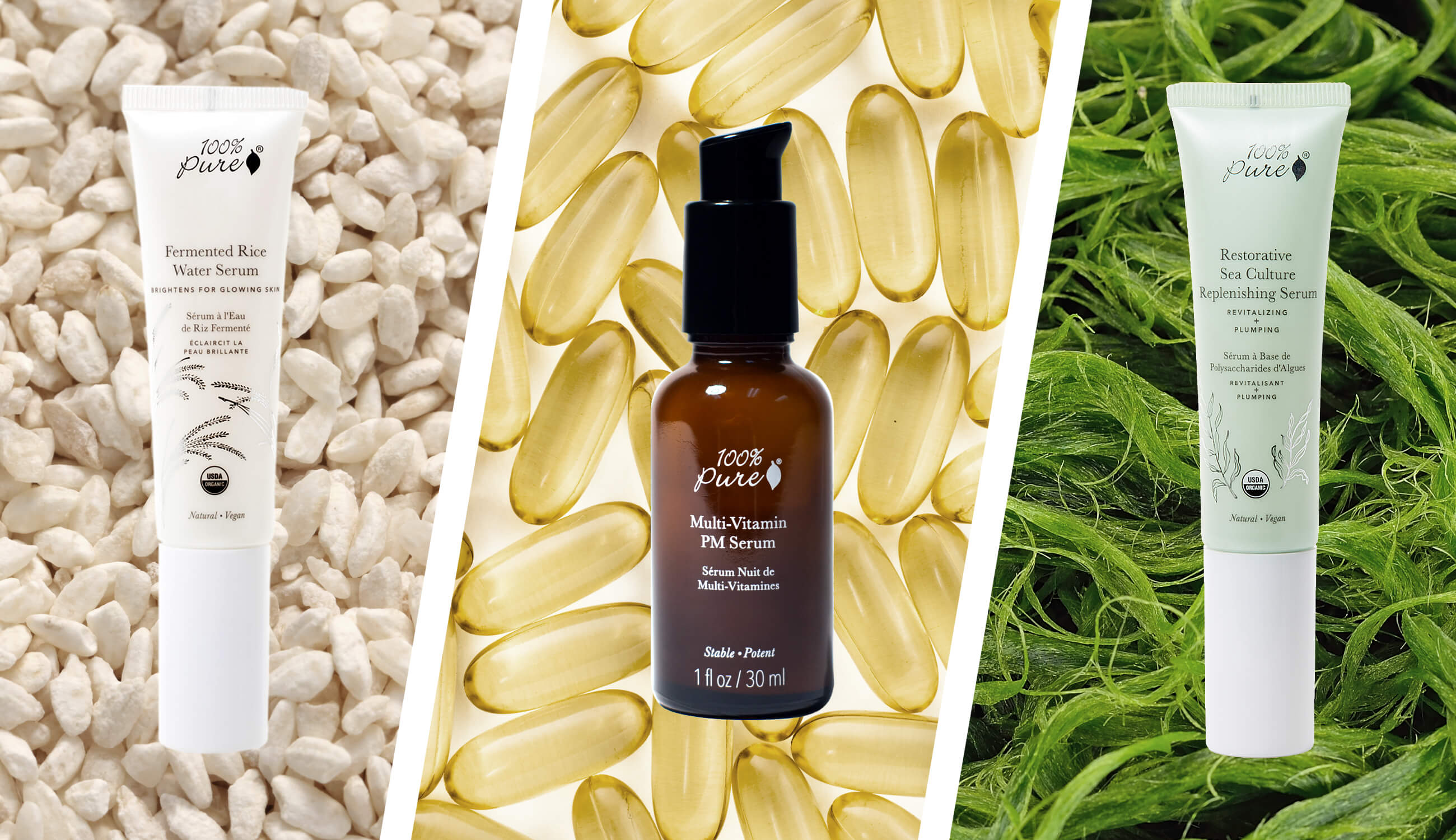 ☀️
🌙
You're halfway through the Korean skin care routine! Step five is all about targeting specific concerns, with deeply penetrating active ingredients. Time to deliver much-needed vitamins, minerals, and nutrients into your skin!
Depending on when you do your 10-step routine, you'll be using either a daytime or nighttime formula. If you've got dull or lackluster skin, apply a thin layer of Fermented Rice Water Serum. To soothe and plump dry or aging skin, opt for the ultra refreshing Restorative Sea Culture Replenishing Serum.
If you're headed to bed, get a mega-boost of anti-aging vitamins with the best-selling Multi-Vitamin + Antioxidants Potent PM Serum. What sets this serum apart from every other serum on the skin care market? Our unique technology for combining powerful vitamin C and niacinamide, which synergistically activates intense anti-aging benefits for skin.
DIRECTIONS: Apply your serum onto moist, freshly toned skin. Allow your serum to fully absorb for 60-90 seconds, before following with additional product.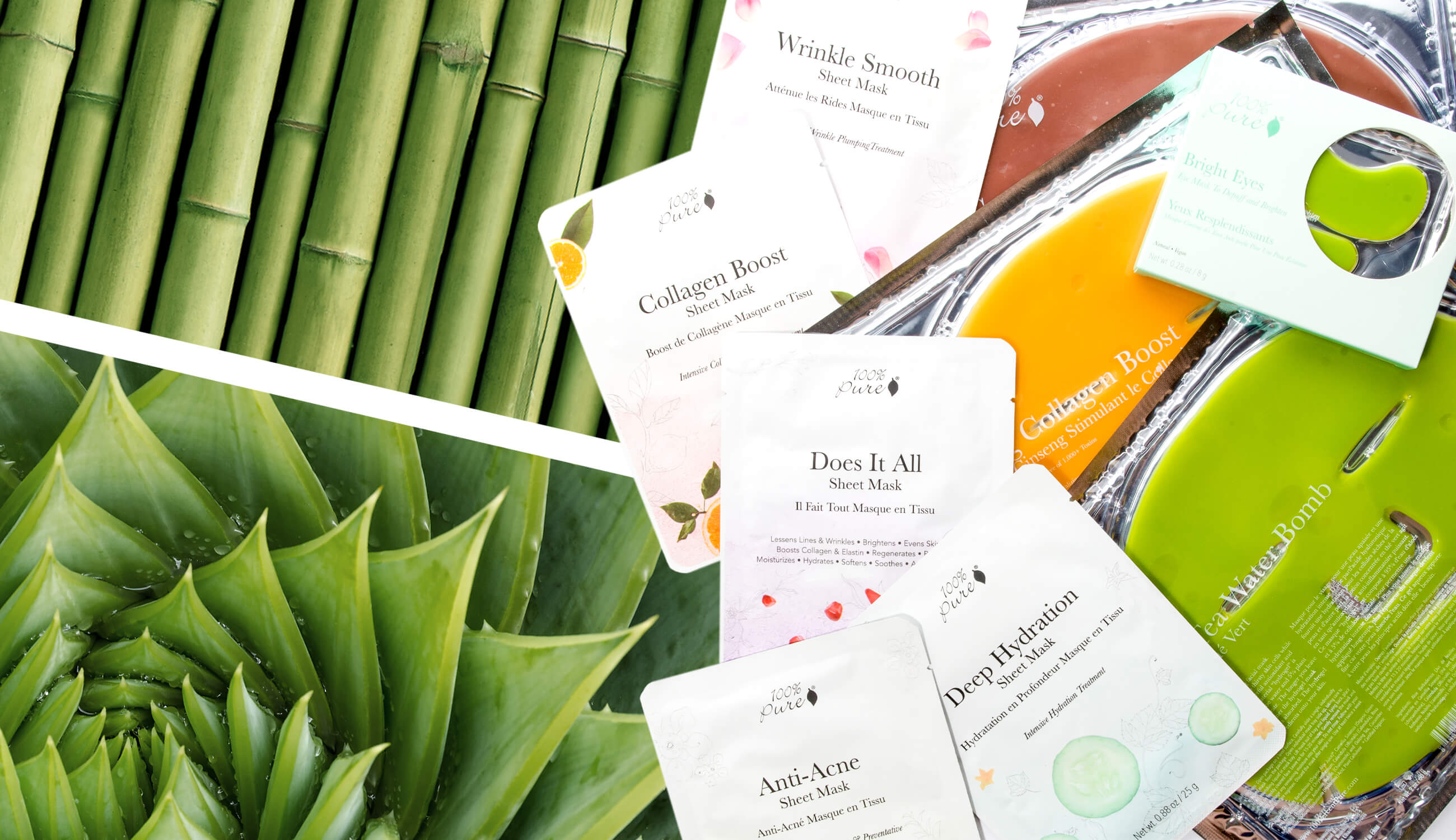 ☀️ + 🌙
Color us obsessed, because we just can't imagine life before face masks. Natural face masks are incredibly effective hydrators that soak healing, hydrating ingredients into your skin until they literally shrivel up. The secret behind this powerful beauty tool is that it avoids the pitfall of product evaporation, which can happen with cream masks that are openly exposed to air.
DIRECTIONS:
Leave your sheet mask on for at least 15 - 20 minutes to let it fully activate. For maximum benefits, make adjustments to the mask to help it lay flat on your face. It's ok to gently tear slits on the sides of the eye or mouth holes, to better fit your particular face shape.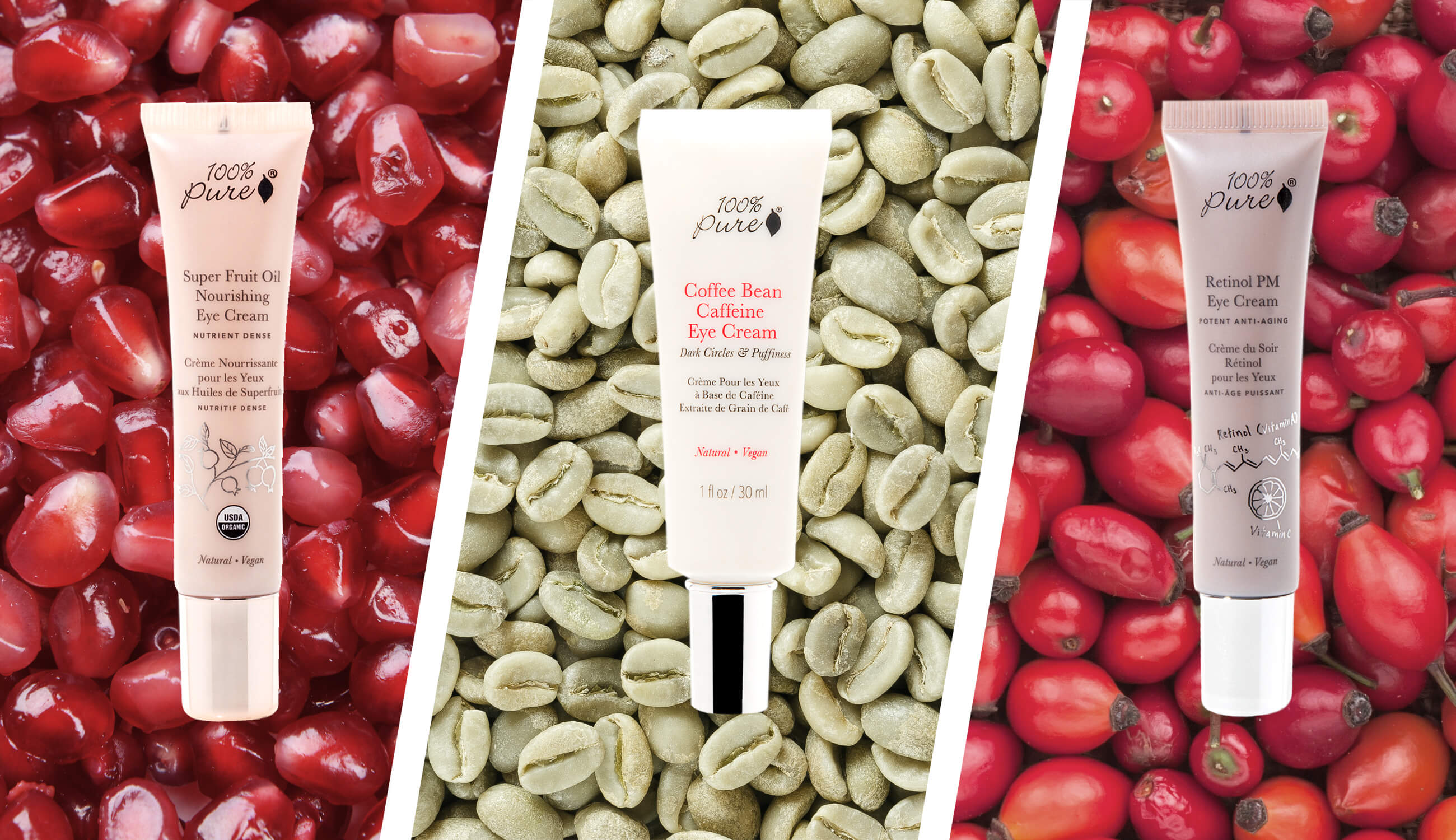 ☀️
🌙
Eyes are the windows to the soul – and dead giveaways of our age and sleep habits. Chances are your eye area could use a little help, which is why we advocate paying special attention to this delicate area.
As home to the most fragile skin on your face, the eye area requires true TLC. Each of our natural eye creams is packed with skin-beneficial ingredients, and we can even help you choose the perfect eye cream for your Korean skin care routine.
A true skin care celebrity in the beauty world, our Coffee Bean Eye Cream comes in big for de-puffing, brightening, and moisturizing. Our antioxidant-rich Super Fruit Oil Nourishing Eye Cream helps to fend off damage from pollution, smog, smoke, and anything else trying to infiltrate your delicate dermis.
For your nighttime Korean skin care routine, employ the plant-based retinol of our Retinol PM Eye Cream. This eye cream is packed with regenerating vegan stem cells and a concentration of vitamins and peptides. It helps to support collagen, elasticity, and help lessen the appearance of fine lines and wrinkles.
DIRECTIONS: For application of any eye cream in this step: dot under eyes, onto eyelids, and onto crow's feet. Always use gentle upward tapping motions to blend, being careful to never tug or pull skin.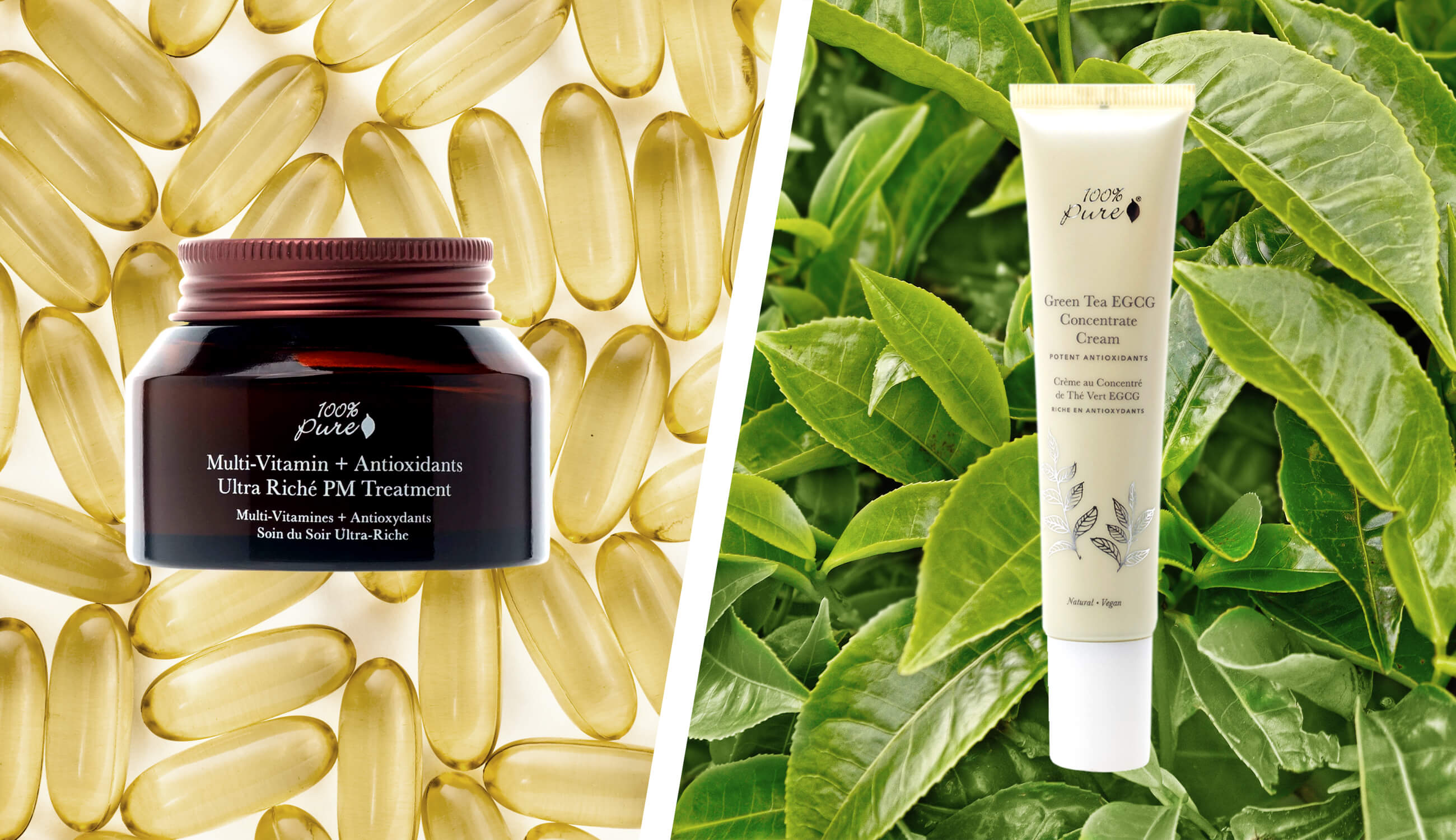 ☀️
🌙
Moisture and hydration are everything in the Korean skin care routine. This is why the layering steps leading up to this point will really allow your moisturizer to reach its fullest potential! This is your chance to seal in the ingredients you've applied up to this point, while keeping your skin looking bouncy and fresh.
For damaged skin or for someone who is battling pollution on a daily basis (we're looking at you, city slickers), we'd recommend opting for our Green Tea EGCG Protective Cream. This moisturizer is our most universal formula, and helps to ward off toxins and aging pollutants found in the air.
To deliver intensive moisture through the night, take advantage of this step in your Korean skin care routine. Apply a generous layer of our Mutli-Vitamin cream after your nighttime serum for a creamy, dreamy vitamin treatment. This cream is known to make skin feel baby-smooth when you awake the next morning!
DIRECTIONS: After your serum has fully absorbed, dispense moisturizer into palm and warm it between clean fingers. Gently massage onto skin, using an upward feathering motion with fingers. Work from your neck up to the face, avoiding the delicate eye area.
PRO TIP: For a full breakdown of products for each skin type, reference our natural moisturizer guide!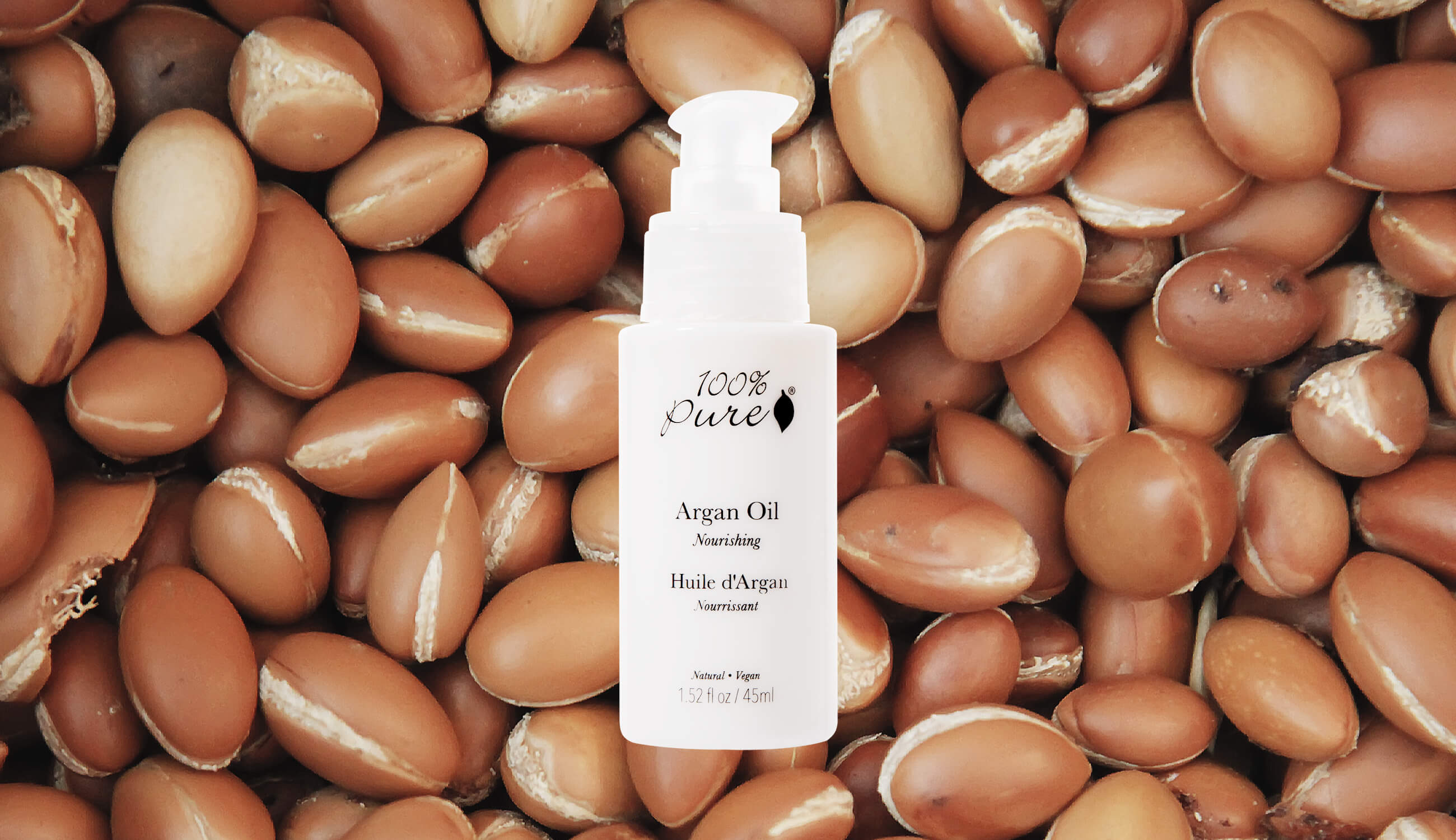 ☀️ + 🌙
Moving on to the penultimate step: oil! Our pure, undiluted argan oil is rich in vitamin E, carotenoids, squalene, and essential fatty acids. Layering a facial oil over your moisturizer will aid in moisture retention and suppleness. This skin-softening oil is the perfect tool for deeply moisturizing your skin, while enhancing youthful elasticity.
DIRECTIONS: Oil can be a multi-use, multi-area treatment, so don't feel like you have to stop at your face. Gently sweep argan oil around your decollete, hands, hair and anywhere else needing a little moisturization.
PRO TIP: Dry skin types may choose to add an 11th step, here! After steps 8 and 9, spritz your skin with a facial mist to speed absorption and further enhance hydration.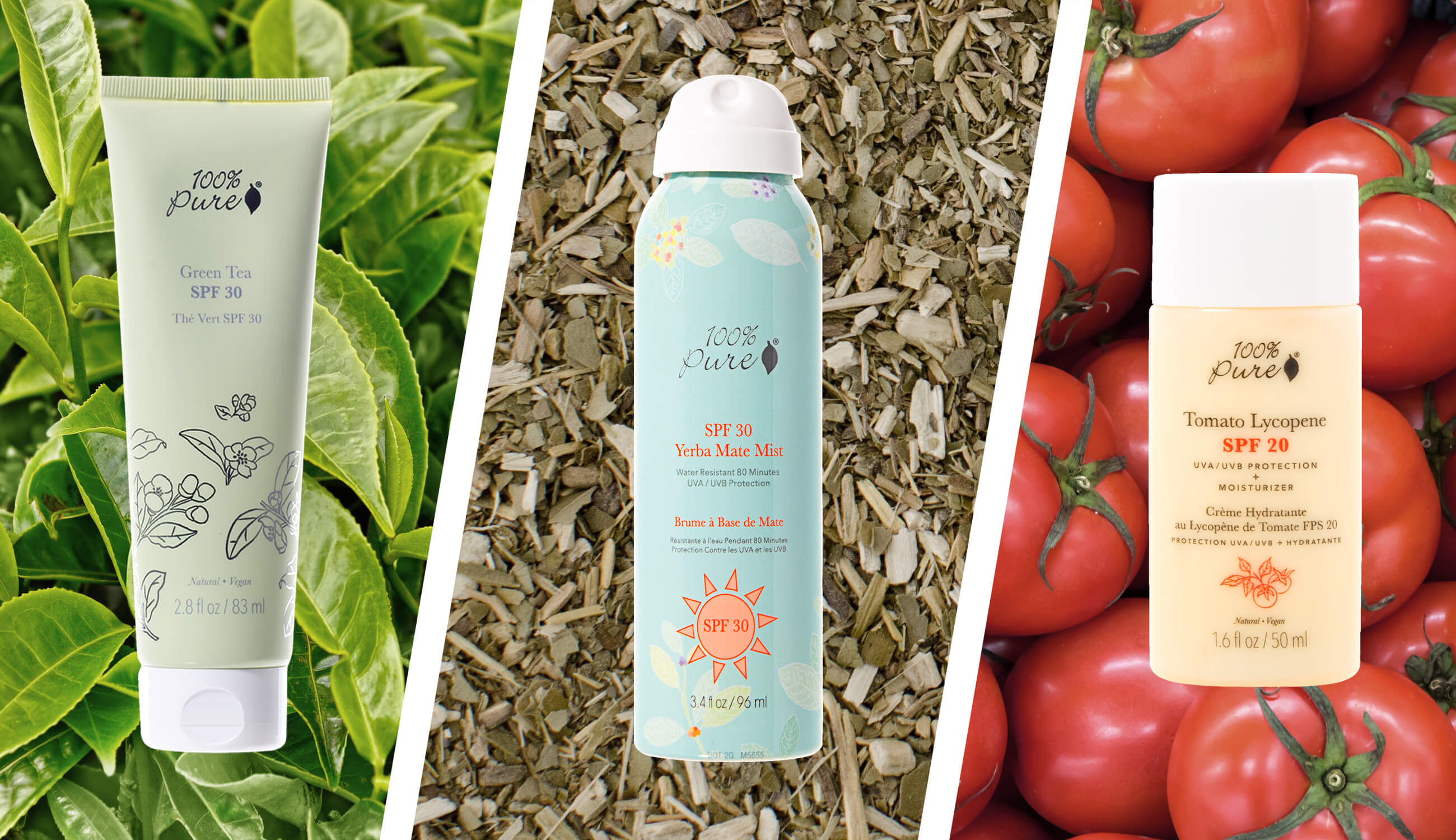 ☀️
🌙
Our skin care journey is drawing to a close, and you get a gold star for making it to the end! When finishing your morning routine, always finish with SPF in order to protect the hard work you've put into your skin. Our Tomato Lycopene SPF 20 Moisturizer is made with powerful, antioxidant-rich lycopene and nourishing oils of sunflower, sea buckthorn, and tomato.
If you're at your last step and it's the evening, swap SPF for a sleeping mask a few times a week. The Retinol Restorative Overnight Balm is a rich, buttery balm made to nourish, brighten, and smooth your skin while you snooze. You'll wake up to a replenished complexion, with all the hard work having been done while you slept. Remember to ALWAYS wear sun protection the next day after using this high potency retinol treatment.
We carefully hand-select products based on strict purity standards, and only recommend products we feel meet this criteria. 100% PURE™ may earn a small commission for products purchased through affiliate links.
The information in this article is for educational use, and not intended to substitute professional medical advice, diagnosis, or treatment and should not be used as such.
Sign up to our email newsletter for more blog updates and exclusive discounts.
< Older Post | Newer Post >