https://purity-res.cloudinary.com/image/fetch/q_auto:best,f_auto,fl_lossy,w_auto,c_limit,dpr_auto/https://cdn.shopify.com/s/files/1/0648/1955/products/b0e9b7662597d9ec2cf9301dcbfa23d8.png?v=1530051228
https://purity-res.cloudinary.com/image/fetch/q_auto:best,f_auto,fl_lossy,w_auto,c_limit,dpr_auto/https://cdn.shopify.com/s/files/1/0648/1955/products/IMHVEyM1QFCUSZodIiLk.jpg?v=1548191130
https://purity-res.cloudinary.com/image/fetch/q_auto:best,f_auto,fl_lossy,w_auto,c_limit,dpr_auto/https://cdn.shopify.com/s/files/1/0648/1955/products/78vlG1T5TNmAHsa7Dj4P.jpg?v=1548191130
https://purity-res.cloudinary.com/image/fetch/q_auto:best,f_auto,fl_lossy,w_auto,c_limit,dpr_auto/https://cdn.shopify.com/s/files/1/0648/1955/products/oH5HkWZMQfKOpOmtXYu2.jpg?v=1548191130
https://purity-res.cloudinary.com/image/fetch/q_auto:best,f_auto,fl_lossy,w_auto,c_limit,dpr_auto/https://cdn.shopify.com/s/files/1/0648/1955/products/0GBdkJDSGyo1iLdorwx0.jpg?v=1548191130
https://purity-res.cloudinary.com/image/fetch/q_auto:best,f_auto,fl_lossy,w_auto,c_limit,dpr_auto/https://cdn.shopify.com/s/files/1/0648/1955/products/UR6S3K9IRqWQTE2zLiaq.jpg?v=1548191130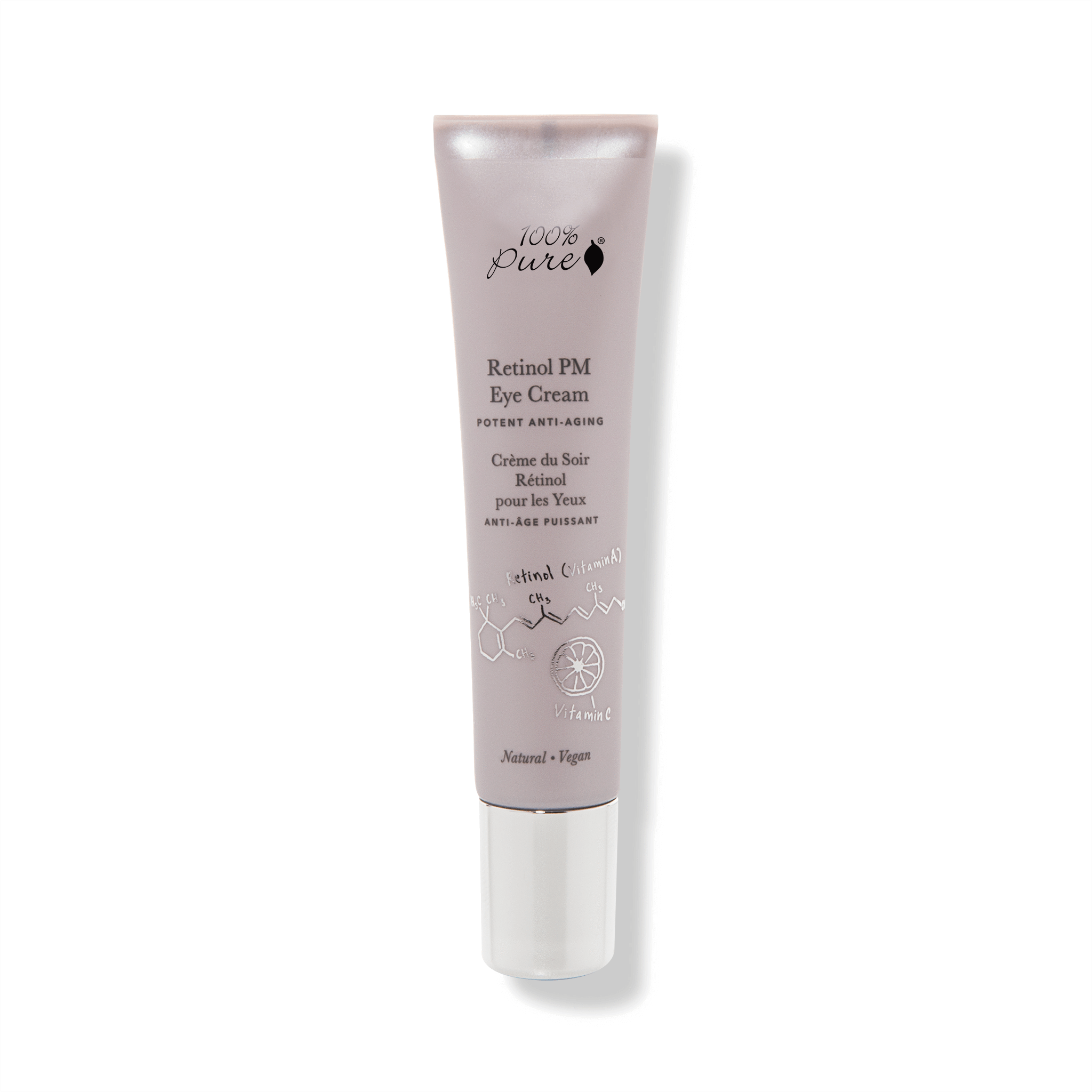 Retinol PM Eye Cream
Natural

Vegan

Cruelty Free

Gluten Free
Hydrating, potent concentration of anti-aging vitamins, stem cells, and peptides promotes collagen production, elasticity, and lessens appearance of wrinkles.
Potent concentration of age correcting vitamins, stem cells, and peptides promotes collagen production, elasticity, and lessens appearance of fine lines and wrinkles. Hyaluronic acid locks in hydration and plumps, while acai and pomegranate oils deeply moisturize for softer, more youthful skin around the eye area.

Directions

For first time use, use scissors to clip closed portion at end of needle tip.

Apply quarter sized amount to ring fingers. Gently apply to eye area, including upper and lower lids, taking care not to tug or pull. For PM use only.

Complete list of ingredients:

Organic Rosa Canina (Rosehip) Water, Organic Glycerin, Organic Chamomille Recutita (Matricaria) Butter, Tocopherol Acetate (Vitamin E Acetate), Niacinamide, Tetrahexyldecyl Ascorbate, Hyaluronic Acid, Organic Rosa Moschata (Rosehip) Seed Oil, Organic Euterpe Oleracea (Acai) Fruit Oil, Organic Punica Granatum (Pomegranate) Oil, Phaseolus Radiatus Meristem Cell Culture Extract, Jojoba Esters, Helianthus Annuus (Sunflower) Seed Wax, Acacia Decurrens Flower Wax, Candelilla, Jojoba, Glyceryl Stearate, Cetearyl Alcohol, Sodium Stearoyl Lactylate, Organic Lonicera Japonica (Honeysuckle) Extract, Saponaria Pumila Callus Culture Extract, Pentapeptide-48, Retinol, Xanthan Gum, Organic Essential Oil Blend: Citrus Aurantium Bergamia (Bergamot) Fruit Oil, Cedrus Atlantica (Cedarwood) Bark Oil, Vetivera Zizanoides (Vetiver) Root Oil, Citrus Sinensis (Blood Orange) Oil, Salvia Officinalis (Sage) Oil, Lavandula Angustifola (Lavender) Oil, Carrot Seed Oil
Customer Reviews
eyes
eye cream
skin
eye area
lines
cream
results
little
puffiness
tube
Not sure
I'm not sure if this has made any difference. I resulted to use castor oil where I've noticed a difference in my skin around my eyes. With that said, I wouldn't purchase again.
Time will tell
The PM Eye Cream is thick and moisturizing and does not irritate. I am 30 and do not have noticeable lines or wrinkles around my eyes, but wanted to start incorporating an anti-aging eye cream as a preventative measure.
Great Moisturizer, Aging?
I think this is a great eye area moisturizer, it is gentle, applies nicely (you don't need much!), hydrating and little to no scent. I'm not seeing any ageing benefits yet, but am hoping I will over time.
03/03/2019
Michelle Charlebois
Amazing eye cream
This is the best eye cream I've ever used and it delivers results fast! I've been using this product for a little over a month now and my fine lines have been softened a lot. Yes it's pricey and a small tube but you only need the tiniest bit as it's soooo concentrated. I don't even think I've used a quarter of the tube yet so it'll definitely last awhile seeing it's only needed at night. I highly recommend this product.
03/03/2019
Michelle Charlebois
Very Effective
I've been using this PM eye cream for a little over a month and I can honestly say that this product delivers results. I'm about to turn 40 and the lines around my eyes are becoming more noticeable so I wanted something that would help with that. This product definitely has. The lines have become much softer and less noticeable. I have to get very close to the mirror to see them. FYI I smoked cigarettes for 20 years so I can only imagine what this product would do for someone who has taken care of their skin. It would probably stop damage and wrinkles dead in their tracks. I highly recommend this product.
Complete the Package
Continue Shopping →