https://purity-res.cloudinary.com/image/fetch/q_auto:best,f_auto,fl_lossy,w_auto,c_limit,dpr_auto/https://cdn.shopify.com/s/files/1/0648/1955/products/4TPMf1b6Spi55w9yzP89_12900a1a-cd20-469b-bb82-99cfc0b89e0c.jpg?v=1556561822
https://purity-res.cloudinary.com/image/fetch/q_auto:best,f_auto,fl_lossy,w_auto,c_limit,dpr_auto/https://cdn.shopify.com/s/files/1/0648/1955/products/TGkAJbOGRC6QyzAz4r7n.jpg?v=1556561822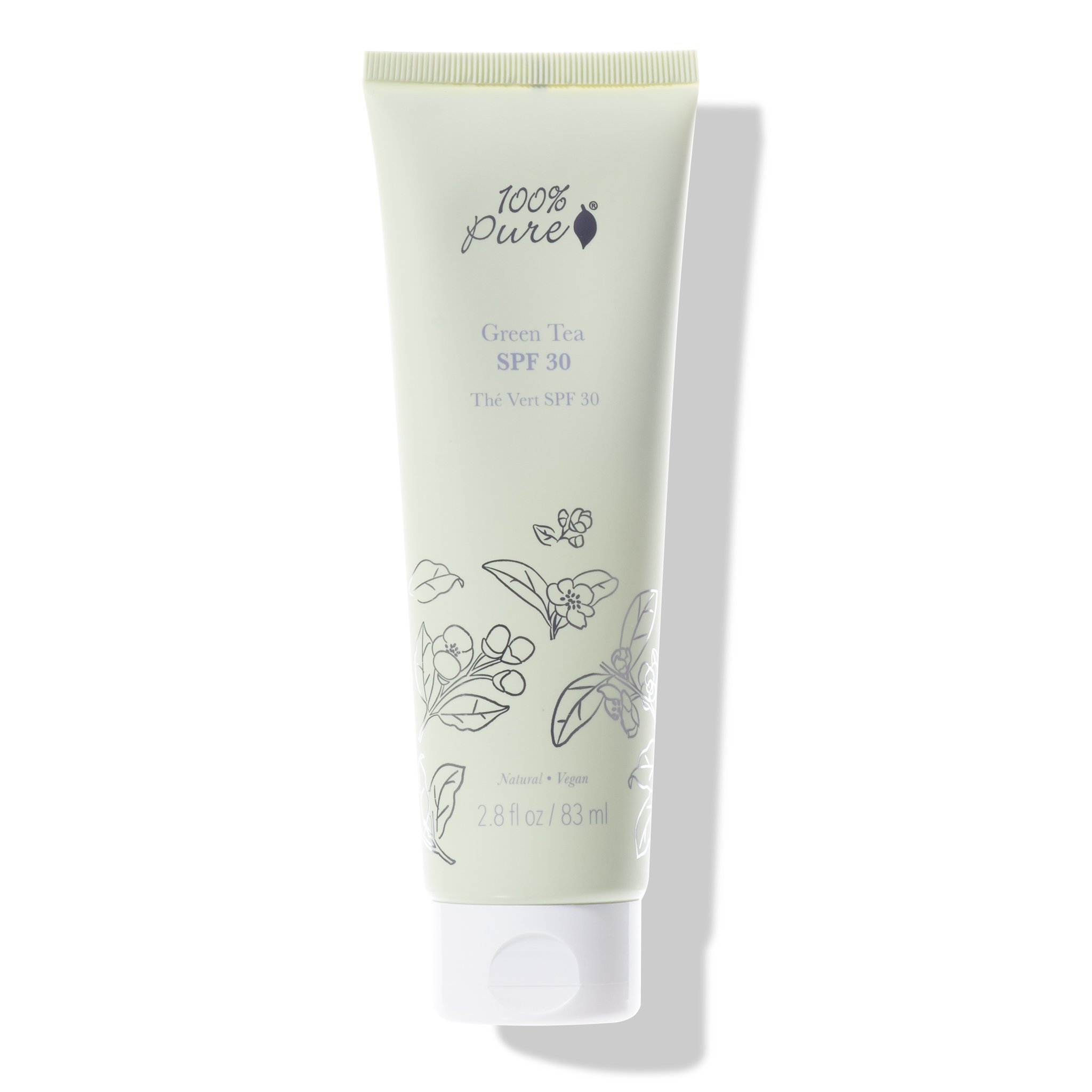 Green Tea SPF 30
Natural

Vegan

Cruelty Free

Gluten Free
Reef-safe sunscreen lotion defends against harmful UV rays with SPF 30 protection, while nourishing and rehydrating thirsty skin with green tea and aloe.
This dual-purpose moisturizing sunscreen lotion shields skin from the sun's harmful UV rays with SPF 30 protection, while nourishing and rehydrating thirsty skin. Made with natural mineral zinc oxide and infused with the protective and anti-aging properties of green tea, plus powerful antioxidant benefits of vitamin E. This natural sunscreen deeply soothes thirsty skin with a base of hydrating aloe and refreshing cucumber juice, while nourishing with oils of raspberry, avocado, olive, and rosehip to soften and moisturize for comfortable all-day wear.

Directions

After cleansing and toning, before sun exposure, apply to face, neck, and all other exposed areas to the sun for SPF 30 UVA / UVB and environmental protection.

Every ingredient we use is beneficial, here are a few:

Green Tea

Green Tea tones and protects with antioxidants.

Cucumber

Cucumber soothes with multivitamins and locks in moisture.

Raspberry Seed Oil

Raspberry Seed Oil protects from UVA and UVB rays.

Aloe Juice

Aloe Juice soothes and moisturizes.

Complete list of ingredients:

Aqua, Zinc Oxide, Isoamyl Laurate, Caprylic/Capric Triglyceride, Sorbitan Stearate, Cetearyl Alcohol, Hydroxypropyl Starch Phosphate, Phenethyl Alcohol, Caprylyl Glycol, Glyceryl Isostearate, Xanthan Gum, Cetearyl Glucoside, Polyhydroxystearic Acid, Glycine Soja (Soybean) Oil, Sucrose Cocoate, Aloe Barbadensis (Aloe Vera) Leaf Juice, Sesamum Indicum (Sesame) Seed Oil, Rubus Idaeus (Raspberry) Seed Oil, Persea Gratissima (Avocado) Oil, Cocos Nucifera (Coconut) Oil, Olea Europaea (Olive) Oil, Prunus Amygdalus Dulcis (Sweet Almond) Oil, Rosa Canina (Rose Hip) Fruit Oil, Carthamus Tinctorius (Safflower) Seed Oil, Glycerin, Cucumis Sativus (Cucumber) Fruit Extract, Camellia Sinensis (Green Tea) Leaf Extract, Daucus Carota Sativa (Carrot) Root Extract, Beta-Carotene, Tocopherol (Vitamin E)
Customer Reviews
one
skin
scent
texture
face
sunscreen
SPF
neck
smell
sun
Win-Win
It smells great. It feels amazing on your skin. It works! And it's 100percentpure so you don't have to worry about toxins on your skin. I love this product. A summer must have.
Great SPF ☀️
When I first encountered this product, the smell threw me off. It smells like a strong honey or carrots with cucumber combo. It was kinda nauseating. However, I figured I'd take a sample home and see how it works. The smell dissapated and upon usage, the product melted beautifully into my skin. It doesn't leave a matte finish or an oily finish. It's like a light moisturizer. It leaves your skin soft and protected. I feel comfortable using this product knowing that it clean and clear from 1000+ toxins. Also, I learned throughout the years that I'm sensitive to chemical sunscreens and sulfates. Chemical sunscreens breaks me out. So I was so happy to find out that this is mineral based and doesn't break me out! Use this in conjunction with Dark Spot Remover to really protect yourself from getting hyper pigmentation. HIGHLY RECOMMEND!!!
Great sunscreen but horrible smell
I really like the consistency of this sunscreen, it's not greasy and blends pretty well. It is by far the one of the best blending products out there (I think it is impossible to blend completely with this type of sunscreen). All mineral-based sunscreens usually leave a white smear on my black car interior, but with this one it is much less. I like it a lot, but the smell is overpowering to me. I don't even know how to describe it, it is just very strong and unpleasant. I've tried to condition myself to get used to it, but it still takes me aback when I rub it on. It does fade a bit, but I still get a whiff of it once in a while. I am torn about whether to buy it again. Some reviewers like the smell so I would recommend taking a chance and trying it, their return policy is great (I did not return it, I'm trying to tough it out).
06/12/2019
Christina Torres
Works great but not waterproof
I purchase this when it launched at the stores.. I had a trip planned to go to Hawaii.. i loved that it glides easily to your skin and not thick like other sunscreen .. I lathered it on my face and body.. the smell is not that great but disappears after a couple minutes.. the only downside is that it is not waterproof , so I wouldn't use this if u go in the water.
Great for sensitive skin
I don't write reviews, but I just had to come on here and write one! Not only does this work well as a moisturizer before I apply my makeup, I feel like it also acts like a primer, my Foundation seems to go on smoother and stay. It's amazing that this stuff has SPF but doesn't break my sensitive skin out. It doesn't have an overbearing send considering it has SPF. So far so good! I'm loving this please continue to make this. I don't like to use Foundation that says it has SPF in it because it always breaks me out. So applying this first to get my SPF without breaking out is amazing!
Complete the Package
Continue Shopping →