This Is How You Do GREEN Beauty – with Tea!
6 products that put green tea to work for your beauty goals
Posted on April 7, 2020
Written by: 100% PURE ®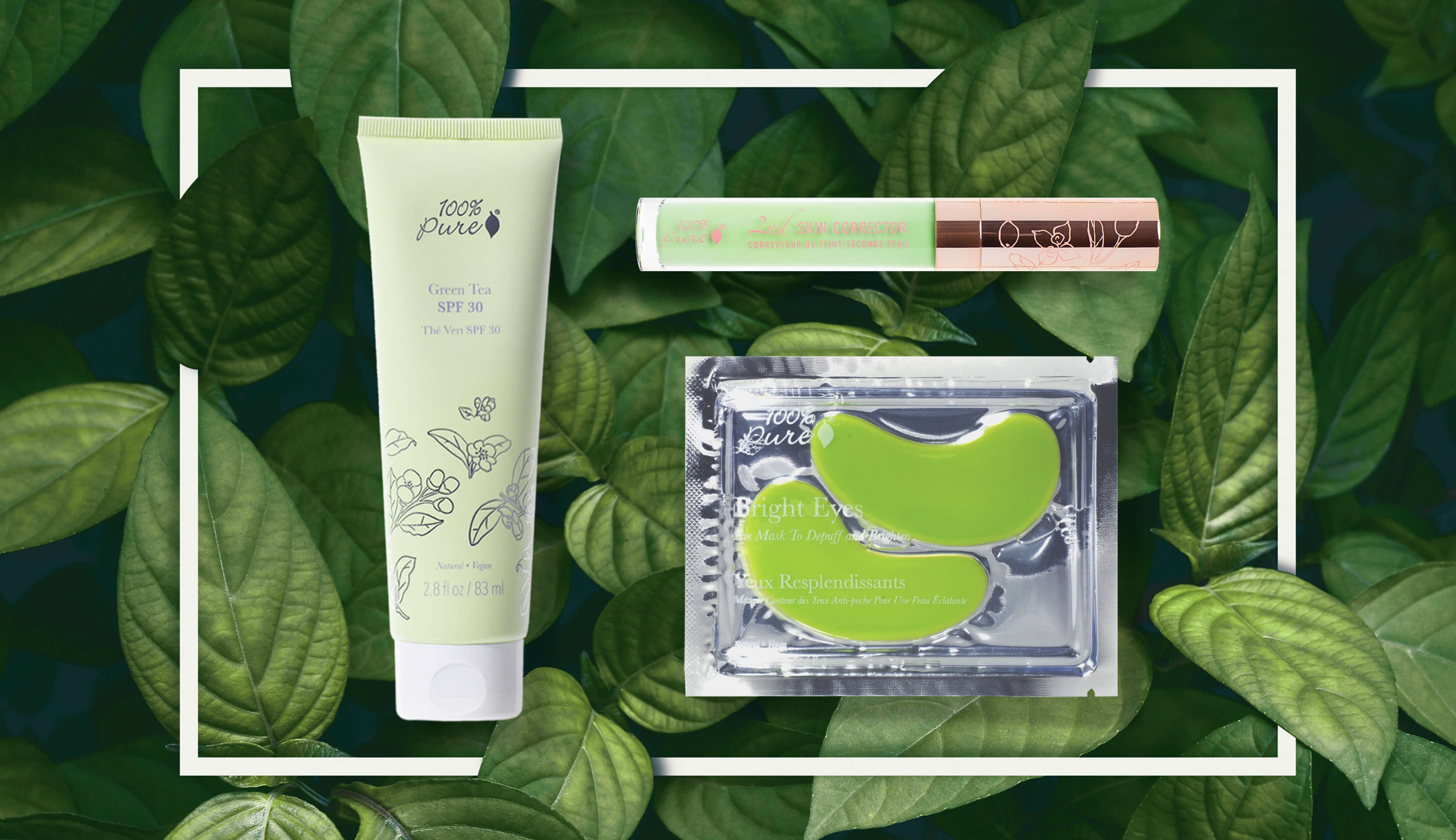 Health and beauty go hand-in-hand, so why not boost your beauty game by being clean and green?
We're spilling the tea on our green tea routine for soothing and restoring skin, and why Camellia sinensis is such a superstar for beauty benefits. Stay tuned for a step-by-step guide on a total green tea beauty routine!
Step 1: Serum
Is your face washed? Did you follow up with toner? If those are both answered with yes, then great – we're ready to get started!
How do you think your skin wants to be supported? Looking at the areas that are out of balance, is your skin asking for more hydration? More nutrients, or higher potency? The Green Tea EGCG Concentrate Serum is our go-to serum because it offers the full lineup.
Healing and hydrating aloe make a lightweight, cooling base that absorbs into the skin without a sticky finish. Yerba mate and green tea land a one-two punch against UV damage, working to tone while minimizing hyperpigmentation and redness.
This green beauty option is a universal crowd pleaser because not only is this serum incredibly hydrating, but our star ingredient delivers a dose of caffeine to control sebum production. For oily and combo skin types, this means oil balancing and reduced shine.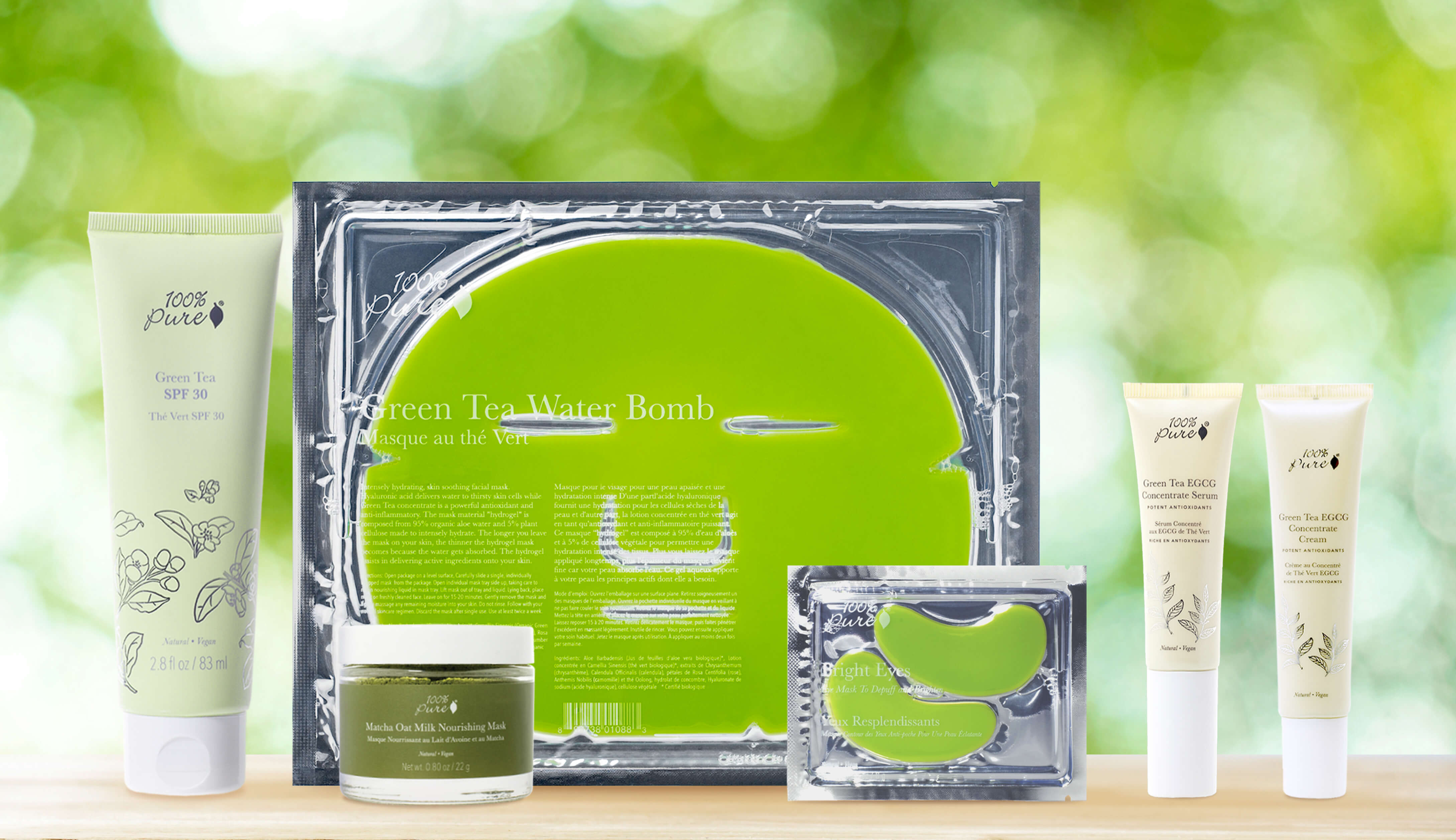 Step 2: Masking
For especially dry skin types, make a splash with the ultra hydrating Green Tea Water Bomb Mask. Hello cucumber; she's here and this green beauty is helping to tighten and tone! By her side is green tea, working to tone and reduce puffiness and inflammation.
For skin that needs deep, restorative nourishment after days of environmental damage: the Matcha Oat Milk Nourishing Mask is the ultimate in green beauty masking. Matcha is especially high in EGCG – or epigallocatechin gallate – a catechin found in green tea that promotes DNA repair.
Step 3: Moisturizer
The Green Tea EGCG Concentrate Cream scores 10's across the board for its versatile offering of benefits and compatibility with multiple skin types. Goji and acai berries provide luscious and lightweight moisture with concentrated doses of defensive antioxidants. Yerba mate water is at the base of this facial lotion, exemplifying true green beauty with beneficial vitamins C, E, and zinc.
This green tea moisturizer also features a unique ingredient: green tea oil. Imagine this oil rich in antioxidant power, diving into our pores and addressing excess oil and active inflammation. As soon as you massage this moisturizer into your skin, you'll feel an instant quenching sensation: that's the dream team of yerba mate and green tea at work!
Step 4: Eye Treatment
The eyes tend to be a hotspot for issues: fine lines creeping, dry skin and darkness from tossing and turning all night – keeping the eyes looking flawless can be stressful. Worry less with just 15 minutes and a pair of Bright Eyes Masks!
This ultimate de-puffing eye treatment is made with three kinds of caffeine: green coffee, yerba mate, and green tea. Topical caffeine can stimulate healthy blood flow to brighten dark circles, while also discouraging fluid retention that causes puffiness and eye bags.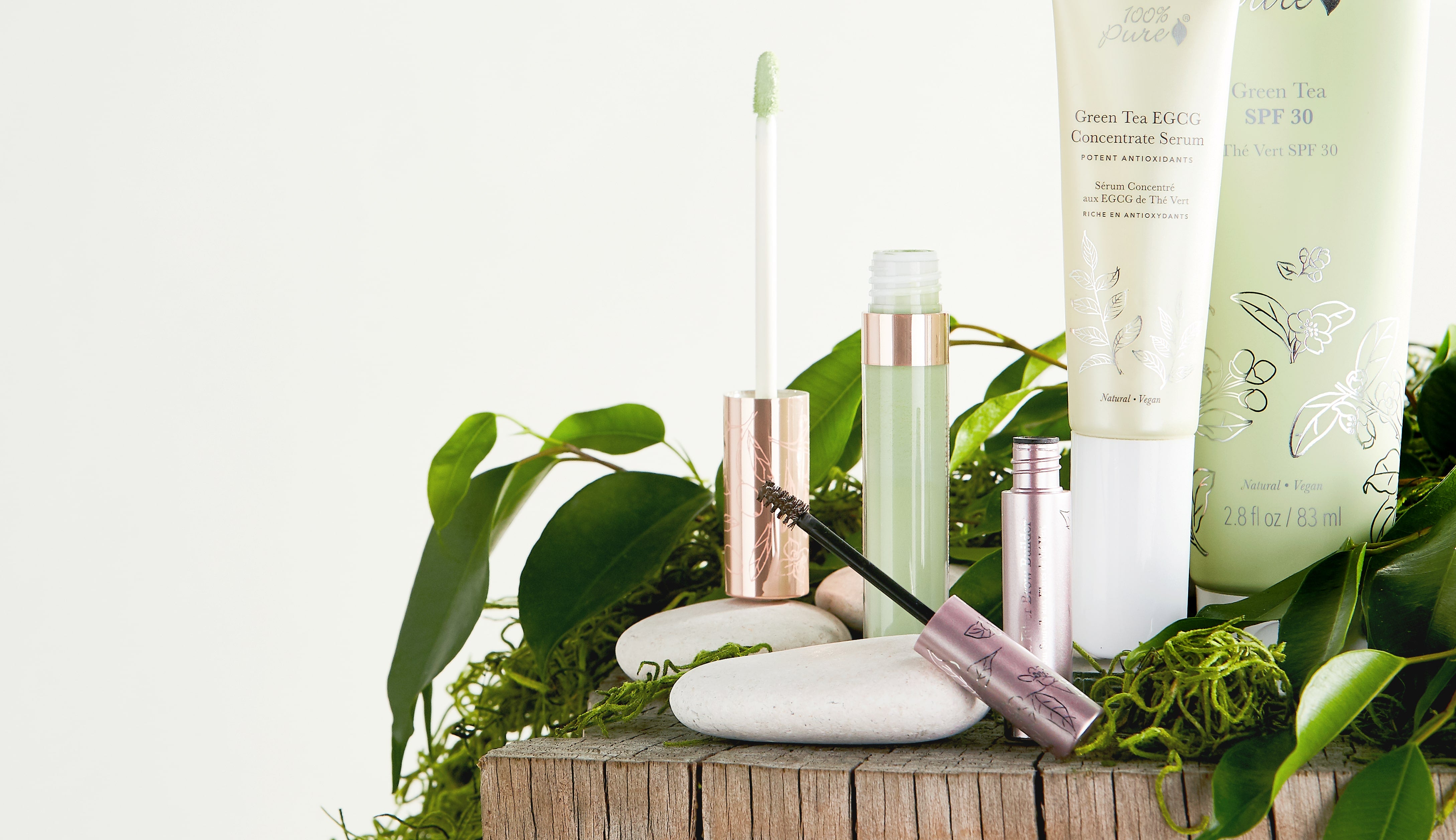 Step 5: Complexion Correction
Whether you want to feel cute in your video conference or are simply working to keep that flush out of your skin, a bit of coverage can make a world of difference for our confidence. Since we're in a green beauty sort of mood, we're taking our spot of green tea through our 2nd Skin Green Color Corrector!
Our green corrector is used to cancel out the appearance of irritated skin and unwelcome blemishes by neutralizing red hues. Those with rosacea, breakouts, or pink undertones will know what we mean!
Green tea of course contains caffeine; caffeine acts as a topical vasoconstrictor to tighten the blood vessels and reduce the amount of blood nearing the surface of the skin. This in turn reduces the appearance of redness on the complexion – a fitting bonus for a redness-cancelling color corrector!
With your tea-prepped skin, use the doe-foot of the concealer to tap over any areas of concern. Apply around the nostrils, over the cheeks, and over active blemishes. Did you know that green tea contains acne fighting antioxidants? The green tea in our 2nd Skin Corrector is helping your skin to eliminate redness – during and after wear.
Once you're covered, apply your daily foundation (FYI: our Water Foundation contains green tea) and finish with a setting powder for soft, seamless coverage.
Step 6: Brow Maintenance
No makeup look could ever be complete without showing our eyebrows some love. The crowning accessory of our beauty look, we're sneaking vitamins into our brow products for a fuller looking frame. Green tea is great for brows, since caffeine is known to promote hair growth and shine.
With its petite wand, the Green Tea Fiber Brow Builder helps focus the product where you need it while creating soft, hair-like strokes. Use with our Long Last Brows for more definition, or alone for a more natural look.
We carefully hand-select products based on strict purity standards, and only recommend products we feel meet this criteria. 100% PURE™ may earn a small commission for products purchased through affiliate links.
The information in this article is for educational use, and not intended to substitute professional medical advice, diagnosis, or treatment and should not be used as such.
Sign up to our email newsletter for more blog updates and exclusive discounts.
< Older Post | Newer Post >