https://purity-res.cloudinary.com/image/fetch/q_auto:best,f_auto,fl_lossy,w_auto,c_limit,dpr_auto/https://cdn.shopify.com/s/files/1/0648/1955/products/RgWv4ioHSl6gsbFjpQ83.jpg?v=1540592420
https://purity-res.cloudinary.com/image/fetch/q_auto:best,f_auto,fl_lossy,w_auto,c_limit,dpr_auto/https://cdn.shopify.com/s/files/1/0648/1955/products/e0zVoKNxRSKx1biF1Na4.jpg?v=1540592420
https://purity-res.cloudinary.com/image/fetch/q_auto:best,f_auto,fl_lossy,w_auto,c_limit,dpr_auto/https://cdn.shopify.com/s/files/1/0648/1955/products/NUuYt3sTXWeQUNfb55tm.jpg?v=1540592420
https://purity-res.cloudinary.com/image/fetch/q_auto:best,f_auto,fl_lossy,w_auto,c_limit,dpr_auto/https://cdn.shopify.com/s/files/1/0648/1955/products/y1kQLQMHSA2iRxCGp5eQ.jpg?v=1540592420
https://purity-res.cloudinary.com/image/fetch/q_auto:best,f_auto,fl_lossy,w_auto,c_limit,dpr_auto/https://cdn.shopify.com/s/files/1/0648/1955/products/Z207HdTtGY4Zoi7rCRFg.jpg?v=1540592420
https://purity-res.cloudinary.com/image/fetch/q_auto:best,f_auto,fl_lossy,w_auto,c_limit,dpr_auto/https://cdn.shopify.com/s/files/1/0648/1955/products/fvkuLiGgTx2ZKB0g6GlQ.jpg?v=1540592420
https://purity-res.cloudinary.com/image/fetch/q_auto:best,f_auto,fl_lossy,w_auto,c_limit,dpr_auto/https://cdn.shopify.com/s/files/1/0648/1955/products/fJxcOWjRCG3ZUaWJ4U35.jpg?v=1540592420
https://purity-res.cloudinary.com/image/fetch/q_auto:best,f_auto,fl_lossy,w_auto,c_limit,dpr_auto/https://cdn.shopify.com/s/files/1/0648/1955/products/LVxEpwx9TXeDJoh4ByIA.jpg?v=1540592420
https://purity-res.cloudinary.com/image/fetch/q_auto:best,f_auto,fl_lossy,w_auto,c_limit,dpr_auto/https://cdn.shopify.com/s/files/1/0648/1955/products/AGIsXTzSI2nKCGqzz0S9.jpg?v=1540592420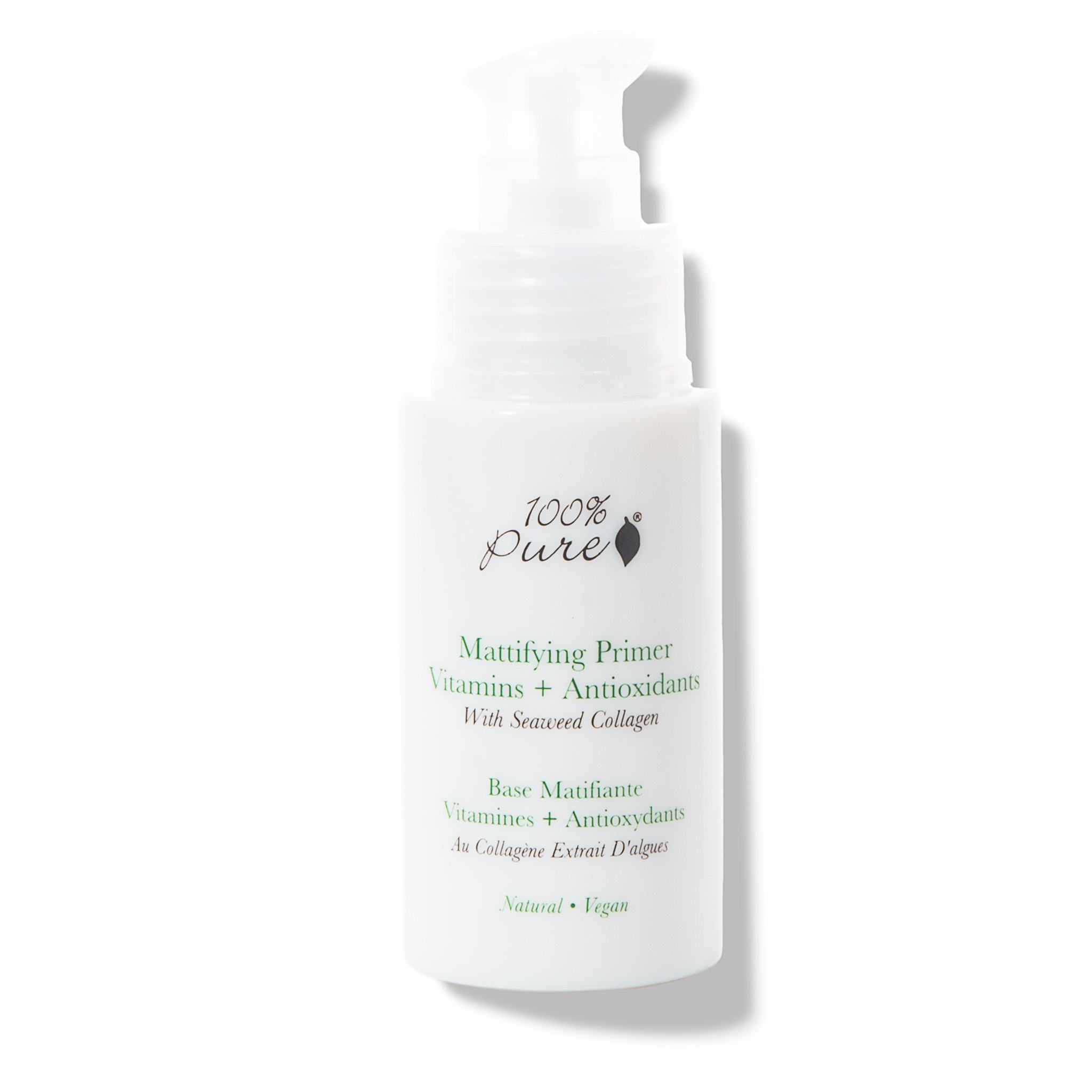 Mattifying Primer
Natural

Vegan

Cruelty Free

Gluten Free
Silicone-free primer infused with skin-plumping seaweed collagen for flawless, long lasting cosmetic application. Fills fine lines while minimizing shine.
For Oily, Normal, Combination Skin Types

A silicone-free, natural primer infused with skin-plumping seaweed collagen for flawless, long lasting cosmetic application. Skin healthy ingredients make this the perfect makeup primer for both face and eyes, to soften and smooth skin before you apply makeup. Made with seaweed for plumping and collagen-boosting, aloe for hydration, and eucalyptus for purifying oily and acne-prone skin.

Directions

Apply evenly to clean or moisturized skin. Allow to set for 90 seconds. Follow with your makeup application.

Every ingredient we use is beneficial, here are a few:

Tea Tree

Tea Tree clears impurities and tones.

Eucalyptus

Eucalyptus fights and prevents acne.

Seaweed Collagen

Seaweed Collagen boosts collagen production and elasticity.

Green Tea

Green Tea tones and protects with antioxidants.

Aloe Juice

Aloe Juice soothes and moisturizes.

Complete list of ingredients:

Aloe Barbadensis (Organic Aloe Juice) Leaf Extract*, Vegetable Glycerin, Olive Oil Squalane, Tocopherol (Vitamin E), Euphorbia Cerifera Cera (Candelilla Wax), Camellia Sinensis (Green Tea) Leaf Extract, Silica, Oryza Sativa (Rice) Starch, Fucus Vesiculosus (Seaweed) Collagen, Eucalyptus Globulus (Eucalyptus) Extract, Melaleuca Alternifolia (Tea Tree) Extract, Oregano Extract, Thyme Extract, Lonicera Caprifolium Flower and Lonicera Japonica (Honeysuckle) Flower Extract
Mattifying Primer
has a rating of
4.6
stars based on
589
reviews.
Customer Reviews
primer
skin
makeup
face
foundation
mattifying primer
products
ingredients
primers
shine
Silky smooth!
I tried this in the store and I was flabbergasted! It went on so smooth and left my face feeling like silk. My foundation went on like a breeze and stayed out all day! I will never not use this! I do notice in the warmer months, that it will liquify a bit. So I keep mine in the cabinet under my bathroom sink so it stays cool and more firm.
Feels good on face//
...But it doesn't quite keep the foundation from sinking into my pores, (making it look like I have foundation pinpricks on my skin). I've only used it with Alpine Rose Fruit pigmented foundation. ( I got this primer as a sample in store)
My search for a primer is over
This product is so good. It makes my skin feel so soft after using it and it keeps my make up on all day long.
Best Primer out there!
Primers can be very drying, specially mattifying ones! (I've tried all different brands including top brands like YSL...) This primer is perfect in every way! Leaves my face feeling moisturized and keeps my make up in place, even after my 16 hour days! It's crazy! I love it so much, I always have an extra one in case I run out! Highly highly recommend!
04/03/2019
Christine Collette
Flawless Matte
I never used to use a primer under foundation, but when I tried this, I knew I would never skip that step again. This controls oil and shine so well (I use it with the water foundation), and it makes my skin so soft and makes it so easy to apply a thin layer of foundation over it. It stops foundation from settling into fine laugh lines too and helps the bamboo blur powder stay on all day. Silky skin, no more shine, what don't I love?
Complete the Package
Continue Shopping →