https://purity-res.cloudinary.com/image/fetch/q_auto:best,f_auto,fl_lossy,w_auto,c_limit,dpr_auto/https://cdn.shopify.com/s/files/1/0648/1955/products/a18c8e371bf64f46753ac33f87a3a43e_297234a4-7fff-483f-8e34-522d22b31f25.png?v=1533661655
https://purity-res.cloudinary.com/image/fetch/q_auto:best,f_auto,fl_lossy,w_auto,c_limit,dpr_auto/https://cdn.shopify.com/s/files/1/0648/1955/products/7DpOLcsRxCsbKMhy79Oz.jpg?v=1546984136
https://purity-res.cloudinary.com/image/fetch/q_auto:best,f_auto,fl_lossy,w_auto,c_limit,dpr_auto/https://cdn.shopify.com/s/files/1/0648/1955/products/ahqXKYeZRNOKmzeqnfnt.jpg?v=1546984136
https://purity-res.cloudinary.com/image/fetch/q_auto:best,f_auto,fl_lossy,w_auto,c_limit,dpr_auto/https://cdn.shopify.com/s/files/1/0648/1955/products/6nAyYH0WR46okGW45fPp.jpg?v=1546984136
https://purity-res.cloudinary.com/image/fetch/q_auto:best,f_auto,fl_lossy,w_auto,c_limit,dpr_auto/https://cdn.shopify.com/s/files/1/0648/1955/products/VyaEj1kZTVaBygb7dL7G.jpg?v=1546984136
https://purity-res.cloudinary.com/image/fetch/q_auto:best,f_auto,fl_lossy,w_auto,c_limit,dpr_auto/https://cdn.shopify.com/s/files/1/0648/1955/products/ilj1N4LIR8yXJp8y9BFI.jpg?v=1546984136
https://purity-res.cloudinary.com/image/fetch/q_auto:best,f_auto,fl_lossy,w_auto,c_limit,dpr_auto/https://cdn.shopify.com/s/files/1/0648/1955/products/2dk8VoNaQrazNR9r8Vpw.jpg?v=1546984136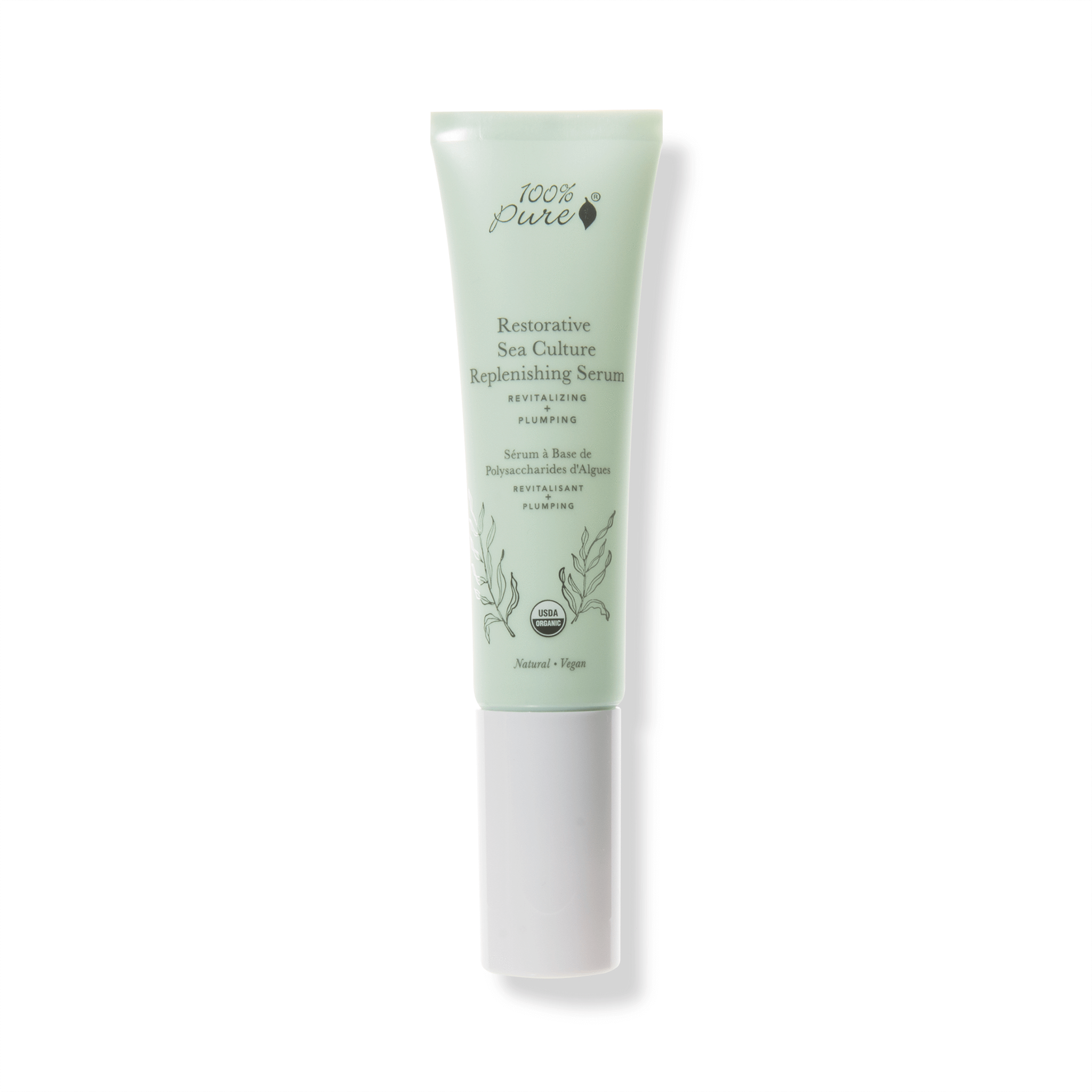 Restorative Sea Culture Replenishing Serum
Natural

Vegan

Cruelty Free

Gluten Free
Seaweed polysaccharides in this silky smooth serum saturate dry, thirsty skin with intense hydration for a supple, more youthful complexion.
For Normal, Dry Skin Types

Ultra light, silky smooth serum saturates skin to drench dry, thirsty skin with intense hydration. Seaweed polysaccharides hydrate and plump skin for a more youthful complexion, while olive squalane delivers moisture to prolong hydration.

Directions

After cleansing and toning, apply pea-sized amount of serum onto fingertips. Gently massage into cleansed skin, taking care not to tug or pull. Can be used AM and PM.

Complete list of ingredients:

Organic Salvia Hispanica (Chia) Water, Organic Glycerin, Xanthan Gum, Organic Laminaria (Algae) Extract, Hydrolyzed Candida Saitoana (Yeast Ferment), Organic Macrocystis Pyrifera (Sea Kelp) Extract, Hyaluronic Acid, Organic Lonicera Japonica (Japanese Honeysuckle) Flower Extract, Organic Essential Oil Blend: Citrus Aurantium Bergamia (Bergamot) Fruit Oil, Cedrus Atlantica (Cedarwood) Bark Oil, Vetivera Zizanoides (Vetiver) Root Oil, Citrus Sinensis (Blood Orange) Oil, Salvia Officinalis (Sage) Oil, Lavandula Angustifolia (Lavender) Oil
Customer Reviews
skin
serum
dryness
products
item
use
line
face
100
part
LIke it
This is really hydrating. Feels very good and plumps my skin. My skin was really dry this past winter so I bought everything hydrating. I guess I just feel like it's not worth $65 when the hydrating toner seems to the same thing for my skin. Could just be my skin though. I love everything I buy from 100%.
LOVE
Love this serum! It smells great and has made a big difference in my skin. My skin feels smooth, soft, and is much brighter.
Love this seaweed serum
My favorite serum! A must have for everyday use! I love it.
Perfect for dry winter weather
My skin always suffers in the winter because of the dry air outside and even drier air inside our house from our wood burning stove. I switched to this serum about 2 months ago and it has been fantastic for my skin this season. I typically have combination skin that is prone to dryness and this has worked great for the time being.
Nothing out there like it
I love this item. I have acne prone skin, and it's hard to find products that I truly love and feels good for my skin. It's just so hydrating and I cant rave about it enough! Makes my skin so supple.
Complete the Package
Continue Shopping →