https://purity-res.cloudinary.com/image/fetch/q_auto:best,f_auto,fl_lossy,w_auto,c_limit,dpr_auto/https://cdn.shopify.com/s/files/1/0648/1955/products/r4GbRPDSpCDP9xxlcRGi.jpg?v=1558565641
https://purity-res.cloudinary.com/image/fetch/q_auto:best,f_auto,fl_lossy,w_auto,c_limit,dpr_auto/https://cdn.shopify.com/s/files/1/0648/1955/products/MztSeRvGSJuiueHT7Yy2_d93710c4-cc57-43dd-876b-d0340850763e.jpg?v=1558565641
https://purity-res.cloudinary.com/image/fetch/q_auto:best,f_auto,fl_lossy,w_auto,c_limit,dpr_auto/https://cdn.shopify.com/s/files/1/0648/1955/products/JUIuVHnS2S1VttPn7ygy_e940419a-1c8a-4368-99aa-2cf1ae81c5c7.jpg?v=1558565641
https://purity-res.cloudinary.com/image/fetch/q_auto:best,f_auto,fl_lossy,w_auto,c_limit,dpr_auto/https://cdn.shopify.com/s/files/1/0648/1955/products/i5yGRyhaRwuAoQAPsWRb_9e148524-d2dc-4a74-856c-e1d20ec8b6e2.jpg?v=1558565641
https://purity-res.cloudinary.com/image/fetch/q_auto:best,f_auto,fl_lossy,w_auto,c_limit,dpr_auto/https://cdn.shopify.com/s/files/1/0648/1955/products/ecA6itEjSgWuQW3wf9GM_617ef6b0-023c-42c7-b1c3-83e11259b604.jpg?v=1558565641
https://purity-res.cloudinary.com/image/fetch/q_auto:best,f_auto,fl_lossy,w_auto,c_limit,dpr_auto/https://cdn.shopify.com/s/files/1/0648/1955/products/r0FIkMNVSMaFjUu5BSIV_0eaf5c2e-aaed-4101-897b-88f4cd9a3107.jpg?v=1558565641
https://purity-res.cloudinary.com/image/fetch/q_auto:best,f_auto,fl_lossy,w_auto,c_limit,dpr_auto/https://cdn.shopify.com/s/files/1/0648/1955/products/qfIgFIhS8i2wwN4jCvbg_74e3813a-3e5a-4f38-9f14-207fa83a59cd.jpg?v=1558565641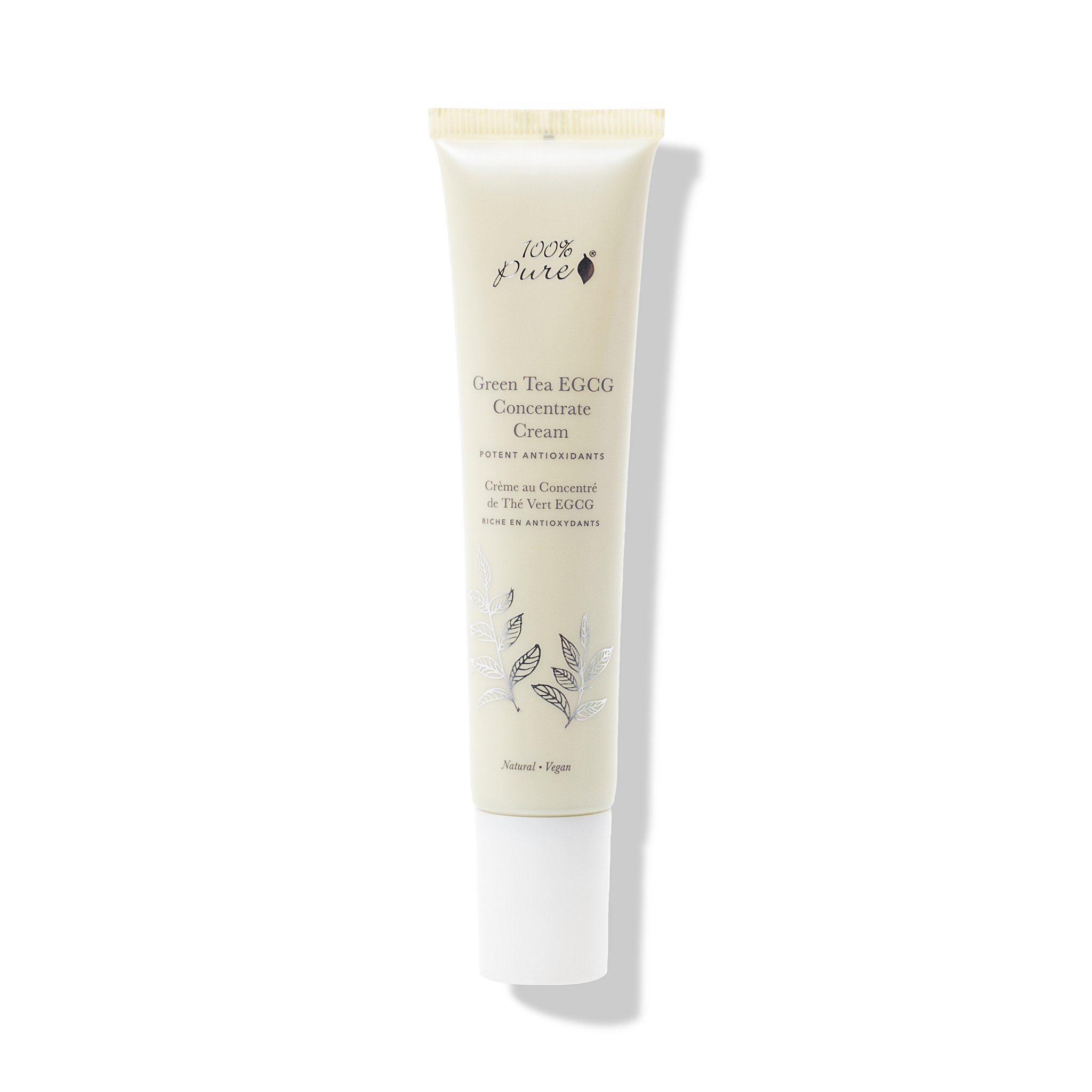 Green Tea EGCG Concentrate Cream
Natural

Vegan

Cruelty Free

Gluten Free
Highly nutrient-rich moisturizer softens and fortifies skin. EGCG, the potent antioxidant from green tea, protects against environmental damage.
For Normal, Dry, Oily, Combination Skin Types

Highly nutrient-rich moisturizer softens and fortifies skin with key phytonutrients. EGCG, the potent antioxidant from green tea, protects against environmental damage and neutralizes aging free radicals. This protective, skin-softening daily moisturizer is made in a base of nourishing yerba mate water, rich açai butter, and lightweight green tea oil.

Directions

After cleanser and serum, apply quarter sized amount to face and neck. Gently massage and press into skin, taking care not to pull or tug. Can be used AM and PM.

Every ingredient we use is beneficial, here are a few:

Acai Butter

Acai Butter moisturizes and nourishes with antioxidants.

Olive Squalane

Olive squalane moisturizes and soothes irritated skin.

EGCG

EGCG protects from free radical damage.

Green Tea

Green Tea tones and protects with antioxidants.

Yerba Mate

Yerba Mate boosts skin firmness and elasticity with antioxidants.

Complete list of ingredients:

Organic Ilex Paraguarensis (Yerba Mate) Water, Organic Glycerin, Organic Euterpe Oleracea (Acai) Butter, Xanthan Gum, Organic Camellia Sinensis (Green Tea) Oil, Olive Squalane, Organic Lonicera Japonica (Japanese Honeysuckle) Flower Extract, Glyceryl Stearate, Cetearyl Alcohol, Sodium Stearoyl Lactylate, Organic Aspalathus Linearis (Rooibos) Tea, Organic Lycium Barbarum (Goji Berry) Extract, EGCG, Organic Camellia Sinensis (Green Tea) Concentrate, Hyaluronic Acid, Organic Essential Oil Blend: Citrus Aurantium Bergamia (Bergamot) Fruit Oil, Cedrus Atlantica (Cedarwood) Bark Oil, Vetivera Zizanoides (Vetiver) Root Oil, Citrus Sinensis (Blood Orange) Oil, Salvia Officinalis (Sage) Oil, Lavandula Angustifola (Lavender) Oil
Customer Reviews
one
products
skin
serum
scent
texture
face
way
moisturizer
smell
Best moisturizer
I have dry skin in the winter and oily in the summer. This moisturizer is perfect for me, year round. I add a drop of argan oil before I smooth it on.
Green Tea
I use this daily. Lightweight but moisturizes well. Smells great. Only need a small amount, however, would like to have more in the tube, it's small for the price.
05/23/2019
Heather C.
United States
I love this
Sad to see this item out of stock currently! It is one of my daily staples!
Awesome Moisturizer
I really love this moisturizer. A little goes a long way! It's lightweight but powerful.
They could do better
I've been using 100% Pure products for 4 years. And in general, their products are decent. Prior to using this moisturizer, I used the hydra drench, which is very similar to this product, except it left my skin more moist, and susceptible to sweaty skin. I also used the white tea and mint as well as the super fruit moisturizer. Both of which are discontinued, which is very disheartening. They discontinue great products with great reviews too frequently, which I have never seen with any other product line that I've ever used. The only reasons I can think of for the discontinuation are that the products do not have long shelf-life, or it's too expensive to produce. They need to consider doing more research, lab testing, and budget analysis. Nevertheless, I've been using this product every day for the past 5 months, and I've seen no changes to my skin in comparison to the other products. I want a product that improves the appearance of my skin. I hope they do better, which I know they can since they do have a few great products.
Complete the Package
Continue Shopping →