How to Apply Foundation with Sponges
Choosing the right sponge shape and material for a flawless finish
Posted on January 13, 2020
Written by: 100% PURE ®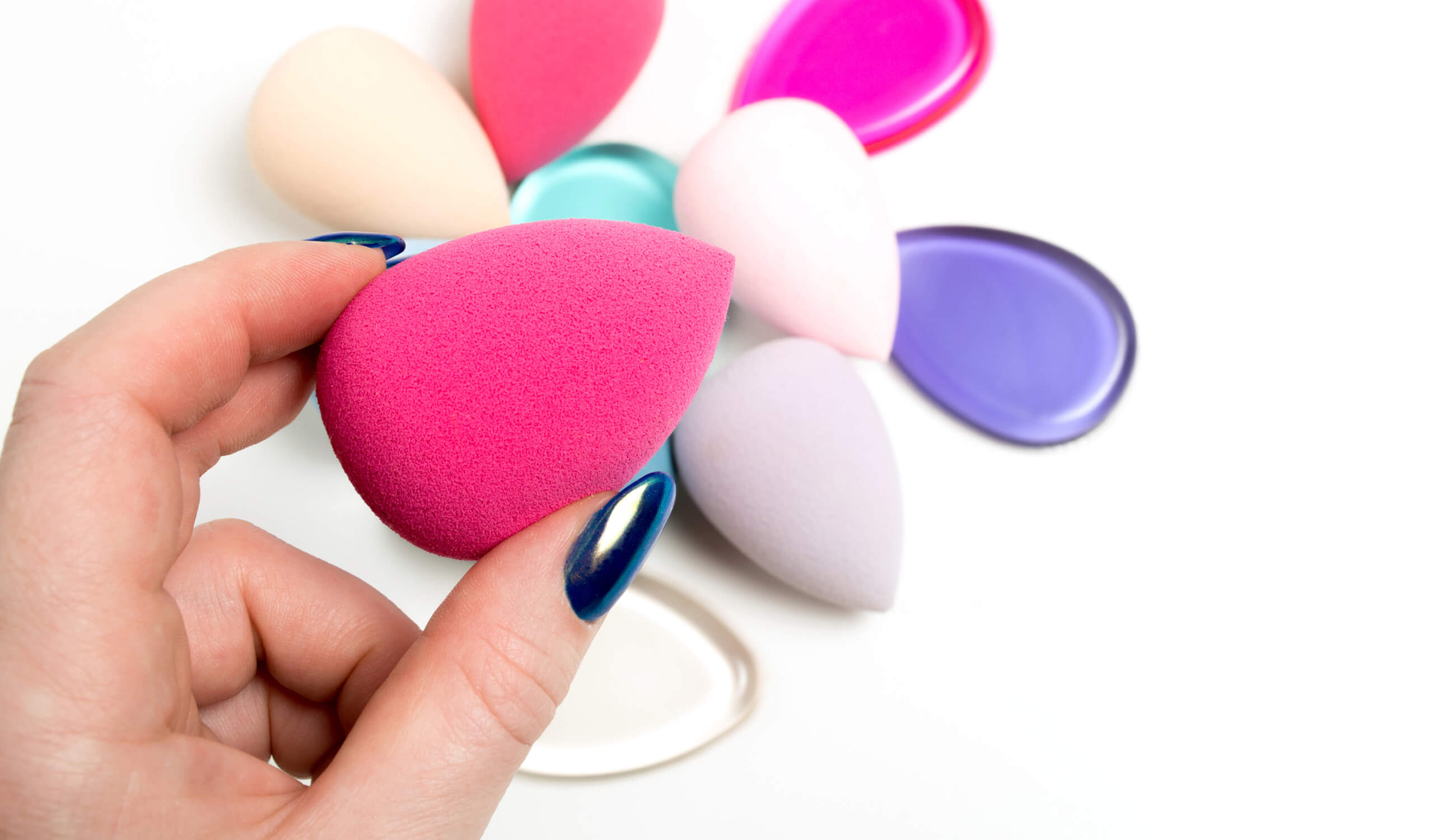 We once believed that brushes were the end-all be-all of applying face products. We still love a good brush, but it's safe to say that sponges have stolen the hearts of makeup fans and professionals alike.
Whether you're new to makeup sponges, skeptical, or simply a diehard brush enthusiast, trying out a different method opens up a new world. With a plethora of designs and textures at your disposal, finding the right makeup sponge can feel like finding your very own glass slipper!
We'll guide you through the wide world of makeup sponges, and how to apply foundation with the right one for your formula.
Why Sponges?
Wondering about the perks of a makeup sponge? If you learned how to apply foundation with a brush, you might wonder what exactly a sponge can do that your brush can't. While brushes are a great tool to have in your makeup bag, let's uncover the particulars of why sponges are ideal for everyday foundation.
Sponges leave a flawless finish with less effort.
Using a sponge to apply liquid and cream foundation leads to a more natural and blended look. Blending is often easier with a sponge instead of a brush, this is in part because you're wetting the sponge, which makes the product spread more seamlessly. This will also prevent unnatural brush streaks on your face.
PRO TIP: If you use powder foundation, some makeup sponges may not work for you. Some dry powder lovers use a brush to avoid losing product.
Sponges are great for dry skin.
You will often wet a sponge before use, and apply with a stippling motion. Less rubbing means a lower chance of flakiness. Using a dry tool increases friction, which can lead to a higher chance of flaking in dry skin. Another plus for dry skin: the moisture retained in the sponge will add a dewy, hydrated look to your skin.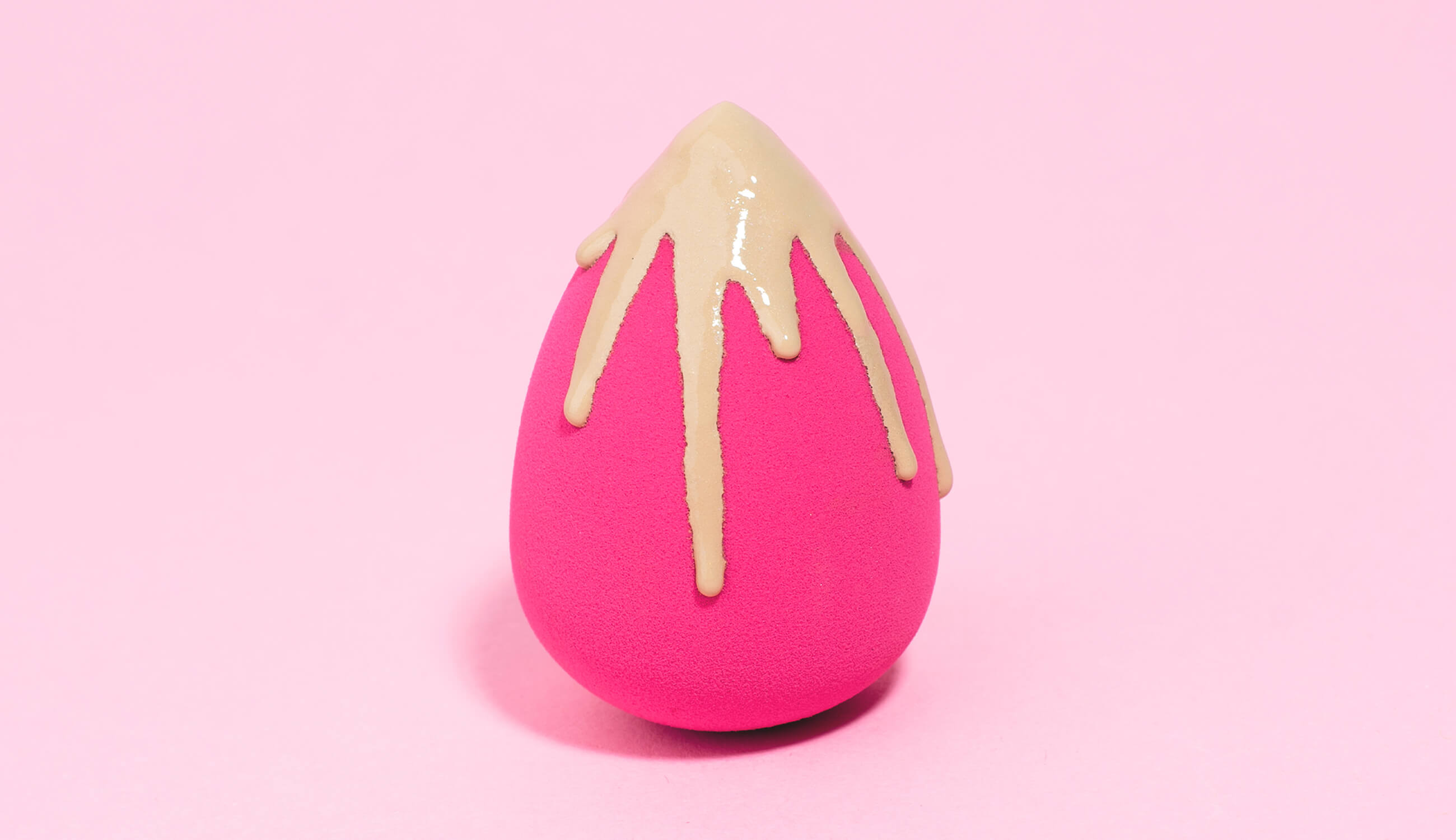 How to Pick the Right Foundation Sponge
Sponges come in several different shapes and materials, and some will work better than others for certain types of applications. They will lend themselves to different techniques in how to apply foundation, or how to build and set your coverage. First, we'll go through the different types of makeup sponge shapes!
SHAPES
#1: Teardrop
Our Non-Latex Makeup Blender has both a tapered tip and full, rounded edge for blending out foundation. The tapered end is great for the eye and nose area; the rounded edge is suited to your cheeks, forehead, and chin.
Great for: Seamlessly applying and blending foundation in both wide and small areas.
#2: Wedge
This sponge takes the form of a long, skinny triangle. Its harsher ridges mean a more concentrated, intense application.
Great for: Targeting blemishes or smaller areas of the face; heavier coverage.
#3: Beveled
This shape includes a tapered side and a slanted flat edge. The tapered side is best for detailing, and the flat edge is great for packing on pigment for heavier coverage.
Great for: Applying foundation to broad and small areas of skin.
#4: Hourglass
This sponge provides a wide, tapered edge that slopes down into a smaller center and out again to a wide, rounded edge – similar to a glass soda bottle. Its curvy silhouette proves better for a softer – and broader – application.
Great for: Applying foundation to larger areas of the face; lighter coverage.
#5: Flat
These sponges are commonly made from a spongy latex material, and come in either a circle or soft-edged square shape. You've probably known a flat sponge or two in your time: they're often provided in drugstore foundation compacts and have a distinct rubber-like smell.
Great for: Applying pressed powders for setting or baking.
#6: Oval
These sponges are also a part of the flat family. The thicker the material, the better they are for applying liquid and cream foundations. If using a teardrop shaped sponge feels too cumbersome, try these flat versions on for size.
Great for: Those who have trouble using traditional makeup sponges.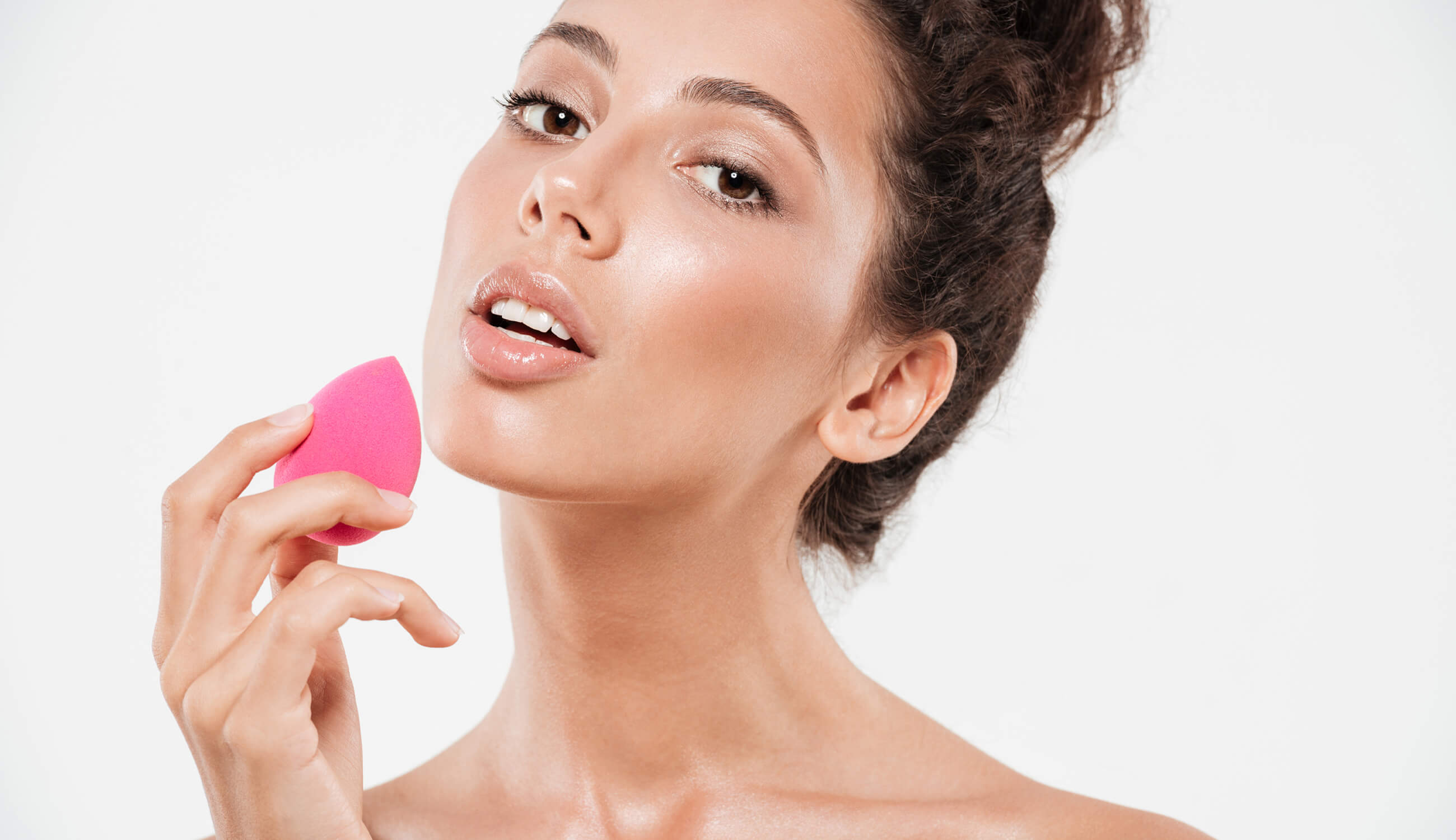 MATERIALS
Now let's discuss the types of materials from which sponges can be made. Some are easier to learn how to apply foundation with because they blend a little easier; others require less cleaning. Also keep in mind that there are durable sponges and single-use ones; while single-use sponges make hygiene easier, they also contribute to more environmental waste!
#1: Latex
This material has a rubbery feel. It isn't porous, so it'll transfer plenty of product to your skin. Many makeup sponges you find will be made of latex – it's one of the most popular materials.
Great for: Heavier coverage, matte formulas.
#2: Non-latex
Non-latex foam may be a little more porous than latex, meaning it can absorb more product. This often leads to a lighter, more natural application.
Great for: Those with allergies to latex, don't like the rubbery smell of traditional sponges, or those who want to customize their coverage level.
#3: Silicone/Jelly
Sponges advertised as "jelly" are usually made of silicone. Like latex, silicone is a non-porous material so it won't absorb foundation like the others; for this reason, these sponges are also easier to clean. The downside is they don't buff as well as other types of sponges, so the finish may not look as seamless or natural. You can't dampen these either, which may mean a more matte finish.
Great for: Those who prioritize easy cleanup and product-conservation.
PRO TIP: Silicone sponges won't have to be changed as frequently as other kinds of sponges. They're much more durable, but you'll likely have to sacrifice blending power.
How to Apply Foundation
Now comes the good stuff – how to apply foundation! After cleansing, moisturizing, and priming, follow these steps for a seamless finish. Remember to include sunscreen in your routine, whether it's in your moisturizer or a separate product. Some sunscreens even have a priming effect!
#1: Choose a foundation and sponge
Remember to use a foundation that suits your skin type and desired coverage. Using the notes we gave you above, choose a sponge that will complement your foundation formula.
#2: Dampen your sponge
Wet your sponge, then squeeze out any excess water. You don't want your sponge to drip! The exception here is when you're applying powder; wetting the sponge before using a powder formula will only cause your foundation to cake up.
#3: Use a stippling motion to apply
Avoid rubbing motions; stippling will prevent streakiness and minimize tugging of the skin.
#4: Use a setting powder or spray for a long-lasting finish
This is an important step; reward your efforts by making sure your makeup look lasts.
#5: Clean your sponge after use
Shift your idea of hygiene when you learn how to apply foundation with sponges; brushes may be able to go without washing for longer. Clean your sponge with facial cleanser or an antibacterial spray, and rinse thoroughly until no residue is left. If you have little to no time, wash your foundation sponge at least once a week. This should help prevent product and bacteria from building up.
The best part about makeup sponges is their versatility; they're not a one-stop shop to help you learn how to apply foundation. You can also use sponges to buffer out contour lines and apply highlighter onto your cheekbones. Add a makeup sponge to your dewy skin routine or no makeup look and thank us later!
We carefully hand-select products based on strict purity standards, and only recommend products we feel meet this criteria. 100% PURE™ may earn a small commission for products purchased through affiliate links.
The information in this article is for educational use, and not intended to substitute professional medical advice, diagnosis, or treatment and should not be used as such.
Sign up to our email newsletter for more blog updates and exclusive discounts.
< Older Post | Newer Post >