How to Apply Foundation Makeup
Which formula to choose, which tool to apply it with, and more!
Posted on December 13, 2018
Written by: 100% PURE®
As the days get colder and darker, we start to ask ourselves when our alarm goes off each morning, "do I really want to wear makeup?" The truth is, we totally do! The problem is, we don't want to spend 15+ minutes on foundation makeup, only for it to turn out patchy and uneven.
The average person has a lot of questions about foundation formulas and compatible tools. As it turns out, applying foundation doesn't need to be that complicated! With a little practice it's easier than you think. Here's our cheat sheet of formulas, tools, and how-to's to make your beauty routine that much easier.
First - Which Formula Suits My Skin Type?
Formulas are one of the most important factors in selecting a foundation. The finish, wear, and coverage are the most important factors in finding a foundation that suits your skin type. The old rule of thumb was that our foundation type should be the opposite of our skin type, and in a sense that still works. If you're flexible on coverage and just looking for something that appears neutral and balanced, this technique is just fine. With so many natural foundation finish and coverage options, it's easy to find a foundation that's perfect for you.
Powder Foundation
Best for oily and combination skin

Light to medium coverage

Terrific for creating softer looking skin

Satin to matte finish
Liquid Foundation
Works well with any skin type!

Medium to full, buildable coverage

Often requires setting spray or setting powder on top

Natural, dewy and satin finishes
Cream Foundation
Best for dry to combination skin types

Often medium-full buildable coverage

Works well layered under liquids or powders

Natural to dewy finish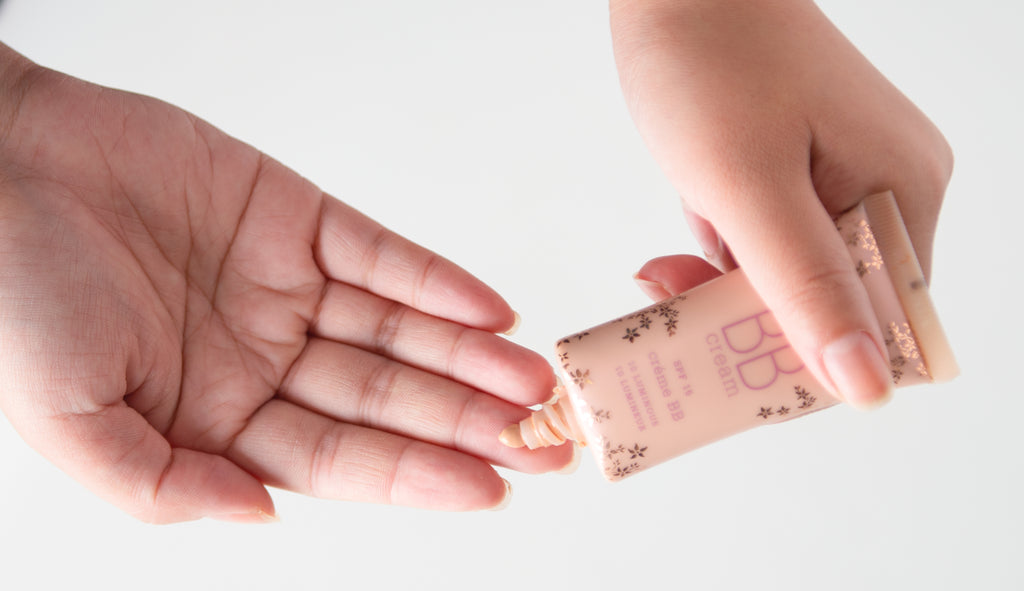 Which Tool Should You Use with Each Foundation Formula?
For us personally, our day to day beauty tools often don't change and sometimes that's the problem. As we switch up our products and add different steps into our routine, we should consider aligning those changes with better, compatible beauty tools.
Powder Foundation
What tool we use determines the coverage and finish we get with a specific type of foundation. Take for example our Fruit Pigmented Powder Foundation. This is a lightweight pressed powder that provides medium coverage and a matte finish. If we were to use this with a dry sponge, we'd lose a lot of product in the sponge and it would result in very little coverage payoff. If we tried a wet sponge instead, the powder would likely cake up on the sponge. Instead we recommend using this foundation with our Cruelty Free Powder Brush. The paddle-like design and flexible bristles allow us to easily dust the product over the skin, layering on the areas that need it, while getting a seamless, softly blurred result.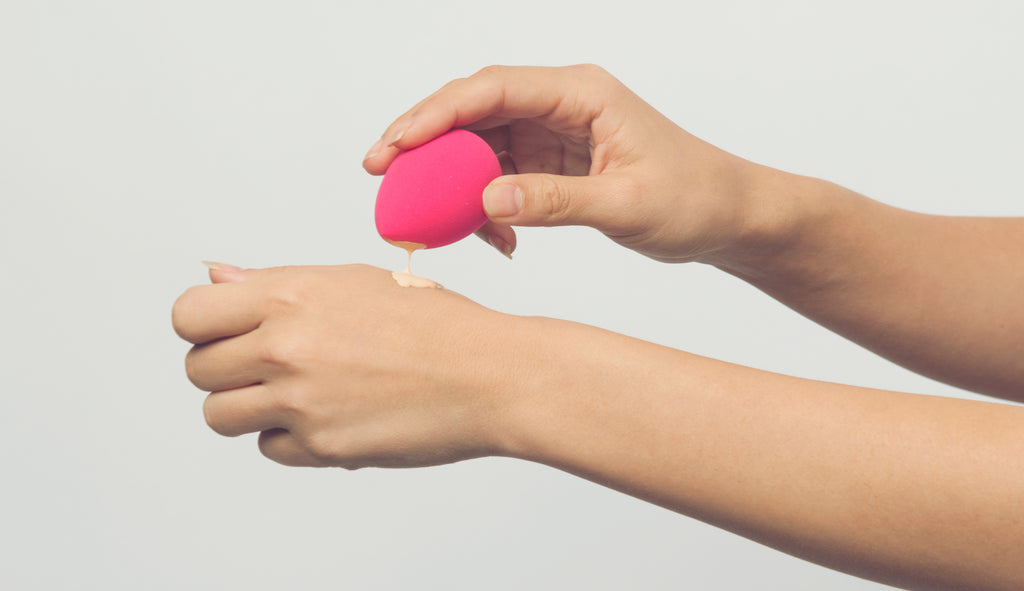 Liquid Foundation
Liquid foundation is one of the easiest to work with because we can use it with just a fingertip to spot cover similar to how we use concealer, or we can use it all over the face. With a product like our Fruit Pigmented Full Coverage Water Foundation, its best to apply with a hypoallergenic beauty sponge like our Latex Free Makeup Sponge. When applying the product directly to the skin and then blending with the damp sponge, this allows us to get maximum coverage and the healthiest, skin-like finish. If you want a more sheer coverage or a less dewy finish, pair your liquid foundation with something like our Small Stippling Brush, made to sheer out coverage to allow the skin to shine through.
Cream Foundation
Most cream foundations come in stick format, which make them super easy to apply. What makes cream foundations tricky is that they usually have a higher concentration of pigment and so blending or sheering out is very difficult. The 100% PURE Fruit Pigmented Cream Foundation comes complete with medium-full coverage and a radiant satin finish, which means it works well with both sponges and brushes. Use our damp sponge for less coverage and more shine or use our Cruelty Free Kabuki Brush for intense coverage but a more natural skin-like finish. No tools handy? No problem! This product is great for applying with fingers and letting our body heat melt the foundation into our skin.
The Full Foundation Makeup Routine
The last tip in our cheat sheet has to do with steps in our routine. We start off with a moisturized face. At this stage, you should also add a sunscreen if it isn't in your foundation. If you like to use primer for longer, flaw-free wear, add that on next. Finally, wrap up with your foundation and then concealer, layering in the order of cream, liquid, then powder until you're flawless and beautified inside and out!
We carefully hand-select products based on strict purity standards, and only recommend products we feel meet this criteria. 100% PURE™ may earn a small commission for products purchased through affiliate links.
The information in this article is for educational use, and not intended to substitute professional medical advice, diagnosis, or treatment and should not be used as such.
Sign up to our email newsletter for more blog updates and exclusive discounts.
< Older Post | Newer Post >