BB Cream (and CC, DD, & EE)
Breaking down the differences between BB cream and her crew
Posted on October 21, 2018
Written by: 100% PURE®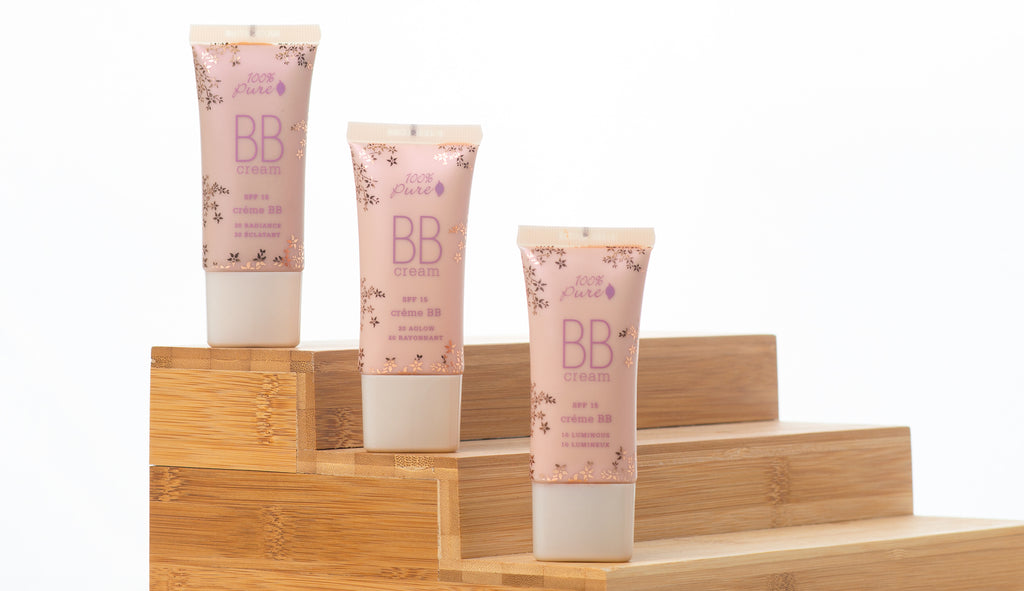 If you've heard of one, you've probably heard of the others. The acronym "BB" in BB Cream stands for "beauty balm" or "beauty base", but what about those other tag-along acronyms? In a world of BB, CC, DD, and EE, how's a gal supposed to get it straight? Is it all part of one big marketing ploy to confuse shoppers into buying all 4?
We're getting down to brass tacks on the BB cream family, with a quick and dirty guide to each formula. No more scrolling through pages of online results or wandering the beauty aisles… we've got just the facts, ma'am!
BB Cream
Function: "Beauty Balm"
"BB" creams are meant to create a clean, flawless base by using beneficial, skin healthy nutrients (as a 'balm' would do). BB stands for "beauty balm" or "blemish balm". These formulas are meant to provide light, hydrating coverage, with a bit of radiance thrown in. BB creams are commonly designed to be a primer, moisturizer, and light foundation in one formula. They're lighter than your average foundation, but should be thicker than a tinted moisturizer.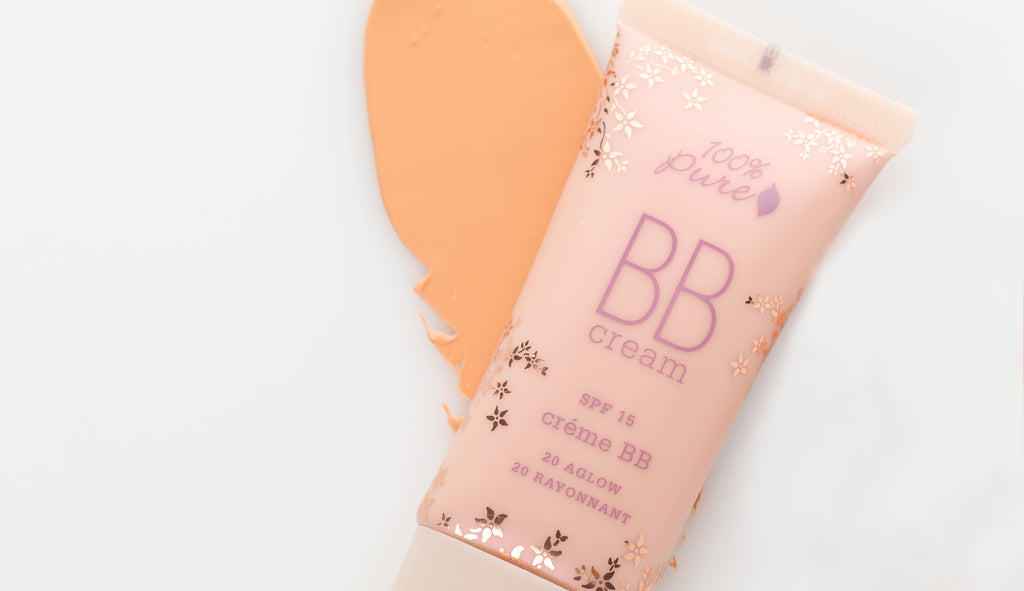 Our BB Cream has medium, buildable coverage, making it able to obscure imperfections and give a balancing sheen to your skin tone. We've also added soft luminosity with mica, to help give a naturally flawless and radiant glow to skin. This same luminosity helps to softly reflect light, which gives skin a soft-focused glow that blurs imperfections (a defining trait of CC cream). The goal with this BB formula is to give a healthy, primed appearance to skin. To get a layer of full coverage, we recommend adding a concealer or finishing powder to fill fine lines and achieve full coverage.
CC Cream
Function: "Color Correcting"
The term "CC" stands for 'color correcting' or 'complexion correcting'. Looking to correct uneven skin tone, dark spots, and imperfections? This would be the formula for you! A CC cream is designed with ingredients that cover redness and perfect your skin tone. They also help to blur uneven textures and wrinkles with light-diffusing particles (sound familiar, 100% PURE BB Cream?). This cream is the most visually correcting of the 4 formulas, which is why you'll see it competing right at the top with BB cream. Most users will want either the light, skin-healthy benefits of a BB cream, or the correcting, perfecting finish of a CC cream
CC creams are also known to have a lighter body and texture than BB cream. They're a bit more straightforward in their function, delivering more potent coverage than your typical BB cream. As where BB creams offer more behind-the-scenes skin benefits, CC creams benefits are more apparent immediately after you apply. A proper CC cream formula should be able to correct redness, hyperpigmentation, blemishes, and dark spots with a lightweight texture and finish.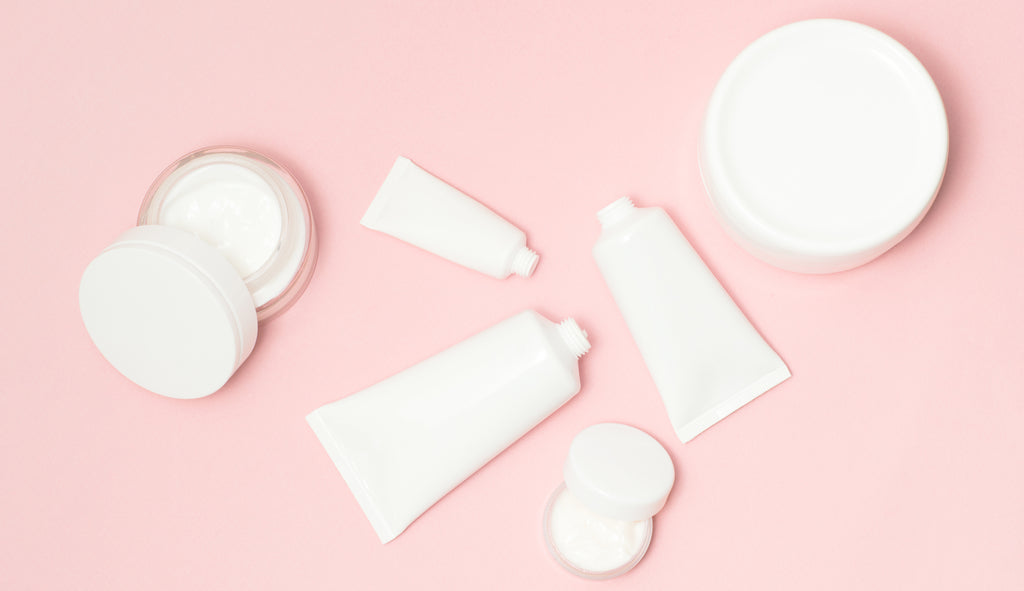 DD Cream
Function: "Daily Defense"
You might start losing your cool at this point in the alphabet. "What's next, EE?!" you shout at the DD cream display in Sephora. Understandable, since "DD" has been a bit more relaxed in its definition. This acronym has been defined as anything from a "daily defense", "double duty", or even "dynamic do-all" cream. But when you get past the marketing jargon, here's the bottom line: DD creams are designed to offer protective ingredients like SPF and antioxidants. Important to note, however, is that they normally won't provide the same level of coverage as a BB cream.
SPF is another tricky element to BB cream et al, but it's most commonly found in both DD and BB creams. Since DD creams are the daily-defense option, both their main purpose and first priority is skin protection. You'll find DDs packed with megadoses of both SPF and antioxidants, too. You'll often find these formulas targeted for preventing fine lines, wrinkles, and environmental damage.
EE Cream
Function: "Extra Exfoliation"
The most recent addition to the BB cream family is the "EE" cream. Beauty bloggers, editors, and fans have been throwing eye rolls at the term since it was coined. Defined as "extra exfoliation", this cream is designed to gently break away dead skin cells while moisturizing the skin. They're not all-day, everyday products like your typical BB cream, and are more targeted for skin care benefits rather than cosmetic. The idea is to add EE cream to your cleanser, for a deeply cleansing boost. Not sold? You're not alone! Five years after their induction, only a few of these products still endure, proving that we were happy with the basic BB and CC options.
Had enough of the alphabet cream song and dance? We'll do you a favor and leave out "AA" and "PP"... for now! But while you're in the BB mood, check out our full breakdown on BB cream, and how to use it! Happy BB, CC, and DD-ing (sorry, EE)!
We carefully hand-select products based on strict purity standards, and only recommend products we feel meet this criteria. 100% PURE™ may earn a small commission for products purchased through affiliate links.
The information in this article is for educational use, and not intended to substitute professional medical advice, diagnosis, or treatment and should not be used as such.
Sign up to our email newsletter for more blog updates and exclusive discounts.
< Older Post | Newer Post >