How to Apply Natural Skin Care
Your ultimate guide for applying natural skin care products to get maximum benefits and healthy, more radiant skin!
Posted on June 29, 2023
Written by: 100% PURE®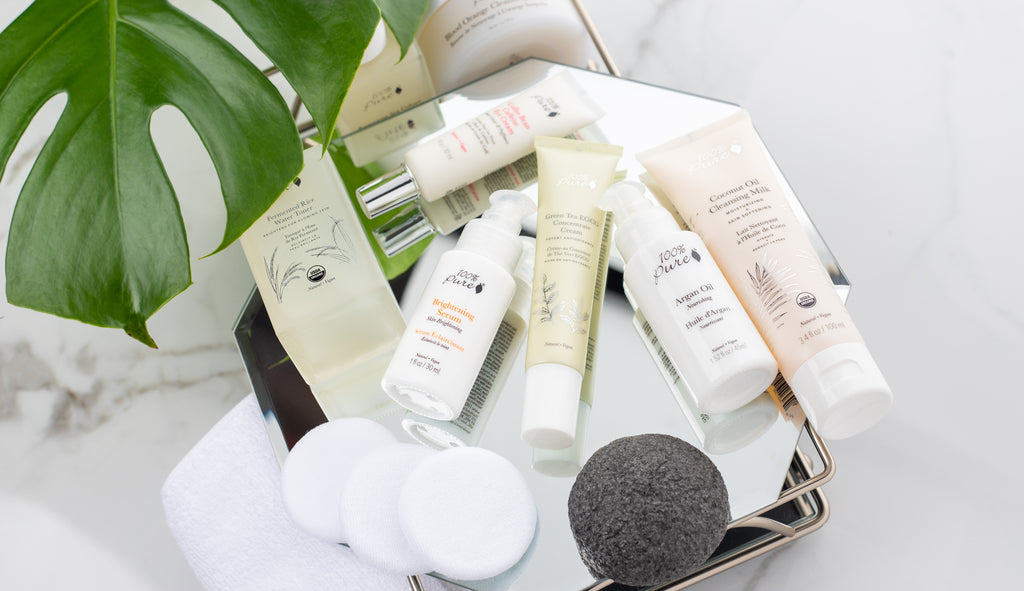 How to Use Natural Skin Care
Ever wondered how to apply a serum, or how to use a cleansing balm? And everyone's favorite: in what order do I apply my skincare? If you've ever asked yourself (or Google) one or more of these questions, you're not alone.
When it comes to natural skincare, rules for use are dependent on your skin type. Oh, and before we go on… do you know which natural skin care products to use for your skin type?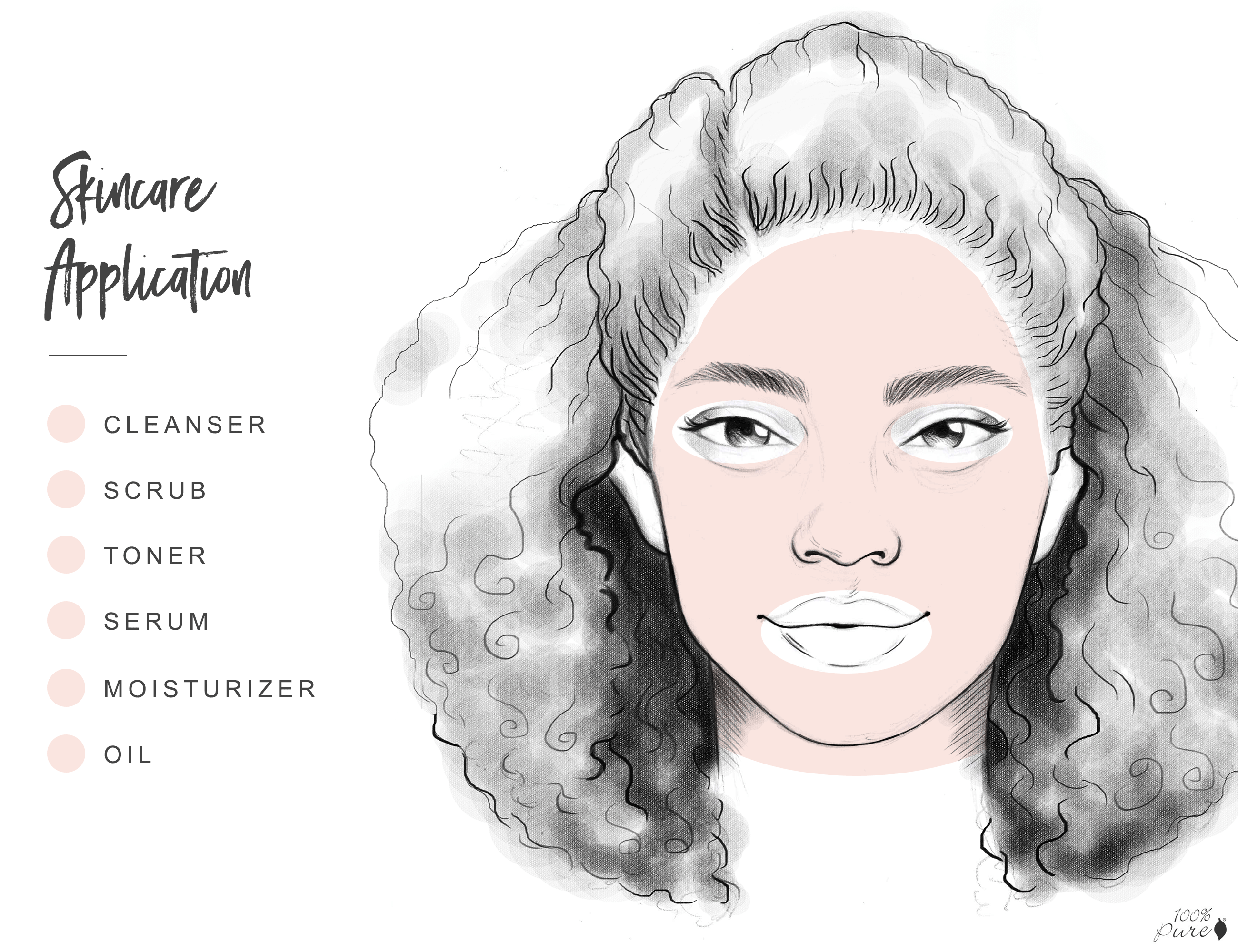 In this handy-dandy skincare user's guide, we'll teach you how to use the most popular natural skin care products: the cleansing balm, cleanser, scrub, toner, face masks, serum, facial oil, moisturizer, eye cream, night balm, and SPF.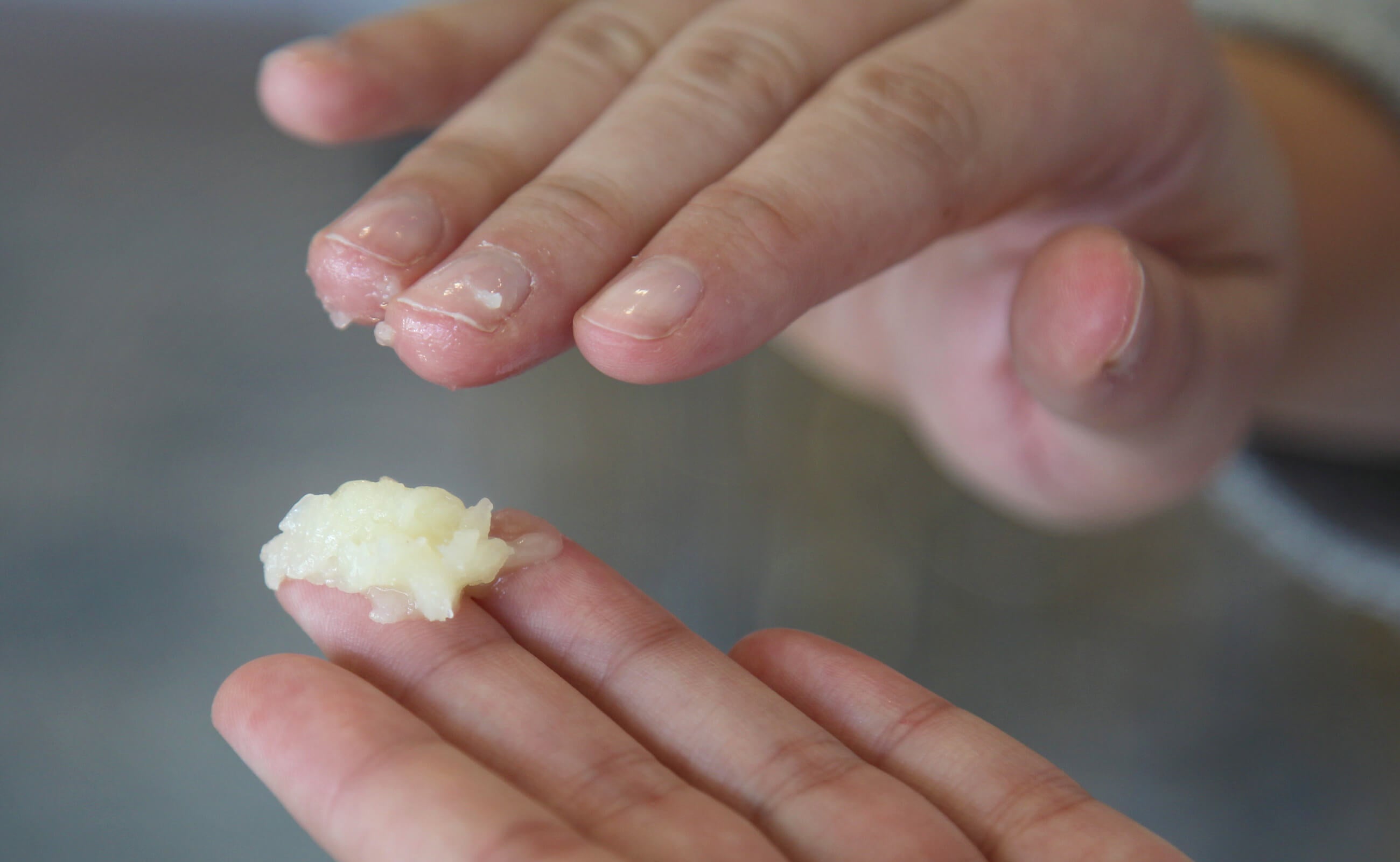 Using a Natural Cleansing Balm
What do cleansing balms do?
Using a cleansing balm can help with heavy-duty makeup removal, degreasing, and softening skin. Cleansing balms have made a splash in the natural skincare world, thanks to their ability to both cleanse and moisturize at the same time.
Our Blood Orange Cleansing Balm is a triple threat (makeup remover, cleanser, moisturizer) and a powerful first step in any natural skincare routine. No makeup? No worries. The antibacterial coconut oil and degreasing blood orange essential oil will grab dirt and oil from even makeup-free dry skin, giving your water-based cleanser a leg-up on dirt and oil in the next step.
WHEN:
How Often: Once daily (or as needed to remove makeup)
AM or PM: As preferred
HOW:
Using clean fingers, scoop out a half-dollar amount of cleansing balm into dry hands. Emulsify the formula by rubbing it between fingers; friction and heat will melt the balm into a creamy oil. Massage formula in circular motions, directly onto makeup and dry skin (even eye and lip area). Wipe balm off the skin with a clean towel soaked in warm water, rinsing between wipes. The balm will grab and remove all traces of makeup and impurities as it's washed from your face.
WITH:
Clean fingertips to apply/ warm and wet washcloth to rinse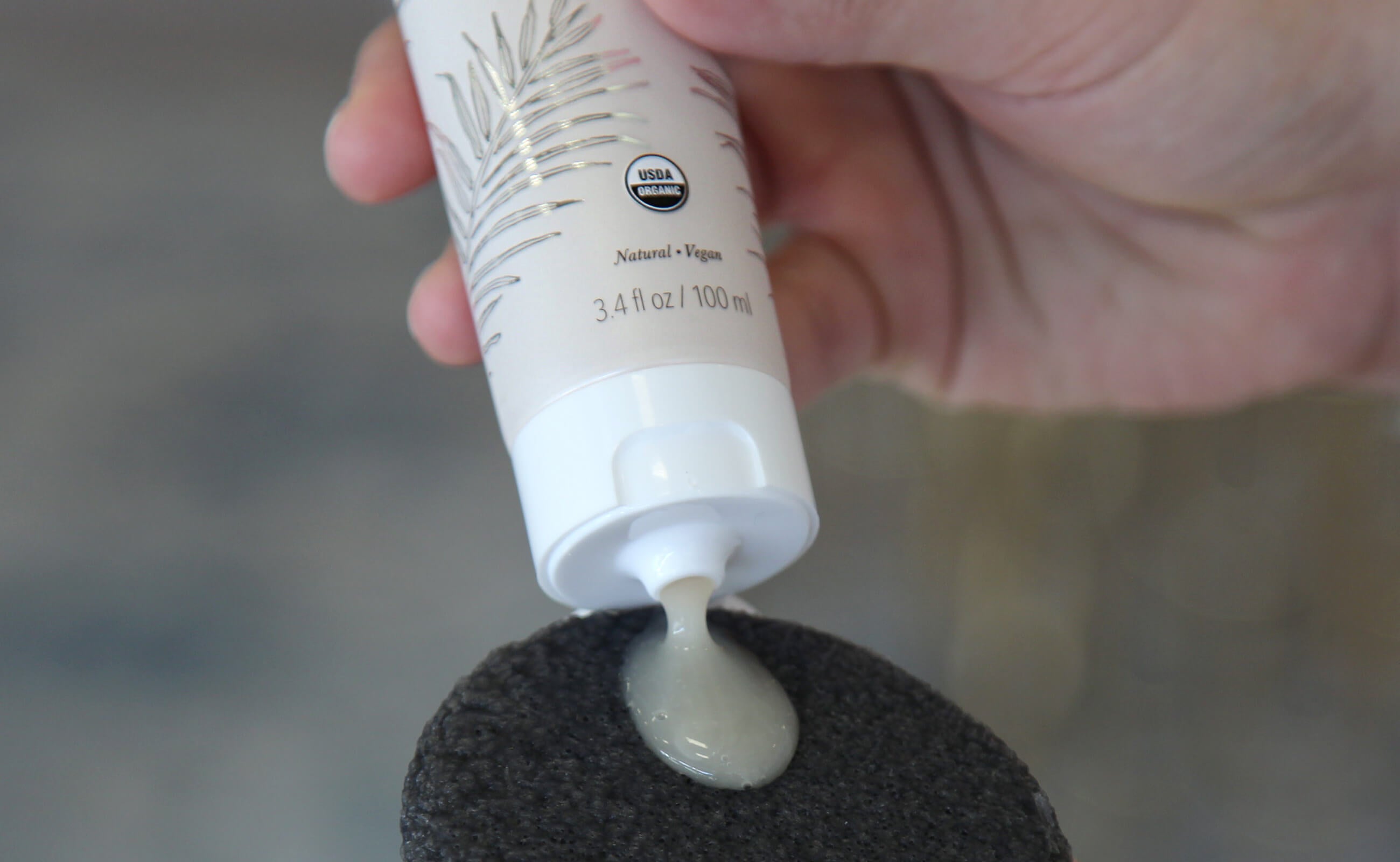 Using a Natural Facial Cleanser
What do facial cleansers do?
As the typical first step in a natural skincare routine, the purpose of a facial cleanser is to lift and flush dirt, oil, makeup, and pollutants from your face. Depending on the natural cleanser formula you choose, it will have the power to soothe, brighten, detoxify, and moisturize your skin.
PRO-TIP: Using a facial brush or sponge with your cleanser will help to loosen and remove dead skin cells, resulting in a healthy, more youthful complexion. Never skip this step! Just make sure you're using the right cleanser for your skin type.
WHEN:
How Often: 1-2 times daily
AM or PM: As preferred
HOW:
Pour a half-dollar-sized amount of cleanser onto a facial brush, sponge, or hands. Apply to wet face and neck, then gently and thoroughly massage in circular motions for at least 30 seconds. Finish by rinsing with warm water.
WITH:
Konjac Sponge. Clean fingertips work, but won't be as effective at removing dead skin cells or loosening deeply set debris from the pores.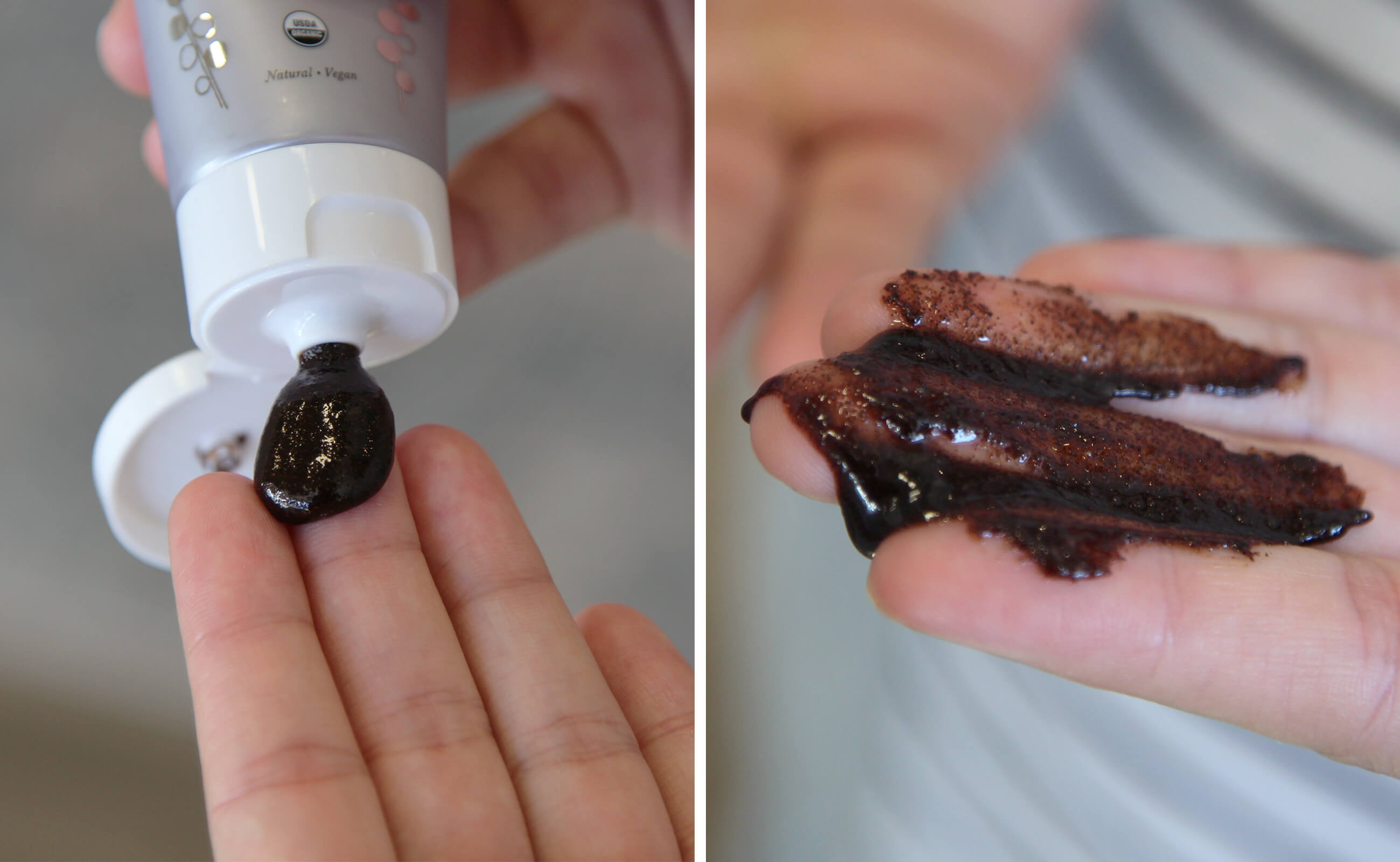 Using a Natural Facial Scrub
What do facial scrubs do?
Facial scrubs are necessary for removing layers of dead, dry, dull, or rough skin. Exfoliating can be a super satisfying step in your natural skincare routine. Smoothing away dry patches, brightening, and digging out buildup from your pores with a facial scrub can feel like a spa experience! Our Acai Pulp Facial Scrub uses crushed acai pulp, super fruits, and grape seeds to buff and refine for brighter, more supple skin.
WHEN:
How Often: 1-3 times per weekAM or PM: As preferred
HOW:
Apply a half-dollar-sized amount into your hands. Using gentle circular motions, massage into the skin of the face and neck for a minimum of 1 minute. Rinse immediately with warm water, or leave on for an additional 15 minutes as a facial mask.
WITH:
Clean fingertips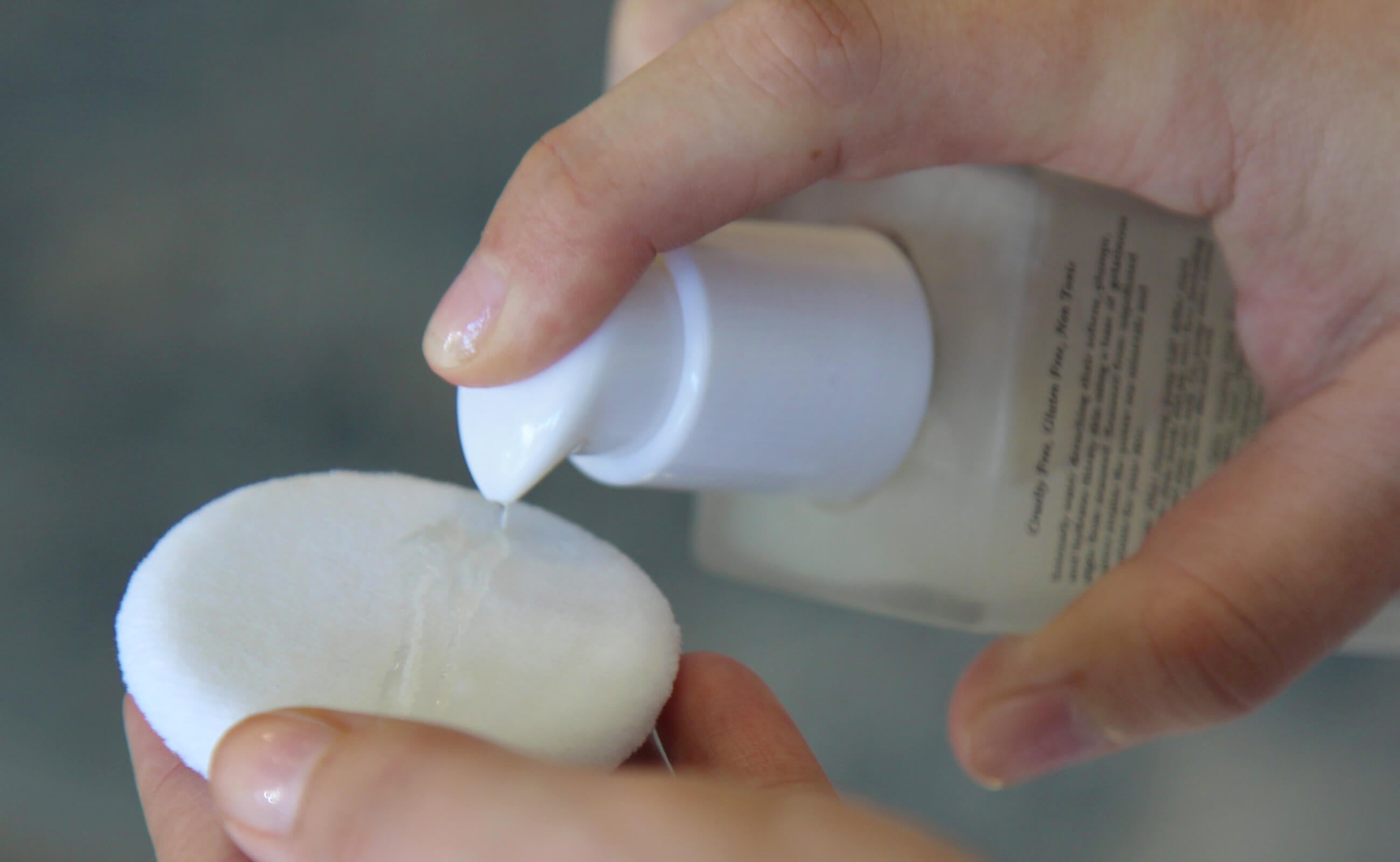 Using a Natural Face Toner
What do face toners do?
Face toners - made without synthetic chemicals -work wonders for achieving supple, hydrated skin. Able to balance skin's pH, deeply hydrate, and remove dead skin cells left after an exfoliation, toners are a necessity for any skin type.
Just finished exfoliating? Don't underestimate the power of your facial toner. Try swiping a saturated cotton pad over freshly resurfaced skin and you'll pick up loosened skin cells, excess debris, and any facial scrub that wasn't rinsed. Your skin will breathe a sigh of relief as your natural face toner splashes soothing herbs and hydrosols over delicate, freshly exposed layers of skin.
WHEN:
How Often: 1-2 times daily
AM or PM: As preferred
HOW:
After cleansing or exfoliating, pump toner onto a cotton pad. Gently sweep onto face and neck.
WITH:
Cotton pad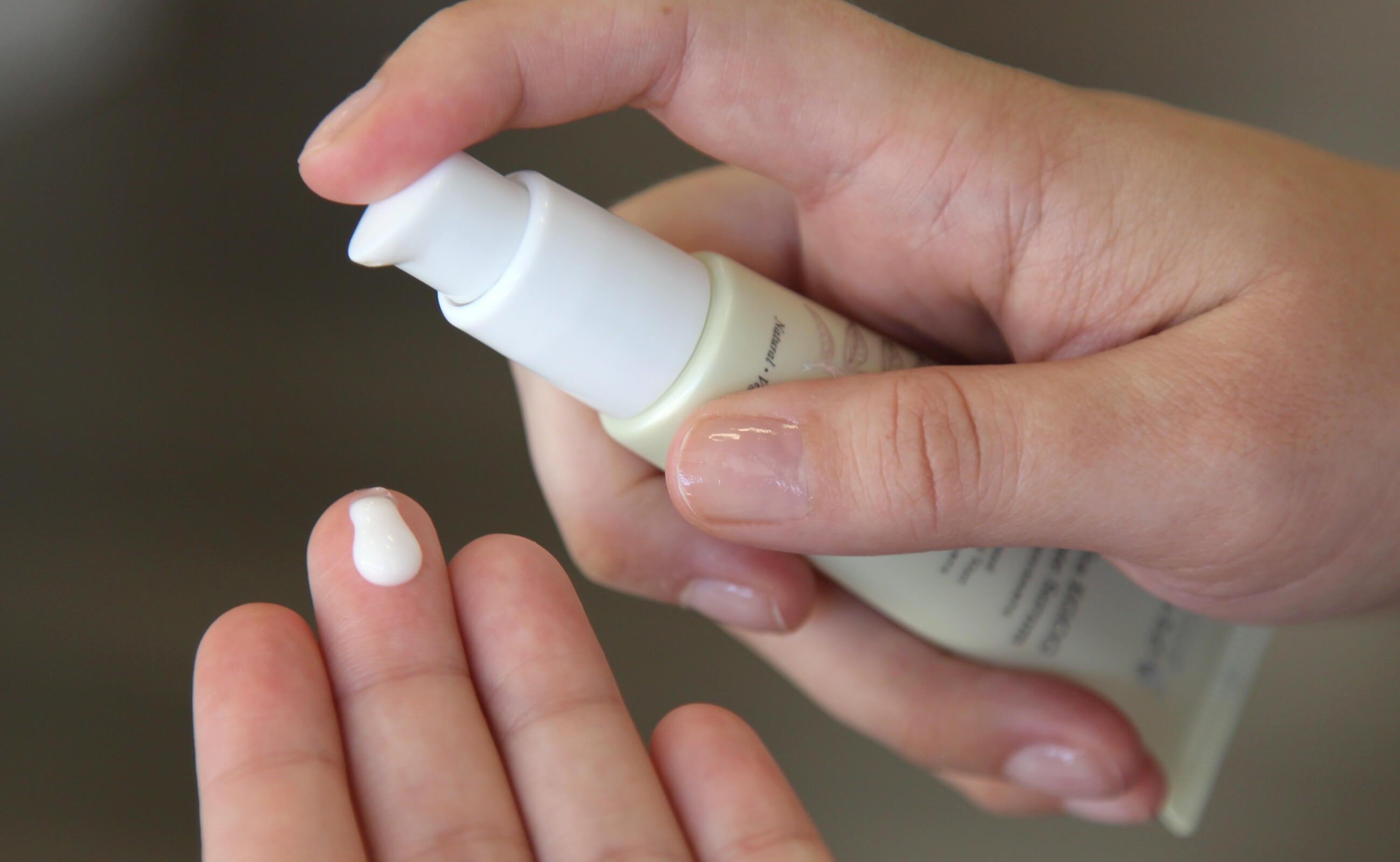 Using a Natural Serum
What do serums do?
Implementing a serum into your routine may seem intimidating, especially if you're unsure about your skin type. Serums are layer-able, customizable to your skin type, and can give you supple and exponentially more hydrated skin. Our concentrated serum formulas contain a smaller molecular size to penetrate cleansed pores for faster, more effective absorption. Each carefully stabilized serum is customized to a particular skin type and is made with natural ingredients to hydrate and moisturize while delivering high-potency nutrients deep into the skin.
WHEN:
How Often: 2 times daily (AM + PM)
AM or PM: Dependent on serum formula; follow instructions listed on the package
HOW:
After cleansing, toning, and masking, apply a pea-sized amount of serum onto your fingertips. Gently massage into cleansed skin, taking care not to tug or pull. Allow 90 seconds for absorption before following with facial oil or moisturizer.
WITH:
Clean fingertips
Newsletter
Subscribe
for more blog updates and exclusive discounts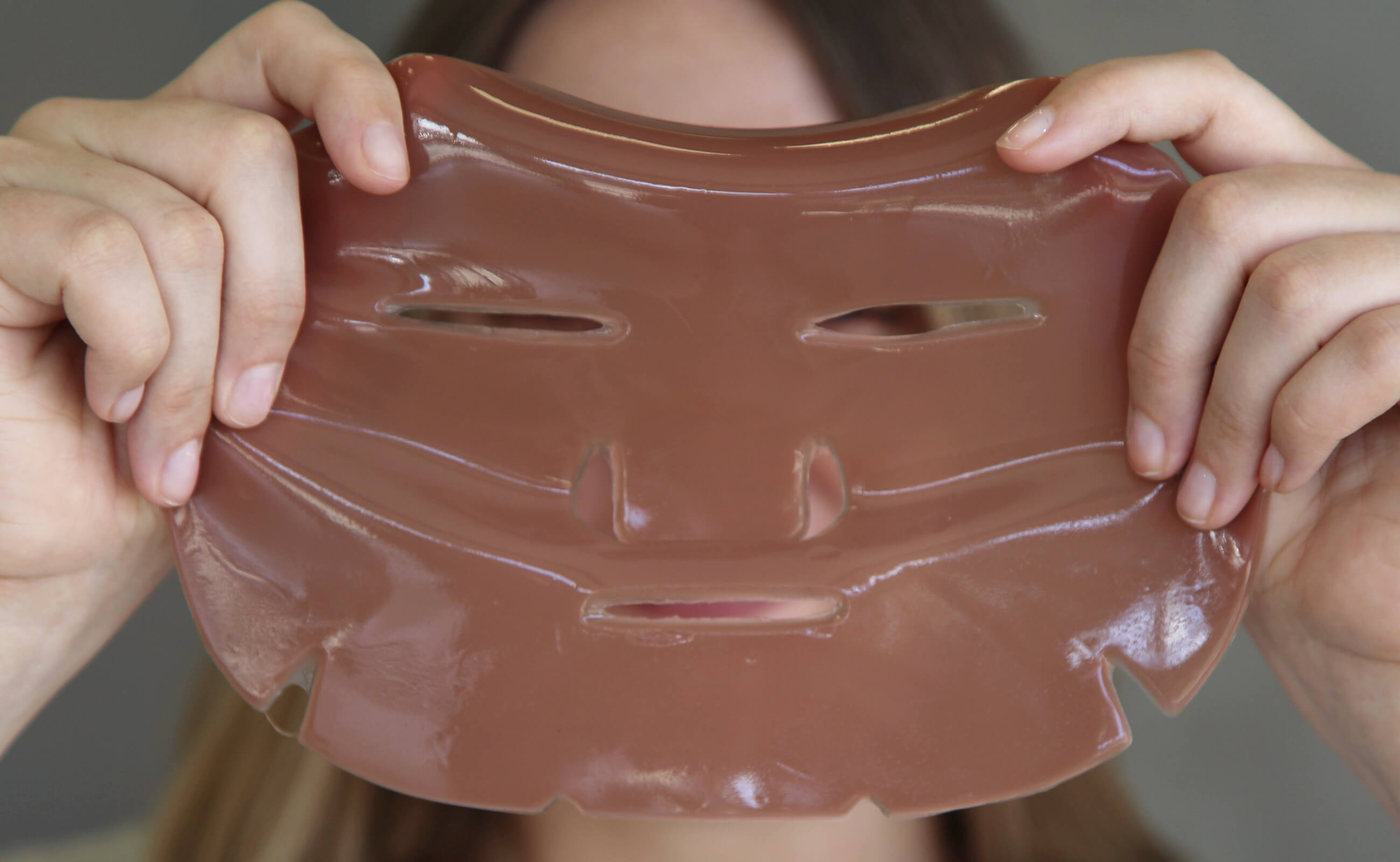 Using a Face Mask
What do face masks do?
Masks are more than worthy of our love (and borderline obsessive mask-hoarding) because they're incredibly customizable to every skin type, and essentially a spa treatment for our face. Our aloe and plant cellulose-based hydrogel masks and Korean sheet masks are made from bamboo fibers and targeted, natural ingredients for skin concerns. They can calm acnegenic skin, soothe sun damage, promote collagen production, hydrate dry skin, depuff eyes, or battle fine lines and wrinkles.
WHEN:
How Often: Daily
AM or PM: As preferred
HOW:
Gently remove mask from package, holding by the outer edges. Lying back slightly, drape mask over face while aligning with eye, nose, and mouth holes.
Leave on for 15-20 minutes, or longer if desired. Mask will start to shrivel as nutrients and water content leave the mask and are absorbed into skin. Discard mask after single use, and do not rinse skin. With clean fingertips, apply any excess solution from mask tray to face, neck, and décolleté in a gentle massaging motion.
WITH:
Clean fingertips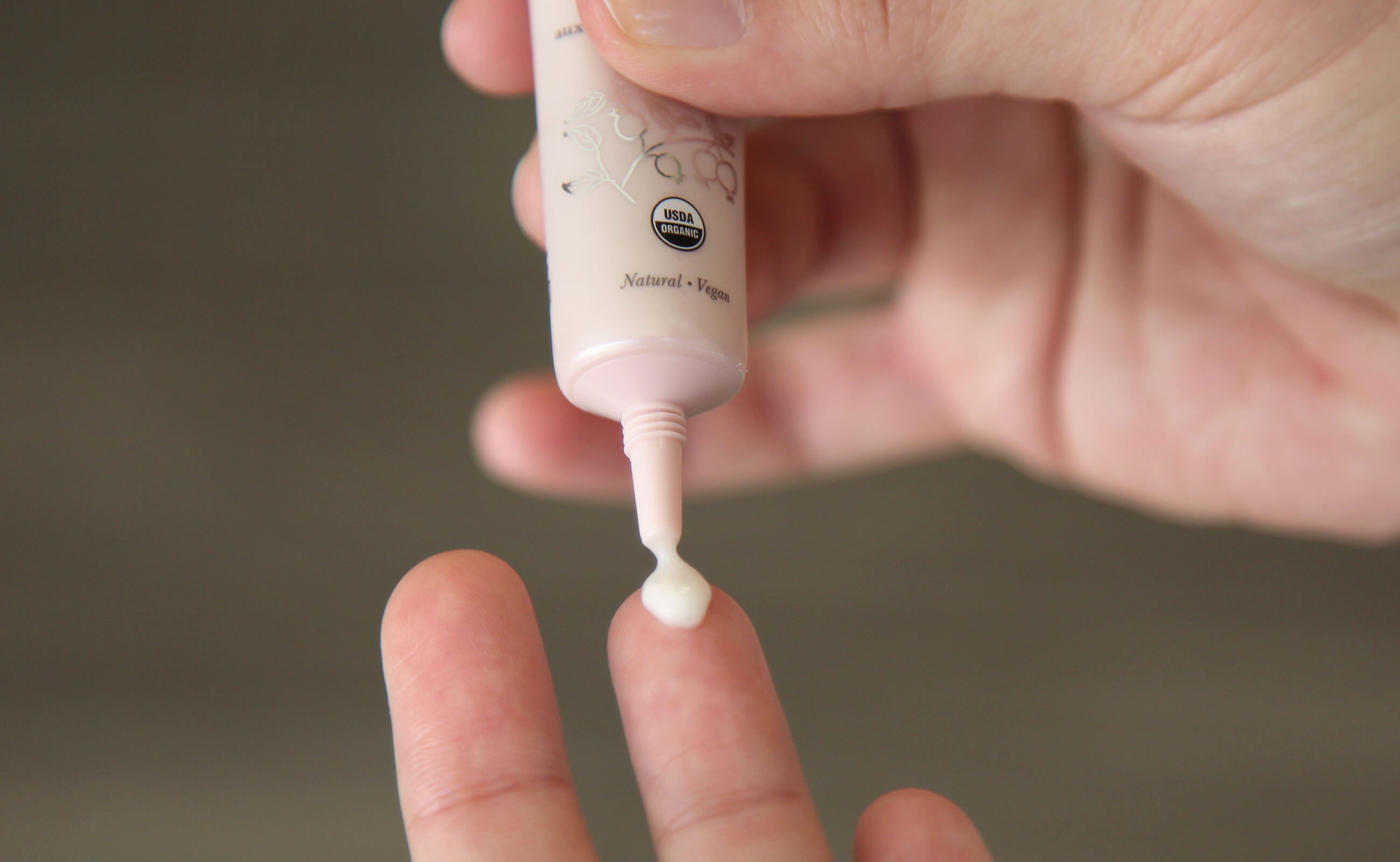 Using a Natural Eye Cream
What do eye creams do?
Since the skin around our eye area is so delicate, always opt for a gentle, moisturizing base and targeted ingredient list. Choose from a superhero lineup of natural eye creams: our Coffee Bean formula brightens and depuffs; Super Fruit formula nourishes and protects; Retinol PM formula visibly firms while lessening fine lines and wrinkles. No matter your skin type, adding an eye cream will instantly add some 'oomph' to your eye area.
WHEN:
How Often: 1-3 times daily
AM or PM: Dependent on eye cream formula; follow instructions listed on package
HOW:
Using ring fingers, gently dab onto orbital eye area until absorbed. Take care not to pull or tug the delicate skin around the eye area.
WITH:
Clean fingertips of ring fingers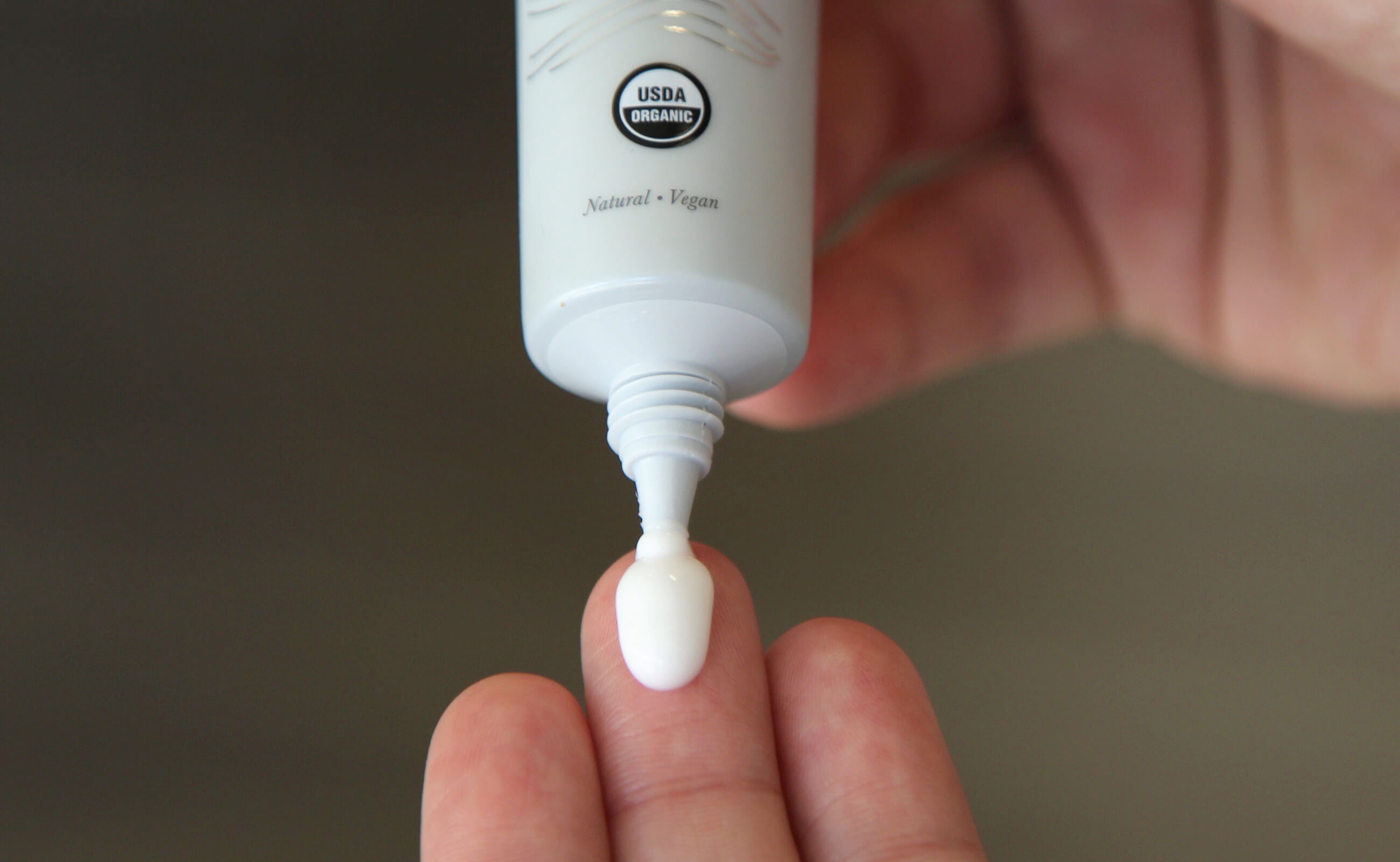 Using a Natural Moisturizer
What do moisturizers do?
All skin types need moisture (oil), just as all need hydration (water) -- a good natural moisturizer will provide both. A moisturizer is crucial for maintaining a healthy lipid barrier, to protect from environmental damage that can dry and prematurely age your precious dermis. An emollient moisturizing agent will also lock in nutrients and hydration from previous products.
WHEN:
How Often: 1-2 times daily, depending on skin type
AM or PM: Dependent on moisturizer formula; follow instructions listed on package
HOW:
After cleanser and serum, apply quarter sized amount to face and neck. Gently massage and press into skin, taking care not to pull or tug.
Apply with: Clean fingertips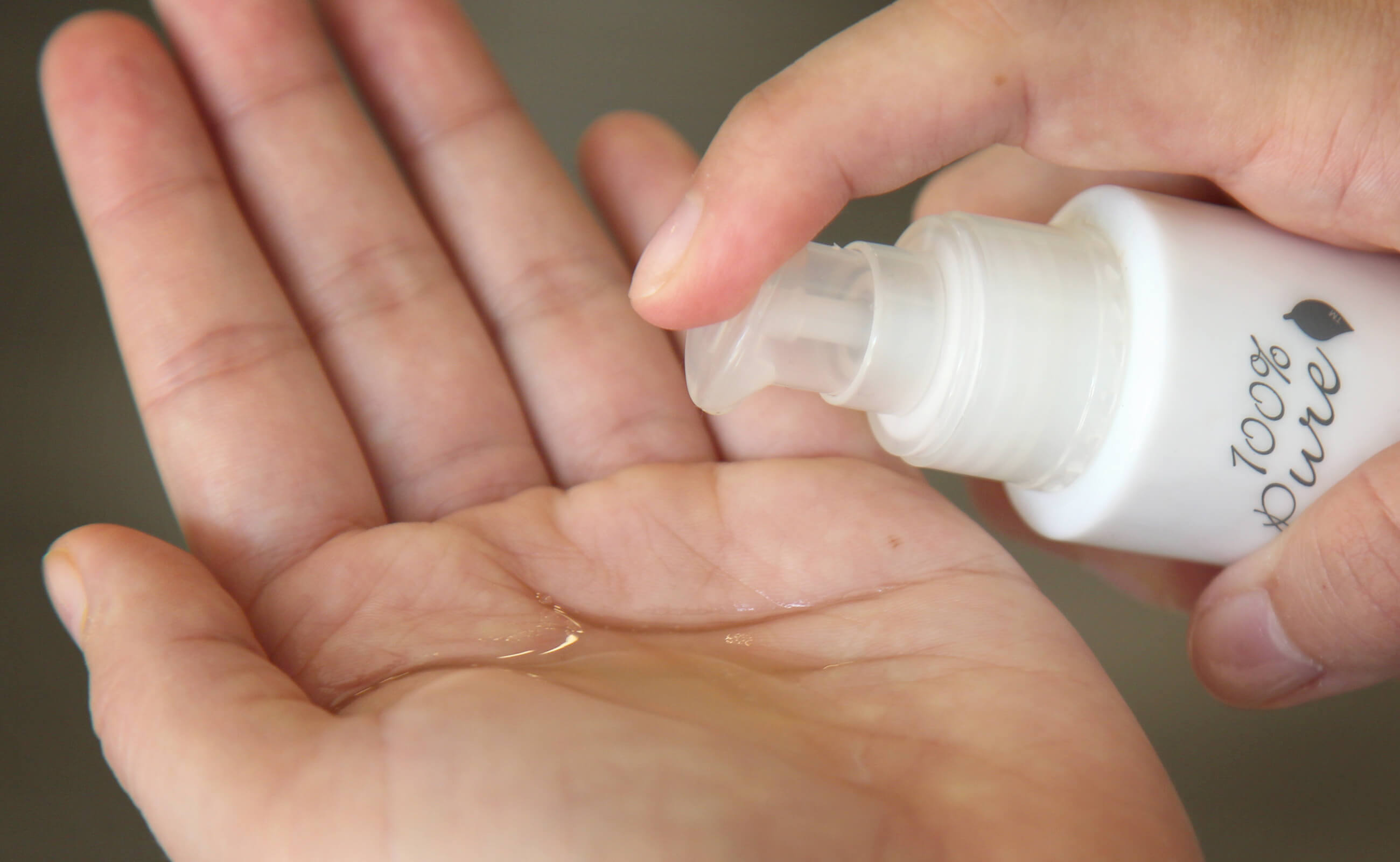 Using a Natural Facial Oil
What do facial oils do?
Facial oils are one of the most beneficial, nourishing elements of a healthy skincare routine. Alas, these products are still widely misunderstood -- especially by oily skin types who fear excessive oil and breakouts. A proper face oil should be packed with nutrient dense natural and organic oils, and free of any 'fluffy' fillers.
Our Argan Oil naturally has a smaller molecular size, which lends itself to more efficient skin absorption. Our formula is made with only pure, organic argan oil and is naturally abundant in vitamin E, phenols, carotenes, squalane, and essential fatty acids. This particular oil is amazing for deep moisture retention and nutrient delivery, and is considered a 'dry oil' that won't leave skin greasy.
WHEN:
How Often: Daily
AM or PM: Argan oil can be used AM + PM
HOW:
Massage into skin using gentle, circular motions with fingertips.
WITH:
Clean fingertips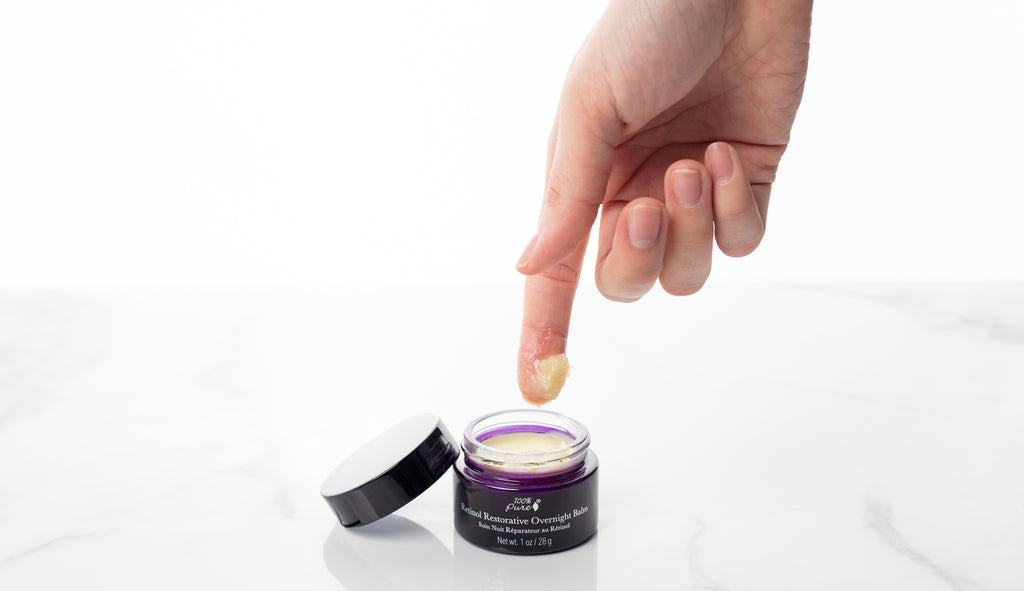 Using a Natural Night Balm
What do night balms do?
Night balms are designed to replenish and nourish your skin while you sleep. Our anti-aging Retinol Restorative Overnight Balm uses retinol and avocado butter to increase suppleness and decrease dry, damaged dermal layers. The prolonged delivery of active ingredients and potent vitamins into skin throughout the night means ample time for absorption, plus deep moisturization and hydration for thirsty skin. Using a natural facial balm is easy: just apply, then get some shut-eye!
WHEN:
How Often: Can be used daily, as long as SPF is applied the next morning!
AM or PM: PM
HOW:
Warm a quarter sized amount in hands, then apply a thin layer onto face, taking care not to apply too close to eyes. The following morning, follow up with a broad spectrum SPF.
PRO TIP: Want to use an overnight balm, but worried about your pillowcases? You can always lay a small towel down to ensure nothing transfers onto your pillow!
WITH:
Clean fingertips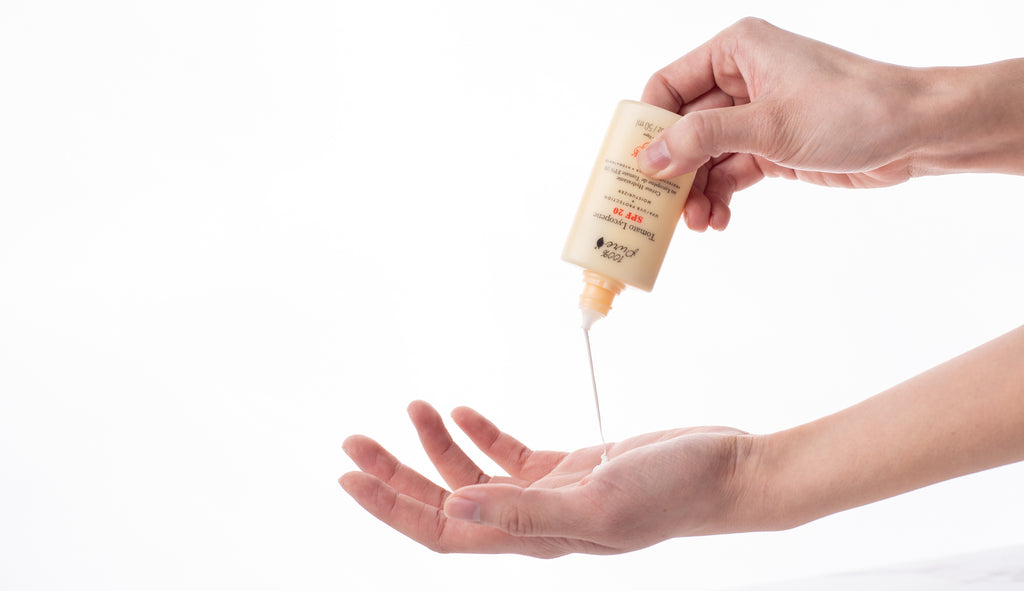 Using a Natural Sunscreen/ SPF
What does SPF do?
Perhaps you're great about slathering SPF onto skin for beach outings, but do you forget to apply it daily? SPF is a critical component of healthy skin care, and should be a part of everyone's personal care routine — no matter your age or skin type.
Our mineral sunscreens work to block damaging free radicals and UV radiation: the leading cause of premature aging. Wearing an SPF can greatly reduce the chances of painful sun damage, signs of aging, and even skin cancer. So, please DO NOT SKIMP on your sunscreen!
WHEN:
How Often: Daily
AM or PM: Reapply as needed whether the sun is out or it's a cloudy day, or you are exposed to artificial light that emits UV radiation
HOW:
LOTION: Before sun exposure, apply half dollar sized amount to skin of face and neck. Massage gently into skin.
SPRAY: Do not spray directly onto face. Spray into hands and rub onto your face.
To ensure adequate sun protection, avoid spreading too thinly when applying
Shake well before use
Apply liberally 15 minutes before sun exposure
Reapply:
after 80 minutes of swimming or sweating
immediately after towel drying
at least every 2 hours
WITH:
Clean fingertips (for spray formulas, hold 8 inches away from skin when applying)
FAQs About How to Apply Natural Skincare
Ready for some useful tips about natural skincare? Yes, we've heard your questions – and we're grateful to offer you answers. Let's call this a 'Q and A' about how to apply natural skincare products so you can get maximum benefits and healthy, more radiant skin – and results!
Q: Are natural skincare products better for the skin?
A. Absolutely! Natural ingredients can provide a range of benefits for the skin, such as hydration, protection from environmental stressors, and anti-inflammatory properties. These ingredients are also often gentler on the skin than synthetics from conventional products, making them a great choice for even those with sensitive skin. It's important to note that not all natural products are created equal, so it's essential to do your research and look for reputable brands that use high-quality natural ingredients. When chosen carefully, natural skincare products can be a game-changer for your skincare routine.
Q: Are natural skincare products suitable for all skin types?
A: Yes! Natural skincare products are suitable for all skin types, but it's important to choose products that address your specific skin concerns. Different natural ingredients have varying effects on the skin, so it's crucial to understand your skin type and research which natural ingredients are best suited for you. For example, oily skin may benefit from ingredients like tea tree oil or witch hazel, while dry skin may benefit from ingredients like shea butter or jojoba oil.
Q: Is natural skincare more expensive?
A: It can be, but not by much – and certainly worth it for the health of your skin. Natural skincare uses higher-quality ingredients, which can be costlier to source, harder to locate, and more labor-intensive to produce. But they have many benefits for your skin with no harsh or toxic ingredients. Most conventional products use synthetic and harmful ingredients because they are cheaper to manufacture. In addition, the reality that you're getting enough of the actives in conventional skincare to make a difference on your skin is quite low. If you want gentle yet effective results, natural skincare is the way to go!
Q: Are natural skincare products always organic?
A: Not always, because these words can be used synonymously. Organic refers to ingredients that are farmed without pesticides, chemicals or artificial fertilizers and it is non-GMO. A brand can indicate on a label that it's "natural", but that broadly means that ingredients were produced by nature, and that doesn't necessarily mean that they are "organic". It's important to read the labels to find out what's really in the product.
Q: How long does it take to see results from a natural skincare routine?
A: The timeframe for results from natural skincare products varies by skin type and concerns. Oily or acne-prone skin may see improvements within 1 to 2 weeks. Dry skin may notice changes in a few days to a couple of weeks. Sensitive skin could experience relief within a week or longer. Addressing aging concerns may take several weeks.
Using natural skincare is a huge skin win! But you want to know how to properly use the products for maximum and effective results. With these tips, your skin can experience the full benefits these natural skin gems can offer. Remember, when it comes to natural skincare, consistency is key as well. Embrace the power of nature, nurture your skin with natural ingredients, and enjoy the transformative effects of a natural skincare routine. Your skin will thank you for it!
We carefully hand-select products based on strict purity standards, and only recommend products we feel meet this criteria. 100% PURE™ may earn a small commission for products purchased through affiliate links.
The information in this article is for educational use, and not intended to substitute professional medical advice, diagnosis, or treatment and should not be used as such.
Sign up to our email newsletter for more blog updates and exclusive discounts.
< Older Post | Newer Post >