All About Natural Sunscreen
Trade your chemical sunscreens for a natural sunscreen collection that's expertly formulated for sun protection and skin nourishment
Posted on May 31, 2018
Written by: 100% PURE®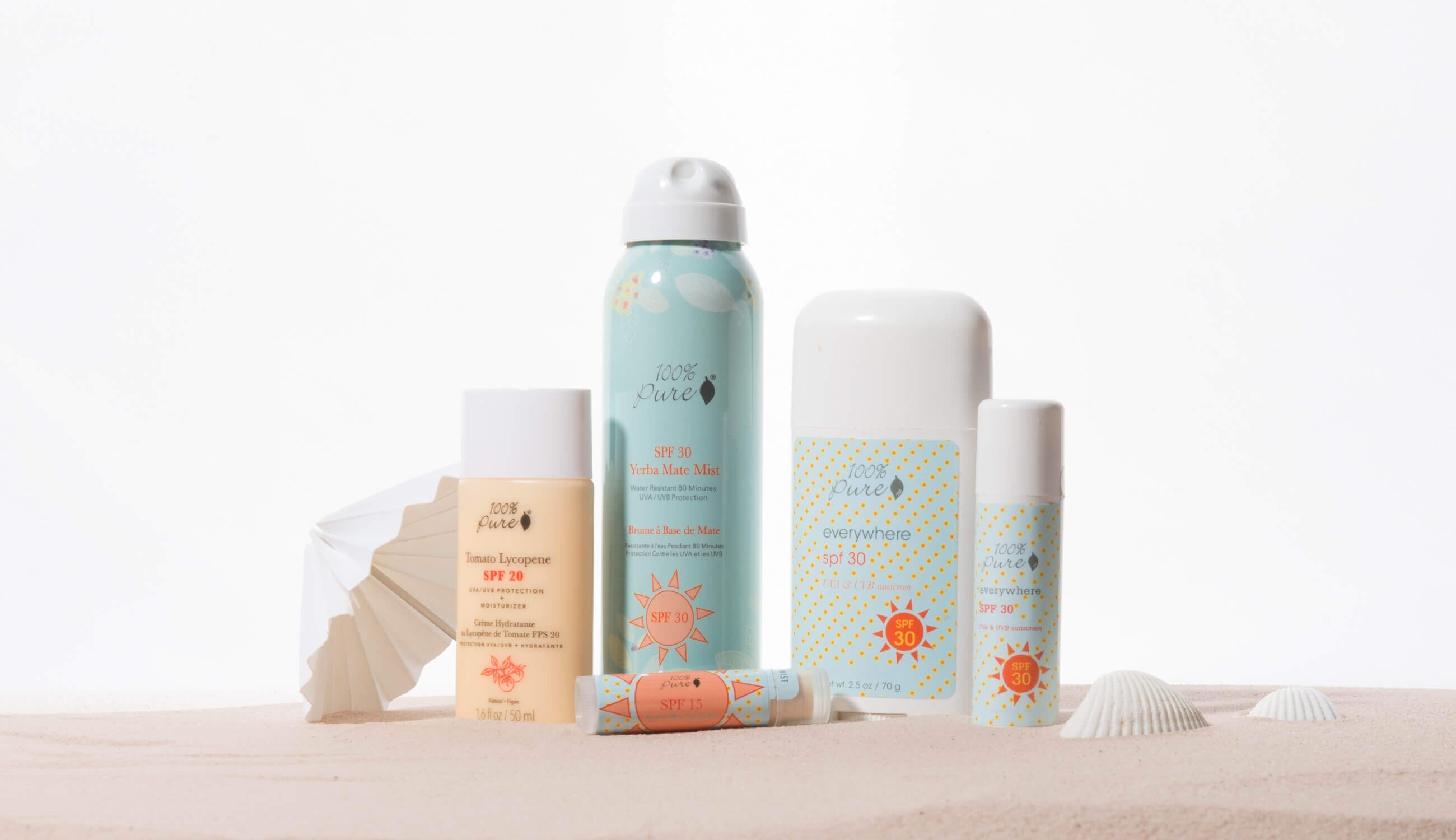 Oh, sunscreen. If you've worshipped it your whole life, good for you -- you and your skin are ahead of the curve! If you've had a long standing love-hate relationship with sunscreen, don't worry -- we get it. Some argue that it feels like a chore to remember to apply, but we know that the benefits far outweigh the brief task of applying it. What if we told you that you could have a silky smooth natural sunscreen, without all the grease and toxic chemicals? And what if wearing it could actually improve your skin's health? Would that sweeten the deal when it comes to wearing sunscreen?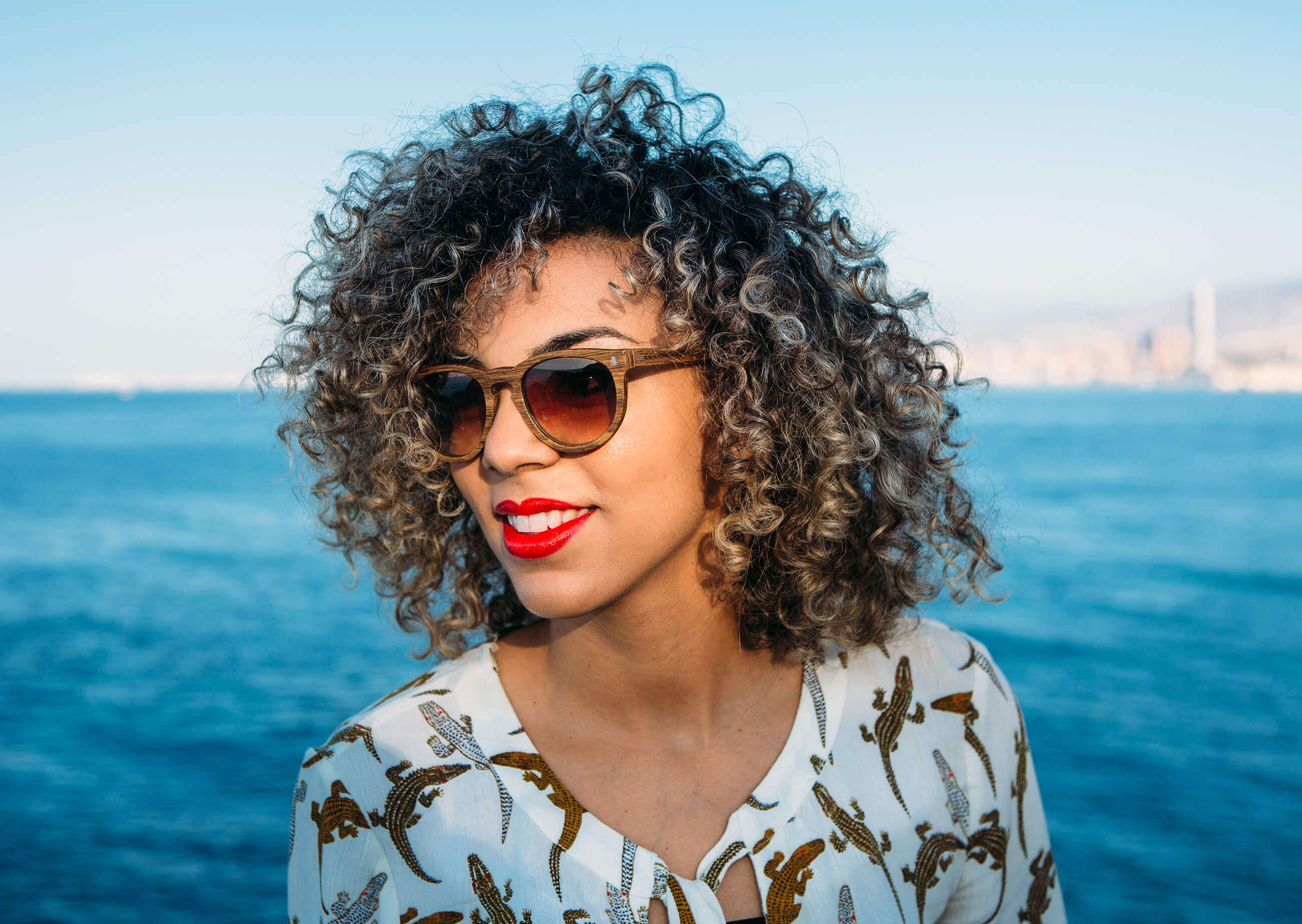 If you've been mindlessly applying drugstore sunscreen for years, maybe it's time to take a closer look at those chemical ingredients. We'll walk you through the benefits of a natural sunscreen, the different types you can enjoy (moisturizer, spray, stick), and how a natural sunscreen can set you up for endless (and safe) summer fun!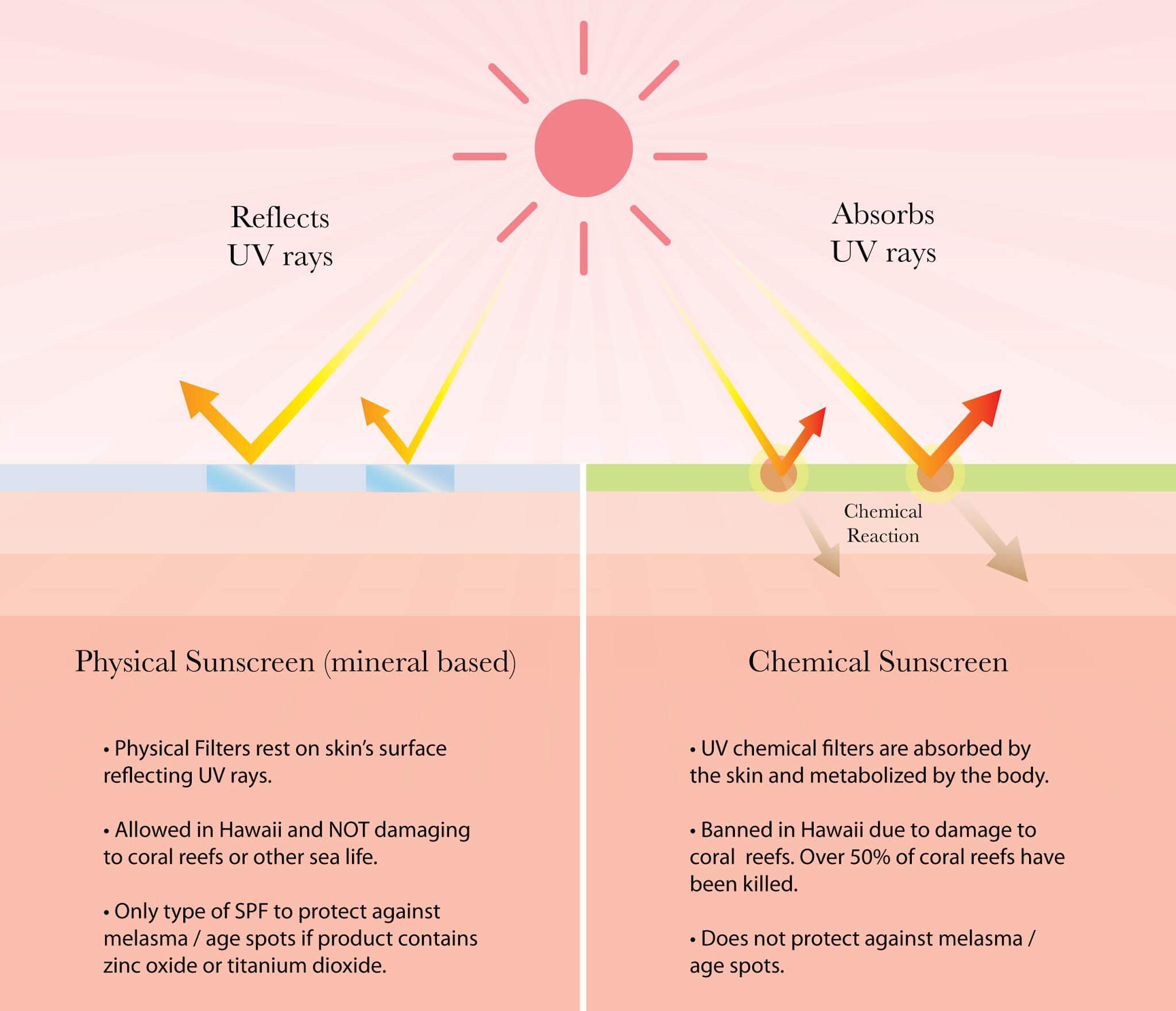 Chemical Sunscreen or Natural Sunscreen?
On the quest for healthier skin, it's important to understand how a natural sunscreen differs from that dollar store one you've been using. Your conventional sunscreen works by absorbing the sun's UV rays with chemicals. That's right, these chemicals are actually reacting with UV rays right on your skin's surface, and are turned into heat that is then released from your skin. This can spell bad news for those of you with sensitive skin. The chemical reaction and heat release caused by chemical sunscreen can irritate skin and trigger the formation of dark spots. What's more terrifying are the chemicals that are used in conventional sunscreens: oxybenzone, avobenzone, octisalate, octocrylene, homosalate, octinoxate. These chemicals have been linked to hormone disruption and skin allergies with prolonged use. Research has suggested that for nursing mothers, these chemicals can be especially dangerous. Since chemicals in sunscreens applied to skin can be absorbed into the body, they can be passed on to their babies through nursing. Traces of these chemicals can be found in any chemical sunscreen user's blood, urine, and yes, breastmilk.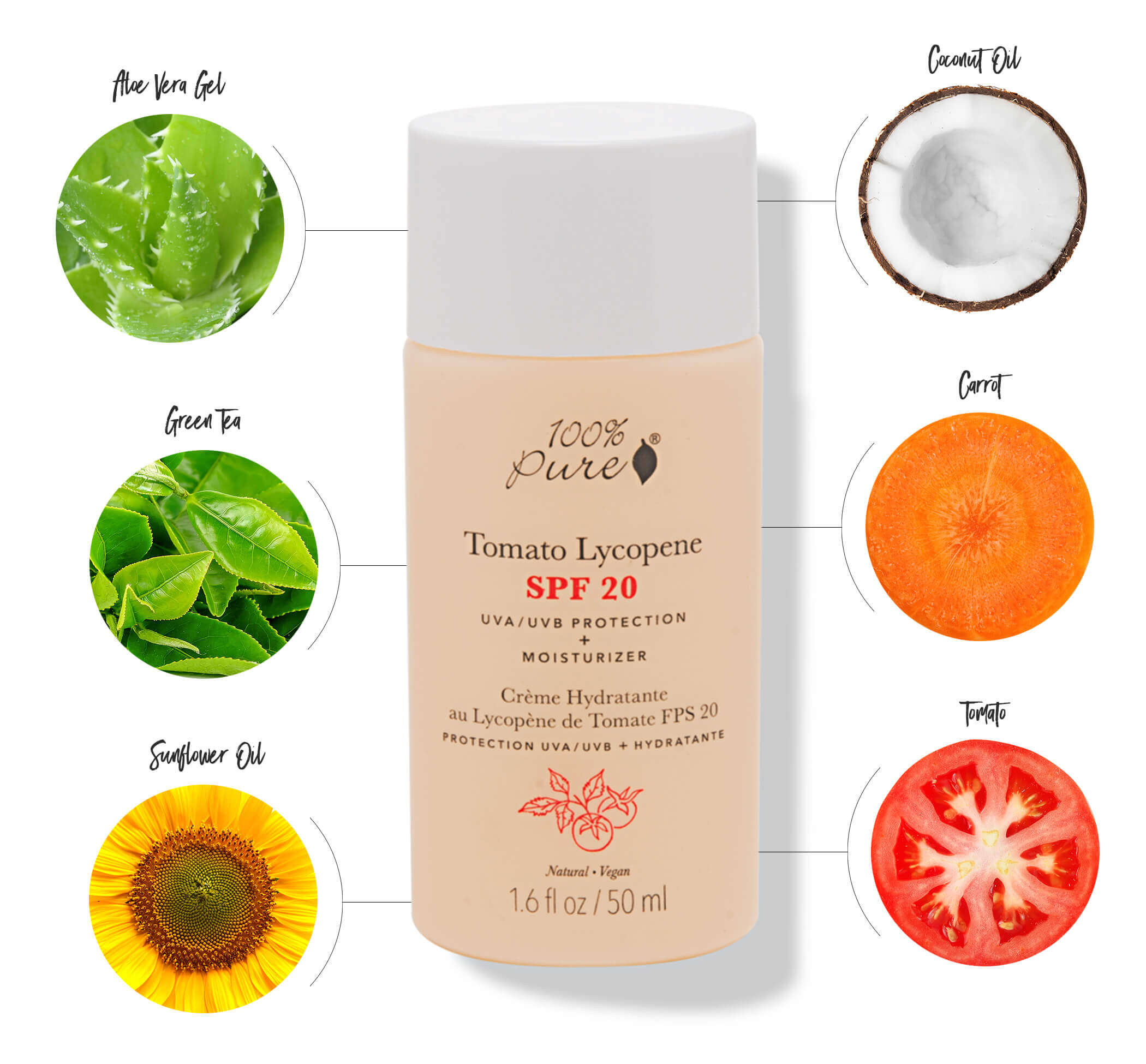 As opposed to a 'chemical sunscreen', our natural sunscreen would be categorized as a 'physical' sunscreen. This is because it works by physically blocking (instead of reacting with) UVA and UVB rays. You might also see it called 'mineral sunscreen', because it uses minerals like zinc oxide and titanium oxide as physical shields against UV rays. In addition to minerals, we also use the protective antioxidant lycopene, which we source from tomatoes for our Tomato Lycopene SPF 20 Moisturizer. Tomato lycopene has also been praised for minimizing sun damage in skin, which is why we made it this sunscreen's star ingredient.
Another thing you may notice with any truly natural sunscreen is that it will leave a slight white-cast upon application. This is actually great news for your skin! It's a sign that the mineral particles are large enough to shield your skin. If they were small enough to be transparent (this is what we call the paradox of nanoparticles, and we'll talk more about that in another blog post), they'd actually get absorbed into your skin and not be a mineral or physical sunscreen anymore. That said, for full skin loving protection, we don't use nanoparticles in our natural sunscreen. If a white-cast bothers you, massage sunscreen into skin for an extra 30 seconds to blend more seamlessly into your skin tone.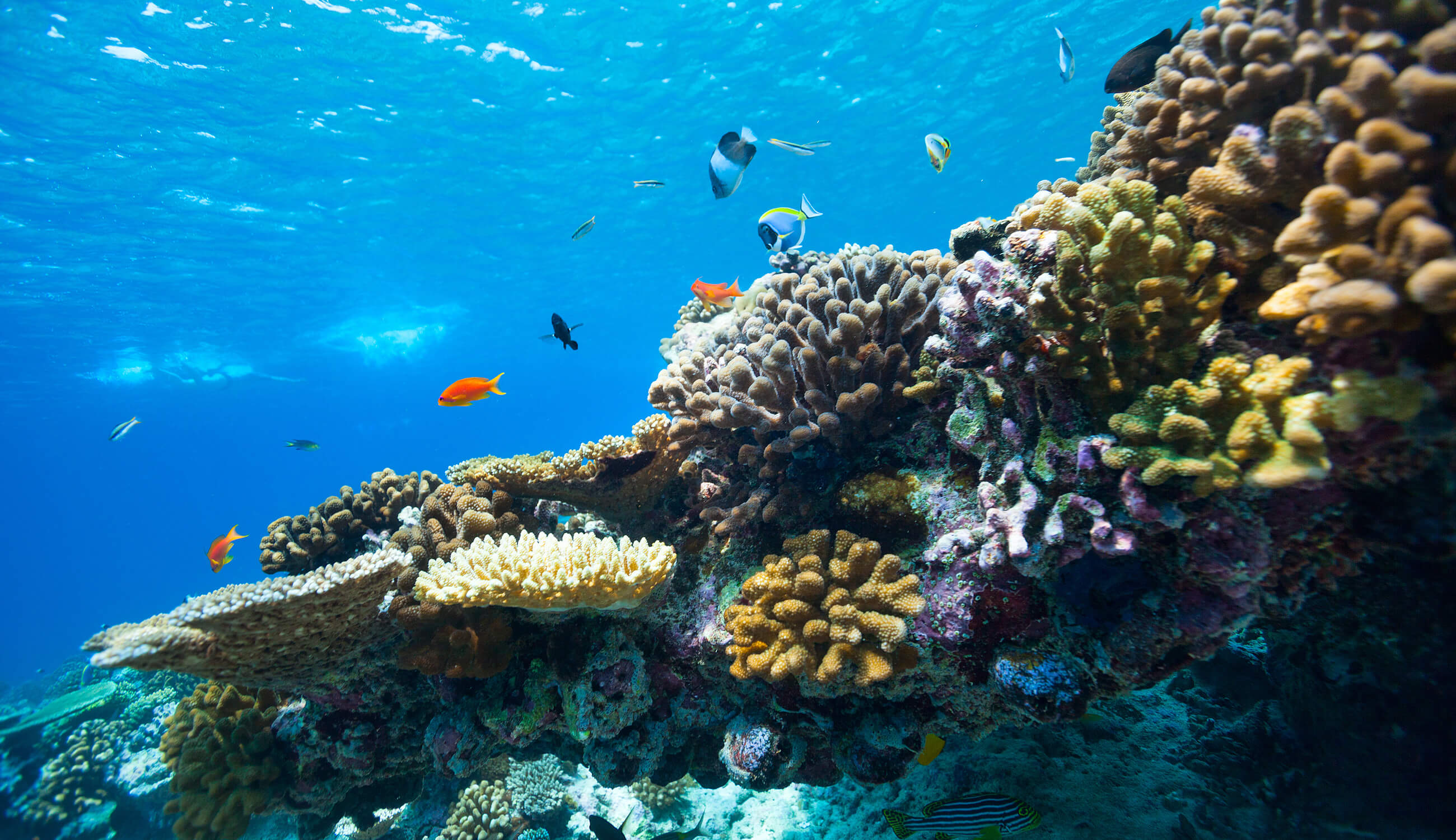 Why Choose a Natural Sunscreen?
Because our natural sunscreen works by shielding your skin against UV rays, we eliminate harmful chemical reactions and potential irritation. Another perk is that synthetic preservatives like methylisothiazolinone - commonly found in conventional sunscreen - are a huge no-no in our products. We've dedicated ourselves to creating toxin free sunscreen without any synthetic ingredients. Why? We don't think it makes sense for us to protect you against the sun, while endangering your health with potentially hazardous toxins. Have we mentioned that our natural sunscreen collection is entirely cruelty free, too?
Chemical Sunscreens Damaging Coral Reefs
Another big factor in choosing your sunscreen is how it can affect the planet. Do you think sunscreens just stick to your skin when you jump into the ocean? Wrong! As you're splishing and splashing amongst the waves, your sunscreen is gradually slipping off your skin (that's why you should always reapply after swimming). So where does that sunscreen formula go? Into the water you're swimming in, of course! The runoff from chemical sunscreens we wear while swimming has damaged natural ecosystems and wildlife that live in oceans, rivers, and lakes. Each year, 6,000-14,000 tons of sunscreen enters the ocean, endangering and even killing delicate coral reef ecosystems.
If you're wearing chemical sunscreens that contain oxybenzone or octinoxate, you're carrying these harmful chemicals right into the water with you. Hawaii has even gone so far as to ban the sales and distribution of these chemical sunscreens on their islands, in order to protect their coral reefs. So if you're planning a tropical getaway where you'll be in the water, consider the environmental effects of not using a natural sunscreen!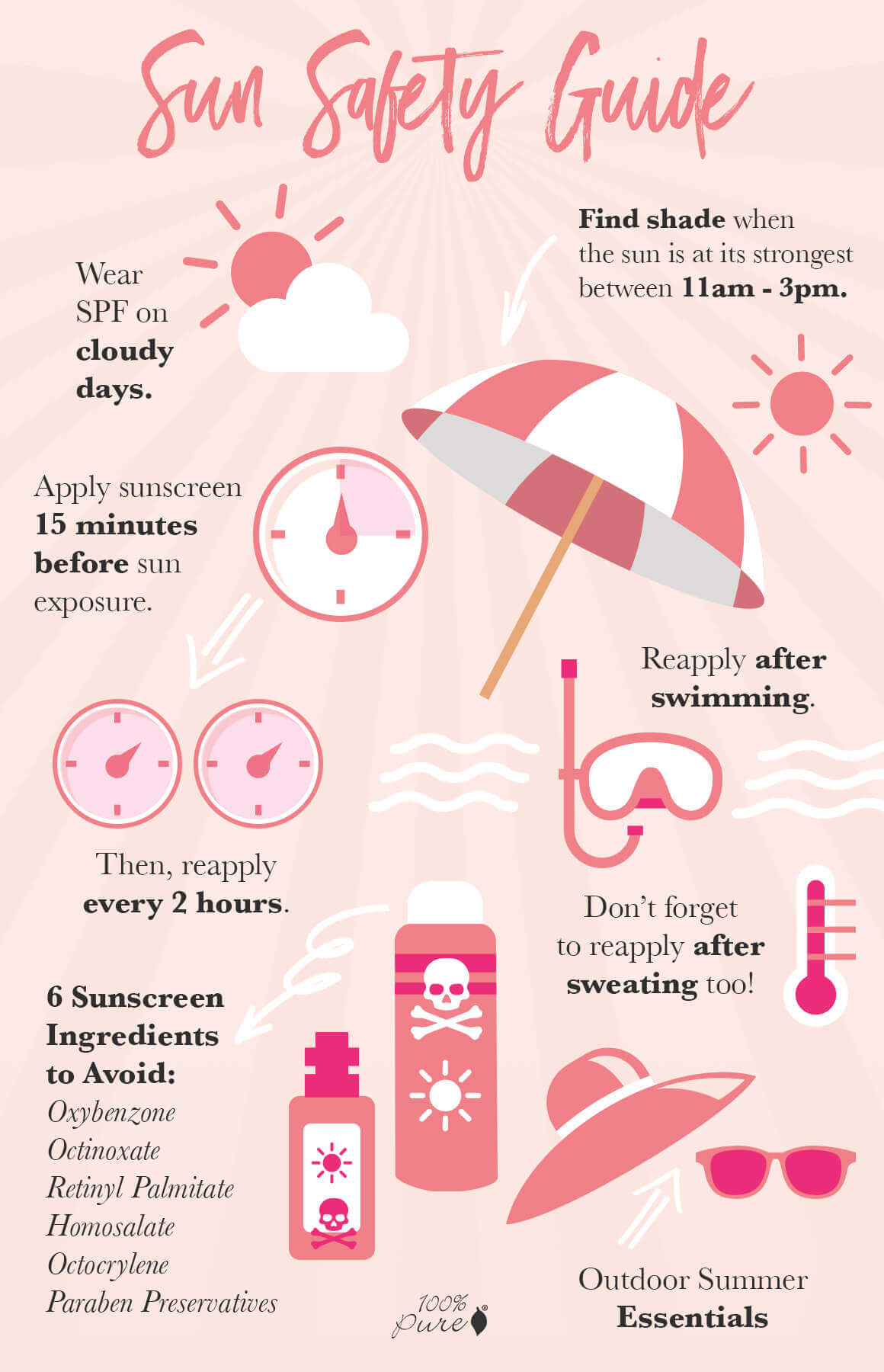 Sun Safety
Using sunscreen properly is a must for dodging some serious side effects like burnt skin, dark spots, and skin cancer. Our natural sunscreen collection will provide the sun protection and skin nourishment you'll need this summer, to ensure you're enjoying super-safe fun in the sun. But remember: you'll need to follow a strict sunscreen regimen anytime your plans include being outdoors. That means wearing SPF even on cloudy days, reapplying after swimming and sweating, and reapplying again at least every 2 hours. And of course, keep a parasol handy, and your sunnies and hat in your beach bag for maximum protection.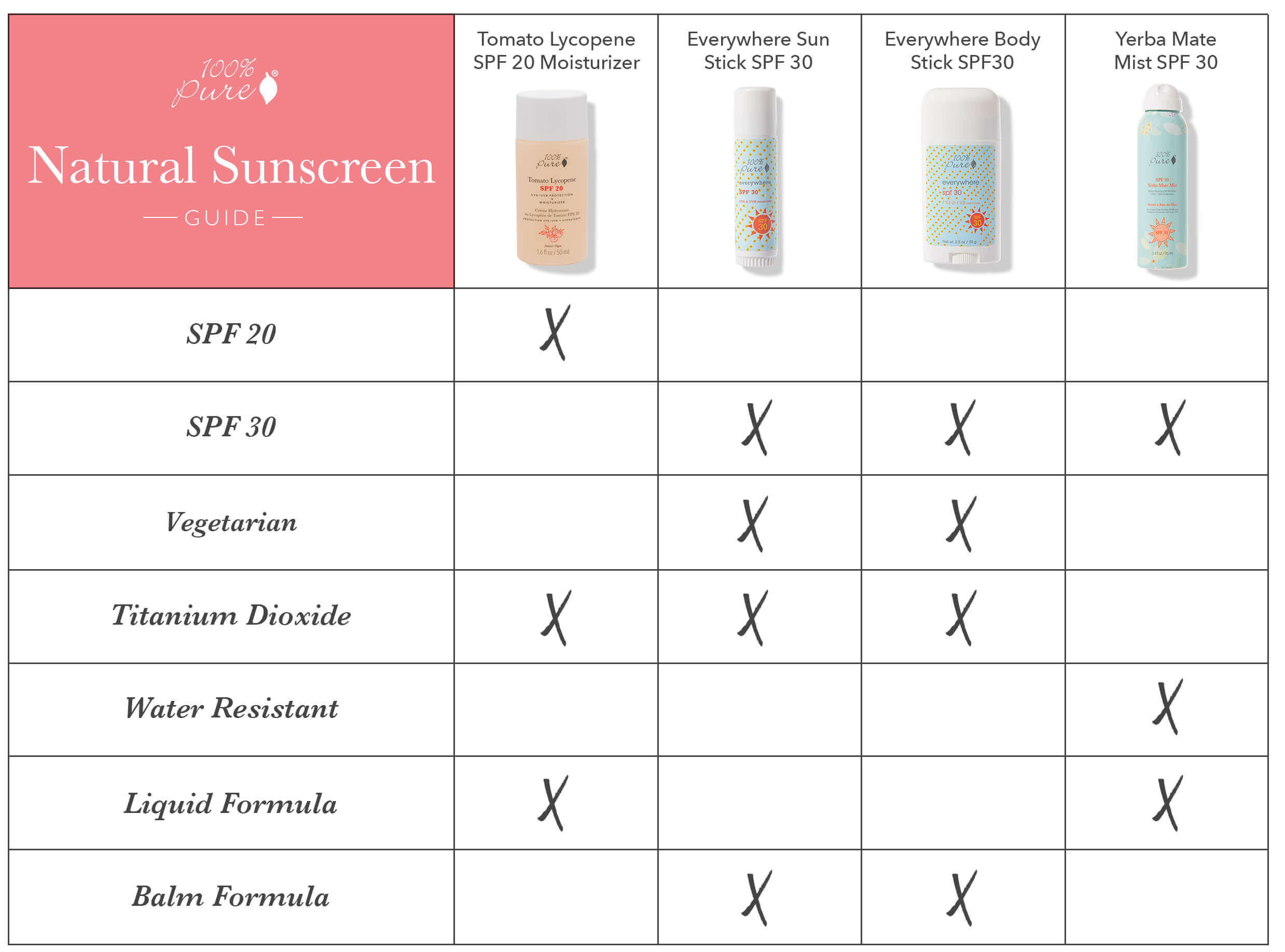 How to Choose a Natural Sunscreen
We're not just protecting you from the sun. Our natural sunscreens work full duty by nourishing your skin all day long. Our natural sunscreen collection helps keep skin youthful, protected, and hydrated with a powerful blend of plant derived nutrients, oils, and vitamins. The perfect percentage of zinc oxide and titanium dioxide means safe protection against harmful UVA and UVB rays. All of our natural sunscreens are non comedogenic and fragrance free, so you can wear under or over makeup and reapply throughout the day, without worrying about clogging your pores or irritating your skin.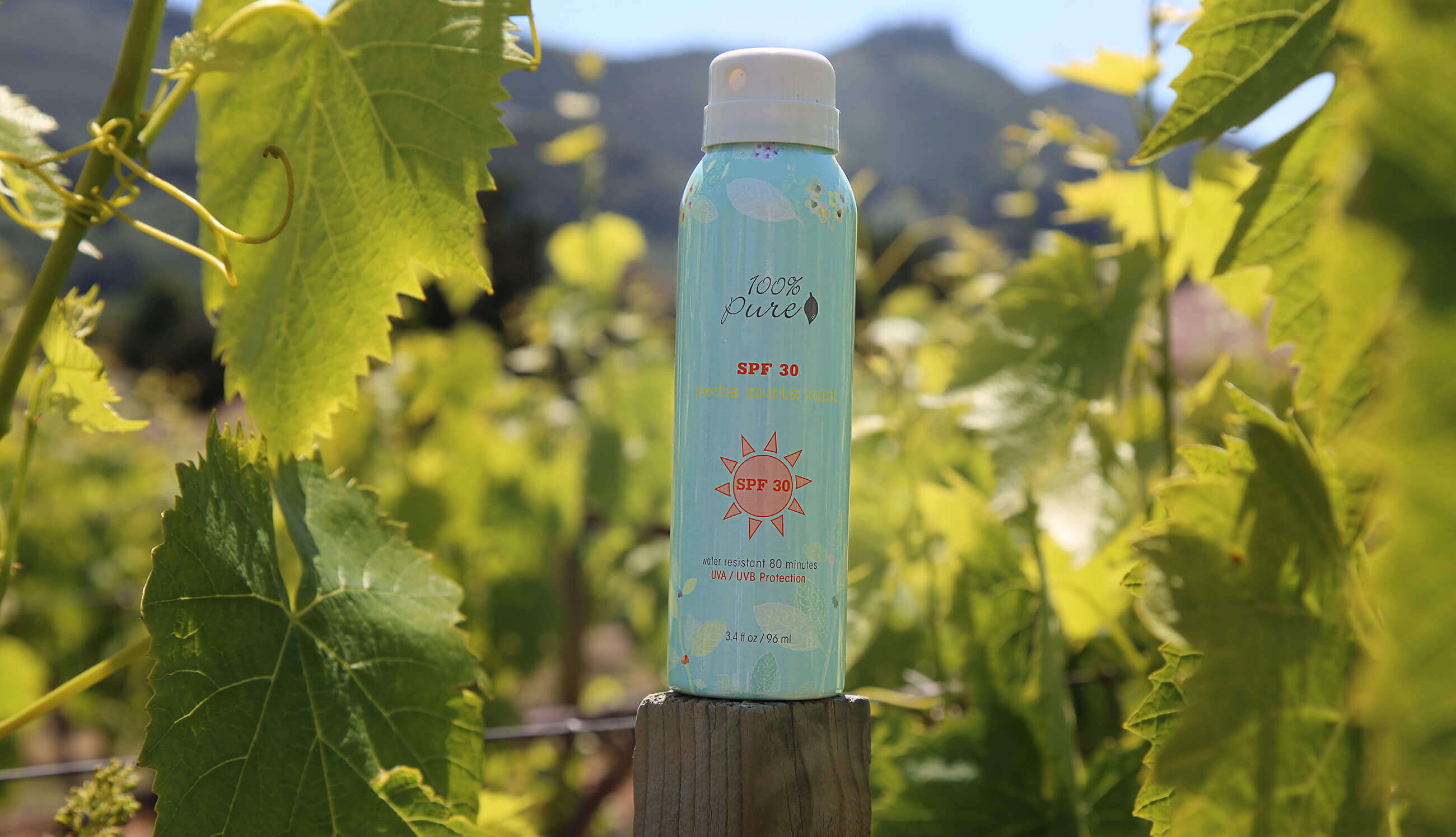 We like to call this our lightest and dreamiest SPF, and for good reason. Yerba mate leaf, like our fave green tea, is antioxidant rich for protection against free radicals and pollution, while also lightly mattifying and soothing your skin. Safflower seed oil has a light floral scent that also conditions your skin. We'll skin conditioning over skin-irritating synthetic fragrances anyday! This natural spray SPF application is easy to apply on the fly, and we use a compressed air canister built into the bottle to eject the formula, instead of ozone-harming CFC's.
Protection: SPF 30
Vegetarian: No
Contains Titanium Dioxide: No
Water Resistant: Yes
Type of Formula: Liquid
Tomatoes in sunscreen? Hear us out. Tomatoes contain an antioxidant called lycopene, the natural pigment that makes them red and has also been linked to a reduction in DNA damage from UV exposure. If you've ever wanted a silky smooth facial moisturizer that doubles as sun protection, here's your answer. We've packed the most skin moisturizing ingredients like olive squalane, coconut oil, and sunflower oil into this handy bottle for sun protection and moisturizing on the go.
PRO TIP: In a hurry? You can skip your normal face moisturizer and replace with this skin hydrating and softening natural sunscreen and moisturizer in one. Simply pat into cleansed skin before you step out for the day!
Protection: SPF 20
Vegetarian: No
Contains Titanium Dioxide: Yes
Water Resistant: No
Type of Formula: Lotion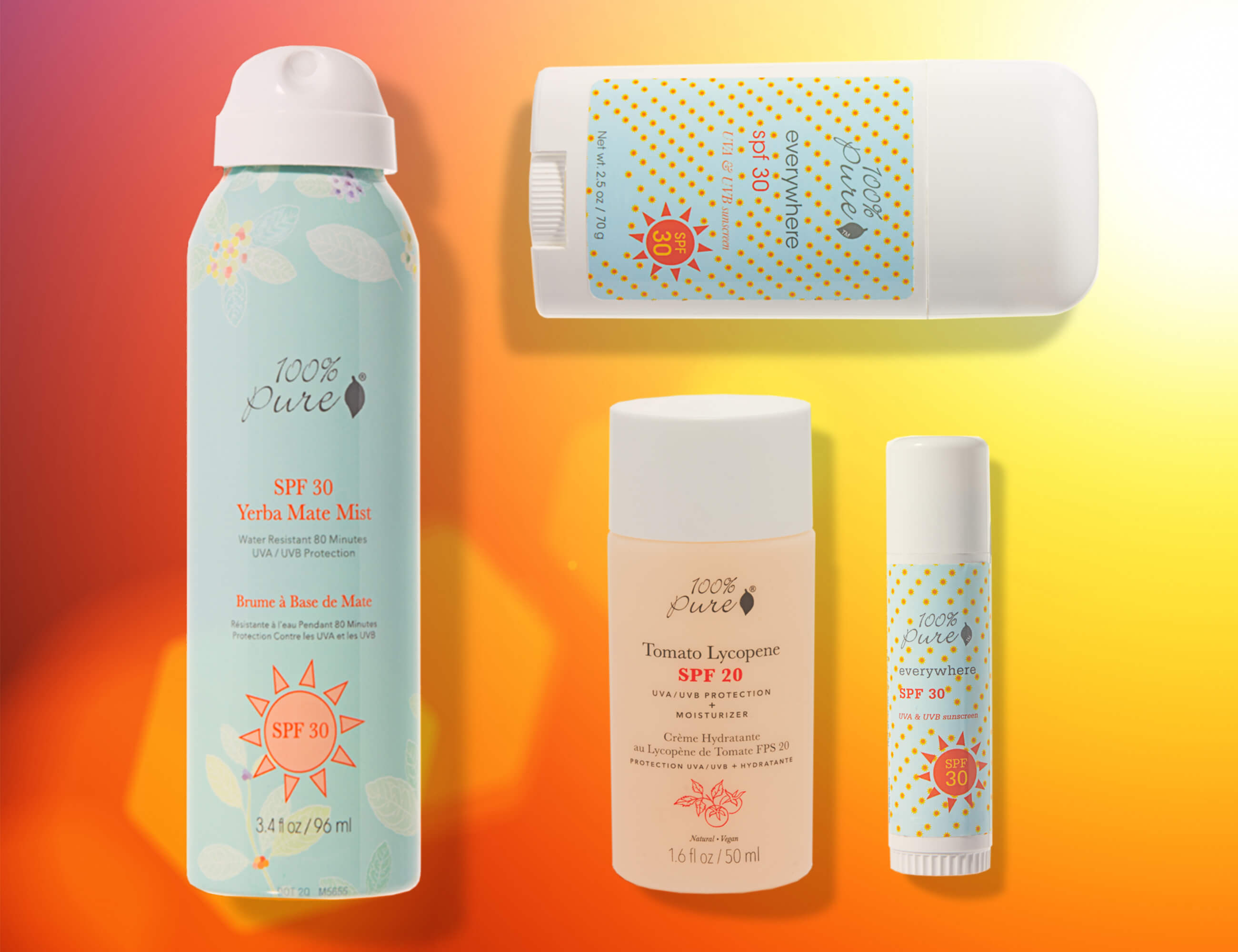 Ever found how hard it is to get kids to let you put sunscreen on them? All they want to do is get out in the sun and hit the beach ASAP! An easier way to get your kids to use SPF is to let them do it themselves. Our broad spectrum SPF 30 sun sticks are easy to apply for kids, and are safe and gentle for all skin types. You can use them all over the body and face, and even on delicate baby skin. Simply rub on, massage into skin, and go! The size is also convenient enough that you can take it everywhere to touch up throughout the day. For a wider applicator that's perfect for all over body application, pick up our Everywhere Body Stick SPF 30.
Everywhere Sun Stick SPF 30 and Everywhere Body Stick SPF 30
Protection: SPF 30
Vegetarian: Yes
Contains Titanium Dioxide: Yes
Water Resistant: No
Type of Formula: Balm
PRO TIP: Your lips are easy to forget when it comes to sunscreen, but don't skip the lippies! The skin of your lips is even more delicate than you think. If you're stepping out in the sun, you'll need to protect them with an SPF lip balm. Our Sweet Mint Lip Balm with SPF 15 is a literal lip-saver after spending all day at the beach. Using SPF on your lips will mean you've achieved the best sunscreen protection coverage for your WHOLE body!
If you can't tell already, we kinda care about your skin. A LOT. By ditching your chemical sunscreen for a natural sunscreen, you're already doing your skin a great service. Keeping up a good skin care routine is one thing, but it'll only get you so far if you're forgetting to throw a great natural sunscreen into the mix. Keep up with our blog for more helpful hints for healthy, sustainable beauty!
We carefully hand-select products based on strict purity standards, and only recommend products we feel meet this criteria. 100% PURE™ may earn a small commission for products purchased through affiliate links.
The information in this article is for educational use, and not intended to substitute professional medical advice, diagnosis, or treatment and should not be used as such.
Sign up to our email newsletter for more blog updates and exclusive discounts.
< Older Post | Newer Post >