How to Contour with Bronzer
How to use warm, softly shimmery Cocoa Pigmented natural bronzers for summer contouring
Updated on July 5, 2018
Written by: 100% PURE®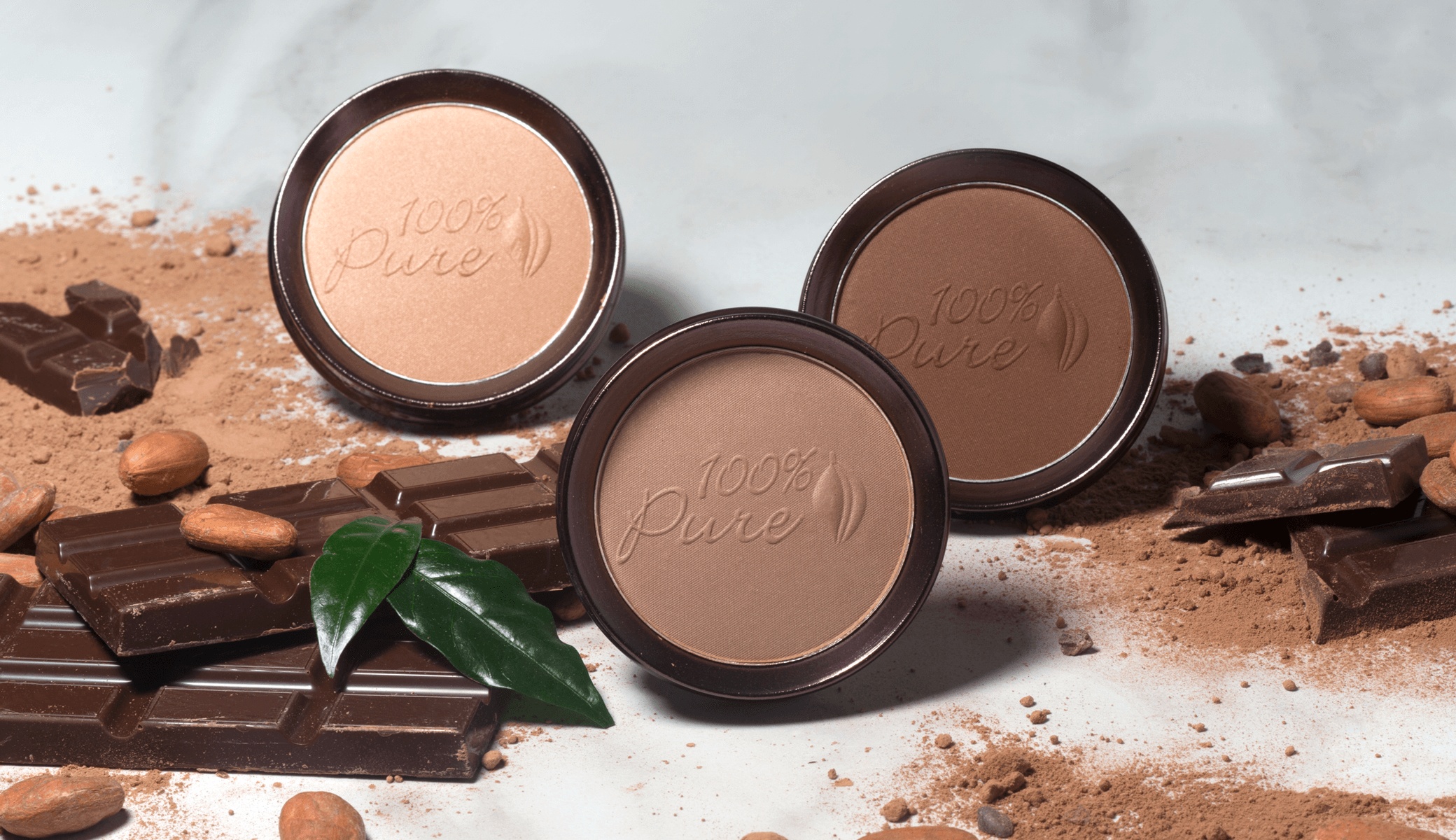 By using your natural bronzer for contouring, you earn double beauty innovation points. What? Don't tell us you've never used your lipstick as blush, or your eyeshadow as brow powder before. Contouring with bronzer is by no means a foreign concept, but it becomes especially useful for us when we're rocking a glistening summer tan. If you don't know how to apply bronzer, or if you're looking for that perfect natural bronzer for your collection, stay tuned for all the deets!
Natural Bronzer Basics
If your entire makeup collection consists of mascara and a single red lipstick, you might be wondering what purpose a bronzer can serve. Just like skin care, a beauty routine is done in steps. After applying foundation and a bit of setting powder, the face can look a little bleh. This all-over coverage can make skin look washed out, and feel a bit one-note. This is where the bronzer comes in. The purpose of bronzer in a beauty routine is to warm up the face. It adds that natural dimension that we all have without makeup, and a bit of the sun-kissed color usually found around our hairline, on the nose, and on our cheeks.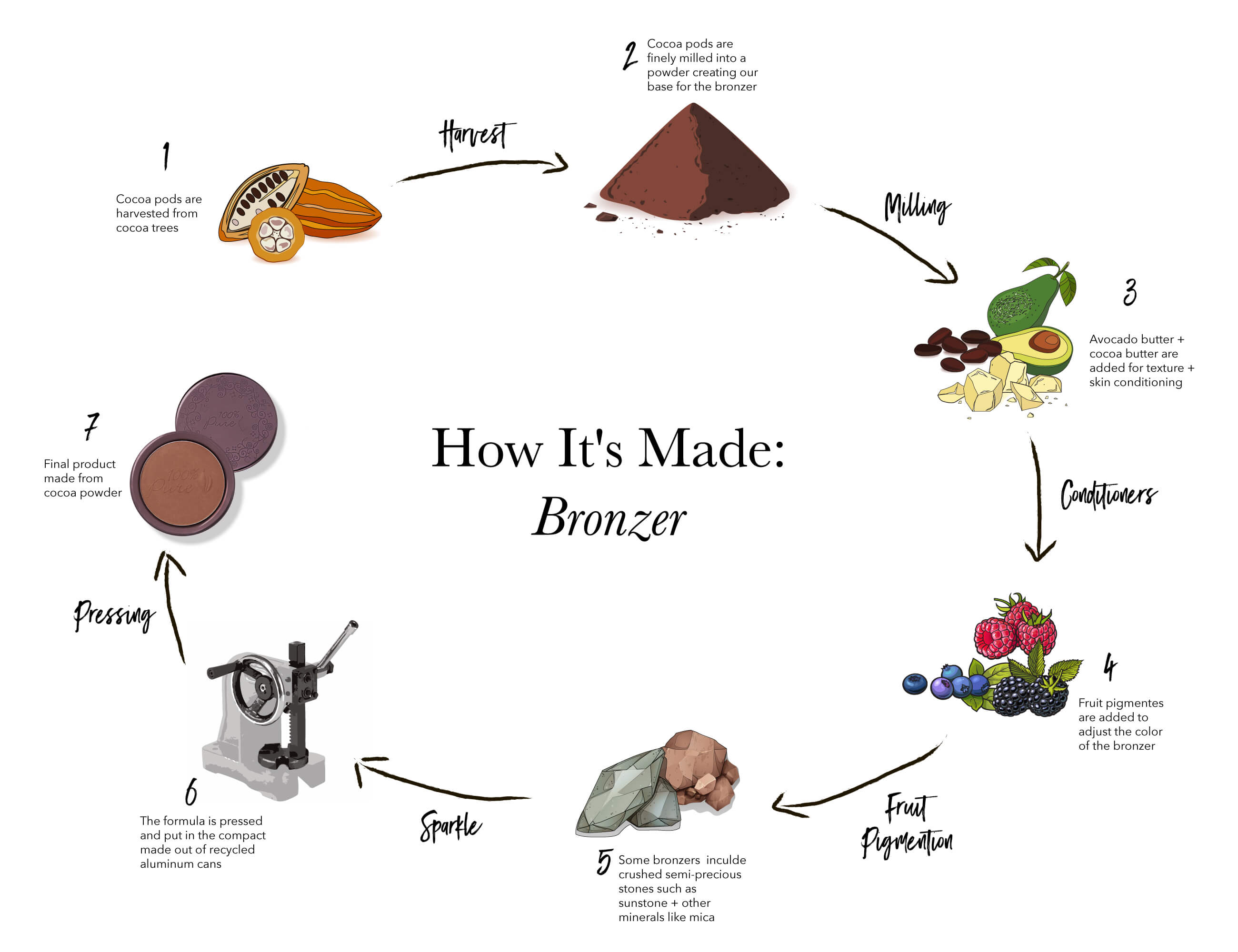 While there are some bronzers on the natural makeup market that have more of a matte finish, we also enjoy natural bronzers that mimic the natural texture of skin. Many beauty products on the market that do not utilize natural and organic ingredients incorporate synthetic materials into their bronzers. Often times, the "glow" found in other bronzers is actually synthetic glitter (made from plastic) ground down to a thin powder that can scratch the skin and cause allergic reactions. In place of plastic and synthetic ingredients, we use mica to add a natural glow to our bronzers meaning a purer product and a more natural, organic look to the skin.
Why Contour with Bronzer?
Now that we've covered bronzer basics, let's talk about how we can use our bronzer as a natural contour. As you might know, contouring has grown in popularity in the past few year. It is a cosmetic way of enhancing features by sculpting and creating shadows for more defined shapes in the face; think more prominent cheekbones or a slimmer jawline. Contouring generally uses a soft matte powder (1-2) shades darker than the skin tone, usually in a neutral shade to better mimic a shadow that would naturally be cast onto the face.
In the summertime when our radiance is at its highest, using our bronzer powder as contour makes perfect sense. After hours in the sun, our skin tone is a bit closer to the deeper, warmer shade of our bronzer, and the extra depth is the perfect contrast for a subtle, sultry bronzing contour that makes getting ready in the morning a breeze.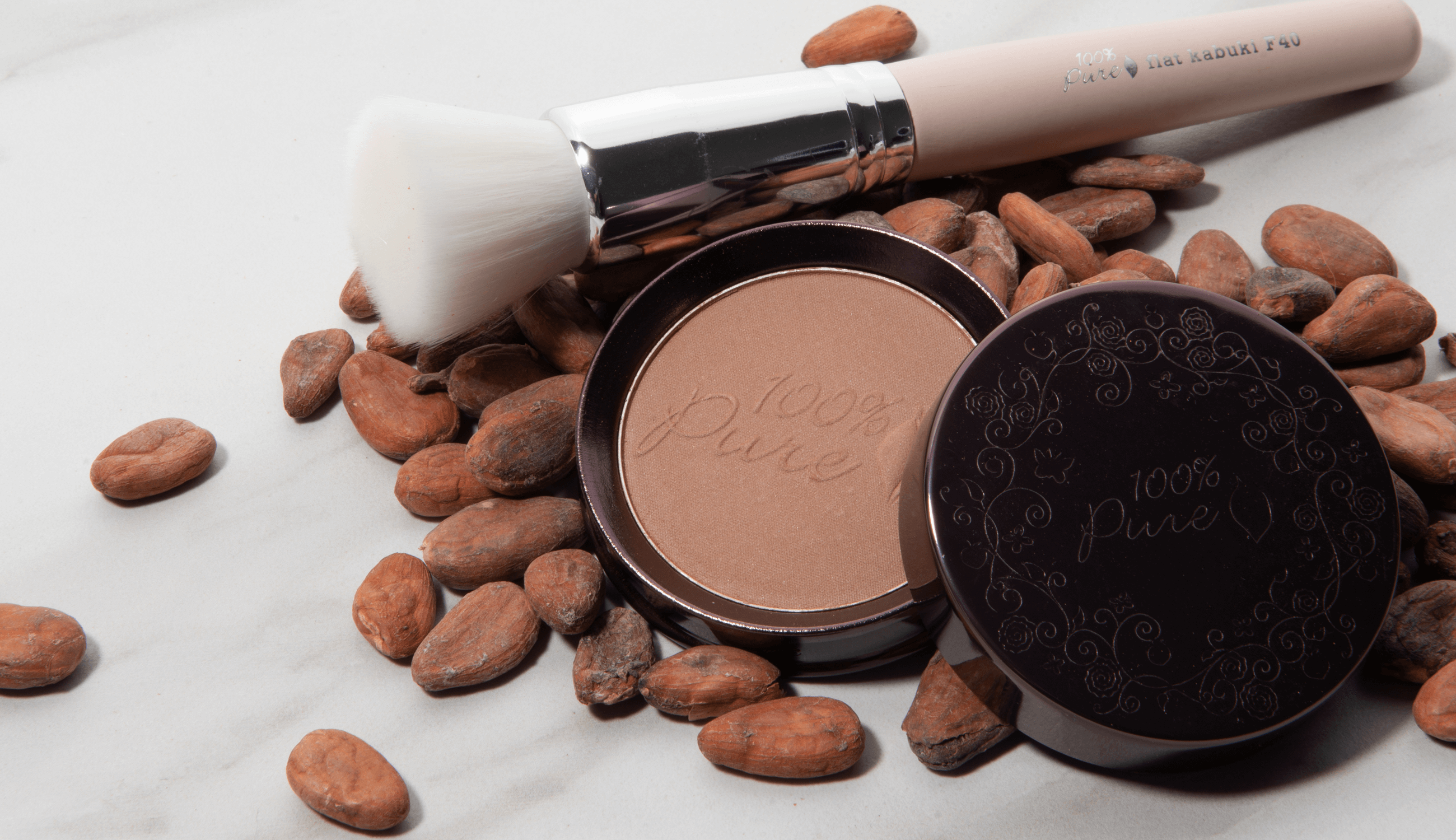 Why Should You Choose a Natural Bronzer?
Just as we mentioned, some brands (even some natural makeup brands) use synthetic shimmer, often made from plastic, to replicate mineral mica used in our bronzers to give it that natural, skin-like finish. These synthetic ingredients can irritate the skin, leaving microscopic scratches on skin's surface that can enhance the appearance of fine lines and aging. Our bronzers use mineral mica to give our bronzers that warm, incandescent glow.
We add color to our bronzers using natural ingredients like cocoa powder, coffee, and black tea. This medley sounds good enough to eat, and contributes natural coloring to our bronzers without any of the filling or fluff found in other brands. Some products incorporate talc into their formulas. Not only has talc been linked to some cancers with special regards to feminine health, but this ingredient does absolutely nothing in the way of warmth, coloring, or glow and can be extremely drying on the skin.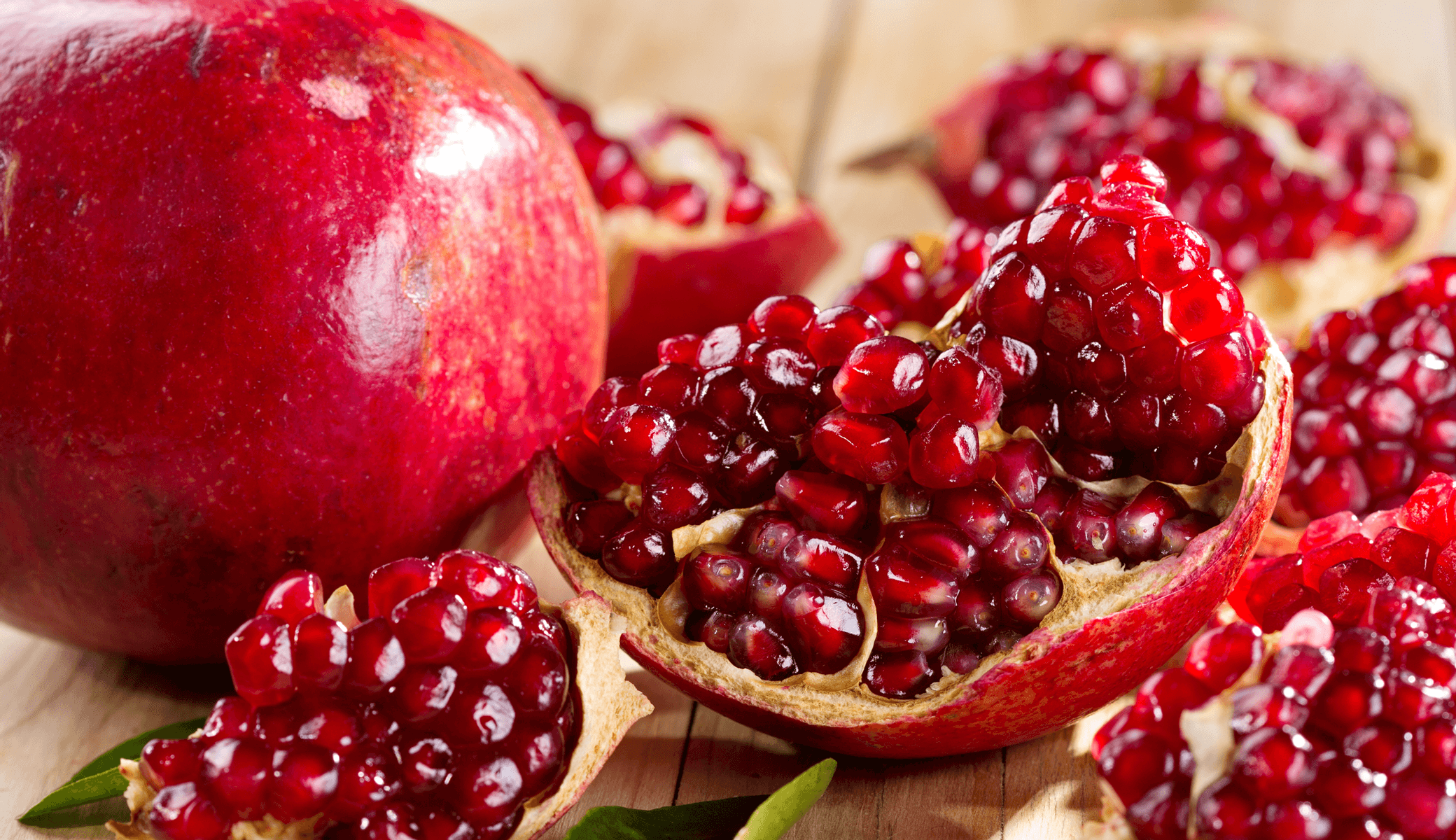 As part of our natural makeup collection, our Cocoa Pigmented Bronzers come in a variety of shades and are buttery smooth thanks to the cocoa butter in the formula. In addition to that skin conditioning richness, our formula incorporates natural fruits like pomegranate, peach, blackberry, apricot, papaya, and raspberry. Did you know that papaya contains an enzyme that enhances the skin cell turnover rate? This means new, younger looking skin even faster. Blackberries are mildly antibacterial and anti-inflammatory as well. This means while we're tanning and glowing, our bronzing contour is doing double-time killing any bacteria or free radicals on our skin.
Vitamin E and avocado butter are also included in our natural bronzer formula, giving you an idea of how smooth and rich it feels and how easily it will glide onto the skin. The nutrients from these ingredients gradually condition skin for moisture, bounce and supported skin health. Finally, the lavender flower and rosehip seed oil are soothing and calming components. These florals will help balance oil in the skin, reduce redness and inflammation and will provide some anti-aging benefits as well. You're sure to love the way our Cocoa Pigmented Bronzers warm up your natural makeup look while treating your skin underneath.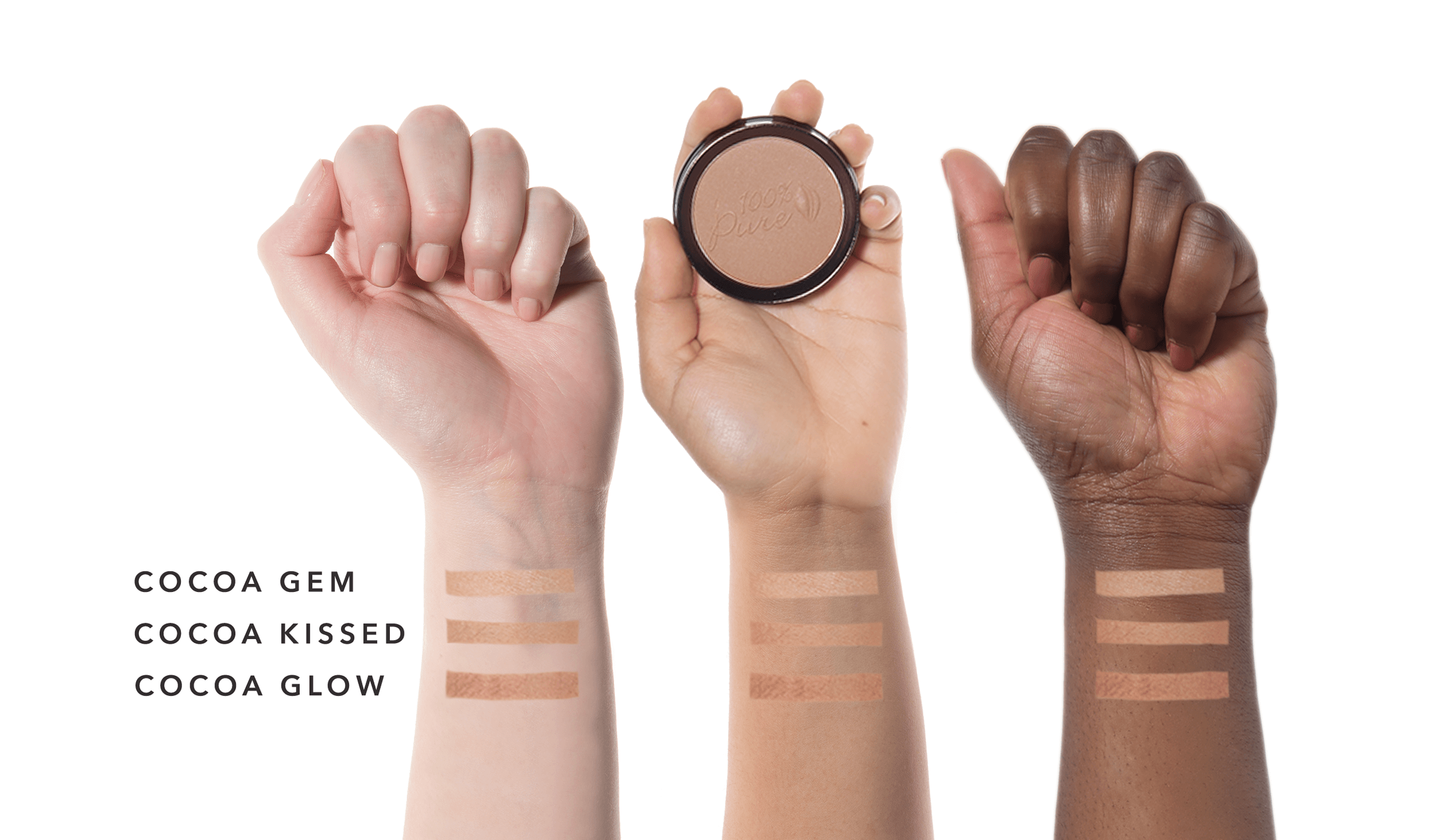 Choose from 3 Cocoa Pigmented Bronzer Shades
Our line of Cocoa Pigmented Bronzers is totally unique in the world of natural makeup -- especially when it comes to natural bronzers. Aside from being made with nutritious vegan ingredients, they offer 3 skin warming shades to perfect your summer glow. Our newest addition, Cocoa Kissed, is a perfectly neutral medium shade with lighter shimmer than Cocoa Gem or Cocoa Glow. Not sure about your natural bronzer shade? Check below!
Light, peachy brown with gold undertones
Medium, milk chocolate brown with neutral undertones
Deep, clay brown with gold and red undertones
How to Contour with Natural Bronzer
After applying your favorite foundation, you can lightly set the face with our Bamboo Blur Powder to smooth everything out. Using a mid-sized makeup brush, dip into the bronzer and lightly tap off the excess to ensure you're getting the right amount of product. Lightly swirl the brush over cheekbones towards the top of the ears, along the hairline, and along the jawline for the perfect summer glow. For added dimension, sweep the remaining product over the bridge of the nose and using a small eyeshadow brush, buff it into the crease of the eye. If you're wearing a dress or top that exposes your neck, shoulders, and collarbone, you can even contour with bronzer for more natural warmth. This will make your overall face and eye makeup look cohesive, warm, and irresistibly tan. While that isn't the only kind of cocoa kiss we're after this summer, it is the perfect product to seal the deal.
We carefully hand-select products based on strict purity standards, and only recommend products we feel meet this criteria. 100% PURE™ may earn a small commission for products purchased through affiliate links.
The information in this article is for educational use, and not intended to substitute professional medical advice, diagnosis, or treatment and should not be used as such.
Sign up to our email newsletter for more blog updates and exclusive discounts.
< Older Post | Newer Post >