How to Make Your Eyes Look Bigger with Natural Makeup
Easy steps for getting an eye brightening doe-eyed look with natural eye makeup!
Posted on June 29, 2018
Written by: 100% PURE®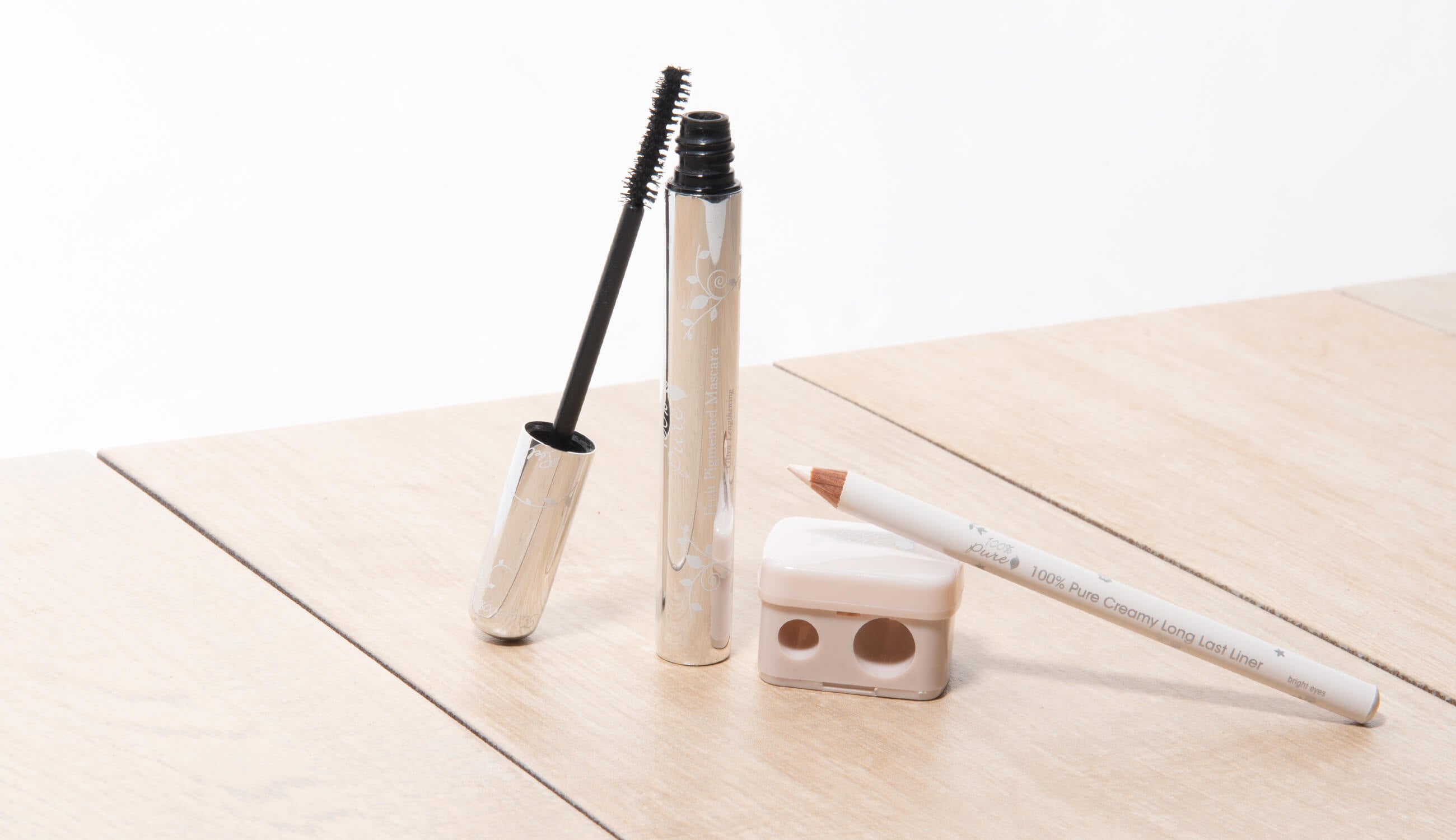 Are you tired of waking up to eyes that look like they've aged ten years overnight? If you'd rather look bright-eyed and bushy-tailed, you'll first need to stop puffiness and dark circles in their tracks. The way you apply your eye makeup could also be causing your eyes to appear small and overtired, and can even give the illusion of an aging eye area. Fixing this issue can seem like a daunting task, but if you try these simple tips and tricks using natural makeup, you can have the doe eyes you've always dreamt of.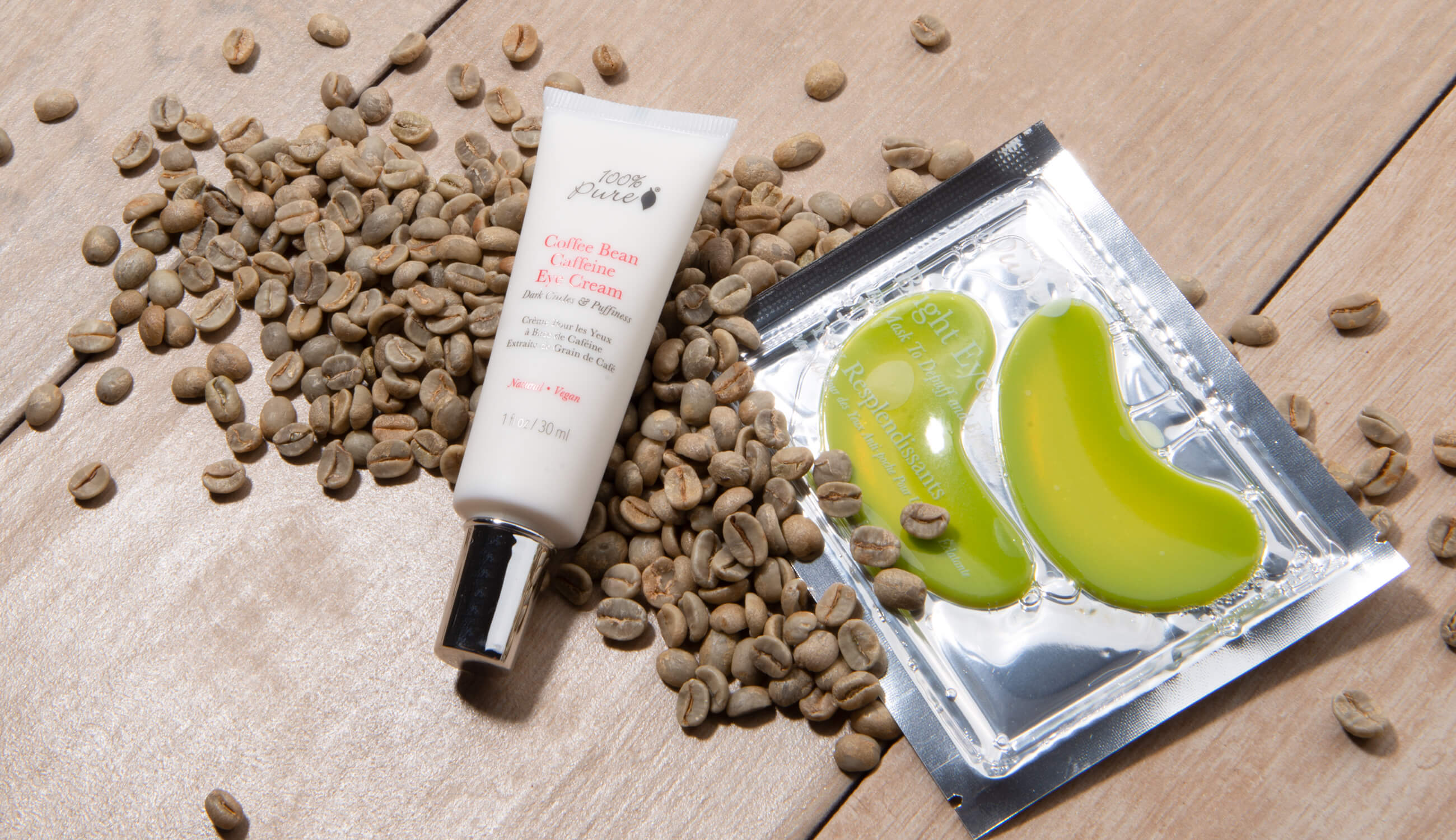 Start with Skin to Get Brighter Eyes
Before you begin your natural makeup strategy for bigger, brighter eyes, you'll need to start with your skin. Give your eye area the TLC it needs, with help from our specially formulated natural eye creams. Our Coffee Bean Eye Cream will give you to the boost you need to help reduce puffiness and dark circles from around the eyes - especially helpful on mornings when you feel like a zombie.
Another fan favorite is our Bright Eyes eye masks. They're sure-fire eye brighteners, and deeply hydrate the skin around your eyes for days when nothing else seems to work. You can use these eye masks first thing in your morning routine to plump and brighten, or to soothe and relax the eye area in the evening.
Finally, adding our Retinol PM Eye Cream to your evening skin care routine is the best way to brighten the eye area. This formula increases skin cell turnover around the eye area, giving you brighter, more youthful eyes while you catch some Z's. By starting and and ending your routine with one of our natural eye creams, you're reducing and preventing the appearance of a smaller eye area.
Define Your Brows
The next step to achieve big, beautiful eyes is to define your brow shape. Start by plucking the stray hairs from under your brows, to help create the look of more space between the lashes and brow. You'll want to avoid over-plucking above the brows, since this can make your eyebrows appear to sit lower. By filling in your brows with our Long Last Brows gel or our Green Tea Fiber Brow brow builder, you're creating a strong frame for your eyes that flatters and brightens them. After you have successfully shaped your brows, brush them upward and outward to give your eyes an even wider appearance.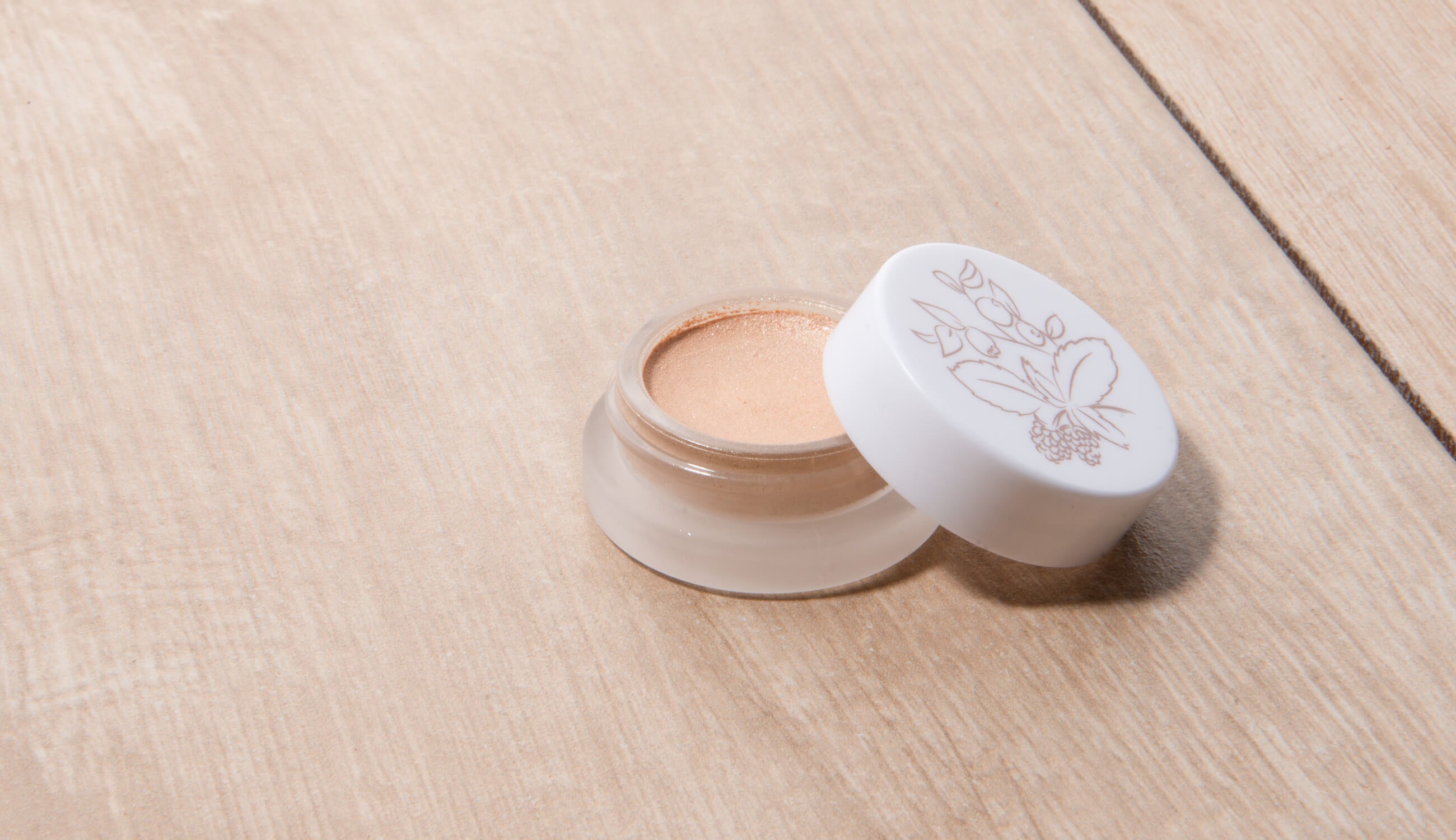 Adding Dimension with Natural Eye Makeup
Adding dimension to your eyes is a fun and easy way to make them stand out! Start by creating a base on your lids with our 2nd Skin Concealer. You can also apply concealer to dark or shadowed areas under your eyes to brighten the skin around your eyes.
Next, try defining your mid-eye crease with a natural eye shadow. Our Pretty Naked, Naked 2, or Better Naked palettes are perfect for this. Using a dark nude, taupe, or warm brown, blend the shadow from the outside of your eye crease and stop just before you reach the inner corner of your lid. After you've done this, use a light, neutral color on your lids. This hint of a shadow on your lid crease creates depth, while the lighter shadow creates an illusion of bringing the eye forward. Finish adding dimension by applying a highlighter from one of the palettes onto your brow bone (just below the brow line), to really make your eyes pop.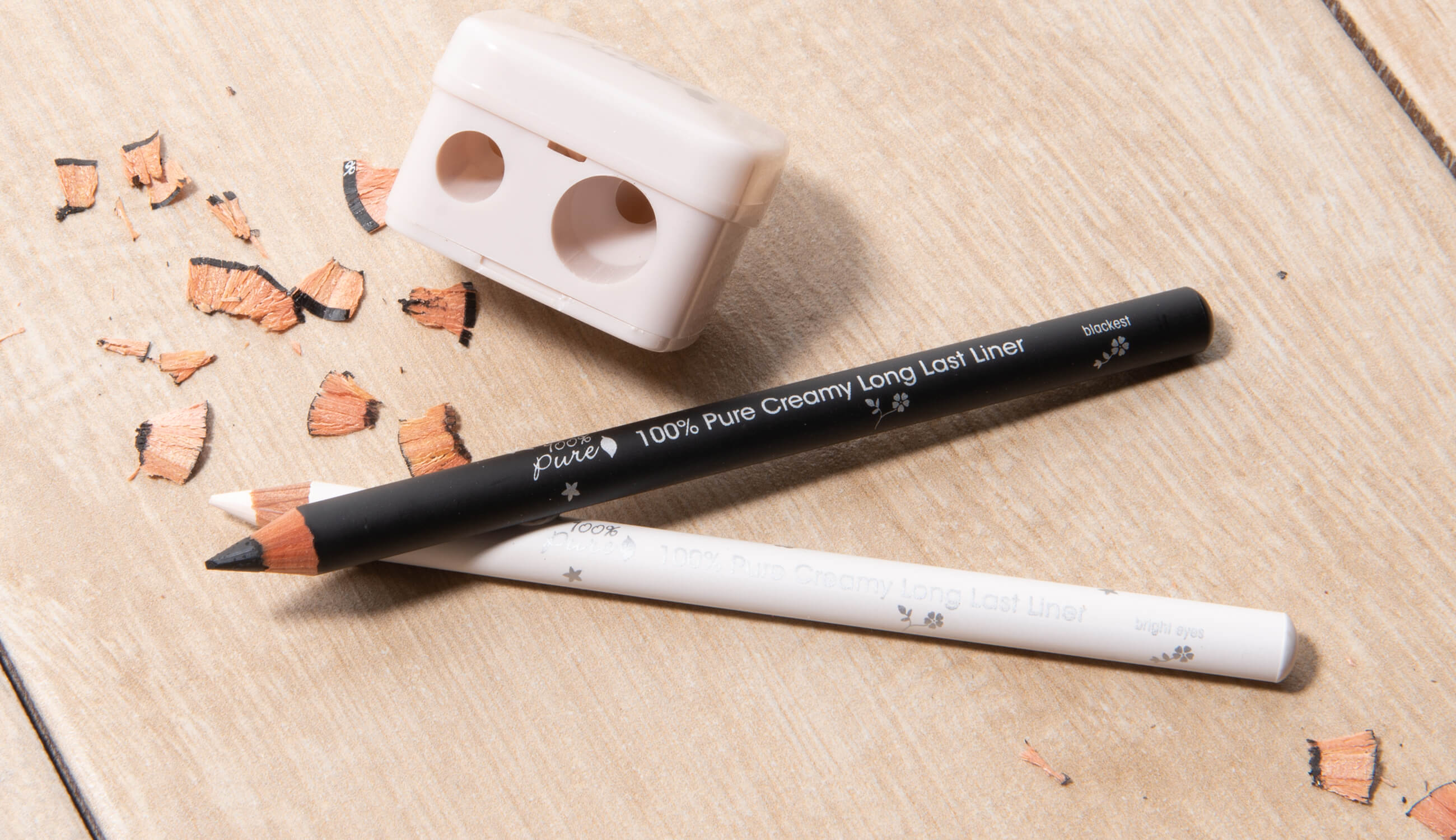 Whiten to Widen with Natural Eye Makeup
Apply our Bright Eyes Creamy Long Last Liner, a white eyeliner, to your lower water line. This will make it look like the whites of your eyes extend farther than they really do. For the effect of bigger eyes, you'll want to avoid lining your waterline or under eyes with black or dark liner. Lining with a dark color on your lower lash line can make eyes appear smaller than they are, especially if you line your upper lid, too. This can make the eyes look more closed, which is more desirable with a smokey eye look.
Adding shimmer eyeshadow to the inner corners of your eyes helps to create the illusion of more open, awake, and refreshed eyes. We recommend using a pearl shade like our Fruit Pigmented Satin Shadow: Star, or a light champagne gold like our Fruit Pigmented Star Bright natural eye shadow.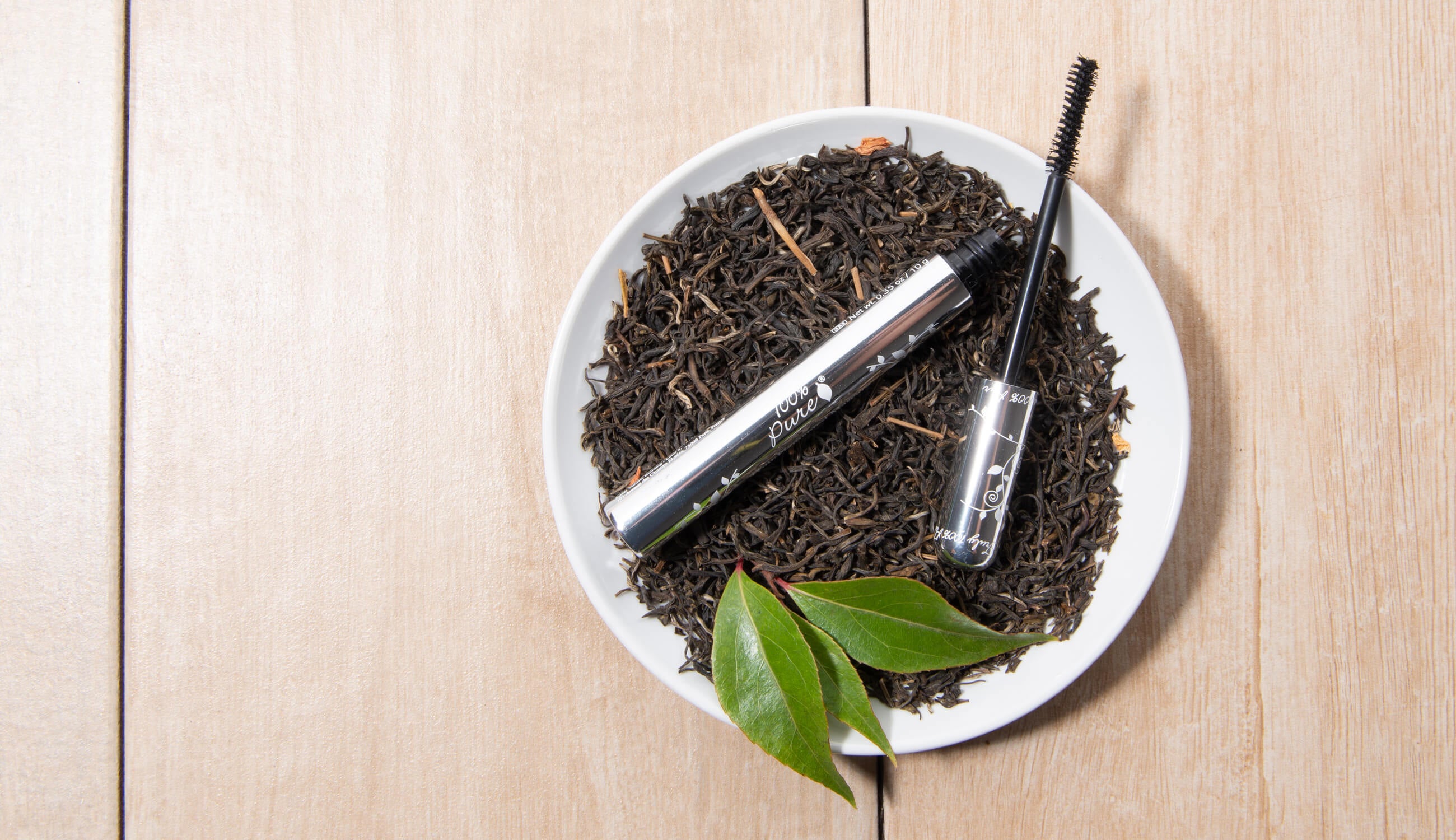 Lengthen Lashes
Having glamorous, full looking lashes can help to create that wide awake, large eyed look. Start by lining the upper lash line with our Long Last Liquid Liner. Lining your lash line will help to make your lashes look fuller. However, try not to make the line too thick -- this can make the lid appear smaller.
Next, curl your top lashes with an eyelash curler to create a more open eye area. This allows others to see your beautiful peepers more clearly! Apply a few coats of our Ultra Lengthening Black Tea Mascara after curling the top lashes. Next you'll add a coat to the bottom lashes, to open the bottom edges of the eye to appear wider. Want to make sure your mascara doesn't budge from the lower lash line? Apply a small amount of Bamboo Blur Powder underneath the eye to prevent skin oils from smudging the mascara on your lashes.
Natural Eye Makeup Meltdown
Having brighter, wide awake eyes doesn't end with your makeup look! At the end of the day, make sure that you properly and thoroughly remove even natural eye makeup. Leaving your eye makeup on during the night can cause irritation in your eyes; this can cause eye-shrinking puffiness in the morning. Use our Blood Orange Cleansing Balm to remove even the most stubborn natural eye makeup, so you can avoid the dreaded raccoon eyes and have a fresh, clean slate for a new day. Massage into face and all around the eye area. Remove completely with a warm, wet towel. Ta-da! Say hello to brighter, more beautiful eyes!
We carefully hand-select products based on strict purity standards, and only recommend products we feel meet this criteria. 100% PURE™ may earn a small commission for products purchased through affiliate links.
The information in this article is for educational use, and not intended to substitute professional medical advice, diagnosis, or treatment and should not be used as such.
Sign up to our email newsletter for more blog updates and exclusive discounts.
< Older Post | Newer Post >