https://purity-res.cloudinary.com/image/fetch/q_auto:best,f_auto,fl_lossy,w_auto,c_limit,dpr_auto/https://cdn.shopify.com/s/files/1/0648/1955/products/PfxAx88QRTWLWIvqU8vR.png?v=1537463932
https://purity-res.cloudinary.com/image/fetch/q_auto:best,f_auto,fl_lossy,w_auto,c_limit,dpr_auto/https://cdn.shopify.com/s/files/1/0648/1955/products/Phav8b6dRJih5Sv2DDyY.png?v=1537463932
https://purity-res.cloudinary.com/image/fetch/q_auto:best,f_auto,fl_lossy,w_auto,c_limit,dpr_auto/https://cdn.shopify.com/s/files/1/0648/1955/products/x1A5VnUS5WdsiS7WkqYx.png?v=1537463932
https://purity-res.cloudinary.com/image/fetch/q_auto:best,f_auto,fl_lossy,w_auto,c_limit,dpr_auto/https://cdn.shopify.com/s/files/1/0648/1955/products/Pkle3yrDT2qele4MP2Dk.png?v=1537463932
https://purity-res.cloudinary.com/image/fetch/q_auto:best,f_auto,fl_lossy,w_auto,c_limit,dpr_auto/https://cdn.shopify.com/s/files/1/0648/1955/products/PcPJAYIoRhGzKRW3mcjf.png?v=1537463932
https://purity-res.cloudinary.com/image/fetch/q_auto:best,f_auto,fl_lossy,w_auto,c_limit,dpr_auto/https://cdn.shopify.com/s/files/1/0648/1955/products/m7smvyRwQPuHlJYXB8tj.png?v=1537463932
https://purity-res.cloudinary.com/image/fetch/q_auto:best,f_auto,fl_lossy,w_auto,c_limit,dpr_auto/https://cdn.shopify.com/s/files/1/0648/1955/products/CcxvXijASlmL90hg9Rg0.png?v=1537463932
https://purity-res.cloudinary.com/image/fetch/q_auto:best,f_auto,fl_lossy,w_auto,c_limit,dpr_auto/https://cdn.shopify.com/s/files/1/0648/1955/products/vh662mQRQuRHH4eqXEMg.png?v=1537463932
https://purity-res.cloudinary.com/image/fetch/q_auto:best,f_auto,fl_lossy,w_auto,c_limit,dpr_auto/https://cdn.shopify.com/s/files/1/0648/1955/products/ipBq7yISRAST2a6xu9KQ.png?v=1537463932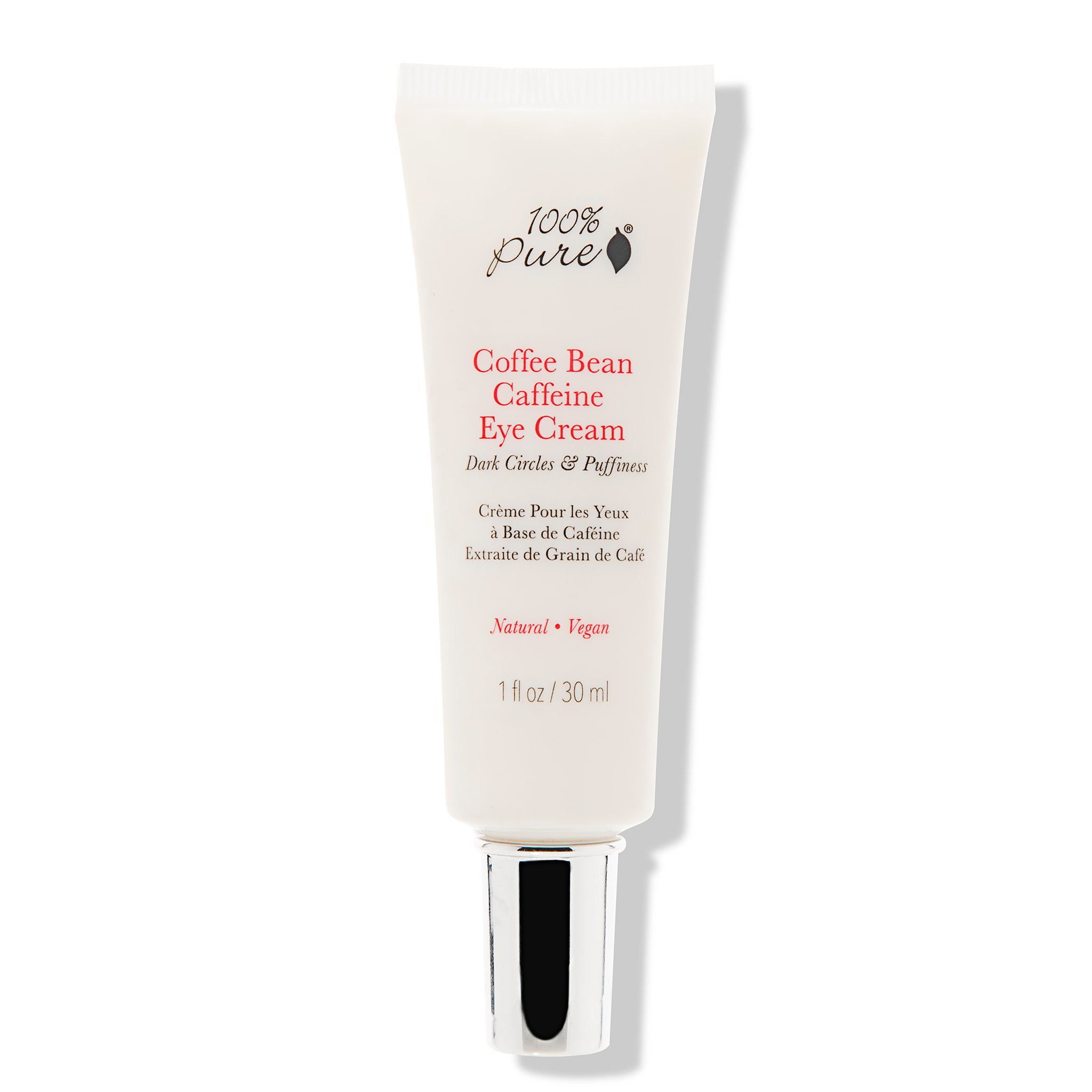 Coffee Bean Caffeine Eye Cream
Natural

Vegan

Cruelty Free

Gluten Free
De-puffs, boosts circulation, and brightens dark circles with caffeine from coffee and green tea. Anti-aging vitamins and rosehip promote a youthful eye area.
Anti-inflammatory, caffeine rich green tea and coffee de-puff while increasing circulation to brighten dark circles. Concentrated with potent anti-aging vitamins and antioxidants to awaken the eye area, and nourishing rosehip oil for softer, more youthful skin.

**Results of an independent clinical 4 week study

GOOD BYE, PUFFY EYES!

83% saw immediate reduction of puffiness
97% saw reduction of puffiness with continued use

SAY "NO" TO DARK CIRCLES

73% saw an immediate reduction of dark circles
87% saw reduction of dark circles with continued use
87% say they look more 'awake, rested, and refreshed

SAY "YES" TO MORE YOUTHFUL LOOKING EYES

80% say that it instantly helped reduce the look of lines and wrinkles around the eye area
97% say skin around their eyes was softer and smoother
93% say it reduced the appearance of fine lines and wrinkles with continued use
100% say it improved skin hydration and moisture
93% say it improved skin firmness/elasticity

Directions

Dot cream around your eyes. With your ring finger gently pat around the eye area. Don't tug! The skin around the eyes is extremely delicate.

Every ingredient we use is beneficial, here are a few:

Vitamin E (Tocopherol)

Vitamin E restores and protects from free radical damage.

Vanilla Planifolia

Vanilla Planifolia conditions hair and skin.

Coffee Cherry

Coffee Cherry fights and lessens wrinkles.

Green Tea

Green Tea tones and protects with antioxidants.

Green Coffee

Green Coffee boosts collagen production and blood circulation.

Complete list of ingredients:

Aloe Barbadensis (Organic Aloe) Leaf Juice*, Rosa Centifolia Flower Water (Rose Hydrosol), Rosa Canina Seed Extract (Rosehip Oil), Coffea Arabica (Green Coffee) Seed Extract, Camellia Sinensis (Green Tea) Leaf Extract, Tocopherol (Vitamin E), Sodium Ascorbate (Vitamin C), Extracts of Coffea Arabica (Coffee Cherry) Seed, Rosmarinus Officinalis (Rosemary) Leaf, Origanum Vulgare (Oregano) Leaf, Thymus Vulgaris (Thyme) Flower/Leaf, Vanilla Planifolia (Vanilla Absolute) Fruit, Euphorbia Cerifera Cera (Candelilla Wax)* *Certified Organic
Customer Reviews
skin
eye cream
way
smell
eyes
stuff
lines
tube
puffiness
cream
Smells amazing
This eye cream smells SO good! I can't tell yet if it's helping with dark circles, but my eyes are less puffy after using this product for a few days. Love!
Burned my face
I found these products in the San Francisco airport on a layover. I am beyond disappointed. I tried a bit in the airport and was ok so I purchased it. I used it that next morning in my hotel. My undereye area turned bright red and started burning. I immediately washed it off but my undereye area was bright red and burning and stayed that way for several hours. I also got lots of red bumps on the area i applied it. Several days later my skin is STILL sensitive and tender. The worst part was that when I went to return it on my very short layover, the male staff at the store was incredibly rude to me and the first thing he did was accuse me of not paying the entire amount when i purchased it. I paid cash and watched him count it out. It was a horrible experience with no apology and no suggestions on how to get rid of the horrible rash on my face.
Hi Emily, I want to assure you that we take your feedback very seriously and we appreciate you taking the time to reach out and share this. Since our products contain a high level of diverse plant-based ingredients that are not commonly found in other products, it sounds like you may have a sensitivity to something in the formula. Some people have allergies to plants, grasses, fruits, vegetables, and more, and sometimes don't realize it until it's applied topically. Most cosmetics and skincare have limited plant-based products and formulate products that don't contain a high level of natural antioxidants and skin-beneficial ingredients. Again, I'm so sorry for the trouble you've experienced. This is a coaching opportunity for our team, so rest assured we'll be making changes to provide a better and kinder experience in the future. If there are any other questions you have, just let us know!
Love the smell
I love the smell of this! I feel like it mostly just moisturized my eyes not so much help with puffiness. It did help me feel a bit more awake though
Morning refresh
This eye cream smells like cookies and is the best way to wake up. It gets rid of the morning puffiness around my eyes and makes me look like I've slept longer. It expires pretty quickly so I only buy the travel size now, but that just makes it even cheaper!
Impressive!
Noticeable reduction in under eye puffiness and dark circles ~ love this cream!
Complete the Package
Continue Shopping →