https://purity-res.cloudinary.com/image/fetch/q_auto:best,f_auto,fl_lossy,w_auto,c_limit,dpr_auto/https://cdn.shopify.com/s/files/1/0648/1955/products/ur19cLYTF6DyHRNaGdsJ_9e7c3d35-c59b-4a81-924b-a276aac3e018.jpg?v=1550883134
https://purity-res.cloudinary.com/image/fetch/q_auto:best,f_auto,fl_lossy,w_auto,c_limit,dpr_auto/https://cdn.shopify.com/s/files/1/0648/1955/products/E5zcL0cMQhCdaDstZBpz_6dc4d13a-cbdd-4822-9246-d48f3793974c.png?v=1550883134
https://purity-res.cloudinary.com/image/fetch/q_auto:best,f_auto,fl_lossy,w_auto,c_limit,dpr_auto/https://cdn.shopify.com/s/files/1/0648/1955/products/KlSPR6S9SrG2NSQ3emF7_e69a5bce-8b0b-4249-a943-7037b5c859e9.jpg?v=1550883134
https://purity-res.cloudinary.com/image/fetch/q_auto:best,f_auto,fl_lossy,w_auto,c_limit,dpr_auto/https://cdn.shopify.com/s/files/1/0648/1955/products/q3itLTvPTUO7cIdniNaK_e9f62d51-c478-4144-a783-05b0f020aeb1.png?v=1550883134
https://purity-res.cloudinary.com/image/fetch/q_auto:best,f_auto,fl_lossy,w_auto,c_limit,dpr_auto/https://cdn.shopify.com/s/files/1/0648/1955/products/Iufkh9XtRRqXFPMPY4lW.png?v=1550883134
https://purity-res.cloudinary.com/image/fetch/q_auto:best,f_auto,fl_lossy,w_auto,c_limit,dpr_auto/https://cdn.shopify.com/s/files/1/0648/1955/products/OZ7tNh05QuqzCIHZpxyJ.png?v=1550883134
https://purity-res.cloudinary.com/image/fetch/q_auto:best,f_auto,fl_lossy,w_auto,c_limit,dpr_auto/https://cdn.shopify.com/s/files/1/0648/1955/products/EVG3dIGRZKjbb7dl7sUX.png?v=1550883134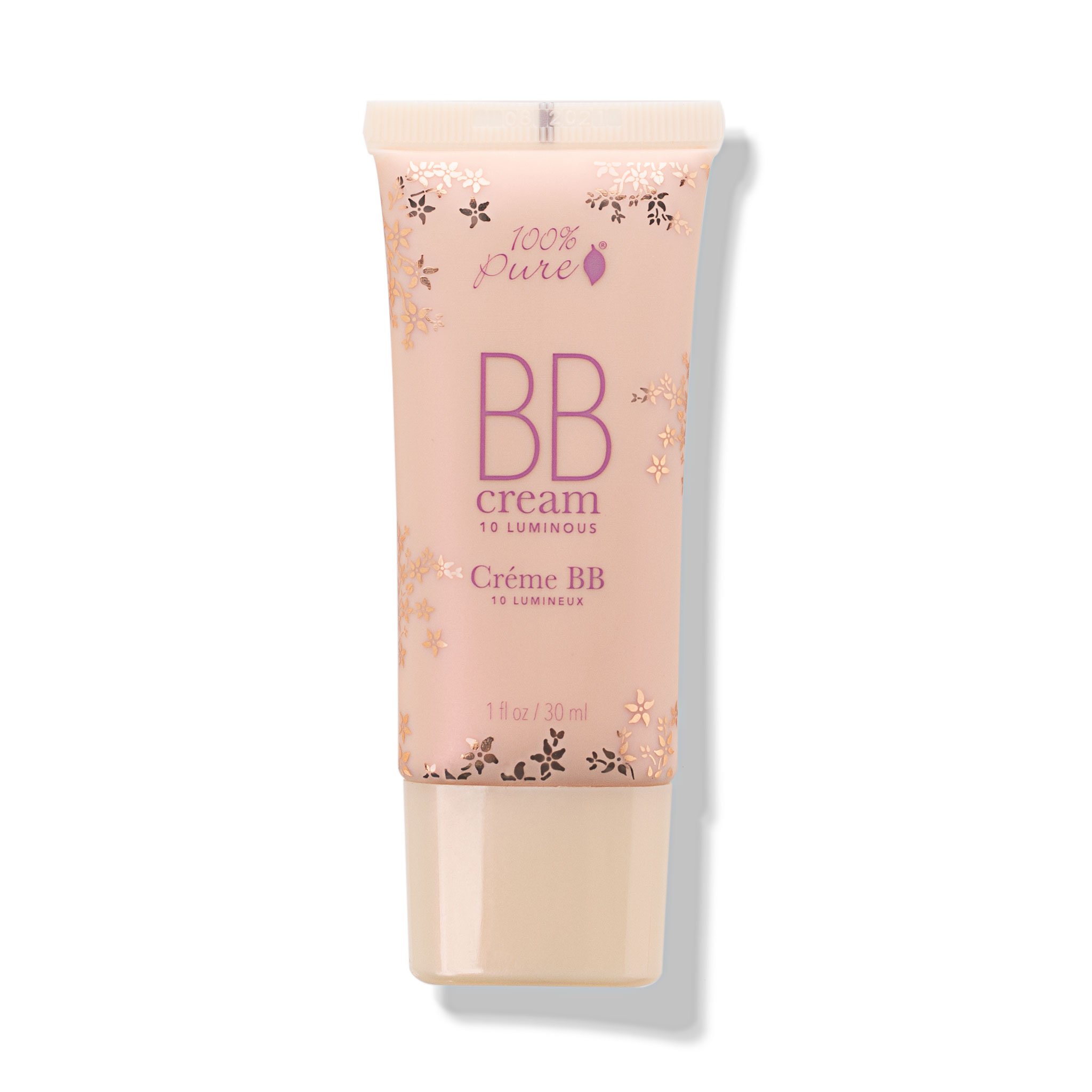 BB Cream
Fruit Pigmented®

Natural

Vegan

Cruelty Free

Gluten Free
Hydrating BB Cream foundation offers a dewy, luminescent finish and buildable light-medium coverage. Infused with skin soothing aloe, shea, and vitamin E.
For Normal, Dry Skin Types

Hydrating liquid-cream formula gives you a luminous complexion with buildable light to medium coverage and a dewy, natural finish. Thousands of light-reflective mineral pigments give skin a soft, incandescent glow.

Shade Chart

10 Luminous

Light with cool undertone

20 Aglow

Medium with warm peach undertone

30 Radiance

Tan with warm golden undertone

Directions

BB cream is a moisturizing skincare/makeup hybrid that is your primer, soothing treatment, concealer and foundation in one. After your normal skin care regimen, apply and blend well.

Every ingredient we use is beneficial, here are a few:

Raspberry Seed Oil

Raspberry Seed Oil protects from UVA and UVB rays.

Cherry

Cherry protects and heals skin with antioxidants.

Bilberry Seed Oil

Bilberry Seed Oil enriches with nutrients and fatty acids.

Shea Butter

Shea Butter deeply moisturizes and reinforces skin.

Cornflower Water

Cornflower tones and soothes skin.

Complete list of ingredients:

Aloe Barbadensis (Organic Aloe Juice) Leaf Extract, Centaurea Cyanus (Cornflower) Flower Water, Zinc Oxide, Caprylic/Capric Triglyceride (Derived from Coconut Oil), Sorbitan Sesquioleate (Derived from Sugar), Glycerin, Stearic Acid (Derived from Coconut), Silica, Leuconostoc/Radish Root Ferment Filtrate, Magnesium Stearate (Derived from Salt), Mica (Mineral), Sodium Phytate (Sodium Salt from Plant Seeds), Xanthan Gum (Non GMO), Simmondsia Chinensis (Jojoba) Seed Oil, Butyrospermum Parkii (Shea Butter), Vaccinium Myrtillus (Bilberry) Seed Oil, Lavandula Angustifolia (Lavender) Oil, Rosmarinus Officinalis (Rosemary) Leaf Extract, Prunus Avium (Sweet Cherry) Seed Oil, Prunus Cerasus (Bitter Cherry) Seed Oil, Punica Granatum (Pomegranate) Fruit Extract, Helianthus Annuus (Sunflower) Seed Oil, Rubus Idaeus (Raspberry) Seed Oil, Tocopherol (Derived from Rice Bran-Non GMO), Benzyl Alcohol (Plant derived), Dehydroacetic Acid, Potassium Sorbate (Salt of Sorbic Acid), Sorbic Acid (Derived from Sugar) May contain: Iron Oxides, (Non-Nano) Titanium Dioxide
BB Cream
has a rating of
4.3
stars based on
819
reviews.
Customer Reviews
skin
coverage
BB cream
glow
look
face
foundation
products
makeup
Pure
04/13/2019
Isabella Ramirez
A Gorgeous Product
This is my first and only BB cream I have tried and I love how it makes my skin look dewy and perfected. It pairs beautifully with the 100percentpure Cheek and Lip Tint and for days I want less shine, I simply apply powder to mattify certain areas.
Satiny/Dewy Glow!
Really like this BB cream, it isn't full coverage so it is very natural looking but doesn't cover every blemish. Also, it leaves a really pretty satiny/dewy glow where the light shines on your skin & it makes your skin look super healthy and moisturized!
Radiant Coverage
I developed an allergy to my makeup, so I decided to switch to 100% Pure and try this BB cream. It's truly wonderful. I don't have any reaction to it. It creates an even, smooth look. My friend even commented how radiant my face was!
04/12/2019
Sarah Dolislager
Best BB cream I've found
I've been using this BB cream for a few weeks and love it. My skin seems to be happier with it, too. I like a lighter coverage with SPF and a natural look. This gives me all of that. Highly recommend.
Light veil of coverage
Beautiful light coverage that keeps my skin looking hydrated and healthy.
Complete the Package
Continue Shopping →