Acai berry benefits for skin and health plus our Superfruit Collection
Updated on September 30, 2021
Written by: 100% PURE®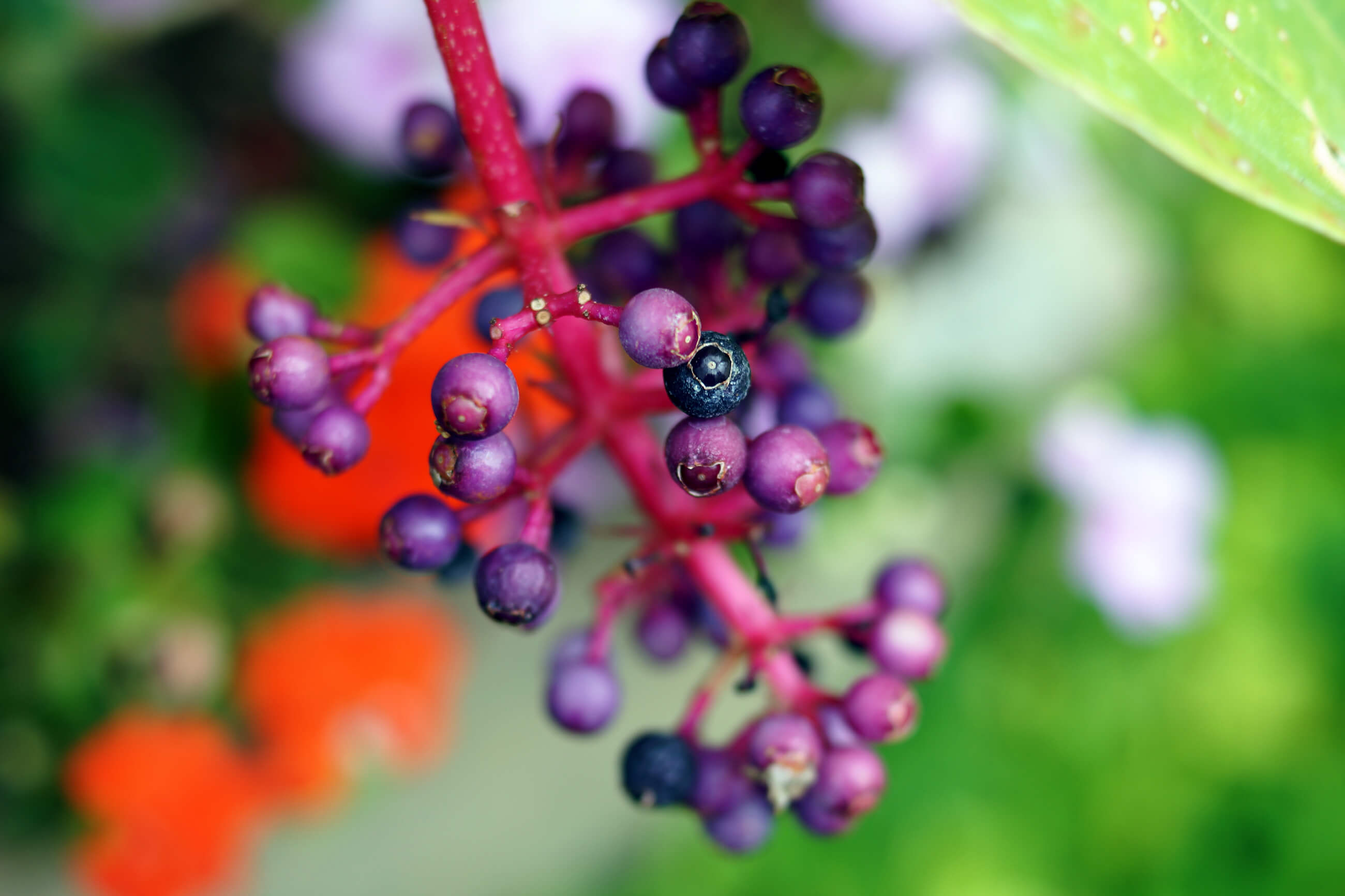 Acai bowls, acai juice, acai smoothies...who doesn't love acai berry? We definitely do! We're raving over this superfood not just for its ability to create Instagram-worthy shots, but also for its skin-loving benefits. Find out more juicy details about this queen of berries that'll have you wishing you could rub it all over your skin - oh wait, you actually can! We made acai berry benefits a thing for skin care too with our award-winning Acai Pulp Facial Scrub.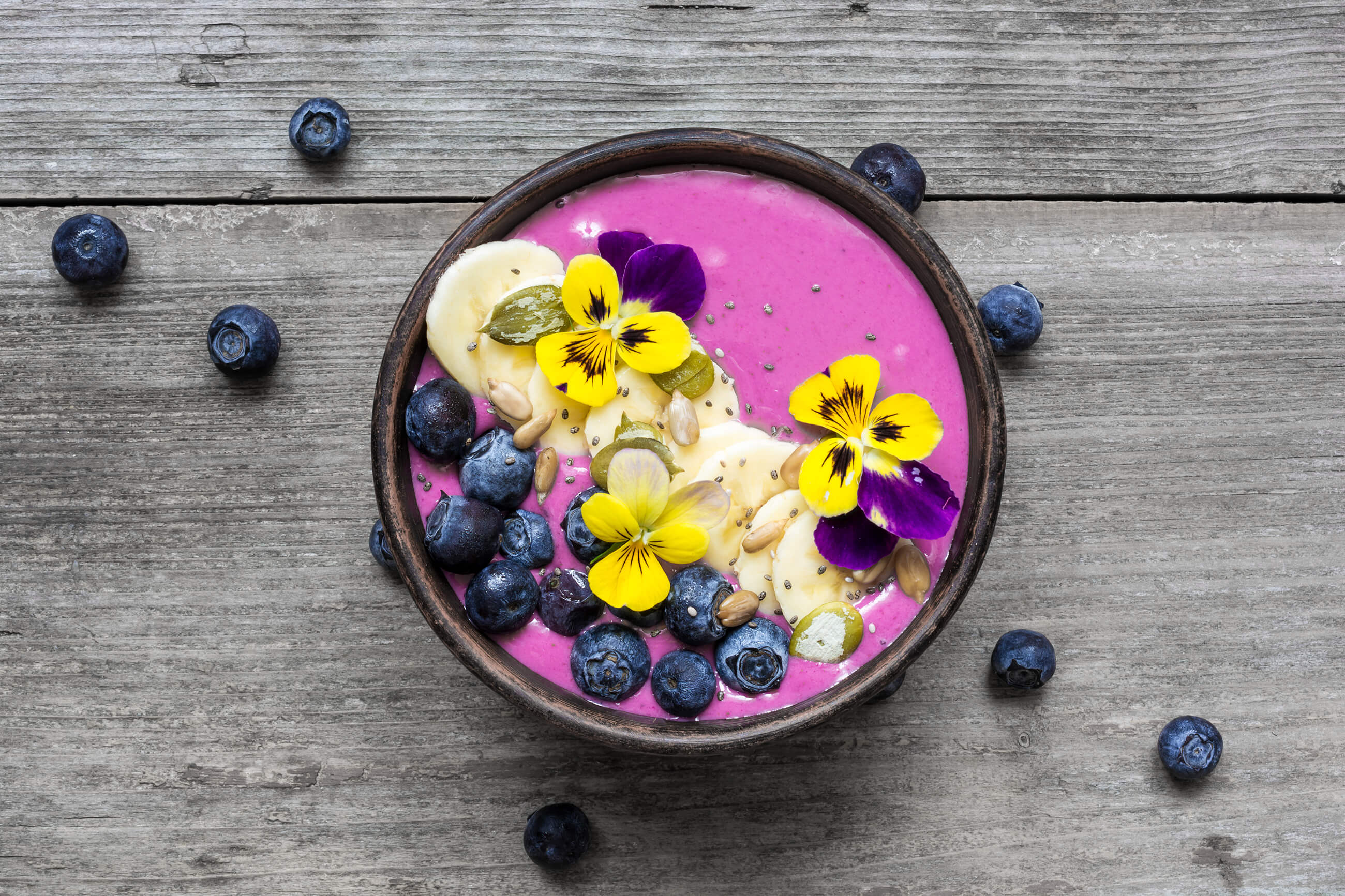 Acai Berry Benefits for Health
Found in the deep rain forests of South America, acai berries grow on acai palm trees that grow to more than 80 ft tall. But that didn't stop Amazonian tribal natives from harvesting the nutrient-rich fruit for hundreds of years as one of their main food sources.
That's not surprising, given their rich nutrient profile! Each acai berry is deep purple in color and about 1 inch in size. It's often called a sort of hybrid of a grape and blueberry. While the fruit may look juicy and plump, an acai berry contains only 10 percent fruit pulp around a large seed. Its color is key to uncovering its high antioxidant content.
Acai berry pigments that make up their stunning purple color contain natural plant chemicals called anthocyanins – a powerful antioxidant that fights harmful environmental stressors like pollution and toxins. It helps keep your cells functioning to protect you.
These antioxidants also work to lower your cholesterol levels and boost your heart health. The reason acai is touted as a superfood is because it's a powerful energizer. It contains healthy fatty acids, amino acids, and vitamins in just its fruit alone. Scientific findings strongly support the view of acai berry benefits for health.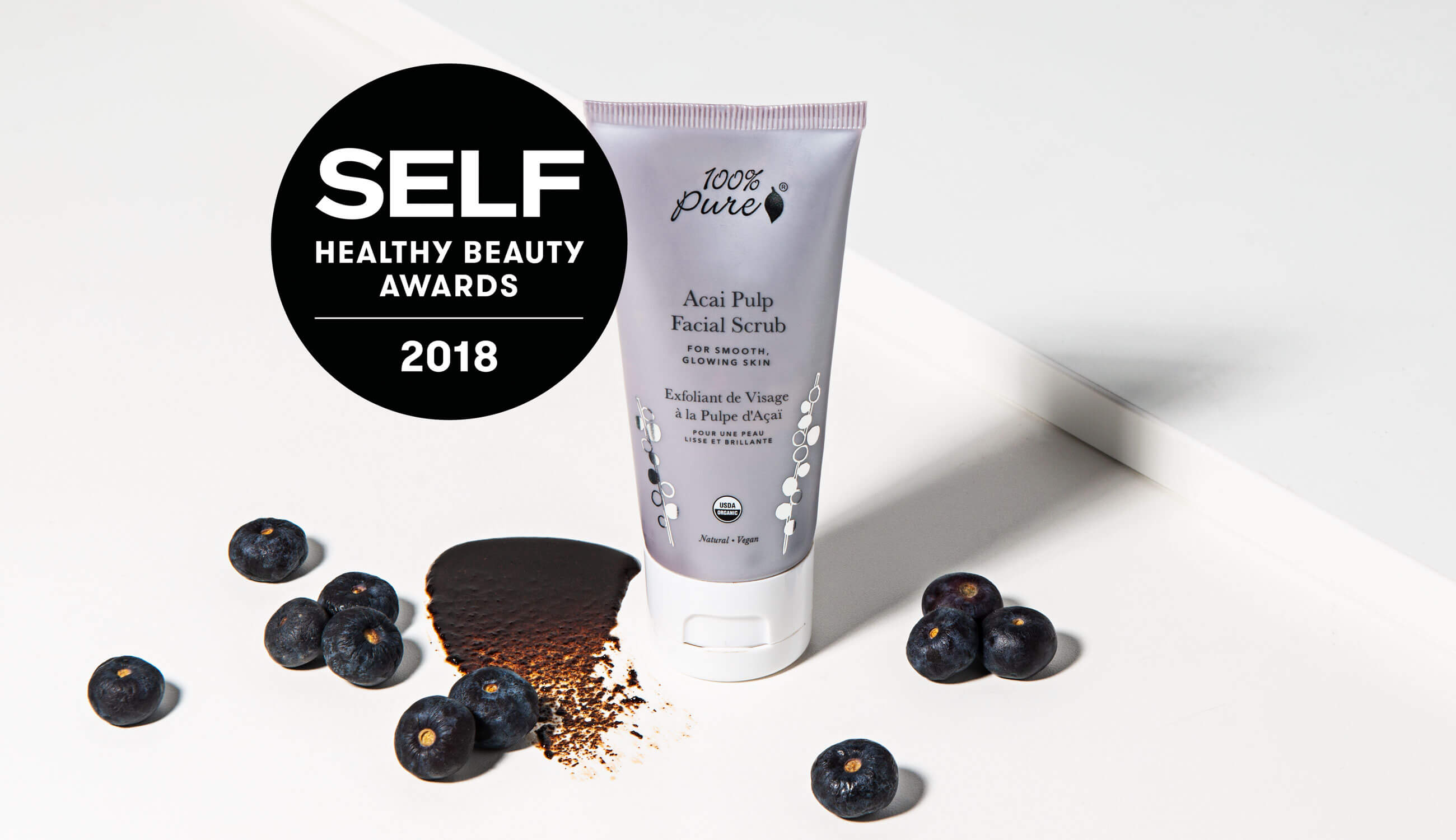 Acai Berry Benefits for Skin
If you're thinking about a food that's both rich in antioxidants and other vital nutrients, one thing should come quickly to your mind: wait, this could be amazing for my skin! Your instincts are absolutely right. We've talked about the luxe benefits vitamins can have for your skin and why you need antioxidants like EGCG in green tea for combatting signs of aging. That should be setting off sirens in your head - premium skin care ingredient alert!
Your skin is a battlefield, in which your cells are constantly fighting for you against environmental pollutants, toxins, radiation, stress, and bacteria. If your skin cells let these enemies get by, your body produces free radical cells. Those free radical cells wreak havoc on your precious cells, proteins, and even DNA (that's how cancer develops further down the line) if they rampage out of control.
That's where antioxidants come in. Antioxidants stop this damaging domino effect by neutralizing free radicals and restoring your body to a healthy balance. That's all the more reason to love acai berry benefits!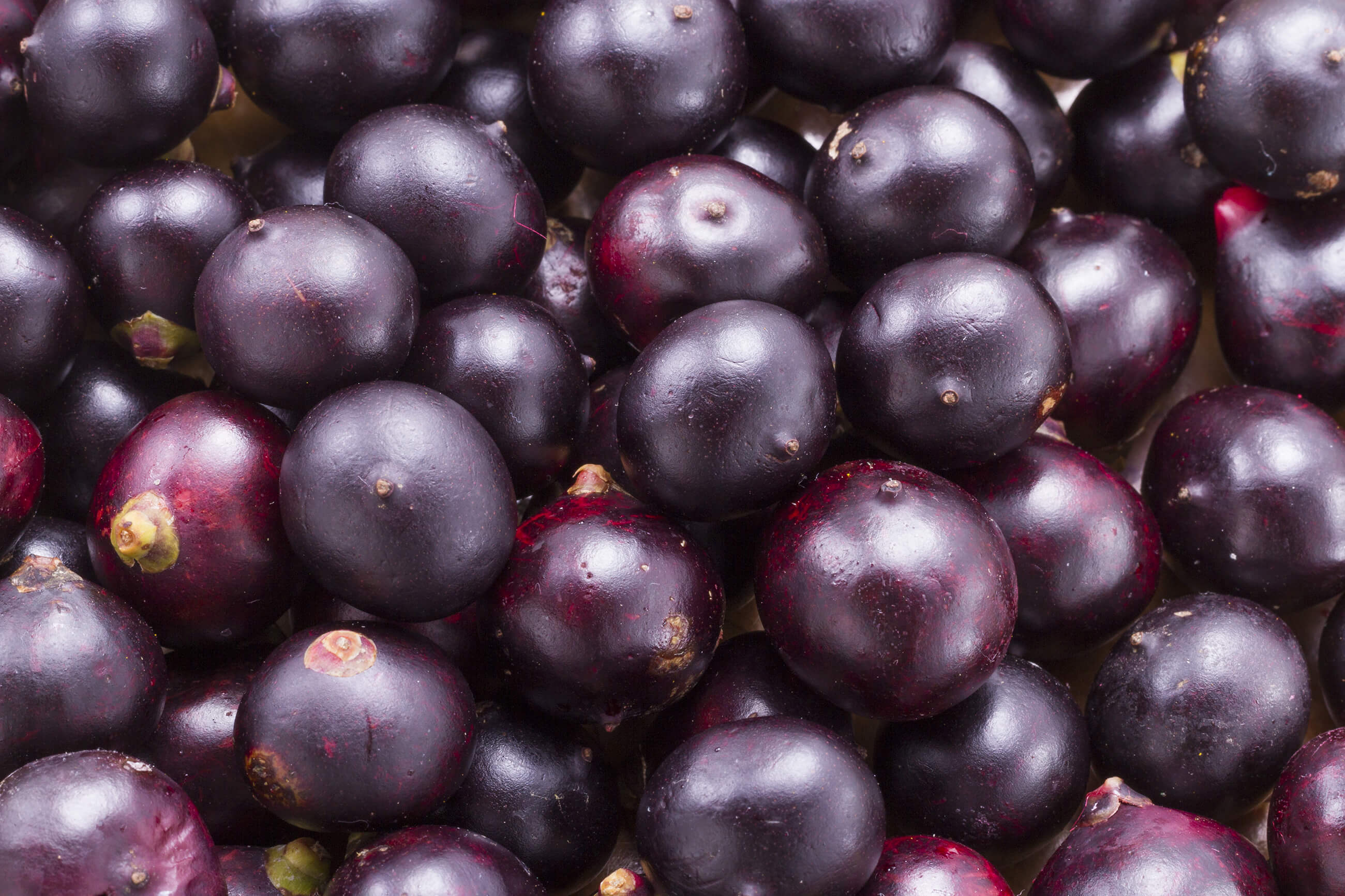 If that wasn't enough, acai berries also boast powerful anti-aging vitamin A to boost cell turnover. They also contain brightening vitamin C to rev up collagen production for that firm, glowing complexion as plump as an acai berry itself. That's the reason why we chose to infuse acai berry into our Fruit Pigmented® Tinted Moisturizer. Essential fatty acids like Omega 6 and 9 that smooth and soothe your complexion made acai pulp oil the perfect ingredient to add to our Fruit Pigmented® Healthy Foundation. But if you're looking for a natural beauty product that features acai berry centerstage, direct your attention to the Acai Pulp Facial Scrub.
PRO TIP: For full body skin brightening and rejuvenation, try a DIY acai berry body scrub! Start with 2-3 tbsp of pure acai powder (like this one), 2 cups turbinado sugar, and 1 cup carrier oil (we prefer coconut or sweet almond) in a bowl.
Before mixing, you have the option to liven up your DIY body scrub with some essential oil! For a bright scent that mimics the tartness of actual acai berries, add 8 drops of a citrus essential oil like blood orange or pink grapefruit. For sweeter notes, try vanilla EO instead.
After mixing, apply in a generous layer all over skin, before gently buffing away with warm water. Say ooh-la-la to smooth, bump-free skin!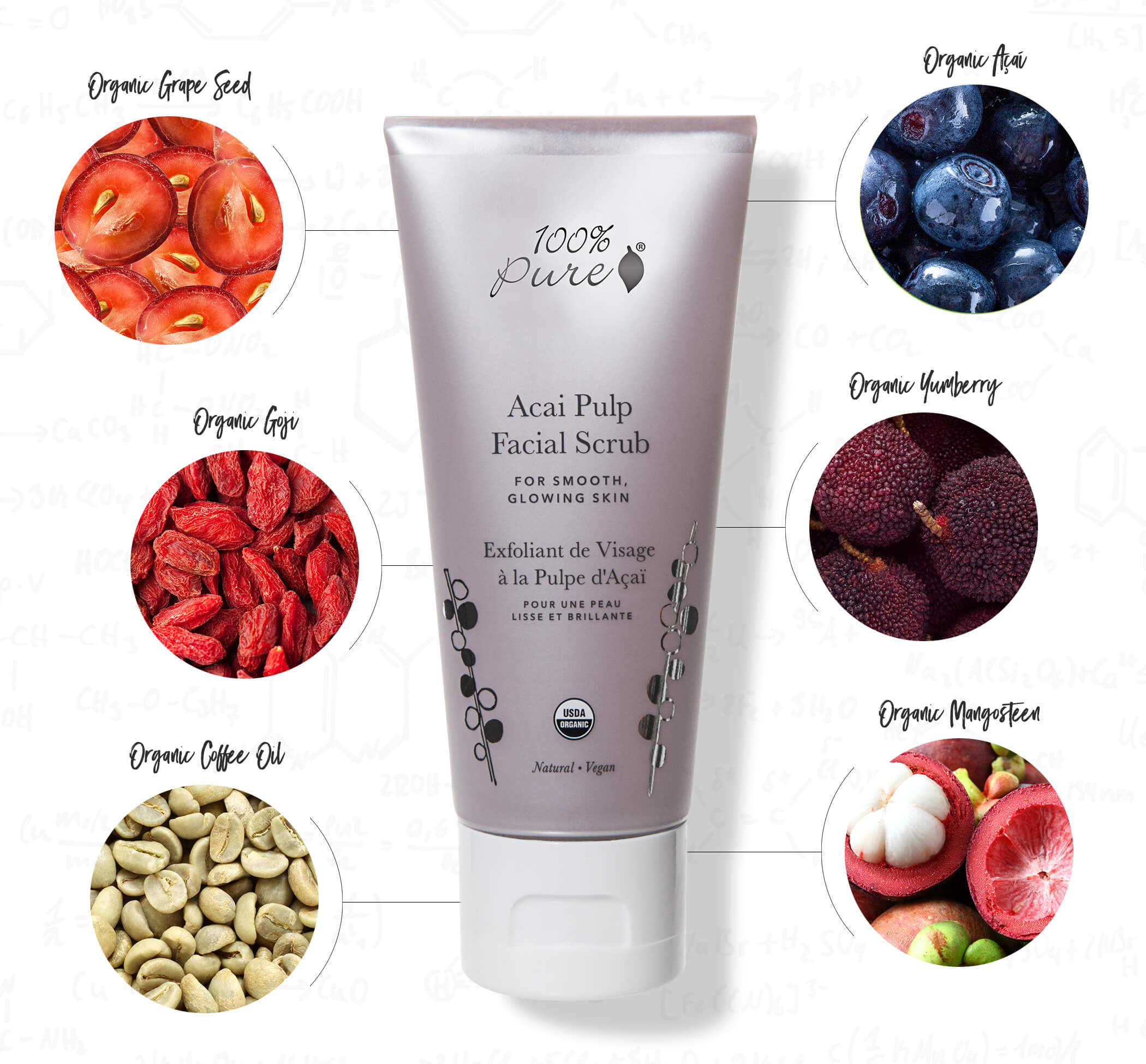 Acai Berry in Our Skin Care Products
If you haven't already checked out our guide on how natural vitamin-packed exfoliants can be a complete game changer for your skin care routine, we'll give you a brief recap on why you should start using one today. Exfoliating is a powerful way to get fresher, more radiant skin.
The tricky part is that you need a product that's potent enough to buff away dead skin while still gentle enough for even the most sensitive of skin types. That means an automatic no to skin-stripping chemicals and detergents found in most conventional exfoliants.
It also means saying no to environmentally damaging exfoliating beads in scrubs that can hurt more than help your skin. Even better would be an exfoliating product that does double duty by fortifying and brightening your skin with Mother Nature's most healthful ingredients.
The ideal exfoliating product with acai berry benefits does exist! Enter our intensive Acai Pulp Facial Scrub. Combining antioxidant-packed yumberries with heavenly acai berry, our potent scrub is truly superfruit heaven.
But the acai berry benefits don't stop there. The natural ingredients in our scrub don't compromise function, but rather enhance its exfoliating power. That's thanks to the fact that we use grape seed exfoliants rather than harsh synthetic ingredients. These natural exfoliants are gentle yet powerful enough to buff away bumps, flakes, and dead skin to reveal softer, brighter skin.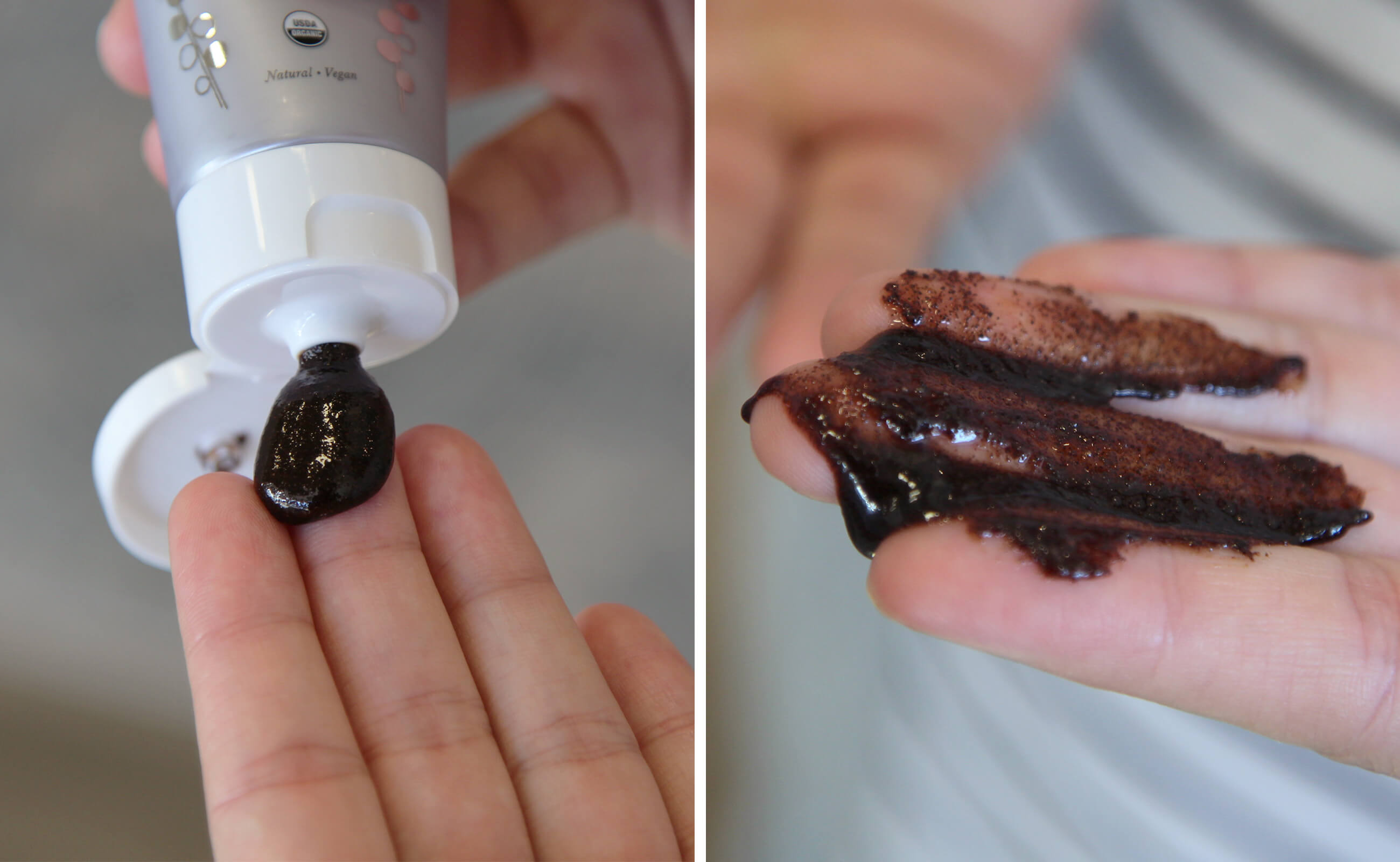 Do note that our facial scrub is very concentrated and nutrient-dense. So, when using it as a scrub, make sure to mix the formula with some water on your fingers before applying it to your wet skin. Massage gently in circular motions after using a cleanser.
If you want to enjoy acai berry benefits even further, you can leave the scrub on for 15 minutes as a power-packed face mask for a silky, soft glow. Make sure to read up on more do's and don'ts of exfoliating so you can reap all the benefits of your new luxe facial scrub.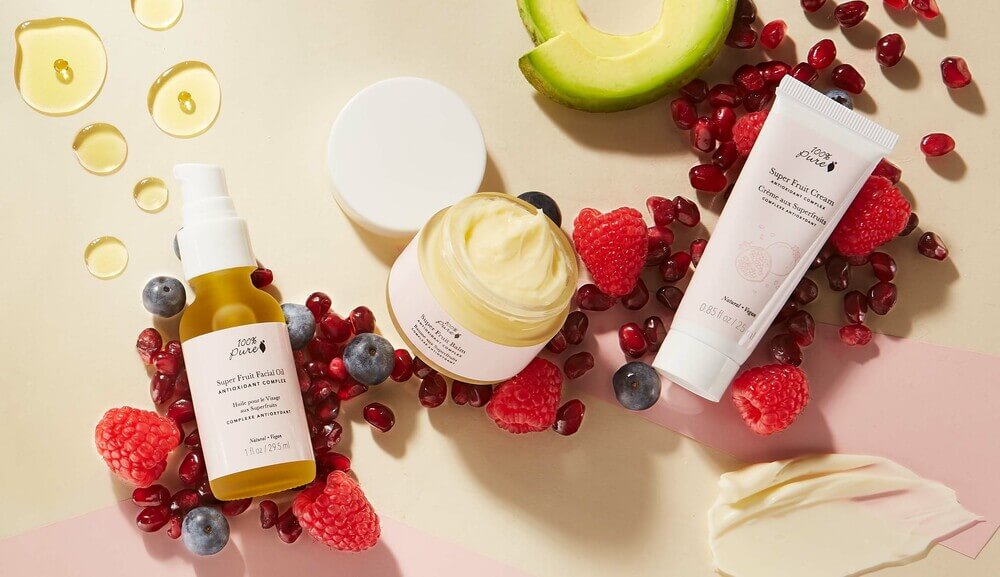 Acai In Our New Superfruit Collection
After you've exfoliated with our Acai Pulp Facial Scrub, remember to replenish your skin with moisture. We have the perfect way to accomplish that: our decadent Superfruit Collection, featuring acai berry benefits along with additional ultra-nourishing superfruits! The collection includes our Super Fruit Facial Oil, Super Fruit Cream, and Super Fruit Balm. All three of these products feature acai fruit oil, which is antioxidant-rich and promotes skin elasticity.
Our Super Fruit Facial Oil is a lightweight, silky oil with a luscious fruit-forward scent that provides instant moisture to dry skin. With the low comedogenic ratings of its ingredients, this formula should be suitable for any skin type. This facial oil provides essential antioxidants for daily defense against premature signs of aging caused by environmental stressors.
Next in the Superfruit Collection is our Super Fruit Cream, with a soft fruity-floral scent. This is a decadent moisturizer made with antioxidant-charged superfruit oils and extracts. This rich cream also contains olive oil and aloe juice to deeply nourish severely dry or environmentally depleted skin. Additional essential oils are featured for a gentle secondary scent, with a bonus of calming and anti-inflammatory properties.
The last gem in our Superfruit Collection is our Super Fruit Balm. It's a deliciously rich skin salve made with protective and nourishing superfruit oils. Ideal for super dry skin, this balm also features a light fruit-forward scent with floral base notes. Packed with antioxidant rich-acai and other superfruits, shea butter, and avocado oil, this nutrient-rich balm deeply quenches parched skin.
We carefully hand-select products based on strict purity standards, and only recommend products we feel meet this criteria. 100% PURE™ may earn a small commission for products purchased through affiliate links.
The information in this article is for educational use, and not intended to substitute professional medical advice, diagnosis, or treatment and should not be used as such.
Sign up to our email newsletter for more blog updates and exclusive discounts.
< Older Post | Newer Post >