Choose the Best Facial Oil For Your Skin Type
The best facial oils for dry, normal, combo, and oily skin
Posted on December 14, 2021
Written by: 100% PURE ®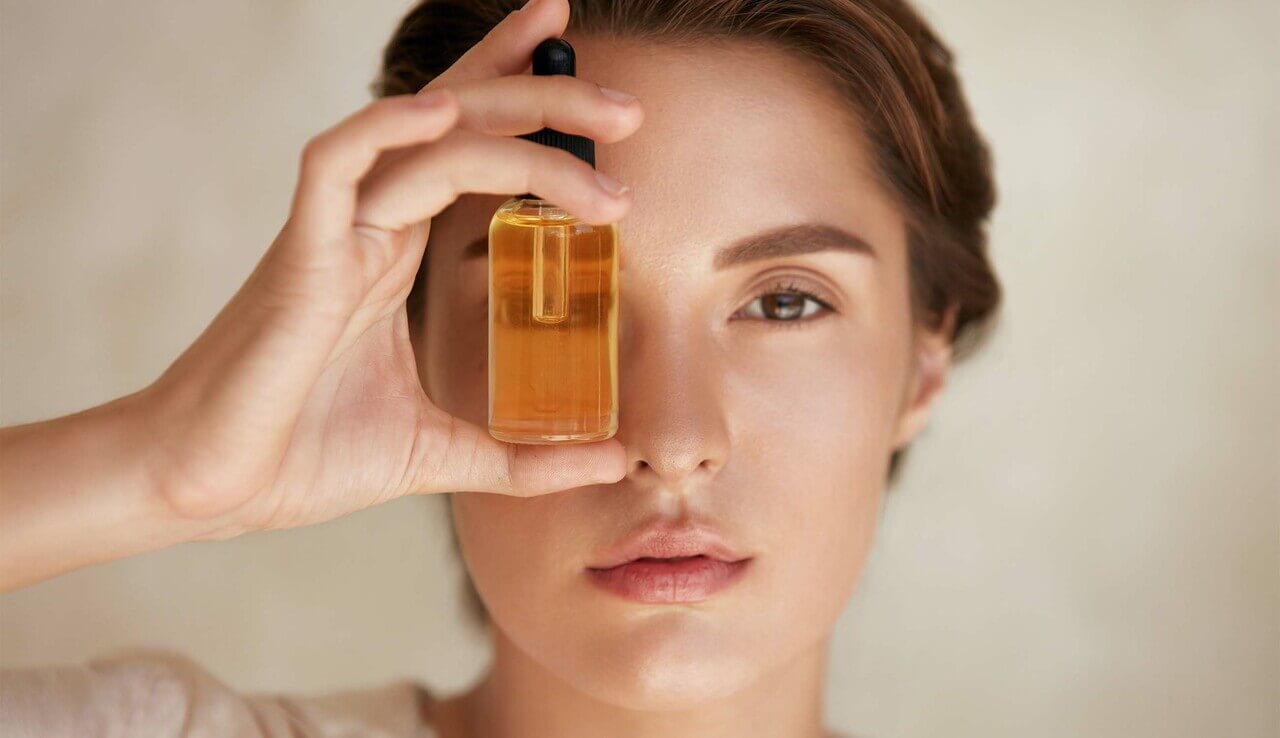 Ever wanted to try a face oil, but weren't sure where to start? Especially for those of us with combination skin or oily skin types, a facial oil can seem off-putting or intimidating.
But beyond extra hydration, oils hold a lot of healing and anti-aging benefits that can be crucial for every skin type. The best facial oil for every skin type is out there, and it's closer than we might think. Let's explore the best 100% PURE facial oils for every skin type and all the benefits of each one.
Facial Oil Benefits By Skin Type
Love having healthy, glowing skin? Then regardless of your skin type, a facial oil is for you. Facial oils contain nutrients that help preserve skin's suppleness and glow. Because many of the best facial oil blends contain components that are rich in antioxidants, facial oils can help maintain the youthfulness of the skin. Skin can often be damaged by free radicals and environmental factors.
Unlike the myth that facial oils can lead to greasy skin, the best facial oil can keep skin balanced. It also works in harmony with our other skin care products for a more effective facial care routine.
Facial oils can help to fortify the skin's moisture barrier, keeping more hydration in and pushing pollutants out. Regular use of a facial oil can help with acne management, improved skin texture, better skin balance, and a more even tone. Here are some of the perks of the best facial oils by skin type.
DRY SKIN
Of all the skin types, dry skin can perhaps stand to benefit from facial oils the most. Because of the nature of facial oils, they help to lock moisture in. This is especially important for dry skin types because they help to keep the skin hydrated and balanced, rather than quickly drying out.
Dry skin often feels tight and uncomfortable, and a facial oil can help to combat that. The best facial oil can coat the outermost layer of the skin for added lubrication, moisture support, and more comfort.
OILY SKIN
We know what you're thinking – oily skin and face oils don't mix, right? They actually do! Oily skin is dealing with a bit of imbalance, just like dry skin.
Our skin's own sebum can be stuck on the surface and sometimes, oily skin can be caused by a lack of moisture penetrating the skin. When the best facial oil that's nutrient-rich penetrates the skin, it can help neutralize our own oil production. That helps us achieve better-balanced skin behavior.
NORMAL SKIN
Just because normal skin has fewer challenges with hydration, doesn't mean there aren't benefits to using a facial oil. Many of the best facial oils are packed with nutrients and antioxidants. That can help with anti-aging for the skin, as well as a more even skin tone and radiant glow. Considering the different seasonal needs of the skin, a facial oil can help with extra hydration in the cooler months and a clearer complexion in the summer.
COMBO SKIN
Similar to oily skin, a facial oil for combination skin can help balance the skin's behavior. It can help hydrate the dry areas of the skin and balance the oily zones for more even skin year-round.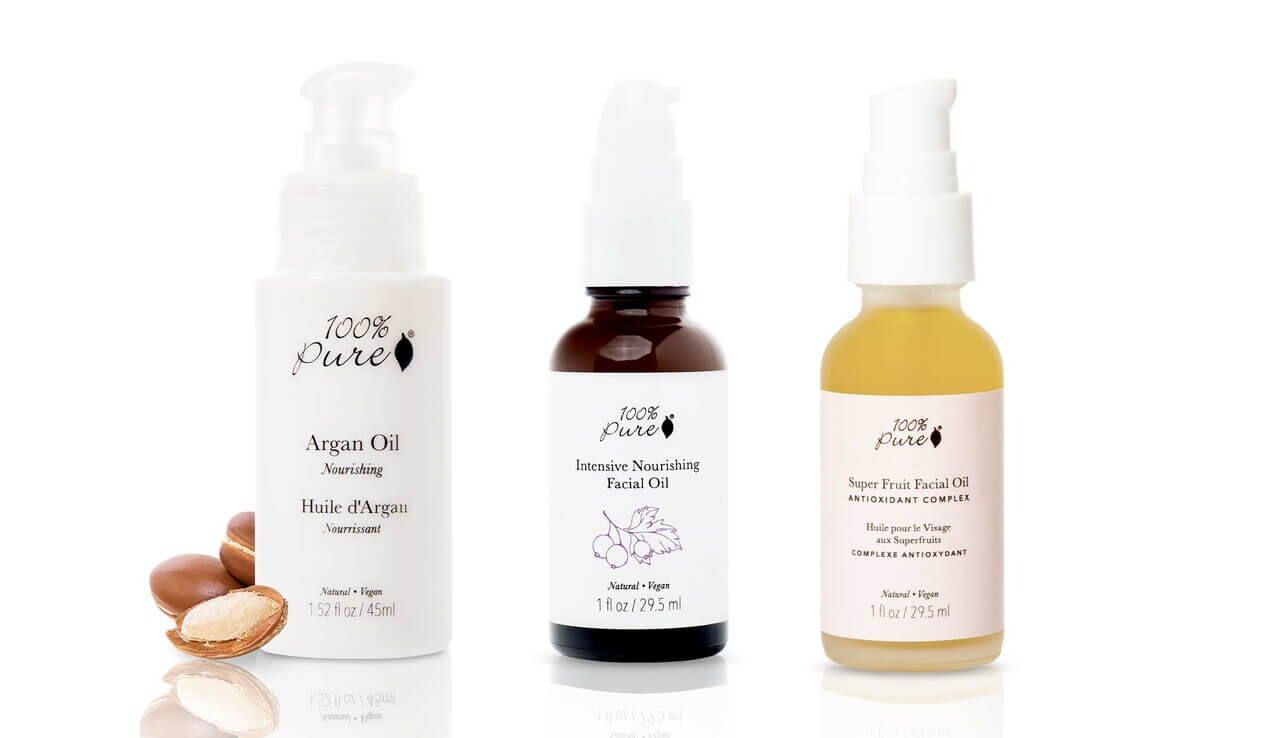 The Best Facial Oil for Each Skin Type
DRY: Super Fruit Facial Oil
Like sunshine in a bottle, this dry skin-friendly facial oil packs a nutritious punch. One of the best sources of antioxidant vitamin E, this superfruit oil has a sunflower seed oil base that's lightweight and gentle.
Antioxidant and anti-aging fruit components from pomegranate, acai, goji, raspberry, and more deliver a richly conditioning experience, perfect for adding glow and bounce to dry skin types.
OILY: Intensive Nourishing Facial Oil
We like to think of this facial oil as a superhero for the skin. Featuring a beautiful blend of lightweight grapeseed oil, antioxidant vitamin E, and calming florals and herbs, this facial oil truly feeds the skin.
What's great about this oil for oily skin, in particular, is its grapeseed oil base. Similar in texture and weight to skin's sebum, this oil sinks in easily and hydrates the skin quickly.
Our Intensive Nourishing Facial Oil comes with a sweet surprise – a boost of fruity blackcurrant oil for anti-aging. Calming and balancing lavender and rosemary provide the skin with a neutral but hydrated finish and improved oil balance over time.
Newsletter
Subscribe
for more blog updates and exclusive discounts
NORMAL: Rosehip Oil / Multi-Vitamin PM Oil
A potent skin oil can transform the skin, preserving the suppleness and bounce that our most youthful skin possesses, while also adding a subtle radiance and healthy glow. This oil has practically everything skin needs to thrive, with vitamin C for collagen support, retinol for smoothing the skin, and a lovely, nourishing jojoba base.
A great oil for any skin type, the rosemary and citrus oils in this overnight blend give us the sleeping beauty treatment, allowing us to wake up balanced and glowing after every application.
While this oil is great for evening applications, a lightweight oil without retinol is best for daytime. For sunny side applications, we recommend our Rosehip Facial Oil. Great for layering over skin care or under makeup, this pure rosehip oil soothes and calms the skin, helping to heal scarring and keep the skin balanced.
COMBO: Argan Oil
Treat the skin to a luxurious experience with this pure organic argan oil formula. Argan oil is light on the skin, packed with vitamin E, and helps with softening the skin. Healing against sun damage, argan oil helps to improve skin texture. It also fights skin conditions like eczema, rosacea, and psoriasis.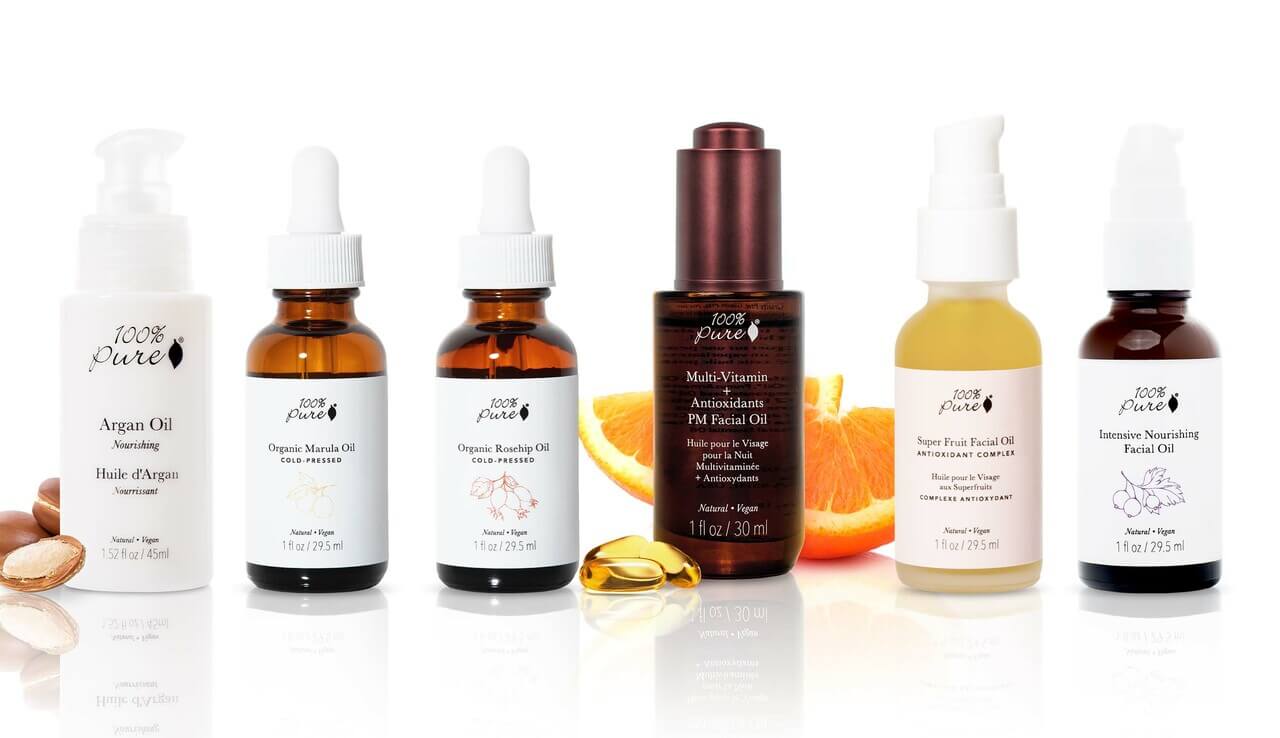 Your Guide to 100% PURE Facial Oils
Skin types: normal to dry

Benefits: concentrated with antioxidants to counteract free radical damage
Skin types: all skin types, mature or aging

Benefits: rich in linoleic acid to moisturize and target signs of aging
Skin types: all skin types, especially normal to dry

Benefits: rich in vitamins and omega fatty acids for healthy skin and hair
Intensive Nourishing Facial Oil
Skin types: all skin types, even oily or acne-prone

Benefits: balancing, moisturizing, and clarifying
Multi-Vitamin + Antioxidants PM Facial Oil
Skin types: all skin types

Benefits: highly concentrated with reparative vitamins for UV damage, scarring, and signs of aging
Skin types: all skin types

Benefits: non-greasy, rich in beneficial nutrients for softer skin
We hope that with this collection of tips and benefits, your skin will be glowing, soft, and supple in no time! It's a bonus if we were able to give you peace of mind about any myths preventing you from using facial oils. Whether you're dealing with dry, oily, normal, or combination skin, using a facial oil is your hot ticket to a glowing complexion. Your skin will thank you daily!
We carefully hand-select products based on strict purity standards, and only recommend products we feel meet this criteria. 100% PURE™ may earn a small commission for products purchased through affiliate links.
The information in this article is for educational use, and not intended to substitute professional medical advice, diagnosis, or treatment and should not be used as such.
Sign up to our email newsletter for more blog updates and exclusive discounts.
< Older Post | Newer Post >