How to Tell If You Have Oily Skin
Take the quiz – and see the best skin care routine for oily skin
Posted on November 19, 2021
Written by: 100% PURE ®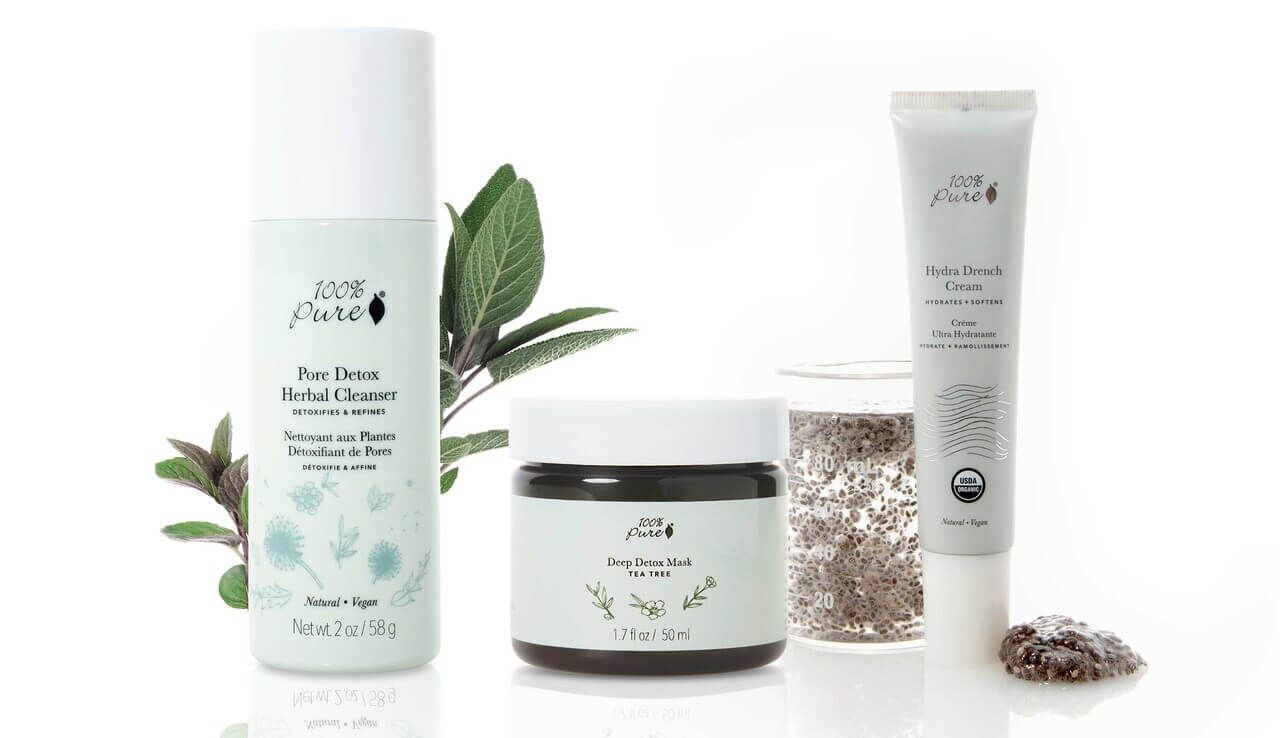 When you have oily skin, it's pretty much exactly how it sounds: an overabundance of oil in the skin, often resulting in a shiny or oily appearance. But sometimes, skin care's not so straightforward, and you might've even wondered before: do I have oily skin?
The "oil" in oily skin is actually sebum, which is created in the sebaceous glands. We all need it in our skin. Sebum is rich in lipids, or fatty molecules. They keep the skin hydrated and healthy. However, sebum production in the skin isn't always perfect. For many of us, this translates as too much.
Oily skin is often hereditary. But in some cases, oily skin is the result of irregular hormone levels, whether it's from puberty, menstrual cycles, or pregnancy. It's also not unusual for women to experience a change in skin type as they enter their 30s.
But before we start to determine whether you have oily skin, let's talk a little more about what oily skin – and oily skin care – looks like.
Common Behaviors of Oily Skin
Sometimes in the media, we hear oily skin talked about in a very negative way, almost as though it's a "bad" skin type. And let's be clear: there is no such thing as a "bad" skin type. In fact, it helps to understand that skin types are not always a clear-cut, set-in-stone kind of thing.
Skin types are actually a pretty new concept. They were created so that brands can make recommendations to customers that are more tailored to them. That's why some of us struggle to define our exact skin type. It's also why we might even find that our skin type may change over time.
That being said, there is no "bad" skin type. Each one has its own benefits and needs. So, what are the benefits and needs of oily skin?
Perhaps most of all, oily skin tends to have a bit more resistance to wrinkles. Researchers have found that in areas where sebaceous glands produce more oil, the skin is more lubricated and wrinkles tend to be shorter and shallower. On the other hand, those who suffer from dry skin tend to see more wrinkles as they age, especially when they don't regularly moisturize.
That being said, oily skin still requires proper care. When oily skin goes uncared for, issues may arise, such as a shiny appearance to the skin, the need to blot your skin in the afternoon, and a more pronounced texture in the complexion. When oily skin is not properly cared for, it can also lead to the clogging of pores, which can result in breakouts or acne.
Luckily, we've come pretty far in learning how to care for oily skin, and there are some key tricks to keeping it happy.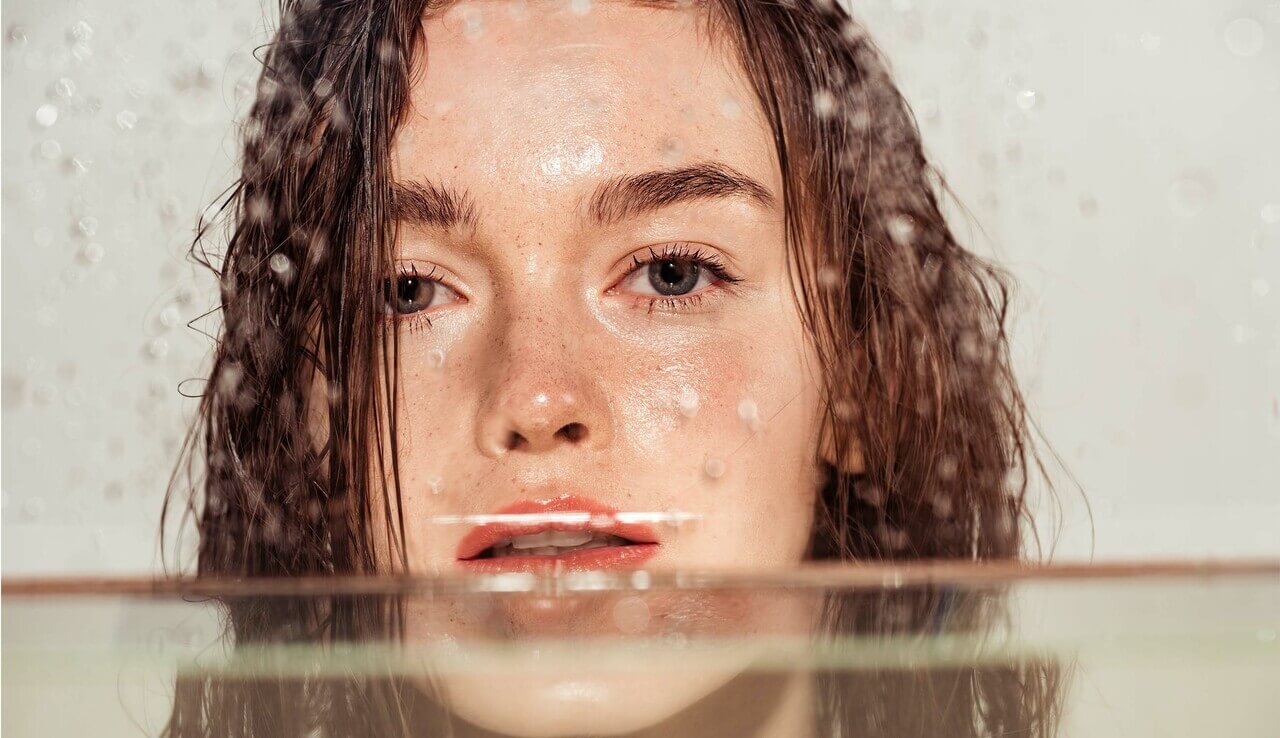 The Best Skin Care Routine for Oily Skin
For starters, gentle exfoliation can work wonders for the pores. It helps to clear them of excess sebum for less clogging and fewer breakouts. There are two types of exfoliators for the skin: chemical, which involves the use of AHAs and BHAs that dissolve sebum, and physical, which uses fine grains to gently cleanse the pores.
Either type of exfoliant can be gentle and effective in a skin care routine for oily skin. We use both types in our products. For instance, Pore Detox Herbal Cleanser is a physical exfoliant that comes in a powder form that activates with water. Meanwhile, our Tea Tree Deep Detox Mask uses not only green clay but also salicylic acid, which is a type of BHA that's known for its pore-cleansing properties.
Finally, let's address an old myth in skin care: that if you have oily skin, you don't need to moisturize. This couldn't be further from the truth! All skin types can benefit from moisture.
Moreover, exfoliants can have a drying effect on the skin, and a moisturizer is needed to balance it out. In your evening skin care routine for oily skin, don't be afraid to lay on the hydration with a rich nighttime moisturizer, like our Hydra Drench Cream.
Newsletter
Subscribe
for more blog updates and exclusive discounts
Quiz: Do I Have Oily Skin?
Now let's answer the question: do I have oily skin? As we discussed above, skin types aren't always a one-size-fits-all type of system. However, by answering the questions below, you can develop a more informed understanding of what your skin needs.
#1: In the afternoon, your skin could use:
Some powder or blotting powder.

Moisturizer!

A spritz of face mist.

Face mist on the cheeks and blotting on the T-zone.
#2: How would you describe the appearance of your pores?
Large and visible.

Small, not easily noticeable.

Medium-sized.

Larger pores in the T-zone.
#3: When your skin gets shiny, how would you describe it?
It's like a mirror.

Dull everywhere.

It's a faint glisten.

Fairly shiny, but mostly in the T-zone.
#4: When you wash your face, your skin is:
Clean for now, but super oily later.

Itchy and dry.

Squeaky clean.

T-zone looks fine, cheeks are dry and patchy.
#5: When does your skin look red?
All the time.

Whenever I use new products.

When I break out.

Sometimes, but usually just around the cheeks.
Mostly A's: You Have Oily Skin
Your sebaceous glands may be a little more active, and you may experience frequent breakouts. For more info on building a skin care routine for oily skin, check out our article here.
Mostly B's: Dry Skin
You rarely experience breakouts or oiliness in the skin, but it's more likely that you suffer from cracking and roughness, especially in the winter. In this article, we give a guide on managing dry skin in the winter.
Mostly C's: Normal Skin
Chances are, your skin is rarely on the oily or dry side, and breakouts might be uncommon. Still, your skin requires regular maintenance, which you can read more about here.
Mostly A's and B's: Combination Skin
It's likely that you experience more oiliness in the T-zone, and dryness around the cheeks. You might also experience more oiliness in the hotter months, and more dryness during the winter. You can learn more about taking care of combination skin here.
We carefully hand-select products based on strict purity standards, and only recommend products we feel meet this criteria. 100% PURE™ may earn a small commission for products purchased through affiliate links.
The information in this article is for educational use, and not intended to substitute professional medical advice, diagnosis, or treatment and should not be used as such.
Sign up to our email newsletter for more blog updates and exclusive discounts.
< Older Post | Newer Post >