Here's How to Manage Dry Skin in Winter
How you should (and shouldn't) treat dry skin, plus effective winter skin treatments
Posted on November 19, 2020
Written by: 100% PURE ®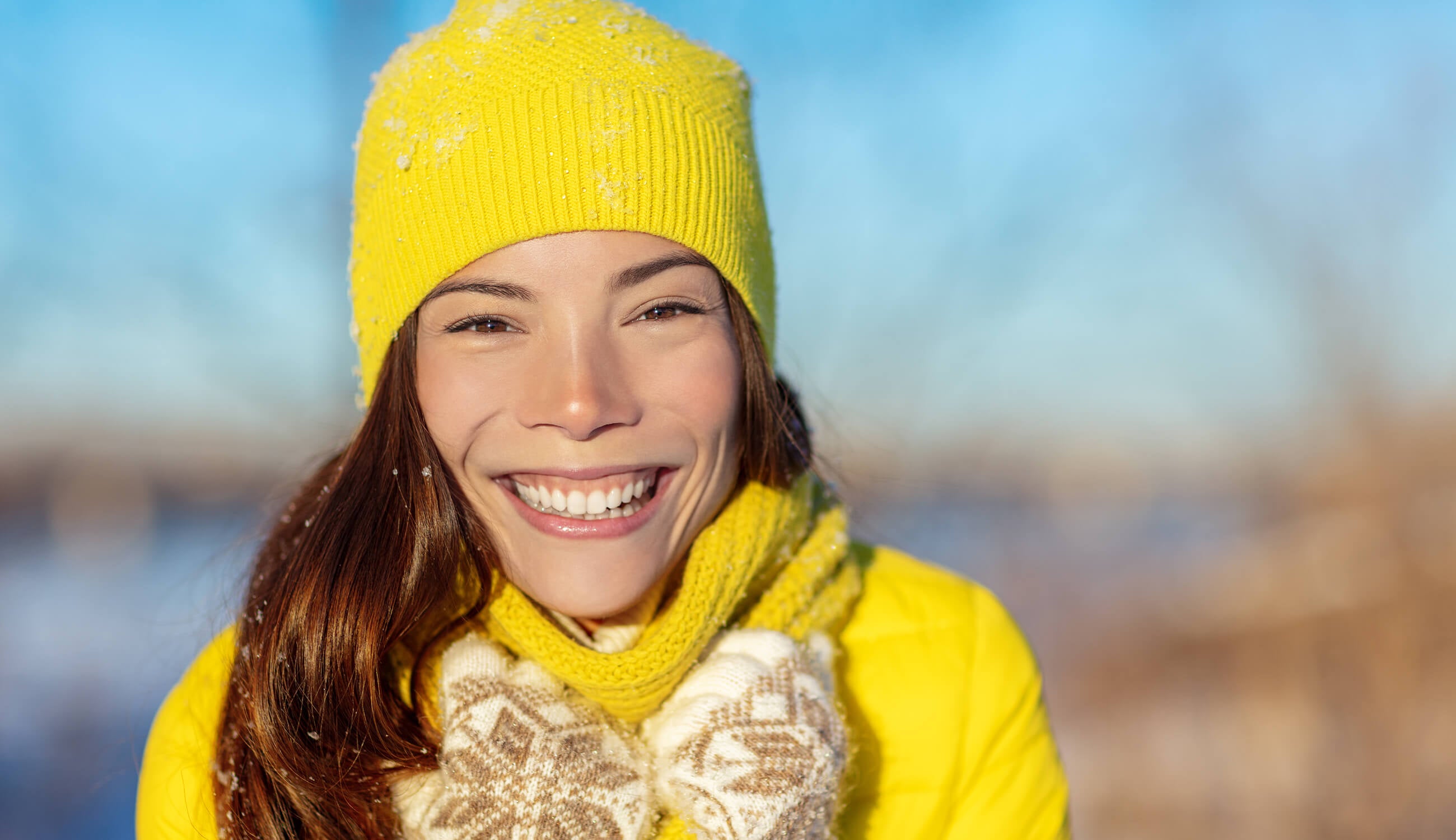 Farewell, fall – hello, winter! 'Tis the season of cracked hands, chapped lips, and itchy legs upon the wintery horizon. Just as we set our clocks back for the time change, we should also reset our skin care routine for the new season. Have no fear – swapping from fall to winter is actually an easy transition!
The official start of winter gives us the opportunity to swap out our lightweight products, and replace them with more moisturizing options that a colder season requires. Without further ado, it's time to winterize our skin!
What Happens to Skin in Winter?
As the weather changes and trees become bare, our skin may react adversely to the new temperatures. While autumn brings lower levels of humidity, winter brings ultra-stripping wind chill without much humidity at all. This shift makes for dry, stale air and even drier skin. Add indoor heaters to the equation and skin falls quickly into the blustery realm of sensitivity, dryness, and irritation.
The good news is that winter dry skin is avoidable, as long as you're proactive about upgrading to ultra-hydrating and moisturizing ingredients. Let's help you target the best essential skin care rituals for winter.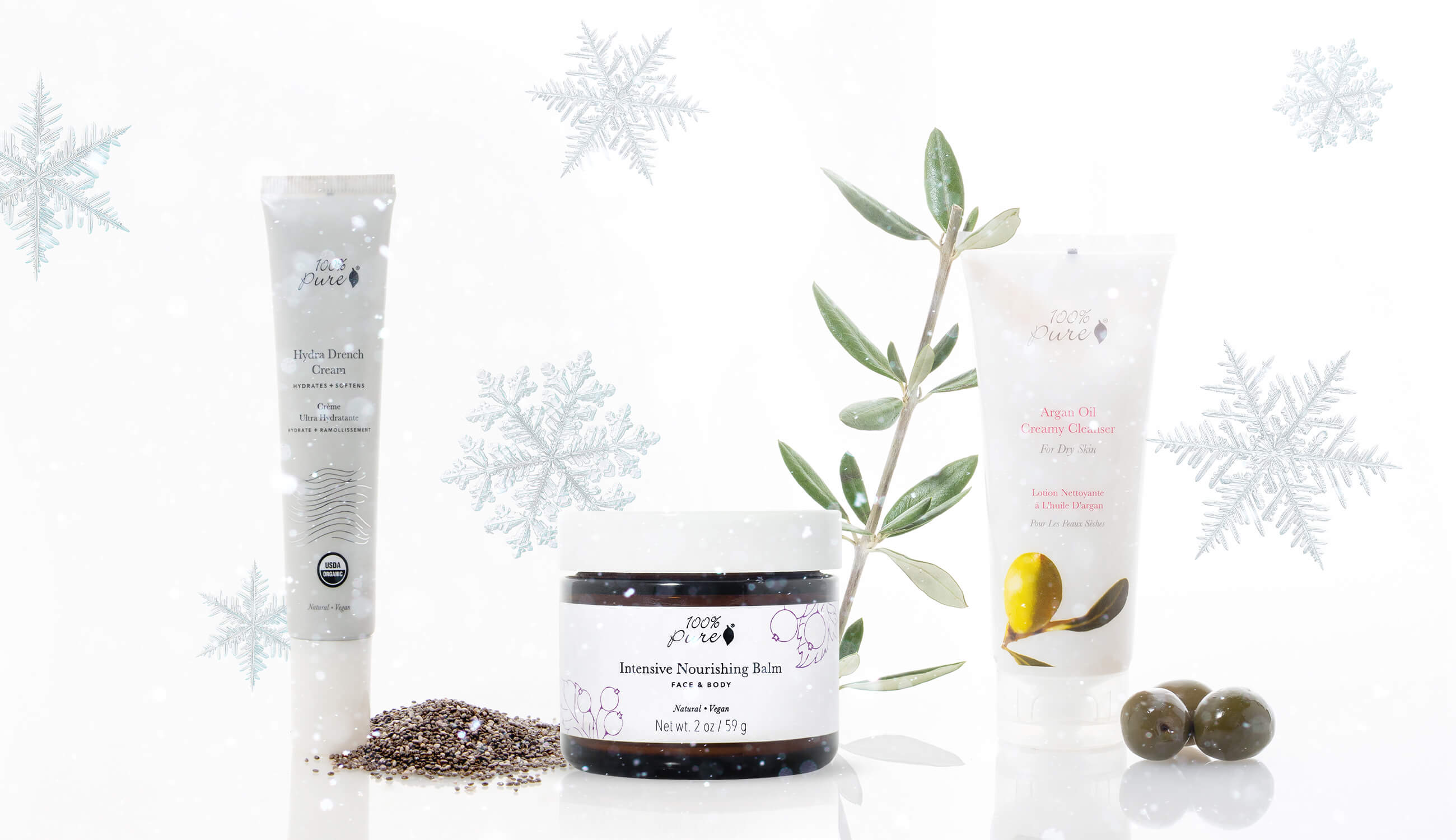 How Can You Reduce Dry Skin in Winter?
Our best skin care advice this winter is to play it smart with an effective layering strategy. Instead of slathering on moisturizer and calling it a day, you'll want to curate your routine with ingredients that will moisturize, hydrate, and balance your skin from top to bottom.
To take your skin from dry to dewy, we've crafted a routine suitable for most skin types. Check it out below!
Step 1: Argan Oil Creamy Cleanser
Massage this luxe oil-based cleanser into your skin to melt away makeup and sunblock. Contrary to popular belief, cleansing isn't designed to strip your skin of essential moisture. This creamy gem moisturizes with organic argan oil, skin-renewing vitamins, and antioxidant-rich açai. It's also a great secret weapon for softening and brightening aging skin.
Step 2: Restorative Sea Culture Serum
All hail our best serum for winter skin blues! Hyaluronic acid combines with beneficial sea nutrients, chia seed gel and algin to deeply hydrate a more plump, glowing complexion. The seaweed extracts in this gel serum have been fermented for extra potency to help detoxify skin – and chase away aging skin cells. An essential oil blend of sage, cedarwood, and lavender soothes irritation from excessive dryness.
Step 3: Restorative Sea Culture Créme
Frigid temps and harsh winds can cause water to rapidly evaporate from our parched skin cells. Seaweed polysaccharides and red algae in this luxe face cream lock in hydration for supple skin. Add rich sea minerals, antioxidants, and amino acids to the mix for a plumped up complexion.
Alternate: Hydra Drench Cream
A blend of chia gel, coconut oil, and shea butter deliver a lightweight, fast-absorbing lotion-gel texture. Infused with hyaluronic acid and rose water, this hydrating cream is ideal for minimizing redness and dry skin in winter. If you have oily skin, this formula is all that you'll need!
Alternate: Intensive Nourishing Balm
If you have drier patches of skin, this face balm is the perfect spot treatment for layering over a moisturizer. Not only can it add moisture, it will also soothe itching or inflammation thanks to calming lavender oil. It's also a great body treatment for those dry patches on our knees, elbows, feet, etc.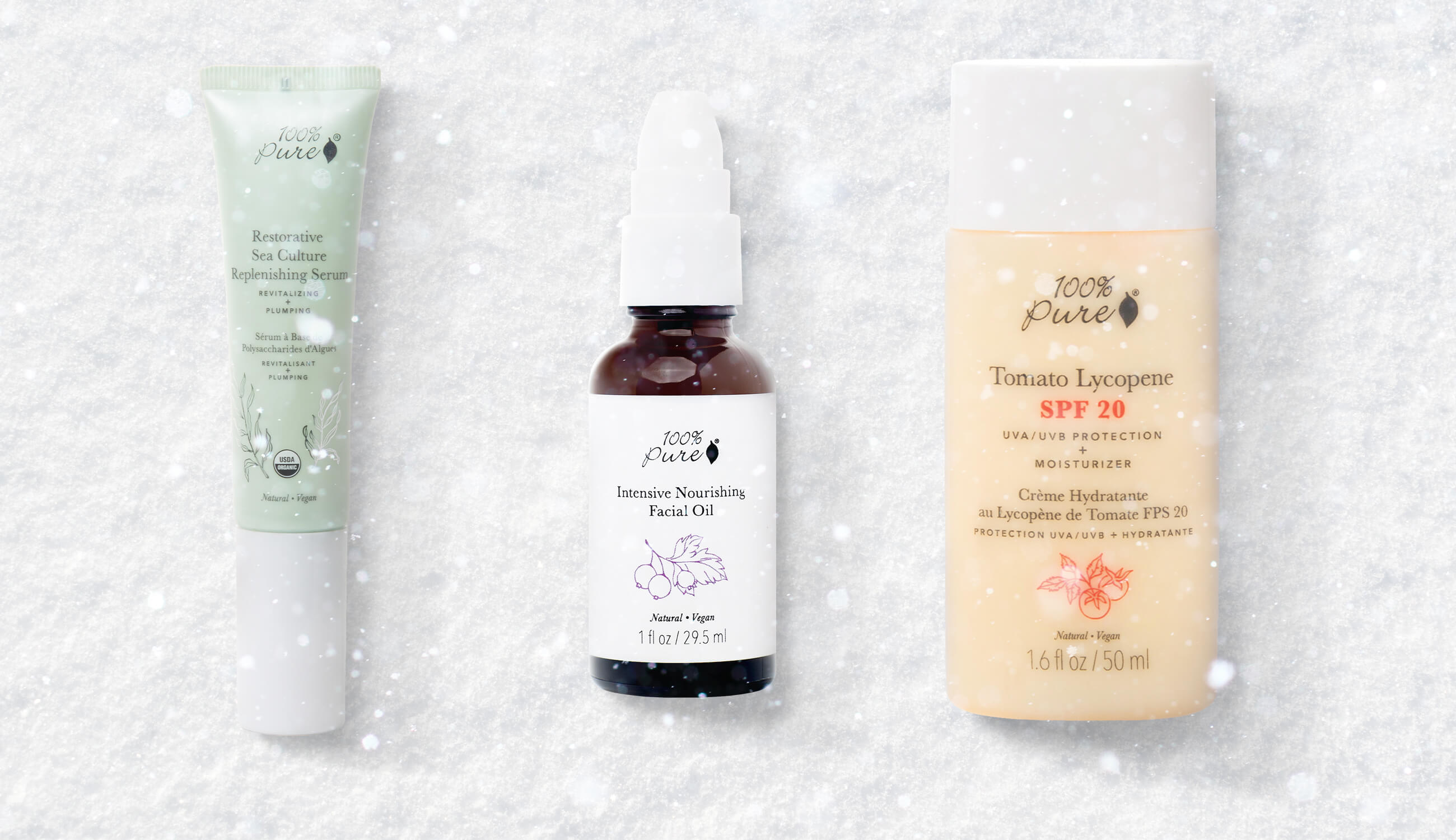 Step 4: Intensive Nourishing Facial Oil
If your skin is still not satisfied with moisture and hydration, it's time to call in the reinforcements: facial oil! If you're concerned that face oils may feel too heavy, check those fears at the door. Our facial oil is fortified with non-comedogenic grapeseed and blackcurrant oils to restore and replenish dry skin. Its lightweight formula makes it perfect for daytime use, for just about any skin type. Pat this liquid gold over your moisturizer to lock moisture in!
Step 5: Tomato Lycopene Moisturizer SPF 20
Proper sun protection is a yearlong deal – even in the winter! If you're getting light exposure to it, a natural sunscreen containing tomato lycopene – a protective antioxidant found in tomatoes – is a great choice. This moisturizer also contains olive squalane, aloe, and green tea to bring benefits of toning and soothing hydration.
Alternate: Green Tea SPF 30
Has summer left some uninvited guests on your skin in the form of dark spots or sun damage? Our green tea pairs perfectly with SPF, to create a complexion treatment for sun-damaged skin. Add zinc oxide and vitamin E and your skin will be more than protected from harmful UV rays. Aloe juice replenishes dehydrated skin and the addition of rosehip seed oil brings a boost of vitamin C to the mix.
PRO-TIP: Don't wait until your skin starts to feel tight before applying moisturizer. If skin feels fine, start with a light gel-based cream like Hydra Drench before layering on heavier oil-based products as it grows colder out and humidity drops.
Tips to Avoid Dry Skin in Winter
With this winter skin care routine under your belt, parched skin will be a breeze to conquer. But for a foolproof regimen, we've rounded up some winter don'ts to keep dry skin at bay.
#1: Avoid stronger active ingredients
Sometimes, less is more, and winter is a great time to hold back from using stronger actives as opposed to the ones in your summer skin care routine. Since dry skin in winter tends to be a minefield, using some of the actives you could get away with in the summer may feel a bit more harsh. In particular, avoid overusing retinoids and alpha hydroxy acids, which can increase your risk for redness and flaking if you already have dry skin.
#2: Don't use peels too often
Peels are like magic erasers: skin texture and tone immediately look marvelous while fine lines have all but disappeared. But if you have sensitive skin or are dealing with dry winter skin, using peels may exacerbate the problem. Using peels frequently can lead to increased redness, sensitivity, inflammation, and burning.
#3: Avoid heavy exfoliation
Exfoliating during the winter is important to remove dead skin cells and increase the potential benefits of your products – but beware of overdoing it! If you exfoliate too often you can disrupt your skin's natural pH, and could be even more prone to dry, dehydrated skin.
#4: Apply products to damp skin
DO leave freshly-washed skin slightly damp before moisturizing. If you apply moisturizer to dry skin, you'll absorb less of it – patting skin dry and applying within a few minutes is best. Applying moisturizer post shower, cleanser, or toner ensures that the water or product on your face is locked in, and better able to penetrate your skin barrier.
#5: Avoid layering too many products
Layering is great for clothes during the winter, but try to refrain from layering too many products on your face. Too much of a good thing (read: over-moisturizing) can wreak havoc on your skin's pH. It can also disrupt natural oil production resulting in increased dryness, irritation, or worsened breakouts.
Now that you've learned how to winterize your skin care regimen, you'll be well on your way to happy, hydrated skin. Use every step, or pick the products that you're itching to try the most to help your skin conquer the less likable facets of winter.
We carefully hand-select products based on strict purity standards, and only recommend products we feel meet this criteria. 100% PURE™ may earn a small commission for products purchased through affiliate links.
The information in this article is for educational use, and not intended to substitute professional medical advice, diagnosis, or treatment and should not be used as such.
Sign up to our email newsletter for more blog updates and exclusive discounts.
< Older Post | Newer Post >