Can Over-Moisturizing Cause Breakouts?
The best moisturizer for acne breakouts, dry, and combo skin
Posted on November 8, 2021
Written by: 100% PURE ®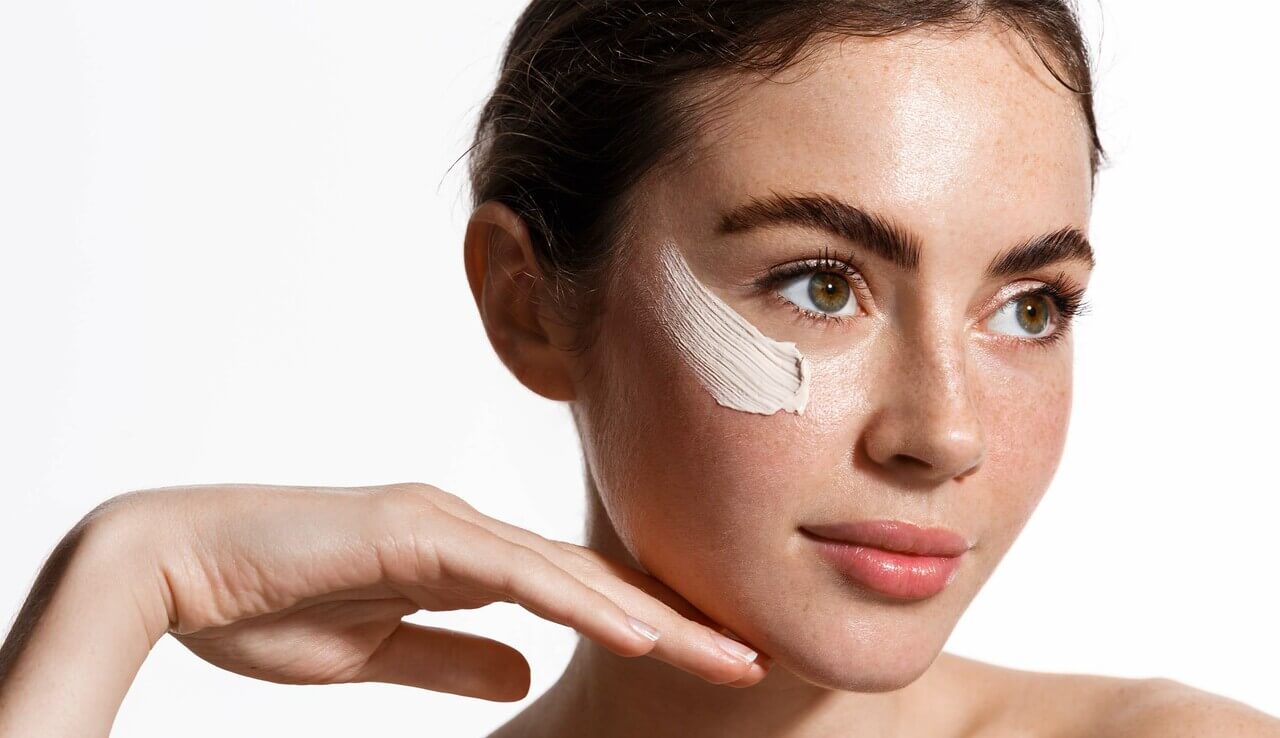 If you asked any skin care lover what the most important, bare-essential steps in any routine would be, they'd probably say those steps were:
But for some of us, moisturizers may feel like they're doing more harm than good, especially for those of us with oily skin. It's led some of us to wonder: can over-moisturizing cause an acne breakout? And if so, how do we prevent it?
What Happens When the Skin Is Dry
As we all know, the skin becomes dry when it loses moisture. Moisture loss can be due to a few factors. Those may include excessively hot showers, the use of harsh, stripping products, and exposure to cold, dry weather. But when the skin becomes dry, what happens next?
Typically, dry skin is not a serious concern on its own. But when it continues to be an issue, it can lead to problems, like cracked skin, redness, peeling, or flaking. It can also lead to scaling, tightness, and (in the long run), advanced aging. However, these issues usually only arise when the dry skin goes unattended.
Are You Over-Moisturizing?
So, how do we tend to skin when it's dry? Naturally, we break out the moisturizer! And in such a vast market, there's never a shortage of choices. But what happens when we over-moisturize? Is too much too much moisture possible? To answer simply, yes.
Your moisturizer should be able to completely absorb into the skin within a few minutes. You shouldn't have to go through a product in less than a month. If you're going through moisturizers every other week, there's a good chance that you're overusing them.
When we're constantly replenishing the skin's moisture, it can send a signal to our skin to ease up on building lipids and proteins, which are crucial for keeping skin elastic and bouncy. But while over-moisturizing gives some individuals "lazy" skin, some may experience the opposite reaction: overactive pores.
So, Does Over-Moisturizing Cause An Acne Breakout?
More often than not, over-moisturizing can lead to clogged pores. That can lead to whiteheads and blackheads. This is because when we apply any product to the skin, the pores take what they need and absorb it into the dermal layer.
Meanwhile, any moisture that isn't needed sits on the surface of the skin. That potentially creates a greasy, over-occlusive layer that can attract more dirt and bacteria, which can cause acne. In the case of oily skin types, over-moisturizing may trigger a spike in oil production, leading to an acne breakout.
The Best Moisturizer for Acne, Dry Skin, and Normal/Combination Skin
When we over-moisturize, we can potentially experience dullness in the skin, less bounce, and more breakouts. Does this mean we should avoid moisturizing completely, or is there a best moisturizer for acne?
Moisturizing is an essential part of anyone's skin care routine. The trick, however, is to find one that works for you and your skin type. We will talk about the best moisturizer for acne in our guide below.
While all skin is prone to fluctuating, we tend to gravitate towards certain skin type categories. Those include dry, normal, combination, and oily/acne-prone. With that in mind, the key is to find a moisturizer formula that works for you and your particular skin type's needs. If you're not sure about your skin type, check out our guide here.
Without further ado, let's dive into the best moisturizer for acne, dry skin, and everything in between.
Newsletter
Subscribe
for more blog updates and exclusive discounts
Best Moisturizer for Dry Skin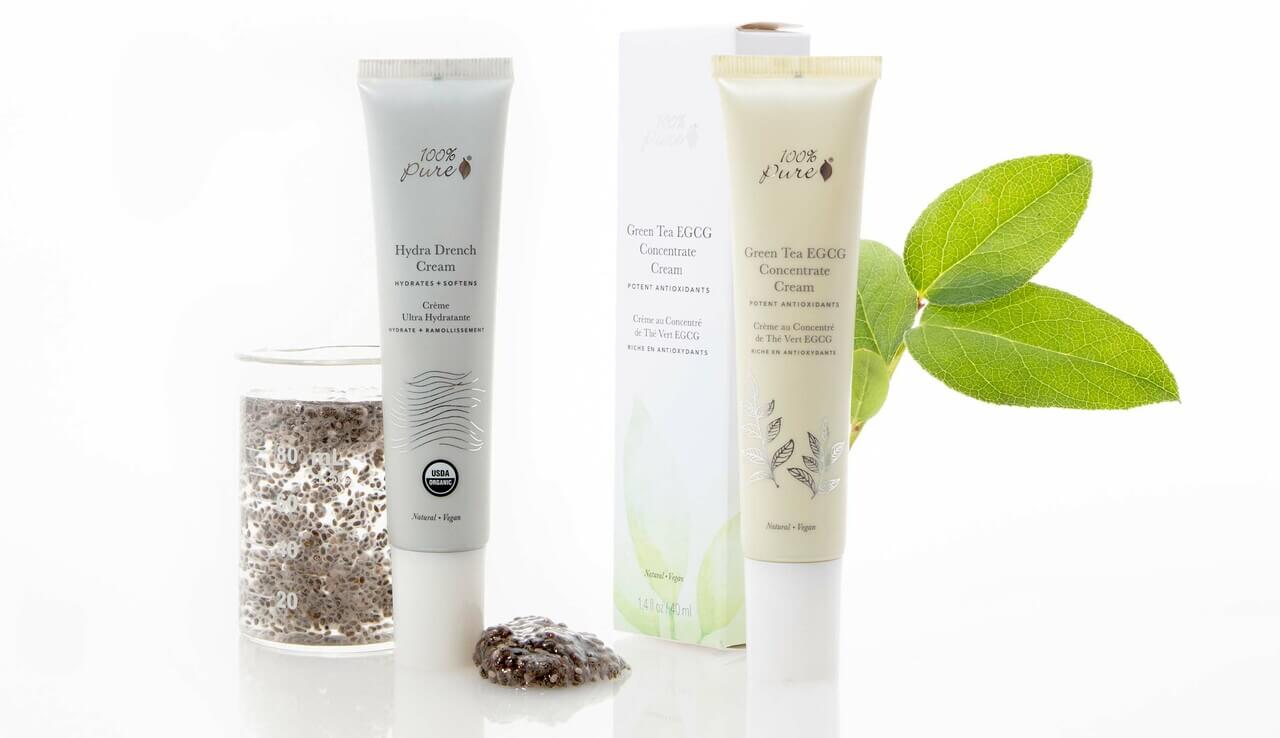 Best Moisturizer for Normal and Combination Skin
Hydra Drench Cream
With the help of omega fatty acids and chia seeds, this lightweight, fast-absorbing moisturizer quenches skin like a tall drink of water. As a gel-based formula, this moisturizer works beautifully for combination skin. It helps calm and condition the pores with nopal cactus and sodium PCA.

Green Tea EGCG Concentrate Cream
For those looking for a water bomb for the skin and nutrients to boot, our Green Tea EGCG Concentrate Cream is here to load the skin with not only moisture but antioxidants, as well. Green tea and yerba mate flood the skin with antioxidants to help protect it from environmental pollution and free radical damage.

With its combination of lightweight olive squalane and rich acai butter, this moisturizer creates a happy medium for both normal and combination skin.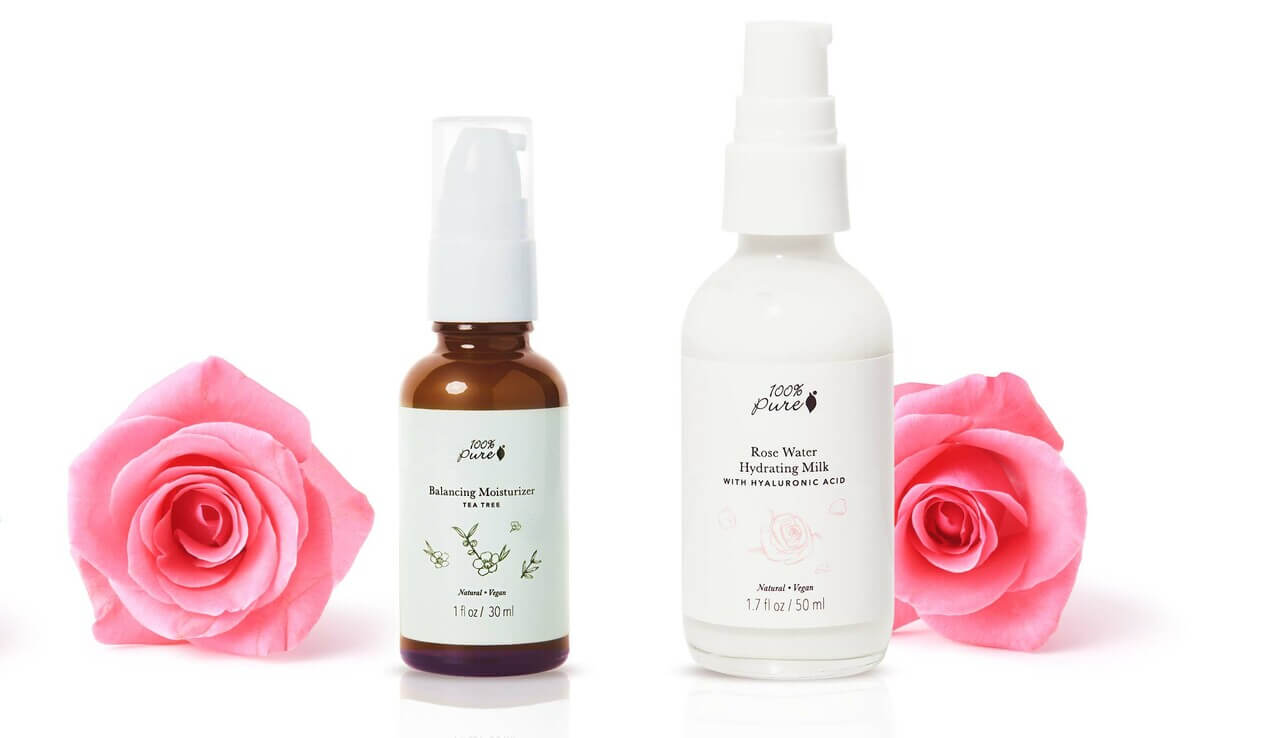 Best Moisturizer for Acne and Oily Skin
Tea Tree Balancing Moisturizer
Our Balancing Moisturizer takes the prize as a best moisturizer for acne. It takes the form of a super lightweight gel. It gently hydrates the skin with aloe vera and neem oil, which is safe for oily and acne-prone skin types. Plus, this moisturizer is super-packed with acne-fighting herb extracts to help clear the skin, such as antibacterial tea tree oil, soothing peppermint, and pore-clearing azelaic acid.

Rose Water Hydrating Milk
If you're craving that petal-soft skin without having to worry about pores clogging, our Rose Water Hydrating Milk is here to soothe and replenish moisture. With rose hydrosol and hyaluronic acid, our Hydrating Milk is another best moisturizer for acne. It's soothing and replenishing without weighing on the skin.
We carefully hand-select products based on strict purity standards, and only recommend products we feel meet this criteria. 100% PURE™ may earn a small commission for products purchased through affiliate links.
The information in this article is for educational use, and not intended to substitute professional medical advice, diagnosis, or treatment and should not be used as such.
Sign up to our email newsletter for more blog updates and exclusive discounts.
< Older Post | Newer Post >