A User-Friendly Guide to Natural Cleansers
Kick-start your routine with serious cleansing power suited to your skin type – plus the best cleansers to add to your skincare routine!
Posted on April 28, 2023
Written by: 100% PURE®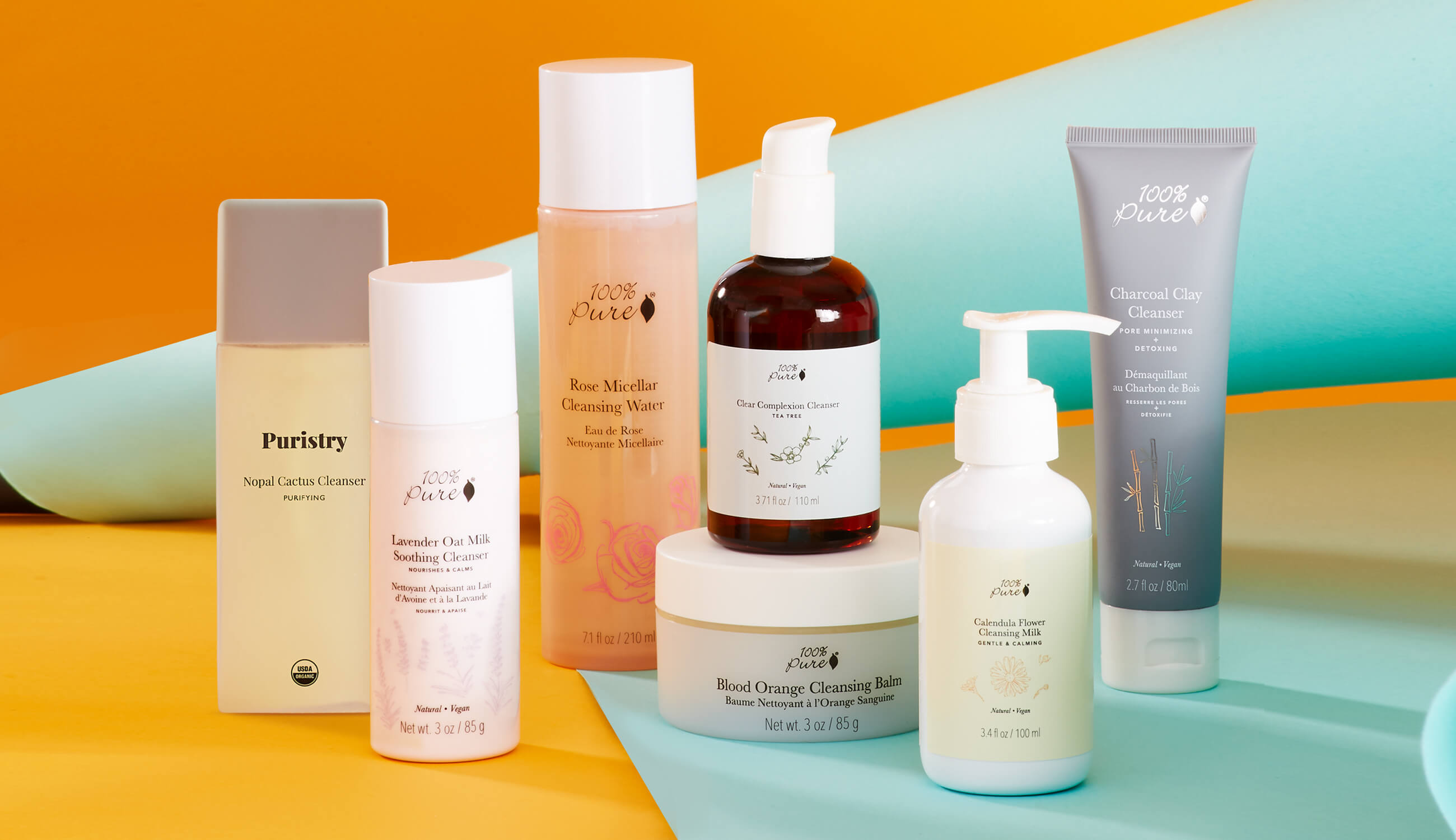 You wouldn't polish a car before washing it, would you? It's the same concept with your skin: an effective beauty routine starts with a smooth, deeply cleansed dermis. Before you try to reap the full benefits from your skincare products, focus on removing every impurity from your skin without stripping its precious barrier.
Sunscreen, sweat, excess oil, dirt, dust, pollution, makeup – a lot can accumulate on your face throughout the day! Skipping the natural face wash step will run you the risk of clogged pores, leading to unsightly blackheads and blemishes.
Before you run out and choose the first cleanser you come across, know that not all face washes are created equal. Many on the market use harsh and drying surfactants, petrochemicals as preservatives, and other unsavory ingredients.
We've committed ourselves to only clean and plant-based ingredients. We keep our makeup and skincare free of sulfates, toxic dyes, and artificial fragrances. We believe that the best face cleansers should be gentle – not harsh – for a well-balanced natural skincare routine. To guide you more, listed below are a few key tips about choosing the most effective cleanser for you.
If you're shopping for a natural face wash, the first step is knowing what your skin type needs to succeed. Choosing the wrong cleanser can lead to breakouts, dry skin, and generally worsened skin symptoms. Here's what you should be looking for in a natural face wash, based on your skin type:
DRY SKIN Cleanser Needs:
Ingredients that inject rich moisture and refreshing hydration into skin – skip the foaming cleansers.
OILY SKIN Cleanser Needs:
Ingredients that degrease the skin, regulate oil production, and can bond to and remove excess oils from skin.
COMBO SKIN Cleanser Needs:
Ingredients that both regulate oil and reinforce moisture.
ACNE-PRONE SKIN Cleanser Needs:
Ingredients that calm redness, soothe inflammation, and purify pores.
SENSITIVE SKIN Cleanser Needs:
Ingredients that will cleanse and replenish without stripping or irritating skin.
NORMAL SKIN Cleanser Needs:
Ingredients that keep skin in balance while reinforcing tone, texture, and hydration.
DULL SKIN Cleanser Needs:
Ingredients that regulate melanin production, slough away layers of dead skin, improve skin texture, and brighten skin tone.
\
AGING SKIN Cleanser Needs:
Gentle, non-stripping ingredients that encourage brightness, elasticity, moisture retention, and skin suppleness.
Our natural face cleansers are made with gentle, concentrated nutrients for the skin. Each ingredient we use has a particular purpose and benefit for the skin. Forget those conventional cleansers made with harsh chemical surfactants and sulfates, or cheap fillers that only dilute the formula's potency. We use ONLY natural ingredients which promote hydration, moisturization, and nourishment.
We welcome you to our Guide to Every 100% PURE™ Natural Face Wash: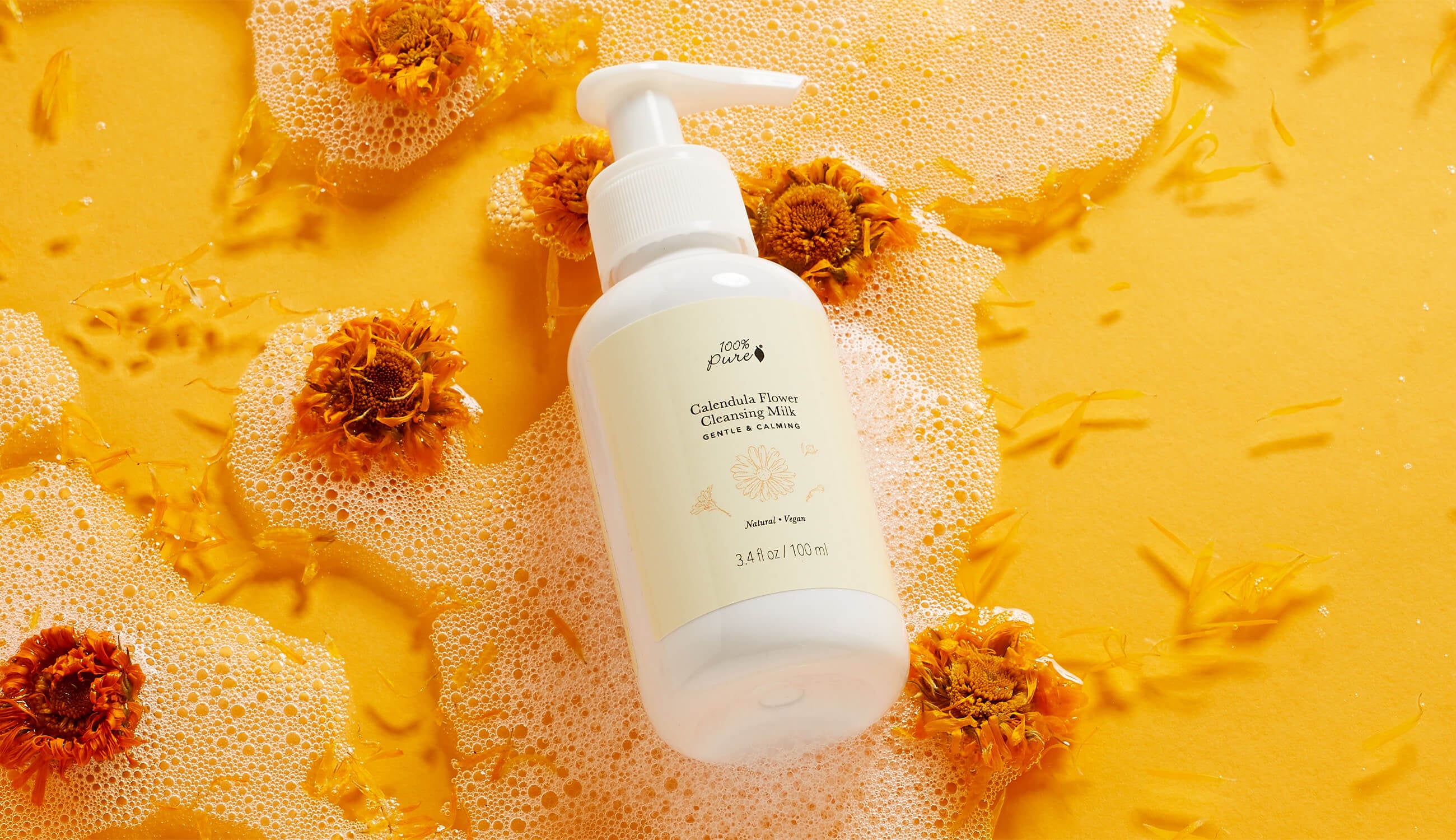 SKIN TYPES: Dry, sensitive, all
Key Ingredients: Calendula, Chamomile, Rose Hydrosol, Sea Buckthorn Oil
The calming properties of calendula have been recorded for centuries. In the modern world of skin care, its anti-inflammatory properties are praised, along with its ability to encourage collagen production. Calendula is a flower known for many healing and soothing benefits; precisely why it is featured as the all-star ingredients in this silky-smooth cleansing milk.
Made with the addition of skin-calming chamomile and aloe, this foaming milk cleanser for dry skin type gently sweeps away dirt and impurities without stripping skin of essential moisture. The addition of redness-reducing rose hydrosol tones and balances the skin. For any dryness or sensitivity, the finishing touch of skin-conditioning sea buckthorn oil will leave your skin looking supple and radiant.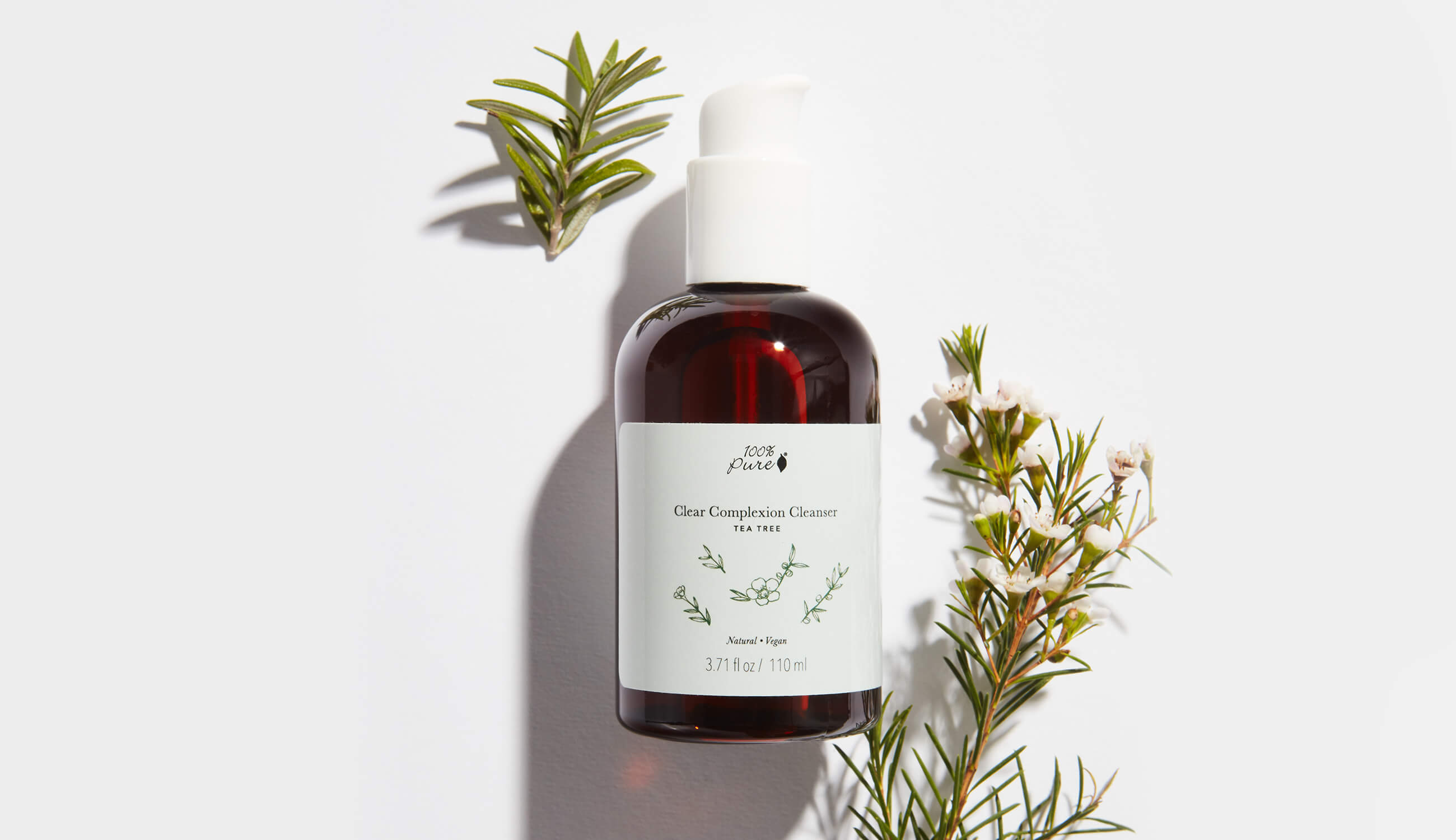 SKIN TYPES: Oily, acne-prone
Key Ingredients: Tea Tree, Neem, Eucalyptus, Glycerin
Instead of aggravating inflamed blemishes with a harsh acne cleanser that can strip the moisture barrier, opt for antibacterial and antifungal botanicals to soothe irritated skin. This herbal-powered cleanser is perfect for those seeking acne-fighting, pore-clarifying power. All-star ingredient tea tree oil purifies pores to sweep away acne-causing bacteria, excess oil, and impurities.
Antibacterial herbs like neem and oregano soothe and treat irritated skin, while helping to improve the appearance of acne scars. Used in Ayurvedic and Chinese medicine for hundreds of years, the powerful herb neem helps fight inflammatory disorders such as eczema and dandruff. The addition of coco betaine makes this the most skin-friendly acne cleanser you can find, while vegetable glycerin protects and replenishes the delicate moisture barrier.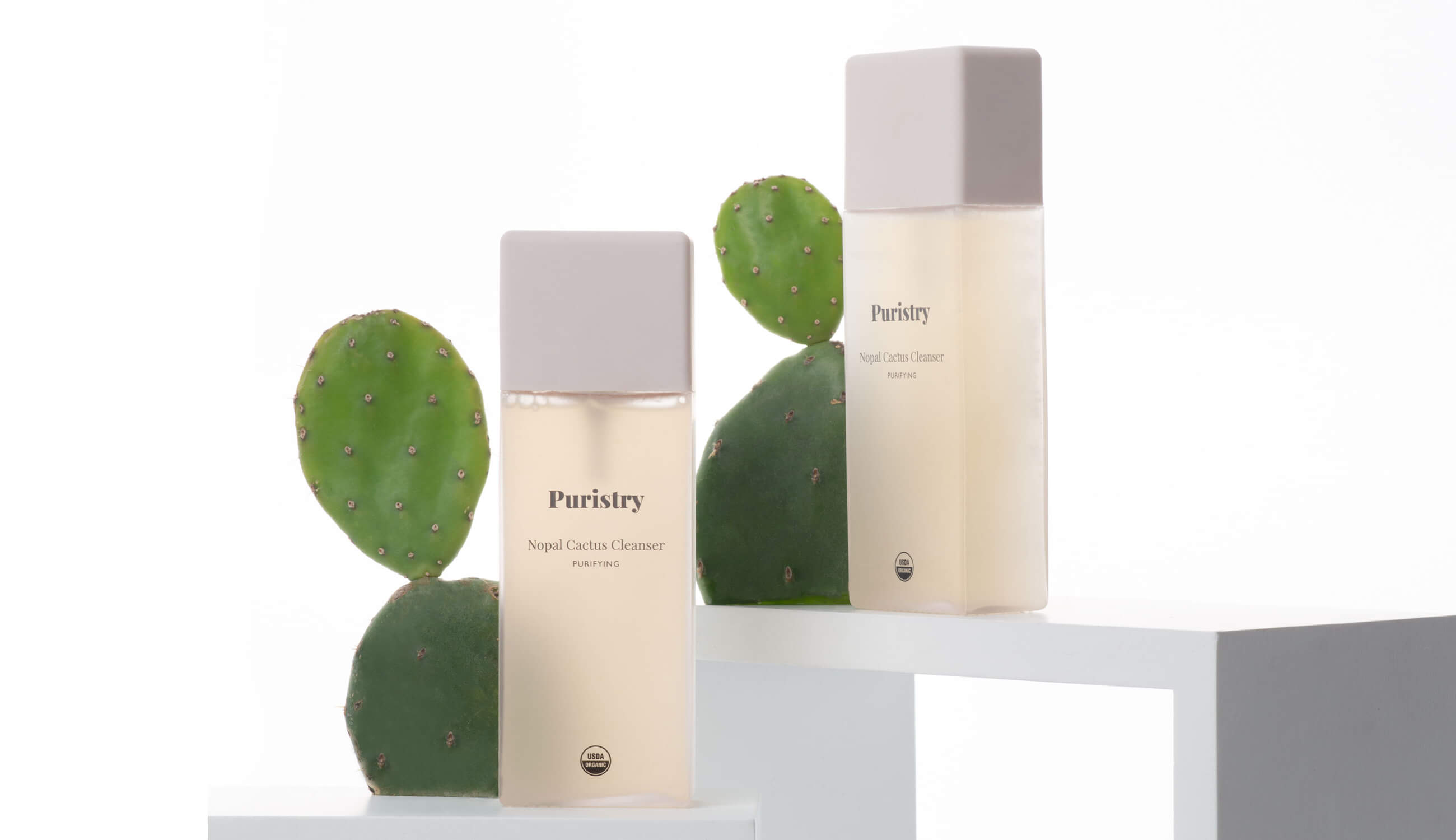 SKIN TYPES: Dry, all
Key Ingredients: Nopal Cactus, Prickly Pear, Aloe Vera, Bergamot
Cacti seem to be everywhere these days: from cute desk ornaments to beauty products. This prickly superstar makes sense for skin – when you ration that if cacti can survive the desert climate, just imagine the hydration it can bring to your skin!
That's precisely why this natural cleanser features nopal cactus and prickly pear. The trifecta of purifying, anti-aging, and anti-inflammatory properties in this cleanser will have you saying hello to a softer, more hydrated complexion with every wash.
High levels of vitamin E, C, and B plus essential fatty acids don't just keep cacti hydrated – they have the same effect on your skin. As with any plant that grows in extreme conditions, cacti are packed with antioxidants; that means they're beneficial for cancelling out free radicals and inflammation in the skin.
The addition of aloe soothes dry skin, and restores a splash of much needed hydration. Bergapten-free bergamot oil fights acne-causing bacteria to reduce your risk of new blemishes, while brightening old acne scars and your overall complexion. Bring some desert magic to your skin care routine with this cactus-infused superstar!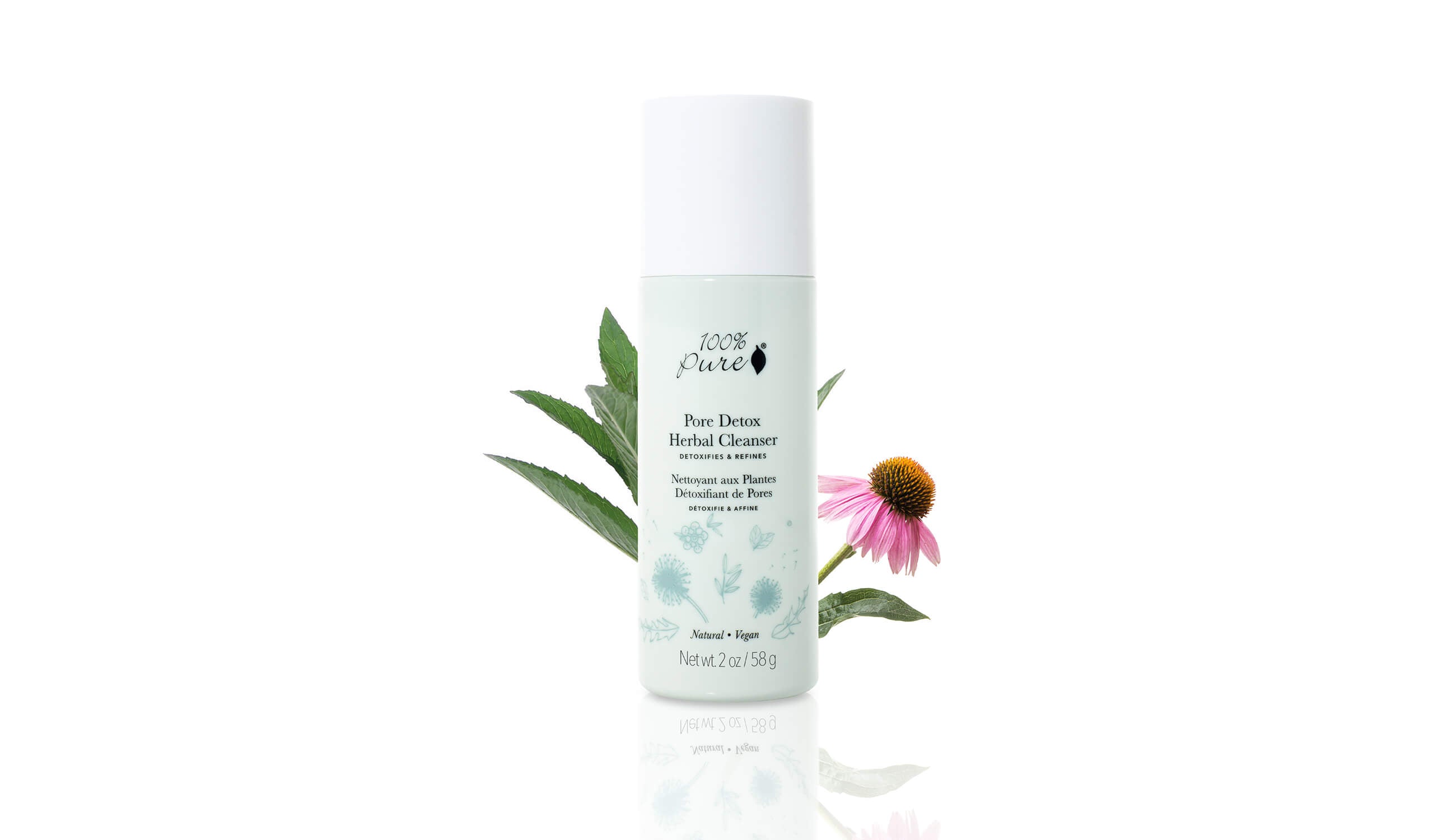 SKIN TYPES: Normal, oily, combination
Key Ingredients: Dandelion, Neem, Wheatgrass, Green Clay
This detoxifying cleanser is perfect for those seeking acne-fighting, pore-refining power. Just like the next cleanser on our list, this formula is a concentrated powder that's activated by water. That means you can customize its potency and texture depending on your preference. Made with superfine colloidal oatmeal and baking soda, it gently massages and exfoliates the skin for an ultra thorough cleanse.
This herbal cleanser is packed with beneficial botanicals. Dandelion root purges toxins and debris from pores, while coneflower and lavender calm inflammation from acne breakouts. Antifungal and antibacterial properties from rosemary and tea tree oil purify pores to remove acne-causing bacteria.
The secret weapon in this powder cleanser is neem oil, a prevalent ingredient in traditional Chinese and Ayurvedic medicine. High in both antioxidants and fatty acids, neem oil helps protect the skin while gently exfoliating and calming. The finishing touch of French green clay keeps oily skin under control for reduced shine.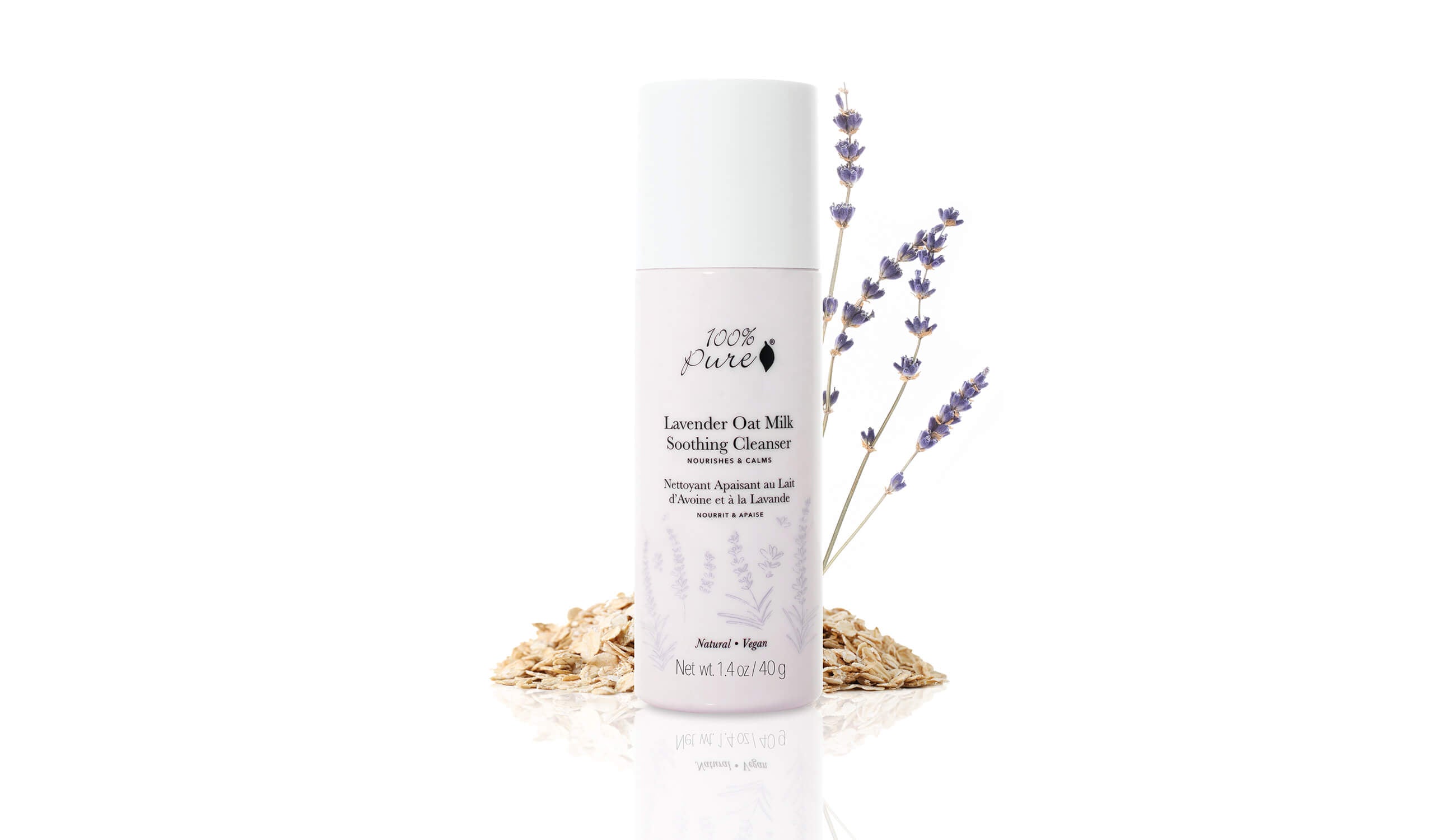 SKIN TYPES: Normal, oily, combination
Key Ingredients: Lavender, Coconut Milk, Colloidal Oatmeal, Calendula
The soothing properties of lavender have been recorded for centuries, and in the modern world of skin care, its acne-fighting properties, along with its ability to cool down inflammatory skin conditions. For instance, studies such as this one suggest that lavender can keep eczema symptoms in check.
This unique powder formula features the gently exfoliating properties of baking soda and colloidal oatmeal, which can bring relief to irritated or congested skin. Green clay absorbs excess oil without leaving the skin feeling stripped or dry. A blend of calendula, geranium, coneflower, and chrysanthemum flowers are designed to deeply soothe and purify normal to acne prone skin.
The addition of coconut milk helps to soften the skin with rich fatty acid content, while supporting healthy collagen levels with an abundance of vitamin C. Flaxseed oil supports hydration with high levels of omega-3 fatty acids, and can be especially helpful for those with rosacea and sensitive skin.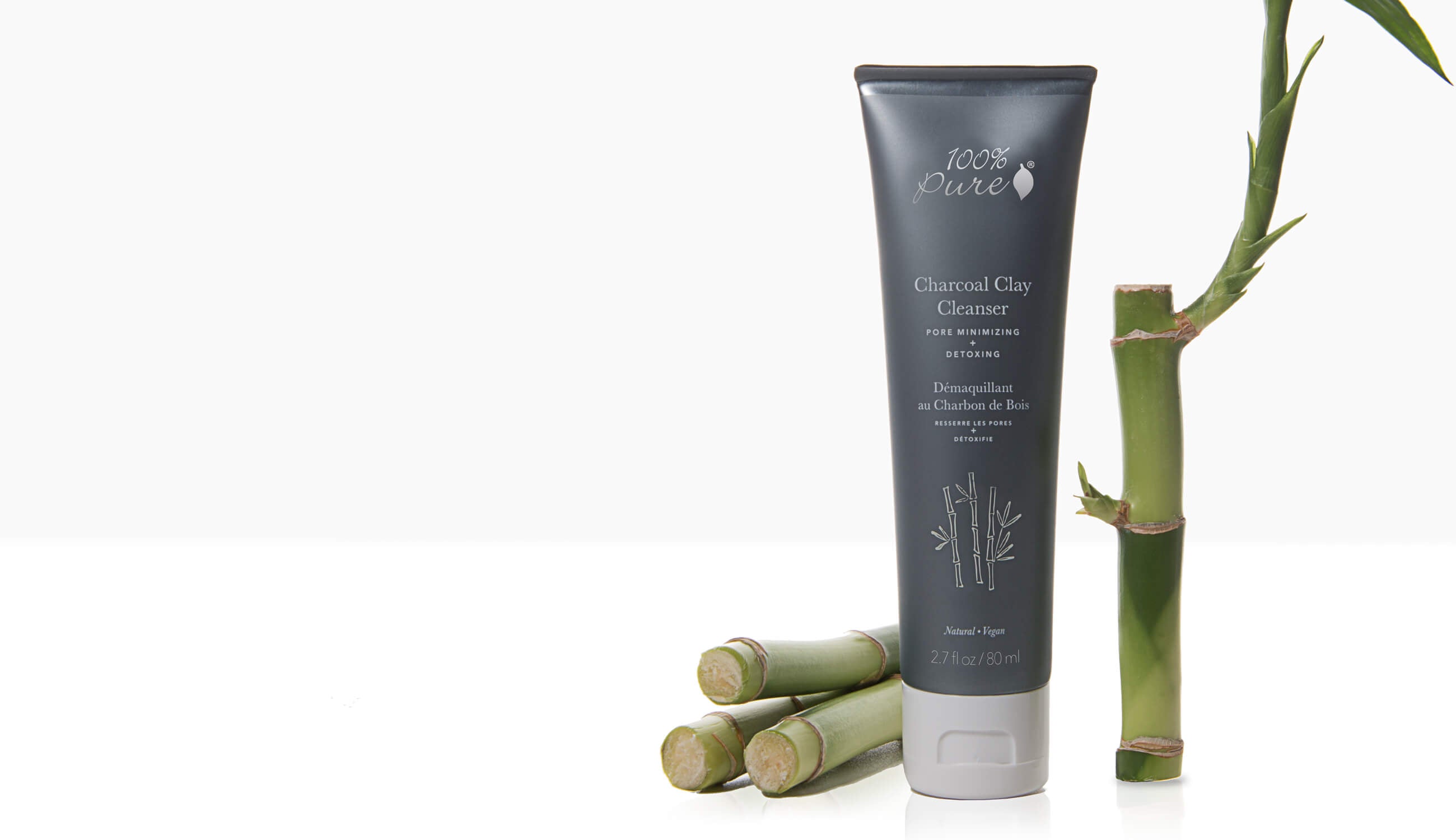 SKIN TYPES: Combo, oily, normal
Key Ingredients: Bamboo Charcoal, Activated Charcoal Powder, Brazilian Black Kaolin Clay
The benefits of activated charcoal are no secret – in fact, its homeopathic uses date all the way back to ancient Egypt. In 1811 chemist Michel Bertrand survived a dose of poison by ingesting the black powder. Charcoal has intense detoxifying power, which is why we've made it the star of this natural face wash.
Made in a base of oil-regulating lemon water, this cleanser also uses Brazilian black kaolin clay to cut down on grease. These two ingredients are especially powerful degreasers, and will help regulate oil production in oily skin types. We've also added organic glycerin to ensure moisture retention and help reduce the appearance of fine lines.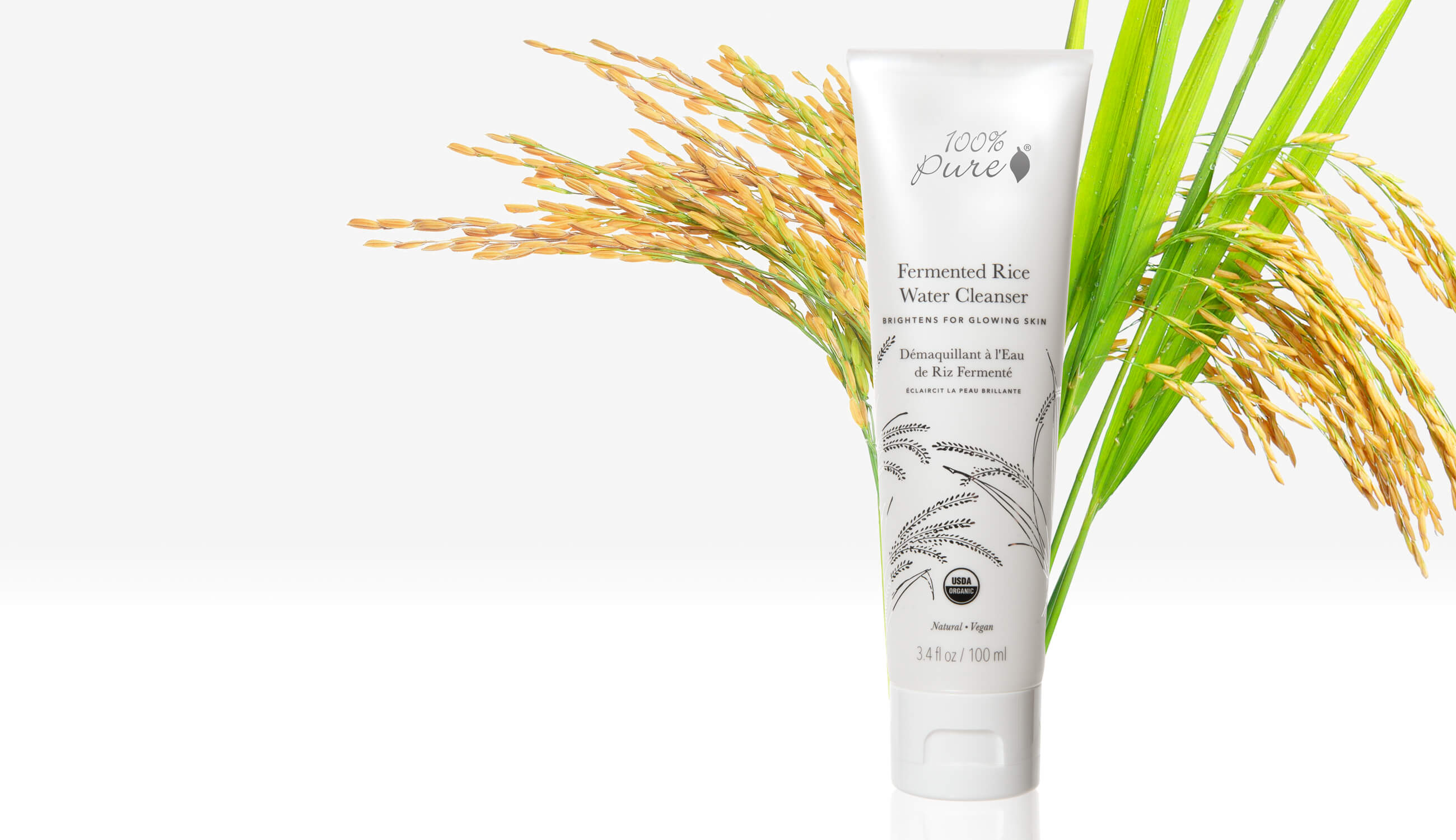 SKIN TYPES: Dull, normal, aging
Key Ingredients: Licorice, Sake, Pineapple
This facial cleanser brightens and refreshes dull skin for a more youthful glow. Skin that has lost its luster due to dryness, diet, age, or environmental damage will benefit from this rejuvenating formula.
This cleanser is packed with natural skin care lighteners like licorice, sake (fermented rice water), mulberry, papaya, and pineapple. You won't have to choose between using harsh, synthetic bleaches that can cause long-term damage or getting brighter skin. This cleanser helps you avoid those toxic bleaches, while both brightening and hydrating skin.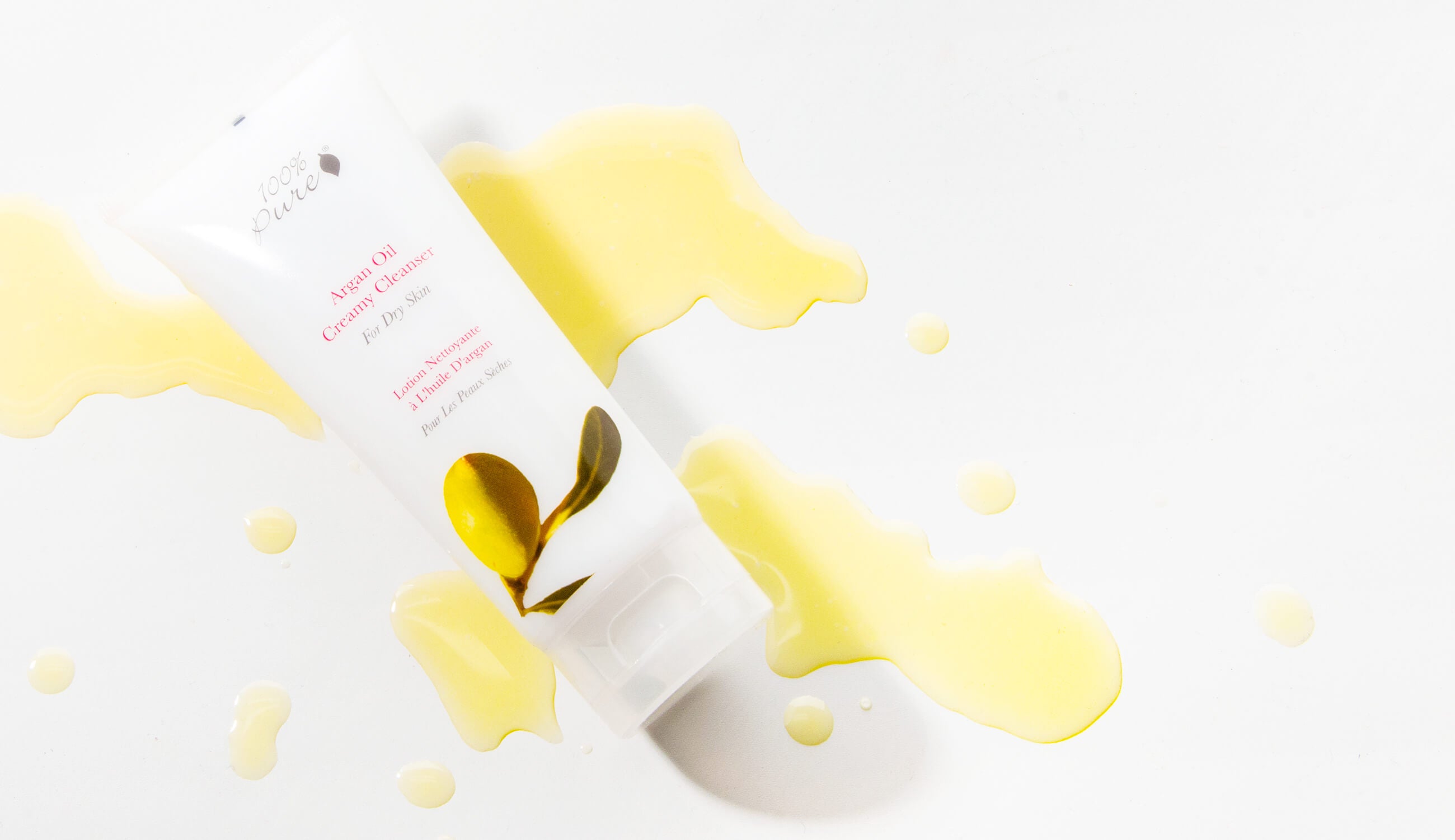 SKIN TYPES: Dry, normal, aging, sensitive
Key Ingredients: Aloe Juice, Argan Oil, Blood Orange, Honey
This fan favorite cleanser is one of our original formulas for deeply cleansing any skin type. Argan oil is a dry oil, meaning it won't leave skin feeling greasy. This 'liquid gold' oil provides many skin nourishing benefits, while being used to gently cleanse the skin.
Aloe vera juice helps to hydrate dry skin, while honey offers water-locking humectant properties and antibacterial benefits. Saponified coconut oil lightly foams to help wash away dirt, makeup, and impurities, while blood orange cuts through excess oil. Renewing vitamins C, E, and CoQ10 make this cleanser a secret-weapon for softening and brightening aging skin. This cleanser is suitable for any skin type, but is especially nourishing for dry skin.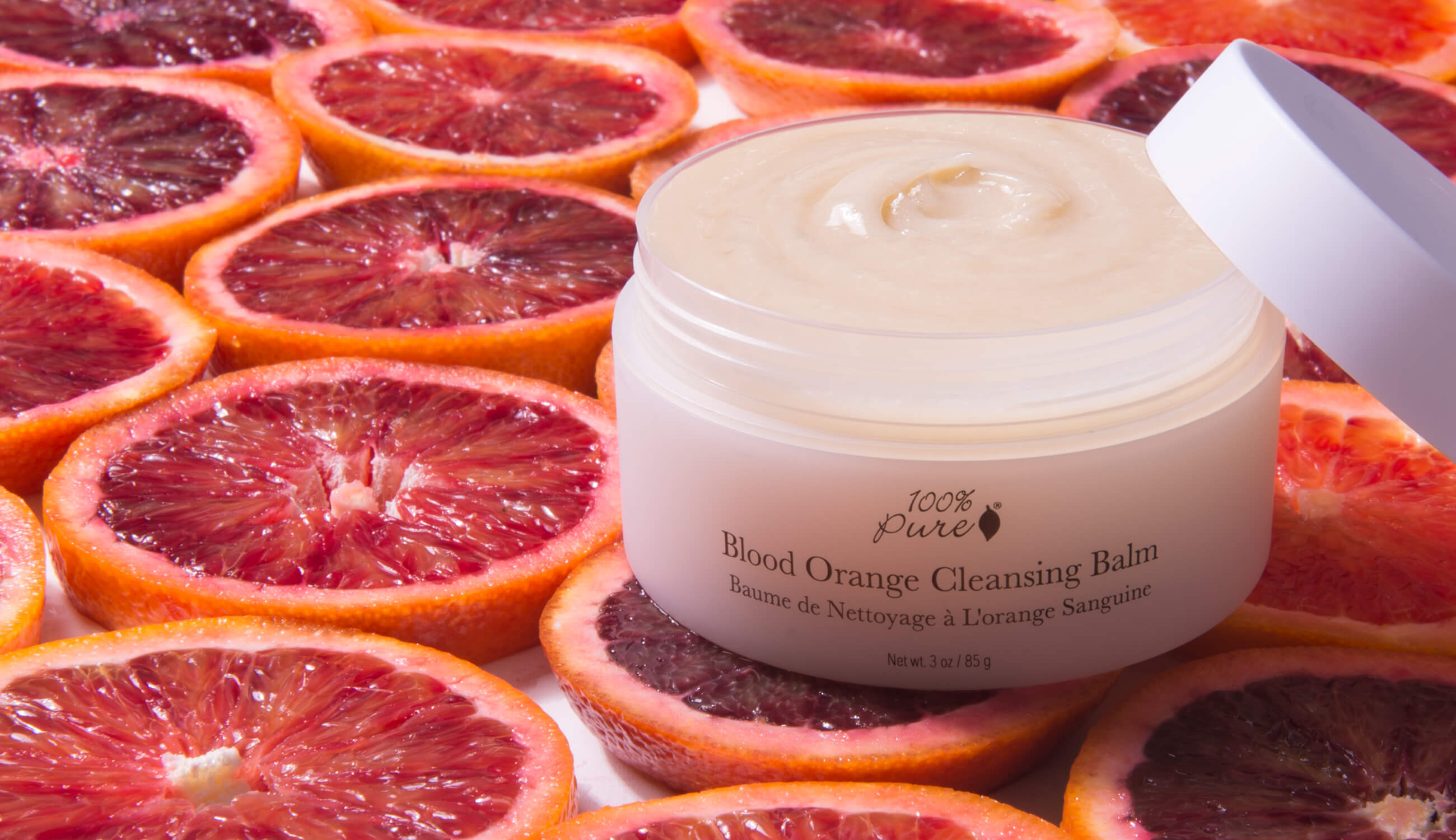 SKIN TYPES: All skin types, especially dry, aging, or sensitive
Key Ingredients: Avocado Oil, Olive Leaf Oil, Blood Orange Essential Oil
Made from rich oils of avocado, coconut, and olive leaf, this is unquestionably our most nourishing natural face cleanser. The abundant oil molecules in this skin softening balm are actually designed to bond with the oils in your skin. They help to remove excess oil while deeply, effectively cleansing. Olive leaf, coconut, and blood orange are also powerful antibacterials, meaning they can kill acne-causing bacteria when massaged into skin.
The real star here is blood orange essential oil, which is a natural degreaser that cuts through oil buildup on dirty skin. Polyglyceryl-3 Palmitate is a surfactant (cleansing agent) derived from coconuts. This ingredient breaks away dirt, makeup, and environmental debris to leave skin soft, supple, and thoroughly cleansed. This is our favorite natural face wash for removing even the most stubborn makeup, including stubborn waterproof mascara and shimmery eye shadow.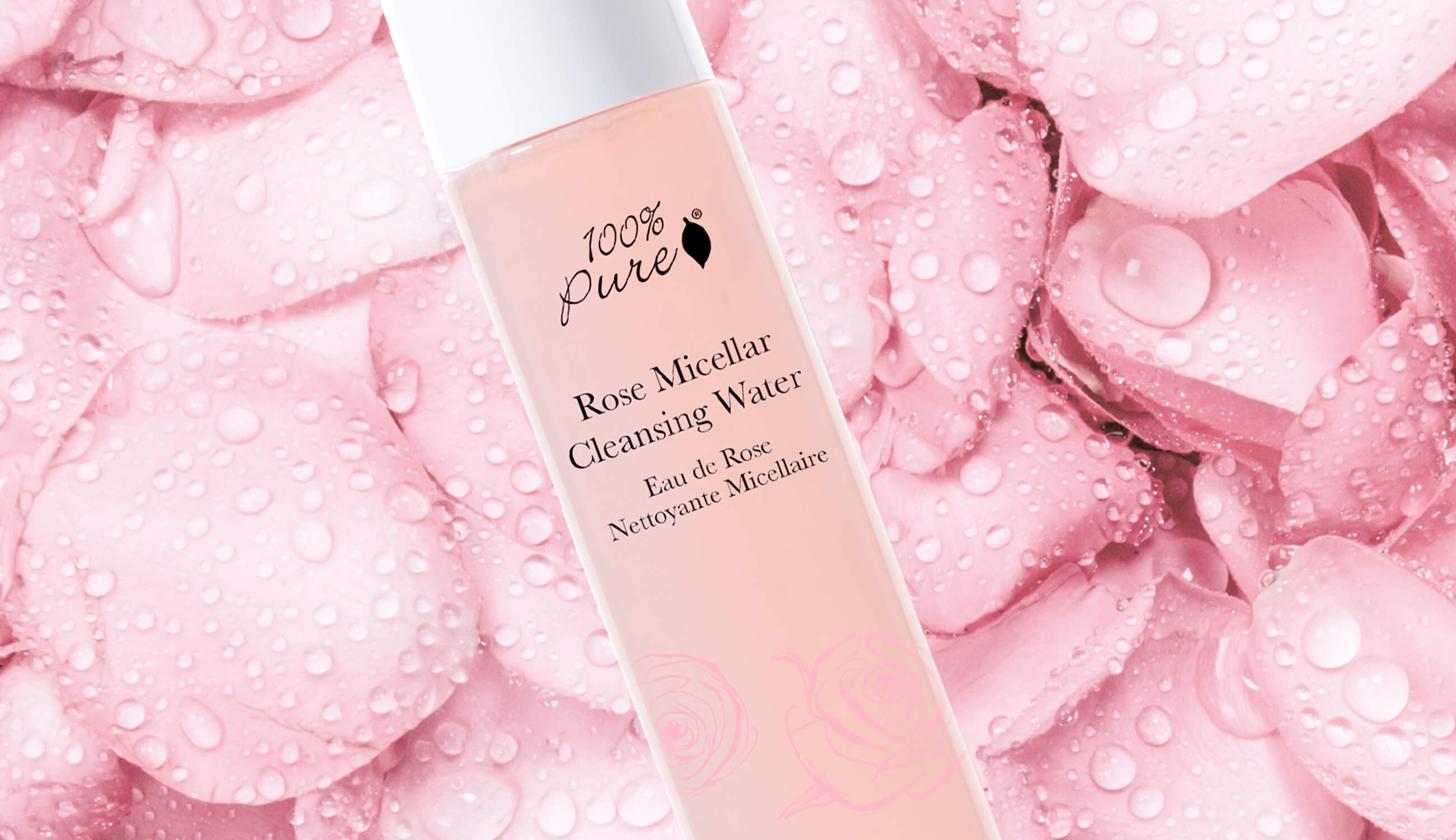 SKIN TYPES: All skin types, especially oily or combination
Key Ingredients: Rose Water, Glycerin, Cornflower Water
Our first-ever micellar water is deeply hydrating, gently moisturizing, and naturally mild. We infused this water-based cleanser with tiny oil molecules that bind to dirt, oil, and debris. Suspended in nutrient-dense, anti-inflammatory floral waters, these deep-sweep micelles flush away impurities for a super smooth, replenished complexion.
Rose water reigns for gentle hydration and cleansing, especially for sensitive skin. Cornflower water has anti-inflammatory properties to soothe redness and inflammation from acne, while calming and gently conditioning. Vegetable glycerin acts as a humectant to draw water into the skin even as you cleanse.
This formula is great for sweeping away sunblock, environmental toxins, and excess oil from makeup-free skin. Can also be used as a second-wave cleanser for full makeup looks or those practicing a Korean skin care routine.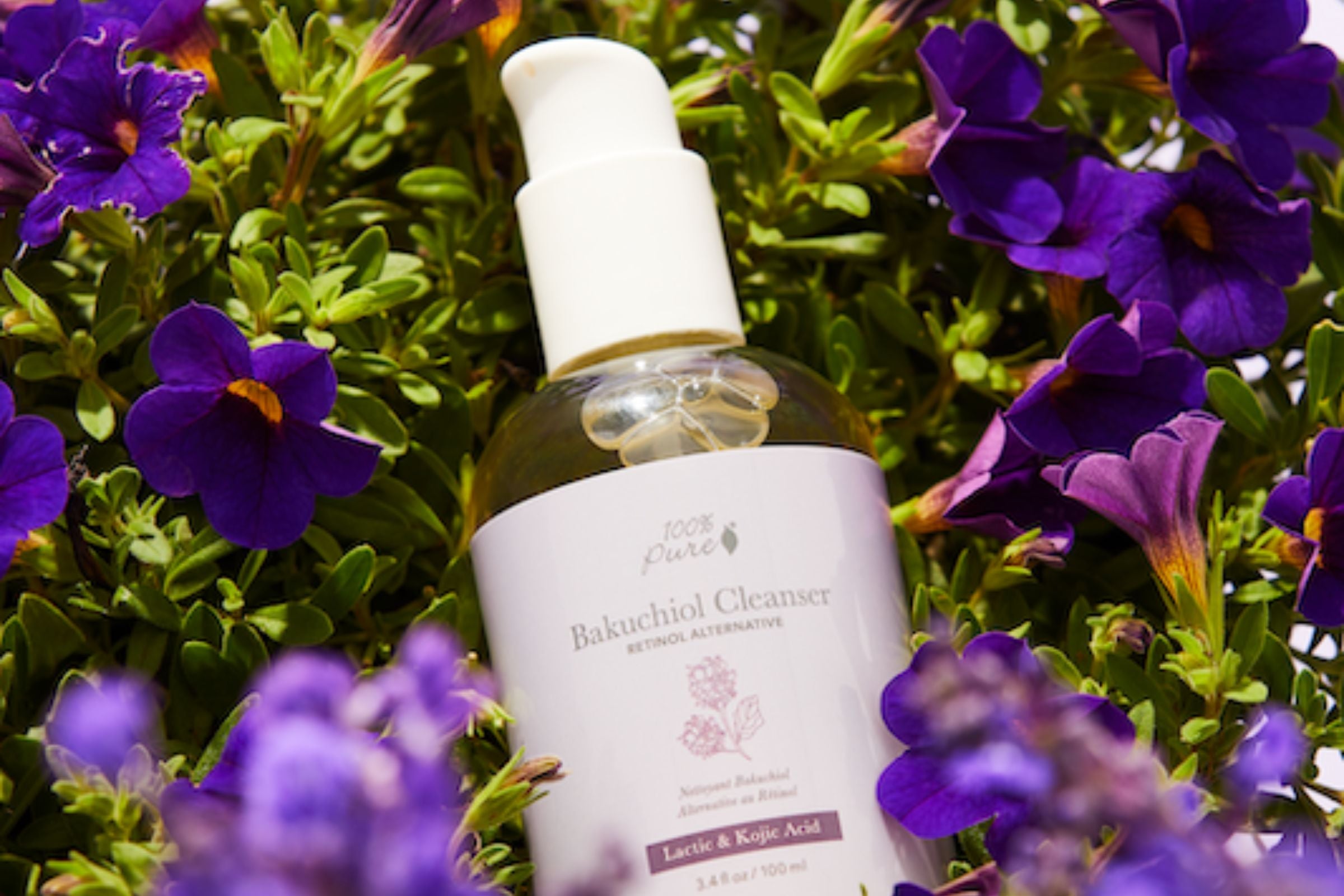 SKIN TYPES: All skin types, especially dry, normal or aging
Key Ingredients: Lemongrass, Licorice, Kojic Acid
Found in the leaves and seeds of the Psoralea corylifolia plant, bakuchiol has been doted on as a safer "retinol-alternative;" and with all of the potential negative side effects that retinol is known for, this makes our bakuchiol cleanser a welcome staple in any skincare routine. But what exactly does this mean for the skin, and what does this vegan, plant-based superstar do, specifically?
First off, this gentle yet powerful cleanser features bakuchiol, which possess both antioxidant and anti-inflammatory properties, along with antibacterial properties. This is great news for acne-prone and reactive skin and keeping oiliness at bay. Bakuchiol also helps protect skin from oxidative stress caused by free radicals. This cleanser also pairs bakuchiol with skin-brightening kojic acid to stimulate cellular turnover for a smoother, clearer complexion.
Finally, this cleanser addresses the signs of aging in the skin – this includes enlarged pores, fine lines, age spots and blemishes, and of course, wrinkles. Tried, tested, and true, our bakuchiol cleanser has always been a top tier product to gain and maintain a glowing, more youthful complexion.
SKIN TYPES: All skin types, especially dry or normal
Key Ingredients: Calendula, Chamomile, Aloe
If you want to feel like the main character while you are doing your morning skincare routine, then foam cleansers will be your skin BFF. The fun-lathering experience can make you feel like a glamorous diva – plus the perks of coconut milk will keep that glam-bam going!
Coconut milk is a liquified version of the inner white coconut meat, sometimes mixed with coconut water. It is rich in vitamin A, E, plant phytosterols and special phenolic antioxidants. The benefit of using antioxidants is that they neutralize free radicals. Free radicals contribute to accelerated skin aging, and antioxidants are our first line of defense.
Our moisturizing, foaming cleanser contains all the benefits of coconut milk and coconut oil, and is scented with organic vanilla. The best way to use it is to gently massage it into moistened skin. Moisturizing coconut milk and oil soften the skin, while saponified coconut oil deeply cleanses. The coconut oil will help seal in the moisture provided by the coconut milk.
With soothing calendula, rose hydrosol and chamomile Azulene, this cleanser washes away makeup, sunblock and other impurities while leaving your complexion supple and glowing. Here's to looking like a glowing goddess!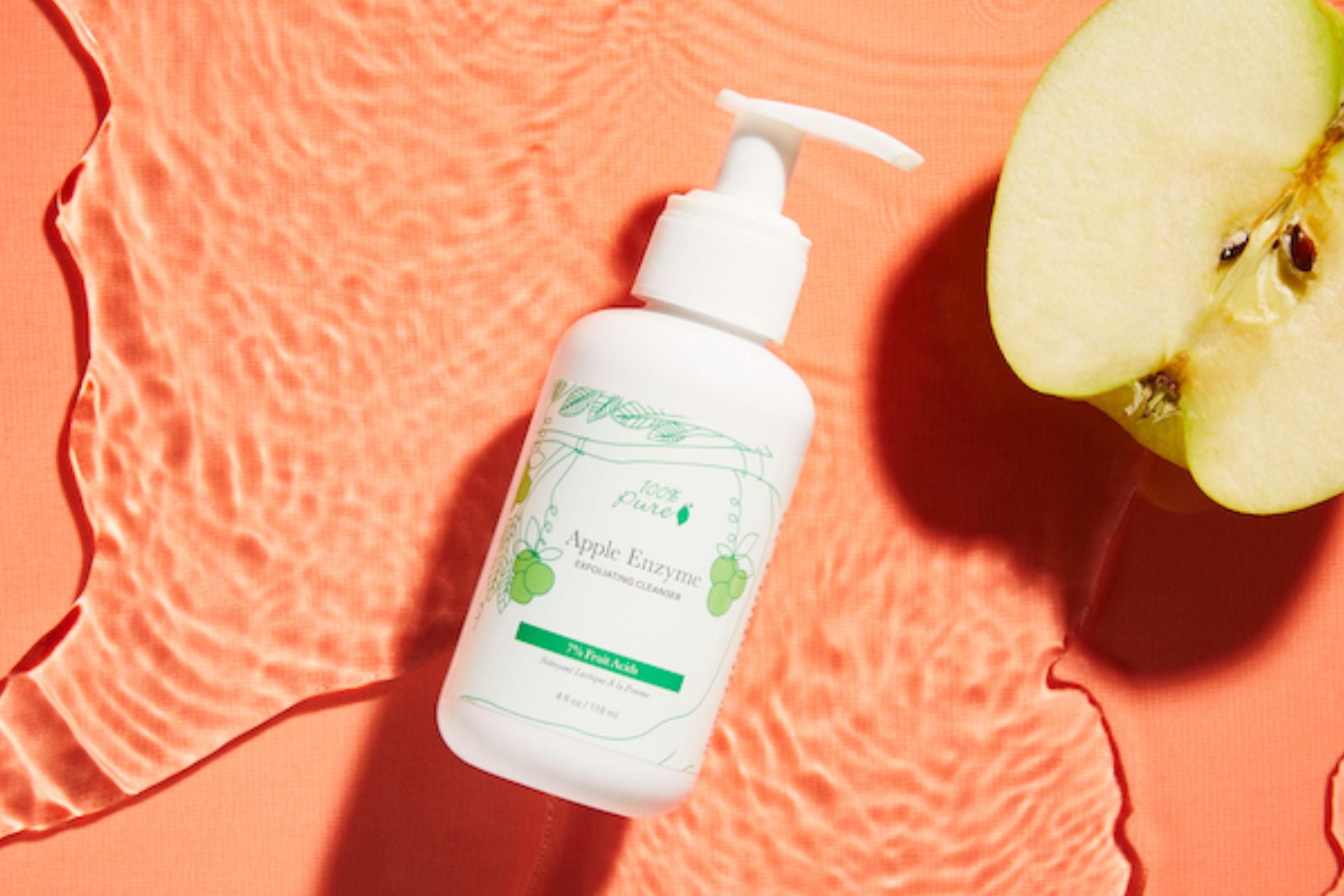 SKIN TYPES: All skin types, especially dull, normal, acne prone
Key Ingredients: Pineapple, Papaya, Lactic Acid
The power of exfoliation is still underestimated by a lot of skincare enthusiasts. People who skip it don't realize that they are not removing the build-up of dead skin cells. Those dead cells end up clogging the pores, which cause dryness and a plethora of other skincare issues like acne.
Using a gentle exfoliating cleanser will clean those cells, oil, and debris and your skin will be clean of any impurities. This will also help the skincare products to penetrate deeper into your skin layer. As a result, your face will look fresh, moisturized, and radiant. That's precisely what we aimed for and achieved with our fabulous fruit enzyme cleanser!
This exfoliating cleanser is made with glow-enhancing green apple, licorice, citrus, and 7% acids. Sugar alpha hydroxy acid, beet lactic acid, and enzymes from pineapple and papaya work together to unclog and reduce the appearance of pores, brighten and even skin tone, lighten scars and dark spots, and smooth away bumps and flakes for soft, bright, and nourished skin.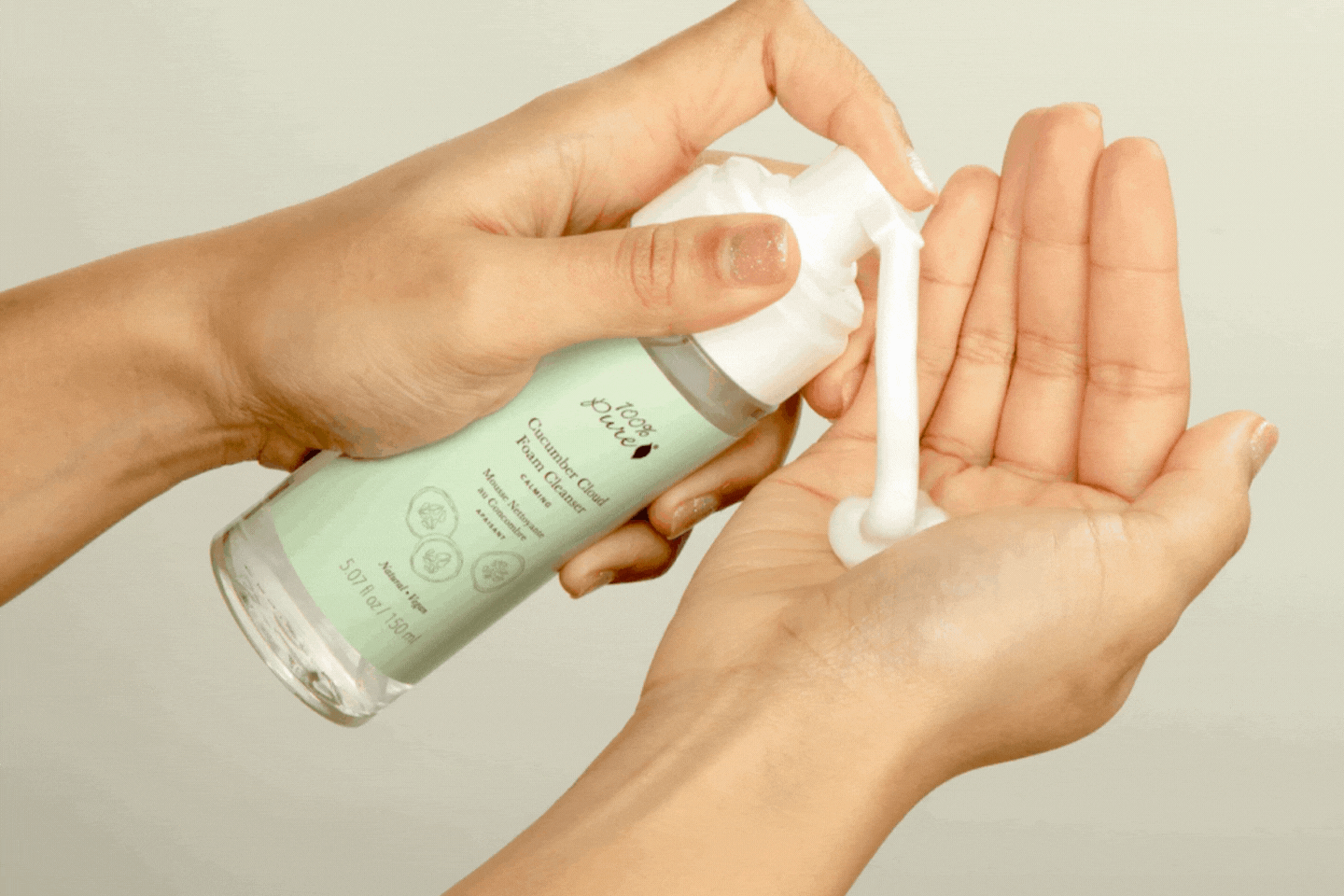 SKIN TYPES: All skin types, especially dry, sensitive
Key Ingredients: Cucumber Hydrosol, Calendula, Chamomile
We're stepping up to dry and sensitive skin plates with a gentle, natural, and effective foam cleanser that will have your complexion full of joy. Our cucumber foam cleanser offer up the stuff you love: fluffy texture, gentle yet effective cleaning action, and a divine scent so delicious that you could eat it – but don't please.
With its high amount of water, cucumber helps to hydrate and moisturize the skin, making it an excellent choice for those with dry or sensitive skin. Cucumber also contains antioxidants and anti-inflammatory compounds that can help to reduce redness and inflammation, while promoting a brighter, more even complexion. Additionally, cucumber is rich in vitamins C and K, both of which can help to reduce dark circles and puffiness around the eyes.
This deeply hydrating face cleanser also replenishes thirsty skin cells with aloe juice and rose hydrosol. This pillowy soft foam sweeps away dirt and oil, while soothing dry skin with calendula and chamomile flowers. This refreshing cucumber cleanser is also free of harsh, skin-irritating sulfates and parabens. We've also left out artificial dyes and perfumes to make sure your skin is left feeling not just clean, but healthy, too. Now, that's a well-balanced skin plate!
SKIN TYPES: All skin types, especially dry, sensitive
Key Ingredients: Green Tea, White Tea, Aloe Juice
We know the health benefits of green tea include lowered cholesterol and better blood circulation.
But what about the advantages of green tea for the skin? Specifically, what can a green tea cleanser do for us?
We're waking the skin up in the softest way possible with this ultra-rich green tea cleanser that sweeps away dirt and debris, leaving behind a balanced and hydrated finish. This creamy cloud-like cleanser not only removes dirt and impurities, not just from the surface, but deep within the pores without stripping or drying the skin.
This balancing face cleanser calms the skin with a blend of teas and botanicals. Its pillowy soft foam also features aloe and green tea caffeine to reduce redness and gently de-puff the skin. A calming blend of calendula, white tea, and helichrysum flower gently tone the complexion for a balanced, rejuvenated glow. A clean, simplified, vegan formula, this green tea cleanser is free of sulfates, parabens, and artificial dyes, making for smoother, calmer, and balanced complexion any time of the year.
We recommend making your face washing a ritual, to keep skin feeling happy and healthy. First, nail down the correct frequency for cleansing; experts recommend morning and night, and after profuse sweating. Make sure to massage the cleansers deeply into the skin, to create a light lather and increase circulation. We love using our Charcoal Konjac Sponge to gently exfoliate even the most sensitive skin, and buff away dead skin cells.
PRO TIP: After cleansing, follow with a thorough application of a natural toner. Toners will swipe away dead skin cells sloughed off during cleansing, and any loosened dirt or debris that was not fully rinsed.
Our commitment to 100% PURE ingredients prevents us from making certain popular items, like facial cleansing wipes. Makeup removing wipes are undoubtedly convenient, so we're not surprised that our customers ask for them all the time. However, these products have not been made by us for a specific reason. There are no non-chemical preservatives for keeping wipes moist, which we believe would be safe enough for your skin.
We refuse to compromise on our commitment to your optimal skin health by using petrochemical preservatives. Every product we make goes through extensive testing processes, both in-house and by a third-party quality assurance team. This is to ensure that the product is safe, stable, pure, and potent. If a potential product cannot pass this rigorous testing phase, it won't be sold.
The facial cleansing wipes found on the market today are highly preserved, and harsh to the skin. The synthetic chemical ingredients used in these wipes are likely to irritate and strip the skin, and may even leave unsightly bumps. That's why we recommend using natural cleansers that have been formulated without the addition of synthetic chemicals, fillers, or chemical irritants.
We know the risk of skipping the natural cleanser face wash step can lead to clogged pores, leading to unsightly blackheads and blemishes. Regular skin cleansing is important to maintaining balanced, healthy-looking skin – plus helps your other products to penetrate the skin properly.
We're excited to share the goods on these rising superstars, and hope you enjoyed the grand tour and guide through our full collection of natural cleansers and natural skincare – that cares!
Visit the skin care section of our blog for guides on things like eye cream, finding the perfect moisturizer, and choosing a natural toner!
We carefully hand-select products based on strict purity standards, and only recommend products we feel meet this criteria. 100% PURE™ may earn a small commission for products purchased through affiliate links.
The information in this article is for educational use, and not intended to substitute professional medical advice, diagnosis, or treatment and should not be used as such.
Sign up to our email newsletter for more blog updates and exclusive discounts.
< Older Post | Newer Post >