9 Top Anti-Aging Ingredients in Natural Skin Care
Keep an eye out for these natural anti-aging skin care superstars
Posted on April 24, 2023
Written by: 100% PURE®
Anti-aging skin care is all about using healthy ingredients. When it comes to aging gracefully (and confidently), natural anti-aging skin care products are where it's at! Using natural ingredients that are as close to their original state as possible means more nutrients will make it into your skin.
Complaints of mature skin often include: wrinkle-prone areas around the eyes and mouth, dullness, dark spots, age spots, and loss of firmness in skin. There's no product that will take years off your face in seconds. It's all about a regular natural anti-aging skin care regimen, targeted treatments, and prevention.
We've formulated some serious anti-aging natural skin care products that we're more than a little glowing about (not a coincidence that we're glowing, surrounded by these products all day). Let's dive into a mini-lesson on some of our favorite anti-aging allstars -- keep an eye out for these if gently nudging back the clock is on your skin care agenda!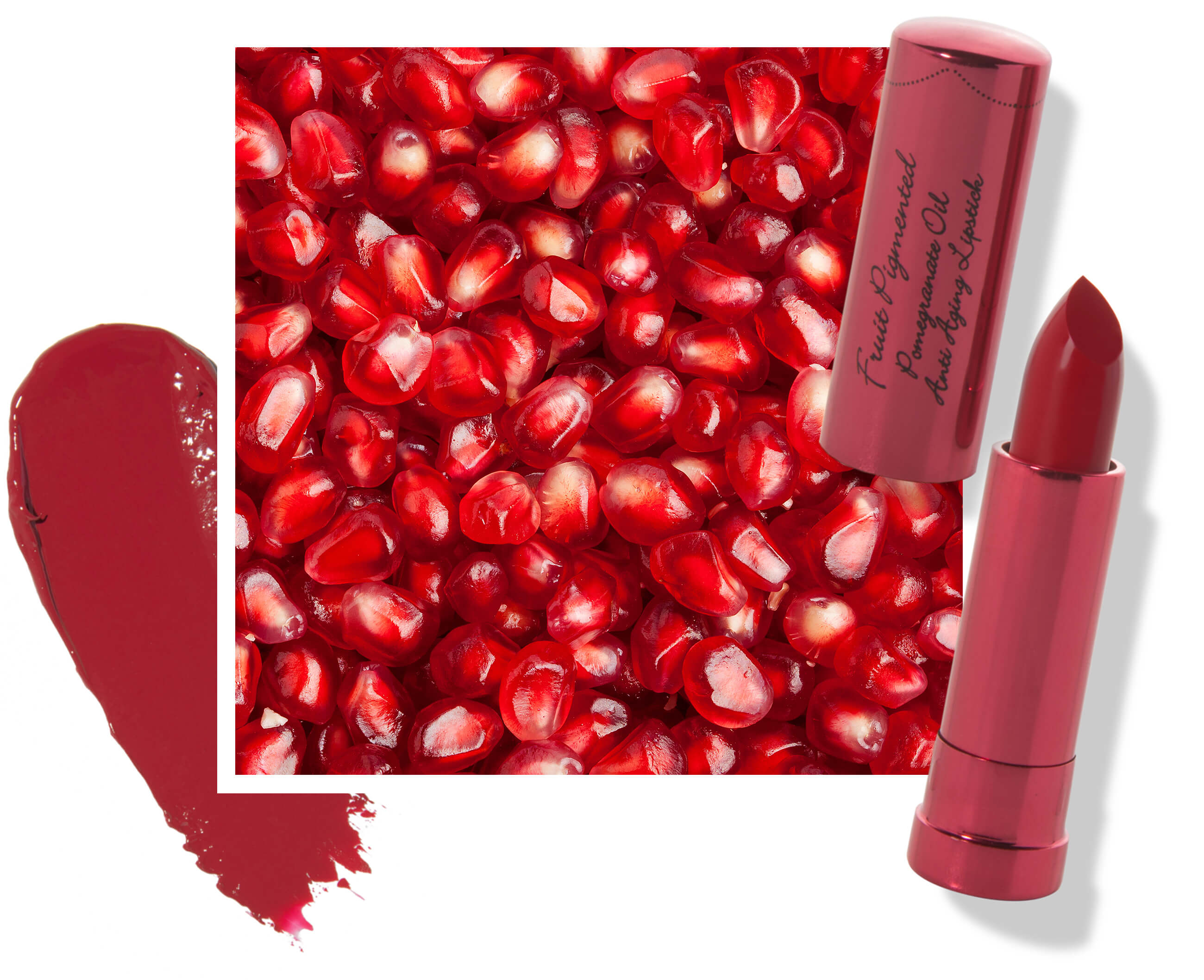 Pomegranate
Pomegranate has a powerful set of anti-aging properties, which just might be the contributing factor for the serious buzz surrounding this tasty little fruit. Recent studies are showing that chemicals in the fruit's flesh prompt the production of a molecule called urolithin A, which is key for enabling muscle cells to degenerate.
Authors of a study published in the science journal Nature Medicine are finding enormous potential in its anti-aging benefits: "The nutritional approach opens up territory that traditional pharma has never explored. It's a true shift in the scientific paradigm," says Johan Auwerx, a researcher and author of the study.
Pomegranate is known as the "anti-aging queen" because of its high vitamin C content and remarkable level of punicic acid. This is an Omega-5 fatty acid that helps skin hold onto collagen. So expect plumper, more youthful skin! We've incorporated pomegranate into a ton of our natural anti-aging skin care! To name a few: Super Fruit Oil Nourishing Eye Cream, Pomegranate Oil Anti-Aging Lipstick, and Healthy Foundation. We sneak anti-aging pomegranate into the majority of 100% PURE natural skin care and cosmetics -- now you know why!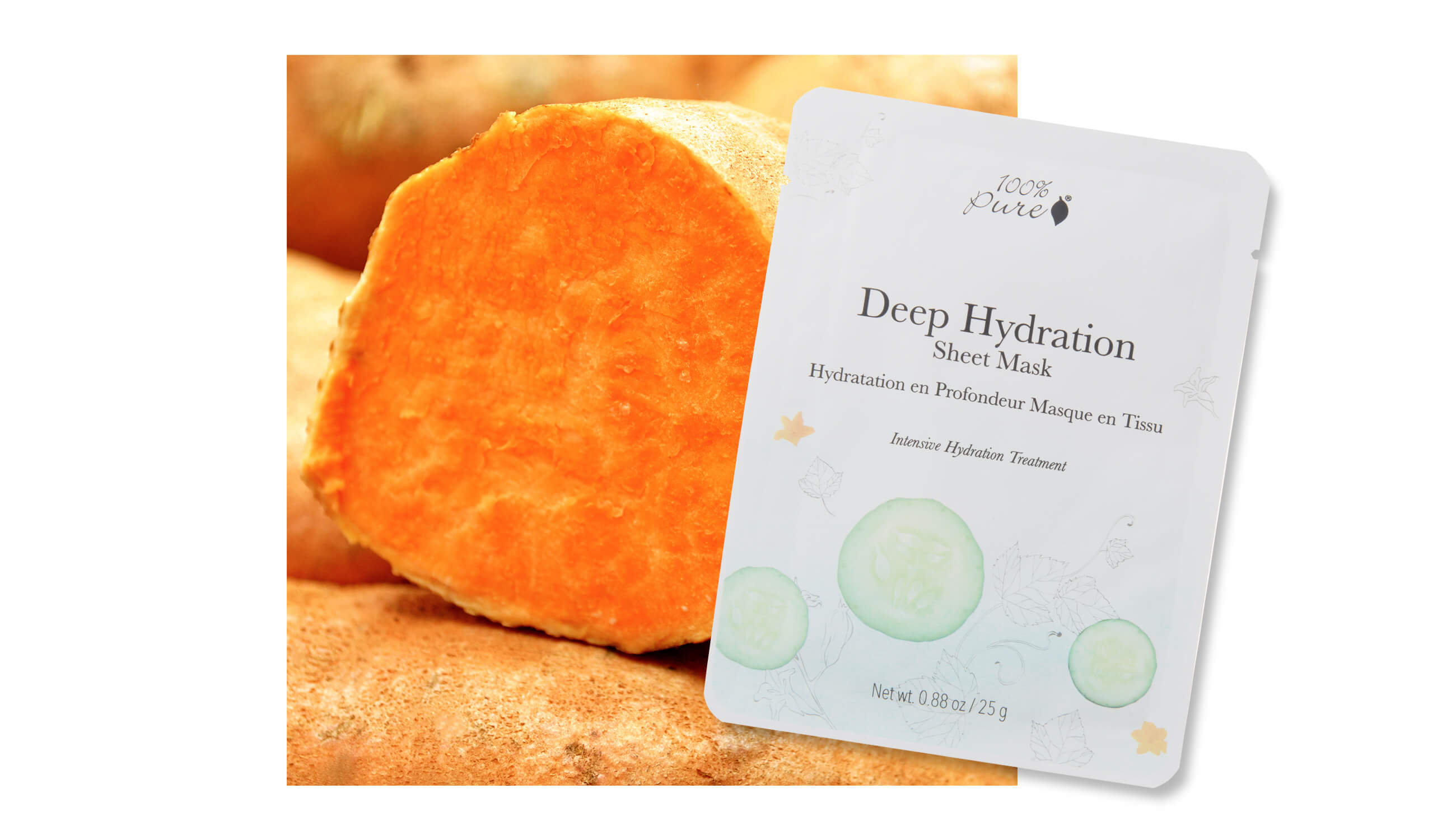 Hyaluronic Acid
Hyaluronic acid is crucial to keeping skin hydrated and youthful. This molecule can hold up to 1000 times its weight in water! It also aids in tissue repair and overall skin health. Hyaluronic acid also helps skin retain signs of youthfulness like collagen, elasticity, and moisture. This is key because as we age, our body's hyaluronic acid levels begin to dip, making it harder for our skin to retain moisture. No wonder we start noticing dry patches, fine lines, and wrinkles as we age! When you factor in free radical damage from UV rays and pollutants, our skin really needs a helping hand. That's why adding hyaluronic acid to your natural skin care routine can go a long way in the name of healthy, more youthful skin.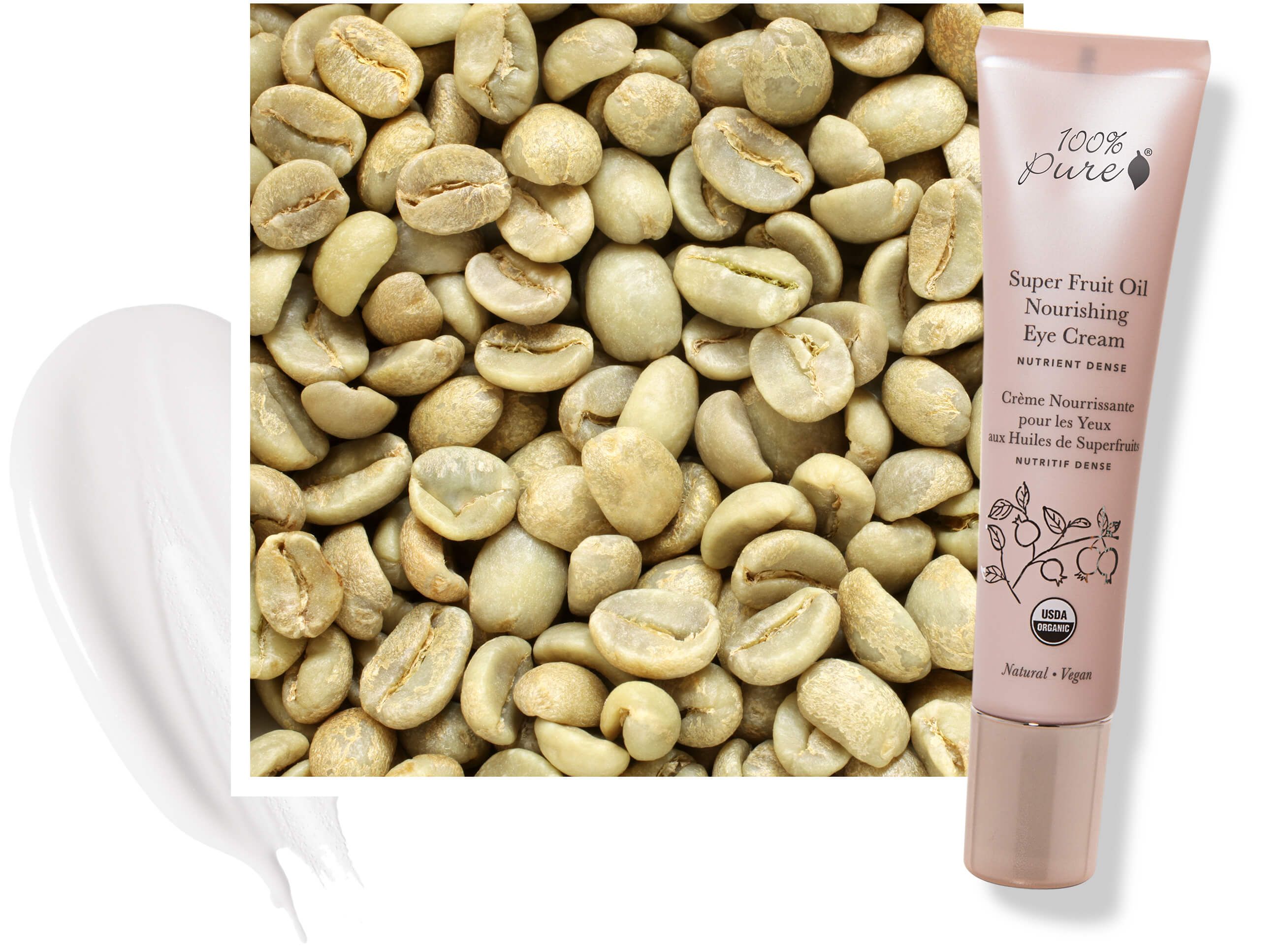 Coffee Oil
Coffee oil is one of our favorite anti-aging tools, thanks to its high concentration of essential fatty acids, sterols, and vitamin E. This trifecta makes it a potent antioxidant that can offer protection against UV damage and its associated cellular degradations. These antioxidant properties have been discussed in quite a few studies – if you're a keen student and want more science, take a peek at this article in the Medical Science Monitor, for a blow-by-blow breakdown of the antioxidant properties of caffeine.
The gist of coffee's anti-aging wrap? Photoaging is one of the major culprits behind mature looking skin, and coffee oil can assist in preventing it through supporting strong and flexible skin tissue reproduction at the cellular level. Caffeine oil is also an ultra effective solution to one of the more annoying beauty woes out there: under-eye puffiness. With its capacity to speed up fluid drainage and anti-inflammatory properties, we've featured it in our upcoming Super Fruit Oil Nourishing Eye Cream and it's the star ingredient in our beloved Coffee Bean Caffeine Eye Cream and Caffeine Mask (so you can fool people into thinking you got a full night sleep).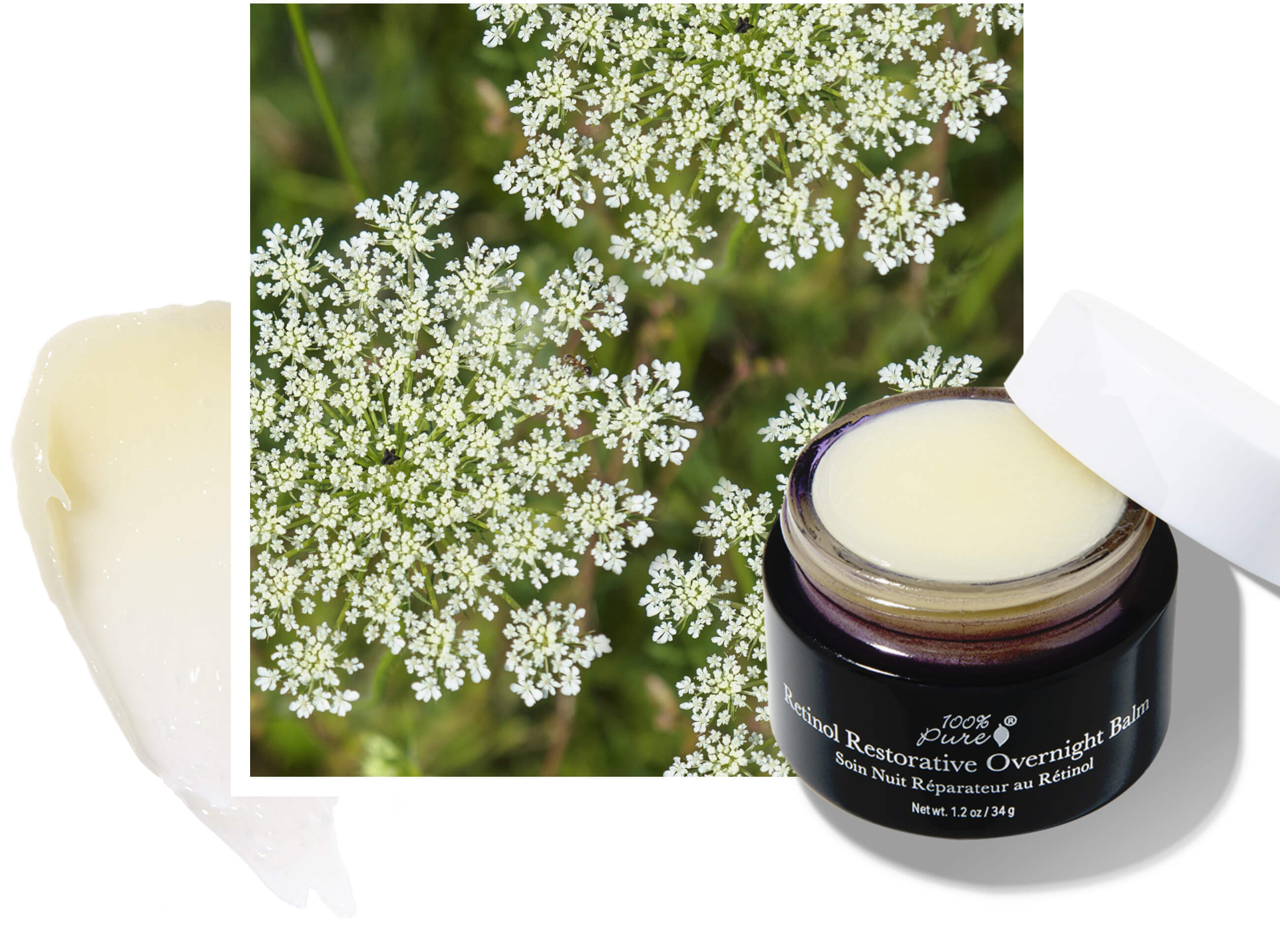 Retinol
Retinol. You've all heard of it, and probably know that it has a practically mythical status in the anti-aging world. It's a compound in the Vitamin A family that chemically exfoliates your skin by speeding up cell turnover. What does this mean? It effectively removes the dead skin cells and buildup in pores that cause dullness and a lifeless complexion. Retinol is an essential ingredient for achieving a dewy, fresh-faced look, since it can smooth texture and gradually face dark spots from scarring or sun exposure.
At 100% PURE, we derive our retinol from vitamin A and carrot seed oil. These are fantastic natural retinol sources with major anti-aging power. You can find naturally derived retinol in our Retinol Overnight Balm, Retinol Restorative Neck Cream, and our upcoming Retinol PM Eye Cream.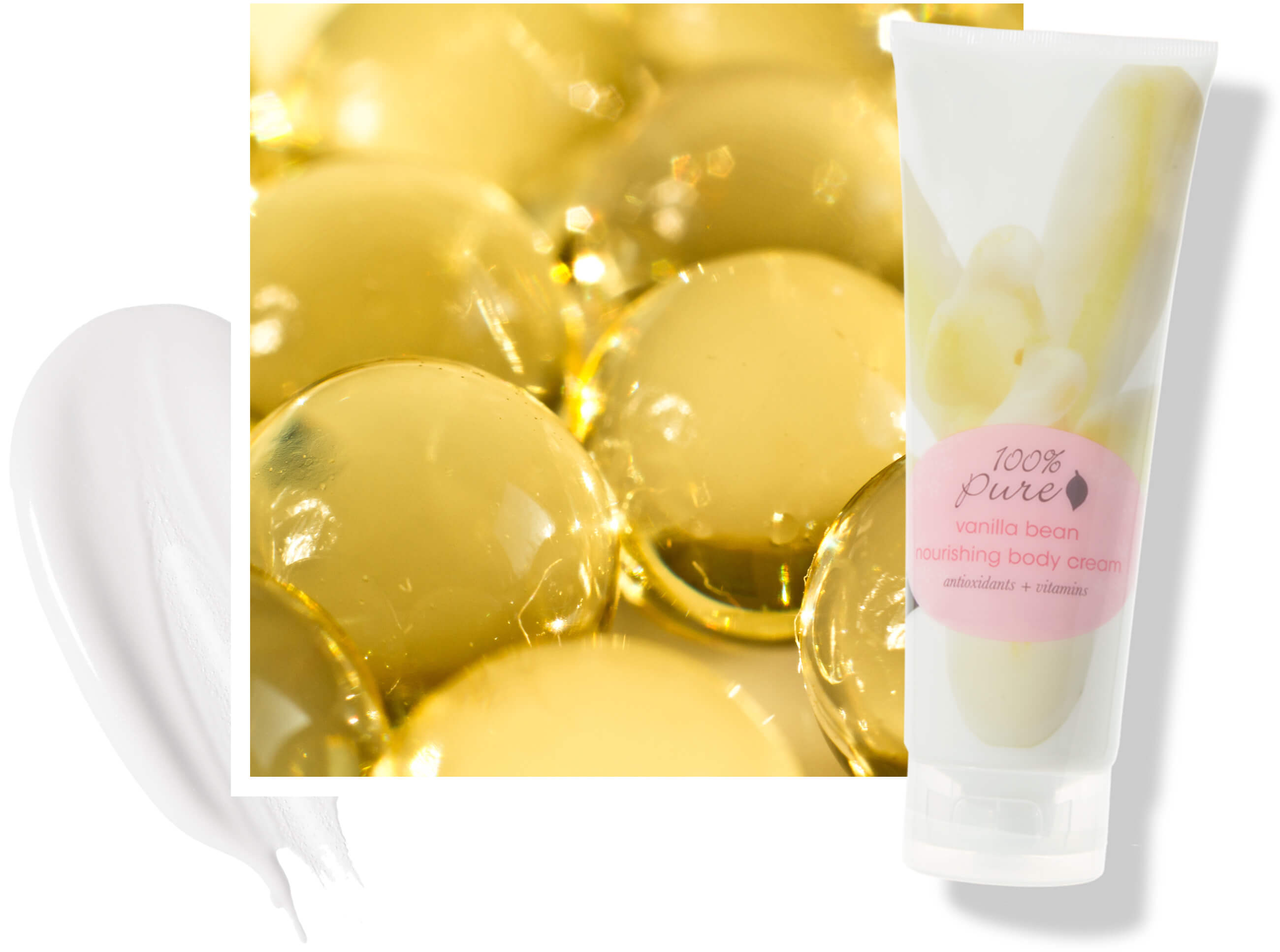 Vitamin E
For incredible skin soothing, enhanced hydration and suppleness, vitamin E is an essential. Vitamin E eases dryness by helping skin retain its natural moisture levels. When applied regularly, it's effective at reducing the appearance of fine lines and wrinkles. Its inherent antioxidant status means that it blocks free radicals. Because of this, we like to think of it as the first line of defense against damaging environmental effects. As part of a moisturizing natural skin care routine, it works as a daily therapy to seal in moisture and protect the outermost skin layer. That's why it's a central ingredient in several of our most nourishing natural products! It's a key player in our body butters and creams, cosmetics, eye creams, and Multi-Vitamin PM Serum, to name a few.
Newsletter
Subscribe
for more blog updates and exclusive discounts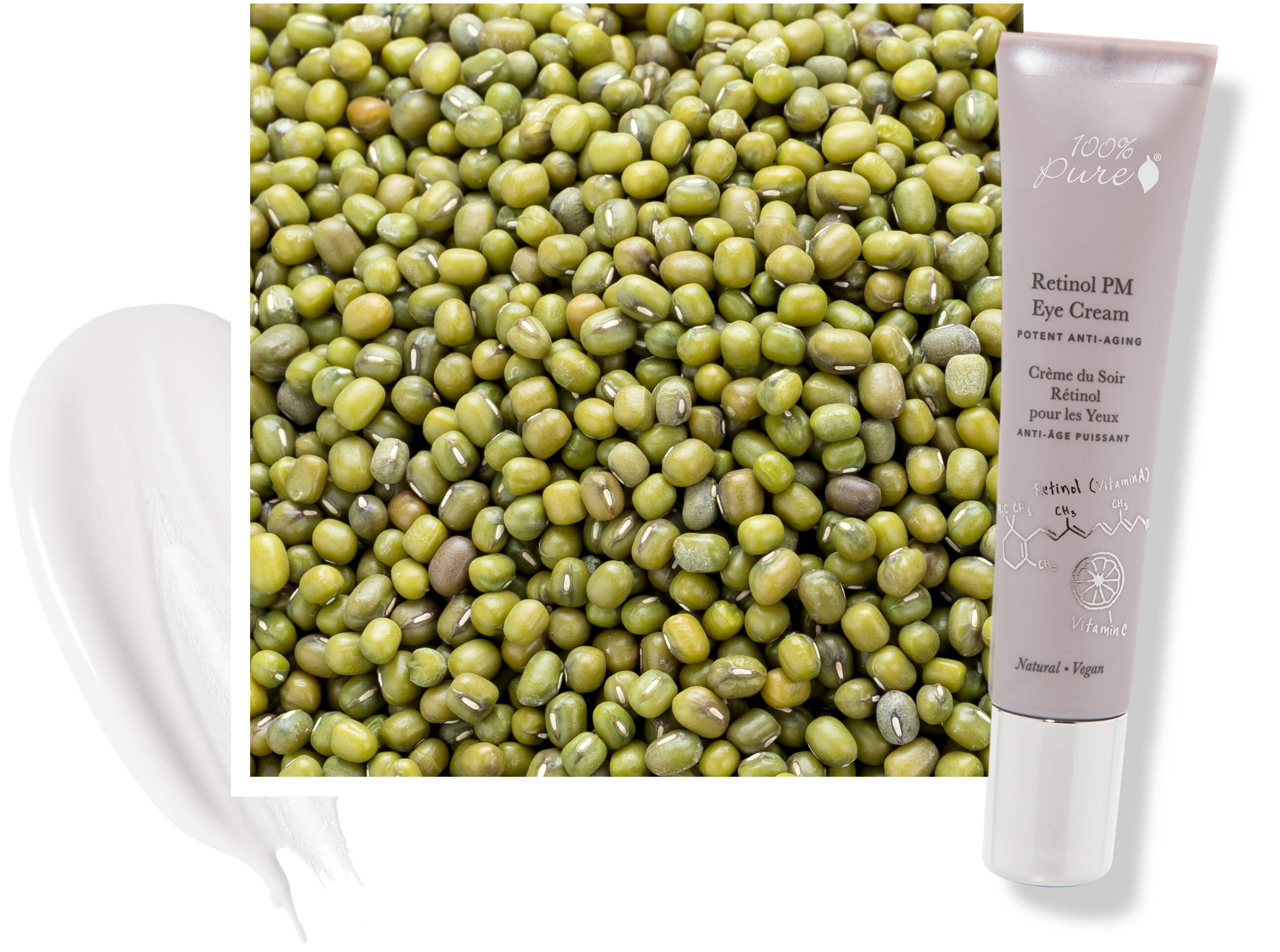 Phaseolus Radiatus Meristem Cell Culture Extract
Phaseolus Radiatus might be a mystery, but you're sure to know it by its common name: mung bean! This cutting-edge ingredient has shown amazing ability to increase skin cell activity and accelerate new cellular proteins. The stem cells sprouted from mung beans even possess the ability to self regenerate! By using Phaseolus Radiatus Meristem cell culture extract in our Retinol Eye Cream, we've harnessed its regenerative and reparative benefits for your skin. It works at your skin's cellular level to repair UV-damage and reduce inflammation. The result is slower elasticity loss and increased skin firmness and density. In other words, this ingredient has serious potential to pump the breaks on the drooping effect that kicks in when we get older. Especially around the eyes!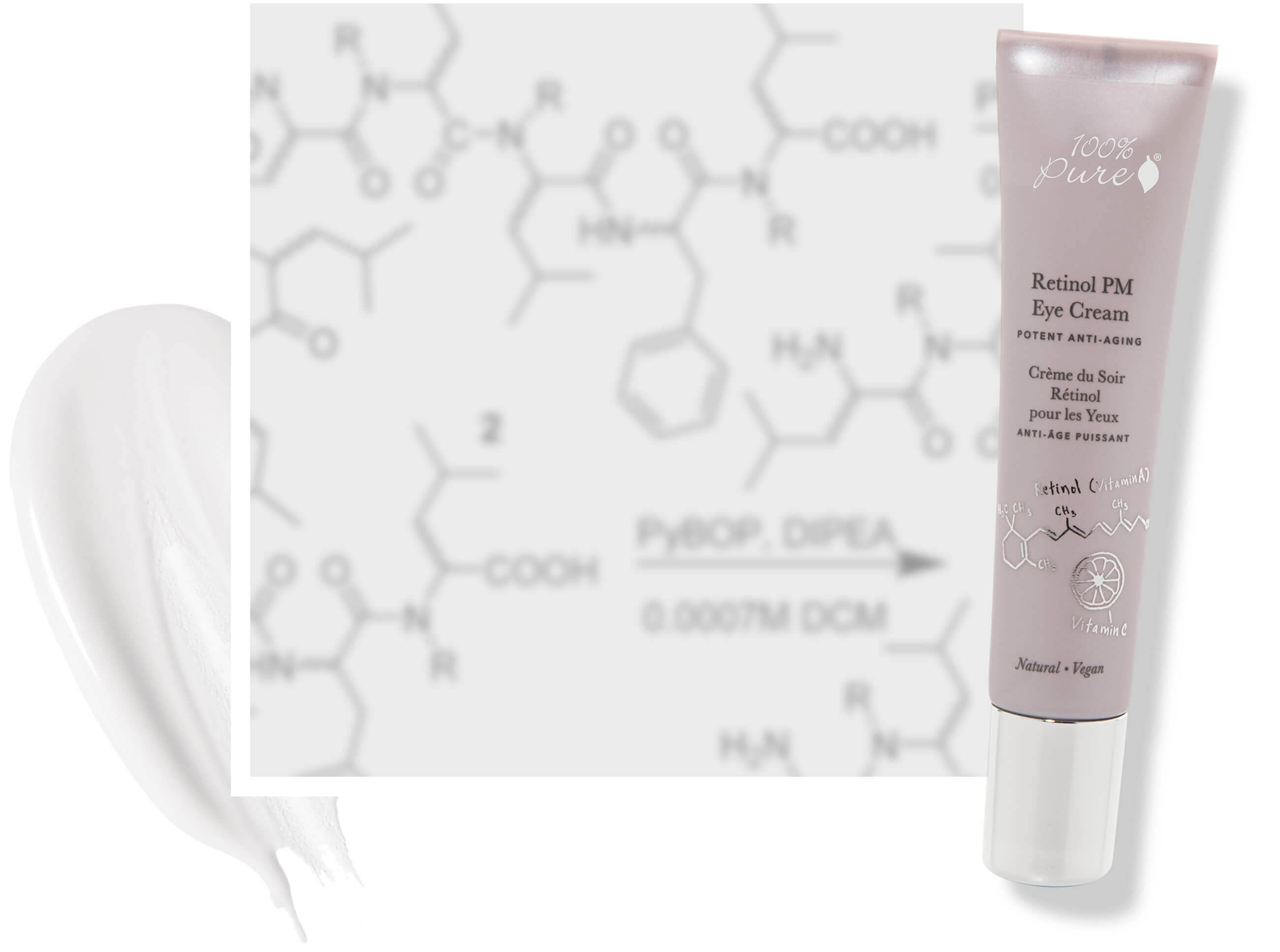 Pentapeptide-48
Also featured in our anti-aging Retinol Eye Cream, Pentapeptide-48 is included to support the work of stem cell regeneration in skin. It also stimulates the production of elastin. Pentapeptide-48 improves the appearance of fine lines and wrinkles, resulting in enhanced skin firmness and volume. Peptides are amino acids vital to the processes of cellular communication, protein regulation, and cell growth. A recent study provides a breakdown of the peptide and anti-aging link: "These peptides are used for collagen stimulation, wound healing, 'Botox-like' wrinkle smoothing, as well as antioxidative, antimicrobial, and whitening effects".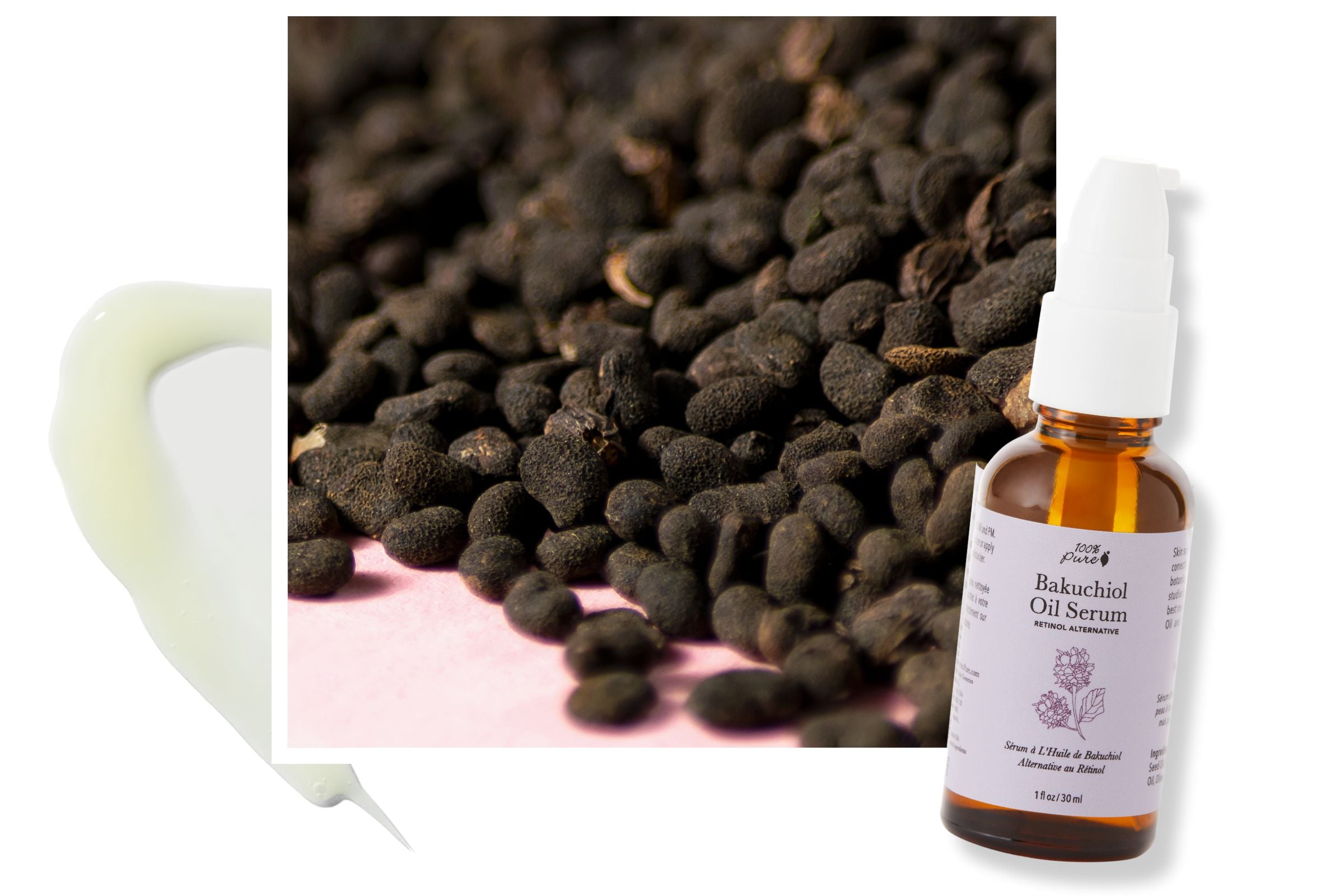 Bakuchiol
As we age, our skin loses its elasticity and natural glow. However, a relatively new ingredient in the beauty industry, bakuchiol, has been gaining popularity for its anti-aging benefits. Unlike retinol, which can cause skin irritation and sensitivity, bakuchiol is a natural, plant-based alternative that is gentle yet effective. It has been shown to smooth fine lines, reduce hyperpigmentation, and improve skin texture. Not only that, but it also has antioxidant properties, making it a great option for protecting the skin from environmental damage. So if you're looking for a natural solution to combat the signs of aging, bakuchiol might just be the ingredient you need in your skincare routine. Try incorporating bakuchiol into your anti-aging routine with our Bakuchiol Oil Serum, Bakuchiol Cleanser, Seaberry Moisturizer, 18.3% Active Ingredients Vitamin C Glow Max Bright Mask, or our Bakuchiol Moisturizer.
Niacinamide
A top star in our Multi-Vitamin PM Serum, niacinamide is a must-have in any natural anti-aging skin care routine (which explains why Byrdie has this PM serum at the top of their beauty wish-list). It boosts the immunity of your skin by increasing the production of ceramides. Ceramides are an essential part of skin's lipid barrier, and help your skin retain moisture and protect itself from environmental pollutants.
Exposure to the sun can strip and damage this barrier, so adding ceramide-producing topicals (namely, natural products that contain niacinamide) is a key strategy for more youthful skin. You can re-strengthen damaged skin, prevent moisture loss, and keep out invading microbes with niacinamide. An improved lipid barrier also means less redness, blotchiness, and sensitivity. These are all results of a weakened lipid barrier! Applied nightly in our super concentrated PM serum formula, niacinamide works to strengthen and fortify your skin structure over time. The result will be better Ph balance, controlled sebum production, and reduced inflammation or sensitive spots in skin!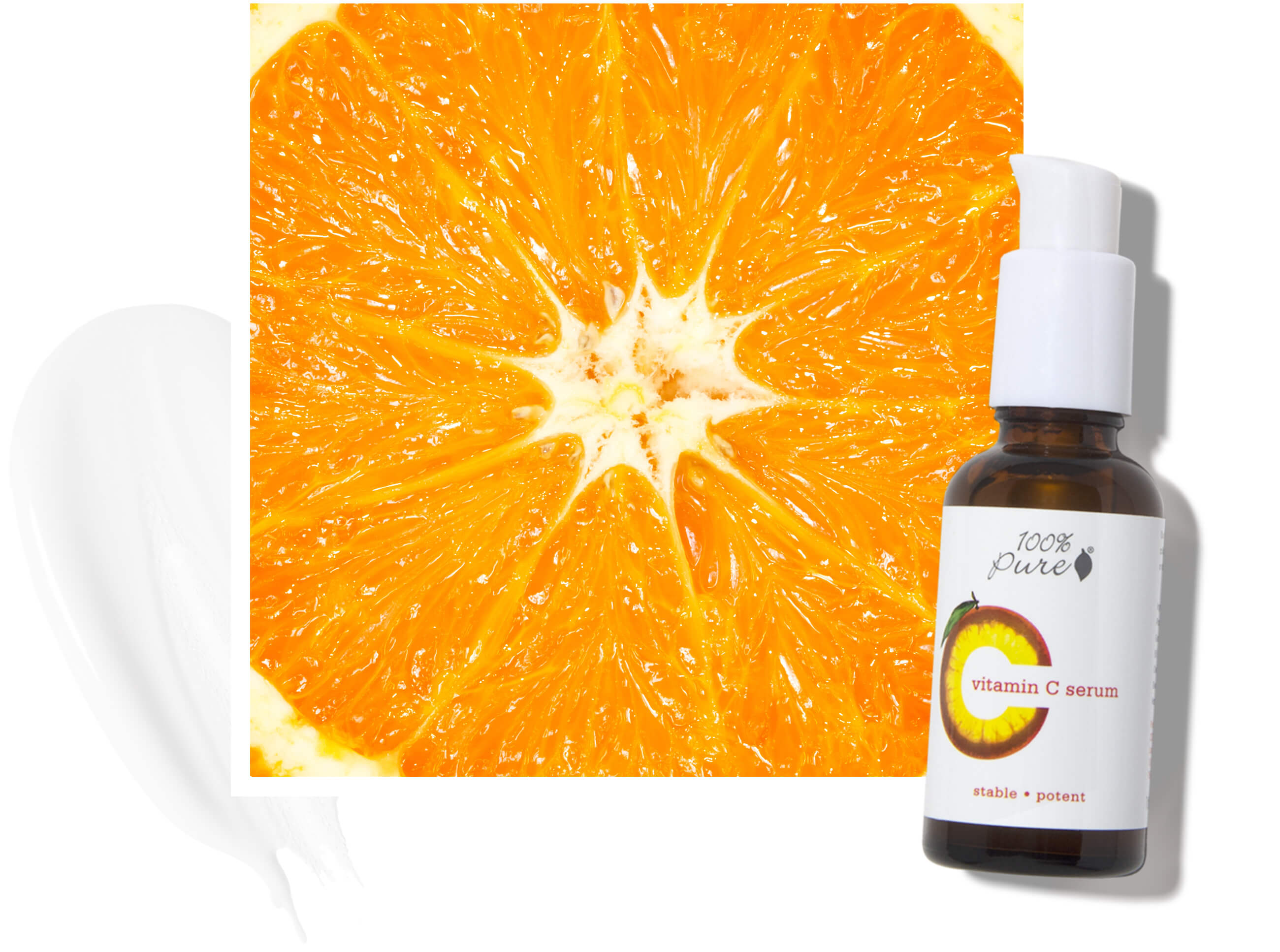 Vitamin C
Chances are high that this isn't the first time you've heard us gushing over vitamin C. And we'll never stop singing its praises! Included in our Multi-Vitamin + Antioxidants Potent PM Serum, best-selling Vitamin C Serum, Coffee Bean Eye Cream, and Multi-Vitamin Cream, vitamin C is renowned as a powerful piece of the anti-aging skin care puzzle. Vitamin C can brighten, improve hydration, and increase firmness.
It's a powerful antioxidant that fights off free radicals, and damage caused by the toxins accumulated during everyday life. It's especially effective against photo-damage from sun exposure. When applied topically, it can also reduce and fade discoloration from past sun damage. Vitamin C is an essential vitamin for supporting collagen production, making it a must for natural anti-aging skin care. Without vitamin C, the process of collagen restoration would be impossible. Three cheers for this little guy!
We carefully hand-select products based on strict purity standards, and only recommend products we feel meet this criteria. 100% PURE™ may earn a small commission for products purchased through affiliate links.
The information in this article is for educational use, and not intended to substitute professional medical advice, diagnosis, or treatment and should not be used as such.
Sign up to our email newsletter for more blog updates and exclusive discounts.
< Older Post | Newer Post >