https://purity-res.cloudinary.com/image/fetch/q_auto:best,f_auto,fl_lossy,w_auto,c_limit,dpr_auto/https://cdn.shopify.com/s/files/1/0648/1955/products/iUpt2v6xRNtQ6jO5EoaC_61d9f3c1-a1c7-4860-9579-b3642f30b6e8.png?v=1525734613
https://purity-res.cloudinary.com/image/fetch/q_auto:best,f_auto,fl_lossy,w_auto,c_limit,dpr_auto/https://cdn.shopify.com/s/files/1/0648/1955/products/fcscnwSPSWlKkyE9v9oA_e0e9040c-6b41-45e0-b811-577477402cb4.png?v=1525734613
https://purity-res.cloudinary.com/image/fetch/q_auto:best,f_auto,fl_lossy,w_auto,c_limit,dpr_auto/https://cdn.shopify.com/s/files/1/0648/1955/products/dv07gTlSPSw8cR8cYbIx.png?v=1525734613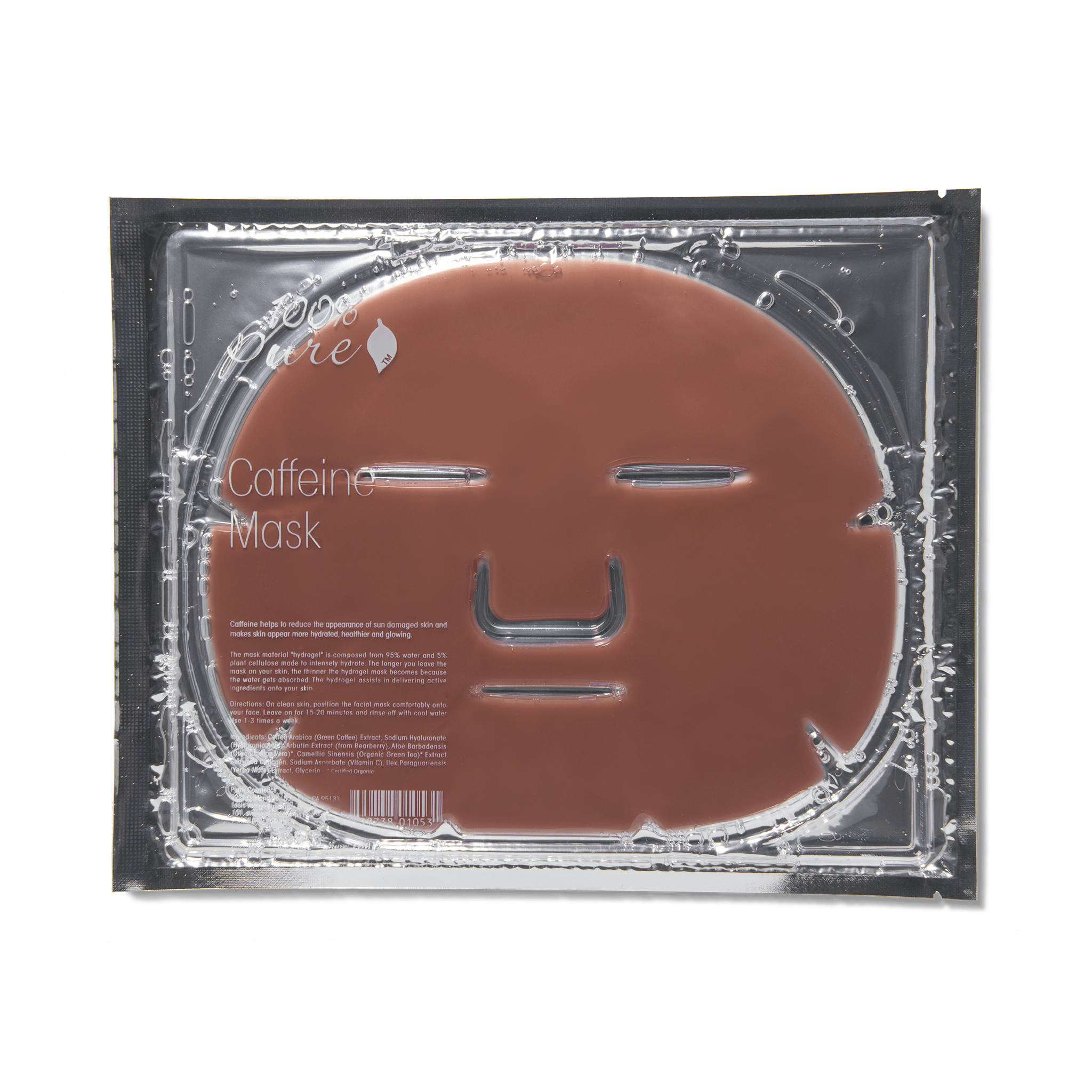 Caffeine Masks
Natural

Vegan

Cruelty Free

Gluten Free
Anti-inflammatory caffeine mask restores sun-damaged skin by aiding in circulation and reducing redness. Composed of 95% organic aloe and 5% plant cellulose.
Caffeine effectively restores sun-damaged skin, is anti-inflammatory and helps reduce redness. The mask material "hydrogel" is composed from 95% organic aloe water and 5% plant cellulose made to intensely hydrate.The longer you leave the mask on your skin, the thinner the hydrogel mask becomes because the water gets absorbed. The hydrogel assists in delivering active ingredients onto your skin.

Directions

Open package on a level surface, Carefully slide the individually wrapped mask from its package. Open individual mask tray side up, taking care to retain nourishing liquid in mask tray. Lift mask out of tray and liquid. Lying back, place mask on freshly cleaned face. Leave on for 15-20 minutes. Gently remove the mask and lightly massage any remaining moisture into your skin. Do not rinse. Follow with your normal skincare regimen. Discard the mask after single use. Use at least twice a week.

Every ingredient we use is beneficial, here are a few:

Yerba Mate

Yerba Mate boosts skin firmness and elasticity with antioxidants.

Seaweed Collagen

Seaweed Collagen boosts collagen production and elasticity.

Green Tea

Green Tea tones and protects with antioxidants.

Hyaluronic Acid

Hyaluronic Acid encourages collagen production and improves skin hydration.

Coffee

Coffee enriches with antioxidants.

Complete list of ingredients:

Aloe Barbadensis (Organic Aloe Juice)*, Coffea Arabica (Green Coffee) Extract, Sodium Hyaluronate (Hyaluronic Acid), Arbutin Extract (from Bearberry), Camellia Sinensis (Organic Green Tea) Extract*, Fucus Vesiculosus (Seaweed) Collagen, Sodium Ascorbate (Vitamin C), Ilex Paraguariensis (Yerba Mate) Extract, Plant Cellulose, Vegetable Glycerin * Certified Organic
By using hashtag #100percentpure or #nodirtybeauty, I hereby grant to 100% PURE (Purity Cosmetics), it subsidiaries, agents and affiliates, the unlimited worldwide, perpetual, unending right to use, reproduce, distribute, and convey my image/photograph in any format or medium now known or subsequently developed, to modify and edit my image/photograph, to combine my image/photograph with other images, video, audio, text and other media, to create derivative works incorporating, including or based on my image/photograph. This grant shall be construed broadly.
---
Caffeine Masks
has a rating of
4.3
stars based on
211
reviews.
Customer Reviews
Tingly!
These masks feels so nice. They are cooling this one smelled good & had a tingling feeling. Not as much as the orange one though. I use these ones twice & use the left over liquid. I use them once a week!
Pleasantly Surprised
Note: I've used prescription retinol creams and benzoyl peroxide washes for years to combat acne-prone skin and, consequently, have highly sensitive skin. Also, this means that parts of my skin remain oily, while other parts are dry and peel year round. In looking for a hydrating mask, I previously tried the green water bomb mask but was left unimpressed, because I just didn't see results. However, this caffeine mask actually surprised me. I did it around lunch time, and my skin glowed for the rest of the day. It's not a miracle worker (hence, only four stars), but I definitely saw better results using this than the green mask. Plus, I love the ingredient list, because it hydrates without using heavy, pore-clogging oils. It is a big strangely constructed, but it's not terrible to manage if you set it, lay back, and let it go for 15-20 minutes (although I did mine for closer to 30). Because I live in the Midwest, where the winters are brutal on your skin, I think I'll be incorporating these at least weekly into my winter skincare routine.
I like it
I enjoyed the feel of the mask and the moisture it provided. It was a relaxing treat.
Good
I liked it. It isn't life changing or anything, but pleasant.
Love it but not my Fav
I do like this caffeine mask, but not as much as the Ginseng Collagen Boost Mask. I didn't notice too much of a difference as I did with the collagen mask, but my face did feel refreshed after use. I use these particular masks at least 3 times before I have to toss them, so I do like that aspect of it.
Complete the Package
Continue Shopping →