https://purity-res.cloudinary.com/image/fetch/q_auto:best,f_auto,fl_lossy,w_auto,c_limit,dpr_auto/https://cdn.shopify.com/s/files/1/0648/1955/products/iUpt2v6xRNtQ6jO5EoaC_61d9f3c1-a1c7-4860-9579-b3642f30b6e8.png?v=1525734613
https://purity-res.cloudinary.com/image/fetch/q_auto:best,f_auto,fl_lossy,w_auto,c_limit,dpr_auto/https://cdn.shopify.com/s/files/1/0648/1955/products/fcscnwSPSWlKkyE9v9oA_e0e9040c-6b41-45e0-b811-577477402cb4.png?v=1525734613
https://purity-res.cloudinary.com/image/fetch/q_auto:best,f_auto,fl_lossy,w_auto,c_limit,dpr_auto/https://cdn.shopify.com/s/files/1/0648/1955/products/dv07gTlSPSw8cR8cYbIx.png?v=1525734613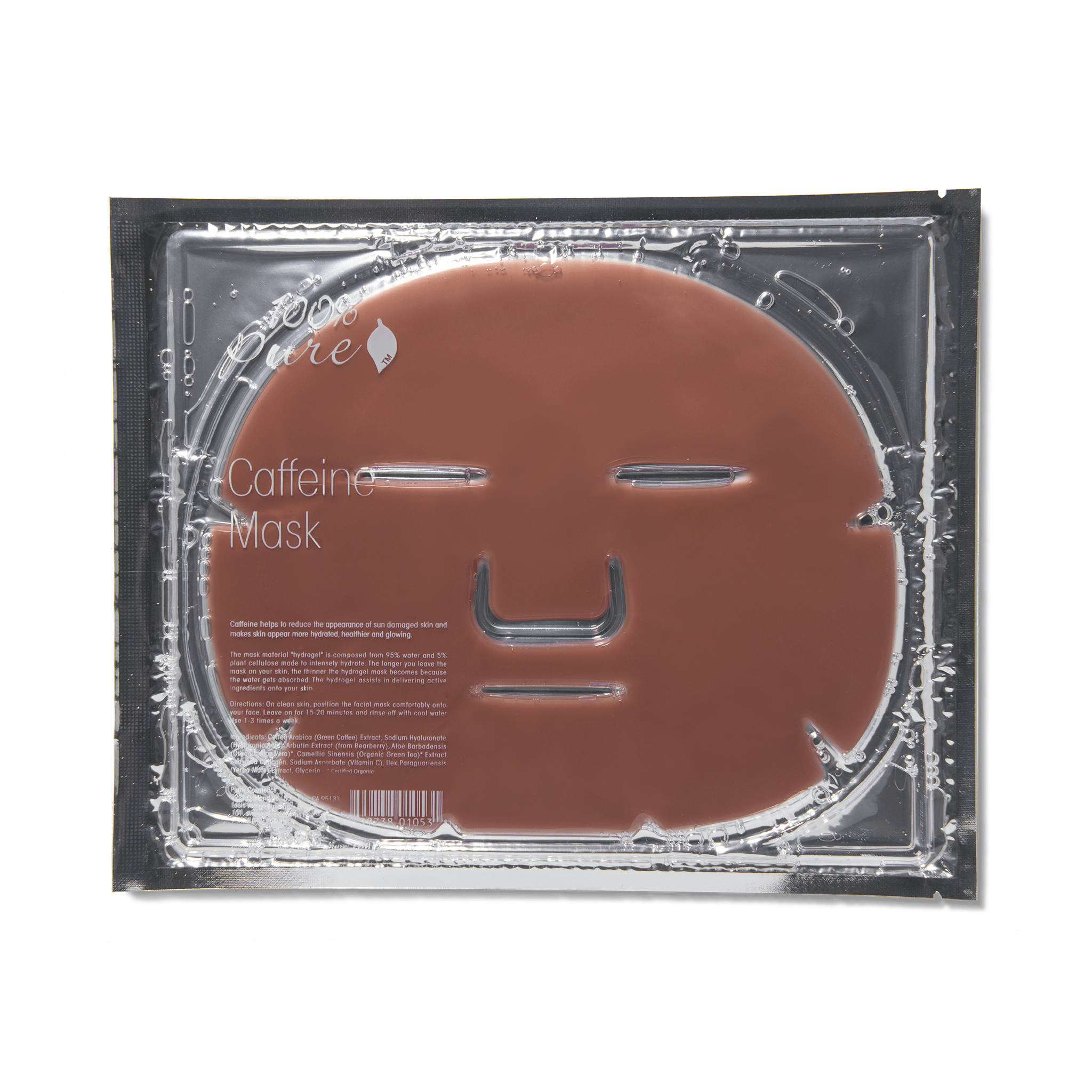 Caffeine Masks
Natural

Vegan

Cruelty Free

Gluten Free
Ultra-hydrating, anti-inflammatory mask uses caffeine to calm redness and restore dry, sun-damaged skin while soothing with 95% aloe hydrogel material.
Just add Coconut Butter Soap to your cart, meet $45.00 threshold to unlock, and use code COCOBUTTER at checkout! While supplies last.
Ultra hydrating hydrogel mask stars anti-inflammatory caffeine, to calm redness and restore dry, sun-damaged skin. The "hydrogel" mask material is composed of 95% organic aloe juice and 5% plant cellulose, to intensely quench and soothe skin. The hydrogel material will thin as you wear it, as hydration is literally transferred from the mask into your skin. This innovative hydrogel technology assists in delivering active ingredients, and aids in nutrient absorption for more targeted skin nourishment.

Directions

Open package on a level surface, Carefully slide the individually wrapped mask from its package. Open individual mask tray side up, taking care to retain nourishing liquid in mask tray. Lift mask out of tray and liquid. Lying back, place mask on freshly cleaned face. Leave on for 15-20 minutes. Gently remove the mask and lightly massage any remaining moisture into your skin. Do not rinse. Follow with your normal skincare regimen. Discard the mask after single use. Use at least twice a week.

Every ingredient we use is beneficial, here are a few:

Yerba Mate

Yerba Mate boosts skin firmness and elasticity with antioxidants.

Seaweed Collagen

Seaweed Collagen boosts collagen production and elasticity.

Green Tea

Green Tea tones and protects with antioxidants.

Hyaluronic Acid

Hyaluronic Acid encourages collagen production and improves skin hydration.

Coffee

Coffee enriches with antioxidants.

Complete list of ingredients:

Aloe Barbadensis (Organic Aloe Juice)*, Coffea Arabica (Green Coffee) Extract, Sodium Hyaluronate (Hyaluronic Acid), Arbutin Extract (from Bearberry), Camellia Sinensis (Organic Green Tea) Extract*, Fucus Vesiculosus (Seaweed) Collagen, Sodium Ascorbate (Vitamin C), Ilex Paraguariensis (Yerba Mate) Extract, Plant Cellulose, Vegetable Glycerin * Certified Organic
Caffeine Masks
has a rating of
4.3
stars based on
218
reviews.
Customer Reviews
skin
sale
face
masks
couple
mask
moisture
ones
feel
life
Caffeine Face
I'm a coffee lover so of course I had to get them to try it out and I'm so glad I did. One morning I woke up with a puffer fish face( tends to happen when I indulge on too much sweet stuff) and after using this mask the swelling on my face went down. This is one I wish I could wrap my entire body in on those days when I feel bloated!
Plane
I had an overseas flight and used this on the plane. The flight attendants thought it was hilarious. I did too. But it was worth it! I wore this for a portion of the night and my skin didn't dry out!
good after sun exposure
These are fun to use. They are real jelly like and refreshing on a hot day. Brought a couple on a girls trip and used them after a day in the sun and cooled us down and hydrated our dry skin. You need to lie down for them to stay on and the longer they stay on the more hydrating they are to the skin. I like to fall asleep with them on. They fall off eventually while I sleep but do not stain the sheets or fall apart.
01/25/2019
Holly R.
United States
My Caffeine other than Coffee
Leaves me refreshed.
Tingly!
These masks feels so nice. They are cooling this one smelled good & had a tingling feeling. Not as much as the orange one though. I use these ones twice & use the left over liquid. I use them once a week!
Complete the Package
Continue Shopping →