https://purity-res.cloudinary.com/image/fetch/q_auto:best,f_auto,fl_lossy,w_auto,c_limit,dpr_auto/https://cdn.shopify.com/s/files/1/0648/1955/products/iUpt2v6xRNtQ6jO5EoaC_61d9f3c1-a1c7-4860-9579-b3642f30b6e8.png?v=1525734613
https://purity-res.cloudinary.com/image/fetch/q_auto:best,f_auto,fl_lossy,w_auto,c_limit,dpr_auto/https://cdn.shopify.com/s/files/1/0648/1955/products/fcscnwSPSWlKkyE9v9oA_e0e9040c-6b41-45e0-b811-577477402cb4.png?v=1525734613
https://purity-res.cloudinary.com/image/fetch/q_auto:best,f_auto,fl_lossy,w_auto,c_limit,dpr_auto/https://cdn.shopify.com/s/files/1/0648/1955/products/dv07gTlSPSw8cR8cYbIx.png?v=1525734613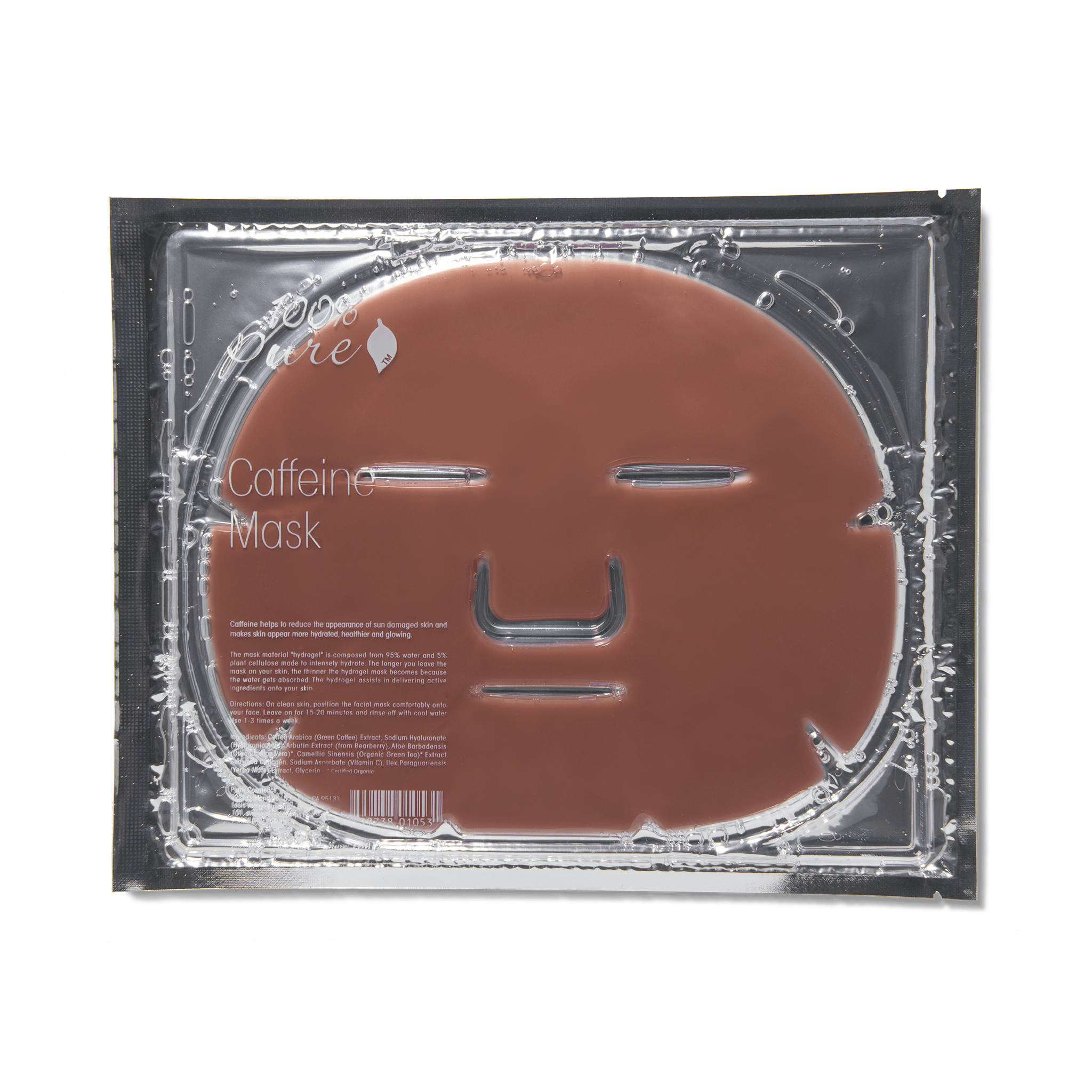 Caffeine Masks
Natural

Vegan

Cruelty Free

Gluten Free
Ultra-hydrating, anti-inflammatory mask uses caffeine to calm redness and restore dry, sun-damaged skin while soothing with 95% aloe hydrogel material.
Ultra hydrating hydrogel mask stars anti-inflammatory caffeine, to calm redness and restore dry, sun-damaged skin. The "hydrogel" mask material is composed of 95% organic aloe juice and 5% plant cellulose, to intensely quench and soothe skin. The hydrogel material will thin as you wear it, as hydration is literally transferred from the mask into your skin. This innovative hydrogel technology assists in delivering active ingredients, and aids in nutrient absorption for more targeted skin nourishment.

Directions

Open package on a level surface, Carefully slide the individually wrapped mask from its package. Open individual mask tray side up, taking care to retain nourishing liquid in mask tray. Lift mask out of tray and liquid. Lying back, place mask on freshly cleaned face. Leave on for 15-20 minutes. Gently remove the mask and lightly massage any remaining moisture into your skin. Do not rinse. Follow with your normal skincare regimen. Discard the mask after single use. Use at least twice a week.

Every ingredient we use is beneficial, here are a few:

Yerba Mate

Yerba Mate boosts skin firmness and elasticity with antioxidants.

Seaweed Collagen

Seaweed Collagen boosts collagen production and elasticity.

Green Tea

Green Tea tones and protects with antioxidants.

Hyaluronic Acid

Hyaluronic Acid encourages collagen production and improves skin hydration.

Coffee

Coffee enriches with antioxidants.

Complete list of ingredients:

Aloe Barbadensis (Organic Aloe Juice)*, Coffea Arabica (Green Coffee) Extract, Sodium Hyaluronate (Hyaluronic Acid), Arbutin Extract (from Bearberry), Camellia Sinensis (Organic Green Tea) Extract*, Fucus Vesiculosus (Seaweed) Collagen, Sodium Ascorbate (Vitamin C), Ilex Paraguariensis (Yerba Mate) Extract, Plant Cellulose, Vegetable Glycerin * Certified Organic
Customer Reviews
skin
serum
use
mask
face
life
feel
mom
bit
something
Very cooling
I don't usually need to moisturize my face in summer (lots of summer humidity where I live) but, do use this mask because it's sooo relaxing at the end of the day, and, very cooling and refreshing!
Cool and relaxing
I love the strange jelly feeling of this mask. I recommend using it when you're watching t.v or doing something chill, otherwise it might slide off your face. It fit my face just fine, and I was able to see through it. It creeped my dog out a little bit, because I do look like a psychopath when I wear it. Still, I love it. It makes me my face feel cold and tingly, which I believe reduces puffiness after a long day. My skin feels rejuvenated after I have it on. I try to wear it for as long as possible. Would purchase again, and as a gift as well!
Favorite!
This is my favorite mask personally. I actually noticed a difference between the before and after. As for all of these masks, I keep the extra serum in the bag it comes in and stick it in the fridge so I can keep using it over the next few days. Definitely don't let that go to waste!
Caffeine Face
I'm a coffee lover so of course I had to get them to try it out and I'm so glad I did. One morning I woke up with a puffer fish face( tends to happen when I indulge on too much sweet stuff) and after using this mask the swelling on my face went down. This is one I wish I could wrap my entire body in on those days when I feel bloated!
Plane
I had an overseas flight and used this on the plane. The flight attendants thought it was hilarious. I did too. But it was worth it! I wore this for a portion of the night and my skin didn't dry out!
Complete the Package
Continue Shopping →