https://purity-res.cloudinary.com/image/fetch/q_auto:best,f_auto,fl_lossy,w_auto,c_limit,dpr_auto/https://cdn.shopify.com/s/files/1/0648/1955/products/e819979c9648a0e7d0080fd1a7d119a6.png?v=1528763710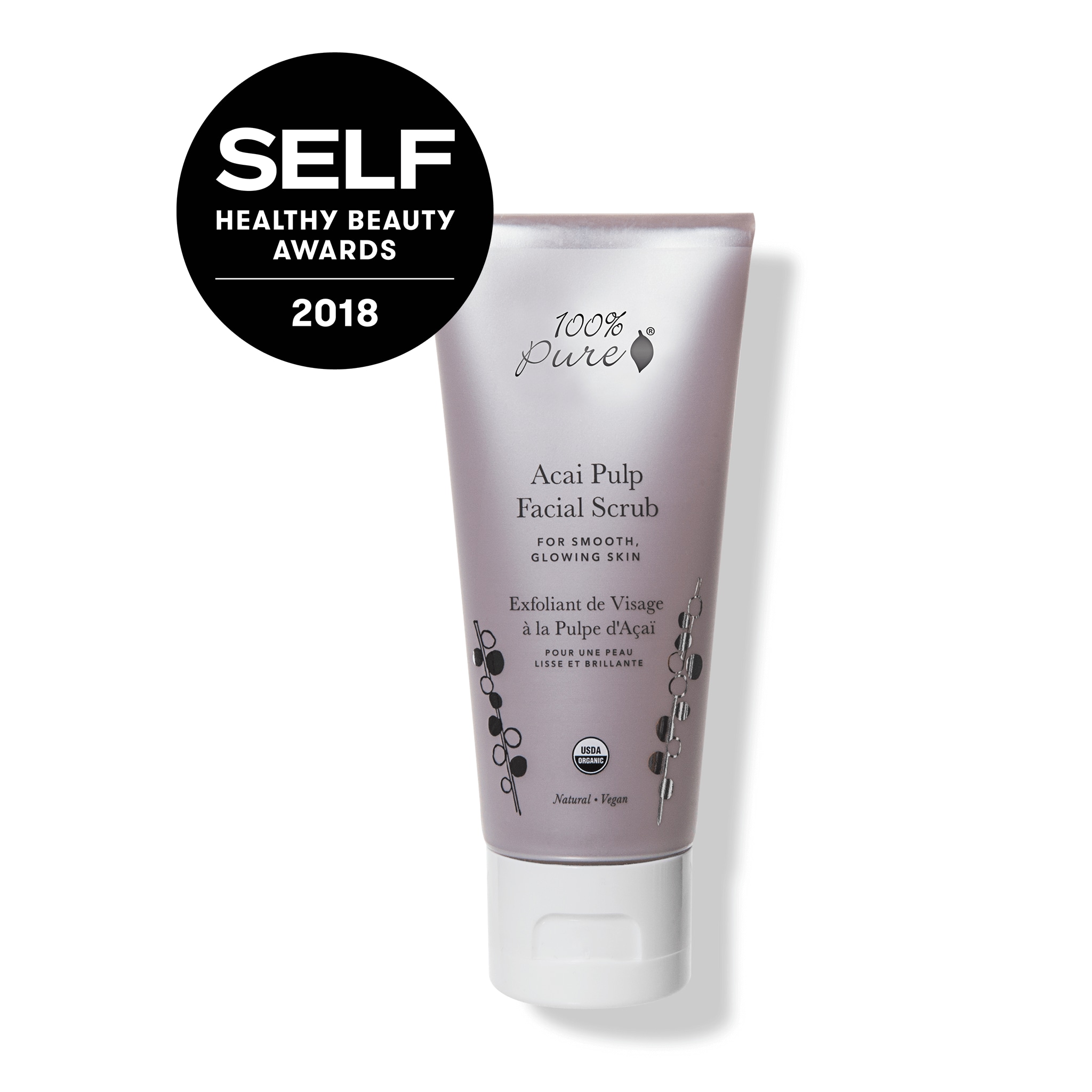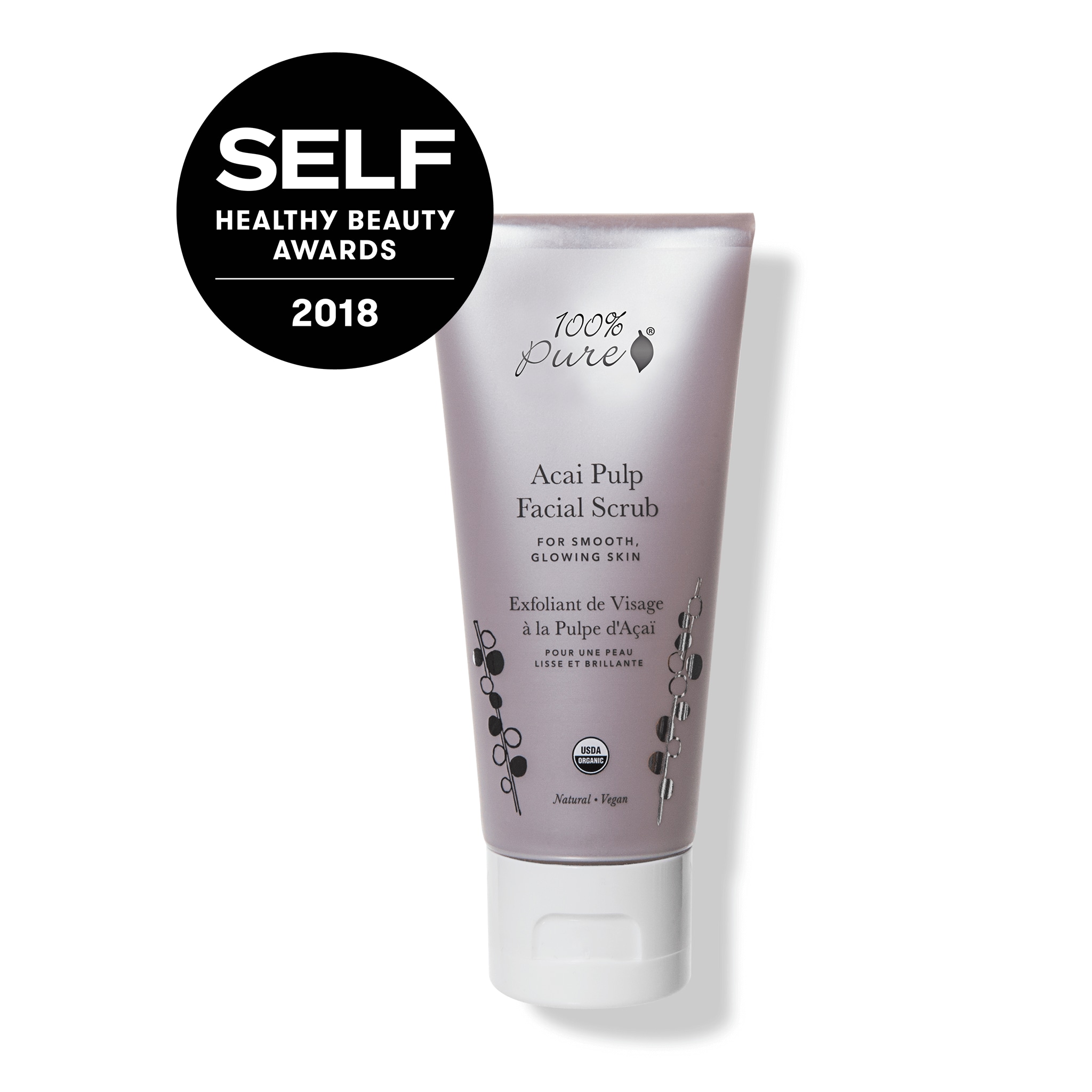 Acai Pulp Facial Scrub
Natural

Vegan

Cruelty Free

Gluten Free
Super fruit infused facial scrub smoothes away bumps, flakes, and dead skin while instilling vitamins and antioxidants for a super soft, glowing complexion.
Very intensive and concentrated facial scrub to give you a deep sweep for a healthy, glowing, youthful complexion. Because of the concentration strength of this nutrient dense formula, always use on wet skin (the more water you incorporate, the gentler the exfoliation). Crushed organic acai berries deeply nourish and brighten with essential vitamins, minerals, antioxidants, fatty acids and vitamins A and C.

Directions

This is a full strength, potent formula. To use as a scrub: emulsify a quarter sized amount onto your fingers with water (to dilute since it's concentrated) and massage gently in circular motions onto wet skin. To use as a mask: apply a thick layer onto clean skin and leave on for 20 minutes to receive intense nourishment. Rinse off with clean water.

Complete list of ingredients:

Organic Glycerin, Organic Vitis Vinifera (Grape) Seed Exfoliant, Organic Euterpe Oleracea (Acai) Fruit Extract, Organic Coffea Arabica (Coffee) Oil, Organic Lycium Barbarum (Goji) Fruit Extract, Organic Vitis Vinifera (Grape) Seed Powder, Organic Euterpe Oleracea (Acai) Seed Powder, Organic Oleracea (Acai) Seed Oil, Organic Euterpe Oleracea (Acai) Seed Extract, Organic Sambucus Nigra (Elderberry) Fruit Extract, Organic Myrica Rubra (Yumberry) Fruit Extract, Organic Lycium Barbarum (Goji Berry) Powder, Organic Garcinia Mangostana (Mangosteen) Extract, Organic Citrus Aurantium Bergamia (Bergamot) Fruit Oil, Organic Citrus Sinensis (Sweet Orange) Oil, Organic Lonicera Japonica (Japanese Honeysuckle) Flower Extract
By using hashtag #100percentpure or #nodirtybeauty, I hereby grant to 100% PURE (Purity Cosmetics), it subsidiaries, agents and affiliates, the unlimited worldwide, perpetual, unending right to use, reproduce, distribute, and convey my image/photograph in any format or medium now known or subsequently developed, to modify and edit my image/photograph, to combine my image/photograph with other images, video, audio, text and other media, to create derivative works incorporating, including or based on my image/photograph. This grant shall be construed broadly.
---
Acai Pulp Facial Scrub
has a rating of
4.5
stars based on
191
reviews.
Customer Reviews
Feels great!
Great scrub, nice small scrubbers in it, kind of liquidy though. It makes my skin feel fantastic and I use it at the end of the day for my evening skin routine. The thing I haven't liked at all is that I can't close it because of all the gunk that is built up on the container.
Skin So Soft
I use this once a week and my skin feels so soft afterwards. You don't need very much so it lasts. I love that this scrub is made from plants and not nasty chemicals.
Acai pulp face scrub
I overall like this scrub- it is grainy and intense, but I use it gently first to exfoliate, and then as a mask as suggested. I get glowy bright skin from the exfoliation, but not painful or inflamed skin from it being too abrasive (be gentle in your scrubbing!). The tube is small but I use it sparingly once a week, and it's lasted very well. I wouldn't use it too often, as it is very rough for sensitive skin, but once a week is great.
Amazing Scrub for beautiful skin
This product is amazing. I phrchased my first order after hearing numerous positive comments about this scrub. And right from the first day of me using it, my skin has felt fresh, clean and smooth
Great Scrub!
I've added this scrub to my weekly routine and love it. My skin feels so soft after use! Acai Pulp Facial Scrub works wonderfully as part of my skin care regimen using several times each week. I really do notice a difference in how healthy my skin looks and feels.
Complete the Package
Continue Shopping →