https://purity-res.cloudinary.com/image/fetch/q_auto:best,f_auto,fl_lossy,w_auto,c_limit,dpr_auto/https://cdn.shopify.com/s/files/1/0648/1955/products/f98e5dfb93d23f05ddee293fadd6608a.png?v=1530053528
https://purity-res.cloudinary.com/image/fetch/q_auto:best,f_auto,fl_lossy,w_auto,c_limit,dpr_auto/https://cdn.shopify.com/s/files/1/0648/1955/products/X3zkMUs6QuOLbzvZdoKi.jpg?v=1544741259
https://purity-res.cloudinary.com/image/fetch/q_auto:best,f_auto,fl_lossy,w_auto,c_limit,dpr_auto/https://cdn.shopify.com/s/files/1/0648/1955/products/ty1Pm4i3QZeo3Hv3TQKu.jpg?v=1544741259
https://purity-res.cloudinary.com/image/fetch/q_auto:best,f_auto,fl_lossy,w_auto,c_limit,dpr_auto/https://cdn.shopify.com/s/files/1/0648/1955/products/Zeq8BTKJSMWtWksg4p6E.jpg?v=1544741259
https://purity-res.cloudinary.com/image/fetch/q_auto:best,f_auto,fl_lossy,w_auto,c_limit,dpr_auto/https://cdn.shopify.com/s/files/1/0648/1955/products/sRTybQ3vSYW1X2jJItwX.jpg?v=1544741259
https://purity-res.cloudinary.com/image/fetch/q_auto:best,f_auto,fl_lossy,w_auto,c_limit,dpr_auto/https://cdn.shopify.com/s/files/1/0648/1955/products/qktcZWDR9ukmgMn8fpnQ.jpg?v=1544741259
https://purity-res.cloudinary.com/image/fetch/q_auto:best,f_auto,fl_lossy,w_auto,c_limit,dpr_auto/https://cdn.shopify.com/s/files/1/0648/1955/products/yK0ZZan8STGuWKbpsJle.jpg?v=1544741260
https://purity-res.cloudinary.com/image/fetch/q_auto:best,f_auto,fl_lossy,w_auto,c_limit,dpr_auto/https://cdn.shopify.com/s/files/1/0648/1955/products/lxJxWRRsTjip9BiJNLG9.jpg?v=1544741260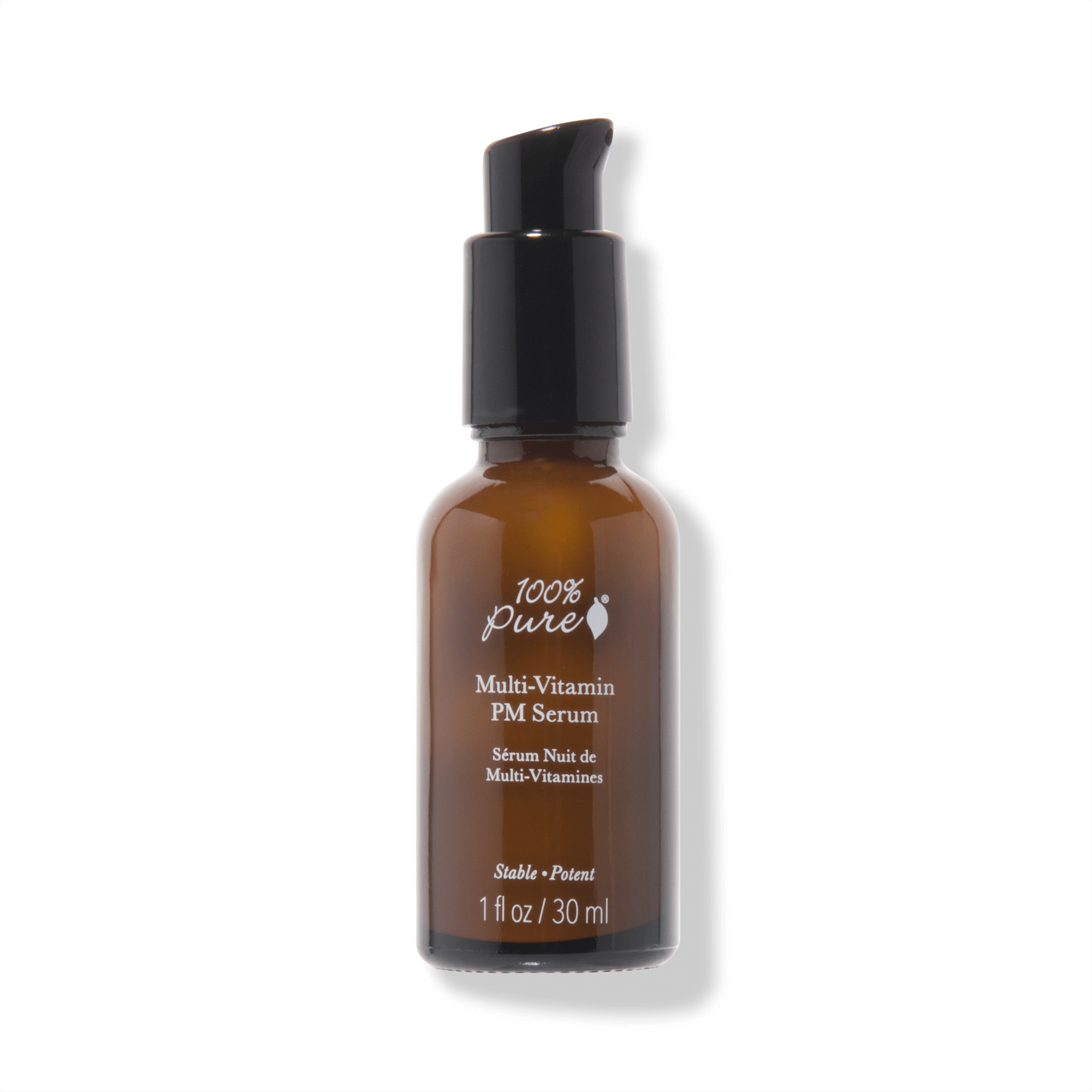 Multi-Vitamin + Antioxidants Potent PM Serum
Natural

Vegan

Cruelty Free

Gluten Free
Potent, stabilized vitamins in this PM serum work synergistically to reduce lines and wrinkles, increase firmness and elasticity, brighten and even skin tone.
For Normal, Dry, Oily, Combination Skin Types

10% Vitamin C: Boosts Collagen and Elastin production; Brightens
10% Niacinamide: Increases ceramide levels for moisture and suppleness
10% Vitamin E: Restores and protects from free radical, environmental damage
1% CoQ10: Reverses sun damage
1% Retinol: Lessens and prevents lines and wrinkles / firms skin

Potent, stabilized vitamins work synergistically to reduce lines and wrinkles, increase firmness and elasticity, brighten and even skin tone. Niacinamide and Vitamin C are two anti-aging superstars but not usually formulated together because of difference in pH levels. However, we formulated with Magnesium Ascorbyl Phosphate, the highest quality, most stable form of Vitamin C with a pH balance of 6, the same as Niacinamide which makes them work harmoniously together to restore a youthful, healthy, glowing complexion. Balanced serum can also be used around eyes, including your lids.

Directions

For PM use. Shake before use. After cleansing and toning, gently pat a quarter sized amount of serum onto face (including eye area) and neck. Serums may be layered. Use SPF every morning. Avoid direct sunlight, store in a cool, dry, dark space.

Every ingredient we use is beneficial, here are a few:

Coenzyme Q10

Coenzyme Q10 deeply enhances collagen production.

Retinol

Retinol diminishes fine lines and wrinkles.

Niacinamide

Niacinamide tones and firms skin.

Vitamin E (Tocopherol)

Vitamin E restores and protects from free radical damage.

Vitamin C

Vitamin C brightens, boosts collagen and elastin production.

Complete list of ingredients:

Organic Rosa Centifolia (Rose) Water, 10% Magnesium Ascorbyl Phosphate (Vitamin C), 10% Niacinamide, 10% Vitamin E, 1% Retinol, Organic Rosa Canina (Rosehip) Oil, Lonicera Japonica (Honeysuckle) Flower Extract, Algin, Hyaluronic Acid, Organic Optunia Streptacantha (Nopal Cactus), Organic Hippophae Rhamnoides (Seabuckthorn) Oil, Solanum Lycopersicum (Tomato) Powder*, Spinacia Oleracea (Spinach) Powder*, Oleracea Italica (Broccoli) Powder*, Squalane, Ubiquinone (Coenzyme Q10), Citrus Paradisi (Grapefruit) Oil, Citrus Bergamia (Bergamot) Oil, Citrus Sinensis (Sweet Orange) Oil *Natural Source of Alpha Lipoic Acid (ALA)
By using hashtag #100percentpure or #nodirtybeauty, I hereby grant to 100% PURE (Purity Cosmetics), it subsidiaries, agents and affiliates, the unlimited worldwide, perpetual, unending right to use, reproduce, distribute, and convey my image/photograph in any format or medium now known or subsequently developed, to modify and edit my image/photograph, to combine my image/photograph with other images, video, audio, text and other media, to create derivative works incorporating, including or based on my image/photograph. This grant shall be construed broadly.
---
Multi-Vitamin + Antioxidants Potent PM Serum
has a rating of
4.6
stars based on
413
reviews.
Customer Reviews
skin
serum
face
products
results
lines
makeup
stuff
smell
eyes
Yes!!
I started using this alone as my night time routine. It works great as a stand alone or within a regimen of other products. I love it!!
Multivitamin PM serum
I was on the fence about this product at first and mostly because I have really sensitive skin and it seemed to be causing skin irritations, however, when I spoke to a rep they advised me to limit my use of this product to a few times a week at most and see how my skin does. This actually helped and my skin irritation was reduced and the product seemed to be improving my skin. So if I could give any feedback to others who may have the same problem then try using it once or twice a week and see how your skin does and gradually improve, if needed. I think the product overall is great and is definitely potent so everyday use may not be needed for most people.
Multivitamin + Antioxidants PM Serum
This is a great product. It goes on so nicely and absorbs into your face right away! It also smells pleasant and I look forward to using it every night. The only bad thing is the glass bottle it comes in. I bought this product recently and only got 3 uses out of it until it fell a short distance and shattered everywhere. I'm so bummed because it's very expensive! So just be careful when handling.
03/09/2019
Sandra Guevara
I noticed a difference almost right away.
I got this while I was pregnant was so bummed that I had to wait months before I could use it. It feels like multivitamins for your face. It can be a bit drying if you don't ease into using it.
03/08/2019
Melissa Roberts
Multi-Vitamin + Antioxidants Potent PM Serum
I love this product! I've been using it nightly with the Multi-Vitamin + Antioxidants Ultra Riché PM Treatment and started noticing a difference day one! My skin was softer, smooth, and moist the whole next day. My makeup looked better on and my horrible winter skin itch and flaking was gone. After a few days I've already started to notice improvements in my pore visibility, redness and lines on my skin. My skin feels firm, moist and soft without any day time treatment. Smells great but not overpowering.
Complete the Package
Continue Shopping →