The comedogenic scale, common myths, and how to get big benefits
Posted on October 8, 2021
Written by: 100% PURE ®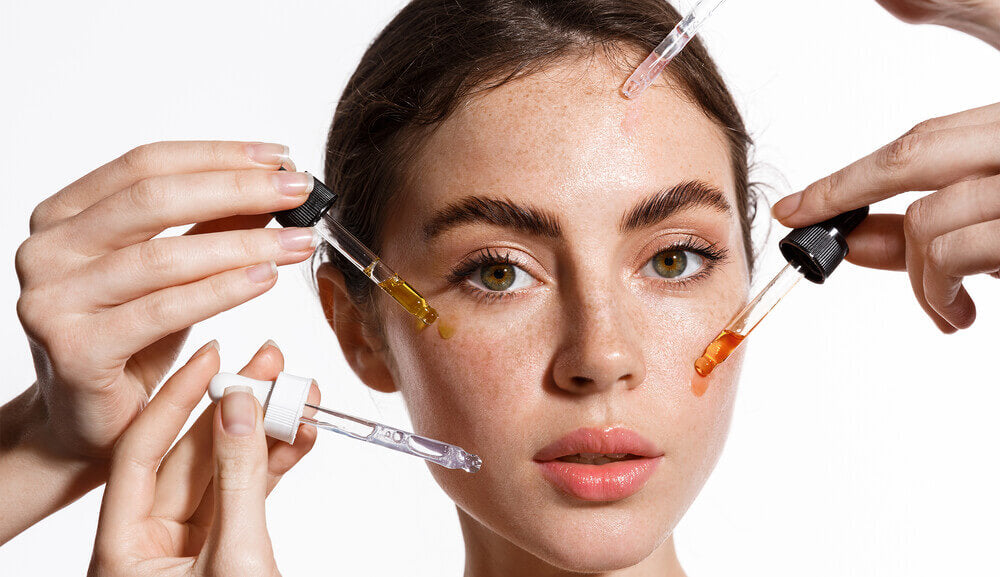 Who taught us that using facial oil was a recipe for breakouts and disastrous skin? Needless to say, they have some apologizing to do. When we think back to the skin care advice and tips we were given over the years, it looks so much different than much of the advice we hear now.
Here's the truth: facial oil can actually set you on the path towards a more healthy complexion. Follow along as we delve into the true benefits of facial oils, bust some myths, and explore some of the best facial oils on the clean beauty scene.
When to Use a Facial Oil
Let's zoom out for a second: we'll start with facial oils that don't favor one skin type over another.
Oily skin types may think facial oils are a trigger for breakouts, while others have concerns about shiny looking skin. The key here is to ensure that the facial oil used is compatible with your skin type, and you're using it correctly.
We've been told to layer skin care products from thinnest to thickest, implying that the thinner-texture facial oil would come before a denser moisturizer. It seems reasonable, but recent expertise actually suggests the opposite. Because oil is the heaviest – or most dense – product in your routine, it's able to penetrate your moisturizer and reach your skin, but the reverse isn't correct.
You'll want to apply a facial oil based on your skin's needs. Your skin might need a facial oil if your moisturizer is evaporating too fast, or hydration and moisture levels are depleting (common with mature skin). Sensitive and dry skin types may want to use facial oils in the morning and before bed, so that they can fully absorb and provide moisture the following day.
Oily and combo skin types may benefit from using oils once daily after moisturizing, or adding a few drops into their moisturizer. Exceptions for when to use a facial oil can be made, depending on signals that your skin may be sending you. Harsh cleansers or scrubbing can strip skin of its natural oils, resulting in dry skin. Using facial oil can replenish moisture and balance your complexion.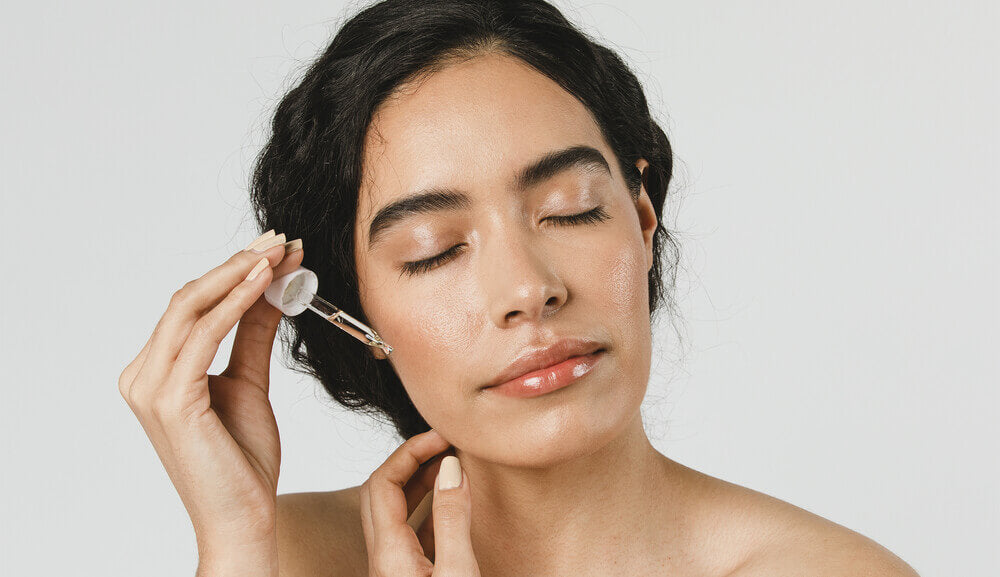 How to Apply Facial Oil
Not all facial oils are created equal. It's important to check that these oils are leaving out the bad stuff; this includes silicones, diluted oils, waxes, dyes, and fragrance. Here are a few helpful tips for getting the most from your facial oil:
A Little Goes a Long Way
Face oils are known for being ultra-nourishing, which means a little goes a long way. Use just a few drops to cover your entire face. You can always add more if needed, but taking this approach will help you avoid a super-slick face.
PRO TIP: Poured too much oil? Rub it on the backs of your hands, on your neck, or apply to the ends of your hair. Marula Oil is one of the best multitasking oils for skin, hair, and body!
Pat or Press into Skin
Unless you're aiming for a facial massage, you don't want to rub your facial oil into your skin. Instead, use your fingers and palms to pat or press the oil onto your complexion. Excessive tugging of the skin will only increase your risk for wrinkles.
Apply Based on Your Skin's Needs
Depending on your skin type, you may only want to use oils before bed so that your skin can soak them up overnight and provide protection throughout the day. For an ultra-soft complexion in the morning, we recommend a nightly application of our Multi-Vitamin Face Oil. It works synergistically to reduce lines and wrinkles, increase firmness and elasticity, brighten and even skin tone while you sleep.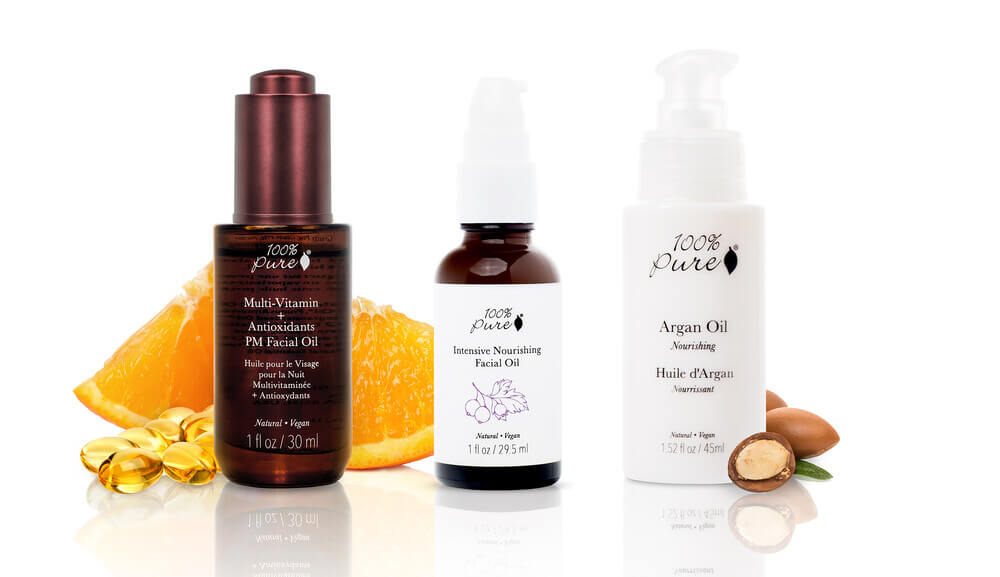 Finding the Right Oil for Your Skin
With more facial oils available than ever before, it can be difficult to know which ones will work with your skin. One way to navigate the spectrum of oils is by the comedogenic scale, which ranks an oil's propensity to clog pores.
The scale uses a numbering system of 0 to 5 with 2 or less being non-comedogenic (won't clog pores) and 5 being pore-clogging. Here's how the numbers rank on the scale:
0 - won't clog pores
1 - very low likelihood they will clog pores
2 - moderately low likelihood
3 - moderate likelihood
4 - fairly high likelihood
5 - high likelihood of clogging pores

Anyone who is susceptible to acne breakouts should avoid highly comedogenic oils, while people with drier skin might prefer a more emollient oil toward the middle of the scale. Remember, there is no perfect science and since everyone's skin is different, facial oils will impact different people in different ways.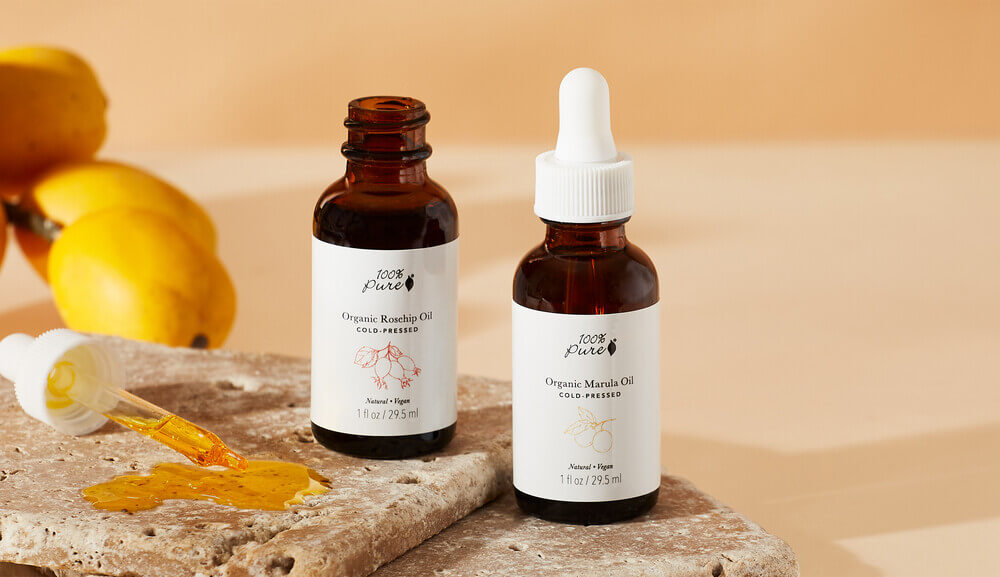 Mythbusting Facial Oils
What are some popular myths about facial oils, and what are the facts? We're separating fact from fiction, to help you care for your complexion and skin type more effectively.
Myth #1: Facial oils clog pores and cause breakouts.
Busted – not all facial oils will clog the pores, especially if you're using one suited to your skin type. They can actually help to balance excess sebum and improve acne-prone skin. Acne-prone skin is often due to a combined number of factors like diet, health, and hormones. However, using face oil on your skin won't worsen your acne.
Many face oils also have anti-inflammatory properties, which can reduce redness and irritation that also comes with acne. If you are deficient in linoleic acid, your sebaceous glands tend to produce a thicker, stickier sebum (oil), which is the true culprit behind your clogged pores. Face oil, therefore, can alleviate this problem and you will actually benefit from using it on your skin.
PRO TIP: Looking for an oil that's unlikely to clog pores? Lightweight Argan Oil scores a 0 on the comedogenic scale, and is rich in vitamin E, phenols, carotenes, squalene, and essential fatty acids. Rosehip Oil is also a good option for all skin types, as it scores with a low comedogenic rating of 1.
Myth #2: Facial oils will make your skin oilier.
False – facial oils can help your skin regulate sebum production. The skin's protective barrier is partly made of oil and is a necessary part of our skin to prevent it from becoming too sensitive or prematurely aged.
If you use a facial oil designed for use on the skin, you will find the oils can be beneficial even for oily skin types. For oily skin, our Nourishing Facial Oil is lightweight, making it a friendly choice. This wonderfully silky oil moisturizes without leaving a heavy, greasy feeling behind. Featuring grapeseed oil, it's an amazing antimicrobial oil that helps fend off acne-causing bacteria.
Myth #3: Face Oils Shouldn't Be Used Every Day.
Incorrect – high quality, cold-pressed oils are lightweight and easily absorbed into your skin. Using them every single day won't be an issue! Apply your favorite nourishing face oil at nighttime to benefit from an ultra-restorative beauty sleep.
Myth #4: You Can Skip Moisturizer If You Use Face Oil.
Not true. Moisturizers attract water into your skin, while face oils seal that moisture in. Moisturizers contain several ingredients that will hydrate and nourish your skin, but have limited oil content.
Face oils, on the other hand, are entirely composed of plant-derived fats that have adequate lipid content necessary to build a barrier and create a waterproof seal to prevent water and moisture from evaporating. Your best bet for ultimate hydration? Layering both, with moisturizer first and facial oil second.
A Breakdown of 100% PURE Facial Oils
Skin types: normal to dry

Benefits: concentrated with antioxidants to counteract free radical damage
Skin types: all skin types, mature or aging

Benefits: rich in linoleic acid to moisturize and target signs of aging
Skin types: all skin types, especially normal to dry

Benefits: rich in vitamins and omega fatty acids for healthy skin and hair
Intensive Nourishing Facial Oil
Skin types: all skin types, even oily or acne-prone

Benefits: balancing, moisturizing, and clarifying
Multi-Vitamin + Antioxidants PM Facial Oil
Skin types: all skin types

Benefits: highly concentrated with reparative vitamins for UV damage, scarring, and signs of aging
Skin types: all skin types

Benefits: non-greasy, rich in beneficial nutrients for softer skin
Hopefully, with this collection of tips and benefits, your skin should be glowing, soft, and supple in no time! It's a bonus if we calmed your mind of any myths preventing you from using facial oils. Whether you're dealing with dry skin, oily skin, or combination, using a facial oil is your hot ticket to a glowing complexion. Your skin will thank you daily!
We carefully hand-select products based on strict purity standards, and only recommend products we feel meet this criteria. 100% PURE™ may earn a small commission for products purchased through affiliate links.
The information in this article is for educational use, and not intended to substitute professional medical advice, diagnosis, or treatment and should not be used as such.
Sign up to our email newsletter for more blog updates and exclusive discounts.
< Older Post | Newer Post >