10 Ways to Apply Eyeshadow
When it comes to applying on-trend eyeshadow, it's time to think outside the box!
Posted on October 22, 2018
Written by: 100% PURE®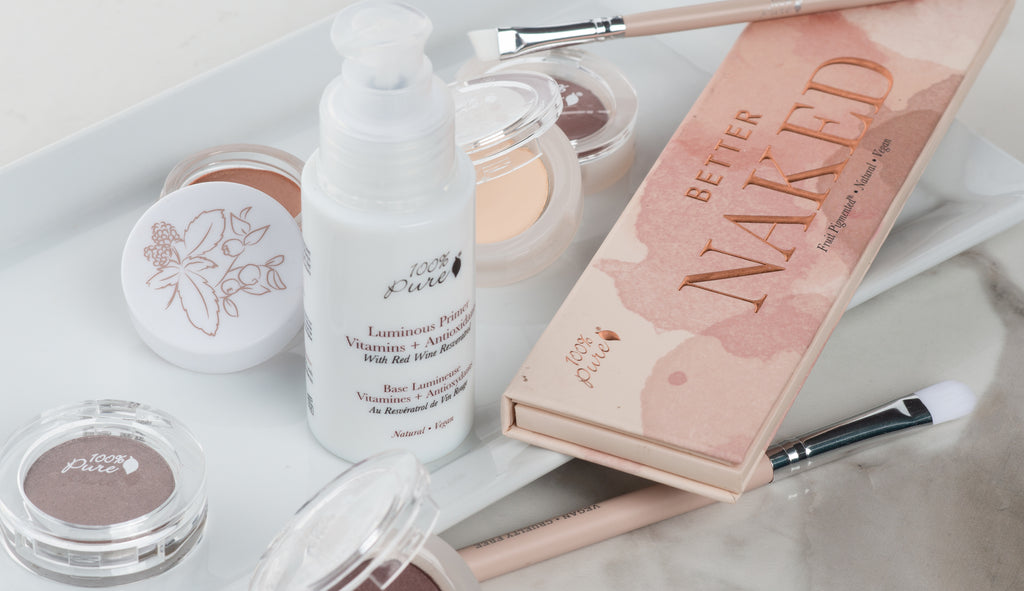 Looking to really give eyeshadow its moment this fall? With lots of new eyeshadow shades coming out, you can either call upon traditional or unconventional tips to enhance your eye makeup looks. At the end of the day, it all comes down to how you apply your eyeshadow. Do you know the best ways to use eyeshadow? We've compiled our top 10 list below! Don't worry, you can thank us later.
With a Brush

OK, so this one is a no-brainer. But are you brushed up on which ones to use for which formulas? How about brush etiquette?

First, let's discuss which brushes to use for what types of eyeshadow formulas. Got a pressed or loose powder eyeshadow? Grab a small, fluffy-bristled crease brush to evenly distribute pigment, blend seamlessly, and avoid excess fallout.

For cream eyeshadows, it's best to use a small, flat eyeshadow brush with tightly packed bristles. Using a neat, flat brush head creates a seamless application that's ideal for highly pigmented or creamy formulas.

For lash line eyeshadow application (a staple of the classic smokey eye), opt for a short, tightly packed brush head. Using a smudger brush for either powder or cream formulas will press and pack pigment into skin, for a controlled application on the narrow lash line.

Always wash your cruelty-free makeup brushes on a *minimum* weekly basis. We're big fans of cruelty-free castile soap to do the job, or even a mild baby soap. Using a soap with gentle, natural surfactants is key to getting a thorough clean without leaving pore-clogging buildup on the bristles. Put a drop of soap into your palm, then swirl the wet brush into the soap until makeup is removed. Rinse thoroughly, and hang dry -- make sure to hang your brushes upside down, to avoid water damage and rot in the neck of the brush.

With Clean Fingers

Now here's a throwback way to apply eyeshadow -- dating all the way back to seventh grade! This tried and true method is still one of our favorites, but needs to be done right. Take care to use clean, dry fingers when dipping into your eyeshadow, and don't pull or tug the skin of the eyes when applying. Try patting motions with your fingertips to apply, and gentle tapping to blend. Wash your fingers between each product, and clean up any edges with a fluffy crease brush. The fingers method works great for cream shadows, or for applying a pop of shimmer at the center of the lid.

With a Makeup Blender

This won't be the last time we rave about this eyeshadow hack! There are endless ways to utilize a makeup blender, and we're here for the ingenuity! You can use both the pointed tip and bulb end of a tear-shaped beauty blender to apply eyeshadow. We found that it works best with creamy or pressed formulas, but not as well with loose powders.

We used the bulb end to apply our eyeshadow all over, which worked especially well for nude, shimmer, and base colors. We used the pointed end to apply darker shades into the crease, then blended out with a fluffy brush for a perfected eye makeup look.

Apply with Primer (Base)

Using a primer base won't only extend the wear of your eyeshadow -- it will enhance the pigment, too. Using your flat shader brush or clean fingers, apply a thin layer of primer to eyelids. Allow the primer to set for a few minutes before slowly layering on your eyeshadow. With a clear, silicone-free primer, it's best to build layers of your eyeshadow one at a time, to ensure you get a seamless, even application.

Apply with Primer (Eyeliner)

This eye makeup hack has a way of adding a little extra oomph to plain-Jane eyeshadow looks. You can use it to amplify a matching shadow on the lid, or as a pop of pigment in your waterline. Start with a 2:1 ratio of powder eyeshadow to primer; the primer is meant to make the powder more concentrated and spreadable. If you use too much primer, your pigment won't be as opaque and your line won't look as sharp. Using a small angled brush, swipe your shadow-liner onto your upper or lower lash line for a stunning, precision finish to your look.

Use Lipstick

This is an eyeshadow hack that's near and dear to our hearts, and was recently flaunted on the NYFW runway. Using lipstick on the eyes is an instant way to expand your eyeshadow collection. You can choose from fruit pigmented® gloss, semi-gloss, or matte formulas to create eyeshadows that are exclusive (I mean, has anyone else tried this?!), free of eye-irritating synthetic dyes, and loaded with super moisturizing oils and butters.

To use our glossy Lip Caramels as shadows, apply to your upper lid only (they're too glossy for under eyes). This works great with our #3 tip for how to apply eyeshadow: dab a tiny dollop onto your lid, then blend out with your beauty blender for a diffused wash of color. The beauty blender method also works well for semi-gloss Pomegranate Oil Anti-Aging Lipstick, which is easier to apply with fingers before blending. Last, choose your shade of Cocoa Butter Matte Lipstick and swipe onto your lids with a flat shader brush for a matte, creamy wash of opaque color.

Use Blush

This one isn't much of a stretch, considering you can find both powder and cream blush formulas that mimic the texture and finish of an eyeshadow. If you're looking for an endless scheme of pinks, berries, peachy nudes and mauves, don't sleep on blush as an on-trend eyeshadow option. Blushy, flushed eyeshadow looks are still going strong, and show no sign of stopping in 2019.

Use Bronzer

Looking to warm up your skin with more than just contour, or a little bronzer dusted around your face? Bronzer is a true hero when it comes to giving skin a healthy, "I spent all summer outdoors -- not at my desk" glow. The same benefits can be applied to your lids with a bronzer eyeshadow look. Use a small, fluffy brush to apply your shade of choice to the lid, crease, and even into your waterline for a coppery, smokey look. You can go with a Cocoa Pigmented Bronzer that suits your skin tone, or even a shade lighter or darker for dramatic effect. This is an eyeshadow tip you can use year-round, to warm up black, brown, and hazel eyes, or make green and blue eyes pop.

Use as a Lip Color

If you haven't heard of this one yet… you're welcome! You can take any powder eyeshadow (especially fruit pigmented® ones) and turn it into a lipstick by mixing with a lip-friendly moisturizer or balm. Scrape a bit of powder into a small bowl, and mix in a 50-50 ratio of powder-to-balm. Mix thoroughly, noting that the moisture element in your DIY shadow-lipstick will make the color darker and more concentrated than the original eyeshadow formula. Now, grab your lip brush and apply lipstick to clean, dry lips. Voila! You now have the recipe to perfectly match your lipstick to your eye makeup look.

Use as a Lip Contour

Similar to the step above, this tip lets you add powder or shimmer eyeshadows to the top of your lipstick. Start by applying lipstick as you normally would (matte or semi-gloss formulas work best), and add lip liner if desired. Once set, use your fingertip to pick up a shimmery or lighter shade of eyeshadow that's complimentary to your lipstick. Gently tap on the center of both your top and bottom lips, until blended and packed into lipstick. By applying to the center only, you add both a pop of glam and give the appearance of fuller, plumper lips.
Want more tips on natural eye makeup, or natural eyeshadows? Hop back over to our blog for more helpful makeup cheat-sheets and guides!
We carefully hand-select products based on strict purity standards, and only recommend products we feel meet this criteria. 100% PURE™ may earn a small commission for products purchased through affiliate links.
The information in this article is for educational use, and not intended to substitute professional medical advice, diagnosis, or treatment and should not be used as such.
Sign up to our email newsletter for more blog updates and exclusive discounts.
< Older Post | Newer Post >