NYFW: Gauntlett Cheng x 100% PURE
Fruit pigmented® makeup made its Spring 2019 runway debut at New York Fashion Week -- get the looks here!
Posted on September 11, 2018
Written by: 100% PURE®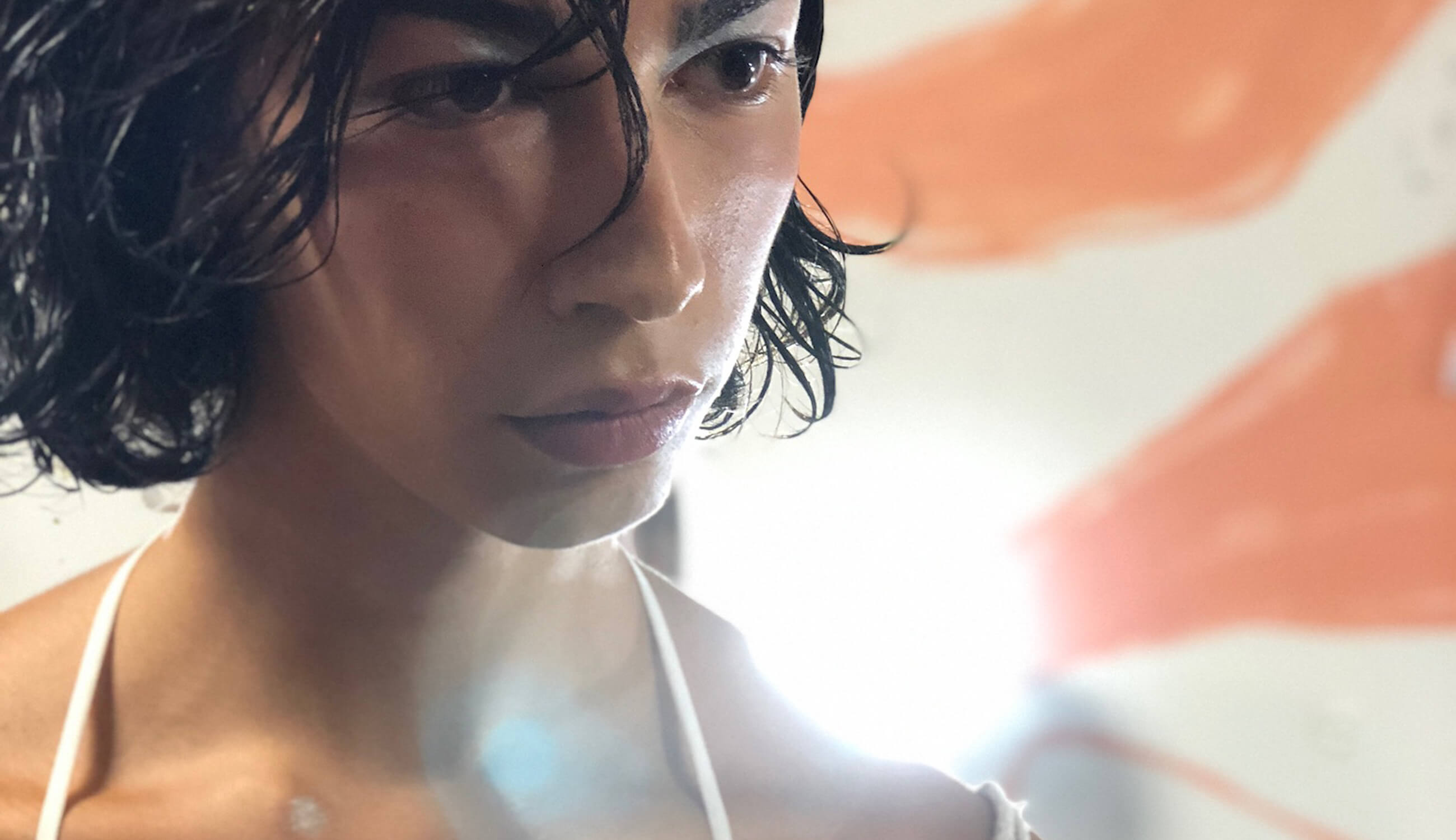 The Label
For New York Fashion Week, 100% PURE had the distinct pleasure of collaborating with a label that Vogue calls "one of the shining lights of the city's fashion underground". Based in New York, Gauntlett Cheng lives outside the realm of conventionality -- something we can relate to, as the world's only brand to create makeup colored from fruit. Earlier this year, Esther Gauntlett and Jenny Cheng's Fall RTW runway starred close friends who walked alongside their precious pups -- also outfitted in custom Gauntlett Cheng creations. That's an animal-loving aesthetic we can get behind!
The aesthetic for GC's Spring 2019 RTW collection was nothing short of inspired, and needed the makeup to match. Read on to get the runway looks served up at Monday night's show!
The Show
Lead Makeup Artist Deanna Melluso and her team used fruit pigmented® makeup to add finishing touches to Gauntlett Cheng's lusciously vibrant Spring 2019 RTW show. Gauzy cutouts, silk florals, and lime jewel tones were the inspiration du jour. The theme of the evening was diversity of colors, textures, and silhouettes -- inspiring a unique offering of fruit pigmented® makeup creations.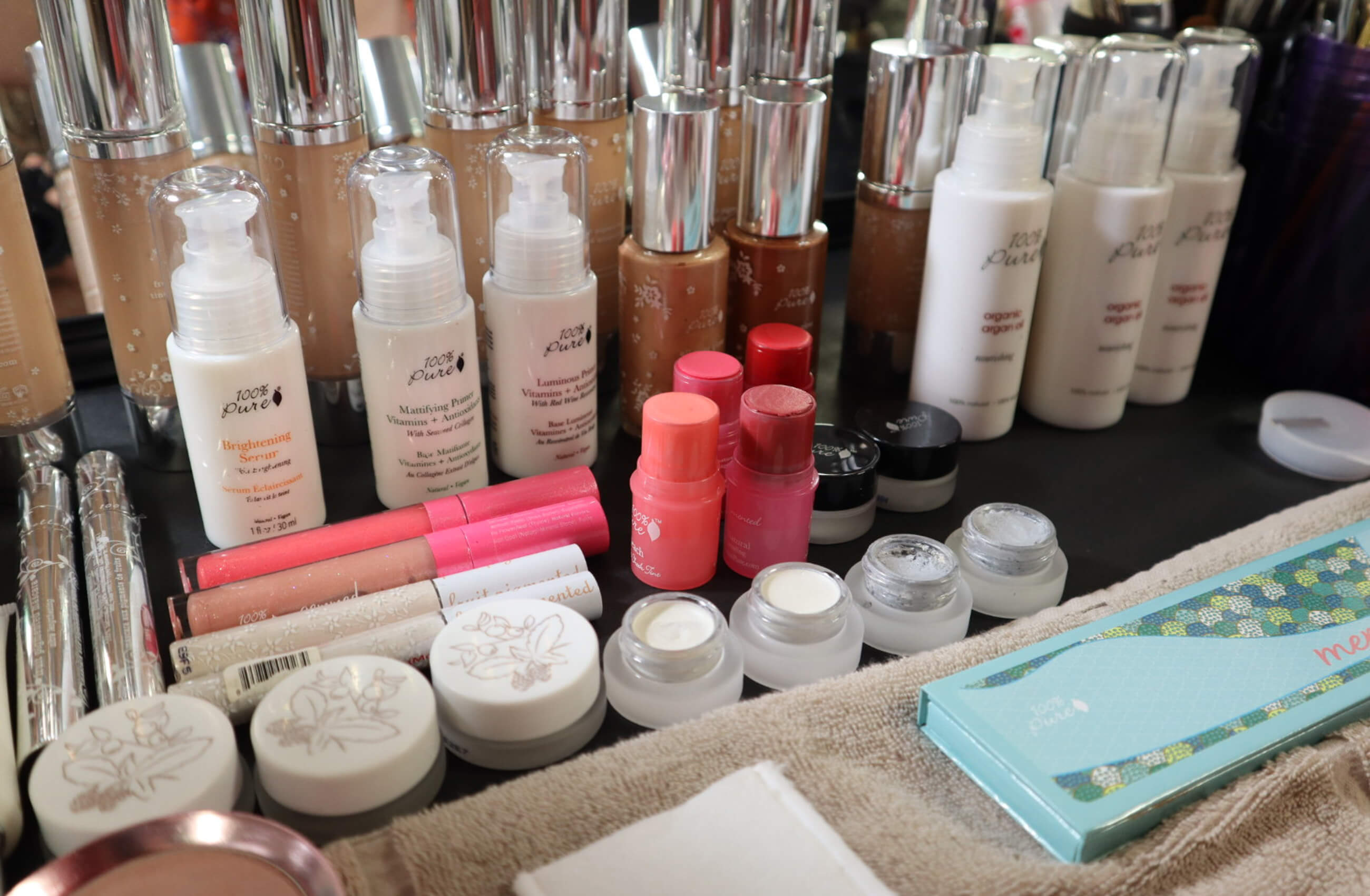 The Tools
Skin: Mattifying Primer / Fruit Pigmented® Tinted Moisturizer / 2nd Skin Concealer
Contour: Mermaid Palette: Siren
Lips: Lip & Cheek Tint: Cranberry Glow, Sugar Plum Sheer
Eyes: Custom silver liquid pigment / Cocoa Butter Matte Lipstick: Mojave, Sandstone, Savanna / Lip & Cheek Tints (above)
Brows: Green Tea Fiber Brow Builder
Lashes: Fruit Pigmented® Ultra Lengthening Mascara: Black Tea
Body: Argan Oil / custom silver liquid pigment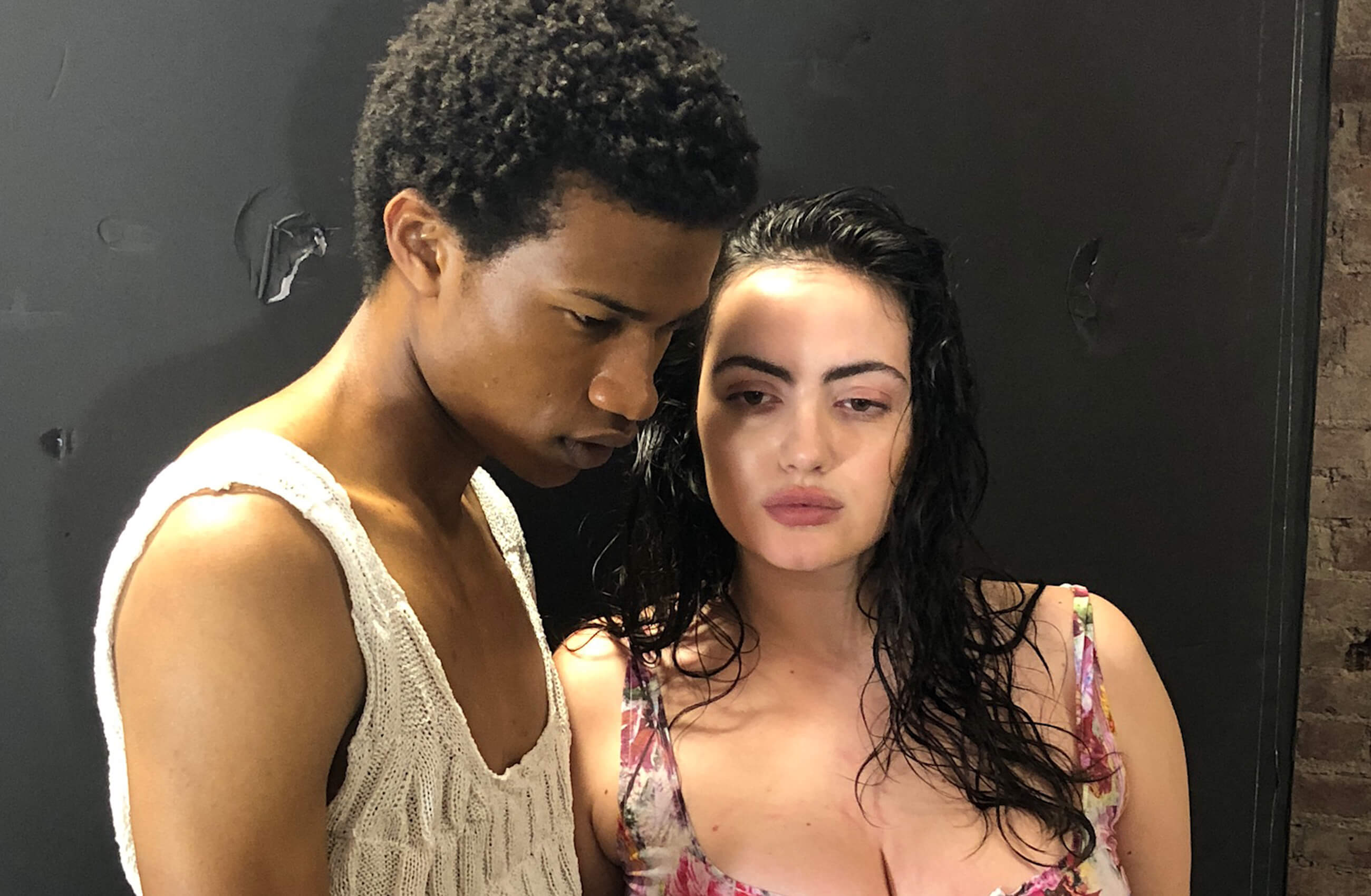 The Look (and How to Get It)
Backstage, a befitting rainbow of fruit pigmented® hues, gossamer silvers, and moistened skin sparkled and shined as far as the eye could see. Melluso created two stunning eye makeup looks to compliment Gauntlett Cheng's deliciously eclectic Fashion Week collection. She made dewy skin the anchor of the evening's beauty aesthetic, while juxtaposing natural finishes with striking metallic pigment.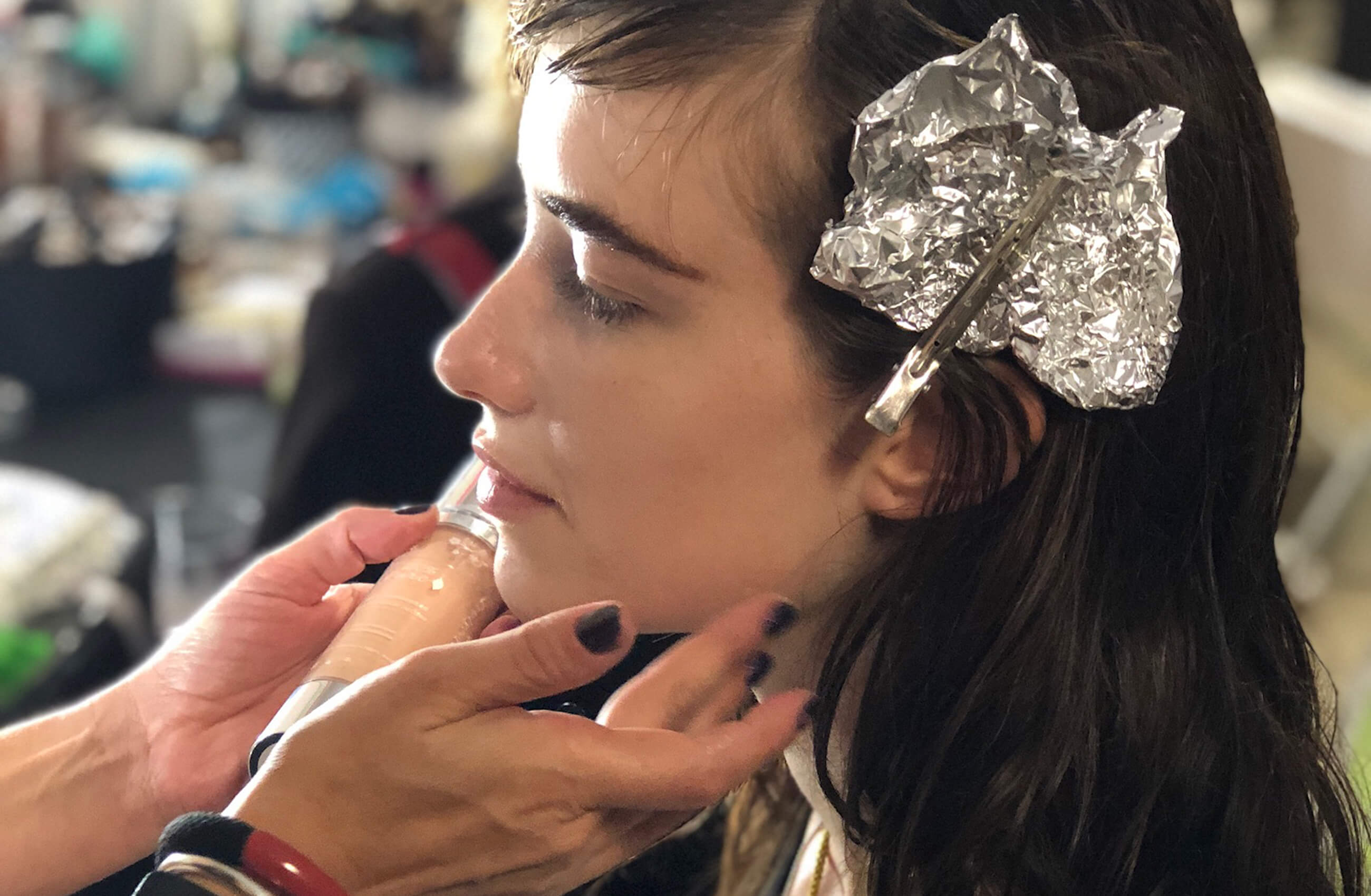 Skin:
Models served supple, hydrated skin and light coverage with 100% PURE Fruit Pigmented® Tinted Moisturizer. Melluso and the GC team applied Mattifying Primer all over to create a smooth base. Next, they applied tinted moisturizer with a damp makeup sponge and fingers, to blend perfectly into skin for a flawless natural finish.
PRO TIP: Looking for the same dewy finish, but with full coverage? Opt for our buildable BB Cream or Full Coverage Water Foundation.
To conceal imperfections, 2nd Skin Concealer was gently patted onto blemishes and dark circles after foundation. Melluso finished by brushing coral-bronze Siren from our Mermaid Palette onto skin, at temples and cheekbones for a light contour.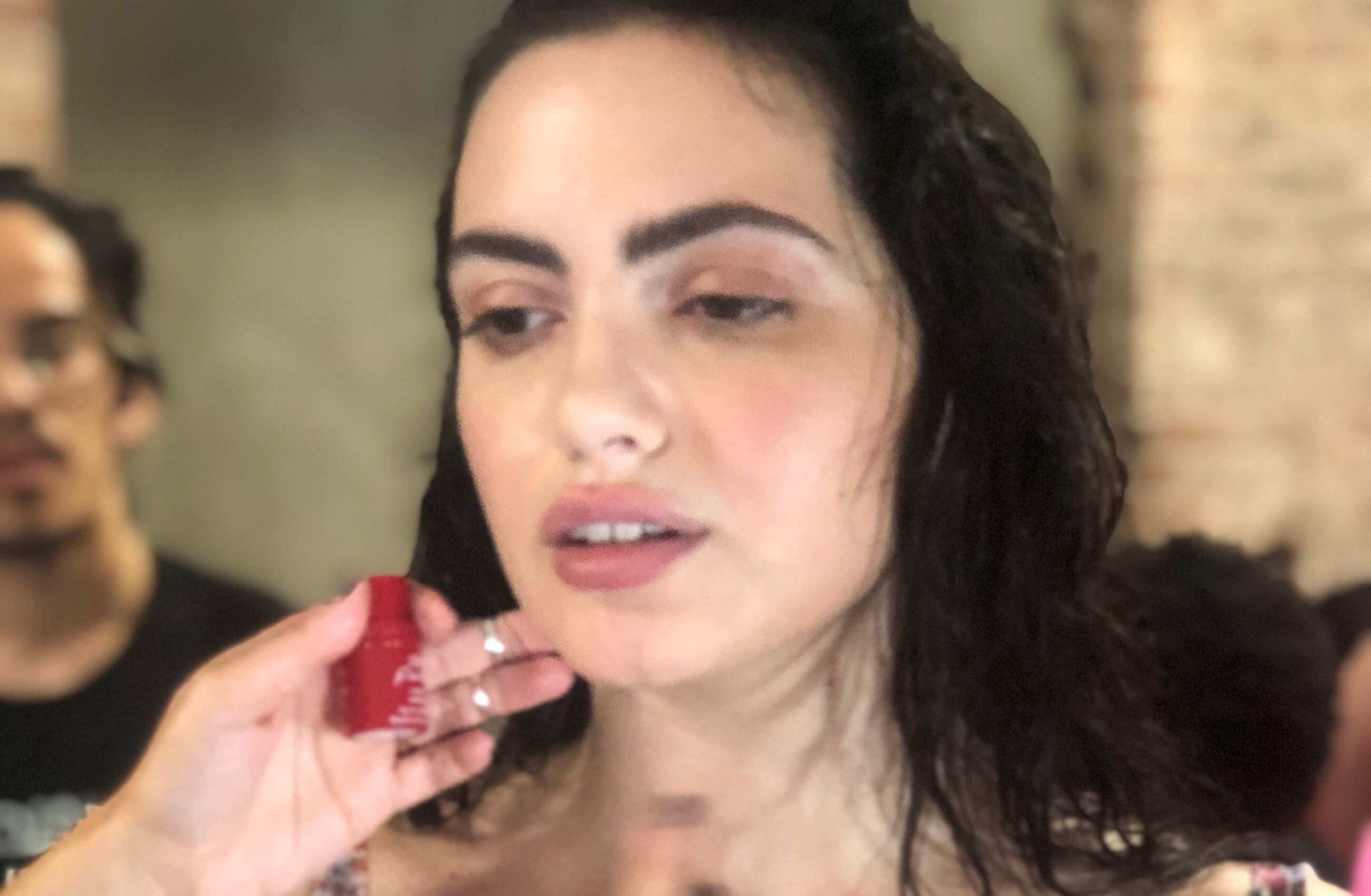 Lips:
Deanna used Lip & Cheek Tints to layer a soft pop of color onto models' lips, using clean fingers. She then blended the creamy pigment into edges of lips for a diffused, just-kissed flush of color.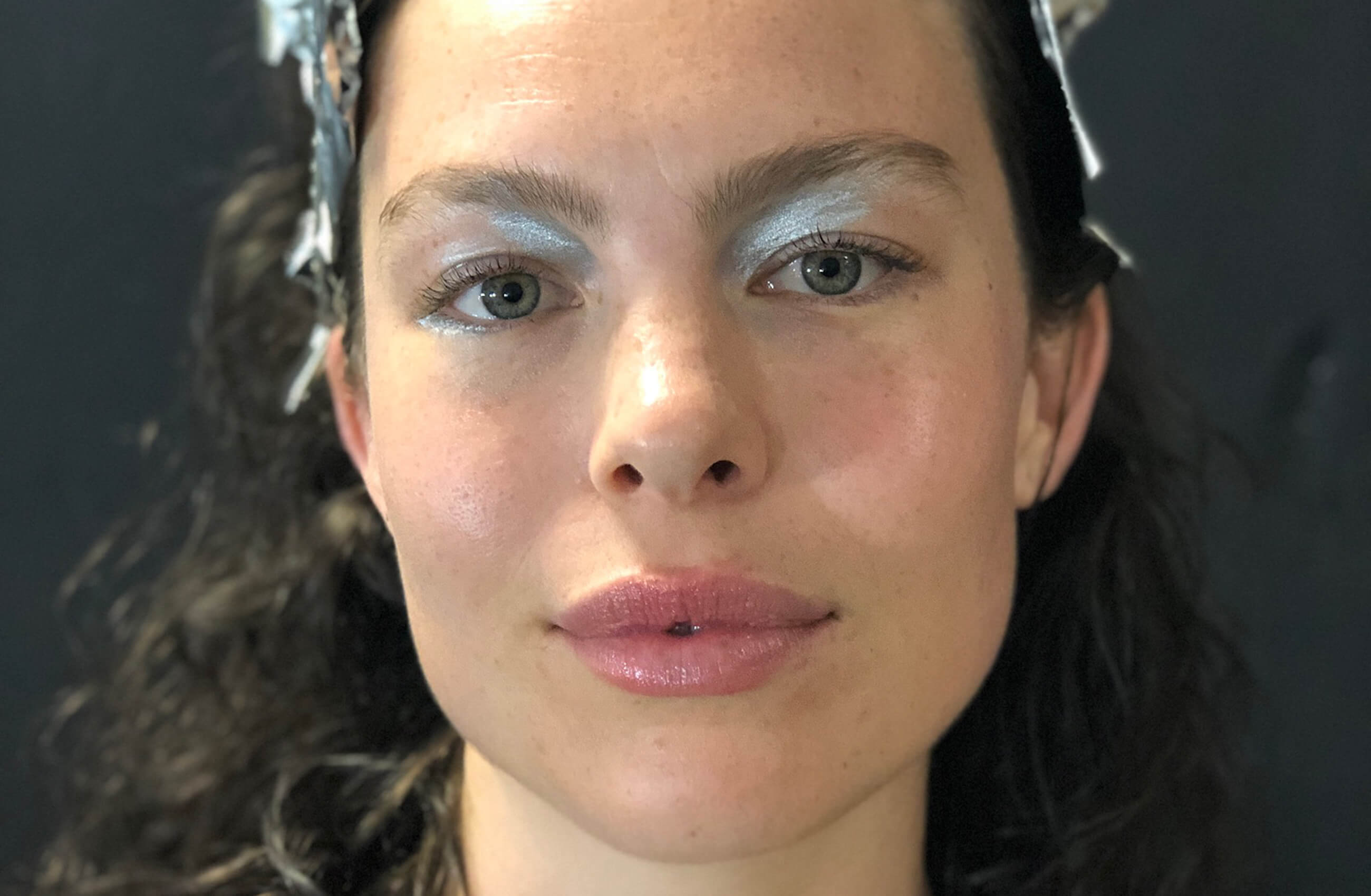 Eye Makeup Look #1:
The first of Melluso's eye makeup creations was a silver asymmetrical lid look, brushed on imperfectly for a sultry, space-age watercolor vibe. The pure silver liquid pigment is a custom shade formulation made exclusively for Gauntlett Cheng's runway, by 100% PURE founder Susie Wang. Makeup artists used a small fluffy brush to highlight the inner eye just below the brow, with a few light brushstrokes for a smudged, metallic watercolor finish. To complete the look, they used a fine brush to trace the lower lash line in silver.
PRO TIP: Gauntlett Cheng makeup artists focused the silver pigment as both a lash-liner and lid highlight on both eyes. To emulate this New York Fashion Week eye makeup look, think of lids as sisters rather than twins. Each lid should embody the same painterly aesthetic, but with different variations of brushstrokes. To get this look, you'll need to ditch the 'color inside the lines' mentality.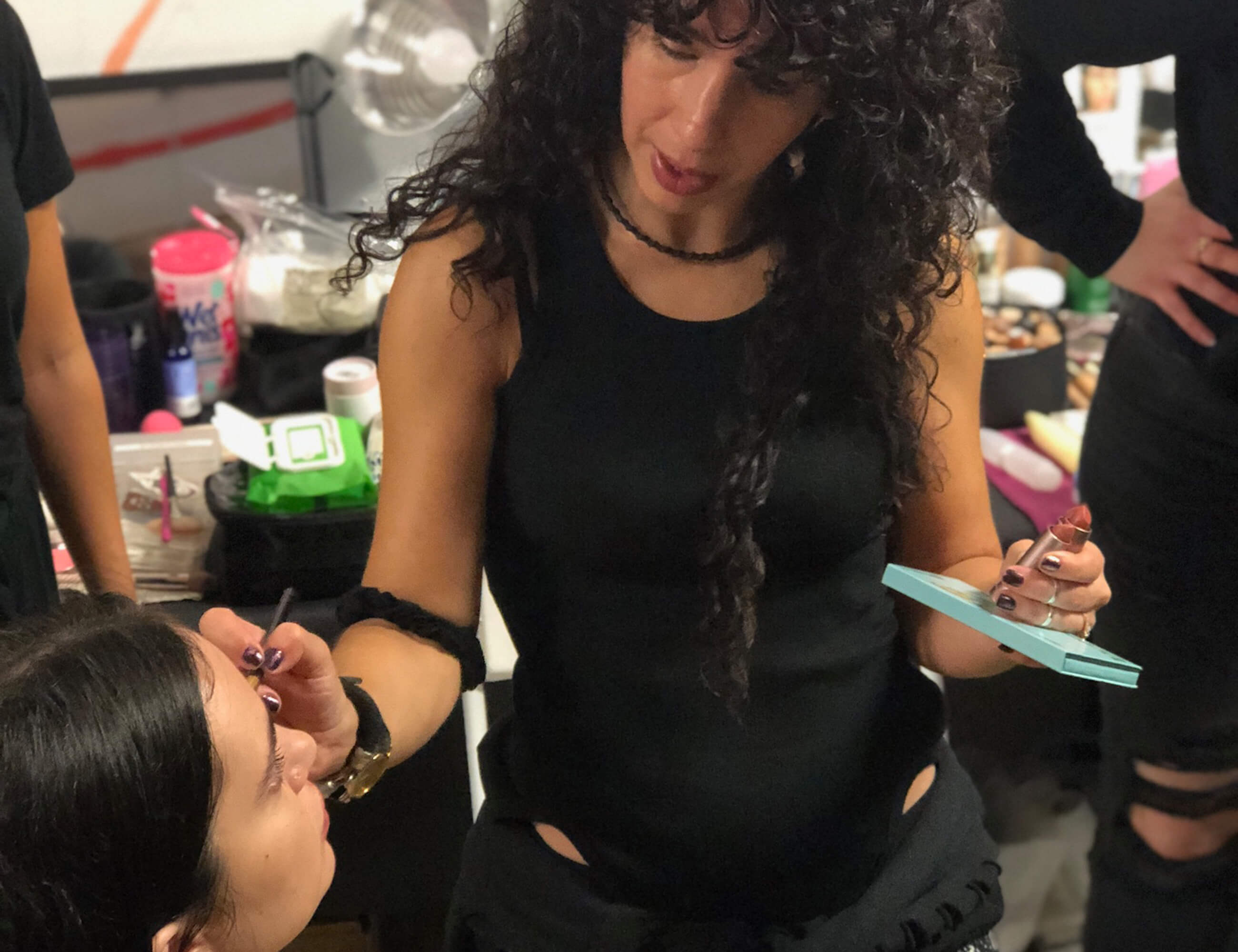 Eye Makeup Look #2:
Deanna's second eye makeup design was a blushy, Birth of Venus-inspired look created with rosy-brown cream hues, courtesy of a few beloved matte lipsticks. Using her arm as a palette, she mixed Sandstone, Mojave, and Savanna matte lipsticks to create a burnt, beachy brown. She blended all over the lid and into the crease, creating a romantic first-blush shade that flattered the dark-browed and platinum-haired models of the pack.
Brows:
Makeup artists brushed brows up and out for definition. On thin or sparse brows, they filled lightly with Green Tea Fiber Brow Builder for a full, natural brow look.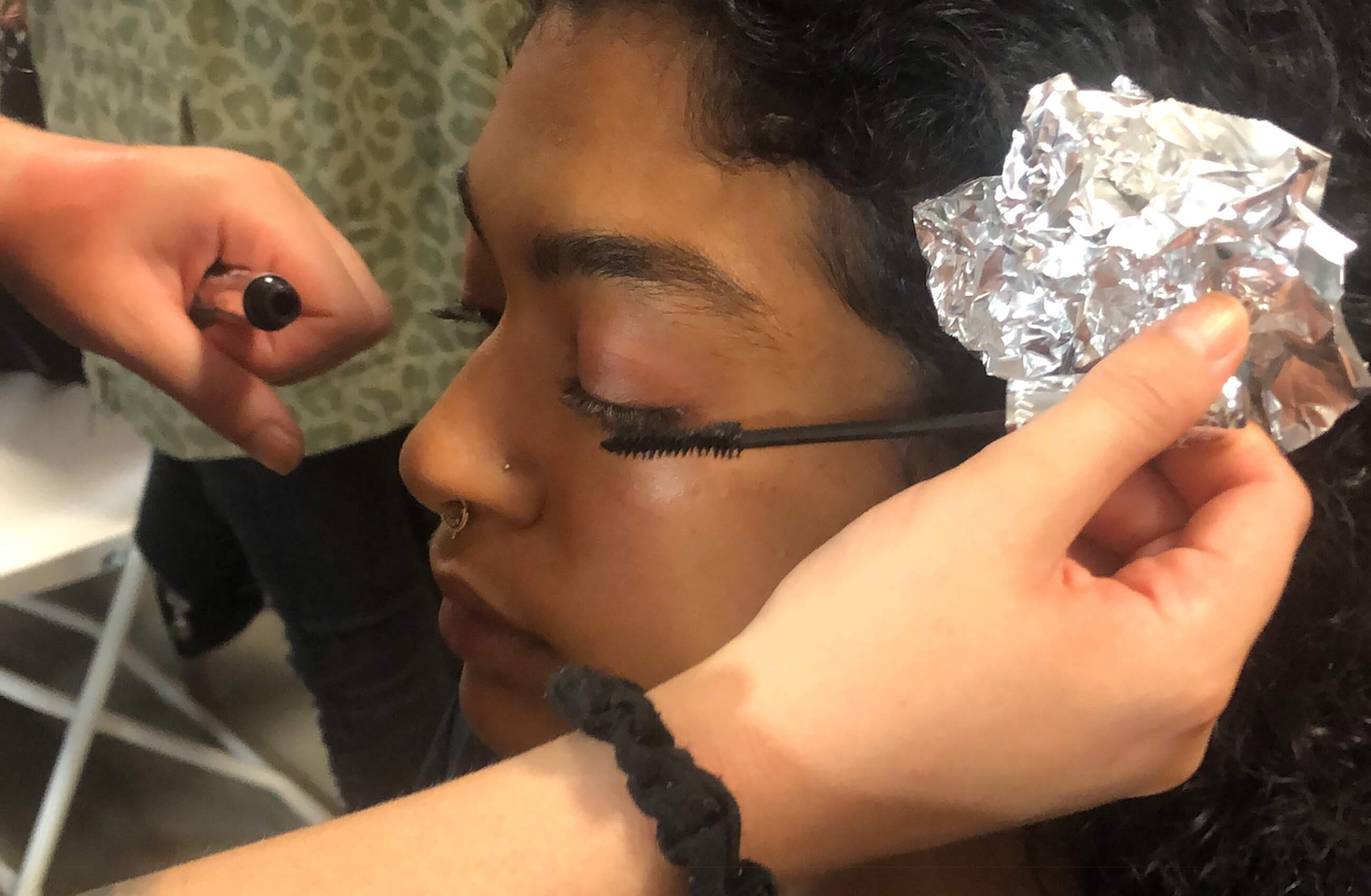 Lashes:
Melluso's team used our best-selling lash lengthening mascara in a classic black, colored from crushed black tea pigments. They brushed this true black mascara on top lashes only, to lift the eye and add that must-have element of Fashion Week glamour.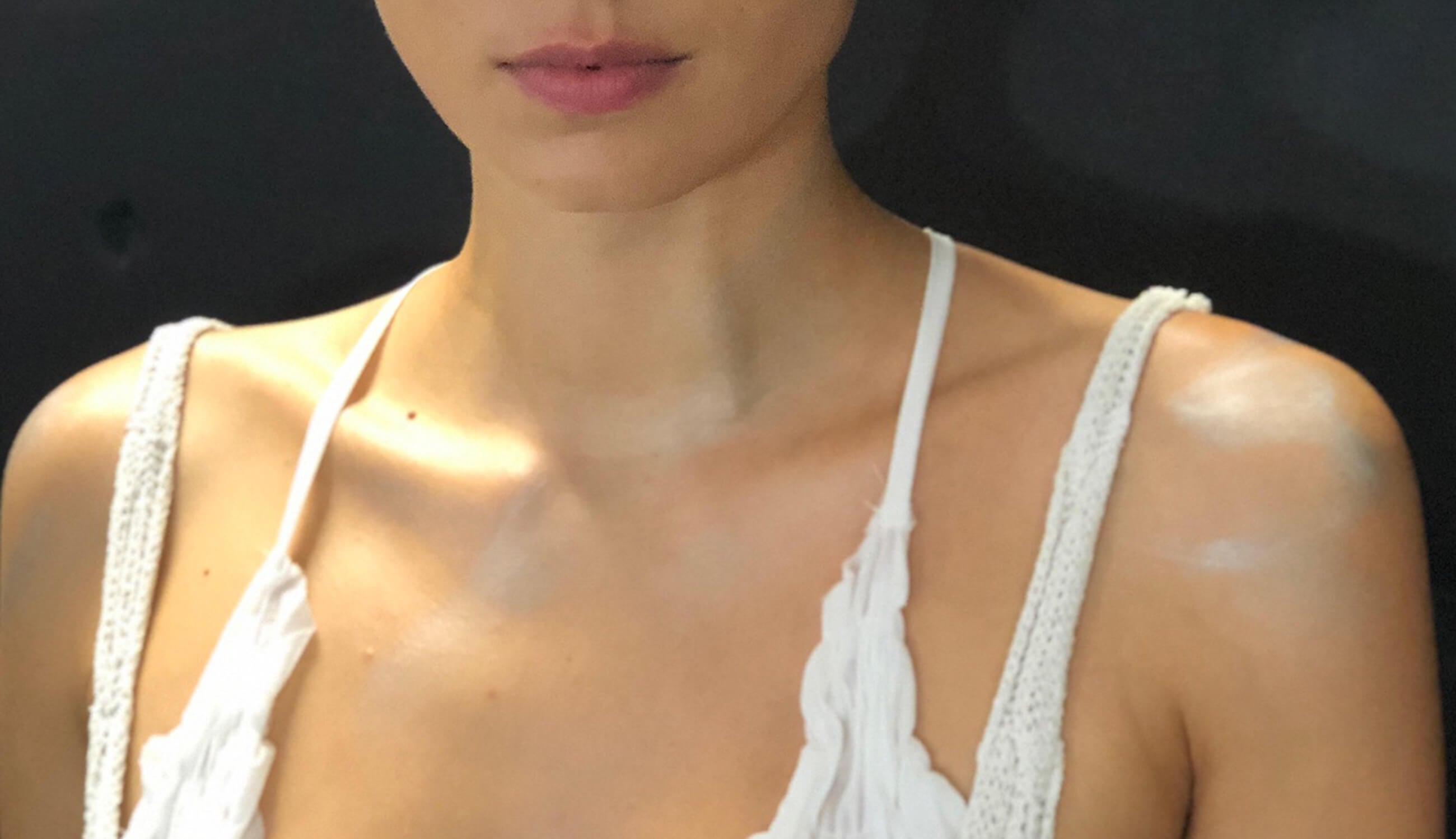 Body:
As the pièce de résistance of this New York Fashion Week makeup look, argan oil was applied all over the body. Arms, shoulders, knees, chest -- wherever skin was showing, Melluso made sure it was looking supple and dewy. She added brush strokes of silver pigment to shoulders, collarbone, and legs to catch the light and amp up skin's glow. You can apply argan oil with a makeup sponge for soft touches of moisture, or with a kabuki brush to blend over large areas.
Check back for more backstage stories from New York Fashion Week, including more features of fruit pigmented® makeup on the runway!
We carefully hand-select products based on strict purity standards, and only recommend products we feel meet this criteria. 100% PURE™ may earn a small commission for products purchased through affiliate links.
The information in this article is for educational use, and not intended to substitute professional medical advice, diagnosis, or treatment and should not be used as such.
Sign up to our email newsletter for more blog updates and exclusive discounts.
< Older Post | Newer Post >