Do You Need a Water-Based Foundation?
Talking dehydration, excess oil, and acne – and how a water-based foundation can help
Posted on August 28, 2019
Written by: 100% PURE®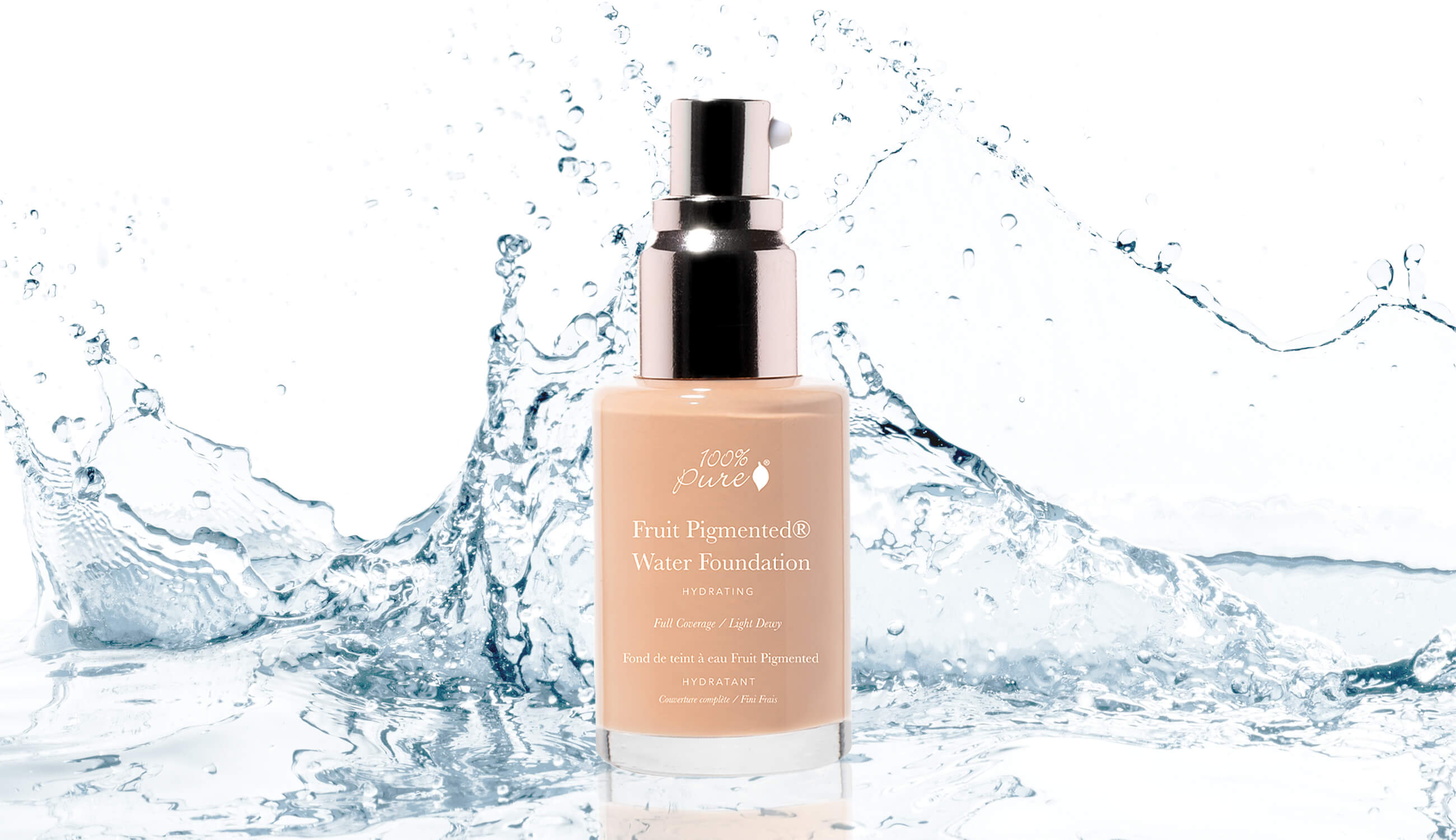 Everyone's skin is unique, which is why we all need something different from our foundation. There's a dizzyingly wide array of foundations on the market, but somewhere out there, your perfect match it waiting.
So what are the basics of choosing a foundation? Oily skin types should steer clear of oil-based formulas, and instead opt for something mattifying or powder-based. On the other side of the spectrum, dry or mature skin will benefit from a moisturizing or oil-based formula. So how does a water-based foundation fit into the equation?
Who Needs a Water-Based Foundation?
Water-based foundation is a lesser-known option, and might just be the perfect formula for your skin. Water-boosted options are super light and absorb easily into skin for a natural, dewy finish. They're the perfect option for those of us suffering from dehydrated skin, while simultaneously battling oil and the odd breakout.
Dehydrated skin is caused by a lack of H2O, usually due to an impaired stratum corneum. This is the protective outermost layer of your skin, which works to protect you from infection, dehydration, and mechanical stress. Those suffering from skin dehydration should opt for a water based foundation and steer clear of harsh, sensitizing skin care products.
Coverage Options for Water-Based Foundation
When it comes to coverage, water-based foundations tend to fall on the sheer end of the spectrum. Most act more like a sheer tint, rather than a heavy foundation. They're known for being effortlessly blendable and dewy, while being easily buildable for adding more coverage in specific areas.
Our Water Foundation is the ideal option for full coverage, with a plumping water-based formula that's amped up with antioxidant-rich fruit pigments. Although it's water-based, a blend of zinc oxide and rice starch add opacity to fruit and vegetable pigments for a satin, slightly dewy finish. While truly a water-based foundation (with a high volume of hydrating aloe juice), this formula also contains acai and pomegranate oils in reduced concentrations.
For something a bit lighter, opt for our Fruit Pigmented® Tinted Moisturizer. This hydrating and lightly moisturizing formula is comprised mainly of humectants, like aloe and cucumber juice. This foundation is super buildable, so can go from light to medium, depending on what you need that day. Our tinted moisturizer is the lightest of our water-based foundations, with a refreshing texture that instantly quenches dry or dehydrated skin.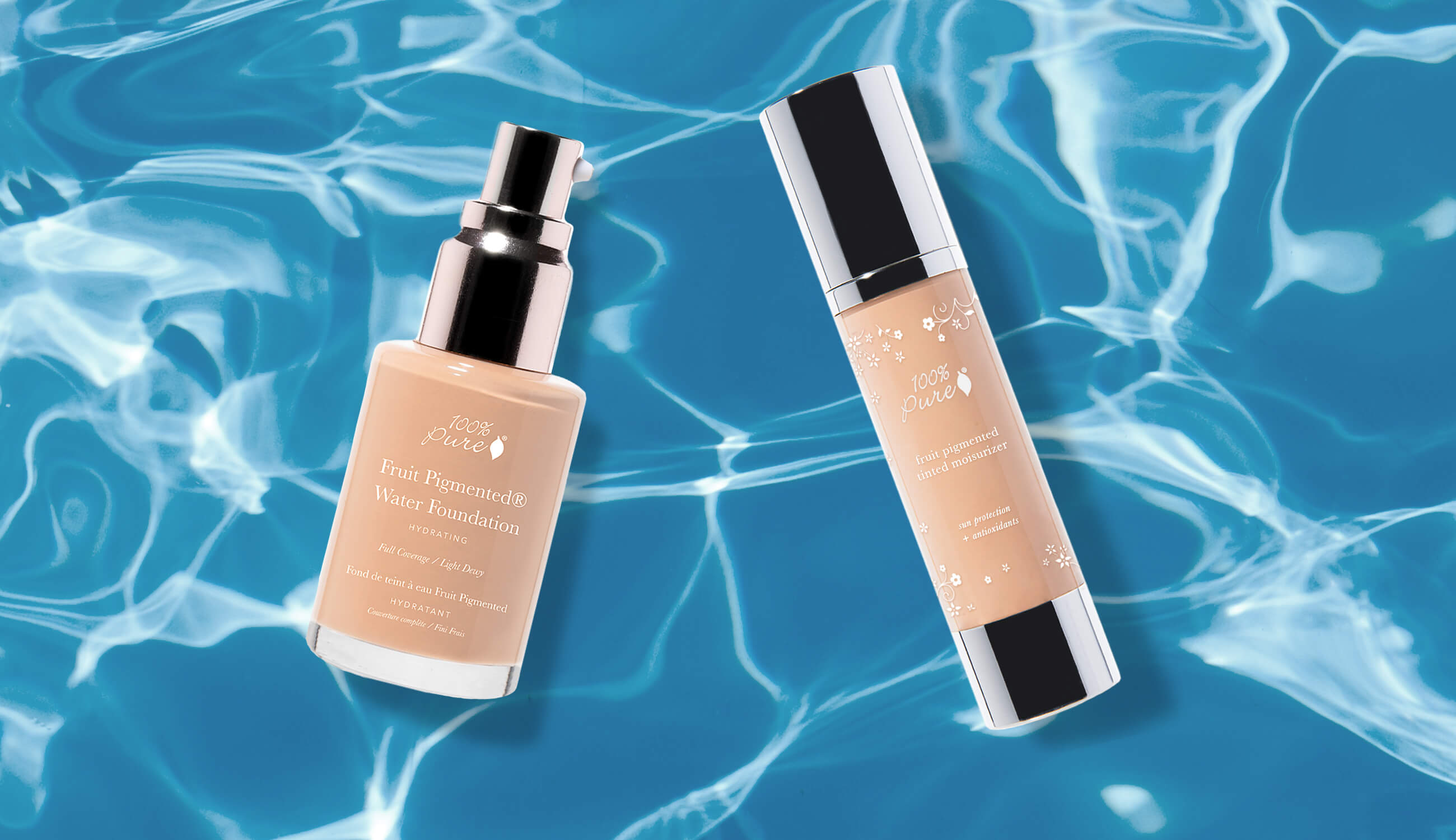 Water-Based, Oil-Based, and Oil-Free Foundations
The ingredient balance in a water-boosted foundation is considerably different than that found in an oil-free foundation or an oil-based foundation. Oil-free, as the name suggests, contains absolutely no oil. This often means that a formula is plumped up with synthetic emulsifiers and filler ingredients, to make the product glide on smoothly.
Entirely oil-free foundations are problematic for most skin types, which end up needing supplementary lipids to reinforce moisture levels. A full face of foundation can be drying when worn all day, especially if it's proving zero moisturization. Oil-based formulas, on the other hand, can be effective at bolstering your skin's lipid levels, but don't necessarily address hydration levels. Your foundation should be providing – or at least supporting – healthy water levels found within your epidermis.
Water-based foundations work somewhere in the middle. They have a higher water-to-oil ratio than other formulas, but that small amount of oil enhances both texture and skin nutrition. Unlike the classic 'oil and water' scenario, a foundation with both can effectively nourish your skin.
Water enhances hydration levels for increased suppleness and density in your dermis, while oil strengthens your lipid barrier to avoid evaporation. Remember that dehydrated skin isn't a skin type – rather its a skin condition. Think of it as your skin lodging a complaint about harsh chemical products, stripping ingredients, and lack of internal and topical hydration levels. The best way to treat dehydration is to take breaks from active ingredients and avoid synthetic products. Focus on WATER in every part of your beauty regime, including makeup.
Before You Apply Foundation
Using a water-based foundation is a great start for enhancing your skin hydration efforts. However, if you're serious about replenishing skin's moisture levels, you'll need to practice proactive skin care and layering techniques.
#1: Use a hydrating serum as your primer
Serums with a rich, humectant texture will encourage skin cells to retain as much water as possible. Our Restorative Sea Culture Replenishing Serum can't be beat in this regard, combining intensely hydrating seaweed polysaccharides with seriously humectant chia water. Chia is full of omega 3 fatty acids, which are important for a high functioning lipid barrier. Essentially, this formula does double duty – it addresses hydration and moisture.
#2: Work a water-based toner into your PM routine
This is a way to fully prep your pores for maximum absorption of any hydrating serums or moisturizers you'll use later. Opt for a toner with a chia water base, an aloe water base, or a cucumber water base. Floral waters and hydrosols are also a smart option here – rose water and calendula are our favorites!
#3: Add a facial mist
A DIY facial mist can be a great throughout-the-day makeup setter and balancing tonic for dehydrated skin. Mix your own formula, using cucumber infused water and a drop of lavender essential oil (which will calm redness and inflammation).
The takeaway? If your skin is thirsty for more water, make sure you're working H2O into every level of your routine – we mean makeup AND skin care. The right plant-based makeup can be preventative and healing for severely thirsty skin, and will work with instead of against your AM and PM skin care routines.
We carefully hand-select products based on strict purity standards, and only recommend products we feel meet this criteria. 100% PURE™ may earn a small commission for products purchased through affiliate links.
The information in this article is for educational use, and not intended to substitute professional medical advice, diagnosis, or treatment and should not be used as such.
Sign up to our email newsletter for more blog updates and exclusive discounts.
< Older Post | Newer Post >