https://purity-res.cloudinary.com/image/fetch/q_auto:best,f_auto,fl_lossy,w_auto,c_limit,dpr_auto/https://cdn.shopify.com/s/files/1/0648/1955/products/8IuF6FhlReiTiK0E3uf4_5ced8ff8-430c-4149-b5c2-9911a24353a0.png?v=1541699646
https://purity-res.cloudinary.com/image/fetch/q_auto:best,f_auto,fl_lossy,w_auto,c_limit,dpr_auto/https://cdn.shopify.com/s/files/1/0648/1955/products/5nswKHu7SDODzh0zWjxx_1e74a0b1-0fa7-4c6a-88fb-64e8fe083cc1.png?v=1541699646
https://purity-res.cloudinary.com/image/fetch/q_auto:best,f_auto,fl_lossy,w_auto,c_limit,dpr_auto/https://cdn.shopify.com/s/files/1/0648/1955/products/tBKV732TcqS04g3jdW0t_5522d8ed-79a9-4b4a-be0f-26d21990a7b0.png?v=1541699646
https://purity-res.cloudinary.com/image/fetch/q_auto:best,f_auto,fl_lossy,w_auto,c_limit,dpr_auto/https://cdn.shopify.com/s/files/1/0648/1955/products/h8c6HqVrQUwhNpEgU2a1_05965806-4254-45f0-a8b8-b36898b54494.png?v=1541699646
https://purity-res.cloudinary.com/image/fetch/q_auto:best,f_auto,fl_lossy,w_auto,c_limit,dpr_auto/https://cdn.shopify.com/s/files/1/0648/1955/products/3wsRUDS8RZejaRBozyHm_54aff051-2c7a-454a-b0b2-bf2597c24685.png?v=1541699646
https://purity-res.cloudinary.com/image/fetch/q_auto:best,f_auto,fl_lossy,w_auto,c_limit,dpr_auto/https://cdn.shopify.com/s/files/1/0648/1955/products/kXaw028QtK0nqON5hVaA_a394701c-f699-4cef-961b-b3ef326230f9.png?v=1541699646
https://purity-res.cloudinary.com/image/fetch/q_auto:best,f_auto,fl_lossy,w_auto,c_limit,dpr_auto/https://cdn.shopify.com/s/files/1/0648/1955/products/NRJY9OmeTc69UJ9yAwXD_2c7d758f-2007-4ee4-a1f1-fd849ab72cde.png?v=1541699646
https://purity-res.cloudinary.com/image/fetch/q_auto:best,f_auto,fl_lossy,w_auto,c_limit,dpr_auto/https://cdn.shopify.com/s/files/1/0648/1955/products/ltEDeTZKTCiLRAnGoQEZ_243a8b76-aee5-4621-a5b7-b1059c338d46.png?v=1541699646
https://purity-res.cloudinary.com/image/fetch/q_auto:best,f_auto,fl_lossy,w_auto,c_limit,dpr_auto/https://cdn.shopify.com/s/files/1/0648/1955/products/FZmE0qkJTEuwUUC0m5Am_27935e01-70ca-42ac-9ca0-80c8c8c2c6f1.png?v=1541699646
https://purity-res.cloudinary.com/image/fetch/q_auto:best,f_auto,fl_lossy,w_auto,c_limit,dpr_auto/https://cdn.shopify.com/s/files/1/0648/1955/products/ABUdRhBSQXiEqNrXpe5E_f4c0ed97-a8a1-4723-899d-cfea59b92815.png?v=1541699646
https://purity-res.cloudinary.com/image/fetch/q_auto:best,f_auto,fl_lossy,w_auto,c_limit,dpr_auto/https://cdn.shopify.com/s/files/1/0648/1955/products/RBGZwfRtSViwlZtdeyFd_e8702f4c-e424-4399-87c8-bc16e05daff3.png?v=1541699646
https://purity-res.cloudinary.com/image/fetch/q_auto:best,f_auto,fl_lossy,w_auto,c_limit,dpr_auto/https://cdn.shopify.com/s/files/1/0648/1955/products/SYQYI86R8aPrz6qppNla_94f00a8f-ea24-4bf3-9007-bb18d44067dd.png?v=1541699646
https://purity-res.cloudinary.com/image/fetch/q_auto:best,f_auto,fl_lossy,w_auto,c_limit,dpr_auto/https://cdn.shopify.com/s/files/1/0648/1955/products/2Xv2e9uStKEznLNaddwd_cd71c0bb-a830-4c0f-bf7d-45806183c2d6.png?v=1541699646
https://purity-res.cloudinary.com/image/fetch/q_auto:best,f_auto,fl_lossy,w_auto,c_limit,dpr_auto/https://cdn.shopify.com/s/files/1/0648/1955/products/Pakj0DZgRa2jXkriGb80_5b281040-3b2a-4c4a-a36d-607c4099a9f9.png?v=1541699646
https://purity-res.cloudinary.com/image/fetch/q_auto:best,f_auto,fl_lossy,w_auto,c_limit,dpr_auto/https://cdn.shopify.com/s/files/1/0648/1955/products/iIaEzITdRRCtOKdLSxB8_76e801c2-1e66-45f3-be20-e9e0981b70ae.png?v=1541699646
https://purity-res.cloudinary.com/image/fetch/q_auto:best,f_auto,fl_lossy,w_auto,c_limit,dpr_auto/https://cdn.shopify.com/s/files/1/0648/1955/products/pr6OnkwLQC295IiRwuxk_ae526c92-04ae-4300-95f9-24034852e4e8.png?v=1541699646
https://purity-res.cloudinary.com/image/fetch/q_auto:best,f_auto,fl_lossy,w_auto,c_limit,dpr_auto/https://cdn.shopify.com/s/files/1/0648/1955/products/H7A2yZTBSSKomGkWp8TV_5ce07ec7-e126-4b2b-b2bc-d3ae67e30707.png?v=1541699646
https://purity-res.cloudinary.com/image/fetch/q_auto:best,f_auto,fl_lossy,w_auto,c_limit,dpr_auto/https://cdn.shopify.com/s/files/1/0648/1955/products/AGJLbw9jTn2q6nhPmU56_577252b4-dfab-4796-889d-51be04a5e6e6.png?v=1541699646
https://purity-res.cloudinary.com/image/fetch/q_auto:best,f_auto,fl_lossy,w_auto,c_limit,dpr_auto/https://cdn.shopify.com/s/files/1/0648/1955/products/ontIsgcRNK2vLXA1UfkA_cc89d710-a5eb-4933-a57a-fe0f86fd3d3a.png?v=1541699646
https://purity-res.cloudinary.com/image/fetch/q_auto:best,f_auto,fl_lossy,w_auto,c_limit,dpr_auto/https://cdn.shopify.com/s/files/1/0648/1955/products/Q4zmSIyeQzKSmW9B8yDK_515d73ea-0de9-4b41-a84d-54224a3c0c17.png?v=1541699646
https://purity-res.cloudinary.com/image/fetch/q_auto:best,f_auto,fl_lossy,w_auto,c_limit,dpr_auto/https://cdn.shopify.com/s/files/1/0648/1955/products/BApRbpXCRcWj2gcU2Ftd_f8f86241-600f-4cda-a3ef-46264c071484.png?v=1541699670
https://purity-res.cloudinary.com/image/fetch/q_auto:best,f_auto,fl_lossy,w_auto,c_limit,dpr_auto/https://cdn.shopify.com/s/files/1/0648/1955/products/lTgUia5sTMCCMgDM3PgO_53e69fa0-d3a2-4e74-bcb4-b7660b076be6.png?v=1541699670
https://purity-res.cloudinary.com/image/fetch/q_auto:best,f_auto,fl_lossy,w_auto,c_limit,dpr_auto/https://cdn.shopify.com/s/files/1/0648/1955/products/VaaWTKbaQE6kN7kC92P4_834c5bd1-5b1f-4815-a9ad-e512d295bc64.png?v=1541699670
https://purity-res.cloudinary.com/image/fetch/q_auto:best,f_auto,fl_lossy,w_auto,c_limit,dpr_auto/https://cdn.shopify.com/s/files/1/0648/1955/products/Gc6IeHggTnOFpzcX7olD_7ae6f95f-157f-4f71-9cdb-815c988e35c7.png?v=1541699670
https://purity-res.cloudinary.com/image/fetch/q_auto:best,f_auto,fl_lossy,w_auto,c_limit,dpr_auto/https://cdn.shopify.com/s/files/1/0648/1955/products/56Zk1jspTo5WFyDlCCRU_514ecc23-e0f9-4f97-a82a-5ff569f31012.png?v=1541699670
https://purity-res.cloudinary.com/image/fetch/q_auto:best,f_auto,fl_lossy,w_auto,c_limit,dpr_auto/https://cdn.shopify.com/s/files/1/0648/1955/products/YgCHCgyQ8WQJH7V1aXzv_dce829b3-ca81-4ca4-b95b-f6241d4ef67b.png?v=1541699670
https://purity-res.cloudinary.com/image/fetch/q_auto:best,f_auto,fl_lossy,w_auto,c_limit,dpr_auto/https://cdn.shopify.com/s/files/1/0648/1955/products/nZPHJ0sWTFW9I7xdQkGy_7d83500f-e337-4622-a7ac-d1ae61e582c6.png?v=1541699670
https://purity-res.cloudinary.com/image/fetch/q_auto:best,f_auto,fl_lossy,w_auto,c_limit,dpr_auto/https://cdn.shopify.com/s/files/1/0648/1955/products/HZDLcWgFSyqQOddtIghs_0574bed3-b0e5-48bc-9d6c-15efef903416.png?v=1541699670
https://purity-res.cloudinary.com/image/fetch/q_auto:best,f_auto,fl_lossy,w_auto,c_limit,dpr_auto/https://cdn.shopify.com/s/files/1/0648/1955/products/Tst8aQ8LTE25p7s7kJwN_3934fd5b-a107-4e84-8666-82cf6e094ae6.png?v=1541699670
https://purity-res.cloudinary.com/image/fetch/q_auto:best,f_auto,fl_lossy,w_auto,c_limit,dpr_auto/https://cdn.shopify.com/s/files/1/0648/1955/products/O4dTp1hR36iTOLSghymw_ce8ce3a2-ee02-43fc-a044-1c1eb32ca612.png?v=1541699670
https://purity-res.cloudinary.com/image/fetch/q_auto:best,f_auto,fl_lossy,w_auto,c_limit,dpr_auto/https://cdn.shopify.com/s/files/1/0648/1955/products/EsETTk2StK5tNw3i2l1O_36450662-55df-4444-b7f0-0b4e8d0c0a65.png?v=1541699670
https://purity-res.cloudinary.com/image/fetch/q_auto:best,f_auto,fl_lossy,w_auto,c_limit,dpr_auto/https://cdn.shopify.com/s/files/1/0648/1955/products/MsItihQE6J30QnpFfR7Q_38794de9-aa45-4626-9e46-70aecb5f6486.png?v=1541699670
https://purity-res.cloudinary.com/image/fetch/q_auto:best,f_auto,fl_lossy,w_auto,c_limit,dpr_auto/https://cdn.shopify.com/s/files/1/0648/1955/products/9rCsQFbLRNWh4FaGXb9I_1abf1be7-327d-4754-ab34-390e3d360650.png?v=1541699670
https://purity-res.cloudinary.com/image/fetch/q_auto:best,f_auto,fl_lossy,w_auto,c_limit,dpr_auto/https://cdn.shopify.com/s/files/1/0648/1955/products/4iswt1s8SyqrmjjjjK04.png?v=1541699670
https://purity-res.cloudinary.com/image/fetch/q_auto:best,f_auto,fl_lossy,w_auto,c_limit,dpr_auto/https://cdn.shopify.com/s/files/1/0648/1955/products/0rzC3jeR6ynHAzYcfMTA.png?v=1541699670
https://purity-res.cloudinary.com/image/fetch/q_auto:best,f_auto,fl_lossy,w_auto,c_limit,dpr_auto/https://cdn.shopify.com/s/files/1/0648/1955/products/o9utCawqQa69CfCxjsC5.png?v=1541699670
https://purity-res.cloudinary.com/image/fetch/q_auto:best,f_auto,fl_lossy,w_auto,c_limit,dpr_auto/https://cdn.shopify.com/s/files/1/0648/1955/products/jeji3cfzQRCP0ZD478PI.png?v=1541699670
https://purity-res.cloudinary.com/image/fetch/q_auto:best,f_auto,fl_lossy,w_auto,c_limit,dpr_auto/https://cdn.shopify.com/s/files/1/0648/1955/products/mhtU6r4YQhKkG8q37I1x.png?v=1541699670
https://purity-res.cloudinary.com/image/fetch/q_auto:best,f_auto,fl_lossy,w_auto,c_limit,dpr_auto/https://cdn.shopify.com/s/files/1/0648/1955/products/jtmofbrQ1Kn36mbk2geI.png?v=1541699670
https://purity-res.cloudinary.com/image/fetch/q_auto:best,f_auto,fl_lossy,w_auto,c_limit,dpr_auto/https://cdn.shopify.com/s/files/1/0648/1955/products/p3LLfc04ScSfc3C7t5po.png?v=1541699670
https://purity-res.cloudinary.com/image/fetch/q_auto:best,f_auto,fl_lossy,w_auto,c_limit,dpr_auto/https://cdn.shopify.com/s/files/1/0648/1955/products/zrbIPawISKObbCU7J0kw.png?v=1541699681
https://purity-res.cloudinary.com/image/fetch/q_auto:best,f_auto,fl_lossy,w_auto,c_limit,dpr_auto/https://cdn.shopify.com/s/files/1/0648/1955/products/awIba5YWSeNCjeQgrx79.png?v=1541699681
https://purity-res.cloudinary.com/image/fetch/q_auto:best,f_auto,fl_lossy,w_auto,c_limit,dpr_auto/https://cdn.shopify.com/s/files/1/0648/1955/products/QGwfUac5RyGAvkEcIDXL.png?v=1541699681
https://purity-res.cloudinary.com/image/fetch/q_auto:best,f_auto,fl_lossy,w_auto,c_limit,dpr_auto/https://cdn.shopify.com/s/files/1/0648/1955/products/mQdHXVkMRKGGiiKiJ1sP.png?v=1541699681
https://purity-res.cloudinary.com/image/fetch/q_auto:best,f_auto,fl_lossy,w_auto,c_limit,dpr_auto/https://cdn.shopify.com/s/files/1/0648/1955/products/sOIHrTvMT3OoRENIWqyV.png?v=1541699681
https://purity-res.cloudinary.com/image/fetch/q_auto:best,f_auto,fl_lossy,w_auto,c_limit,dpr_auto/https://cdn.shopify.com/s/files/1/0648/1955/products/fJJm6dWiTCeB0F9nwgyX.png?v=1541699681
https://purity-res.cloudinary.com/image/fetch/q_auto:best,f_auto,fl_lossy,w_auto,c_limit,dpr_auto/https://cdn.shopify.com/s/files/1/0648/1955/products/xu49oRLrTUeHWINngrKS.png?v=1541699681
https://purity-res.cloudinary.com/image/fetch/q_auto:best,f_auto,fl_lossy,w_auto,c_limit,dpr_auto/https://cdn.shopify.com/s/files/1/0648/1955/products/4fI9EVJAQPa2nDdmH1bM.png?v=1541699681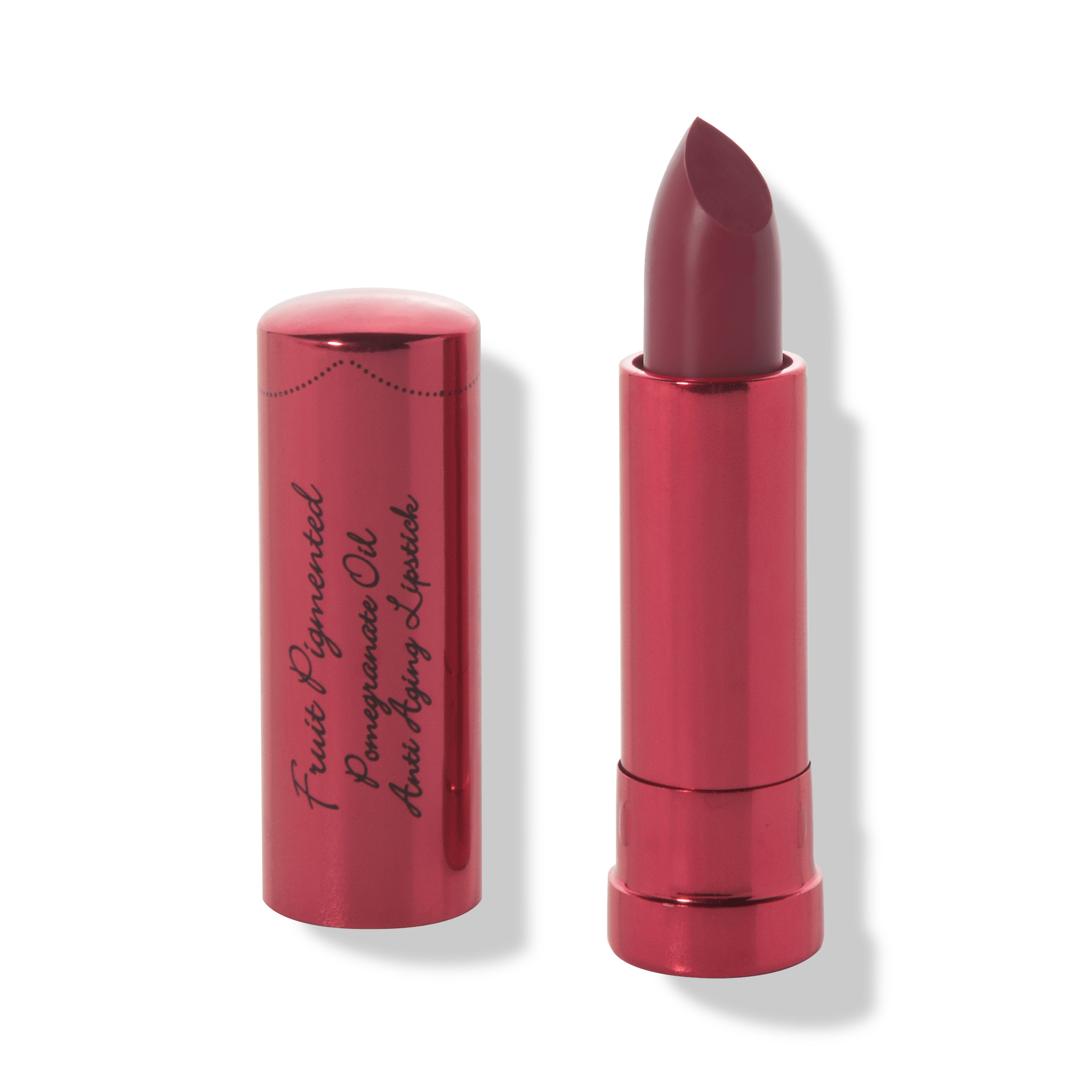 Fruit Pigmented® Pomegranate Oil Anti Aging Lipstick
Fruit Pigmented®

Natural

Vegan

Cruelty Free

Gluten Free
Anti-aging, super moisturizing lipstick made with pomegranate oil and shea butter to keep lips soft and supple. Colored with antioxidant-rich fruit pigments.
Just add Coconut Butter Soap to your cart, meet $45.00 threshold to unlock, and use code COCOBUTTER at checkout! While supplies last.
For All Skin Types
Full Coverage
Satin Finish

Anti-aging, super moisturizing lipstick concentrated with pomegranate oil to keep lips super soft and youthful. Colored from antioxidant and vitamin-packed fruit pigments like plum, raspberry, and grape for a versatile range of high pigment shades. Cocoa and shea butters give lips a nourished, satin finish and vibrant color that lasts all day long.

Coverage

Finish

Shade Chart

Calypso

A berry red.

Dahlia

A deep, wine red.

Black Rose

A cool, deep wine color.

Clover

A deep, neutral pink-nude.

Zinnia

A cool, deep rosy brown.

Thistle

A cool, rosy milk chocolate.

Poppy

A bright, blood red.

Narcissus

A deep pink.

Buttercup

A cool, deep pink.

Hibiscus

A deep, neon red-orange.

Foxglove

A berry pink mauve.

Calendula

A coral pink nude.

Bee Balm

A warm, deep peachy pink.

Magnolia

A bright bubblegum-coral.

Peony

A true, pale pink.

Primrose

A bright pink.

Directions

Apply to lips as desired. For a matte finish, blot with tissue after application.

Every ingredient we use is beneficial, here are a few:

Pomegranate

Pomegranate reduces wrinkles and brightens.

Vitamin E (Tocopherol)

Vitamin E restores and protects from free radical damage.

Tomato

Tomato strengthens and brightens skin with vitamins.

Raspberry

Raspberry protects from UVA and UVB rays.

Grape

Grape fights signs of aging with resveratrol.

Complete list of ingredients:

Butyrospermum Parkii (Shea Butter), Punica Granatum (Pomegranate) Seed Oil, Theobroma Cacao (Cocoa) Seed Butter, Extracts of Prunus Cerasus (Cherry) Fruit, Prunus Domestica (Plum) Fruit, Vitis Vinifera (Cabernet Grape) Fruit, Rubus Idaeus (Raspberry) Fruit, Vaccinium Angustifolium (Blueberry) Fruit, Rubus Fruticosus (Blackberry) Fruit, Prunus Persica (Peach) Fruit, Prunus Armeniaca (Apricot) Fruit, Solanum Lycopersicum (Tomato) Fruit/Leaf/Stem, Punica Granatum (Pomegranate), Cacao (Organic Chocolate), Rosa Centifolia (Rose Petals) Flower, Lavandula Angustifolia (Lavender) Flower/Leaf/Stem, Theobroma Cacao (Cocoa) Powder, Tocopherol (Vitamin E), Sodium Ascorbate (Vitamin C), Euphorbia Cerifera (Candelilla) Wax, Rosmarinus Officinalis (Rosemary) Leaf Extract

The lipstick felt comfortable on my lips.
The lipstick gives opaque color.
The lipstick improved the appearance of my lips.

This lipstick was moisturizing.
Fruit Pigmented® Pomegranate Oil Anti Aging Lipstick
has a rating of
4.5
stars based on
1104
reviews.
Customer Reviews
color
Lipsticks
colors
formula
skin
moisturizing
shade
Love
Color
pink
S
04/16/2019
Sherry
perfect color
I love this lipstick - particularly the poppy color. I have fair skin, and it doesn't look too bright or too pink -- it's perfect. The lipstick doesn't taste bad - actually smells good, and stays put.
Vibrant color, moisturizing!
I love this lipstick, the color is super vibrant full coverage and its moisturizing! :)
Buttery smooth and fruity!
The lipstick glides on so well and feels amazing on the lips! There isn't any real staying power, but tbh I didn't expect any. It has a really nice, light fruity smell that was an added bonus. My only complaint is that the amount of lipstick you get for the high price. I wish you would get a little more product.
Zinnia
I love 100% pure Zinnia lipstick. It's a perfect pink nude color. It's more on the dark side but more of a natural color. I have been wearing to college and i just rave about it. It's definitely my go to lipstick. I can't get enough how beautiful the texture is, i recommend this brand 100%.
Love
I ordered the Black Rose lipstick during a sale. I wasn't quite sure what to expect, but I fell in love. The color isn't as dark as pictured on screen and is very flattering for most skin types. I am fair with blonde hair and light eyes. The formula is silky and the pigment stays even after the lipstick dries.
Complete the Package
Continue Shopping →