The Ultimate Eye Makeup Guide
The ultimate guide on eye makeup do's and don'ts, healthy eye makeup pigments, and applying a timeless cat eye for your eye shape!
Updated on August 28, 2018
Written by: 100% PURE®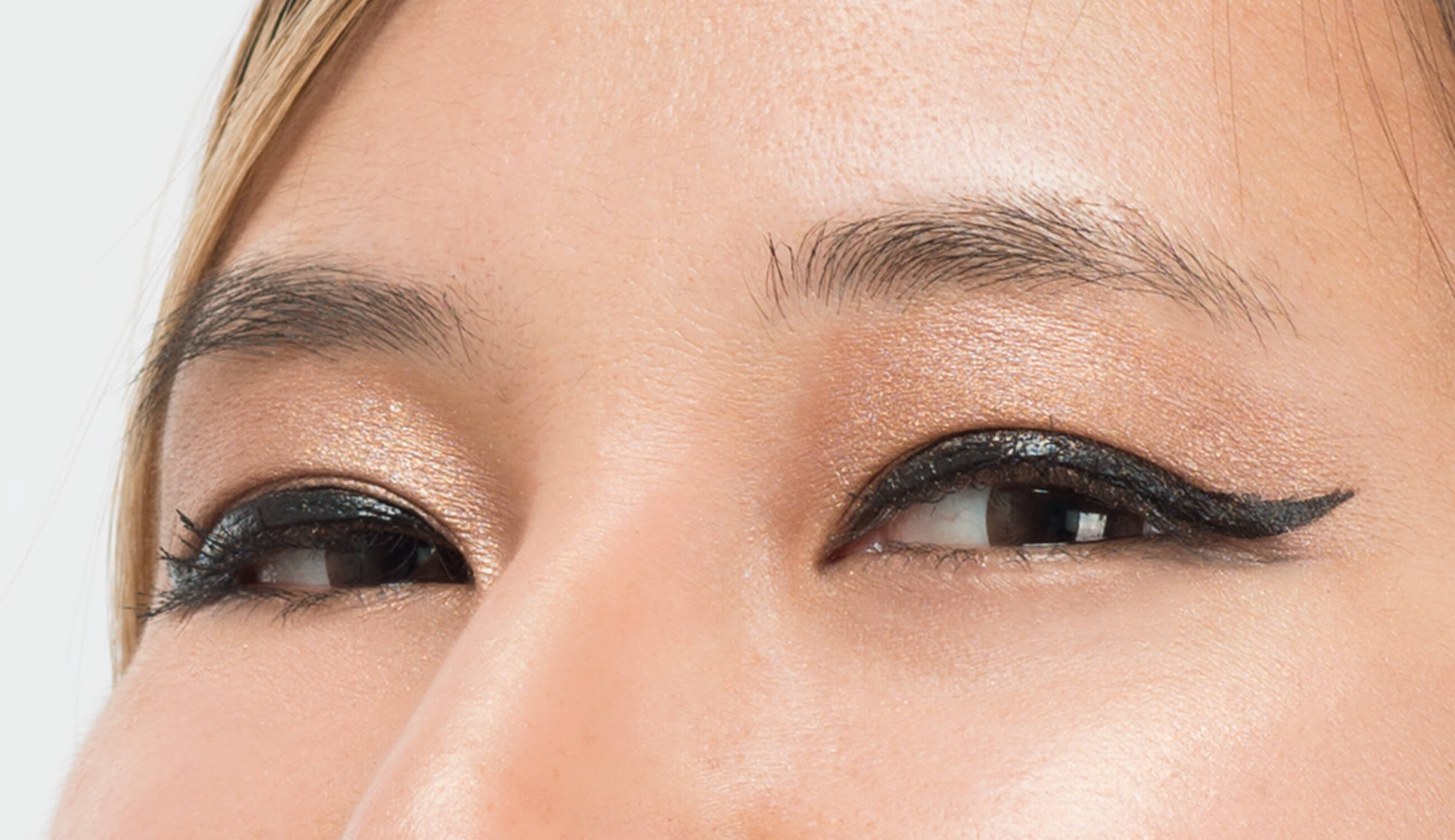 Black tea isn't just the Queen's drink of choice. It's also a natural goldmine for clean, non-toxic black pigmentation. One of its hidden treasures? Naturally high antioxidant content! The incredibly antioxidant-rich leaves are super effective at nourishing your lashes; acting like a lightweight moisturizer for your peepers. With this fabulous lash perk in mind, we formulated our natural eye makeup phenomenons: Fruit Pigmented® Ultra Lengthening Mascara - Black Tea and Long Last Liquid Eye Liner: Black Tea. Get ready for tailor-made pro tips on how to create a flawless cat eye, according to your very own unique eye shape. Time to take your eye makeup look from kitten, to fierce jungle cat.
5 Easy Ways to Determine Your Eye Shape
Every eye shape has some major differences, some a little more subtle than others. Do you know what your eye shape is? If you're in the dark about what eye shape you are, we're here to help! From close set to hooded, we've done a breakdown on five easy ways to figure out your eye shape. Go on, grab a mirror and follow along!
#1: Width Between Eyes
Measure the width between your eyes. What's the result of the space between? If the distance is shorter...you have Close Set eyes. If the distance is more than the width of your eyes...you have Wide Set eyes.
#2: Curvature of Eyes
Stare straight into the mirror, then draw an imaginary line horizontally across your eyes. If the outer edges of your eyes appear to go down...you have Downturned eyes. If the outer edges of your eyes appear to go up...you have Upturned eyes.
#3: Upper Eyelid
With your eyes open, look at the upper portion of your eyelid. If your upper eyelid doesn't have a crease...you have Monolid eyes. If your upper eyelid is not visible...you have Hooded eyes.
#4: Whites of Your Eye
Keeping your eyes open, take note of the whites around your iris, especially the top and bottom portion. If you can see the top and bottom whites of your eyes...you have Round eyes. If you can't see the top and bottom whites of your eyes...you have Almond eyes.
#5: Eye Depth
While looking straight at the mirror, take note of any shadows or lack of shadows around your eye area. If you have slight shadows inside your eye sockets...you have Deep Set eyes. If you have eyeballs that appear to be extending outside your eye sockets...you have Protruding eyes.
10 Ways Your Eye Makeup Is Hurting You
#1: Keeping Old Makeup
This rule is going at the top because it's such a common makeup foul. Keeping old makeup past its recommended date is inviting unwanted bacteria and germs which can lead to an eye infection or serious eye irritation.
PRO TIP: If you want to keep better track of "use by" dates on your eye makeup, keep a permanent marker and label handy. Once you crack open a new natural mascara write the expiration date on the label and stick it on. It'll be a constant reminder of when it's time to replace.
#2: Carbon Black, Kohl and Coal Tar
Do you recognize any of these ingredients? Maybe you would if we gave you their common names: CI followed by 5 numbers or D&C. Hopefully none of them are lurking in your conventional eye makeup; if you're using 100% PURE eye makeup, you can rest easy knowing they're nowhere to be found! All three of these common toxic eye makeup ingredients contain heavy metals and have been proven to be carcinogenic. Gross.
#3: Sharing Your Eye Makeup
Mom always taught you that sharing is caring, but not when it comes to makeup (and eye makeup, specifically). We all want to help a friend in need, but some things are best used selfishly. She might be your best friend, but she still carries her own set of unseen germs and bacteria. Share secrets, recipes, and hot date deets -- leave makeup off the table.
#4: Applying While Driving or Moving
We've all seen it. Our red light buddy trying to quickly swipe mascara on before the light changes… the fellow commuter "multi-tasking" on the subway… applying eye makeup on-the-go can be trouble. Besides the unsanitary conditions of public places, the jostling and quick movements can lead to a potential eye injury. Ouch!
#5: Aluminum Powder
Oh, that beautiful opaque pigment that won't quit! Unfortunately, aluminum powder used in conventional eye makeup (a serious neurotoxin) is behind that dense pigmentation. Even though the FDA has deemed it "safe", there is strong evidence that cumulative exposure can lead to cancer. Hard pass.
#6: Conventional Waterproof Mascara
You've been in and out of the pool all day, and not a single budge! But have you ever wondered how that conventional mascara is staying on? It's Dimethicone Copolyol, which is basically a thin rubber coating and grabbing onto your lashes. This silicone based ingredient was cooked up in a lab to adhere to your lashes no matter what tries to rub it off, and can contribute to lash dryness and skin irritation.
#7: Dry and Brittle Lashes
You've been in and out of the pool all day, and not a single budge! But have you ever wondered how that conventional mascara is staying on? It's Dimethicone Copolyol, which is basically a thin rubber coating and grabbing onto your lashes. This silicone based ingredient was cooked up in a lab to adhere to your lashes no matter what tries to rub it off, and can contribute to lash dryness and skin irritation.
#8: Parabens
Did you know that parabens have been found in breast cancer tissue? It's scary and it's true. Parabens are used in conventional makeup because they're cheap and keep the mascara formula stable. There are safer alternatives to prevent bacteria growth and they're all found in mother nature: thyme, oregano, and rosemary. Parabens can be absorbed directly into your bloodstream through topical application.
#9: Not Washing Your Eye Makeup Off Before Bed
This is an old one you've probably heard from your Mom a million times, and we can't stress it enough. Do not go to bed with your makeup on! Not to get too naggy, but your skin needs time to breathe. Unclog and clean out those pores before lights out. Sweet dreams!
#10: Leaving Makeup in the Sun or Hot Car
While the temperatures are rising in your makeup bag, so is the internal temperature of your favorite mascara. Bacteria and germs thrive in warm environments, and you've just created a tropical paradise. Don't store your makeup in the car during warm months, or near direct sunlight in your bathroom to avoid bacteria and germ build-up.
Healthy, Natural Eye Makeup
We're more than a little bit in love with natural eye makeup. We've spent a lot of time tweaking our mascara and brow formulas to make sure they are clean, non-toxic perfection. Natural eye makeup is a tricky category to perfect, but we think we've got it nailed. We've cut out all the nasty stuff that's usually in conventional formulas. Imagine a long list of crazy chemicals that you wouldn't want anywhere near your eyes: parabens, aluminum powder, formaldehyde, synthetic dyes, and coal tar (a known carcinogen) are just a few of the ingredients you'll find in conventional formulas (which we've obviously nixed). Get the full scoop on what is (and what isn't) in a healthy mascara here.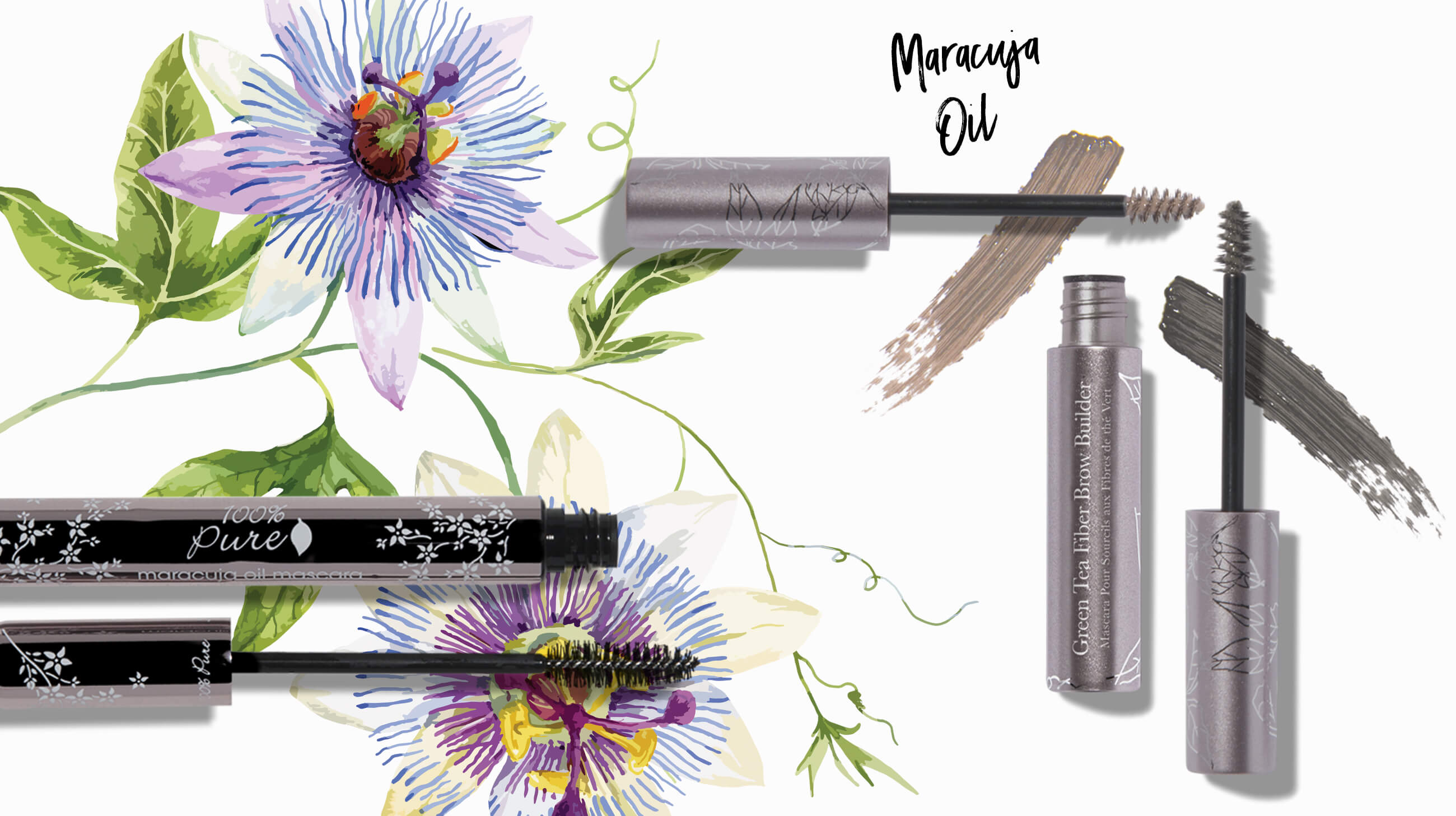 Maracuja Oil
After giving the gross toxic ingredients the axe, we formed the base of our Maracuja Mascara out of green tea leaf extract and vitamin E. They're both nourishing, lash-loving ingredients that won't dry your lashes out or leave you with dreaded clumping or shedding (yes that's a thing). Maracuja oil gives our formula its volume-friendly hydration, and rice bran powder and seaweed powder give your lashes thickness and length. Maracuja is a heavy hitter in natural cosmetic formulas, thanks to its hefty content of fatty acids that work as deep moisturizers and also have anti-inflammatory properties.
As an emollient, the oil is ultra light and absorbable, and rich in essential fatty acids like linoleic, oleic, palmitic, and stearic acids. It's a great oil to use on hair, lashes, and brows, thanks to its super nourishing properties but ultra lightweight composition -- which means no greasy residue or heaviness (things to be wary of with mascaras, especially when your aim is volume or increased thickness). Choose between our three gorgeous shades, which we've formulated to work with a wide range of skin and eye tones: Maracuja Mascara: Black Tea, Maracuja Mascara: Blackberry, and Maracuja Mascara: Dark Chocolate.
We're also loving Maracuja oil in our Green Tea Fiber Brow Builder, another shoe-in superstar in the natural eye makeup game. It's an ideal product for building texture and volume into over-plucked brows. This product is literally a hair extension for your brows that will leave you with full, sculpted arches that are ready to serve fierce looks all night long. Bonus is the maracuja oil working to help you regrow and nourish existing growth. If you rock darker tresses, our Green Tea Fiber Brow Builder: Medium Brown is your shade. For lighter locks, go with our Green Tea Fiber Brow Builder: Soft Brown.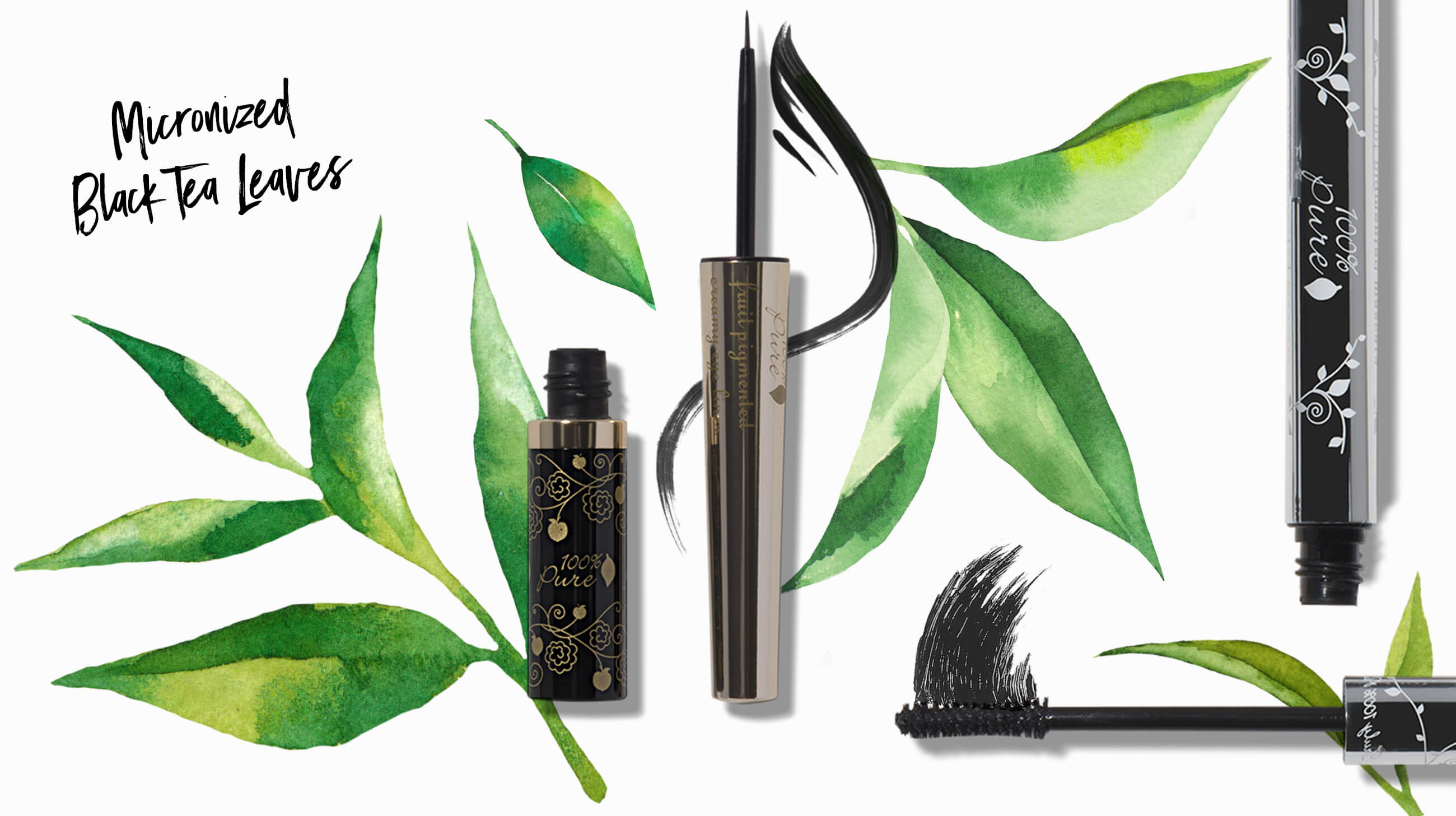 Black Tea Leaves
Did you know that the base of many of our natural eye makeup products is micronized black tea leaves? How did we get that gorgeous jet black color for our Long Last Liquid Eye Liner: Black Tea from a tea plant? Follow along while we put on our science hat for a quick lesson in product formulation.
Our natural eye makeup products start out as a humble tea plant (Camellia Sinensis) growing on a lush hillside with other tea plant friends. When the tea leaf is at its prime growth, they are gently plucked and gathered into baskets. After harvesting, the fresh tea leaves are allowed to wither on racks in order to lose moisture content, before making their journey to the rolling machines. There, the withered tea leaves will be rolled into their distinctive twist. The purpose is to gently break the plant cells so enzymes can mix with the polyphenols and start the "fermentation" process.
Moving on, the tea leaves are now in the drying stage, where they are dried via forced hot air. Until this step, it's all standard tea production process. To pick up after this production process, we reroute the tea leaf from its normal destination (a cup) and continue the process by finely chopping and blending the leaves until they become a super fine powder. This super fine powder is micronized black tea leaves. This dark powder is then mixed with water, where it's brought to a boil. Similar to steeping a cup of tea, but this inky brew continues to boil down until it becomes a thick, sap-like liquid. Through this process of boiling off the water, the black tea leaves pigmentation becomes very condensed and opaque.
"The more you boil down the black tea, it turns into this extremely rich pigmented, resin-like material that becomes formable to the skin. This discovery was from a happy accident when I forgot about the puer tea that I was heating on the stove that got overcooked. All the water evaporated and left the remnants of the tea water, which were very gummy, and I soon realized this would be perfect to use as eyeliner."
- Susie Wang, Co-Founder of 100% PURE
Can't get enough of black tea? Try our Fruit Pigmented® Ultra Lengthening Mascara - Black Tea for the best natural lengthening mascara. Each lash is separated and lengthened with our healthy lash conditioners. Read more on how we've developed the best natural mascara for lengthening lashes. 100% PURE's Ultra Lengthening Mascara is one of our top-selling natural eye products with almost 800 reviews from beauty lovers who made the switch and aren't going back:
Love the deep pigment of this mascara and makes my lashes so long and full!! Plus, I love that it doesn't contain any synthetic or fake ingredients.


- Sharon T.

, Verified Buyer
I have been using the Volumizing Mascara for awhile now, but the Ultra Lengthening formula is nothing short of WOW on my lashes! Perfect for every day with just one coat, or you can amp it up for going out (put on 2 coats) for an evening. I have short, stubby lashes that only got worse after having my kids, and have been amazed by the quality of these mascaras. The mascaras smell great, work well and are worth every penny to not have chemicals near my eyes. Love it!


- Lindsey B.

, Verified Buyer
This mascara isn't just the best among natural mascaras, but the best among all mascaras! It's lengthening, volumizing, doesn't clump, and lasts for months! I love this product.


- Renee P.

, Verified Buyer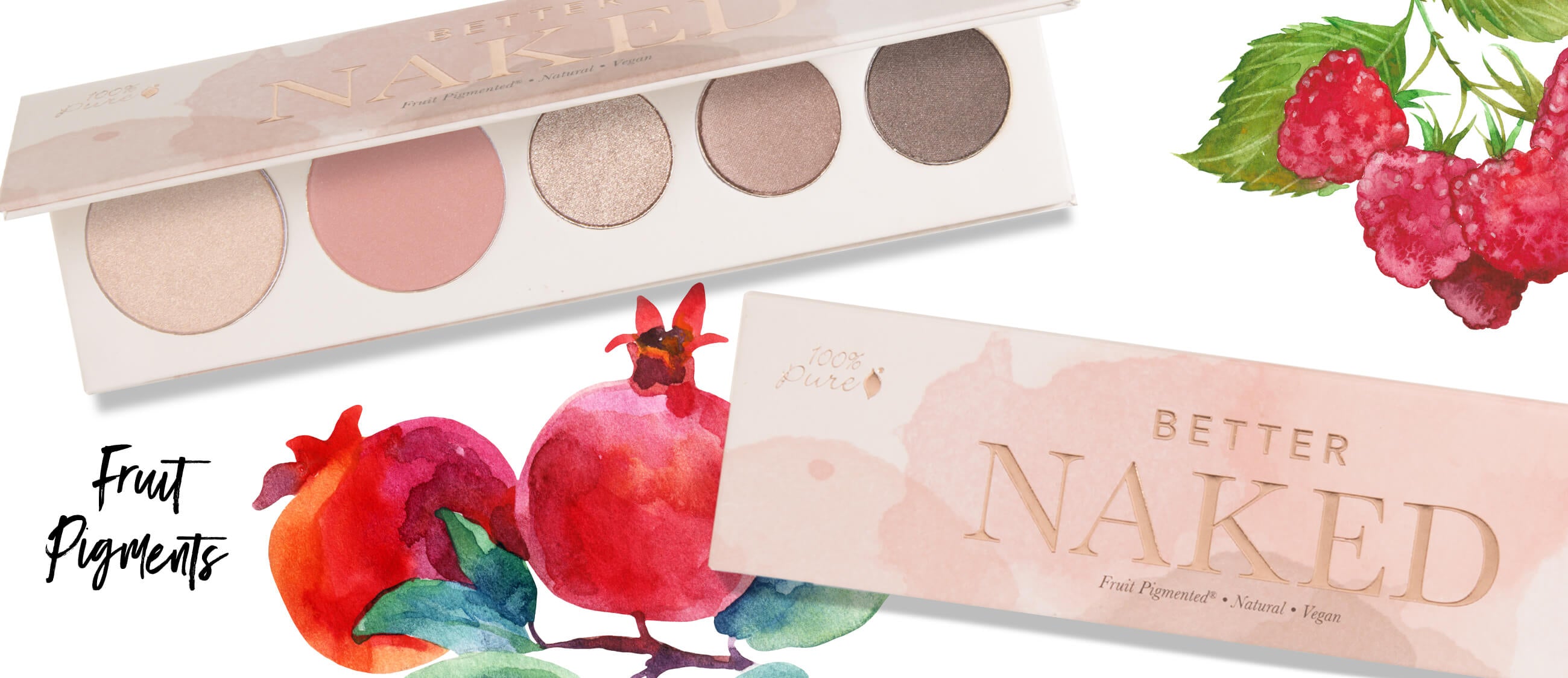 Fruit Pigments
Have you ever dropped a piece of fruit on your clothes, then teared up a little as you watched that raspberry stain sink into the fabric? Fruit pigments are exactly that! While you might hate to get a fruit stain on your clothes, you'll love their pigments in our natural eye makeup. Not only are they richly pigmented, but the concentration of the fruits' vitamins and antioxidants are actually benefiting your skin while you're wearing makeup.
Our Fruit Pigmented® Pretty Naked Palette was born when Susie was picking blackberries for a delicious pie and noticed her fingers were getting stained from the berries. This 'ah-ha' moment inspired Susie to create pigment from mother nature for her patented fruit pigmented technology. Did you know that conventional eye makeup is colored from synthetic dyes like red dye #40, yellow dye #6, and other iron oxides created from actual rust? We'll take berries and veggies near our peepers over heavy metals any day. If you're just starting out in natural beauty, we've pulled together our top three beauty starters to introduce you to the wonderful world of fruit and black tea pigments: Fruit Pigmented® Pretty Naked Palette, Fruit Pigmented® Ultra Lengthening Mascara - Black Tea and Long Last Liquid Eye Liner: Black Tea.
PRO TIP: If you're looking to keep your makeup vibes low-key with a luminous glow that says "I woke up like this", head over to watch the how-to makeup video for Truffle Beauty Look in How To: 3 Summer Makeup Looks. We're highlighting the Fruit Pigmented® Pretty Naked Palette to achieve an effortless summer look using our natural makeup palette that you can apply well into fall.
If you can't get enough beauty tutorials, we've got a full list to keep you going until our next makeup how-to blog post. Are you looking for a new, quick and easy hair style? Head over to our 3 Minute Beach-Inspired Hair How-To. Calling all outdoor lovers! We've rounded up 3 Natural Beauty Camping Hacks to take along on your next camping adventure. Stay tuned for more deep dives and product spotlights all month long!
We carefully hand-select products based on strict purity standards, and only recommend products we feel meet this criteria. 100% PURE™ may earn a small commission for products purchased through affiliate links.
The information in this article is for educational use, and not intended to substitute professional medical advice, diagnosis, or treatment and should not be used as such.
Sign up to our email newsletter for more blog updates and exclusive discounts.
< Older Post | Newer Post >