https://purity-res.cloudinary.com/image/fetch/q_auto:best,f_auto,fl_lossy,w_auto,c_limit,dpr_auto/https://cdn.shopify.com/s/files/1/0648/1955/products/H4MkIVWlQ38MZgBWqJeN.jpg?v=1540598574
https://purity-res.cloudinary.com/image/fetch/q_auto:best,f_auto,fl_lossy,w_auto,c_limit,dpr_auto/https://cdn.shopify.com/s/files/1/0648/1955/products/xP1KhFOTwazIiSWW0JfV.jpg?v=1540598574
https://purity-res.cloudinary.com/image/fetch/q_auto:best,f_auto,fl_lossy,w_auto,c_limit,dpr_auto/https://cdn.shopify.com/s/files/1/0648/1955/products/Di1QCM9XTkCuOQPScsTP.jpg?v=1540598574
https://purity-res.cloudinary.com/image/fetch/q_auto:best,f_auto,fl_lossy,w_auto,c_limit,dpr_auto/https://cdn.shopify.com/s/files/1/0648/1955/products/hnbHIVpSUe7WCv8JnSft.jpg?v=1540598574
https://purity-res.cloudinary.com/image/fetch/q_auto:best,f_auto,fl_lossy,w_auto,c_limit,dpr_auto/https://cdn.shopify.com/s/files/1/0648/1955/products/mtNtE6tST2YkPmGsEOJR.jpg?v=1540598574
https://purity-res.cloudinary.com/image/fetch/q_auto:best,f_auto,fl_lossy,w_auto,c_limit,dpr_auto/https://cdn.shopify.com/s/files/1/0648/1955/products/IYdToUiRrGg6dhP0txjb.jpg?v=1540598574
https://purity-res.cloudinary.com/image/fetch/q_auto:best,f_auto,fl_lossy,w_auto,c_limit,dpr_auto/https://cdn.shopify.com/s/files/1/0648/1955/products/2ksqbAlvRGoRKcqwbJK4.jpg?v=1540598574
https://purity-res.cloudinary.com/image/fetch/q_auto:best,f_auto,fl_lossy,w_auto,c_limit,dpr_auto/https://cdn.shopify.com/s/files/1/0648/1955/products/Hk9Zi6n2ScOMeu7Rni1q.jpg?v=1540598574
https://purity-res.cloudinary.com/image/fetch/q_auto:best,f_auto,fl_lossy,w_auto,c_limit,dpr_auto/https://cdn.shopify.com/s/files/1/0648/1955/products/yQgkRNCGSRepwnUw42tw.jpg?v=1540598574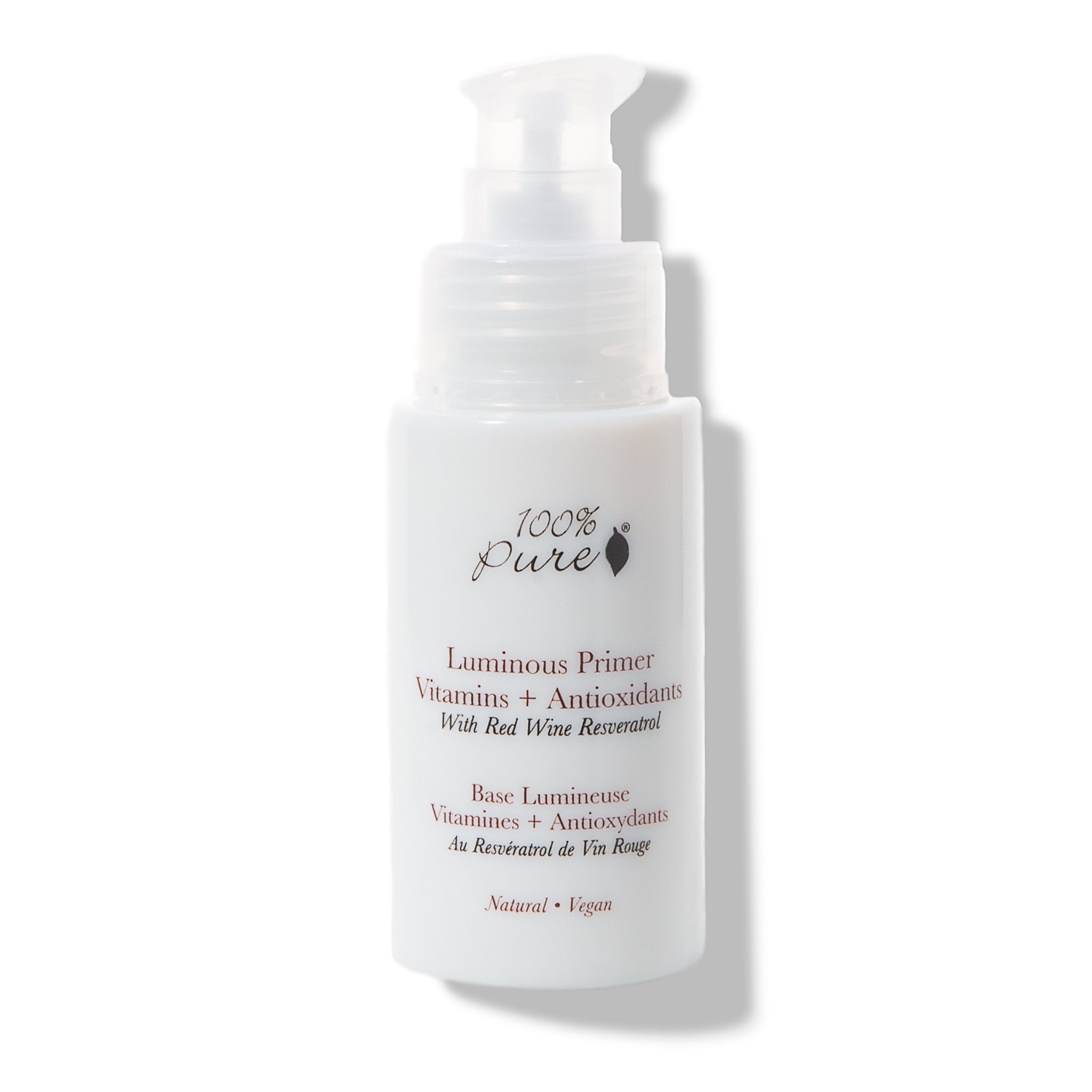 Luminous Primer
Fruit Pigmented®

Natural

Vegan

Cruelty Free

Gluten Free
Silicone-free, antioxidant infused primer diffuses pores and illuminates with light reflective pigment while giving flawless, long lasting cosmetic application.
Silicone-free, vitamin and antioxidant-infused, luminous primer makes cosmetic application last longer and flawless; fills in lines for smoothness while light-reflective pigments diffuse flaws and illuminate for a healthy, glowing complexion.

Directions

Apply evenly to clean or moisturized skin. Allow to set for 90 seconds. Follow with your makeup application.

Every ingredient we use is beneficial, here are a few:

Vitamin E (Tocopherol)

Vitamin E restores and protects from free radical damage.

Aloe

Aloe heals and recovers.

Avocado

Avocado softens and moisturizes.

Green Tea

Green Tea tones and protects with antioxidants.

Resveratrol

Resveratrol is a potent antioxidant that protects against signs of aging.

Complete list of ingredients:

Aloe Barbadensis (Organic Aloe Juice) Leaf Extract*, Simmondsia Chinensis (Jojoba) Seed Oil, Jojoba Esters (Wax), Oryza Sativa (Rice) Starch, Tocopherol (Vitamin E), Sodium Ascorbate (Vitamin C), Euphorbia Cerifera Cera (Candelilla Wax) Extract, Camellia Sinensis (Green Tea) Leaf Extract, Red Wine Resveratrol, Silica, Persea Gratissima (Avocado) Butter, Lonicera Caprifolium Flower and Lonicera Japonica (Honeysuckle) Flower Extract, Mica * Certified Organic
By using hashtag #100percentpure or #nodirtybeauty, I hereby grant to 100% PURE (Purity Cosmetics), it subsidiaries, agents and affiliates, the unlimited worldwide, perpetual, unending right to use, reproduce, distribute, and convey my image/photograph in any format or medium now known or subsequently developed, to modify and edit my image/photograph, to combine my image/photograph with other images, video, audio, text and other media, to create derivative works incorporating, including or based on my image/photograph. This grant shall be construed broadly.
---
Luminous Primer
has a rating of
4.6
stars based on
962
reviews.
Customer Reviews
primer
skin
makeup
foundation
glow
face
primers
look
products
ingredients
03/27/2018
Lisa S.
United States
Haven't used often enough yet, but so far...
I have been using the mattifying primer for over a year and it seems to smooth out my pores. I used this once alone and did not get the same effect with my pores (but once isn't enough for me). I have used this in combo with the mattifying primer (1 pump of each) and I am not sure I liked how it changed the coloring of my 2nd Skin foundation, but maybe it was because I was paler as I was sick. So far, not excited but I plan to give it several more tries before giving up.
Wow
I've never used primers because most of the primers contain dimethicone. I do not know how this works without silicon- based polymer, but surely this makes my skin smooth and water foundation works better with this primer !
Wow! I didn't believe in primers until I used this!
I have never used a primer before and always thought it was a waste of money. But I thought I'd give it a go since I love 100 percent pure's products. I'm so happy I did because this product feels so luxurious on my skin and my foundation (Water foundation from 100 percent pure) is flawless now. I was struggling with it looking patchy...but not any more! My makeup lasts so much longer and my often dry skin feels great.
not bad
I purchased this for my friend and she is not very impressed, she said that is just fine
worth it
Upon applying the primer, I can already see its effect on my face. It gives you a luminous glow. It also helps my foundation stay longer. I also love the smell too. When using the product, along with the other 100% products that I bought, I have peace of mind that what I am putting on my skin is good for me and will not have harmful effects. I will definitely buy this product again!
Complete the Package
Continue Shopping →