Everything You Want to Know About Natural Lip Liners
We're giving you a full lip guide on how to use natural lip liners, plus tips and tricks for matching lip liner to your lipstick!
Posted on November 6, 2017
Written by: 100% PURE®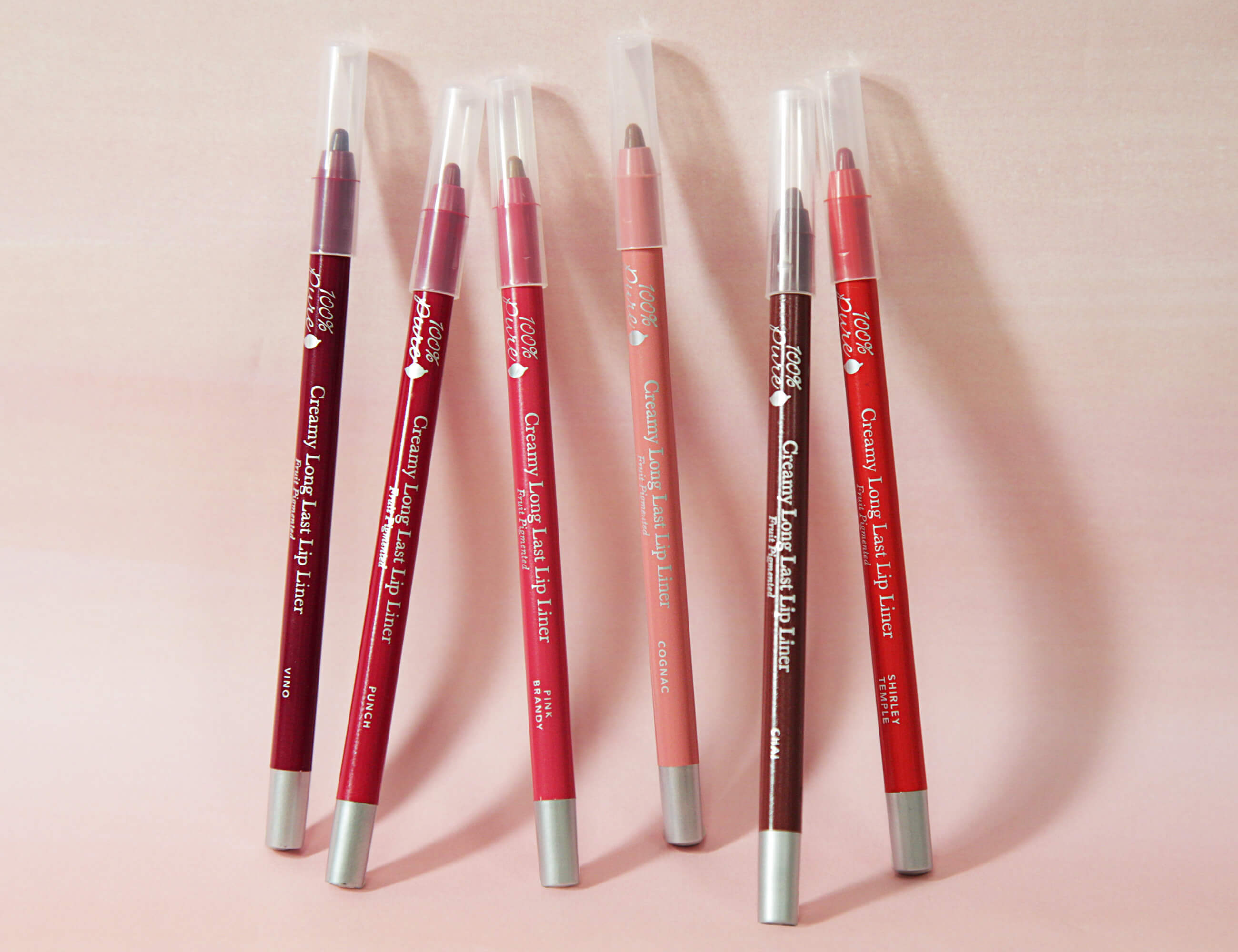 They're here, can you believe it? 100% PURE has finally formulated the perfect natural lip liners! We've heard your many requests, and couldn't be more proud to share our brand new natural lip liners with our patient fans! Our natural lip pencil formulation process has been going on for a long, long time: Susie Wang and her team have been working for years to find a safe, natural wax that was hard enough to use in a lip liner. Many companies use palm wax, which we passionately avoid due to the deforestation side effects associated with common palm harvesting. Thanks to our dedicated product development team and rigorous product testing, the best natural lip liner formula is finally ready to be released!
You're in for a treat because we're sharing this new natural lip liner collection via a full lip liner breakdown. Our lip liner guide will take you through the in's and out's of why you should be using a natural lip pencil daily, along with a complete swatch guide. Don't worry, we took out all the guess work: we've matched our natural lip liners to all of our 100% PURE lipstick shades! Get ready to dive in lips first, because your lipstick game is never going to be the same again.
What are Natural Lip Liners Made Of?
Has 100% PURE been reading your mind and somehow combined all your hopes and dreams into one perfect natural lip pencil? We weren't ready to launch our collection of natural lip liners until we knew we had created "the one." 100% PURE natural lip liners check all the boxes for lip pencil must-haves, and then some (hey, we're allowed a humble brag or two). Were you waiting for a lip pencil that's lip hydrating? We got you. The first few ingredients, jojoba oil and pomegranate seed oil, have serious skin softening street cred. Did you daydream of ultra smooth, precision application? You can thank Euphorbia Cerifera (Candelilla) Wax, Copernicia Cerifera (Carnauba) Wax, and our product development team for that one! You've come to expect nothing but stunning color from our fruit pigment technology, and these lip liner shades do not disappoint. Using an expertly chosen combination of natural fruit dyes from cherries, plums, cabernet grapes, raspberries, peaches, and blackberries (just to name a few), we've curated an amazing array of versatile lip pencil shades directly from nature. Our antioxidant packed lip liners deliver vibrant, long lasting color without the toxic chemicals or cheap filler ingredients. The proof is in the pudding, but in the ingredients list.
Natural vs. Synthetic Lip Liners
When we started writing this article, we did a little sleuthing around the internet to find what exactly was in other conventional lip liners. First find, it was SO HARD to actually find a full ingredient list on the majority of the lip liners out on the market. Coincidence? Sadly, probably not. There are so many nasty chemicals and synthetic dyes lurking in your favorite makeup products, and if you're using them on your lips, studies show that you're likely to ingest 4-8lbs throughout your lifetime. It's easier to simply hide the ingredient list on the product pages than to openly reveal what went into that conventional lip liner formula. Second find, even the green-washed, "natural" brands had a lot of questionable ingredients that were getting swept under the ingredient list rug. Does your lip liner pass the natural test? If you're up for the challenge, let's see how your lip pencil fares against these common toxic ingredients found in lip liners. We were extremely shocked to see that a lot of ingredients used in conventional lip liners were also used in car manufacturing....whoa! Which brands did we research? Our lips are sealed.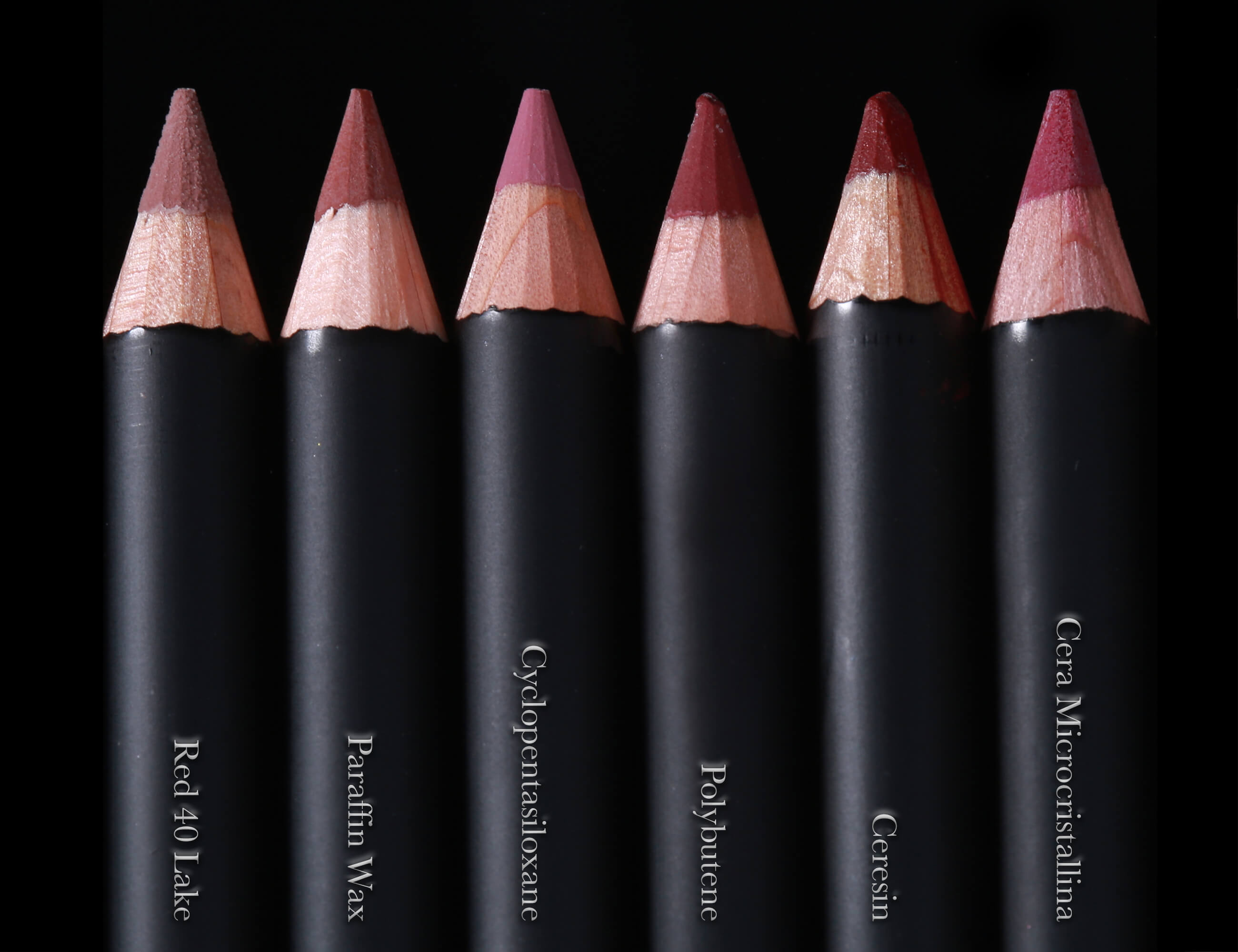 6 Toxic Ingredients in Conventional Lip Pencils
Blue 1 Lake, Yellow 5 Lake, Yellow 6 Lake, Red 40 Lake, Manganese Violet...
Oh cool! Are these colored lakes just like that beautiful, naturally occurring pink lake in Australia? Think again; these lakes are NOT Instagram worthy. Did you know these synthetic dyes have been linked to cancer? Just like lipsticks, lip liners are so close to our mouth that they're bound to get ingested. Simultaneously, the food industry is busy dumping 15 million pounds of synthetic dyes into our food supply each year. 3 of the common dyes used are known carcinogens, and four others are known to cause serious allergic reactions. While this specific study speaks directly to dyes in our food, 7 of the 9 dyes in the study are also found in conventional cosmetic ingredient lists. If you'd like to read more about lake dyes, download Sarah Kobylewski, Ph.D. and Michael F. Jacobson, Ph.D in-depth study: Food Dyes: A Rainbow of Risks. When nutritionists say 'eat the rainbow', we're pretty sure this isn't what they had in mind.
Paraffin Wax
Did you know that paraffin wax is derived from either petroleum, coal or oil shale? This colorless, odorless ingredient is commonly found in conventional beauty products, especially lip liners. The National Institute for Occupational Safety and Health (NIOSH) has actually set a recommended exposure limit (REL) for paraffin wax fumes for people who work with this manufactured ingredient: 2 mg/m3 of fume exposure over an 8-hour workday. We'd rather be in the 0 mg/m3 exposure, thank you very much.
Cyclopentasiloxane
This slippery feeling silicone ingredient acts as a barrier to water and is also found in common lip liner ingredient lists. Cyclopentasiloxane has already made the Environment Canada Domestic Substance List and is classified as expected to be toxic or harmful. Despite its notorious status on this list, it's still extremely popular in conventional makeup because of how cost effective it is to produce, acting as a cheap filler instead of using high quality organic compounds like vegetable glycerin.
Polybutene
This commonly used plasticizer is found in conventional lip liners, too. A quick google search links this ingredient to car manufacturing and industrial adhesive products (think sealants for roofs and windows) to being an additive for engine oil. While we can appreciate an artistic nod to car trends (how about Mustang red for a new lipstick shade?), we would never be okay with our lip liners sharing ingredients with the automotive manufacturing industry.
Ceresin
Ceresin is another budget-friendly swap for quality ingredients. Instead of investing in candelilla wax (like 100% PURE natural lip liners), conventional makeup brands use this toxic wax to harden their lip liner formulas. While this wax (ozokerite) is a naturally occurring fossilized wax found near soft shale, it's the process of commercial extraction that lands this wax on the questionable ingredient list, not to mention showing up on Environment Canada Domestic Substance List (see Cyclopentasiloxane, two ingredients above).
Cera Microcristallina (Microcrystalline Wax)
Canada must be onto something, and we're getting the feeling that the U.S. desperately needs to catch up. Add Cera Microstistallina to the ever growing Environment Canada Domestic Substance List. Remember when we said there are lots of ties to car manufacturing? Whelp, Microcrystalline wax is often used for producing tires and rubber, too! This highly refined petroleum derived wax is used in as a thickener and to help give conventional lip liners a smooth, solid texture. Shouldn't it be rubber to the road, not mouth?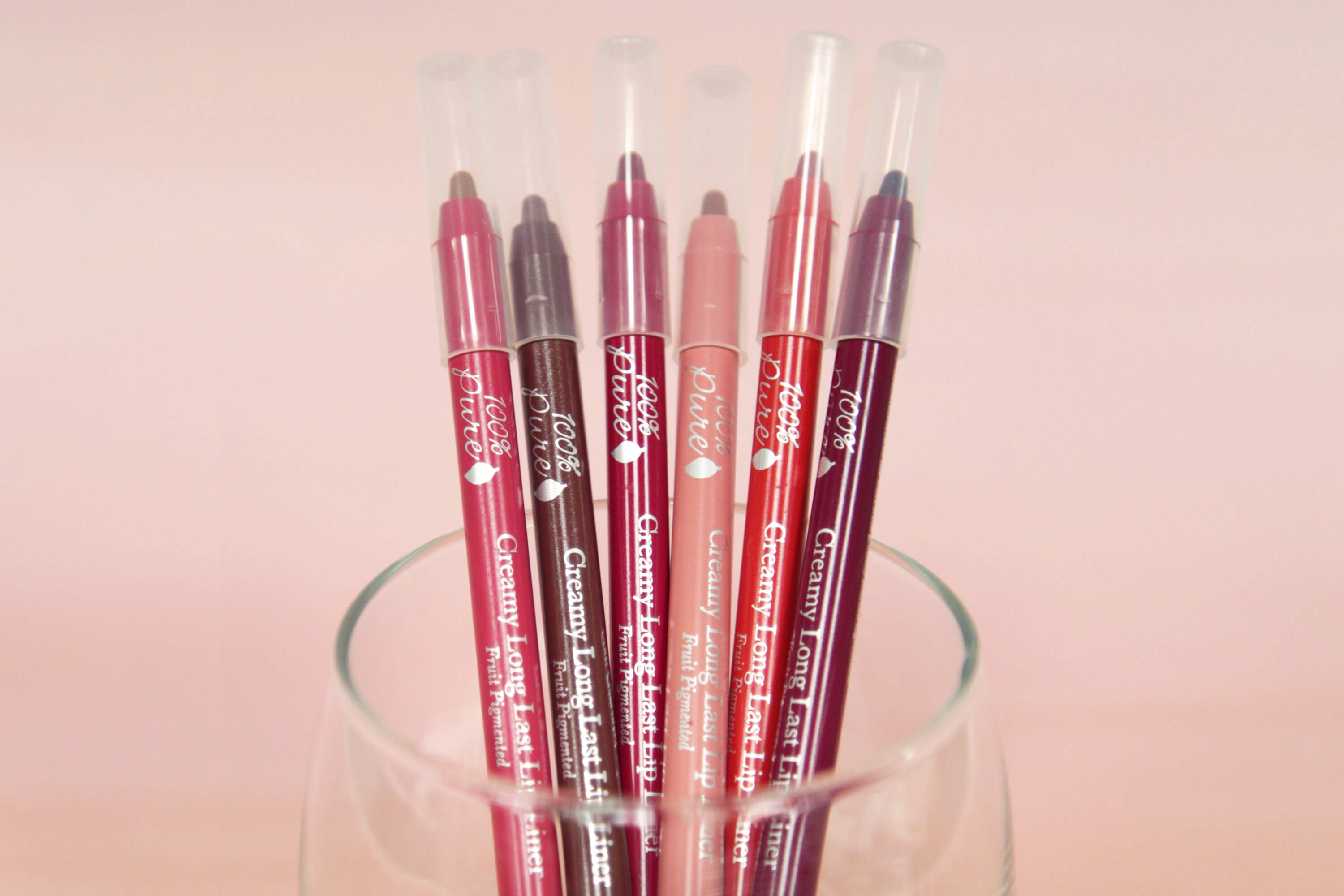 How To Use a Lip Pencil for Your Lipstick Routine
Ok, hold the phone: before you start going into a tailspin thinking of the dark lip outlines that left a notorious mark on the 1990's, rest assured we aren't over here trying to revive the harsh lip liner beauty trend. If used for good, and not evil, natural lips liners can be your 2017 secret beauty weapon. We've rounded up our top three reasons why you should add a lip pencil into your daily makeup routine.
Prevents Bleeding and Feathering
Do you love your lipstick, but get sick of certain formulas or colors having a tendency to "bleed" or "feather" outside of your lip line? Enter natural lip liners, your lipstick savior: perfectly formulated to keep your lipstick where you put it, just like primer helps to keep foundation in place. While the jury is still out whether you should apply your lip liner before or after your lipstick (we can argue both ways), the entire purpose of a natural lip pencil is to draw a line in the sand-- a 'do not cross' barrier between your lipstick and your skin. A gentle application of short strokes at a 45 degree angle will stop any would-be feathering lipstick formula in its tracks.
Adds Shape and Definition
A natural lip liner is the perfect companion to a natural lipstick, but even without being part of a dynamic duo, lip liner works perfectly all by itself. Want to make lips look fuller and poutier without the lip injections? By using a lip pencil in a shade lighter than your lipstick, you'll be able to create an optical illusion of larger, poutier lips. Using the same application technique from above, line your cupid's bow and the same area on your lower lip, then blend into your lipstick as to not have any harsh lines.
Extends Life of Lipstick Application
We've kicked feathering and bleeding out of the equation, so let's up your lipstick longevity, too. To keep your lipstick lasting even longer, choose a lip pencil shade that's similar to your lipstick shade. After outlining your lips with gentle, short strokes, continue by filling in both lips with your natural lip liner. This will give your natural lipstick something to grab onto (á la primer) keeping your lipstick lasting all day long.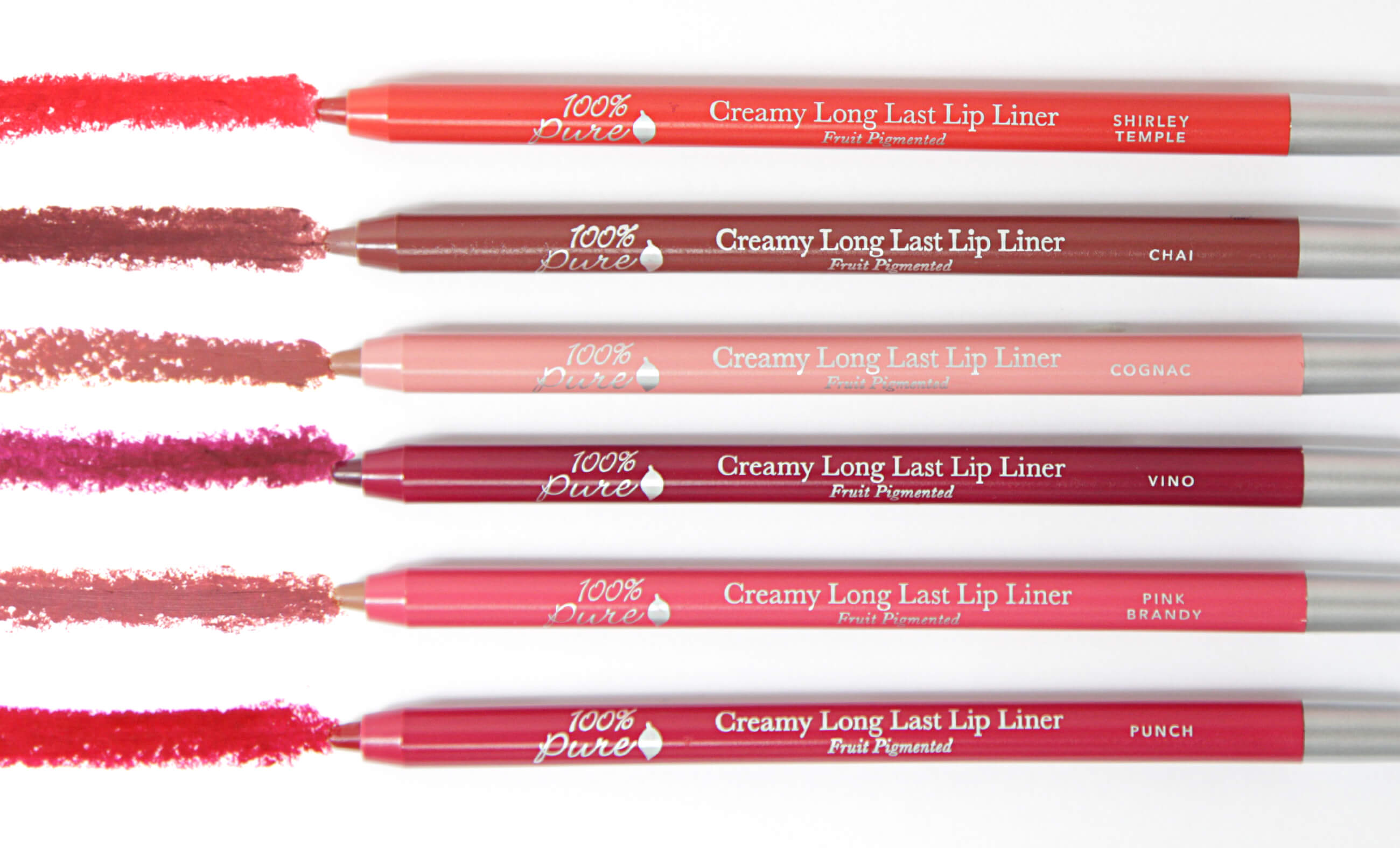 5 Things to Never Do with Your Lip Pencil
#1 Overdraw Your Lips
While bigger can be better, full on exaggerating your lips (like Miranda Sings) won't fool anyone. A little out of the natural lip lines will give you the illusion of plumper, fuller lips, but let's just enhance our lips to a level of believability, not science fiction.
#2 Harsh, Unblended Lines
We can appreciate your dedication to clean, perfect lines... but practicing around your lips is not the place. Blend, blend, blend. Save those perfectionist skills for your cat eye wings. Soft lines and edges will keep your lip liner looking natural and subtle.
#3 Over Sharpen Your Pencil Tip
You'll want a soft, rounded tip to achieve the perfect smooth lip pencil application. Sharp points will just create tight, intense lines.
#4 Not Cleaning After Every Use
Today you might be pairing Pink Brandy to Cocoa Butter Semi-Matte Lipstick: Pink Canyon, but maybe tomorrow the same natural lip liner will be paired with Lip Caramel: Rum Nougat. Do yourself a favor and clean your lip liner tips after every lipstick shade swap, otherwise you'll end up with a mish-mash of muddy shades.
#5 Not Correctly Matching Your Lip Liner to Lipstick
There is a science and subtle art to the lip pencil to lipstick pairing. If you're already a master colorist, tip of the hat. If not, take a peek at our handy guide below for our recommended pairings. This is a make or break moment in the beauty world, but don't stress, we've got you covered.
How to Prep Your Lips
Lips need extra care, too! Just like your face, gentle lip exfoliation should be done about every two weeks. If you're extra busy, shoot for once a month (something is definitely better than nothing). Your lip skin is very delicate so make sure to use a gentle scrub base that won't cause micro-tears, like our Cherry Honey Facial Scrub. This natural facial scrub can double as a natural lip scrub. Harness the antioxidant rich cherries mixed with hydrating honey to nourish your lips while jojoba beads buff away flakey or dead skin. Dampen your lips with warm water then massage a small scoop of scrub using circular motions. Slough away dead, dull skin then rinse with warm water and pat dry with a clean towel.
PRO TIP: If you're looking for plumper lips, extra circulation to your lips is key. Gentle daily massage will increase blood circulation and make them appear fuller.
How to Match Your Lip Liner to Your Lipstick
A bit overwhelmed by all the natural lipstick to natural lip liner combinations? Don't stress! We're taking out the complex beauty algorithms and pulling together the top lip liner to lipstick matching guide. The general rule of lip pencils are to always try to match your lipstick and pencil shade, or when in doubt or availability, go for the slightly lighter shade of lip pencil. Darker is putting you at risk for a leap backwards into 1990. Take a peep below for our recommended lipstick to lip liner guide.
Did you find this lip liner guide super helpful? If your answer was an enthusiastic "yes!!" check out our other in-depth natural makeup and skin care guides:
We carefully hand-select products based on strict purity standards, and only recommend products we feel meet this criteria. 100% PURE™ may earn a small commission for products purchased through affiliate links.
The information in this article is for educational use, and not intended to substitute professional medical advice, diagnosis, or treatment and should not be used as such.
Sign up to our email newsletter for more blog updates and exclusive discounts.
< Older Post | Newer Post >