The Best Foundation for Oily Skin
Find a foundation for oily skin that won't slip, slide, or shine on your skin
Updated on September 10, 2018
Written by: 100% PURE®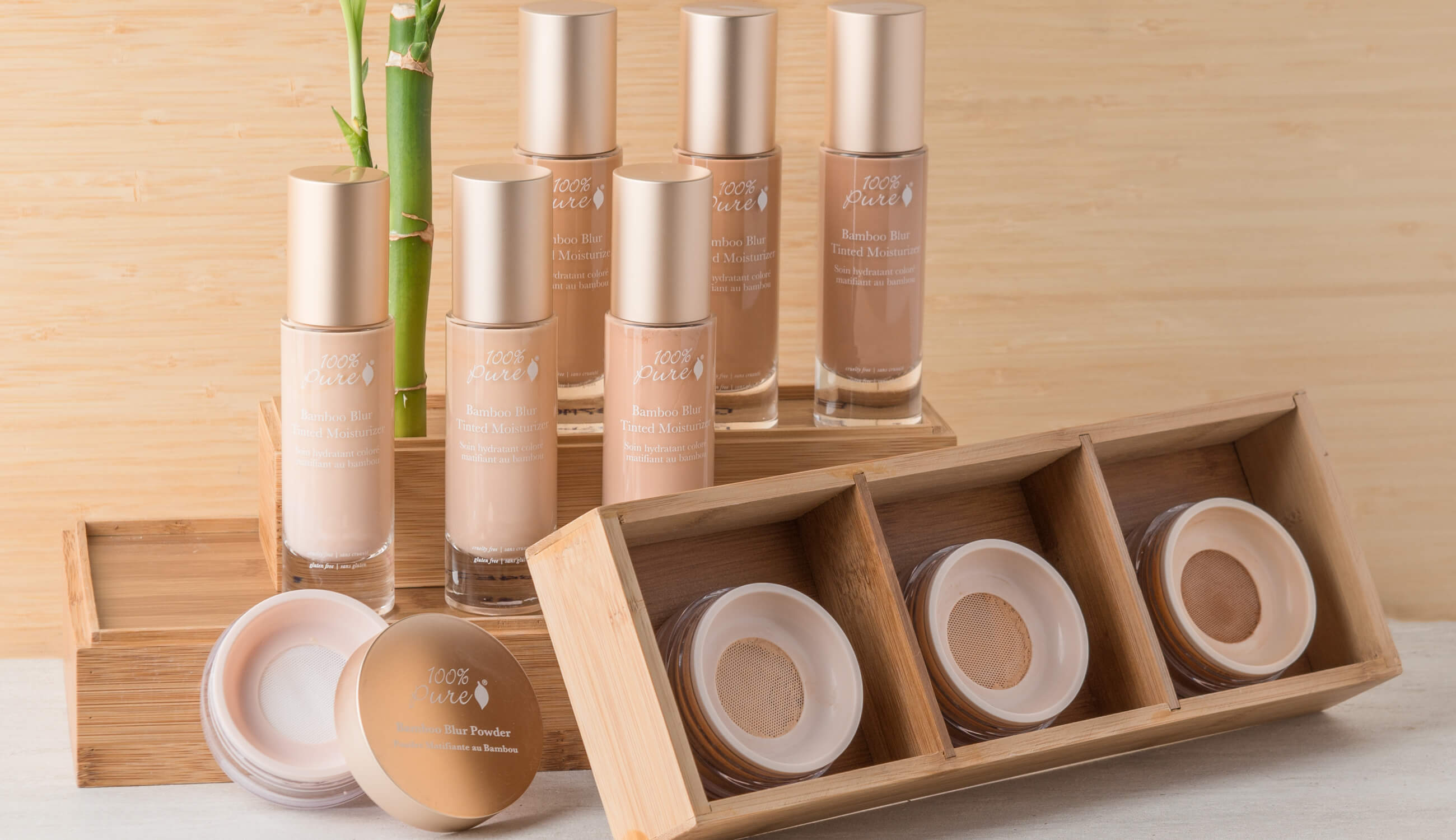 Sure, having oily skin can be great. You've got a natural glow, your skin is well-lubricated, and the excess oil your skin produces can keep you looking forever 21 just a little bit longer. The downsides of this positively radiant skin type? That glow can sometimes cross the forbidden line into greasy, and the oils on the skin surface makes a flawless, blemish-free face a bit more difficult to maintain. Looking for the best foundation for oily skin? Let's talk about the best ways to achieve a more balanced complexion, with a natural foundation that won't compromise what we love about naturally radiant skin.
Do You Have Oily Skin?
How do you know if you've got oily skin? First, examine something we call the T-zone of the face. The T-zone involves the nose, the forehead, and the chin. It's where an apparent shine can be found if you have oily or combination skin. Other symptoms of oily skin include enlarged pores, especially near the nose and on the cheeks, and occasional breakouts due to excess oil. Generally speaking, with combination and oily skin types the T-zone is the first place where oils begin peeking through, so breakouts are most common in this area. You may feel a slick or sticky texture on your skin or see a visible shine, and sometimes this feeling can be a bit uncomfortable. If you're struggling to find natural cosmetics that flatter your oily skin, keep reading to get our top recommendations.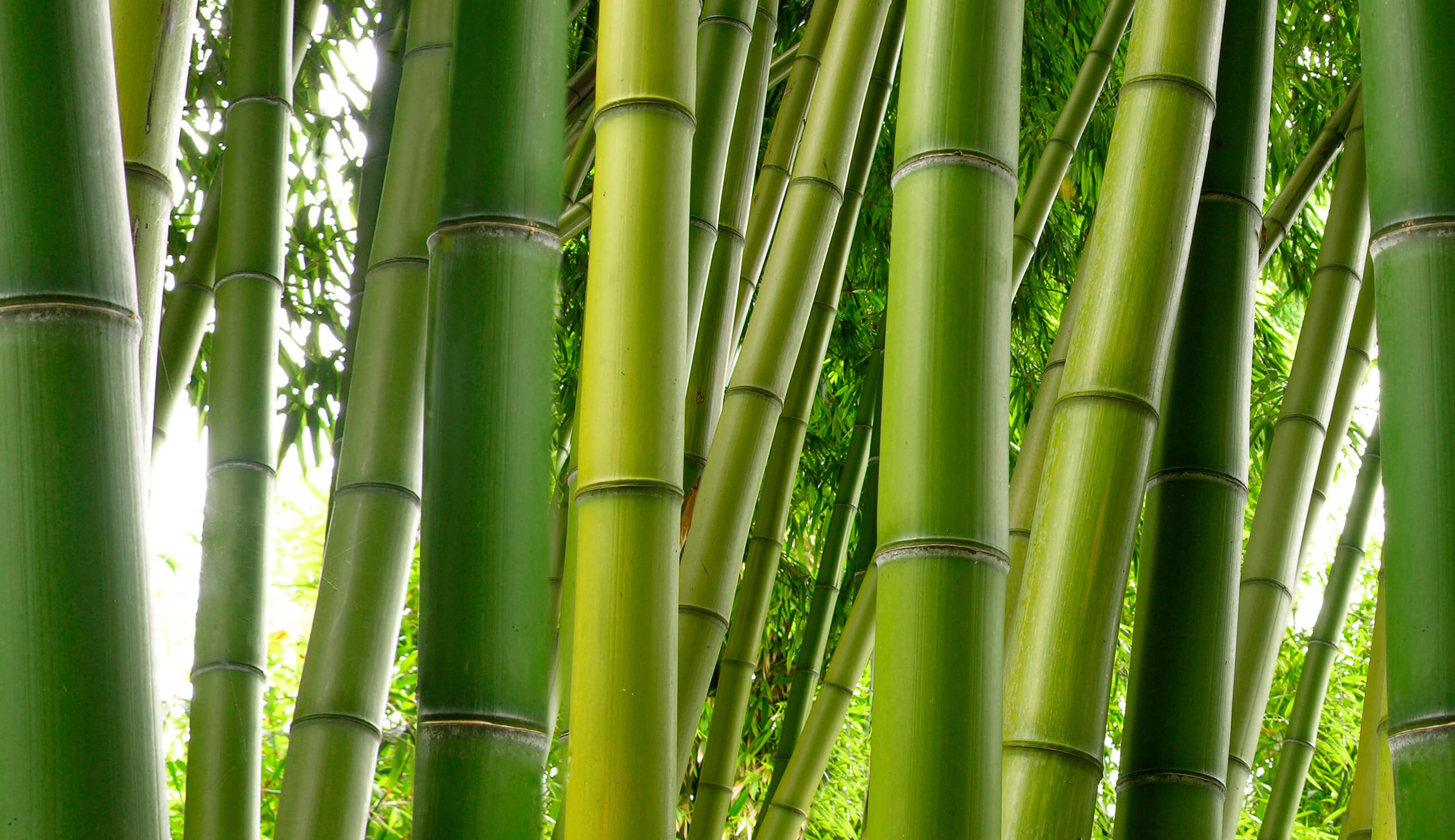 Best Ingredients for Oily Skin
While reading product labels and ingredients may sound boring, it's a great way to stay informed about what you're putting on oily skin. Our Puristas love how clear and easy our ingredient labels are to read, and how the ingredients are often good enough to eat! Soothing floral ingredients are great to look for if you have oily skin, since they tell our oil glands to pump the brakes on excess oil production. Look out for lavender most importantly, as well as rose and chamomile.
Citrus juices and oils like orange oil, bergamot, lemon essence, and neroli help with toning and complexion. They also provide a brightening effect, and will eat up excess oils on the surface for a softly mattified result. Activated charcoal and kaolin clay, especially in cleansers and masks, will help to clarify the skin, detox the pores, and keep oily skin looking smooth and clear. To absorb that pesky excess oil, look for rice powders and bamboo silica that help de-shine the skin.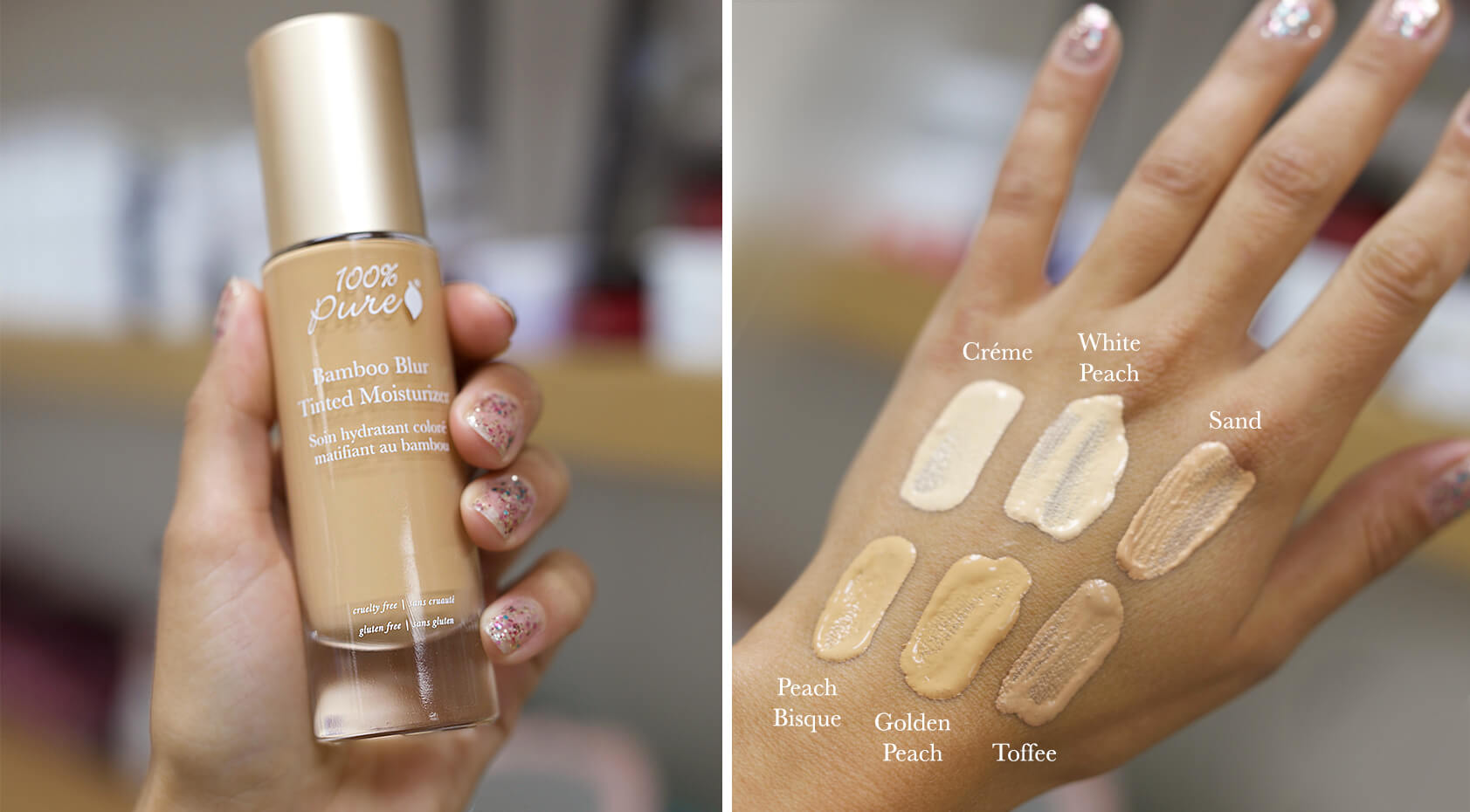 The Best Foundation for Oily Skin
When thinking of concerns related to oily skin behavior, one must remember that everything ingested or applied on our skin will contribute to our skin's behavior. What you put on your skin can either trigger a positive or adverse reaction. With that said, we want to look for lightweight products that aren't pore-clogging, but can help to control oil and shine while absorbing any that slips through. We want natural cosmetics that counter skin's 'bad' behaviors, and create much needed balance.
Adding a smoothing primer to your routine can help the longevity of your makeup if your skin is combination or oily. A common ingredient you will find in most primers is silicone. This ingredient is a no-no because it can block or clog your pores and actually cause breakouts and more oil in the long run. Our Mattifying Primer is silicone-free and uses natural ingredients like green tea, tea tree, oregano, and thyme extracts to actually create long-term effects for balancing sebum (AKA oil) in the skin.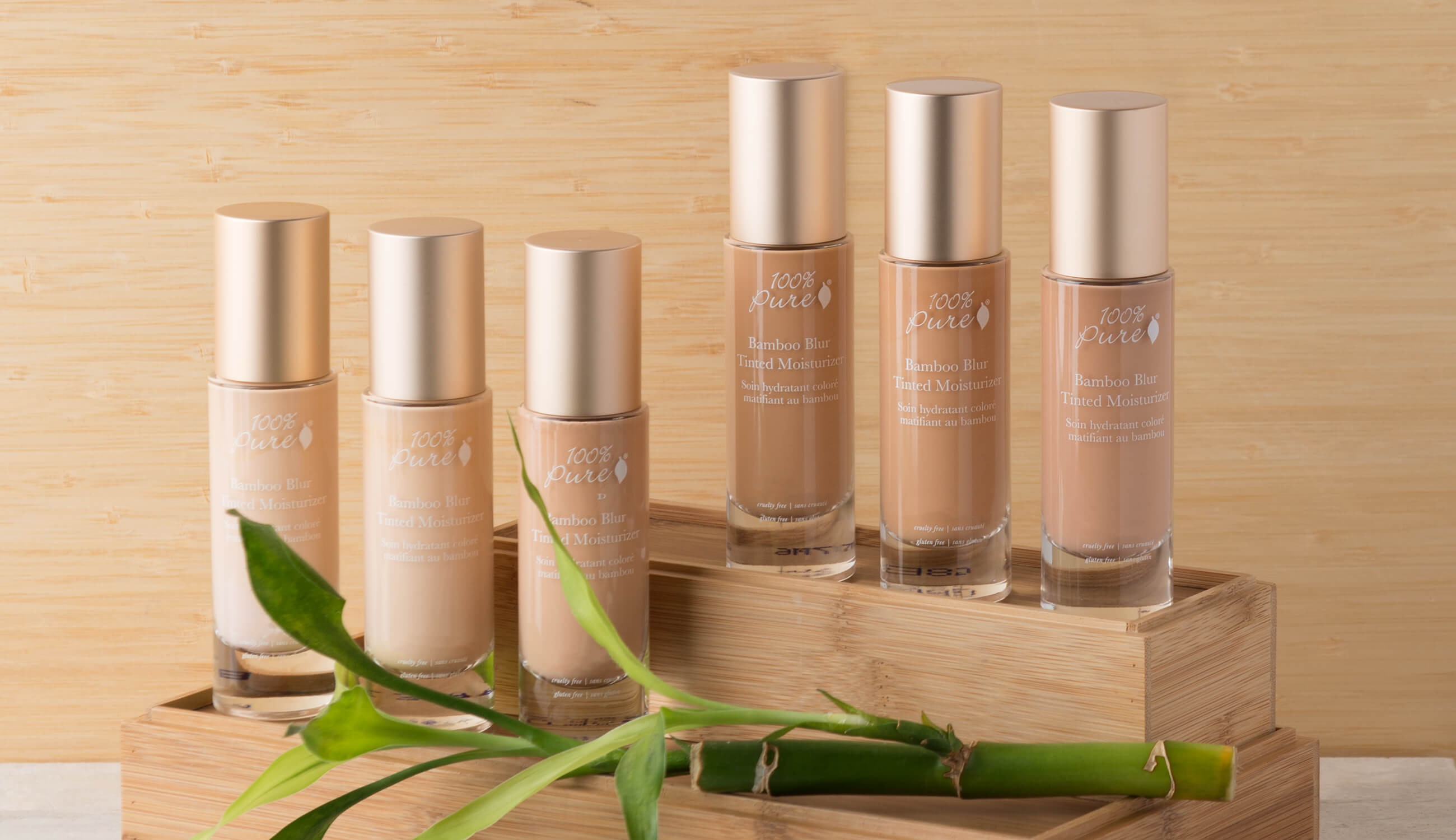 Bamboo Blur Matte Makeup
100% PURE founder and fellow beauty lover, Susie Wang, considers the Bamboo Blur Matte Makeup to be the best 100% PURE offering for oily skin. This foundation feels like slipping into silk pajamas at the end of a long day. The first benefit is that it's lightweight, which is perfect for oily skin because it won't leave a clogged or heavy feeling on the face.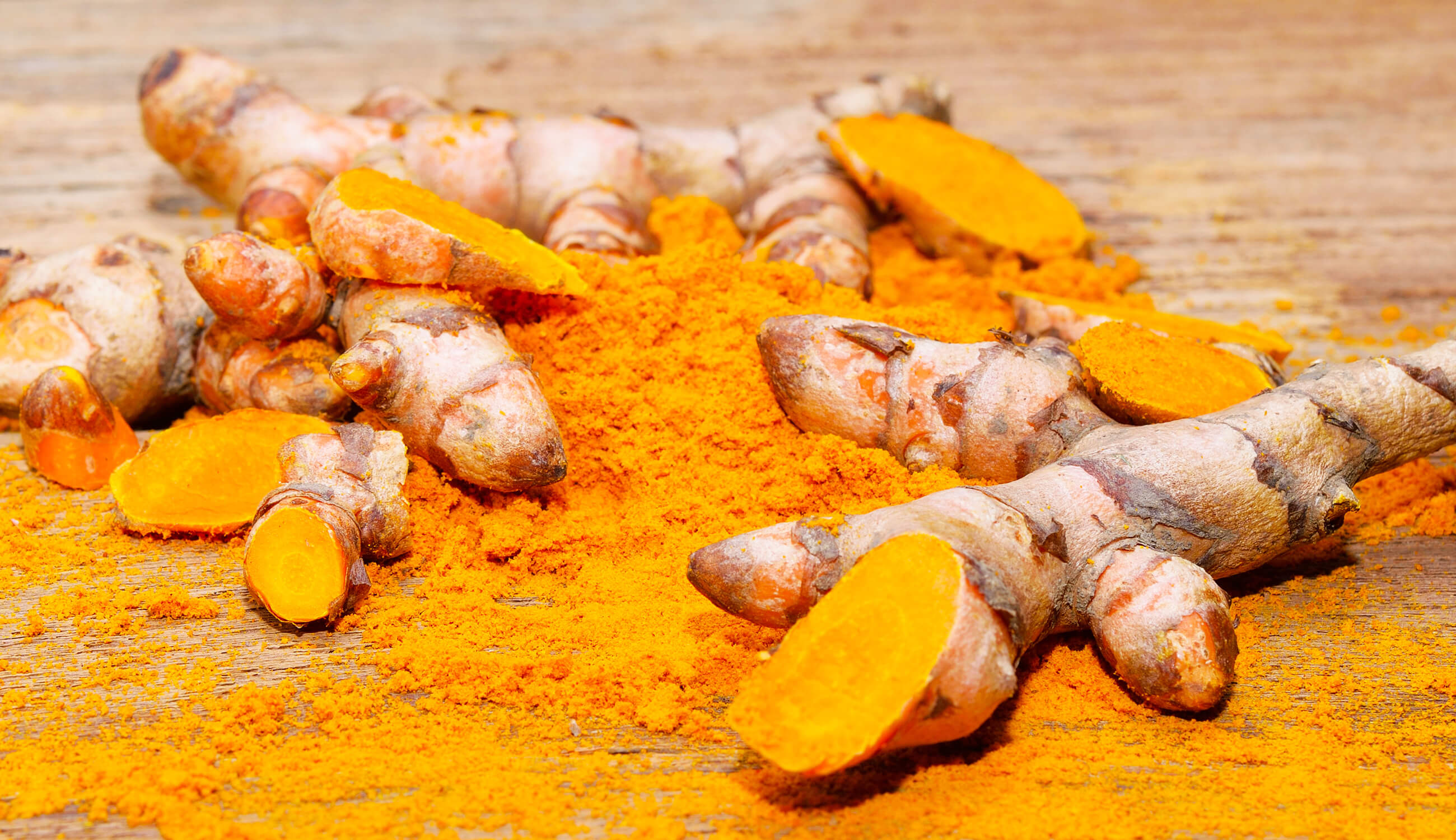 This formula includes plenty of ingredients that you might find in your pantry or fridge! Vibrant turmeric fights inflammation and helps impart a radiant glow, but the antibacterial properties help to fight breakouts that might result from oiliness. It also includes goji berries, one of our favorite ingredients to use in natural cosmetics; they help fight skin cell damage thanks to natural antioxidants and the ability to boost collagen in skin. Juicy, red tomato has a naturally acidic pH that helps eliminate oil on the skin. Finally, sweet, antioxidant-rich pomegranates fight free radicals, signs of aging, and can brighten the skin for the perfect summer glow.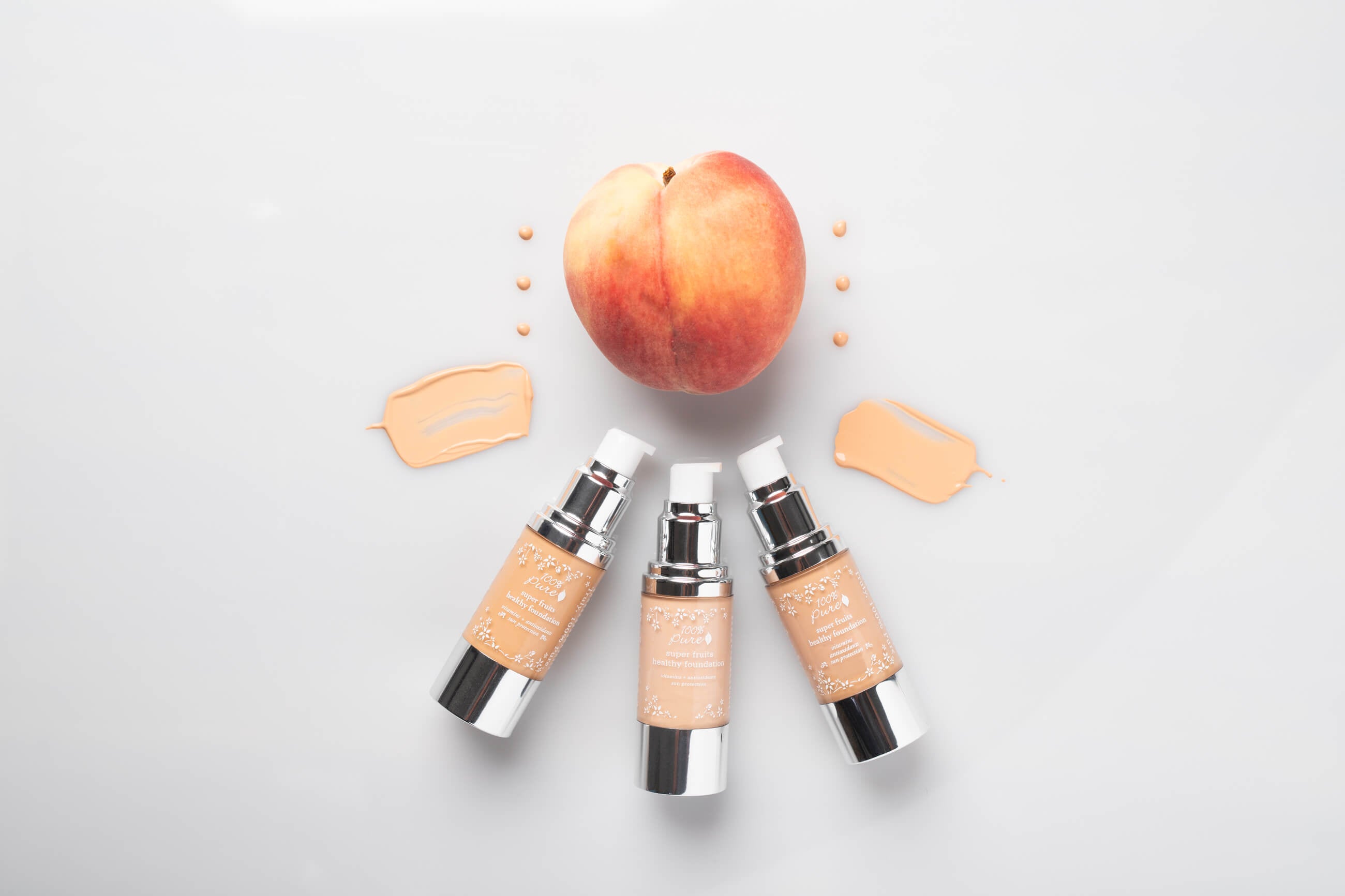 Healthy Foundation
This foundation is an icon in its own right, with a smooth matte finish and complete full coverage. Our Fruit Pigmented® Healthy Foundation lasts all day long with no need for touch ups. All thanks to an opaque, no-slip base of mattifying, oil-absorbing rice starch. As our original full coverage foundation, this formula was built to conceal imperfections and serve a smooth, flawless finish. Definitely a must for oily skin types wanting a porcelain doll finish and faultless full coverage.
Bamboo Blur Powder
Looking for a translucent, light coverage powder for oily skin? Any skin tone can get an oil-free finish with our newly expanded Bamboo Blur Powder collection. This oil diffusing, shine-free formula contains bamboo silica. Bamboo silica supports collagen production, and reinforces the health of skin for a healthier complexion.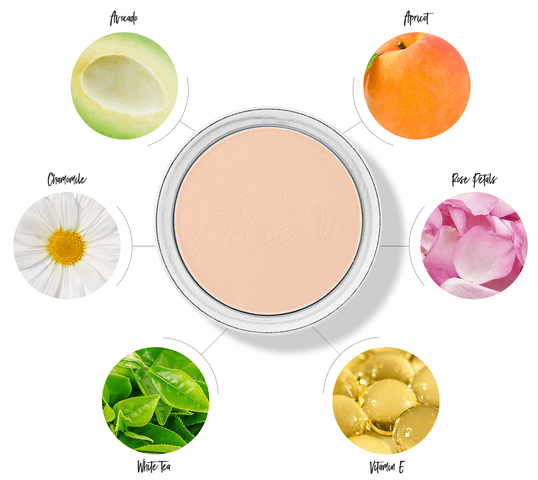 Fruit Pigmented Foundation Powder
This isn't your typical foundation powder. Our Fruit Pigmented Foundation Powder is actually treating oily skin and providing excellent coverage for a softer, smoother appearance. Uplifting white tea and eucalyptus kill acne-causing bacteria and help to prevent breakouts, fight UV damage (hello beach, goodbye sun spots), and calm oil production in the skin. Floral, fragrant rose petals reduce inflammation and redness, while helping to balance oil production. Essential fatty acids from flax seeds provide just enough moisture, so that our skin doesn't feel the need to make extra.
Instead of using harmful talc that can potentially contain asbestos, brown rice powder is just what we need to absorb oil and eliminate unwanted shine. Combined with a heap of fruits and berries including grapes, strawberries, cranberries and raspberries, this powder has vitamin C for a brighter appearance and more toned complexion over time. Our Fruit Pigmented Powder Foundation can help you not only with all-day wear, but a longer lasting matte or satin finish.
This powder is formulated to work with your existing products, or be worn alone for seamless coverage and oil control. This fully vegan, cruelty-free powder foundation formula helps blur texture and imperfections. As we mentioned, the presence of oil on the skin can contribute to enlarged pores or grittier texture, so a light sweep of this powder with a fluffy brush or sponge can absorb the excess oil and blur unwanted texture visible on the skin. Another thing to love? This travel-friendly essential for oily skin can fit easily into a clutch or tote bag, for a weekend jet-set or week-long international vacay.
Do you love learning about our skin healthy, fruit pigmented® foundations? We can help find one that's right for you -- whether you've got oily skin, dry skin, or somewhere in between. Explore the many finish and coverage options in our natural foundation guide. Still interested in the best products for oily skin? Check out our guide to skin care for oily skin!
We carefully hand-select products based on strict purity standards, and only recommend products we feel meet this criteria. 100% PURE™ may earn a small commission for products purchased through affiliate links.
The information in this article is for educational use, and not intended to substitute professional medical advice, diagnosis, or treatment and should not be used as such.
Sign up to our email newsletter for more blog updates and exclusive discounts.
< Older Post | Newer Post >