Organic Makeup Ingredients
Highlighting 4 organic makeup ingredients used in our fruit pigmented® products. Posted on May 17, 2023 Written by: 100% PURE®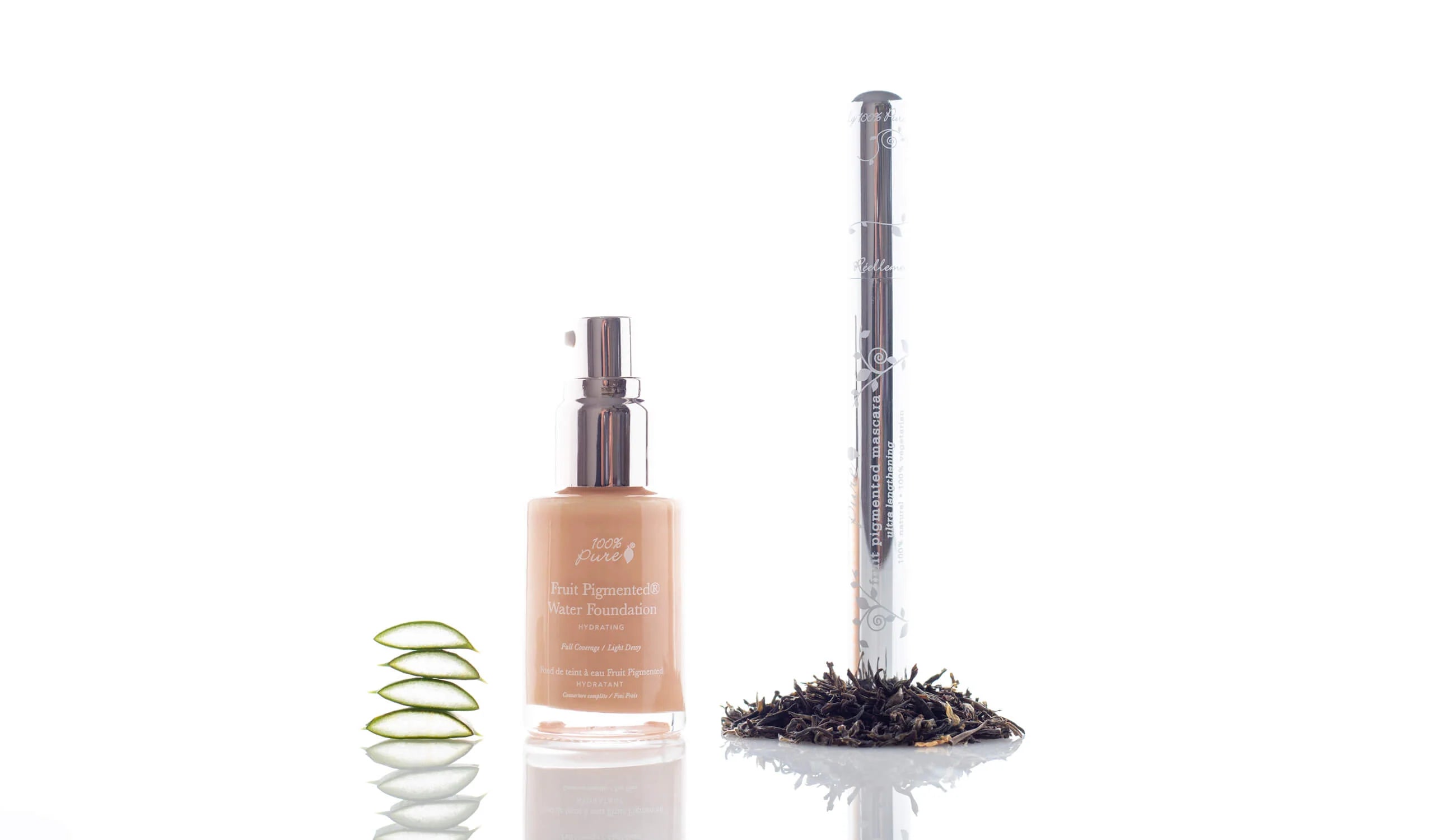 Organic makeup, you say? We can get behind some organic makeup ingredients any day of the week -- which is why we use a few of them in many of our fruit pigmented® makeup products. They offer targeted benefits and results, with the added benefit of being certified organic.
In the world of makeup, certified organic means that an ingredient is free of any synthetic additives. This means that at least one third party certifier has recognized the ingredient as organic, made without any synthetic chemical compounds.
Without further ado, allow us to introduce 4 core organic ingredients in our natural makeup products – plus why your skin will love organic beauty products!
What Is Organic Makeup?
One of the reasons why organic makeup has taken the beauty world by storm is because it's made with natural ingredients. That means you don't have to worry about synthetic dyes or minerals wreaking havoc on your beauty looks. While other conventional color cosmetics are colored with harsh synthetics, only 100% PURE color cosmetics are colored from pure fruit and vegetable pigments.
And the benefits don't stop there! By choosing organic makeup ingredients, you're also doing your part in protecting the environment. Traditional beauty products can be loaded with toxins that not only harm your skin but also have a negative impact on the environment. By choosing organic makeup ingredients, you can feel good about taking care of both yourself and the planet.
What Are the Benefits of Organic Makeup Ingredients?
Luckily, now many brands are offering the highest quality of makeup without using any synthetic and toxic ingredients, like 100% PURE. Curious about natural beauty but still on the fence about making the switch to organic makeup ingredients? Let us break it down for you and share some of the incredible benefits that come with it.
Heals your skin: First off, organic beauty means saying goodbye to synthetic and toxic ingredients that can harm your skin. When you use traditional makeup, your skin can become exposed to heavy chemicals that may cause breakouts and other skin irritations. But with organic cosmetic formulas, your skin can finally breathe easy and start healing itself naturally.
Good for the environment: But it's not just your skin that benefits – organic beauty is also good for the environment. Conventional makeup products are often packed with harmful chemicals like lead, arsenic, and coal tar that can harm the environment from manufacturing to disposal. By choosing organic ingredients, you'll be doing your part to reduce your carbon footprint and protect the planet.
Great for your skin: Organic beauty contains natural ingredients like essential oils, antioxidants, aloe, and natural fruit and vegetable pigments. These ingredients are packed with minerals and skin-repairing properties that nourish your skin from the inside out.
Top 4 Organic Makeup Ingredients
Many of our best-selling fruit pigmented® products contain organic makeup ingredients. You'll find them listed first (or very near the top) on each ingredient panel, meaning they're the majority ingredient in each formula. This elite group of skin-beneficial components bolster already natural formulas, for the best of both worlds. Meet our organic makeup squad!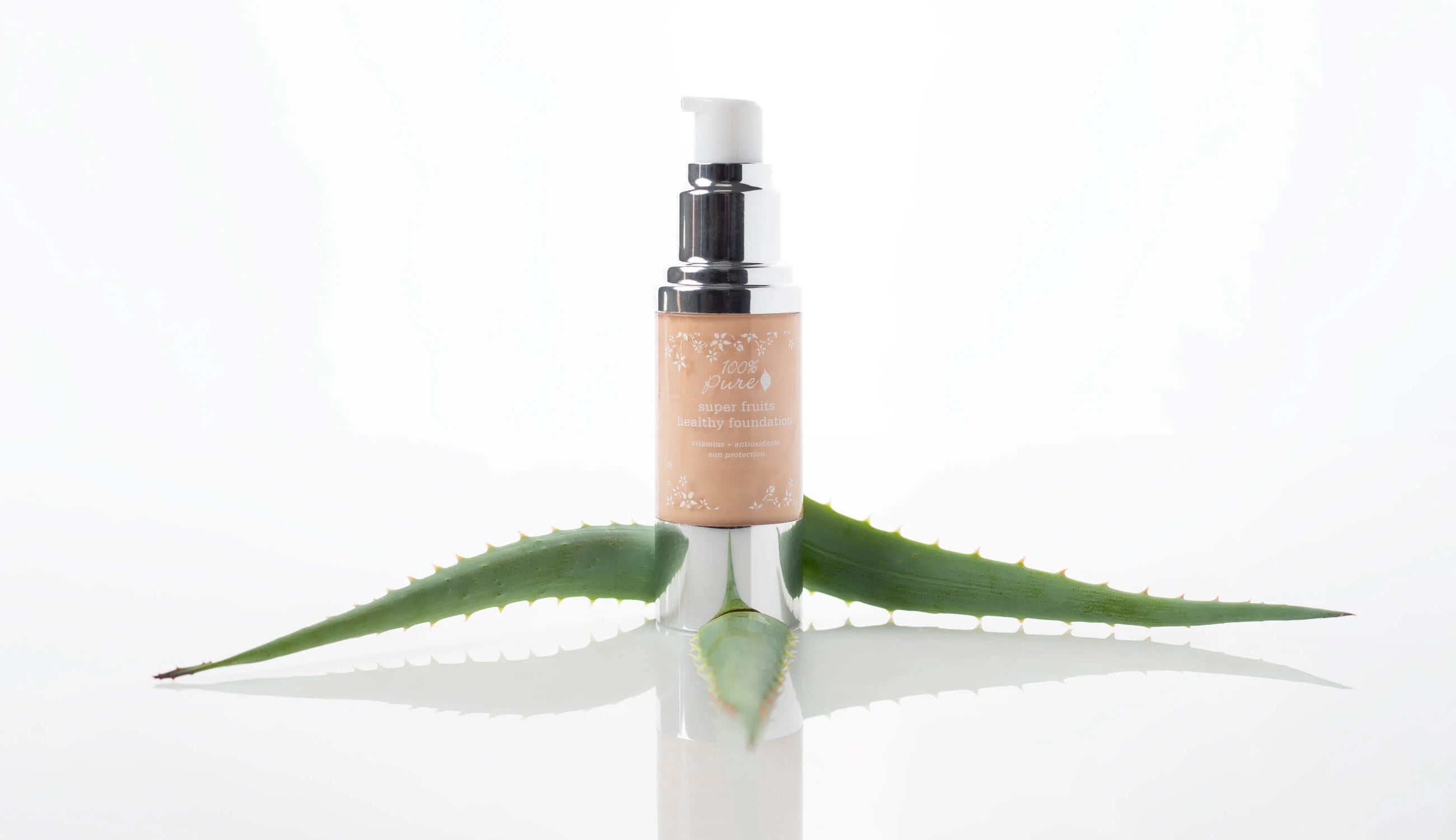 Organic Aloe Juice
When it comes to organic makeup ingredients, we're guilty of choosing favorites! Organic Aloe is an ingredient we use frequently in our cosmetics, since it's truly an incredible multitasker. Able to soothe irritation and redness, hydrate dry skin, and reduce inflammation from acne, there is no denying aloe's benefits for skin.
It makes an obvious choice for foundation formulas, to calm and nourish skin while you wear it all day long. Aloe juice is the star ingredient in our hydrating Full Coverage Water Foundation, Fruit Pigmented® Tinted Moisturizer, and Healthy Foundation. All these complexion-perfecting formulas are colored with vitamin and antioxidant-rich plant and fruit pigments for a gorgeous, flawless coverage.
We also use aloe juice in our Long Last Liquid Eye Liner, Maracuja Mascara, All Over Glow, and Luminating Creme. In these sleek liquid liner and mascara formulas, we chose to use soothing aloe juice, instead of just a plain 'aqua' base, to create a lightweight liquid formula. In both our All Over Glow and Luminating Creme, organic aloe juice makes these liquid highlighters light, spreadable, and refreshing on your skin.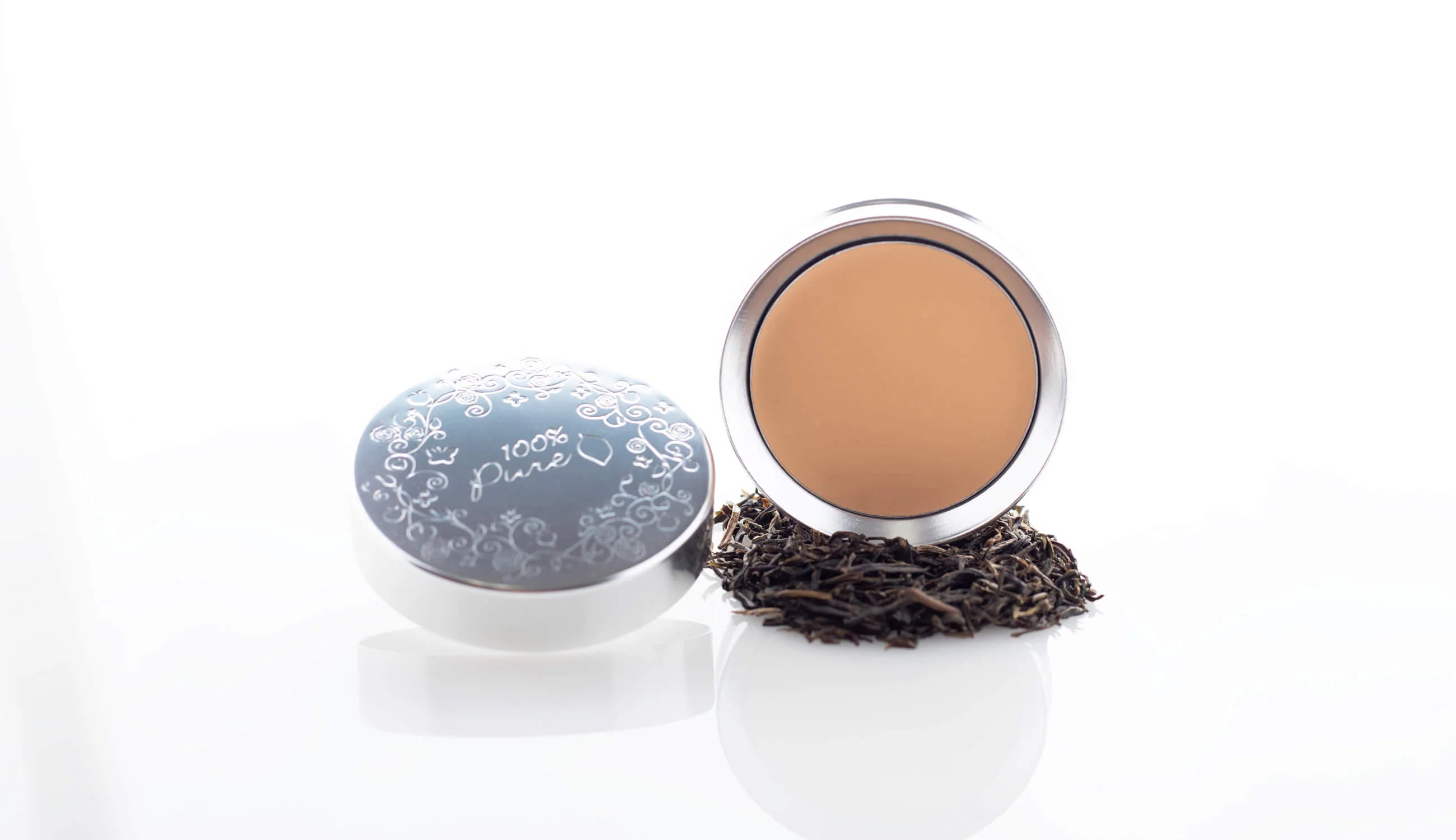 Organic White Tea Leaf
Organic White Tea is still a relatively unknown makeup ingredient, but it certainly packs a punch. Rich in free radical-fighting polyphenols, white tea contains a hefty dose of antioxidants for helping to neutralize damaging effects from UV rays, pollution, and environmental toxins. This makes white tea especially useful for makeup products that cover the skin - more specifically, in foundations.
We use white tea as an organic makeup ingredient in some of our most beloved foundation formulas. This group includes our full-coverage Healthy Foundation, our dewy and refreshing Tinted Moisturizer, and our moisturizing satin Cream Foundation. All these fabulous foundations glide on effortlessly and blend seamlessly for a soft, natural-looking finish – plus gorgeous fruit pigments give them flawless coverage that lasts all day.
Organic Black Tea Leaf
Easily our second most famous cosmetic ingredient (after fruit pigments, of course) is black tea, an organic makeup ingredient that we simply cannot live without. We use micronized (dried and pulverized) black tea to give a deep, midnight black pigment to some of our most famous eye makeup products.
Both our Ultra Lengthening Mascara and Liquid Eye Liner collections feature this unassuming organic makeup ingredient. Never before considered as more than a favorite beverage of the Brits, black tea has made a huge name for itself in our cosmetics.
We use it in the best-selling Ultra Lengthening Mascara formula, featured in both signature Black Tea and stunning Blueberry shades. It features as the key ingredient in our Long Last Liquid Liner, to create a deep, long-lasting, and smudge-proof base for each unique shade.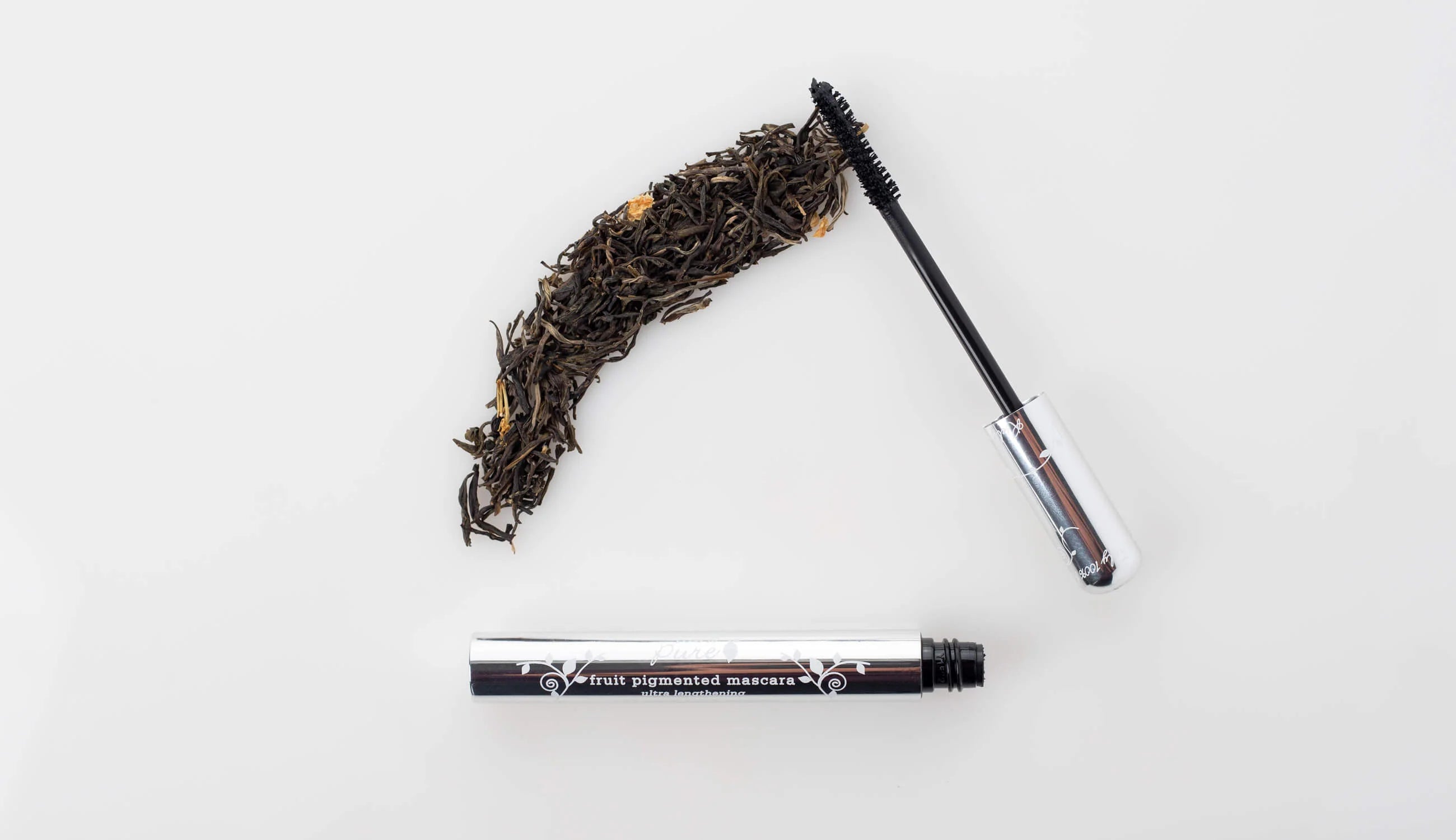 Organic Green Tea Leaf
Green tea is the pale, unfermented version of the Camellia Sinensis leaf, making it a sibling of both black and white teas. Similar to white tea, it is used as a targeted antioxidant treatment with protective anti-aging polyphenols. Green tea is known for its key phytonutrient EGCG, which is powerful enough to fight the effects of harmful UVA and UVB rays.
We chose green tea as an organic makeup ingredient in both our Blackberry and Dark Chocolate Ultra Lengthening Mascara formulas. While it won't produce the same intense black pigment as micronized black tea, it's certainly worth using in your makeup routine. Filled with healthy flavonoids, green tea is known to stimulate hair and lash growth, making it a shoe-in for our beloved lengthening mascara.
Can Organic Makeup Ingredients Make a Difference?
Big lifestyle changes always start with one simple step. They also don't provide instant results, but if you stay disciplined the change becomes visible. Organic makeup ingredients work the exact same way. When you choose to shift from traditional beauty products to natural products, you already have taken the right decision for yourself and the environment.
When you keep using organic beauty products for some months, your skin will look more healthy. Organic beauty also highlights the importance of owning your skin. This mindset will make you feel so confident and beautiful. After this, you will realize most traditional beauty brands were selling you so many unnecessary products.
So, why should you switch to organic makeup ingredients? Well, we know the skin-efits and how organic makeup ingredients affect your complexion, health, and the environment in a positive way – plus they are suitable for all skin types. Since organic products are typically gentle and free of harsh chemicals, they are also a good option for people with sensitive skin or those who prefer a more natural approach to their skincare routine.
Switching to organic makeup ingredients is not only better for your health, but it can also make your natural skin look great. You'll feel confident using minimal amounts of makeup, and you won't have to worry about exposing your skin to harsh chemicals. The sooner you break the cycle of using "organic" skincare products and cosmetics, the sooner you can start on your journey toward a cleaner, healthier lifestyle.
Newsletter
Subscribe
for more blog updates and exclusive discounts
We carefully hand-select products based on strict purity standards, and only recommend products we feel meet this criteria. 100% PURE™ may earn a small commission for products purchased through affiliate links.
The information in this article is for educational use, and not intended to substitute professional medical advice, diagnosis, or treatment and should not be used as such.
Sign up to our email newsletter for more blog updates and exclusive discounts.
< Older Post | Newer Post >