Glittering Gold Lipsticks
Red Gold and Rose Gold are essential lipstick shades for the holiday season!
Posted on November 6, 2018
Written by: 100% PURE®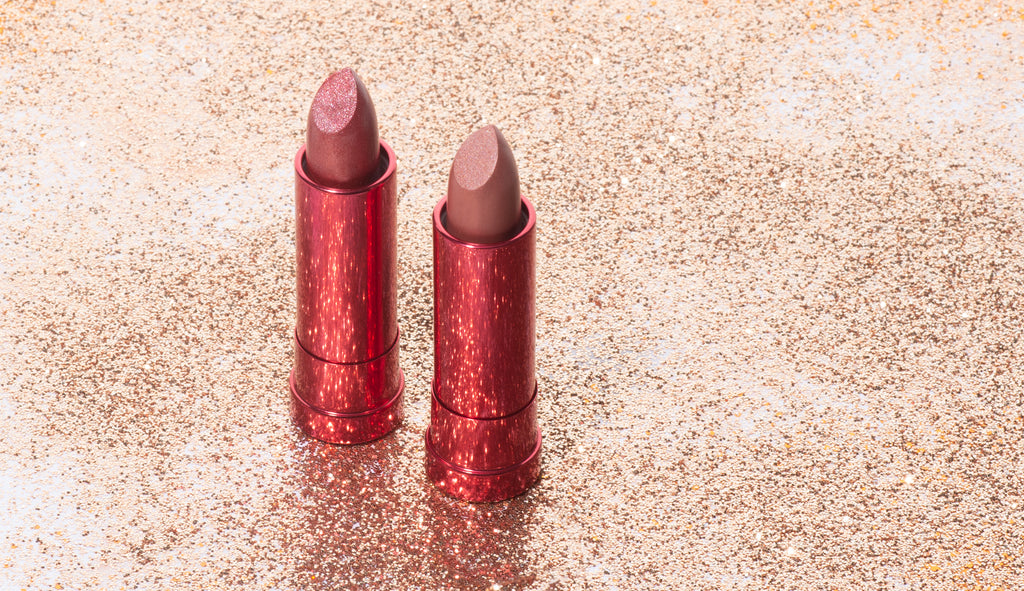 One of the most satisfying moments of the holiday season? Unveiling a new shade of lipstick, of course! Sporting a show-stopping new shade is a thrill in and of itself, and a great excuse for snapping a few shameless selfies at your office holiday party. Ready to fall in love with 2 new holiday shades? Here's a little introduction to the first ever shimmery lipsticks colored from fruit: Red Gold and Rose Gold.

Red Gold Pomegranate Oil Anti-Aging Lipstick
Color: Metallized red with gold shimmer
What's red, gold, and fabulous all over? If you guessed "Christmas decorations", you're not far off -- Red Gold Pomegranate Lipstick is a dazzling holiday shade! It's just subtle enough to be worn during the day, but certainly shines bright amongst the stars. The neutral, medium red is pigmented from fruits like cherry, tomato, and grape. Red Gold is especially flattering on warm skin tones.
To warm up winter skin, start with Red Gold on your lips. Next, swipe Gilded eyeshadow across your lids and lower lashline. Opt for a neutral brown or black mascara to suit your complexion. Finish by lightly brushing All Over Glow along your collarbone and shoulders for a warm, inviting glow.

Rose Gold Pomegranate Oil Anti-Aging Lipstick
Color: Metallized mauve with silvery pearl shimmer
There's nothing like a hint of romance to make the holidays more magical -- and Rose Gold delivers just that! With hints of both gold and silver from multifaceted mica, this lipstick is designed to softly shimmer in the light. Its cool, antique pink color is created with fruit pigments like plum, raspberry, and blueberry. Rose Gold is especially flattering on cool skin tones.
To create a soft and rosy winter flush to skin, start with Rose Gold on your lips. Next, brush Healthy Fruit Pigmented® Blush onto the apples of your cheeks. Then, dab a few dots of Moonlight Luminating Creme from brow bone to cheekbone, and blend into skin with the outer bristles of your stippling brush. Finish this flushed winter princess look with a bold, lengthening and separating mascara to brighten the eyes.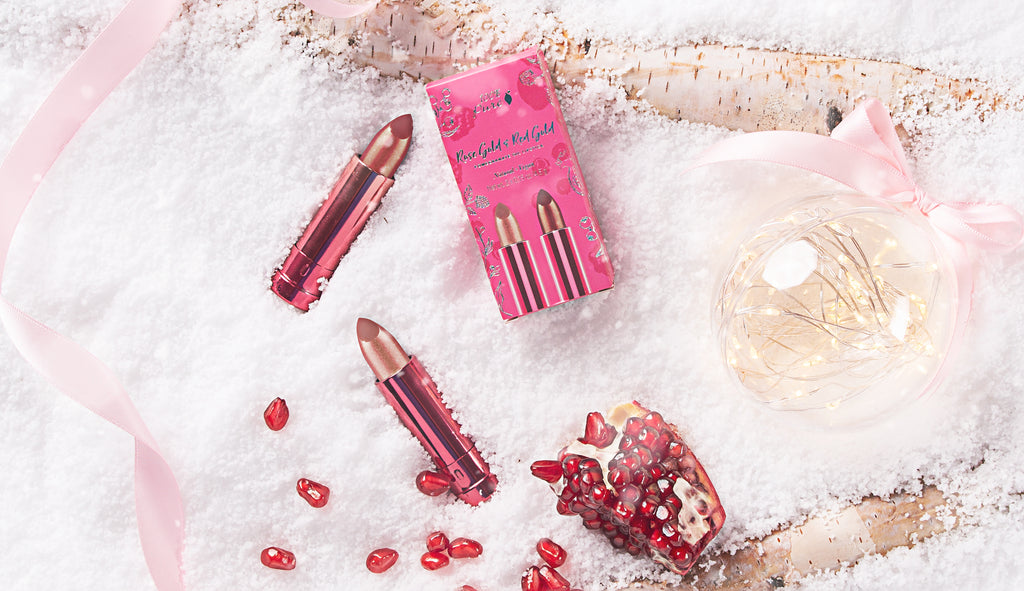 Our FIRST Shimmery Lipstick Shades
After creating stunning shades of fruit pigmented® lipstick for years, we're proud to present to you these two unique glittering beauties! As you know, we're not into the whole 'synthetic' scene. Most metallic lipstick shades are made with harmful microplastics, and can be harmful for both you and the environment. We use the natural mineral mica to emulate the gilded quality of warm and shimmery gold. Both shades are infused with pigment from real rose petals, fruit, and chocolate! Snag them quick in an extra special gift set -- and don't worry, "gift" is just a suggestion. We know it's tempting to keep these golden lip treasures all to yourself!
We carefully hand-select products based on strict purity standards, and only recommend products we feel meet this criteria. 100% PURE™ may earn a small commission for products purchased through affiliate links.
The information in this article is for educational use, and not intended to substitute professional medical advice, diagnosis, or treatment and should not be used as such.
Sign up to our email newsletter for more blog updates and exclusive discounts.
< Older Post | Newer Post >