Coconut Shampoo for Cold Weather
How using coconut in your shampoo, conditioner, and hair serum can rescue cold weather hair
Posted on November 7, 2018
Written by: 100% PURE®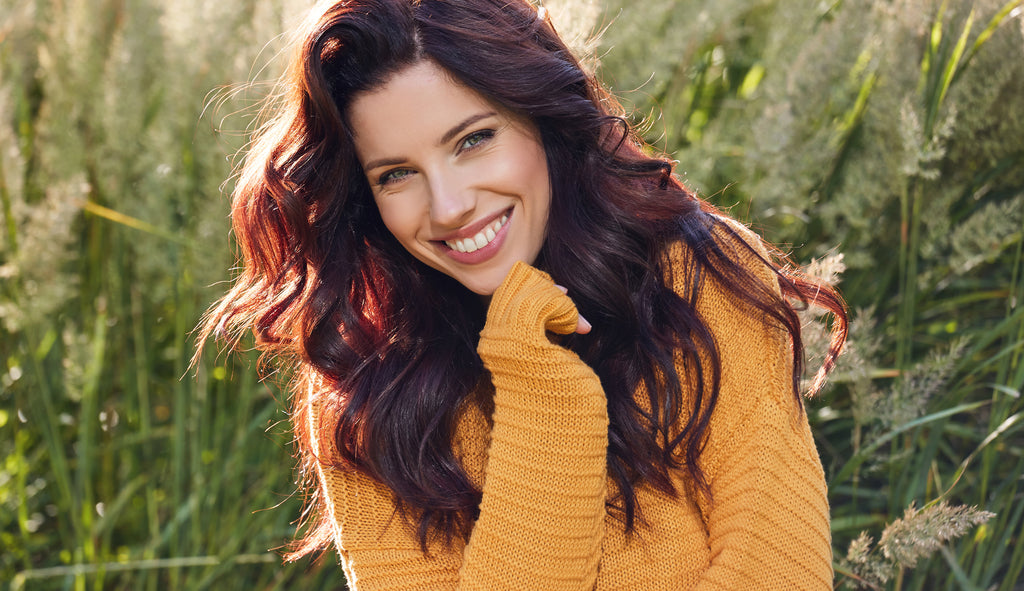 Do you remember to switch up your hair care with the seasons? Most of us don't, and we can suffer split ends and temperature damage as a result. This can be even worse for those of us that stick to one main line of products for years at a time. As time goes on, our hair gets used to what we use, and our hair evolves – without truly getting what it needs from a curated hair care routine. It is a good idea to do a seasonal check in with our hair to see what it needs and make changes accordingly.
How Your Hair Is Affected By Its Environment
Think of your hair as a sponge that absorbs the environment around it. In summer when temperatures are high and, in some places, as is humidity, our hair can get frizzy and limp. In fall and winter when temperatures range from crisp to frigid, our hair needs more lubrication and nourishment. We've picked our golden girl, Honey & Virgin Coconut Shampoo, as the perfect treatment to locks-in a festive season. Cold weather got your tresses in a tizzy? #TreatYourself to silky, tropical coconut and nourishing honey for softer, smoother hair protected from the harsh winter chill
How Coconut Can Help
Lightweight with a creamy, foamy formula, our Honey & Virgin Coconut Shampoo makes you feel like you're waking up in a hair paradise. This vegetarian and sulfate-free will soak your strands in organic aloe, rose water, and vitamin E. Aloe is a miracle worker for hair, powerfully driving that moisture into the hair shaft. Receive maximum hydration while you cleanse your curls of dirt, oil and product buildup. Rose water calms dry itching scalps, redness and flaking skin while also delivering even more hydration. When the vitamin E is added into the mix, our hair gets a luxurious boost of the base nutrient it needs to nourish our hair and grow hair that is longer, shinier and stronger.
Did you know that honey is naturally antibacterial, anti-inflammatory and a natural humectant? This means that while it is gently cleansing the hair, it is also hydrating and smoothing the hair shaft, helping to draw in more moisture as it conditions.
Let's talk about the herbs and florals working their magic in this hydrating, deeply cleansing shampoo. In addition to the rose water we have nettle, rosemary, neem, and honeysuckle. Think of nettle as a hair preservative; when used regularly on the scalp, nettle has been known to reduce hair loss. Rosemary is one of our favorite herbs for hair due to its soothing, stimulating and balancing qualities. Rosemary helps to stimulate circulation which then leads to healthier hair and lessening of scalp itch, flakiness and dandruff. Neem is a hair growth powerhouse – which is perfect for the time of year when our healthy hair growth diets often go out the window. Finally, softly fragrant honeysuckle helps promote hair strength in this well-rounded shampoo formula perfect for fall.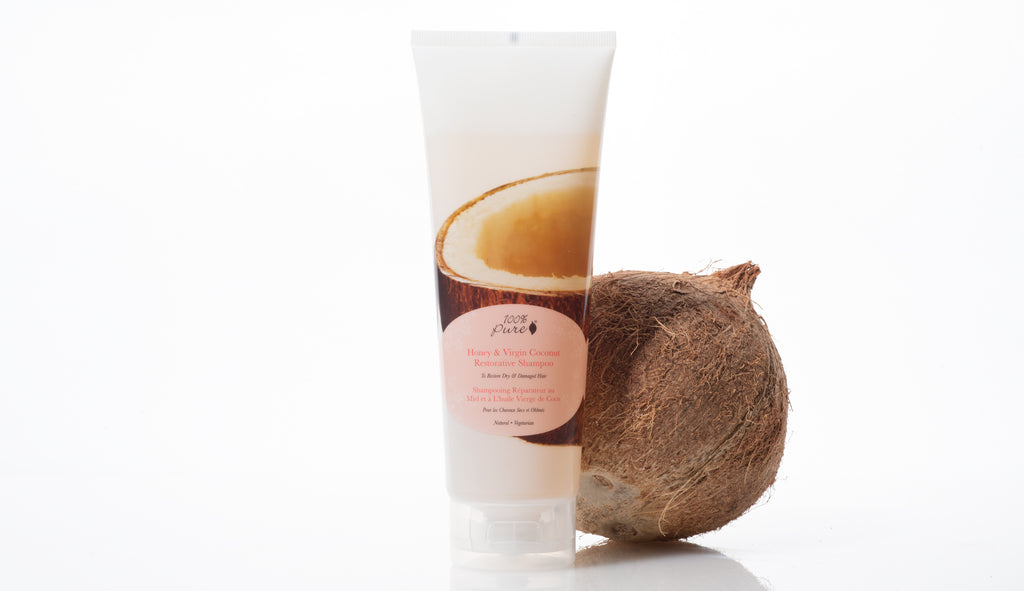 DIY Coconut Hair Treatment
Let's say you have a shampoo that you already love, or that you really like the idea of our Honey & Virgin Coconut option, but prefer to try a DIY version. Have we got the perfect recipe for you! For a gentle, vegan coconut shampoo, start off by mixing softly cleansing baby shampoo and pure coconut oil. Then for the right consistency you'll need to add in coconut water and coconut milk and essential oil for a nourishing blend of ingredients. Add this shampoo into your routine weekly to help heal and support healthy hair. Coconut water will hydrate to fight dryness while the oils strengthen and seal the hair shaft and fight split ends. You'll still get that sulfate free cleanse from the baby shampoo and you'll get a little fun out of making your own beauty products, too!
Your shampoo needs a partner to smooch under the mistletoe, and have we got something for you. Our Honey & Virgin Coconut Conditioner is even more reparative and nourishing and is an essential for those with long, thick or textured hair. In addition to all the benefits found in the matching shampoo, enjoy omega oils in avocado butter, soothing sebum balancers of lavender and mega moisturizing flax seed oil. Use after a fresh shampoo or as a weekly deep conditioner to treat severely damaged winter hair.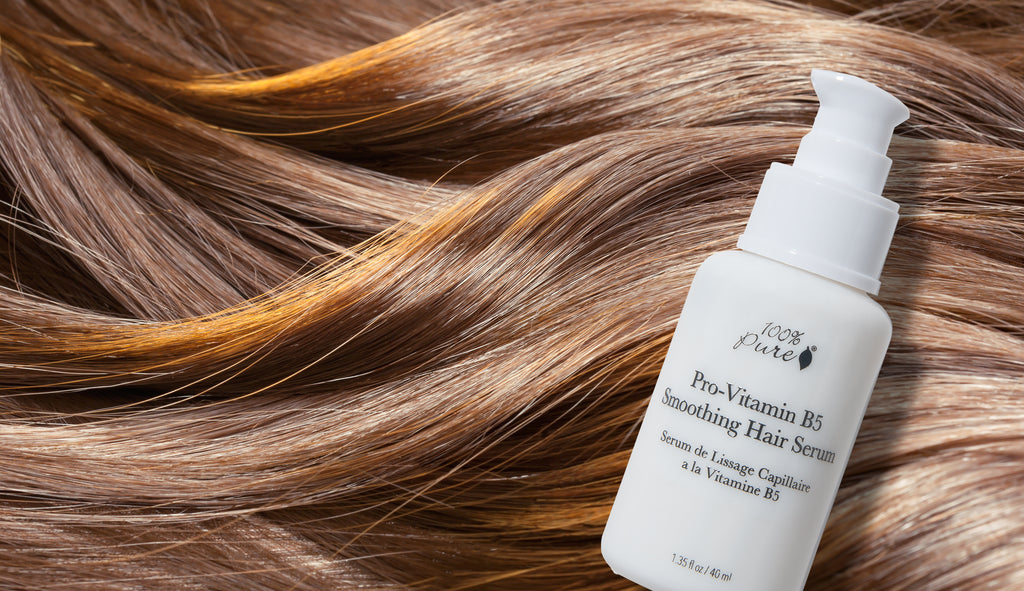 Add a Hair Serum
We're always in the mood for a little extra conditioning and shine. Try ourPro Vitamin B5 Smoothing Hair Serum. Lavender, vitamins E and B5, coconut alkanes, coconut fatty acids, and wheat protein help bring back to life our dry and brittle winter hair. Use this before any heat to avoid flyaways and fall frizz or add a few drops into the palm of your hand and massage into your scalp to fight itch. Want more tips for super sleek strands? Okay, you don't have to beg – we'll give you another DIY. Blend together strengthening geranium oil, conditioning lavender oil, and chamomile oil for shine. If your hair likes it rich, add in a tad of olive oil or almond oil for even more moisture. Add a light layer on the hair from mid shaft to tip for sealing and shine.
We carefully hand-select products based on strict purity standards, and only recommend products we feel meet this criteria. 100% PURE™ may earn a small commission for products purchased through affiliate links.
The information in this article is for educational use, and not intended to substitute professional medical advice, diagnosis, or treatment and should not be used as such.
Sign up to our email newsletter for more blog updates and exclusive discounts.
< Older Post | Newer Post >