Using 2 exclusive fruit pigmented® lipstick shades to create easy bold makeup looks, perfect for serving flawless holiday beauty!
Posted on November 27, 2017
Written by: 100% PURE®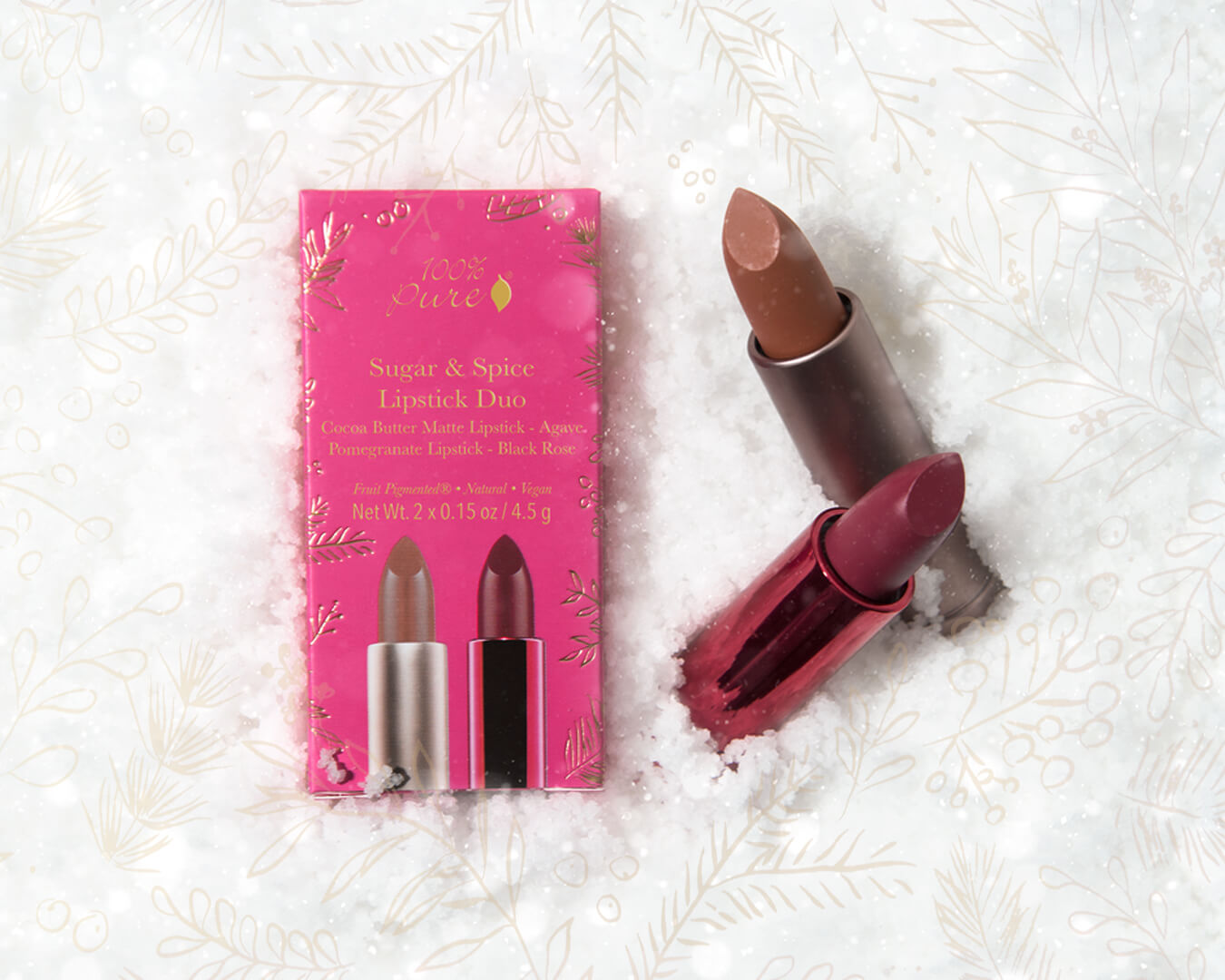 When you find a stunning lipstick shade, wearing it for the first time is a major event. You build an entire makeup look around that single show-stopping accessory, taking care to both accent and amplify your new obsession-worthy shade. What happens when you find 2 amazing new shades? Time to create 2 bold looks to show them off! And what better time to flaunt new makeup than the party-packed holiday season?
We're highlighting 2 limited release fruit pigmented® shades: Agave Cocoa Butter Matte Lipstick and Black Rose Pomegranate Oil Anti-Aging Lipstick. Within this duo you get both a matte and glossy finish, and a nude and deep berry color. We've created 2 bold makeup looks for these 2 new lipsticks, and we'll show you exactly how to get these fruit pigmented®, party-ready looks!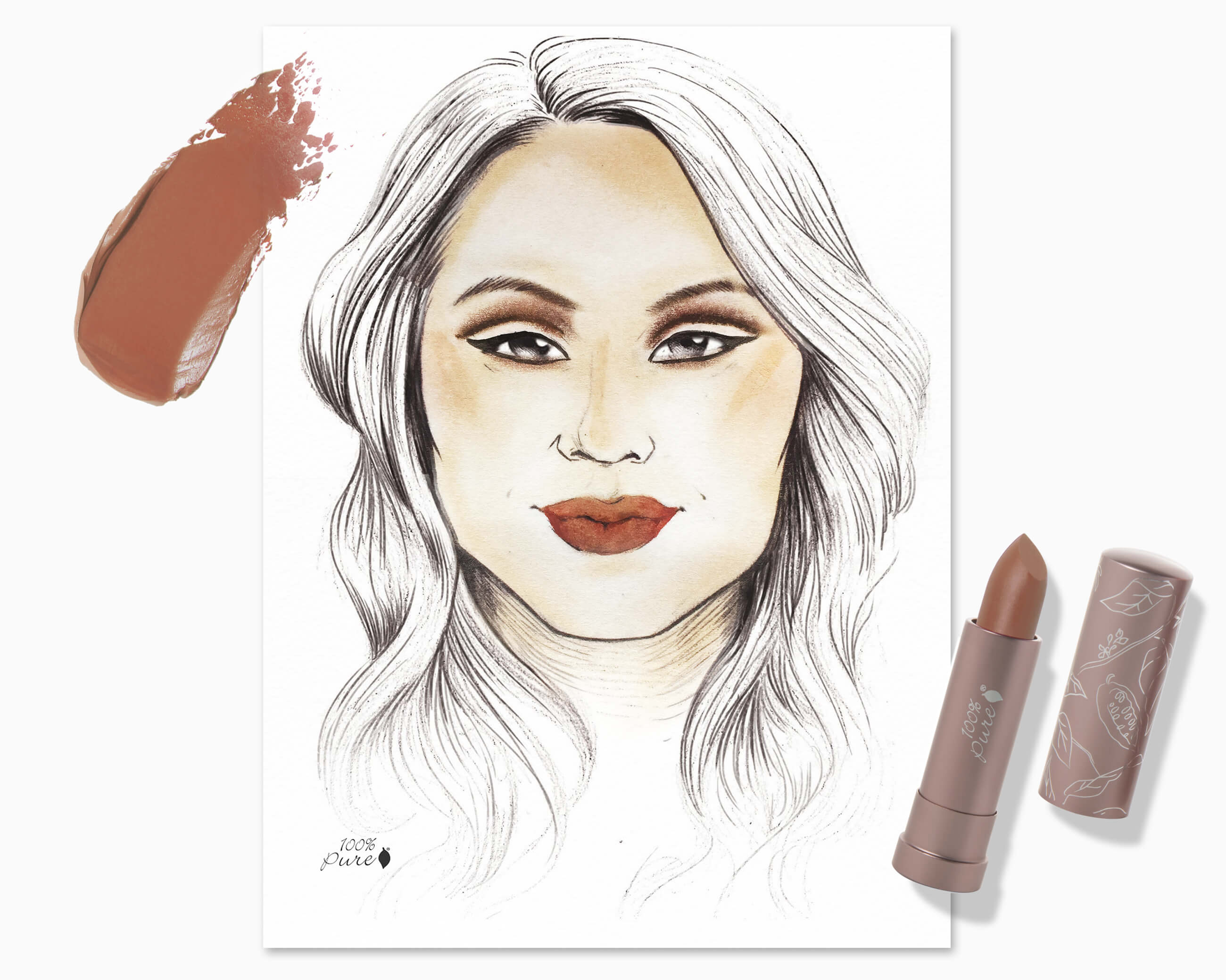 AGAVE Bold Makeup Look
The rich chocolate undertone of this fruit pigmented® matte lipstick is distinctly fall and winter worthy, imbuing visions of warm maple and steaming mugs of hot cocoa. We're keeping this lip color handy for nude looks and as the perfect complement to warm metallics shadows, but today we're pumping up the volume with a vampy eye, luminescent cheekbones, and an overall seductively bold makeup look.
Makeup breakdown for this look:
On the Lips:
The star of the show! We named this stunning shade "Agave" because it serves the same rich brown color and amber undertones as the plant-based nectar. This shade can be worn as a deep brown for light to medium skin tones, or as a warm nude for medium to deep skin tones. Rich butters from cocoa and shea coat lips with a moisturized matte finish, while pigments of peach, tomato, and chocolate give lips opaque coverage. In this bold makeup look, we've anchored a chocolate color scheme around this rich, sultry shade of fruit pigmented® lipstick.
Before applying lipstick, trace lips with a lip softening lip pencil; we've matched Cognac Creamy Long Last Lip Liner to the warm nude undertones of Agave.
On the Face:
We're keeping things matte and finely finished with a combo of our skin plumping and pore-refining Mattifying Primer and our Fruit Pigmented® Foundation Powder. After allowing silky smooth primer to absorb into skin, we're dusting on an even layer of pressed rice powder foundation with our fluffy F50 powder brush, helping to minimize shine, pores, and imperfections. The avocado and pomegranate oil base of this matte foundation powder will keep winter skin moisturized and nourished.
On the Cheeks:
To get a warm, radiant glow we've added a creamy luminizer to this bold makeup look. Our semi-sheer Starlight Luminating Creme is laced with undertones of gold and pearl from responsibly sourced mica, and will add a candlelit glow to any skin tone. No need for a brush: we've applied Starlight to cheekbones, inner eye corners, bridge of nose, and cupid's bow with the convenient sponge applicator wand.
On the Brows:
To complement the soft angles of the upcoming eye shadow look, we've opted for our precision line of brow tints, Long Last Brows. Natural color pigments like cocoa, apricot, coffee, and black tea create perfectly natural brow tint to shape, fill, and refine your beautiful brows. We use the Cruelty Free Dual Ended Eyebrow Brush for application, starting with the angled edge to shape and fill, then the spoolie end to brush pigment throughout each strand for a natural finish.
On the Lids:
We're giving eyes an ultra light colored base, to make eyes appear brighter and more defined. Grabbing our Sex Kitten Palette, use your flat head eye shadow brush to apply Sexy Luminizer all over the lid, just past the crease. Using Dark Cacao creamy brown eyeliner, trace a line just above your crease that reaches from your inner corner to just past the outer corner of your eye. This creates a dramatic division for your shadows.
We're making this look easy by using the shadows from the Sex Kitten Palette. Starting at the line created by your creamy liner, apply Cat Eyes to lid and blend upwards with your Cruelty Free Smudger Brush. Next, layer Provocateur over the previous shade with your Cruelty Free Crease Brush, then buff upwards into brow bone to marry and blend the pigment of the two shadows.
Add a coup de grace of glam drama with our Long Last Liquid Liner in Black Tea. Sweep this jet black liquid liner along lash line for an elongated cat eye; the angles will reflect the sweeping division traced along your lid crease for a truly bold makeup look.
On the Lashes:
We're going for lash volume here, so our Maracuja Mascara is a go-to for this bold makeup look. Dark Chocolate plays well with the chocolate tones of this look, but Black Tea can also add an element of depth to amplify a dramatic eye makeup look. Lash conditioning vitamins B5 and E enhance lash health and growth, while luscious maracuja seed oil from passionfruit keeps lashes feathery and free from clumping.
BLACK ROSE Bold Makeup Look
Glossy, wine stained lips with a berry undertone: a seductive staple for fall and winter bold makeup looks. Black Rose is a brand new fruit pigmented® Pomegranate Oil Anti-Aging lipstick with serious lip softening going on under that vibrant pigment, and this shade is one that we're serious about flaunting this holiday party season. In addition to being an overall show-stopper on any skin tone, Black Rose is the perfect centerpiece in a bold makeup look that bumps up the romance factor with flushed, rosy tones.
Makeup breakdown for this look:
On the Lips:
Deeply gorgeous pigments of cherry, plum, and cabernet grape lace this glossy anti-aging lipstick. Shea and cocoa butters keep lips moisturized, while pomegranate oil serves as a hefty antioxidant dose to protect and fortify delicate lips against free radicals and signs of aging. Black Rose is neutral-cool, and serves a seductive deep wine color with berry undertones.
Before applying lipstick, trace lips with a lip softening lip pencil; we've matched Punch Creamy Long Last Lip Liner to amplify the warm undertones of Black Rose. If you want to amplify the cooler tones in this semi-neutral lipstick, try tracing lips with Vino Creamy Long Last Lip Liner.
On the Face:
We've laid down an impressive base for this look, with a combo of our skin plumping and pore-refining Mattifying Primer and our Fruit Pigmented® Healthy Foundation. After allowing primer to absorb into newly softened skin, we're applying a single layer of our full coverage, liquid matte foundation with a Cruelty Free Flat Kabuki Brush.Gently buffing this foundation into skin will result in a totally even, refined complexion. We love this aloe vera based natural foundation for minimizing redness, oil, and shine while delivering flawless full coverage.
On the Cheeks:
To create the majority of this bold makeup look, we wanted to use colors that were both bold and metallic, with a hint of whimsy. Enter the ever-lovely, mystical Mermaid Palette! We've dusted bronze coral Siren luminizer onto cheeks, then lightly dabbed vibrant Coral blush onto apples of cheeks. The result is a sunlit rosy flush.
On the Brows:
We've added a light application of Long Last Brows to enhance and refine shape. Use your dual ended eyebrow brush to shape, fill, and refine each strand. For a fuller brow, top off with a once-over application of Green Tea Fiber Brow Builder. Micronized tea leaves in this formula will get you that full, thick brow you've been drooling over in all the best fall makeup looks of 2017!
On the Lids:
Alright, this is where things really get good: we've taken the term 'bold makeup" to heart and have gotten a little unconventional with our fruit pigmented® makeup application! Start with your smudger eye shadow brush, and dip into your Mermaid Palette again… this time, head straight for Coral blush. Apply a smokey eye beneath the waterline, all over the lid, and into the crease with this bright, pinky-coral.
Once your blush has been applied around the eyes (yes, you heard right!), dip smudger brush into Shell: a warm gold eye shadow with a moss green undertone. Layer over your top lid, blending into brow bone. Now follow with forest green Sea Glass blended into your crease, and a light application of Star Fish at the outer corners for enhanced depth.
Finish this bold eye makeup look with a thick black wing at only the outer corners of each eye. Use a no-smudge liquid liner for longer wear and deeper pigment. You can also trace the upper lash line with your liquid liner to give the appearance of thick, dramatic lashes.
On the Lashes:
After adding eye shadow and eye liners, your final touch will be with Black Tea Ultra Lengthening Mascara for long, separated lashes that draw attention to the eyes. The final result of this bold makeup look is an overall intense rosy blush around the eyes, with metallic depth and shadow for added drama. Bold, unapologetic eye makeup with a hint of flushed radiance? Yes please.
Want more fruit pigmented® makeup guides? Check out these recent posts:
We carefully hand-select products based on strict purity standards, and only recommend products we feel meet this criteria. 100% PURE™ may earn a small commission for products purchased through affiliate links.
The information in this article is for educational use, and not intended to substitute professional medical advice, diagnosis, or treatment and should not be used as such.
Sign up to our email newsletter for more blog updates and exclusive discounts.
< Older Post | Newer Post >