Day & Night Date Makeup Looks
Look stunning and feel fabulous for romantic day or night rendezvous
Posted on October 20, 2017
Written by: 100% PURE®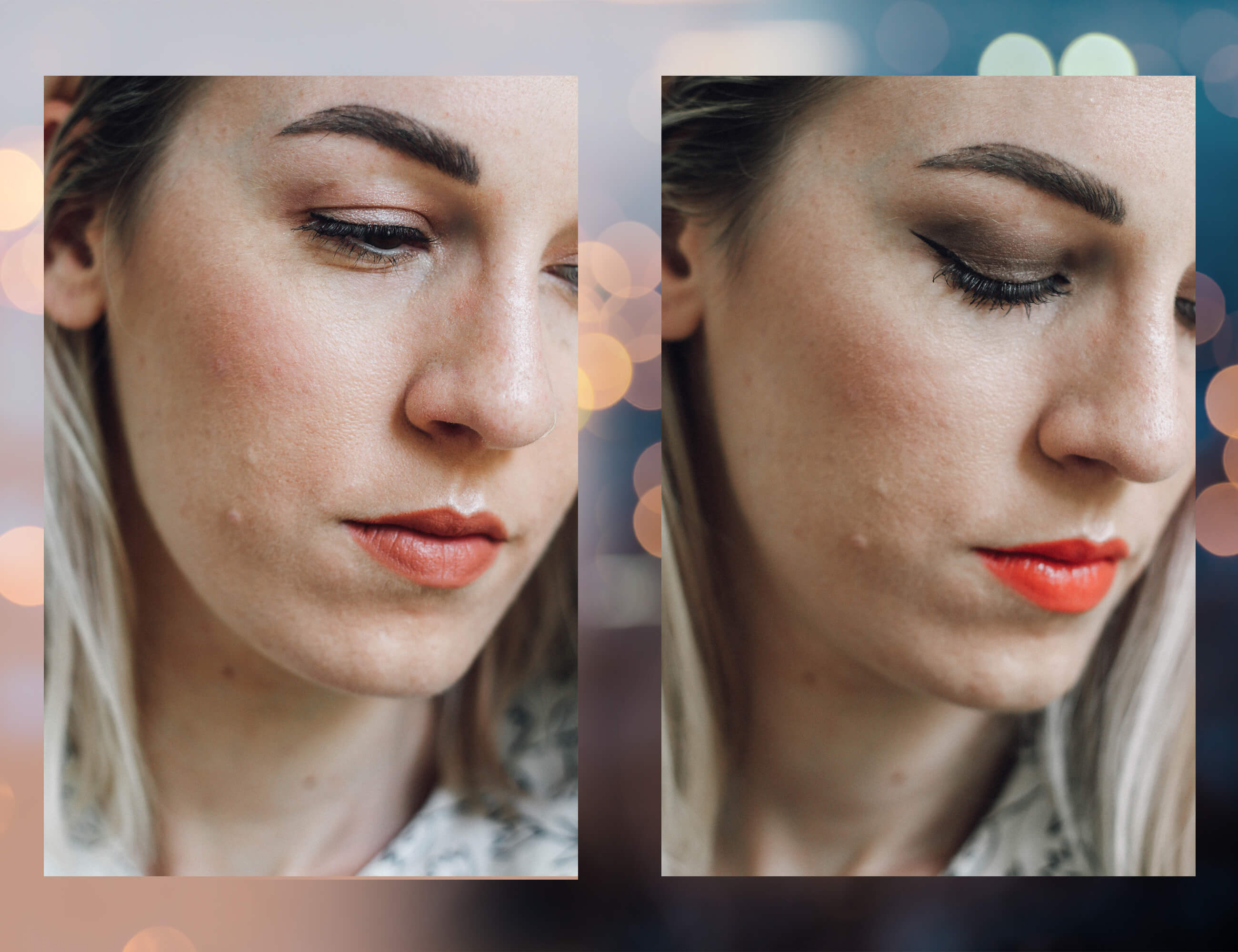 Whether it's the first, second, or 50th date with your amore, it's important to feel your most fabulous. Being prepared for a date can help you nix the nerves and free up your energy for actual excitement, not to mention allowing you to live in the moment -- something we can all stand to do a bit more! We've collected our favorite date night tips and tricks here: we enlisted help from @hullosam for day and night date makeup tutorials, compiled our favorite first date wisdom, a date night survival kit, and 5 step skin-prep routine in one super-savvy date night guide. Enjoy, fellow lovebirds!
Date Night Makeup: Prepping Skin in 5 Steps
Flaunting your skin at its most glowy, supple self is an ideal achievement for any date night. A quick and dirty cleansing, toning, and moisturizing routine will leave your skin healthier and happier, and your sweetie will be mesmerized! Extra bonus? Clean, primed skin will be much more receptive to makeup, making for a more flawless date night look.
Step 1: Cleanse
We all want fresh, glowing skin on a first date… nuff said! Depending on your skin type or current skin conditions, choose a cleanser that best fits your needs. To soothe and clarify skin before a first date, grab our Tea Tree & Willow Clarifying Cleanser; this non-stripping organic facial cleanser will be utterly refreshing for acne and oil prone skin as it washes away dirt and excess oil. To brighten up your complexion, try Fermented Rice Water Cleanser; this sake based cleanser will hydrate, brighten, and balance skin for increased glow. We didn't forget about you, dry skin: use our tried and true, ultra nourishing Argan Oil Creamy Cleanser to get dry skin soft, soothed, and supple before your extra special date.
PRO TIP: Grappling with a last minute blemish? These sneaky skin disasters obviously have no consideration when it comes to timing, but we refuse to let them run the show! Try using our Purity Facial Cleanser + Mask as a spot treatment: the anti-inflammatory punch from refreshing tea tree, eucalyptus, and peppermint essential oils will calm red, puffy skin while antibacterial properties in parsley and burdock will clear out acne-causing gunk and grime. Apply directly to blemish and let dry for 15 minutes, then gently massage away with warm water. Need some extra concealing power? Check out our recent how to guide for concealing acne for a helping hand.
Step 2: Tone
If you want smooth and supple skin, don't forget to add hydration; especially after a rigorous cleansing or exfoliating session. After cleansing and before you lock in water with a mask or moisturizer, soak a cotton ball with a deeply hydrating, skin calming toner. To purify oily or acne prone skin types, try our non-stripping and super soothing acne clarifying astringent. For a brighter complexion, our sake based and naturally brightening toner is a must. For drier types, instill suppleness and plump skin to its best self with our mineral rich, hydrating seaweed toner.
Step 3: 10 Minute Mask Treatment
First date jitters? Having second thoughts about your painstakingly planned outfit? Shake off those pesky nerves by taking 20 minutes to decompress and hydrate with a skin-pampering hydrogel mask. We're obsessed with these cooling, gel-textured sheet masks and can't resist taking a silly selfie whenever we're wearing one! Made from vegetable cellulose and aloe juice, these babies will drench your skin with hydration and, depending on which one you choose, can deeply replenish, depuff and reduce redness, or boost collagen in skin. Not bad for 10 minutes of de-stressing!
Step 4: Moisturize
This all-important step ensures radiant, supple skin that's ultra soft and inviting. After you've cleansed, hydrated, and now moisturized, skin will be looking glowy and healthy, and will be way more receptive to a smooth makeup application. Our fave for any skin type is our Hydra Drench hydrating facial moisturizer, since quenched skin makes for a softer, more dewy complexion.
Step 5: Prime
Now it's getting real… butterflies are-a-fluttering as you carefully begin to plan your perfect date night (or day date) makeup! Time to prime your newly refreshed and supple skin with a natural primer that will make sure makeup stays put for the romance ahead. If you want to go dewy and fresh faced, our Luminous Primer is your date night BFF. For an ultra matte finish, our silky Mattifying Primer has got your back.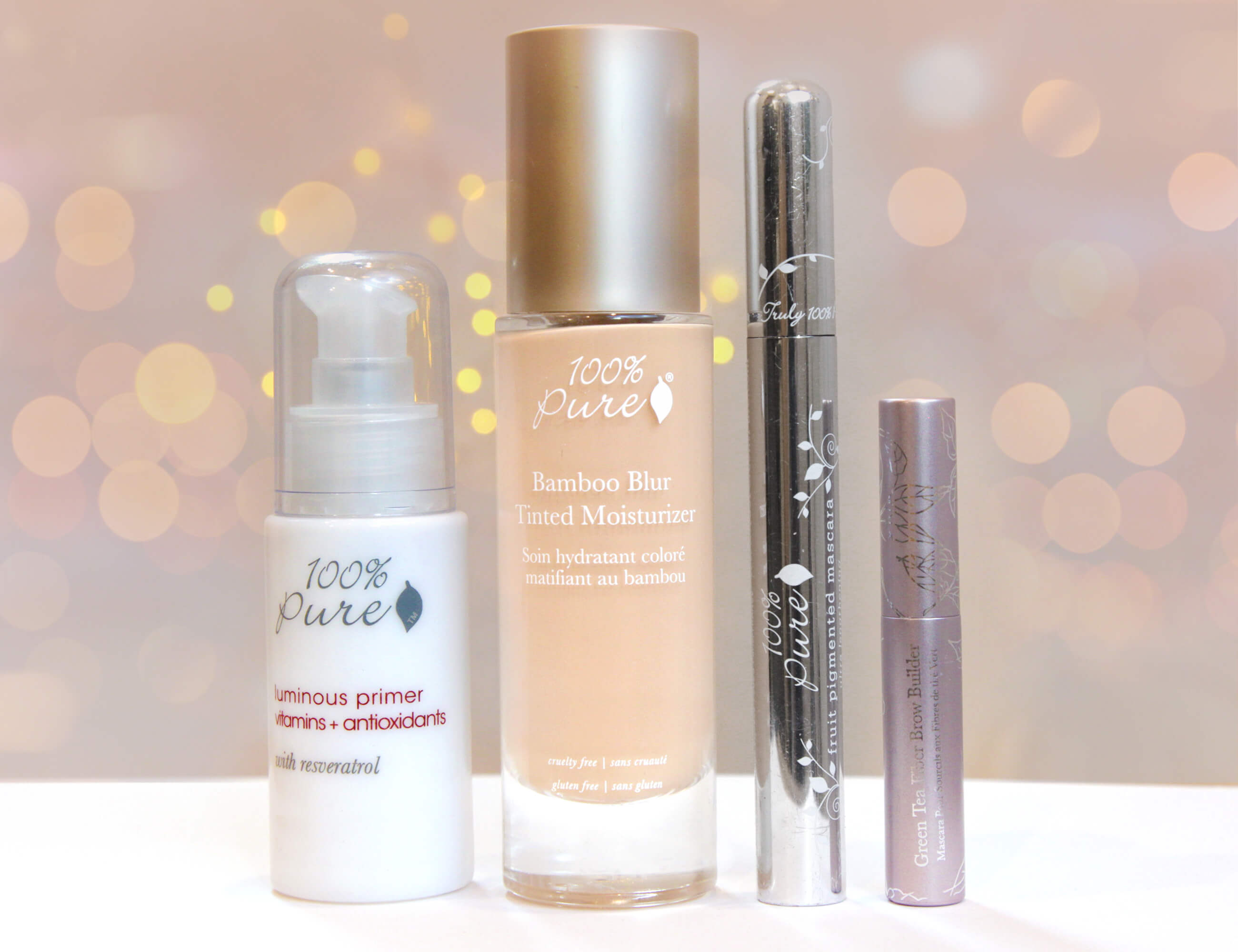 2 Date Makeup Looks by @hullosam
Need a little direction on date makeup? Our friend and beauty guru Sammie has given us 2 natural date makeup looks for fall, using only fruit dyed makeup! Try these for a casual day date, or a more seductive date night; the bonus is that both looks use overlapping products that double task as beautifying lifesavers for day or night. Have fun, and happy romancing!
100% PURE: Do you have a go-to date night routine?
Sammie: I love to have ample time to prepare before a date-night. I love relaxing, taking my time and not feeling rushed. I'd say a sheet-mask or eye mask beforehand (love the caffeine sheet mask and matcha green tea eye masks), then I start to prep my skin with any toners, oils, and moisturizers to make sure my canvas (face) is ready for makeup!
100% PURE: What's on your ideal first date itinerary?
Sammie: Oh man, that's a tricky one, as I haven't been on a first date in 3-ish years! Ha. I'd say sushi, bowling, and maybe even a movie!
100% PURE: At any given time, what skin care or makeup items can always be found in your purse? And for dates, what's in your emergency 'touch-up' kit?
Sammie: I'd say lip balm is ALWAYS in my purse. A good lip gloss with a hint of color and bold lipstick for the times I want a pop of color! Emergency touch-ups would have to include lipstick or gloss, concealer, setting powder (for when I get a bit shiny) and some mascara (just in case the movie is a tear jerker - I'd totally need to touch up my mascara!)
100% PURE: What foundation finish do you love for a first date: dewy or matte?
Sammie: I like a bit of both! So, I suppose a satin/skin like finish that lets your skin shine through.
100% PURE: Favorite first-date wisdom?
Sammie: Don't sweat the small, awkward moments; in fact, enjoy them! They're what make first dates what they are. Laugh a lot and just have fun -- be yourself!
100% PURE: Which 100% PURE cosmetics do you love for day/ night date looks?
Sammie: I love the Long Last Liquid Eye Liner: Black Tea - it's so easy to do a thin, simple line or an elongated cat eye. Lip Caramel in Scotch Kiss - the vibrancy of this lip shade is insanely gorgeous! Then, one my absolute favorites: your Green Tea Brow Fiber Brow Builder! It grooms my brows and fills them in so nicely without looking too harsh.
Day Date Makeup
Sandstone + Bright Eyes Pencil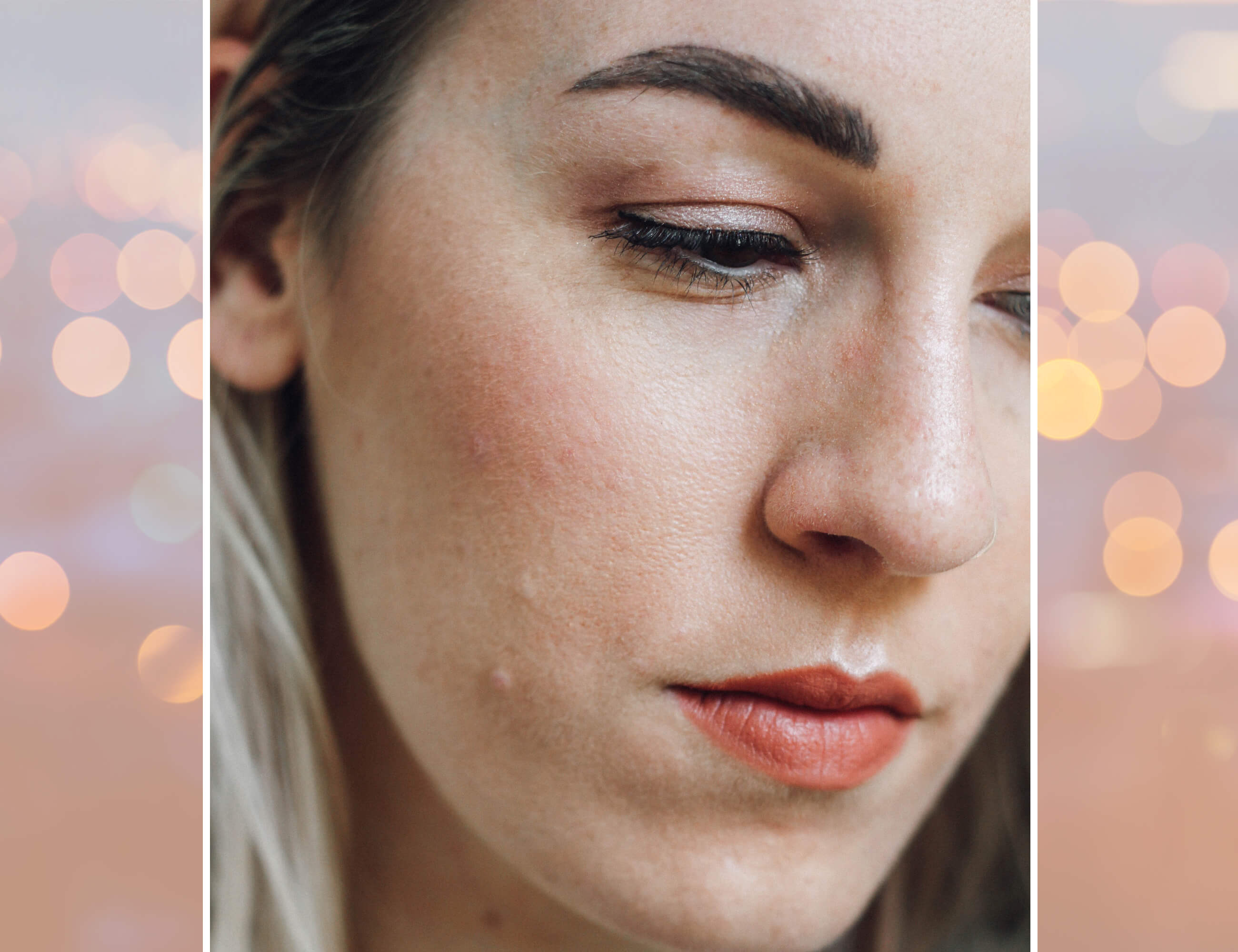 How to get Sammie's Day Date Makeup:
After your 5 step skin care prep, apply your favorite foundation; Sammie is wearing Bamboo Blur Tinted Moisturizer in Creme. This foundation is perfect for both day or night makeup, since it has a dewy body and full coverage, semi-matte finish that doesn't block skin's natural radiance.
Using your Pretty Naked II makeup palette and vegan blush brush, dip into Afterglow: a rustic peach-pink blush that will add a soft glow to your complexion. To get extra glowy, dip into Illume from the same palette: a pearly, dusty pink luminizing powder that can be applied to your upper cheekbones, bridge of nose, and cupid's bow.
Fill and build brows with a natural brow builder in your select shade: Soft Brown for light-medium brows, and Medium Brown for medium-dark brows. The built-in spoolie brush makes for clean and easy application, and will tint and shape brows for a refined, but still natural finish.
For the eyes, grab you flat shader brush and dip into your luminizer again, spreading a single layer over each lid. Layer Beam from Pretty Naked II palette over your luminizer with the same brush; the result is a lightly rosy, nude gold shimmer that will give a deep luminosity to your lids and won't look heavy or too dramatic.
Finish the eyes by lining your waterline with a white eyeliner: this will instantly add a bright-eyed appearance that's engaging and inviting. For your upper lash line, use a black liquid liner a trace a thin line above lashes; this will enhance the appearance of thicker, more voluminous lashes, especially after your add a black ultra lengthening mascara.
Top off this sweet and rosy date makeup look with a matte, warm nude lipstick that will tie together the lovely neutral tones. We love this look because it's subtle but still romantic, and won't distract from your natural beauty.
Date Night Makeup
Scotch Kiss + Black Tea Liquid Liner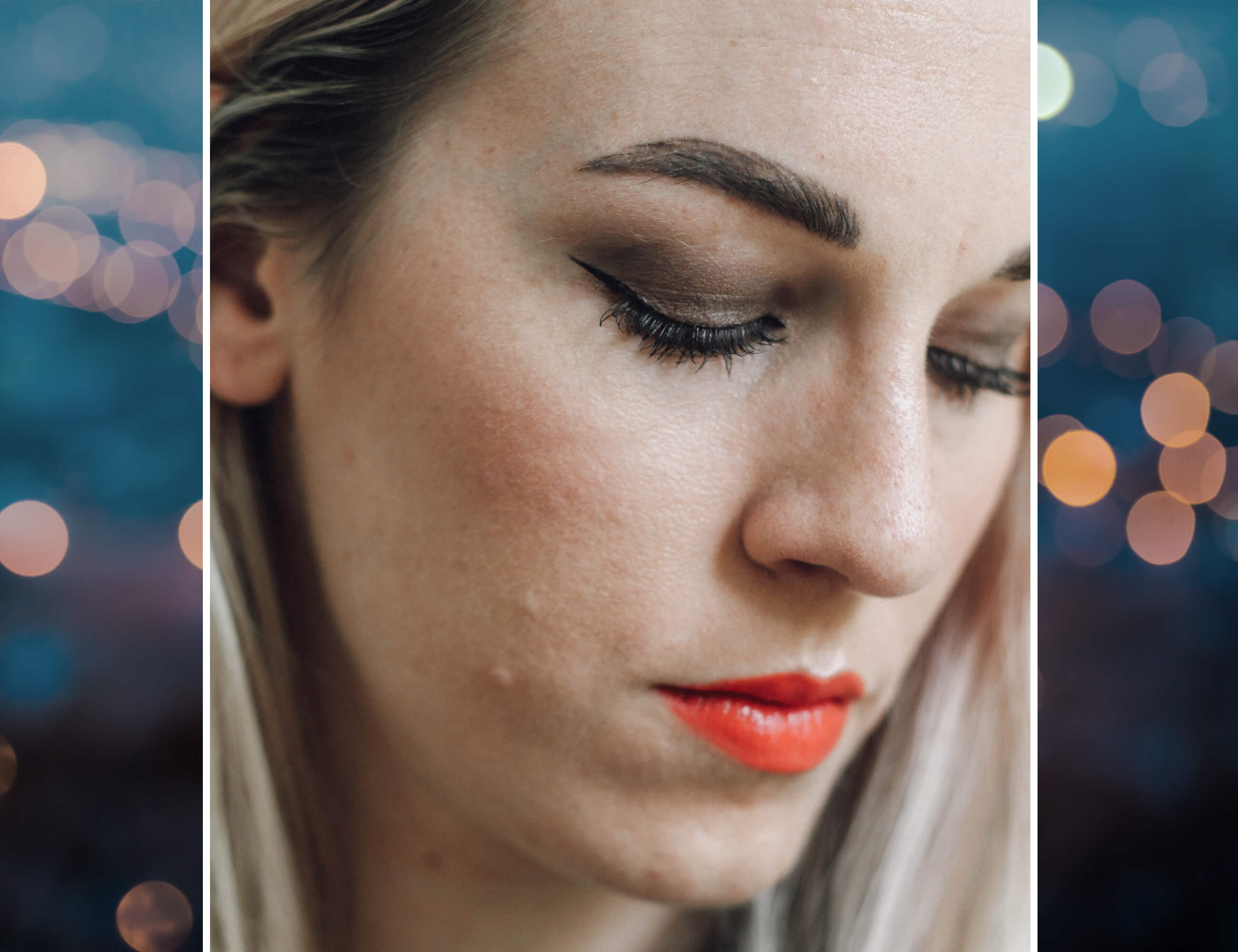 How to get Sammie's Date Night Makeup:
After your 5 step skin care prep, apply your favorite foundation; while most evening makeup looks focus on matte coverage, we love Bamboo Blur Tinted Moisturizer since it can be utilized both day or night. It serves a full coverage, semi-matte finish without being too heavy. Our favorite way to apply this foundation is with a vegan kabuki brush to ensure even buffing and blending.
Using your vegan blush brush, dip into the same peach-pink blush that we used for the daytime look. Because this blush has a more neutral undertone but a healthy warmth, it works amazingly for day or night looks. Add a touch of Illume from Pretty Naked II on cupid's bow and cheekbones for a sweetly seductive, lightly pearl glow.
Don't forget about those brows! Fill and build these all important facial accessories with a natural brow builder in your select shade: Sammie is wearing Medium Brown for medium-dark brows. The result is cleanly shaped brows with a tint of color.
Time to adorn those gorgeous peepers with fruit dyed makeup: we're dipping back into our Pretty Naked II, which is basically our go-to date makeup palette. Start by layering a warm nude wash of Beam onto lids with your flat shader, then follow an all-over application of Splendor. The deep charcoal brown and bronze finish of this shadow will create a metallic smokiness that's sultry yet natural.
Finish your eye makeup by adding an elongated cat eye with a silky, smudge-proof liquid liner, and a coat or two of natural lengthening mascara for bat-worthy lashes. This adds a touch of vamp and drama to the smokey nude metallics of your look, perfect for accentuating your glittering eyes during a romantic dinner or moonlit stroll.
Top this look off with a classically kissable red lip, to highlight your pearly whites and pull your partner's focus to your smile. This formula is silky smooth and delectably sweet, thanks to lip softening pomegranate oil and essences of vanilla. You can keep this beauty on hand for touch ups, but the intense saturation of color from fruit and achiote seeds won't need much maintenance throughout your date, leaving you free to dote on your sweetie!
Check out Sammie on Instagram for more natural beauty and lifestyle reviews: @hullosam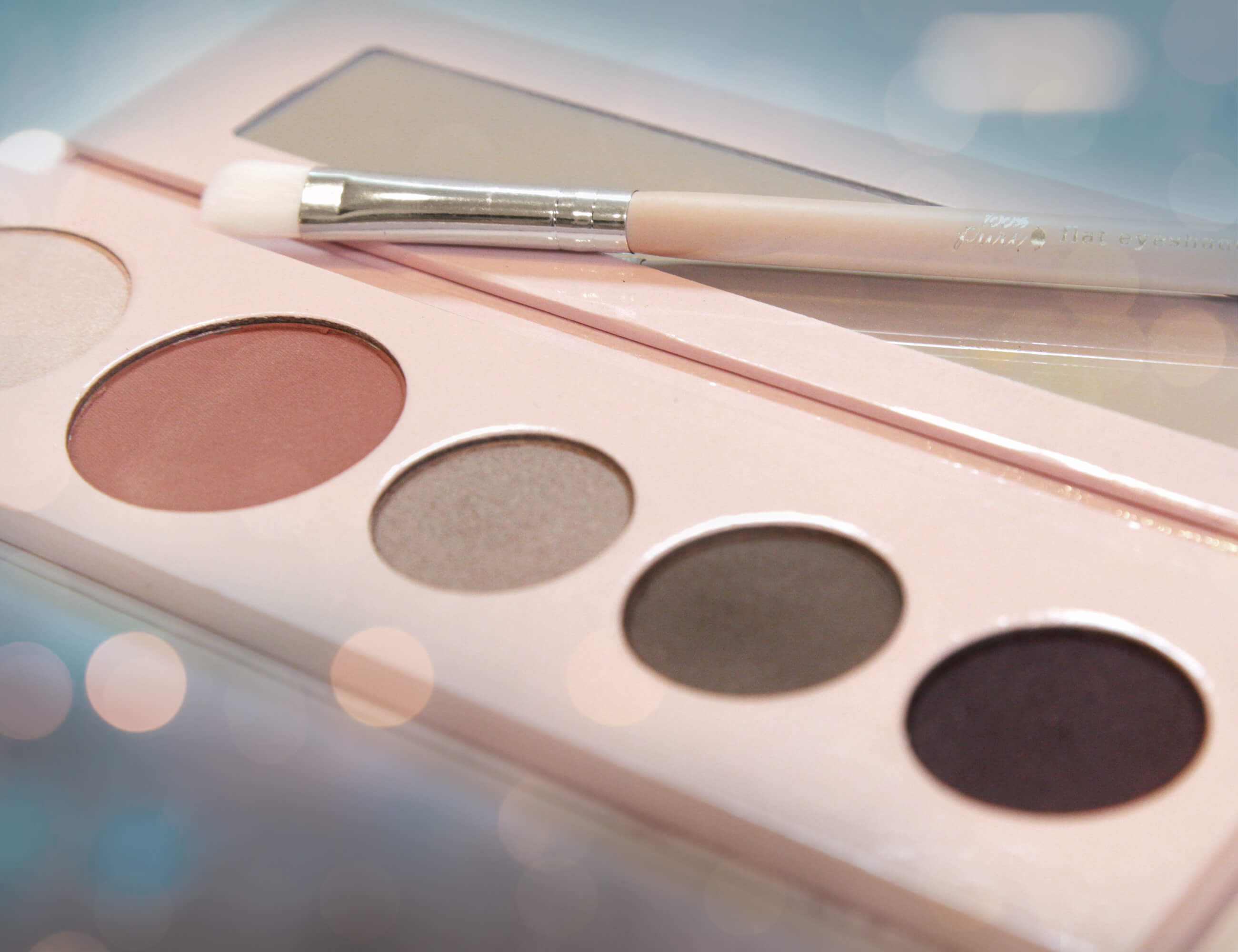 5 Important Date Night Tips
While flawless date night makeup is hard to top, there are plenty of all important date night (or day date) tips that tackle more than just makeup. We've polled the office for some date-worthy wisdom, and the results are definitely keepers.
Relax!
Remember step 3 of our pre-date prep routine? It's there for a reason. While the jitters normally go away after the first few dates, nixing them early on will allow you to enjoy yourself much more, and let you flaunt your shining personality to its full potential!
Don't overpack your purse
On a date, giving your undivided attention to your sweetie is top priority; the last thing you need is to struggle with a super cute vegan crossbody that's packed to the brim. You'll pull out your lip balm and the resultant avalanche of unmentionables may be too much for your ego to recover from; we recommend taking it easy with how much touch-up makeup your bring along on a date. Do yourself (and your purse seams) a favor by maxing out your purse-makeup roster at 3.
Choose a seductive scent
There are some top scents scientifically proven to sway the laws of attraction in your favor, and they're super easy to incorporate into your date night prep. Lavender, vanilla, and clementine have been flagged as fiercely seductive, and we've got some great options for implementing them into your date night beauty routine. Tame flyaways and frizz with a smoothing hair serum; ours is instilled with lavender essential oil for a fresh, botanical scent. We use delectably sweet vanilla natural flavors and extracts to scent our luscious Lip Caramels and Vanilla Bean body cream, making both awfully irresistible in a close encounter with your crush. For a sweet citrus scent that will linger throughout your date, lather up beforehand with our Mandarin Butter Soap for deeply moisturized skin from virgin coconut and rich shea and avocado butters.
Stow that phone!
Time to pack away your mobile device and live in the moment… trust us on this one! Ira Hyman of Psychology Today gives us the lowdown: "Cell phones, even when not being used, divide attention… You find yourself thinking about all the things you could be doing with your cell phone." Nothing says 'I'm bored with you' during a date like checking your IG notifications as your date awkwardly sits there, wondering where things went wrong.
Be confident in YOU
This is our most critical advice! While it's nice to get a little validation from our crush that we've 'still got it', it's more important to be proud of who you are and what you're workin with. Go into your date knowing what you want, and just enjoy the little things (even those awkward moments can make for gold medal-worthy texts to your BFF). Just remember: letting the lovely you shine through is your most valuable asset!
Date Night Survival Kit
We never leave home without these 100% PURE goodies; especially not on a super crucial first date or extra special rendezvous with our sweetie! Keep this survival kit close by to slay shiny skin, soften lips, and keep that on-point eye makeup lookin' right.
Oil Blotting Wipes
Signs of shine can pop up when you least expect them: in unforgiving artificial lighting, crowded restaurants, or on a particularly exciting (albeit nerve wracking) first date. Keep this slim little envelope of blotting paper in your purse or pocket for on-the-go oil control, to help minimize shine in all the wrong places. These babies are made from antibacterial wood pulp and hemp-- that's it!
Cherry Lip Balm
This organic sweet treat for lips is packed with deep moisture from coconut oil and vitamin E, for supremely soft and kissable smoochers. Cherry flavored lips? Yes please!
Coffee Bean Eye Cream Mini + Q-Tip
This duo is an absolute lifesaver and purse 'must' for our editor, who suffers from oily under eyes and sneaky raccoon rings: NOT a cute date night look! This de-puffing and moisturizing eye cream moonlights as a mighty makeup remover, even when you're dealing with fruit pigmented® makeup. Just skip to the ladies room mid-date, and swipe CBEC onto a q-tip to clean up and awaken your under eyes or any other unsightly makeup smudges.
Kabuki brush (for buffing/retouches)
We love our Cruelty Free Kabuki Brush because it's a definite multi-tasker, even after you've applied your foundation! Keep this brush buddy closeby to buff away foundation creases and redistribute pigment; especially helpful for date night if makeup has been compromised by sweat, water, or hardcore laugh lines. You can also use the Kabuki Brush to blend in retouches of your favorite date night concealer.
Concealer
Sure, this one's a no-brainer. Got a bit too nervous about a first date, resulting in an overnight stress zit before your romantic rendezvous? You're not alone! When your adrenal glands are working overtime, they tend to produce a bit more sebum (oil) than our skin needs: an ideal setup for date night acne. Hide that angry little skin hitchhiker with a full coverage concealer that you can tote around in your purse for a mid-date touch up.
Signature Lip Color
Keep this one on hand for quick touch ups, especially after smooching! Intense saturation from fruit pigments like raspberry, blackberry, peach, and grape won't come off easily-- but a touch-up here and there is nice for keeping color looking fabulous after eating or planting pecks on your sweetie's cheek!
Loving our how-to guides, new product spotlights, and fruit pigmented product features? Keep checking back for more on our feed!
We carefully hand-select products based on strict purity standards, and only recommend products we feel meet this criteria. 100% PURE™ may earn a small commission for products purchased through affiliate links.
The information in this article is for educational use, and not intended to substitute professional medical advice, diagnosis, or treatment and should not be used as such.
Sign up to our email newsletter for more blog updates and exclusive discounts.
< Older Post | Newer Post >