5 Makeup Trends We're Ready To Say Goodbye To
Spotlighting the top makeup trends we are bidding adieu to in 2022
Posted on September 23, 2022
Written by: 100% PURE®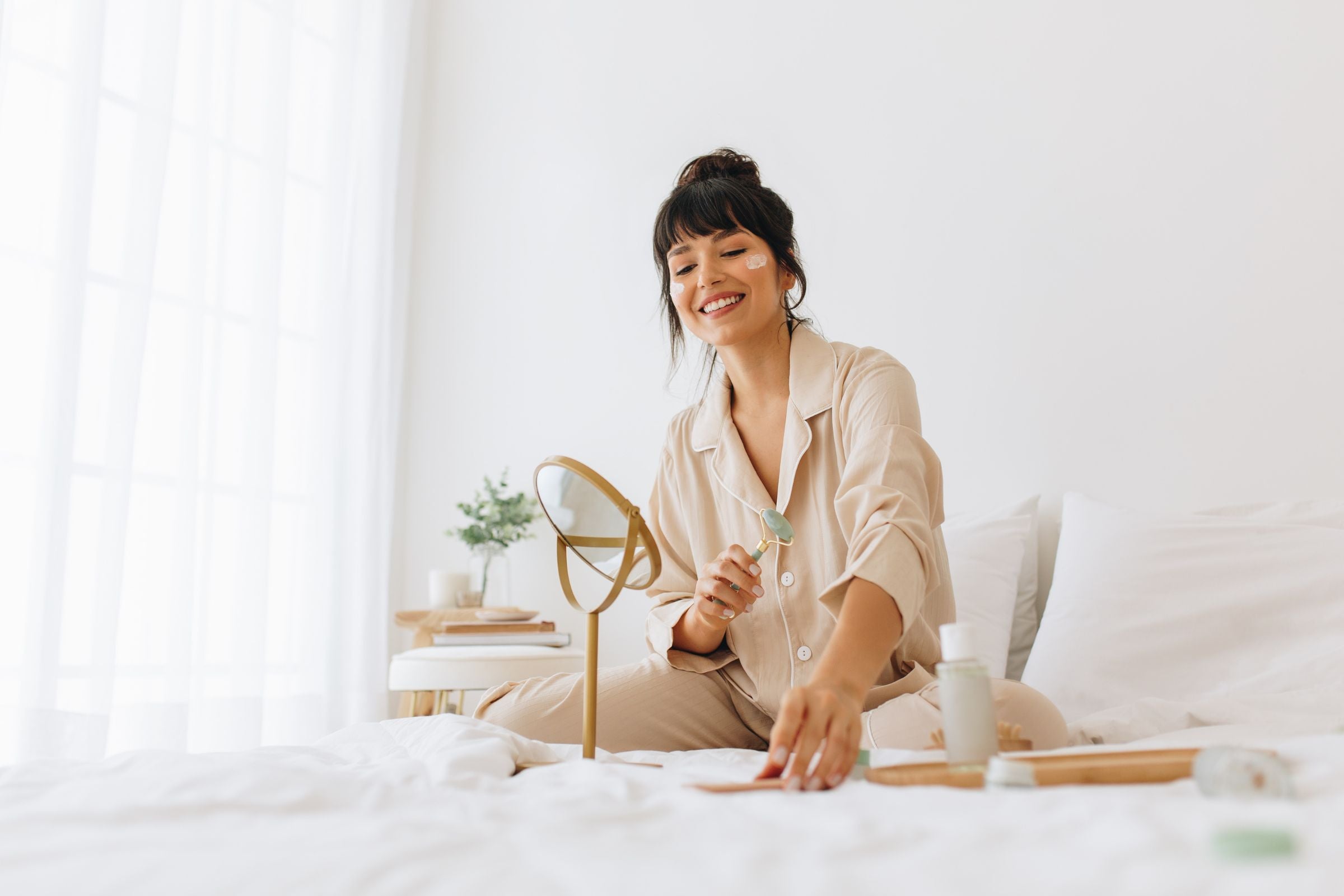 We don't need a crystal ball to help us peak into the future and see makeup trends that are fading from the 'feed' scene. Thanks to fortune tellers like social media platforms, it's easier than ever to find out what's in or out just by scrolling.
Sure, some makeup trends can fizzle out as fast as they hit your 'like' button, and then ironically come back hot again – think statement eyes! With the help of our crystal ball, ask and you shall receive the top makeup trends we're bidding adieu to in 2002.
Newsletter
Subscribe
for more blog updates and exclusive discounts
5 Makeup Trends We're Ready to Say Goodbye to in 2022
There's no denying that trends have a shorter lifespan these days. While the surge in usage and popularity of social media platforms can certainly affect our attention span, even hot beauty trends can get the viral boot in a hot minute.
Check out the big 2022 makeup trends that are fizzling away from your For You page and feeds:
#1. Maximalist Makeup Routines
Remember stacked shelfies and bathroom vanities of makeup products for a full face of makeup? Add to the bathroom madness all the tutorials you had to watch to (hopefully) pull off some of these glam-bam looks, where makeup becomes the art of more-is-more. The towel has been thrown in on that routine.
In a day and age where most of us are pressed for time or having to do your flamingo yoga position while designing the perfect cat-eye, the appeal of a streamlined cabinet or countertop (less clutter!) and fewer steps (more time back!) is viral heaven.
Emerging is now the makeup movement of less-is-more, especially eye makeup, and enhancing the natural beauty of our peepers. Chunky, clumpy lashes that look more like spider legs and thick, liquid-lined statement eyes are giving way to natural liner for the perfect kitten eye flicks and doe-eyed looks with natural lengthening mascaras.
#2. Megawatt Highlighter
You've probably seen this at least once in 2022: highlighter so bright it winds up looking like an unflattering, shiny visage. We love highlighter when not overused and placed correctly as it can help lift and brighten the overall appearance of your face. But the days are dwindling away of ultra-reflective, catwalk-ready cheekbones.
To achieve that dewy, lit-from-within glow that everyone's seeking these days, apply a natural highlighter to the areas that would naturally catch light. This is generally the tops of your cheekbones, brow bones, bridge of your nose, forehead and chin. Here's to healthy shimmer!
#3. Unnatural Skin
Goodbye to glass, glazed, yoga, and dolphin (yes, that's a thing) skin. While glass or glaze skin, or the appearance of a flawless face, is being toned down virally during the cooler months ahead, yoga and dolphin skin is not really a thing any more. That includes the "wet look," similar to how you'd step out of the shower or like a dolphin emerging from the water.
It's time to channel the inner dolphin and those just showered looks and save them for summer. Social media feeds tout luminous skin with a soft shimmer and a silky-smooth finish using a setting powder that won't over-dry your skin or settle into fine lines.
#4. Harsh contouring
Our bets are that contouring is here to stay since a certain famed sisterhood created the contour craze that hasn't lost any momentum on the viral watch. From the ever-popular chiseled cheekbones to contoured lips, we enjoy any trend that can help accentuate (or hide) our features but up to a point.
Contouring is not a one-size-fits all kind of art. The look can go tragic fast with excessive and harsh contouring with dark streaks that border on Halloween makeup. Now there's an inclination towards warm-toned bronzers that are more forgiving and blend out well for a non-spooky look.
#5. Excessive Foundation
A 2022 makeup trend that probably started off innocently with the likes of a few good people and ended up being taken way too seriously brings us to the next 2022 makeup trend – or viral faux pas: gobs of foundation. Yes, this trend involved drizzling half a bottle of foundation down your face to achieve the likes of, well, cakey and matte skin.
That more-is-less look is not happening any more. Now there's a minimalist take, meaning fewer and more targeted products for easy makeup looks. Think, no-makeup-makeup natural foundations, and getting a silicone free, natural primer on board.
#6. Brow Un-Wow
Makeup trends 2022 for brows has been, well, interesting. Most notably, there are soap brows or very thin eyebrows. Sure, natural-esque brows can open-up the eyes and look very flattering. But the soap brow lamination look where it looks like big, dark eyebrows were stamped onto your face is no more.
And then there was thin eyebrows, which were hot and then not for a viral minute – for good reason.
Even with the dozens of pencils, pomades, and promises for beautiful brows, more brow goals are being met with flexible, clear gels that can not only fluff up hairs for a more natural look, but brow formulas that can also help grow and strengthen your brows.
Saying good-bye is sometimes never that easy. But with some of the 2022 makeup trends from painting dark strips across our faces to wet skin or more, skin that looks cakey and plastic, we can comfortably bid adieu and it was interesting knowing you for a social media minute. But don't worry; they'll be more.
We carefully hand-select products based on strict purity standards, and only recommend products we feel meet this criteria. 100% PURE™ may earn a small commission for products purchased through affiliate links.
The information in this article is for educational use, and not intended to substitute professional medical advice, diagnosis, or treatment and should not be used as such.
Sign up to our email newsletter for more blog updates and exclusive discounts.
< Older Post | Newer Post >