Short on time? Make low maintenance look good with this fast fruit pigmented® makeup tutorial
Posted on June 14, 2018
Written by: 100% PURE®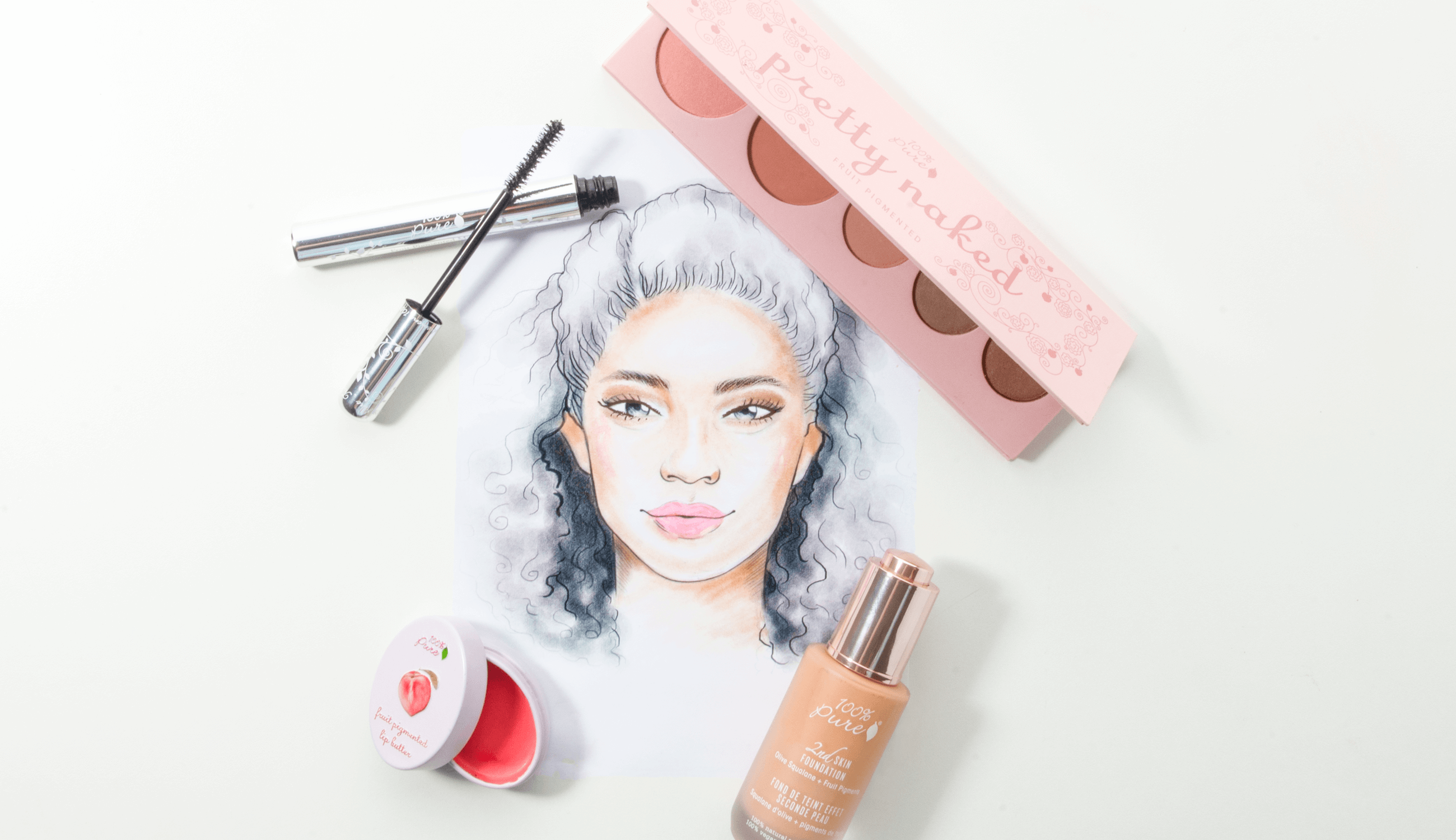 What is flawless, perpetually running late, and craves coffee in the morning? You guessed it – us (that means you, too)! Each day we try to hit the snooze button less and commit to our morning routines a bit more, but sometimes #thestruggleisreal. In times where we're rushing out the door and can't spend a bunch of time on beauty, we need a time-saving plan B. That's why a simple and quick natural makeup look is the way to go. You may have a current routine, but does yours result in a natural makeup look featuring vegan and cruelty-free, fruit pigmented® makeup? Discover the PURE path to a quick beauty look as we dish all our secrets on how we fake a full night's sleep in just 10 minutes.
Why Do You Need Quick and Easy Makeup?
The girlboss lifestyle isn't easy; from work or school, to rosé all day with friends and the obligatory brunch feast every Sunday, we don't always have time (or the desire, tbh) to rock a full-glam look. An easy and reliable, and most importantly quick routine means less products and inevitably less money spent on makeup. It also means better behaved skin, and more time to spend where it truly matters.
What Is a "Natural" Makeup Look?
To most, a natural makeup look just means we look like a slightly more refined, put-together version of ourselves. We cover the basics, and add anything that makes us feel more confident and sassy to conquer our day. Playing up your best feature(s) is also a smart move when you're short on time. Simple as that! What do we leave out? Anything heavy, extra, or glam that requires more time and effort to pull off. We love a natural makeup look using all natural makeup. Natural beauty products that can actually treat your skin like skin care -- that's our business. Light layers of natural products result in you, just with a little extra oomph. Natural makeup looks help us feel pretty, and are fitting for any occasion.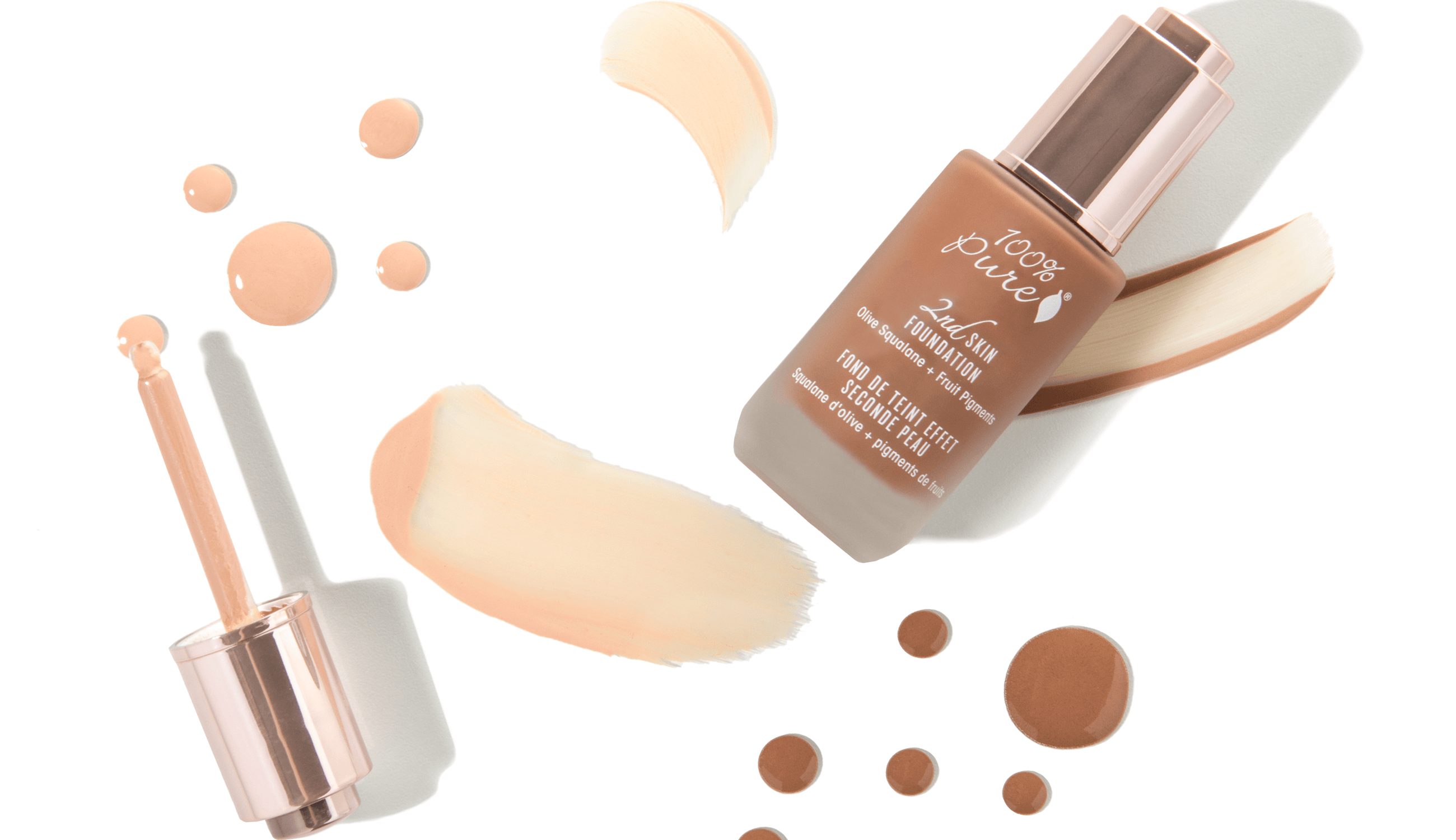 10 Minute Natural Makeup Tutorial
Have you ever seen those "No-Makeup Makeup Tutorials" on YouTube? A natural makeup look is the slightly more glamorous version. Here's how we do it:
Step 1: Base
(2 minutes)
Apply your shade of Fruit Pigmented 2nd Skin Foundation by applying to makeup sponge and patting onto the key areas of your face (start with T-zone and under eyes). Blend in light dabbing and sweeping motions until the coverage is seamless and smooth. The lightweight feel of this foundation is perfect for any skin type, and has a satin finish with medium buildable coverage.
Our 2nd Skin Foundation mimics the natural texture and glow of skin, but with a huge dose of nutrients to leave your skin looking better than ever. It utilizes calendula and turmeric extracts. These help stave off breakouts by fighting inflammation, reinforce collagen for plump skin, and the vibrant color of the turmeric is a key sign that it helps to brighten the skin for a radiant glow. The vitamin E and olive squalane in this formula helps moisturize and support skin health. Real fruits in this foundation, including peach, raspberry, and wild cherry, are anti-aging and introduce vital antioxidants to this product for a foundation that performs like skin care yet looks like skin.
Step 2: Brows
(1 minute)
Using the textured wand of the Green Tea Fiber Brow Builder, swipe through brows from the middle of the brow to the tip, until most of the product is dispersed and the end half of the brows look defined and tame. Using the remaining product, brush the hairs in the inner corner upward and outward until the entire brow is softly defined for a natural look.
Arguably the most impactful step in the routine, or at the very least our favorite step, is brows. Our Green Tea Fiber Brow Builder comes in a sleek little tube; the perfect size for throwing in a travel or gym bag to touch up just about anywhere. This formula is infused with vitamin E, maracuja oil, and green tea to condition and stimulate growth for brow hair that is instantly fuller and filled in over time for undeniably feathery, modelesque brows.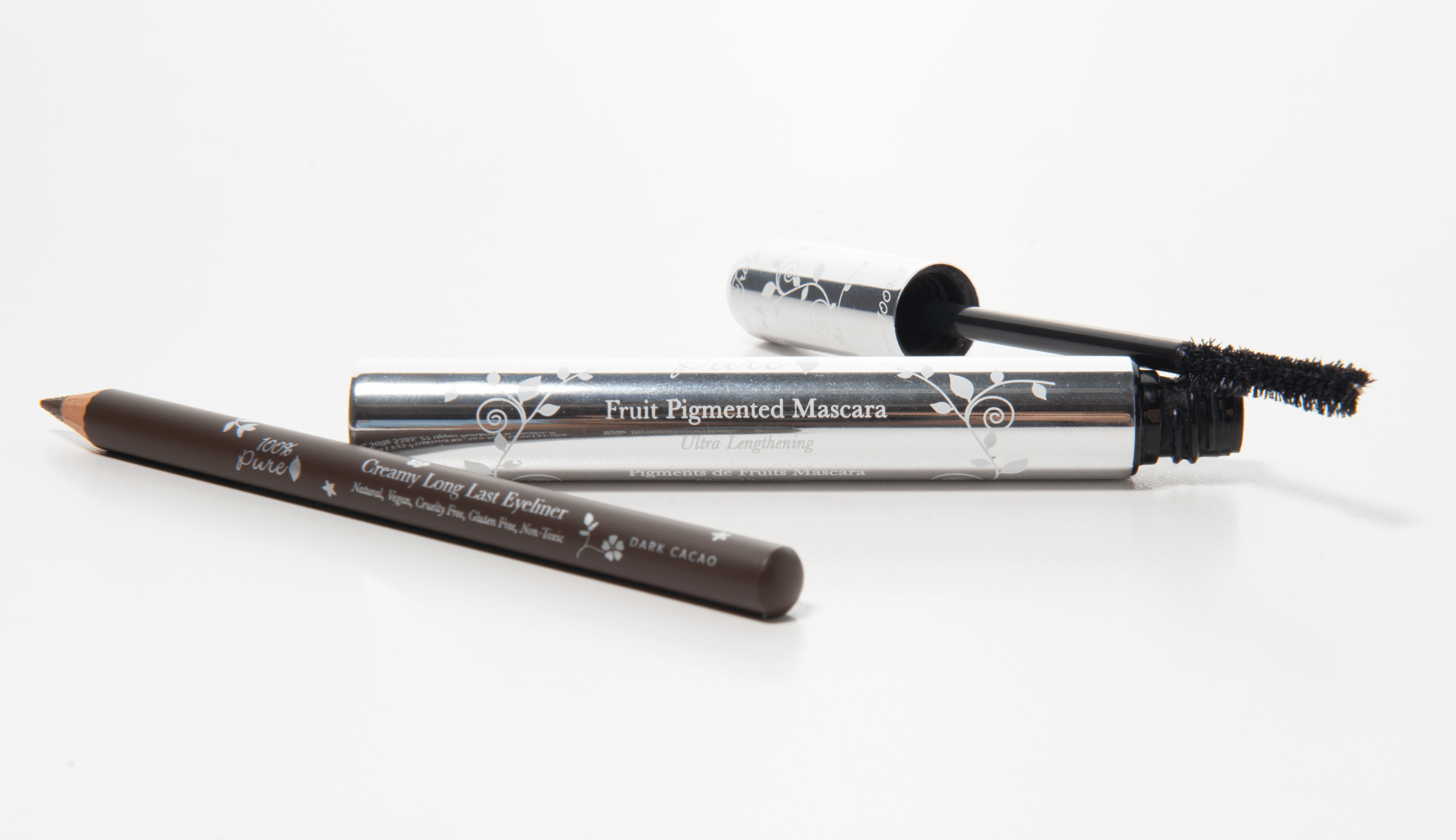 Step 3: Liner
(2 minutes)
For the appearance of fuller lashes, first make sure Dark Cacao Creamy Long Last Eyeliner is sharpened for a cleaner, more precise application. Sweep liner along upper lash line, as close to lashes as possible. Or, for a daytime smokey eye makeup look, we like using a slightly dulled pencil tip. Sweep along upper and lower lash line, and smudge with a vegan smudger brush.
Our Dark Cacao Creamy Long Last Eyeliner is a bold, vegan eyeliner that glides on like butter thanks to its high concentration of jojoba oil in the formula. So while you use this pencil eyeliner, your lashes are actually being conditioned by the jojoba, shea, and marula oil in the formula.
Step 4: Mascara
(1 minute)
Using textured wand, apply mascara from below, starting at the base of your lashes. Gently wiggle the wand as your brush through to tips of lashes. Apply to bottom lashes for a feathery lash look. This mascara is buildable, meaning you can let it dry and add multiple coats for an added dose of drama.
Get long, luscious lashes with our Ultra Lengthening Mascara in Black Tea. The wand has a subtle hourglass shape for the best lengthening effect and even product distribution. Oat and wheat proteins in this mascara thicken and condition lashes, while ProVitamin B5 repairs to maintain curl and strength. Natural pigmentation courtesy of the black tea, blackberries, and black currants in the formula deliver a rich result using natural and organic ingredients.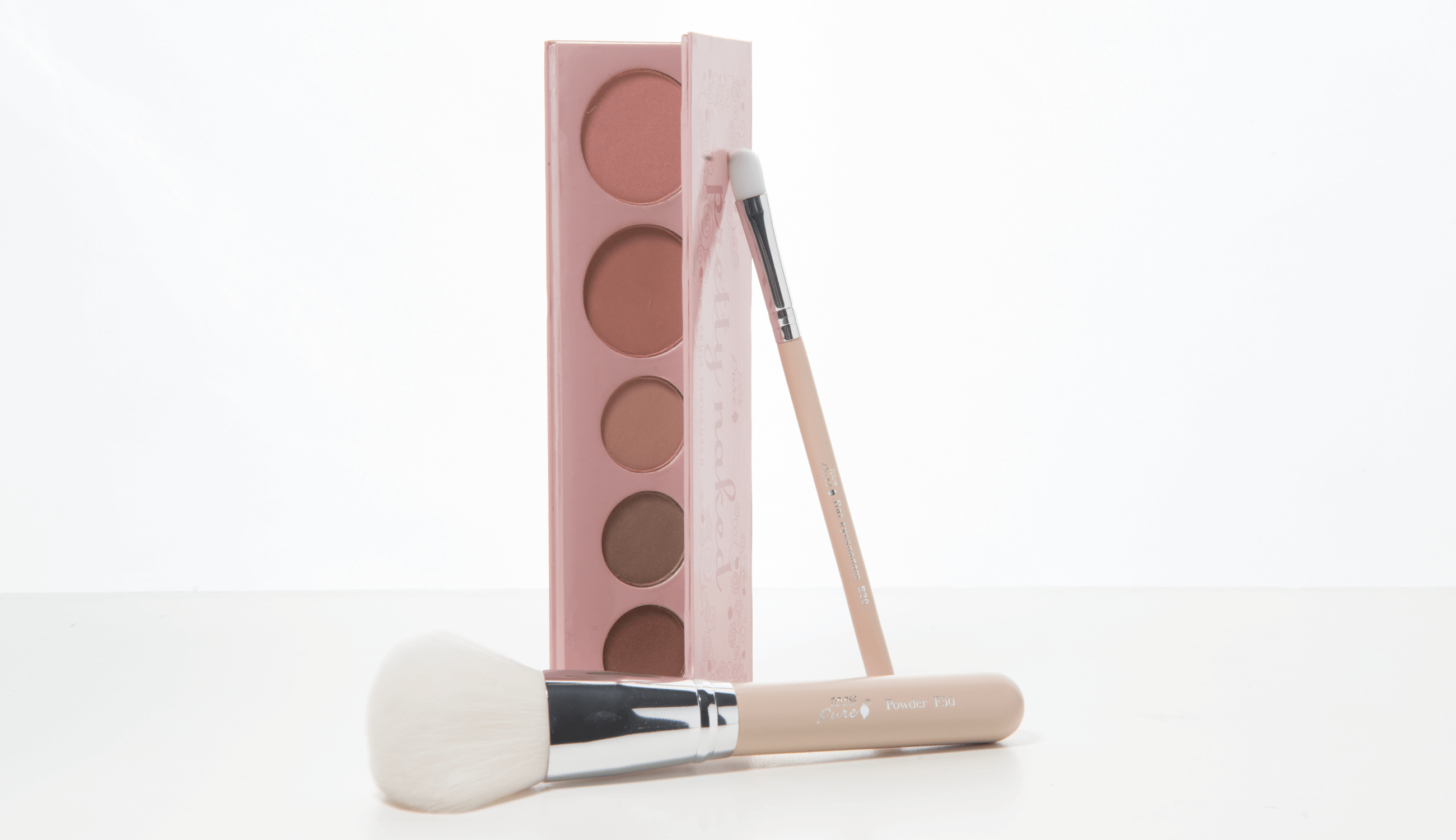 Step 5: Glow
(1 minute)
With an angled brush, apply Pretty Naked Palette luminizer to high points of cheeks, cupid's bow, and nose. Use an angled fluffy brush to sweep this product over the high-points of your face including cheek bones, nose bridge, cupid's bow and chin or forehead.
No look is complete without a little bling – frost yourself in a warm, opalescent glow with the Pretty Naked Palette luminizer. This silky smooth, opalescent rosé shade perfectly matches the rosehip oil inside. Pomegranate, raspberry, cranberry and apricot give this product light pigmentation and fragrance while the avocado butter and rice starch support healthy, luminescent skin.
Step 6: Color
(2 minutes)
Using a large, fluffy brush, sweep blush onto the apples of your cheeks. Pick any one of the palette's 3 eye shadows to subtly play up your eyes; use a small brush to apply over lids, and also below bottom lash line for warm, glowy eyes.
Look pretty and feel gloriously naked with our Fruit Pigmented Pretty Naked Palette. This sleek palette includes 5 diverse shades for blushing and sculpting any complexion to perfection. Vitamin and antioxidant rich fruits like cranberry, grape, and goji berry color each shade in this palette. Nourishing rosehip oil, avocado, and cocoa butter offer a super smooth application while softening skin. Finely pressed rice powder (not talc) minimizes fallout during application.
Step 7: XOXO
(1 minute)
Seal everything with a kiss of glossy color using our favorite summer lip product, the Fruit Pigmented Lip Butter in Peach. This no-fuss lip color can be applied like a balm with clean fingers, directly onto lips. For a more exact application, use a retractable lip brush.
Peach Lip Butter is a fully vegan lip balm is infused with avocado oil for enriching fatty acids, shea butter for moisturized lips, and rosehip seed oil for a soft pout. Strawberries, carrots and peaches inside provide a creamy wash of coral-pink color and anti-wrinkling effects for juicy, fully conditioned lips that complete this 10-minute (or less) natural makeup look.
Hungry for more fruit pigmented® looks? We've got more juicy natural makeup tips over in the makeup section of our blog!
We carefully hand-select products based on strict purity standards, and only recommend products we feel meet this criteria. 100% PURE™ may earn a small commission for products purchased through affiliate links.
The information in this article is for educational use, and not intended to substitute professional medical advice, diagnosis, or treatment and should not be used as such.
Sign up to our email newsletter for more blog updates and exclusive discounts.
< Older Post | Newer Post >